I actually prefer to call this farmhouse bench 'the boomerang bench'. It's equally as suitable as a farmhouse painted bench. My husband hated it and couldn't wait to get rid of it. To paint a clearer picture of its history, well, I purchased it over a year ago with intentions of painting it, but plans change. I ended up keeping it in our small entryway because it seemed perfect for the kids to keep their shoes under and their school bags on. Problem is, we don't really have an entryway so this farmhouse entryway bench sat close to the front door but in our living room. A bit awkward for the room, but functional.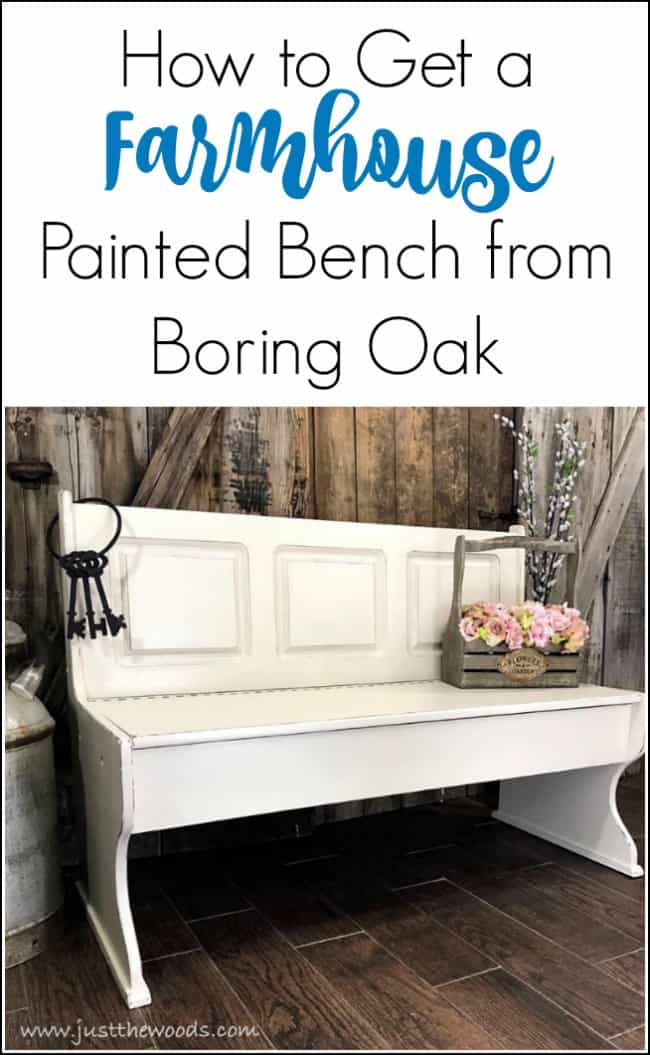 Disclosure: This wooden farmhouse bench painted furniture post contains affiliate links for your convenience. Click here for my full disclosure policy.

Supplies & Tools Needed to Paint a Farmhouse Bench
Before we begin, this farmhouse storage bench makeover project is part of our monthly Furniture Fixer Uppers share. You know what that means! Make sure to stick around all the way to the end for more great painted furniture before and after projects.
Wooden Oak Bench History
One day a customer of mine came to pick up a different piece of furniture she mentioned that she had been looking for a bench. As it turns out she wants a farmhouse bench with back. I then told her how much my husband hates this wooden farmhouse bench in my living room. She then called 'dibs' on it for whenever we decided to get rid of it. This clearly was meant to be hers all along.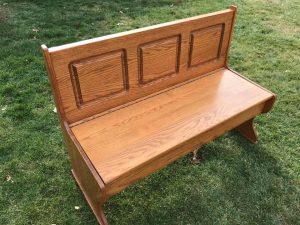 Fast Forward
Fast forwarding a bit to our living room makeover in January. While clearing out our living room for its makeover, it was finally time to get rid of the storage bench. I didn't have room in my storage unit for it so I reached out to that customer to see if she was ready to claim dibs on the wooden farmhouse bench. She was! BUT under one condition – that it be painted off-white and distressed. With so many painted bench ideas I do feel that a farmhouse painted bench makeover is a perfect choice. We made a unique arrangement and I brought the bench to her with the promise to paint it once the living room makeover was completed. The golden oak bench is out of the house! But like a boomerang, it has come back for its custom painted furniture makeover.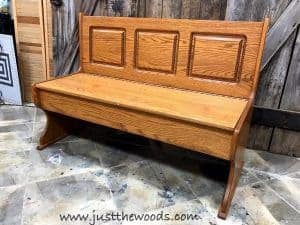 Painting a Farmhouse Style Storage Bench
This farm bench will be gorgeous once we get rid of that dated orange glow of the wood. The entire farmhouse storage bench is prepped for paint. This is my process for How to Prep Painted Furniture.
If you are new to furniture painting then you can always start at the beginning with How to Paint Furniture – a Beginners Guide.

Next, grab your favorite brush. I like to swap back and forth between Cling Ons and Zibra brushes. They both have soft bristles, are easy to work with and clean up well. (I abuse my brushes) To be honest, I like them both. Zibra brushes are a bit more affordable and can be ordered online (HERE). Cling Ons can be ordered online (HERE).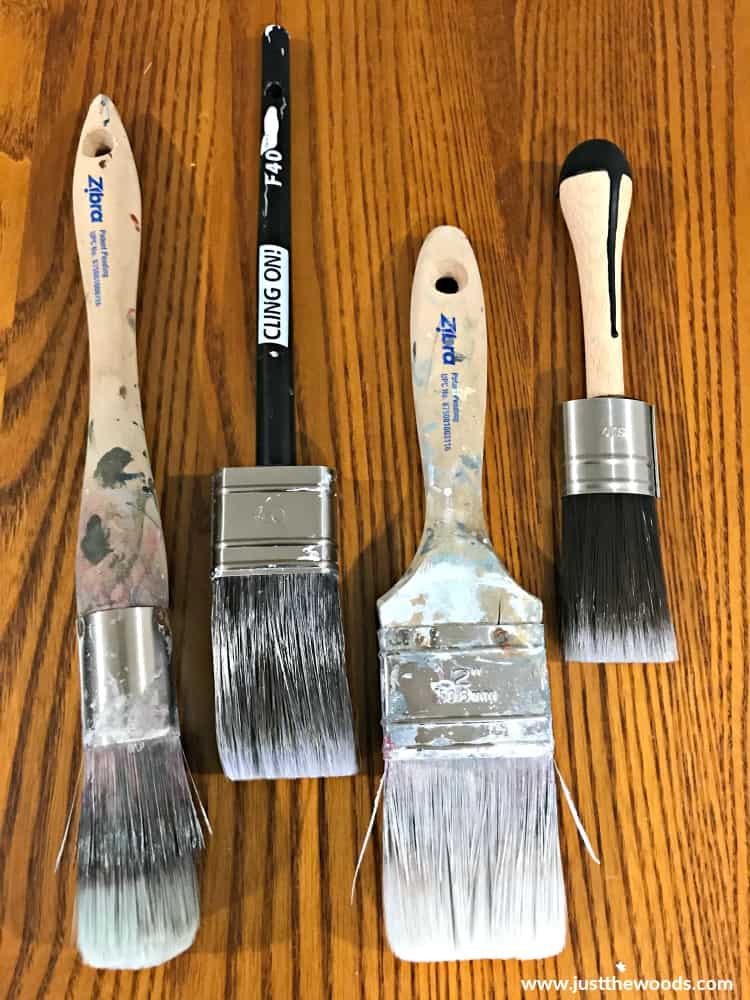 Now lay your wooden bench down on your furniture dollies to paint the legs under the seat first. These dollies allow for easy maneuverability of furniture while we work. If you don't already have furniture wheelies, you can get them online HERE or HERE. The bench is being painted in a creamy off-white. You can find great quality furniture paint online HERE.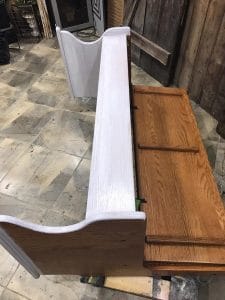 Once the inner legs area is painted, distressed and sealed with a clear flat sealer I then stand the half painted bench back up on its legs to continue.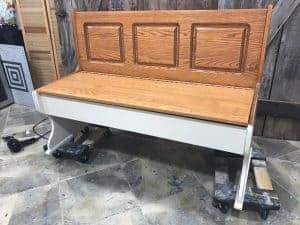 A little trick to painting furniture white or off-white is to do the first coat in a shade of gray. By painting gray first, it acts as a sort of primer. Often white paint needs more coats, due to less pigment and can be frustrating to get decent coverage. I always paint my first coat in a light gray then followed by the creamy off-white. The sides of the farmhouse bench also have these holes that needed to be painted.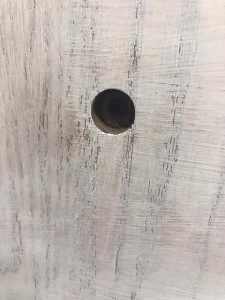 I simply use an artist brush to paint inside the holes to make sure that they match the rest of the painted bench.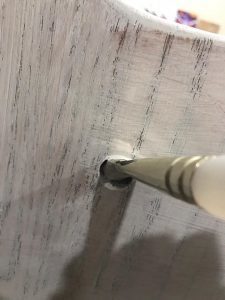 Distressing Your DIY Wood Bench
Once the entire bench is painted, it is then distressed and sanded in its entirety with fine grit sandpaper for a super smooth finish. The edges are distressed creating a farmhouse style appearance to the painted bench. For a more detailed tutorial on distressing make sure to check out How to Distress Painted Wood.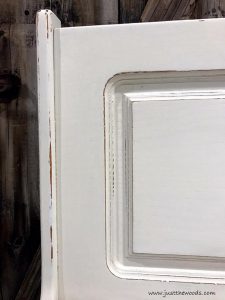 Lastly, make sure to seal your DIY farmhouse bench makeover. If you ever have questions about sealing your painted furniture project you can find a full tutorial with video on how to apply clear sealer here: Sealing Painted Furniture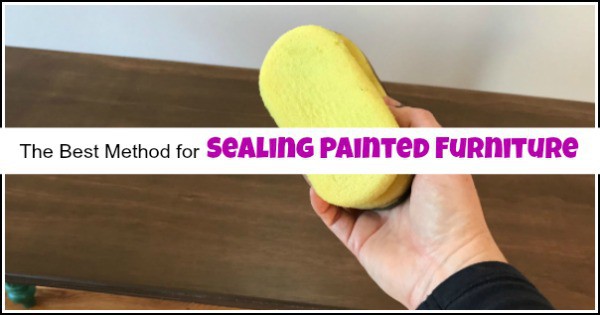 The Result – Painted Farmhouse Bench with Storage
This farm style bench aka boomerang bench is ready to bounce right back to its forever home.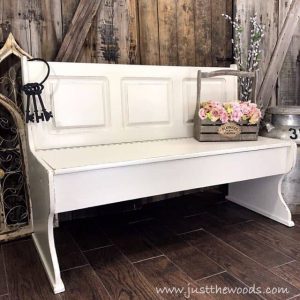 Need a bench but prefer not to DIY? Find fantastic benches for sale here: Benches for sale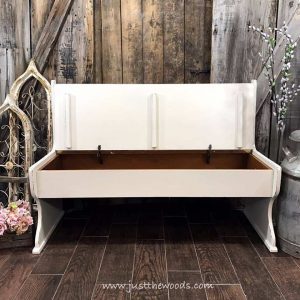 [clickToTweet tweet="Farmhouse Painted Storage Bench Makeover" quote="Sharing is caring? Share the boomerang farmhouse love <3 " theme="style5″]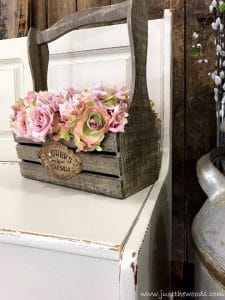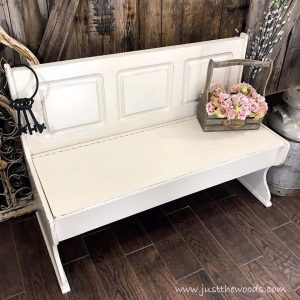 For more DIY bench ideas and how to build a bench, farmhouse bench plans, and more make sure to check out DIY Benches.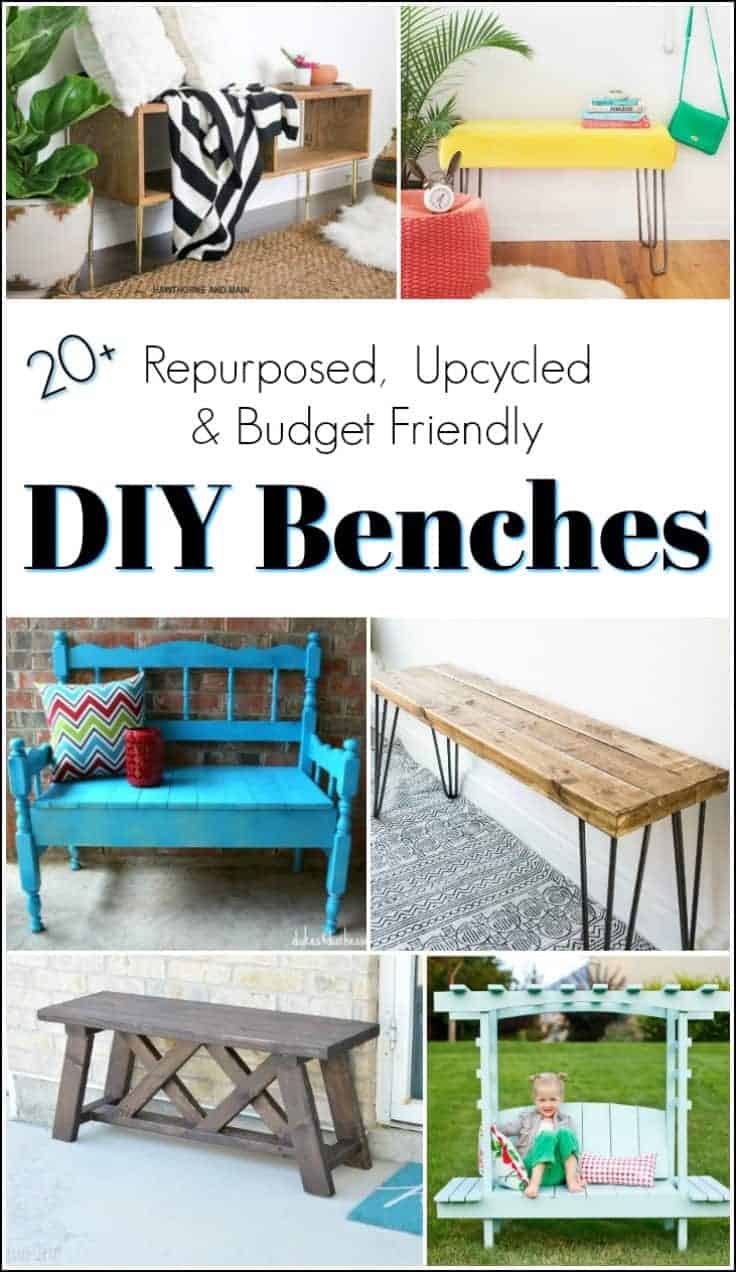 Ready to start your own farmhouse bench makeover? Make sure to use the best products! Grab paint, stain, sealer and more online HERE.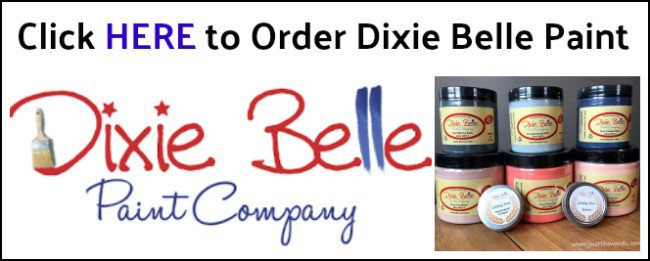 Furniture Fixer-Uppers
WAIT it's another month of Furniture Fixer Uppers and you don't want to miss this! Make sure to click the corresponding link under the image of ugly 'befores' to see each amazing makeover. Enjoy!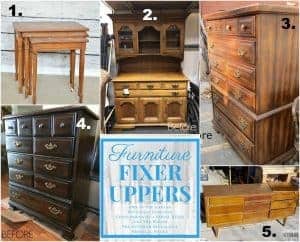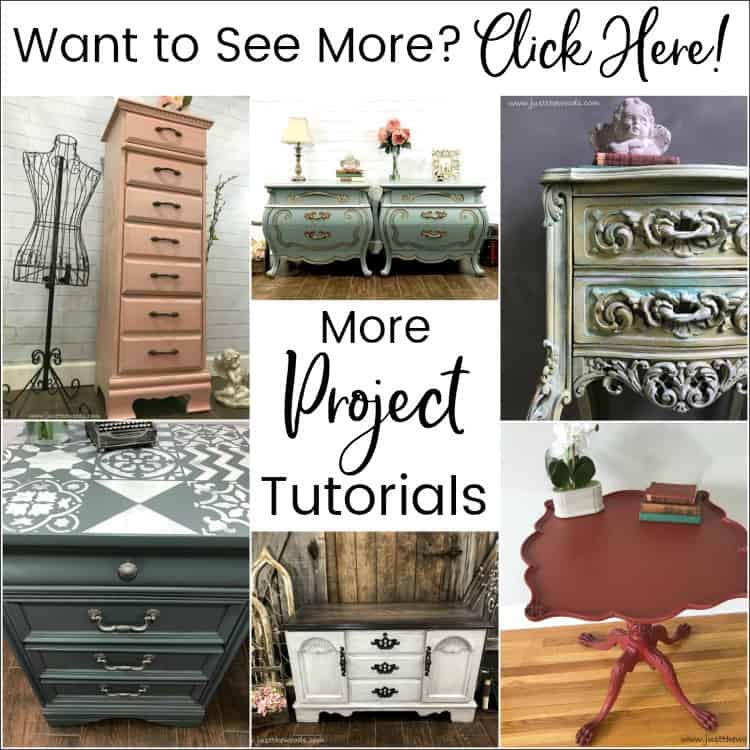 Don't Forget – Follow Just the Woods and Share this post to Inspire others:
FACEBOOK * INSTAGRAM * PINTEREST

Stay connected! For more tips and tricks sign up here :