Ornate Mirror with an Elegant Metallic Pewter Makeover
I have to confess that this ornate mirror is a little intimidating. It's grandiose size, it's ornate details. It's just plain gorgeous and makes you hold your breath while your heart skips a beat for but a second. When it comes to ornate vintage mirrors this one is breathtaking.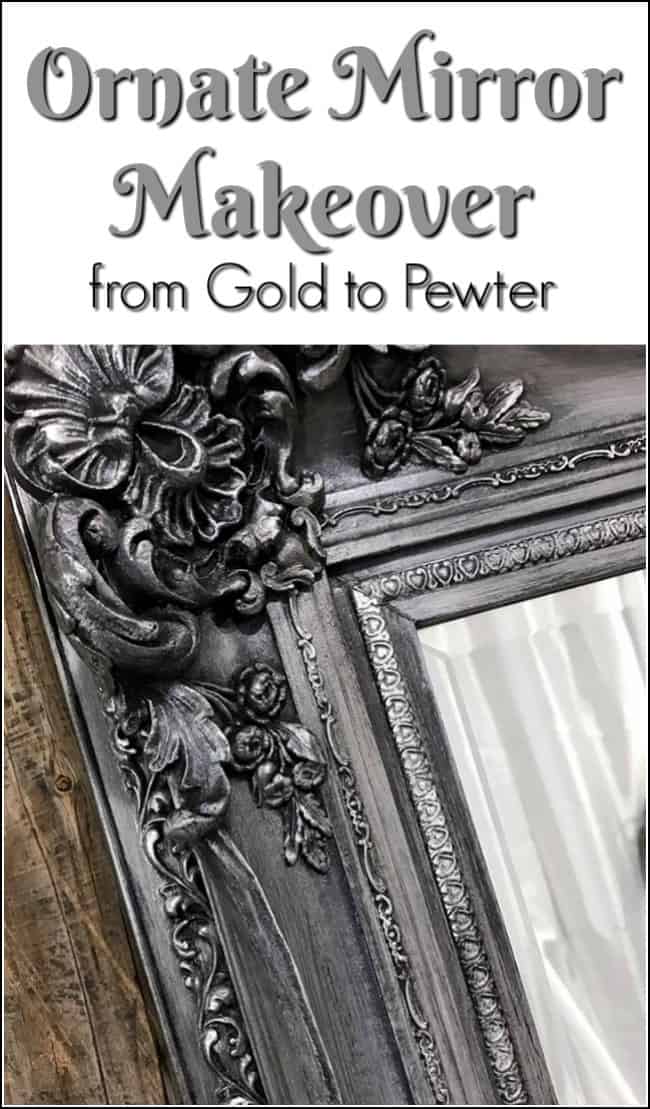 Disclosure: This pewter elegant ornate mirror post contains affiliate links for your convenience.
Materials Needed / Source List:
The Before – Grandma's Vintage Ornate Mirror
This ornate mirror belongs to my customer and before that it belonged to her grandmother. It's gorgeous ornate details exude a presence no matter what color it is, but my customer wants to change the mirror from gold to pewter to better match her home. You can see that leaned up against the wall it is a full-length ornate mirror.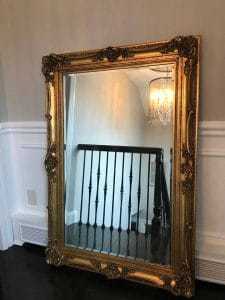 When the mirror was dropped off at my shop I decided to put it on my sawhorse due to its enormous size. I fear that photos just aren't able to truly capture the size of this large framed mirror.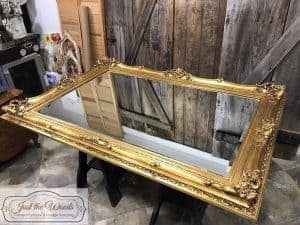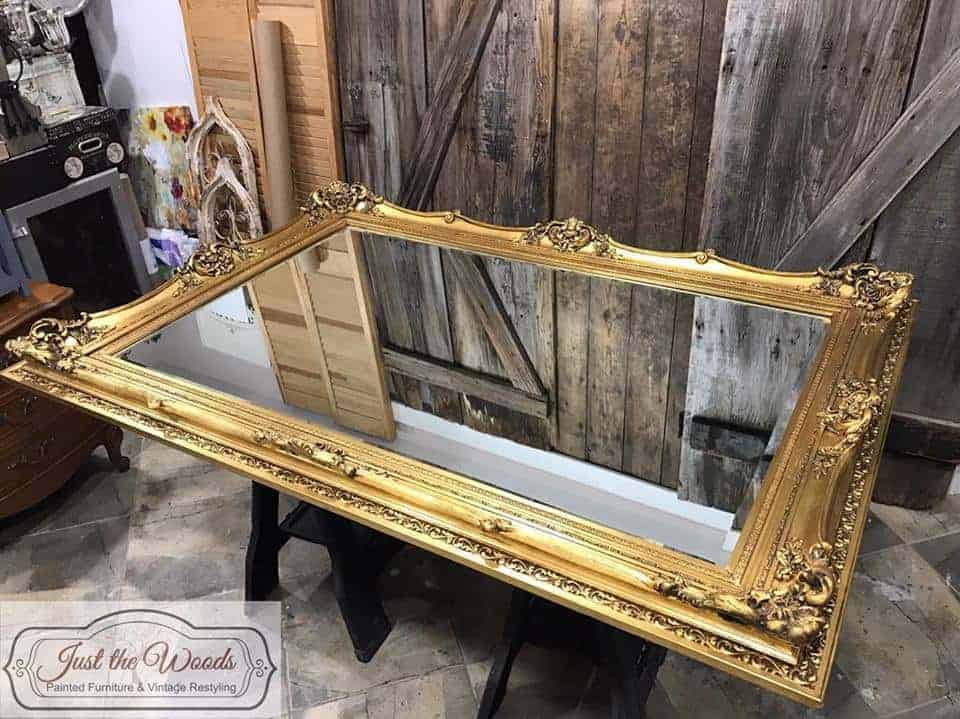 If you adore this style of mirrors then click here for a variety of available ornate mirrors: HERE

The Process – Painting a Vintage Ornate Mirror
First, and foremost I made sure to protect the mirror itself by taping off the mirror and then covering the whole thing with brown paper. I know many people who don't cover the mirror but rather paint and then scrape off any paint with a razor. But I know myself and I am very messy when I work, so I prefer to play it safe and cover the entire surface.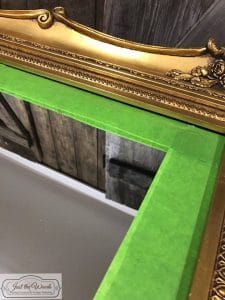 Click here for more options and How to Paint a Mirror Frame the Easy Way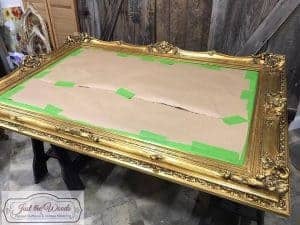 To clean and prep the mirror I lightly sanded and then used an old toothbrush to get in the nooks and crannies.
Once prepped for paint, the entire mirror is painted black. It took two coats to cover up all of the gold on this large ornate mirror.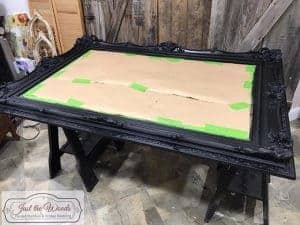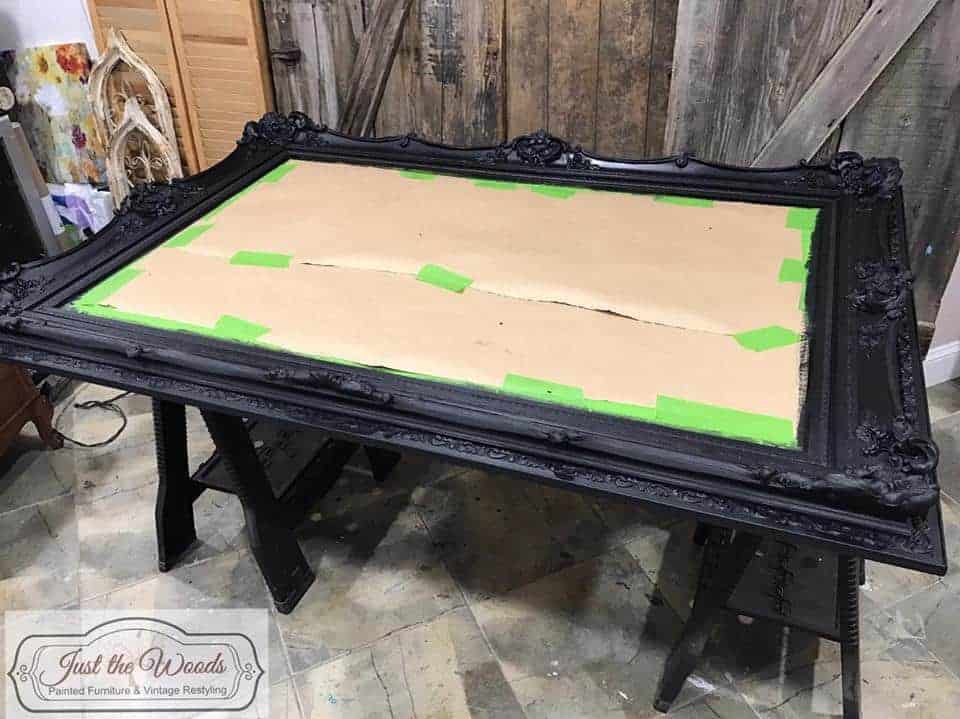 Once the gold is all covered up I decided to seal the black paint in with black sealer. Again, just a little extra measure. I would hate to distress later in the makeover and reveal the gold again, so the sealer adds a protective layer to the black.
Layering Paint to Bring out the Details
Moving on, the next step is to brush the details with a light gray paint. Oh my! I'm speechless.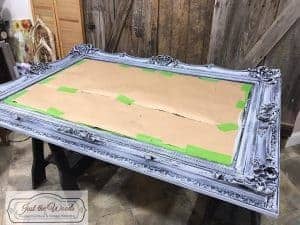 The gray over the black makes the details POP!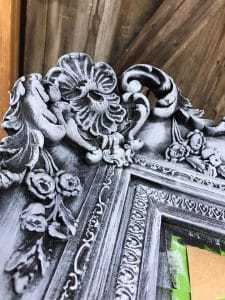 After this step, I layered metallics using silver and onyx. Once the layers were complete the raised details were all kissed with a hint of silver before being sealed for protection. I must've used every paintbrush in my shop to get different textures, add layers and get into crevices, or lightly brush raised details.

The Result – Painted Pewter Mirror
When I forwarded a few photos to my customer before staging I had a lump in my throat and a tightness in my chest waiting to hear back from her on whether she liked it or not. Once she responded that she loves it I felt like I could finally breathe again. Then my mother in law came by to see the kids and said: "that mirror looks great, it looks like a pewter" .. which is exactly what we are going for, so another sigh of relief there. If you are trying to get a similar metallic painted finish as this mirror I would suggest using Modern Masters Metallic Paints in Black Pearl, Pewter and Sterling Silver – find them all HERE.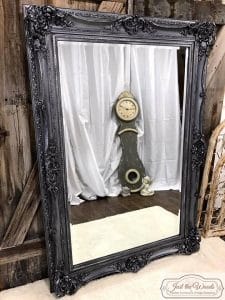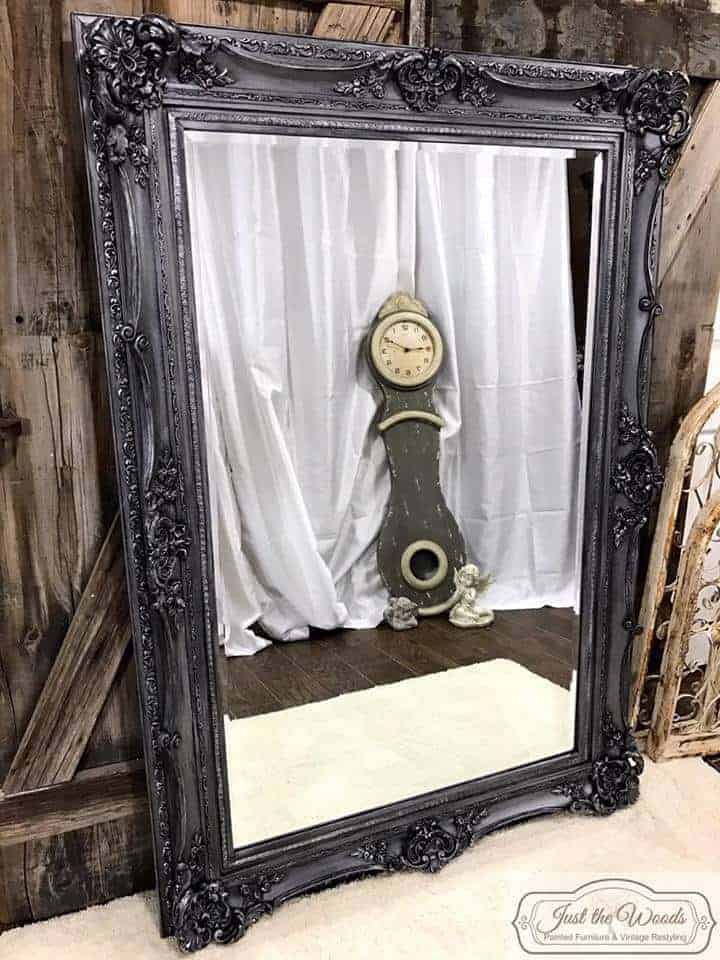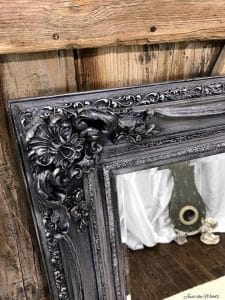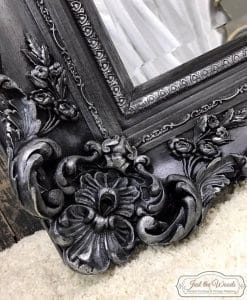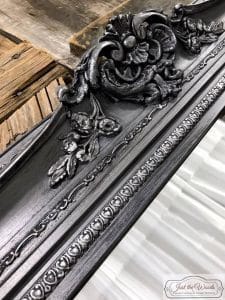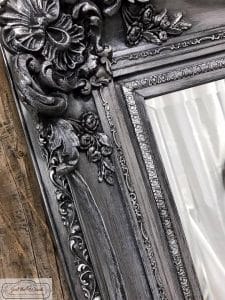 Love this metallic makeover? If you adore projects using metallic paint then make sure to check out some of these great makeovers.
Painted Furniture Ideas & DIY Projects using Metallic Paint
Because adding metallic paint to your furniture makeover is always a great idea! Here are 10 more DIY projects using metallic paint.
Don't Forget – Follow Just the Woods :
FACEBOOK * INSTAGRAM * PINTEREST
PINTEREST PIN READY TO SHARE