How to get farmhouse white painted furniture when confronted with bleed through issues while painting furniture
Do you love the look of white painted furniture but fear the wrath of the evil bleed through? To be honest, I tend to avoid the whites in general when possible because the idea of a white painted dresser sometimes makes me nervous. There is often the fear of bleed through, specifically when starting with a dark wood. But when you think farmhouse style it's often tied to white painted furniture. This dresser is a prime example of what I'm talking about.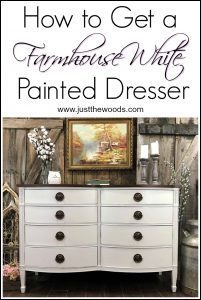 Disclosure: This post contains affiliate links for your convenience. Click here for my full disclosure policy.
The Unfinished Vintage Drexel Dresser
This vintage dresser is originally made by Drexel, is solid wood, has bow front, dovetail drawers, and dark wood that taunts me with its promise to bleed through regardless of what paint color I intend to use. A simple trick when dealing with bleed through issues is to add a glaze over the paint which won't necessarily conquer or hide the bleed through but will simply mask it. Somewhat like a band-aid, or the whole 'if you can't beat 'em then you may as well join 'em' type of solution. Don't get me wrong, even that isn't 100% foolproof, but it's certainly easier than tackling bleed through head on. I won't be adding glaze to this project, but still wanted to note the tip 😉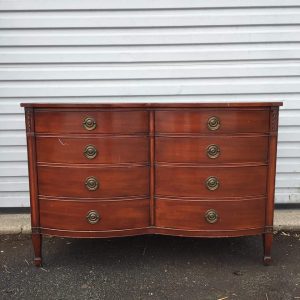 How to Get Farmhouse White Painted Furniture
Materials Needed / Source List
Prepping a Dark Wood Dresser for White Paint
To get started I managed to get this dresser out of inventory before the oncoming snowstorm that was threatening the northeast. And since the top is to be stained I decided to sand the dresser outside. Lord knows I learned the hard way about using my electric sander inside my shop. Let me just say that it's a no-no unless you want dust particles everywhere.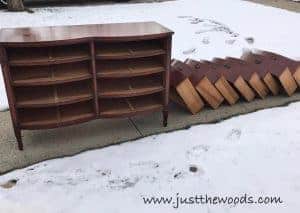 The hardware was removed and placed in a bag for safekeeping, and to avoid losing any screws. Sometimes the simplest solution is the best solution.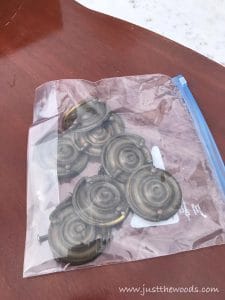 The vintage Drexel dresser was then sanded down to bare wood on top and the drawers were sanded as well. I'm sure you can tell from the already existing snow on the ground that it was cold out. While sanding away my nose was running, eyes were watering and I couldn't feel my fingers but I managed to get it done.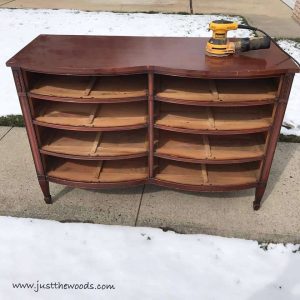 I'm pretty sure Mother Nature was enjoying herself at my expense during this process.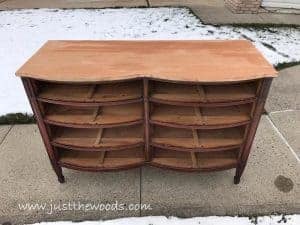 Once sanded and wiped down I managed to get the dresser down into my shop with the help of my hubby. After I managed to restore feeling to my face and fingers I continued on with my standard prep process which you can see here: How to Prep Painted Furniture. If you are not sure where to start then start at the beginning.

We Have a Bleeder!
I don't have a magic ball, but I have been doing this long enough to foresee when a piece intends to give me trouble. It's clear from the look of these drawers that they won't go white quietly. They are mocking me and daring me to just start to paint them in hopes of an easy makeover. But I know better.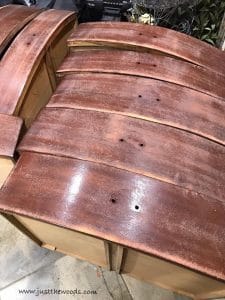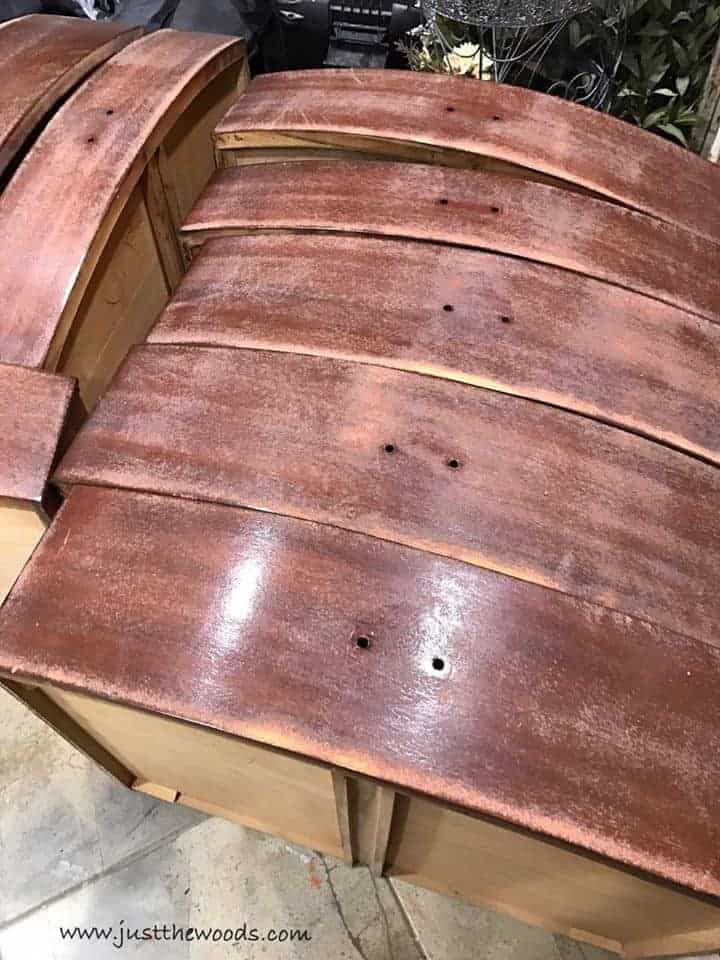 Click here to Pin this post for later.
To be completely honest, I don't normally prime my pieces. There isn't a need for it. But every now and then there is an exception to almost any rule. Here is the exception. I could tell in my gut that this was no average dresser. So, to play it safe I took extreme measures and primed the entire dresser. I added two coats of primer on the surface that I intend to paint white before moving on. Here are a few other examples where primer is a good choice: PRIMER.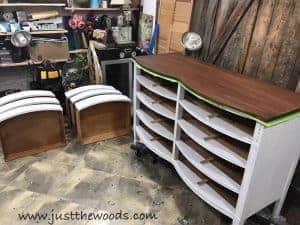 Ready to Paint a Farmhouse White Painted Dresser
Once primed I actually took another precaution by painting my first coat of paint in very light gray. I almost always use a light gray before painting anything white. You can find great quality furniture paint online HERE. An added bonus, when painting furniture, you want to make sure to use a quality furniture paint.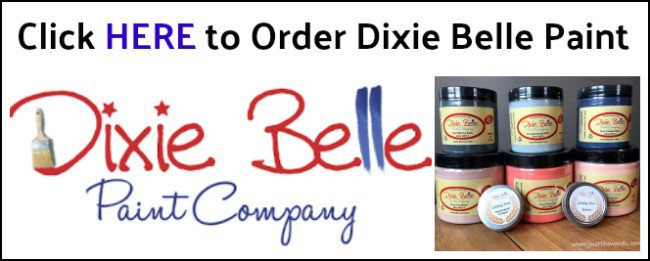 After the light gray I then painted two coats of off-white, making sure to lightly sand in between each coat of paint for a super smooth finish. I used a very fine grit sandpaper to achieve this smoothness. Here is another post with tips specifically for painting furniture white: How to Paint Furniture White.

Painting Vintage Hardware
The original hardware to this dresser is perfect for the piece and there is absolutely no reason to replace them.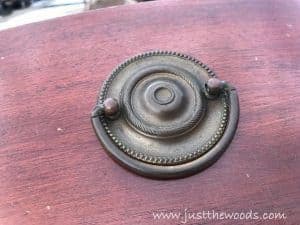 The hardware was removed, cleaned and painted using brown as a base color followed by metallic bronze. This is my full process for How to Clean, Prep & Paint Hardware.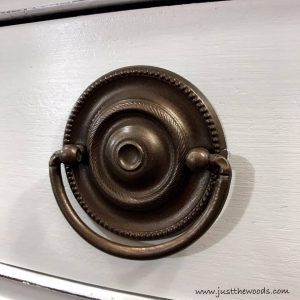 Farmhouse White Dresser with Stained Top
Remember the top was sanded down to bare wood? Well to get that gorgeous farmhouse wood stained top I used brown wood stain, and let me tell you that it goes on like a dream. I often use a darker wood stain, but this time opted for slightly lighter and absolutely gorgeous.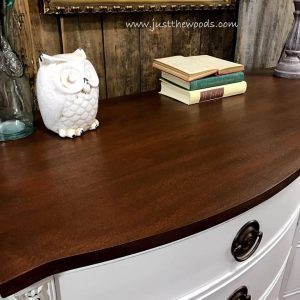 In between coats of wood stain I lightly sanded with a fine grit sandpaper leaving a smooth to the touch finish as well. The entire dresser is as smooth as a baby's bottom.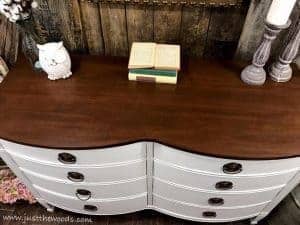 You can find another detailed tutorial here for How to Apply Wood Stain to your DIY furniture makeovers.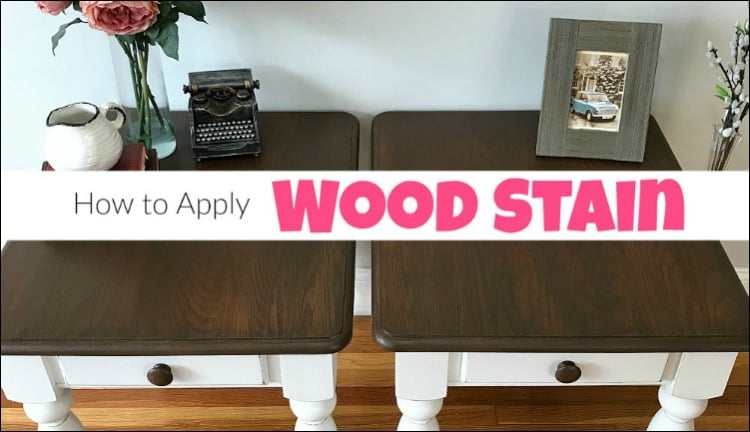 Before being sealed for protection the entire dresser was lightly distressed bringing special attention to the carved details on the dresser. Not sure how to distress white painted furniture? Just lightly sand along the raised details and edges to reveal the original wood underneath and Voila! Here is another post with video tutorial dedicated to distressing painted furniture: How to Distress Painted Furniture.
Here is a full tutorial with VIDEO showing how I seal my painted furniture projects: Sealing Painted Furniture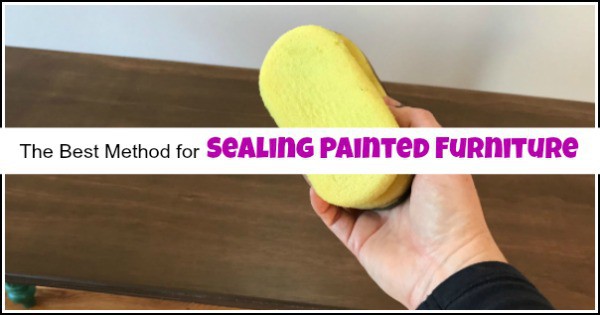 The Result – Farmhouse White Painted Dresser with Stained Top
A few frozen fingers and extra steps turned this dark wood beast into a farmhouse-style distressed white painted dresser. It was all worth it!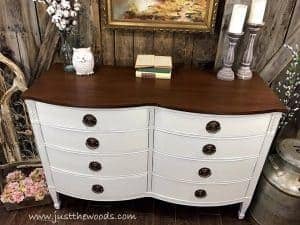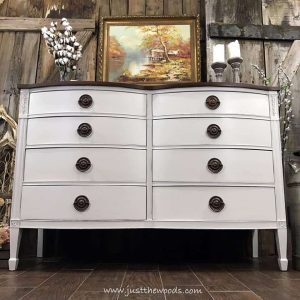 Click here to Pin this post for later.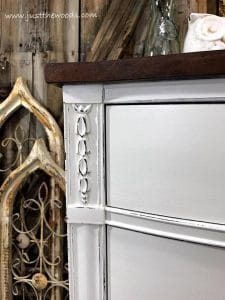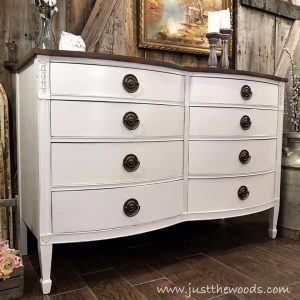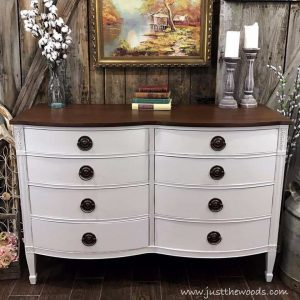 Click here to Pin this post for later.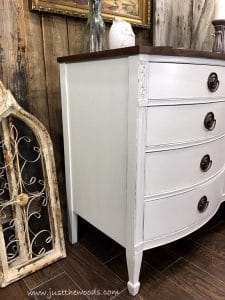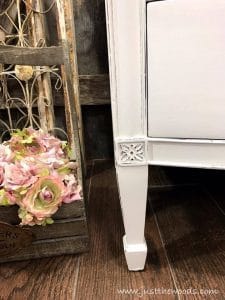 Love farmhouse style? Make sure to check out Farmhouse Decor for your Inner Farm Girl!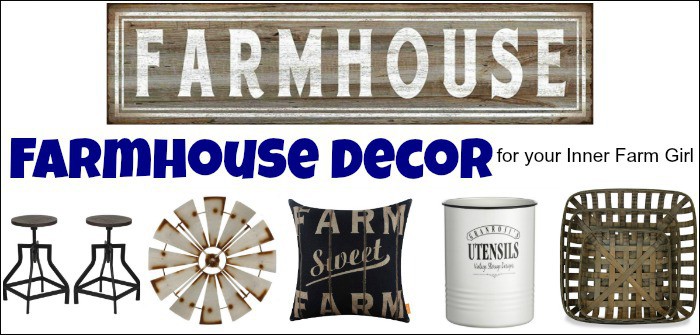 If you like this then….
If you like neutral white painted furniture make sure to check out Vintage Painted Dresser with Surprise Drawers. For more farmhouse style painted furniture check out Farmhouse Painted Bench and Glam Farmhouse Style Table.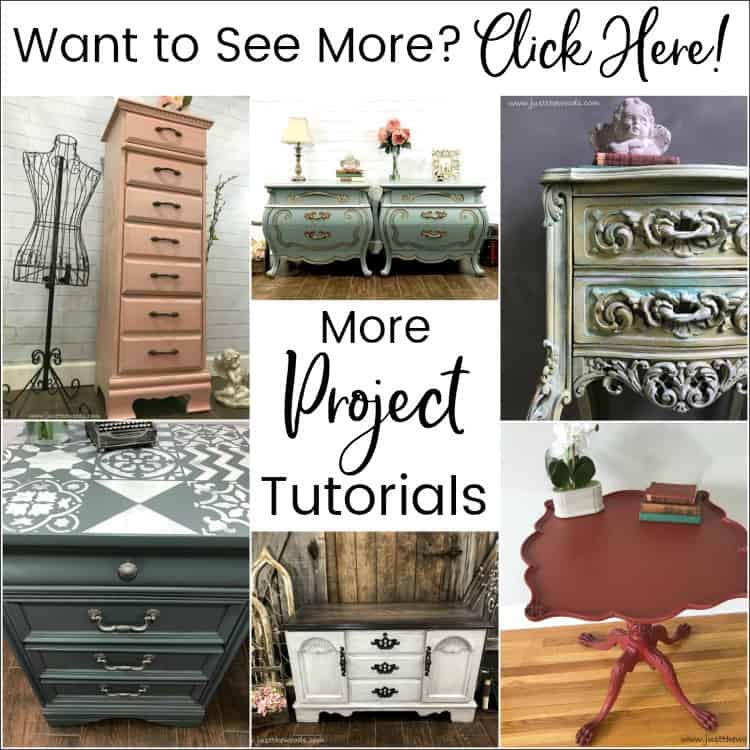 Don't Forget – Follow Just the Woods:
FACEBOOK * INSTAGRAM * PINTEREST
PINTEREST PIN READY TO SHARE