DIY Chalkboard from an Empty Mirror Frame
Every now and then I hold onto something with plans to use it someday. From table legs and hardware to random mirrors and frames. For this empty frame turned DIY chalkboard someday has finally arrived. Layla had been asking for a chalkboard for some time now. And I had this old mirror frame sitting in storage with the rest of my inventory for close to a year. The old frame held the mirror that was part of a Stanley Furniture dresser set. But the mirror itself went missing a long time ago. All that remains is the frame with the board backing. I always knew that I would find a use for the empty frame, I hadn't figured out what until now.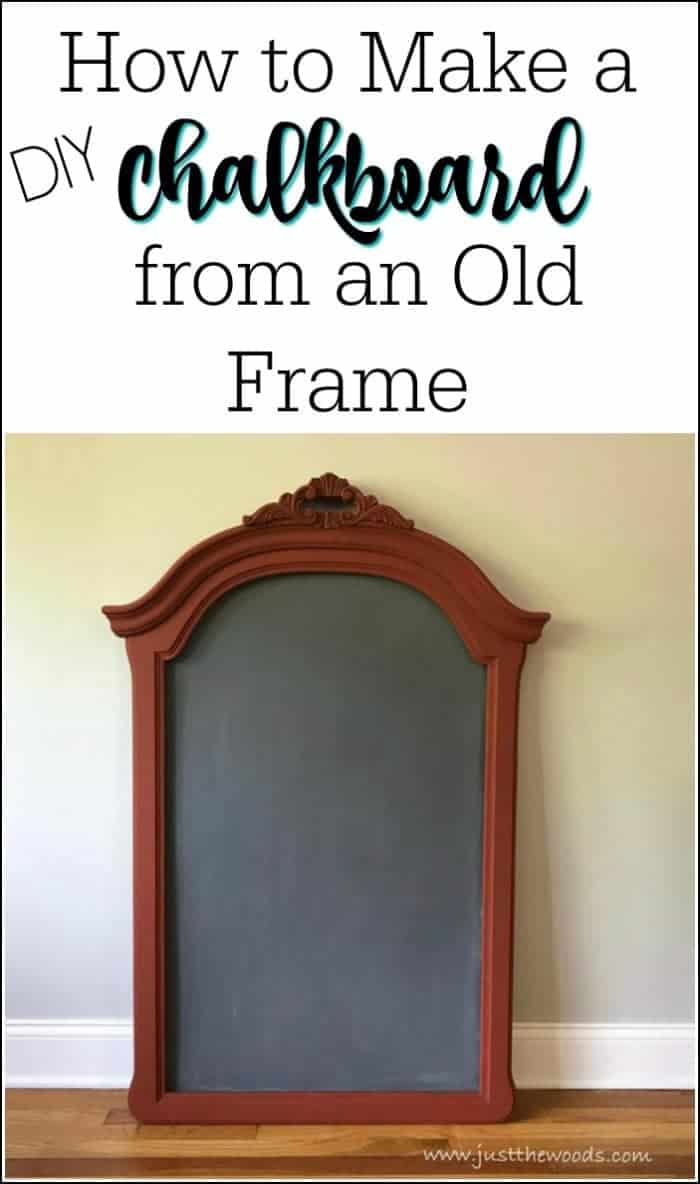 I tossed the kids in the truck and we drove to storage to retrieve this dusty old frame. Dusty from storage, not dust from age. Layla was quite excited that she's finally getting her chalkboard.  I suppose I could've left the frame in the factory finish white, but what fun would that be?
Disclosure: This post contains affiliate links for your convenience. Click here for my full disclosure policy.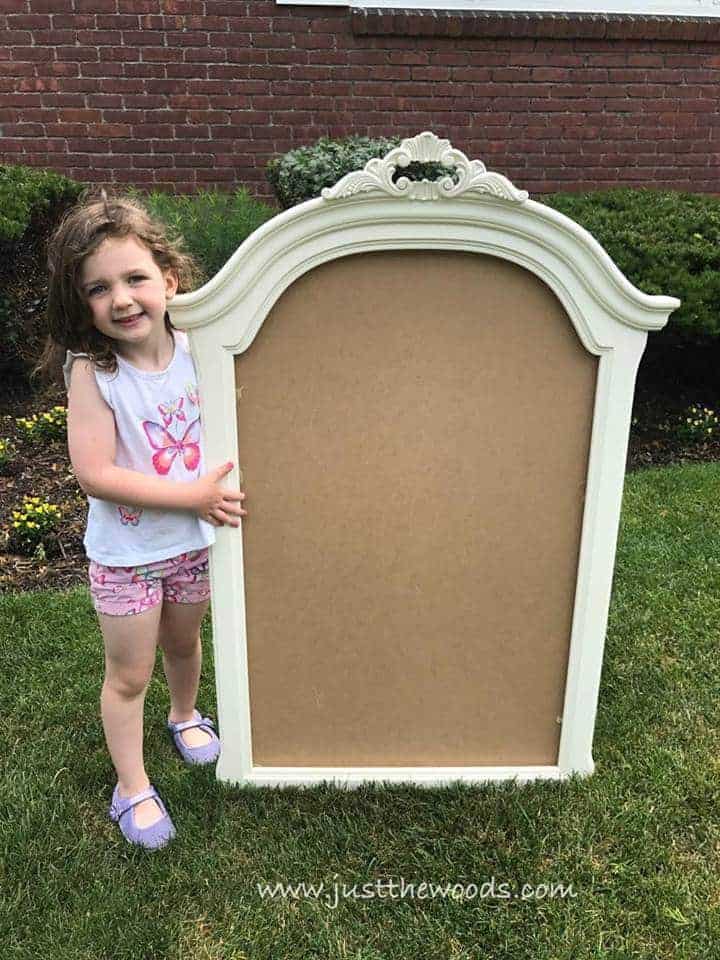 I decided that this is the perfect opportunity to use a deep brick orange and will work with the warm colors in the basement and play area.
Prepping an Old Mirror Frame
There were remnants of the old glue still attached to the board along the sides where it used to hold a mirror.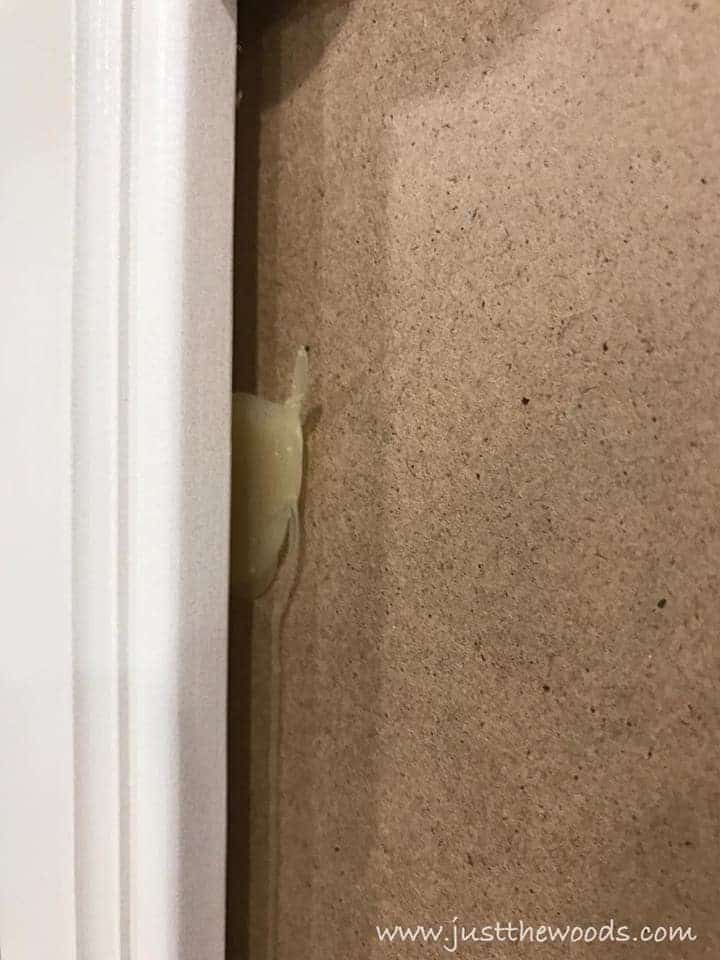 Some of these pieces of glue came off with no problems. While a few stubborn pieces came off with the help of a flat razor. Be careful not to cut into the board while doing this.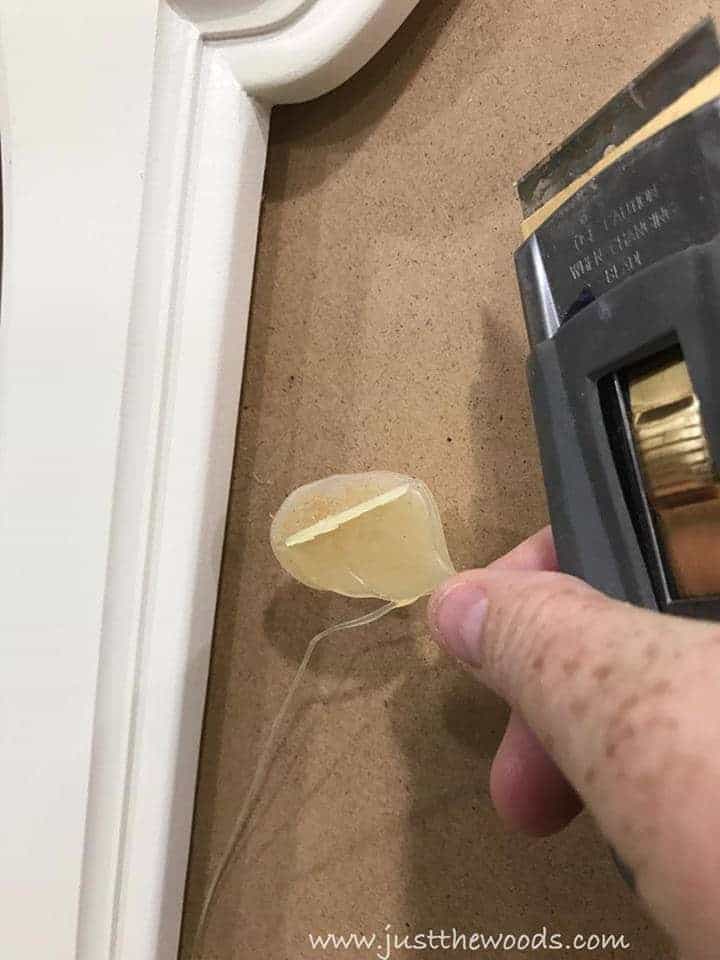 Painting the Chalkboard Portion of the Frame
The board was painted with a damp cling on in two coats of a very neutral gray chalk type paint. I was afraid that if I used black it would appear too dark since the frame will also be rather dark. After two coats of gray do NOT add a sealer over the paint. You can find great quality furniture paint and stain online HERE. An added bonus, when painting furniture, you want to make sure to use a quality non-toxic furniture paint.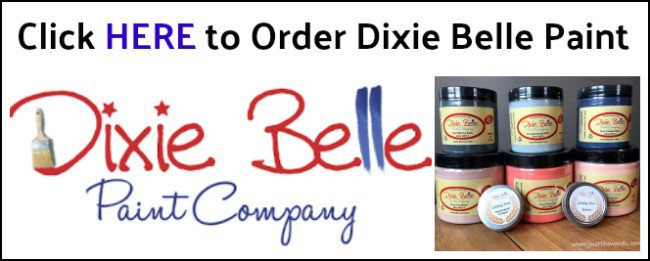 Painting the Frame
Adding a rich brick reddish orange to the frame. A piece of paper acts as a shield of sorts to prevent any paint from getting on the gray. Easy peasy.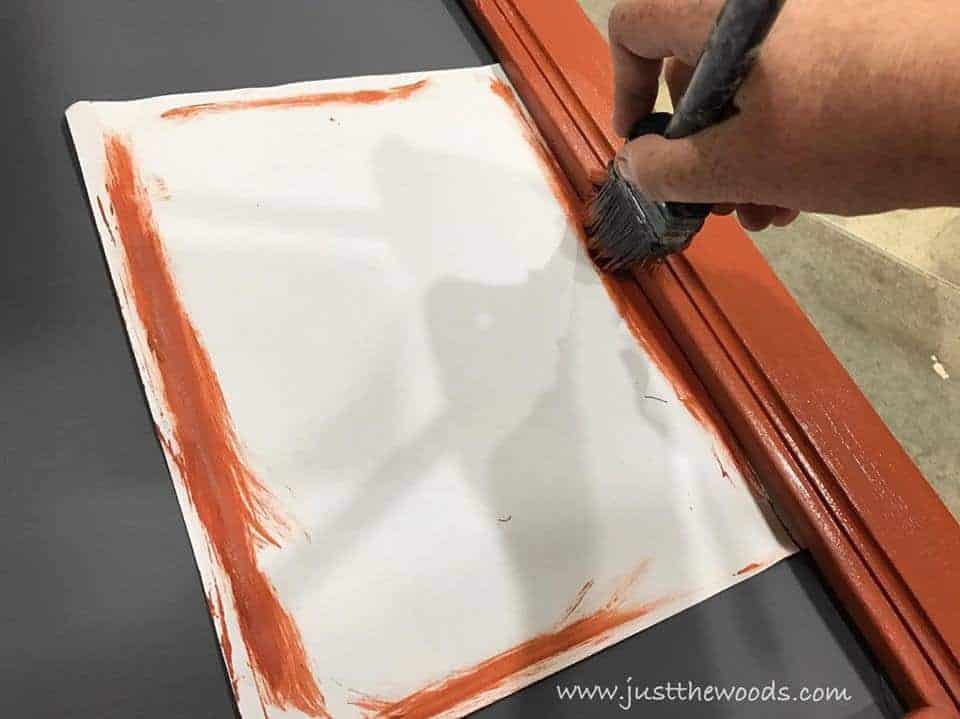 How to Season a DIY Chalkboard
Make sure to season your chalkboard before first use. To do this all you have to do is cover the entire surface of the chalkboard area with chalk. Lay the chalk on its side rather than use the pointed end.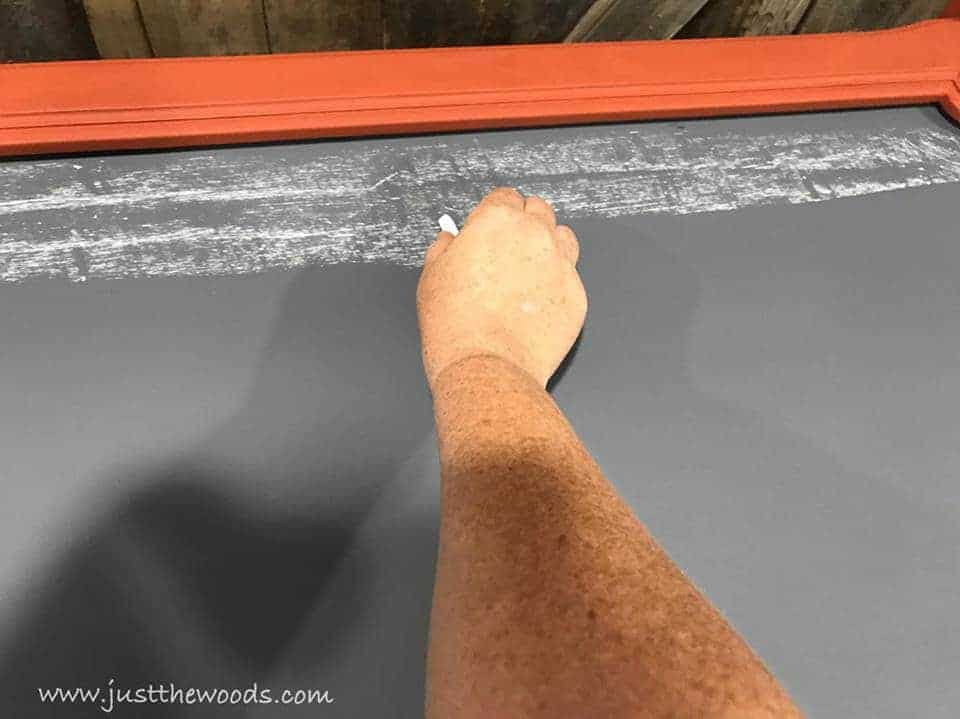 Once the entire surface is covered wipe it all away with a clean dry cloth. Doing this allows you to write on the chalkboard and wipe away with a dry cloth rather than use a wet rag each time. It also creates that classic chalky finish.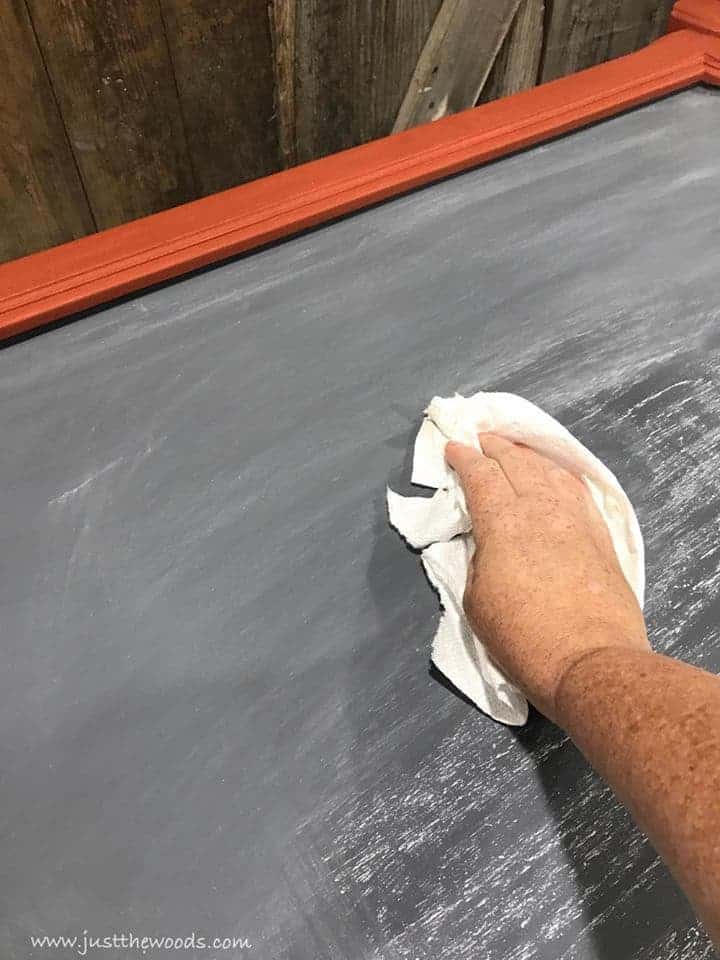 Easy DIY Chalkboard from Empty Frame
This useless empty mirror frame is now a useful chalkboard. 
You don't need any fancy chalk or anything special after this. Standard white chalk and a clean rag provide hours of creative fun.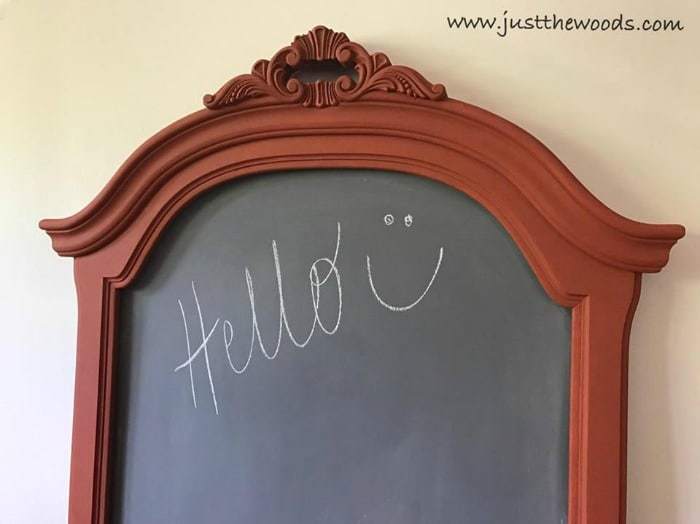 Layla now has her chalkboard.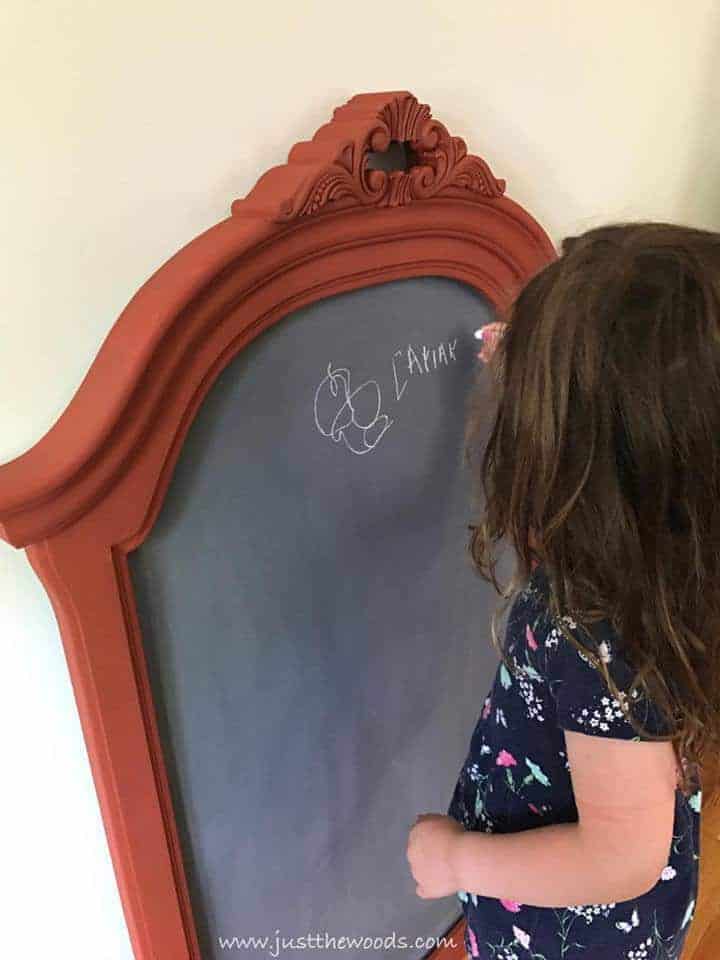 We found the perfect spot to hang it downstairs. It fits perfectly next to the Antique Storage Chest turned Toy Box. And next to the Vintage Leather Top Desk.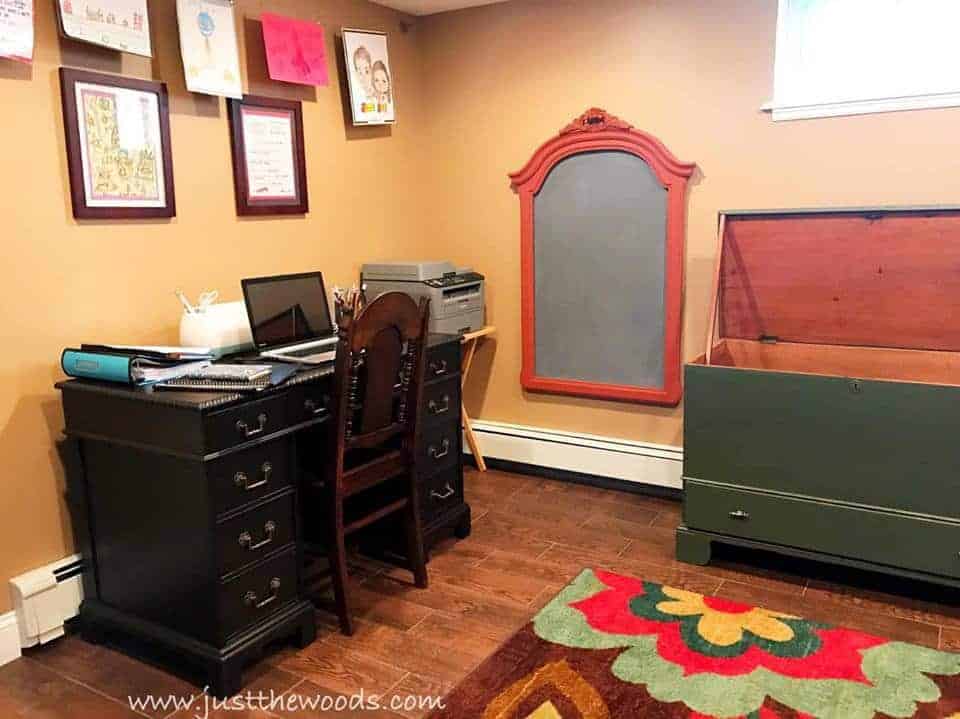 For the other projects in the room check out the  Antique Storage Chest turned Toy Box.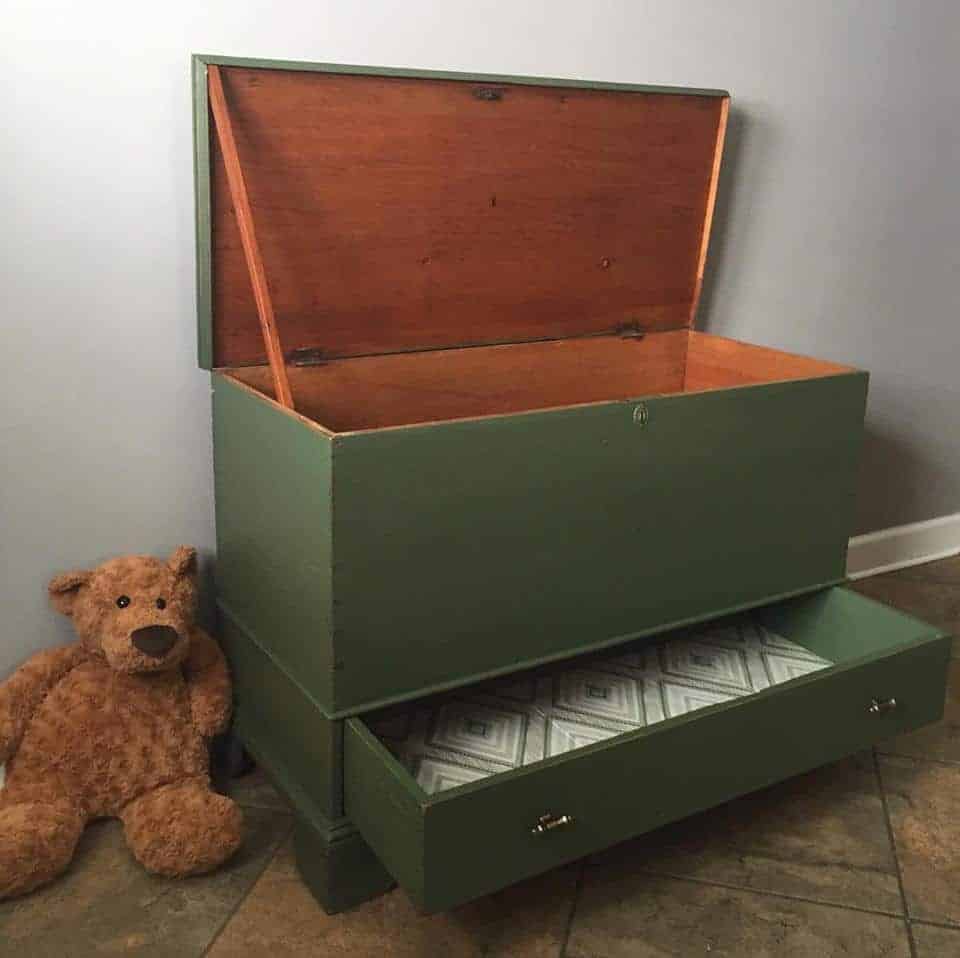 How to Save the Leather on a Vintage Desk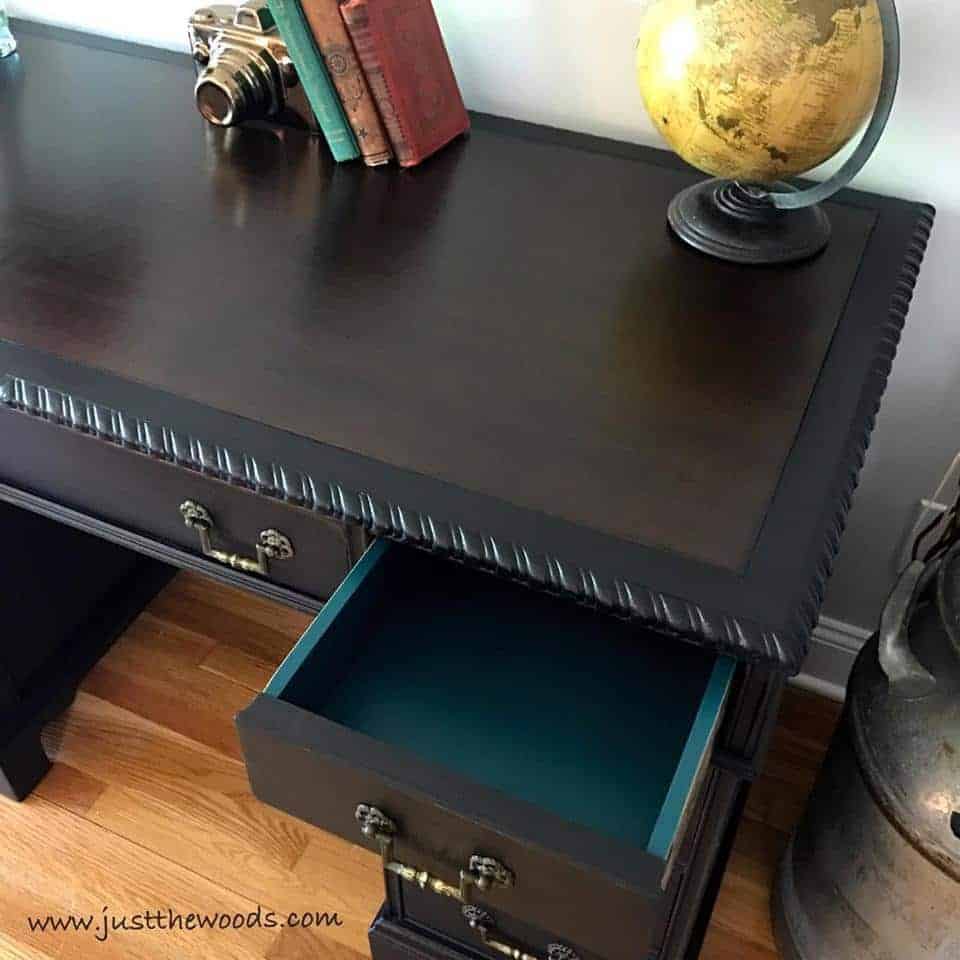 Concrete to Complete – Basement Remodel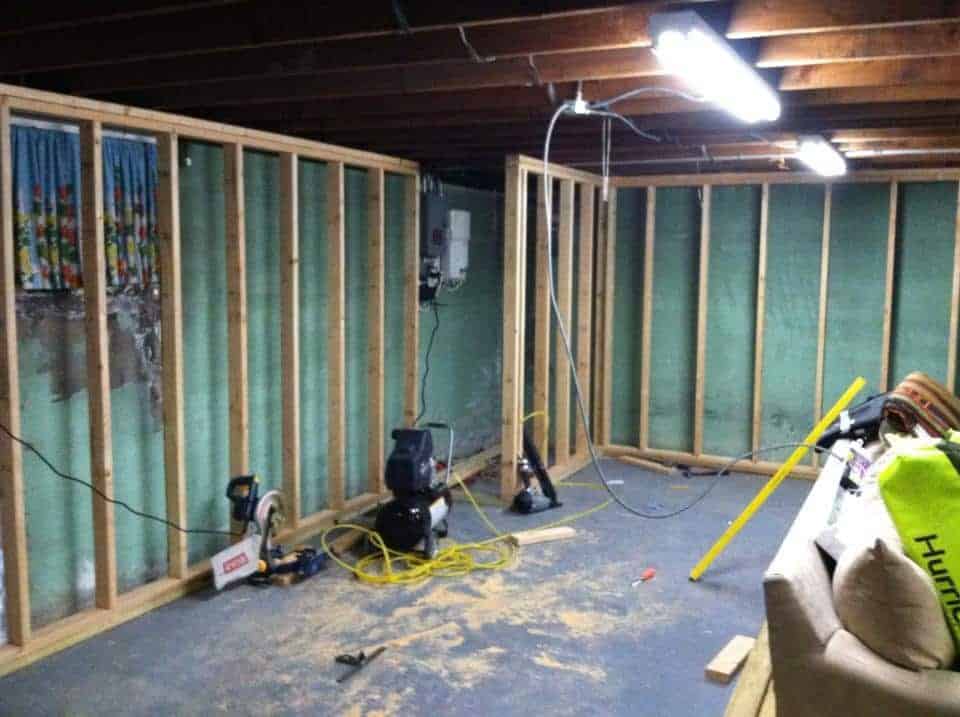 Not feeling very crafty or no time to DIY yourself? No worries, you can get one already finished here:

Don't Forget – Follow Just the Woods and Share this post to Inspire others:
FACEBOOK  *  INSTAGRAM  *  PINTEREST
Subscribe to our mailing list here:
PINTEREST PIN READY TO SHARE