How to Paint a Mirror Frame the Easy Way
Painting a mirror frame works best when you can remove the mirror (or glass) from the frame. But that doesn't always work. When you run into problems you will have to try different methods.
So, have you ever asked yourself how do you paint a mirror frame when the mirror itself doesn't come out? There could be a variety of reasons why this would be the case.
the mirror may be so old that the back is all wood
nails may hold the mirror permanently in place
the mirror may be a part of the piece
it may not be worth the trouble to remove the mirror or glass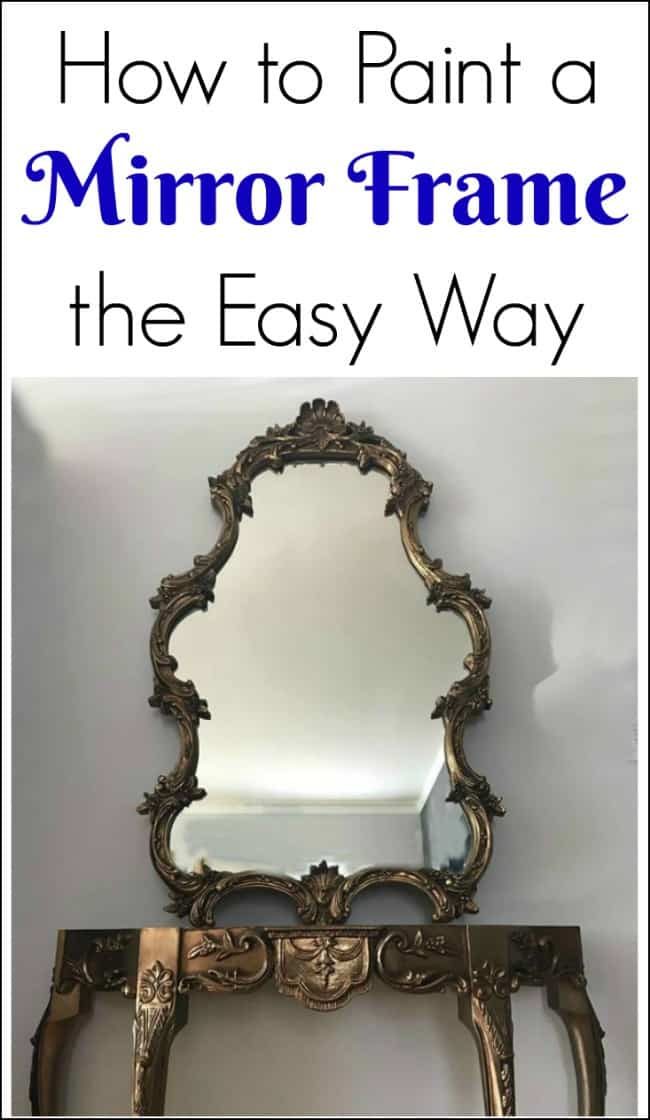 The same goes for working on a china cabinet and the glass may not come out for one reason or another. I'm sharing different methods for how to paint a mirror frame. This will work for any frame:
mirror frame
picture frame
wooden frame
plastic frame
ornate frame
vintage frame
You get the idea.

Disclosure: This post contains affiliate links for your convenience. Click here for my full disclosure policy. 

Materials Needed / Source List:
Super Easy Method to Paint a Mirror Frame
This may be the laziest method to paint a mirror frame or glass doors on a china cabinet. Have you wondered how do I paint around mirror without getting paint on the glass? No worries! You can actually go ahead and paint the frame and get paint on the mirror or glass. Sounds crazy right? I'll explain more. In the case of this custom painted vanity, the center mirror is unremovable and the side mirrors initially seemed to come out at first glance.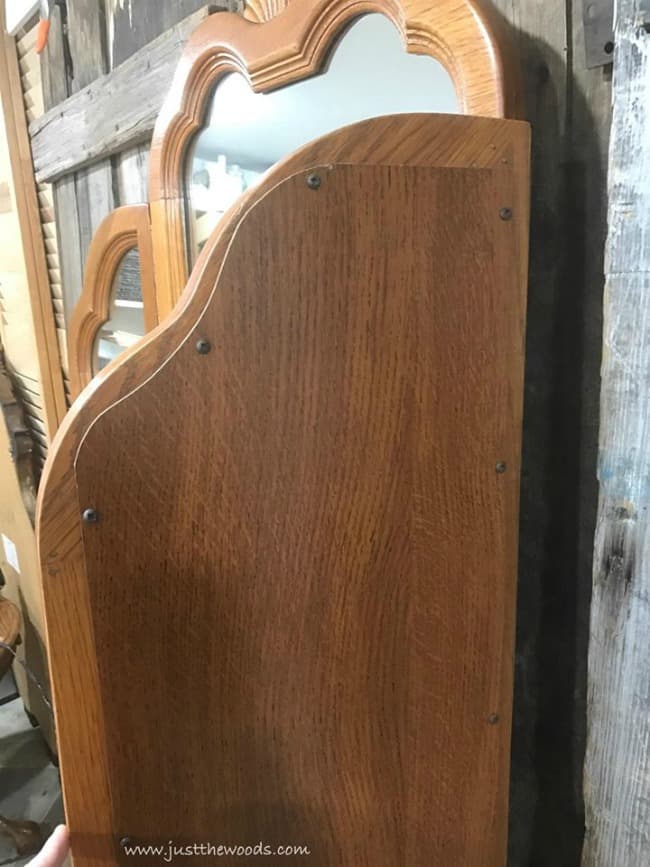 Even after removing the panel that covers the mirror it doesn't seem too bad. The mirror fits perfectly and has a protective piece of material.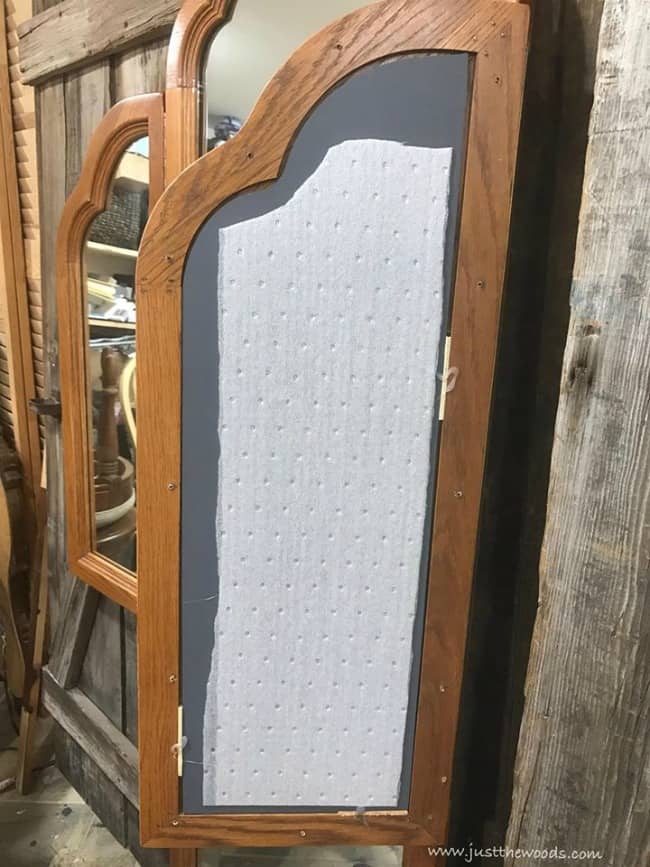 But wait! Shims and glue hold the mirror in place making it nearly impossible to remove. I'm not willing to take the risk of damaging the mirror or frame so I will work around it. I take this as a sign to leave well enough alone and find another way.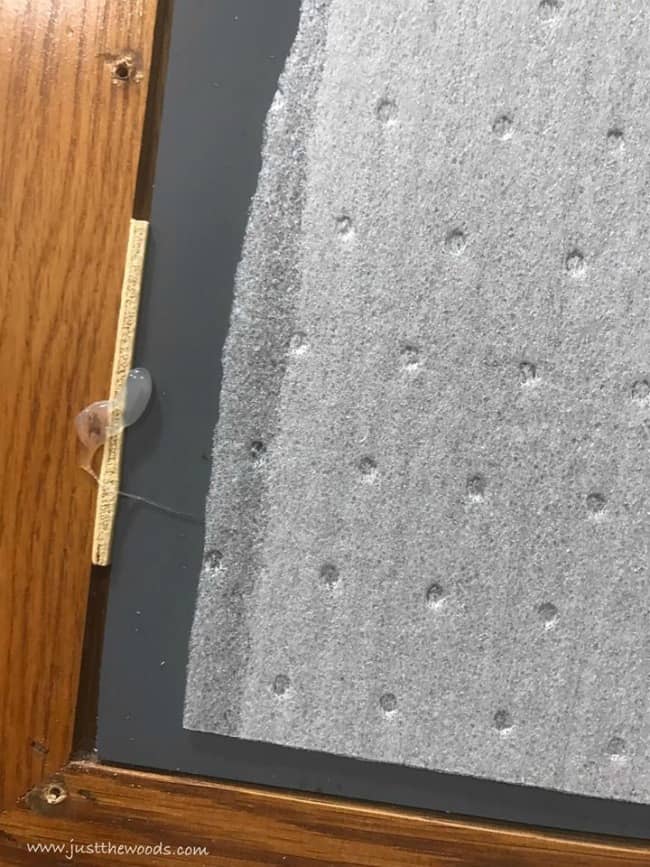 In this case, you will paint the mirror frame in place. Here is a video showing the process to remove the paint from the mirror with a flat razor. Click here to see the full makeover where this mirror is a part of a custom painted vanity: Painted & Decoupaged Vanity.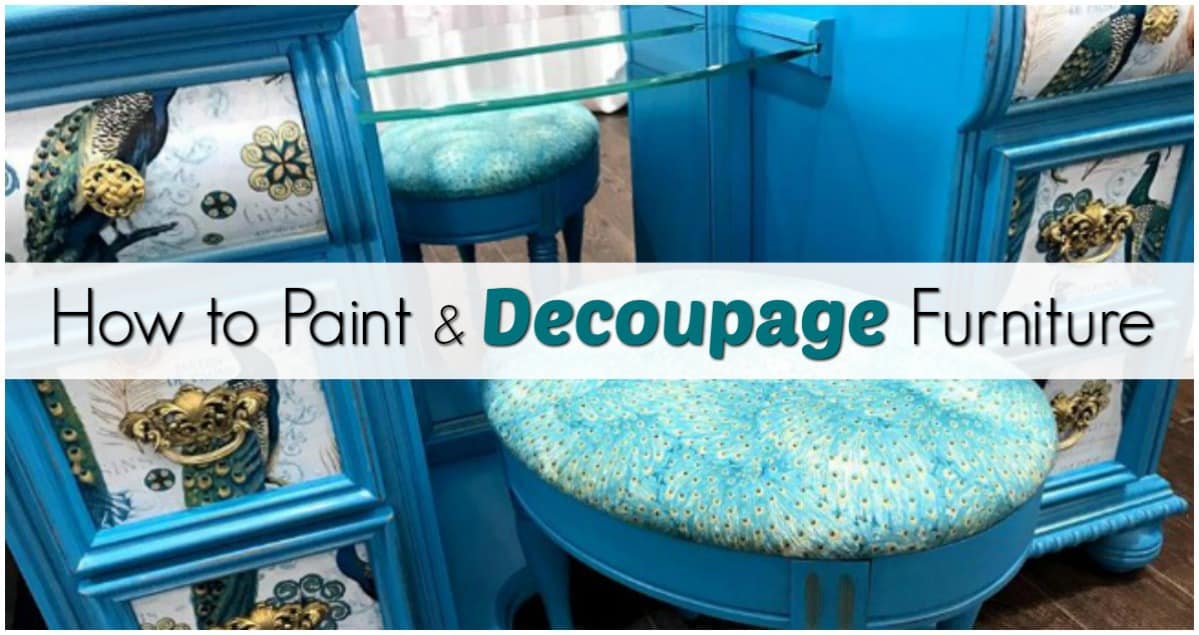 This same method can be used on china cabinets with glass that either can't be removed (or if you don't want to remove them) as seen in this makeover: Painted China Cabinet with Decoupage Backing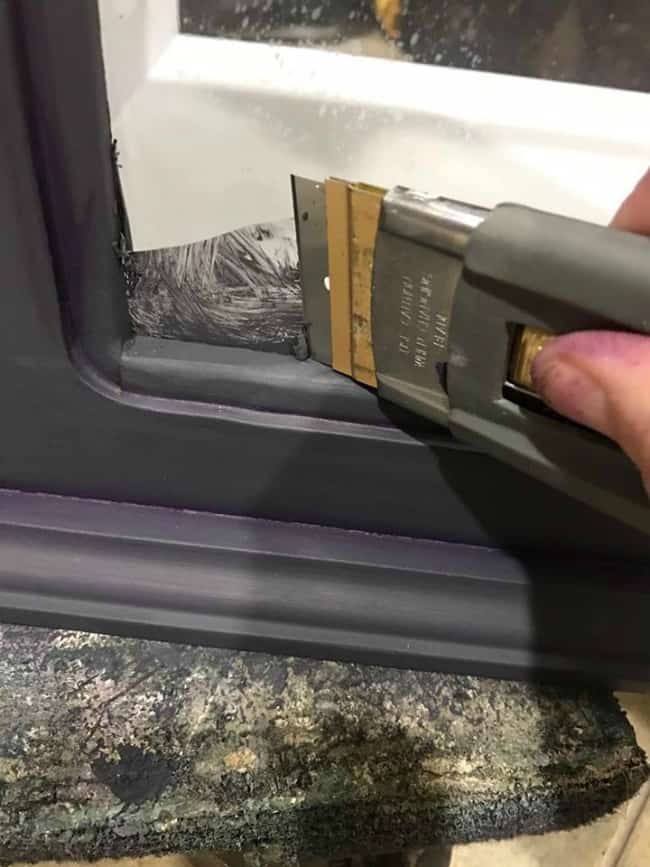 Painting a Mirror Frame or Glass With Tape Protection
This next method to paint a mirror frame is also super easy and takes minimal effort. Simply tape off the frame of the mirror or glass doors with painters tape. This glass inserts on this china cabinet are held in place with wooden strips making removing the glass impossible.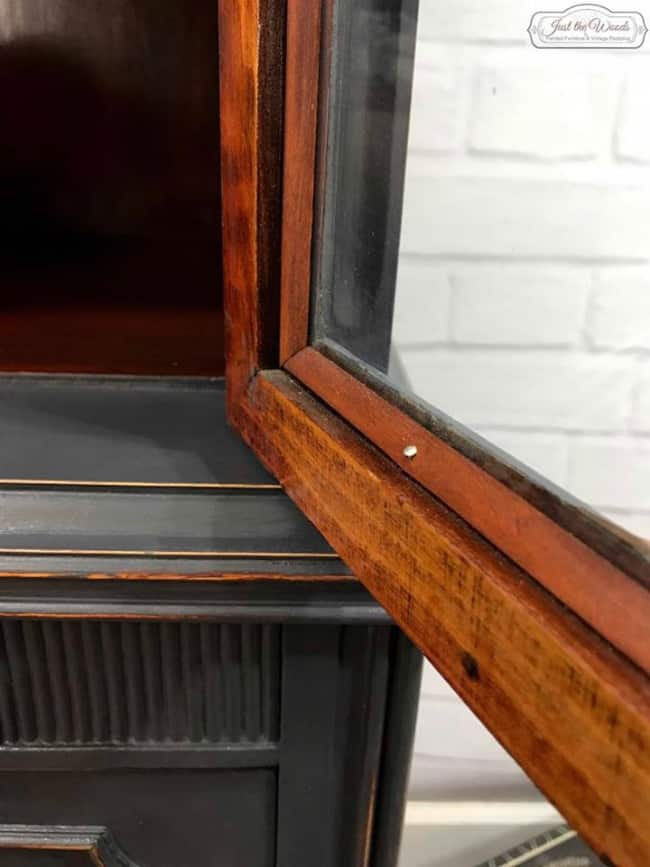 Because of this, the easiest method to paint the door frames is to tape off the glass. Click here to see the whole china cabinet project: Vintage China Cabinet Makeover
The same goes for smaller pieces like this standing jewelry chest. The small mirror is a part of the lid and can't be removed.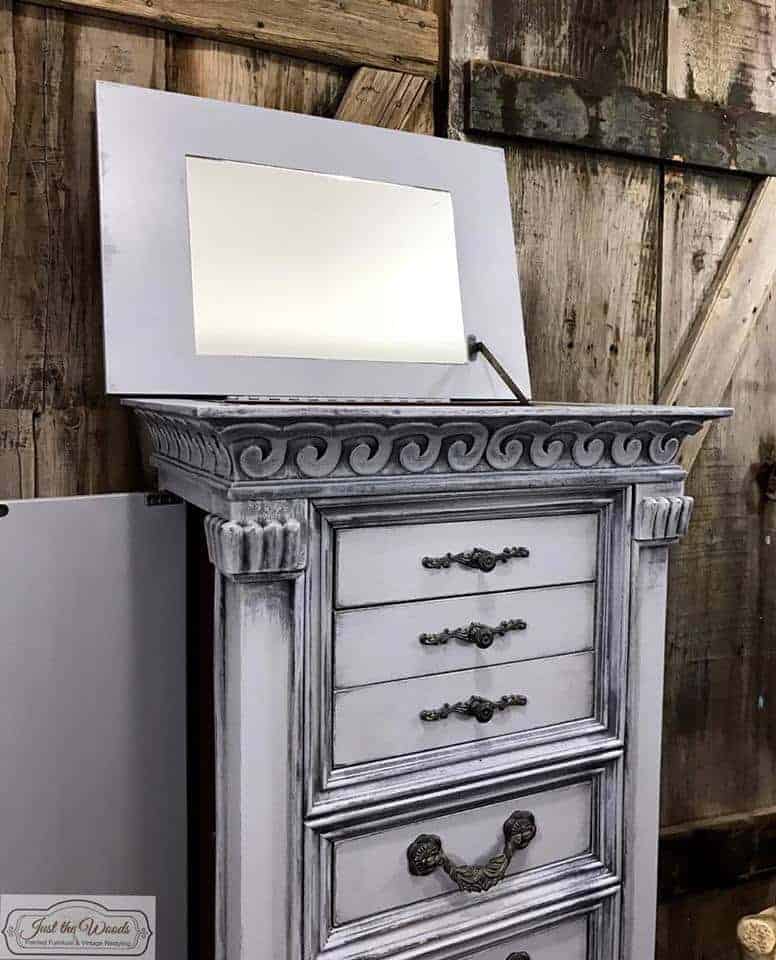 The easiest thing to do is to tape it the mirror completely for protection. Click here to see the full makeover: Painted Jewelry Chest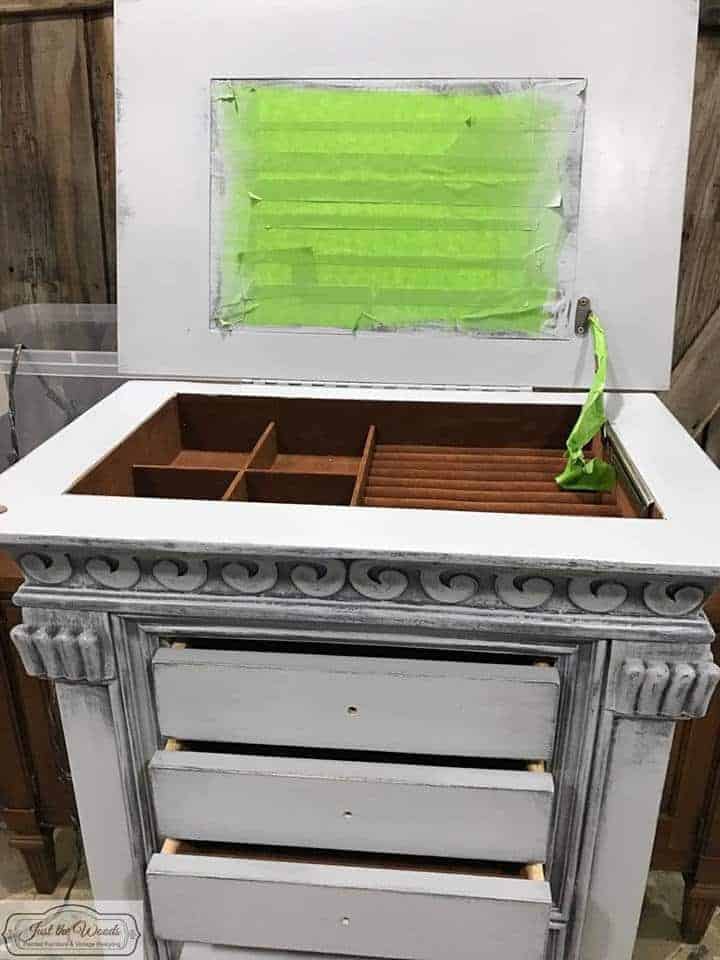 Painting a Large Ornate Mirror Frame
A third method to paint a mirror frame is to cover the mirror in its entirety. This oversized ornate mirror is so massive in size that it is placed on a sawhorse and needs to be protected.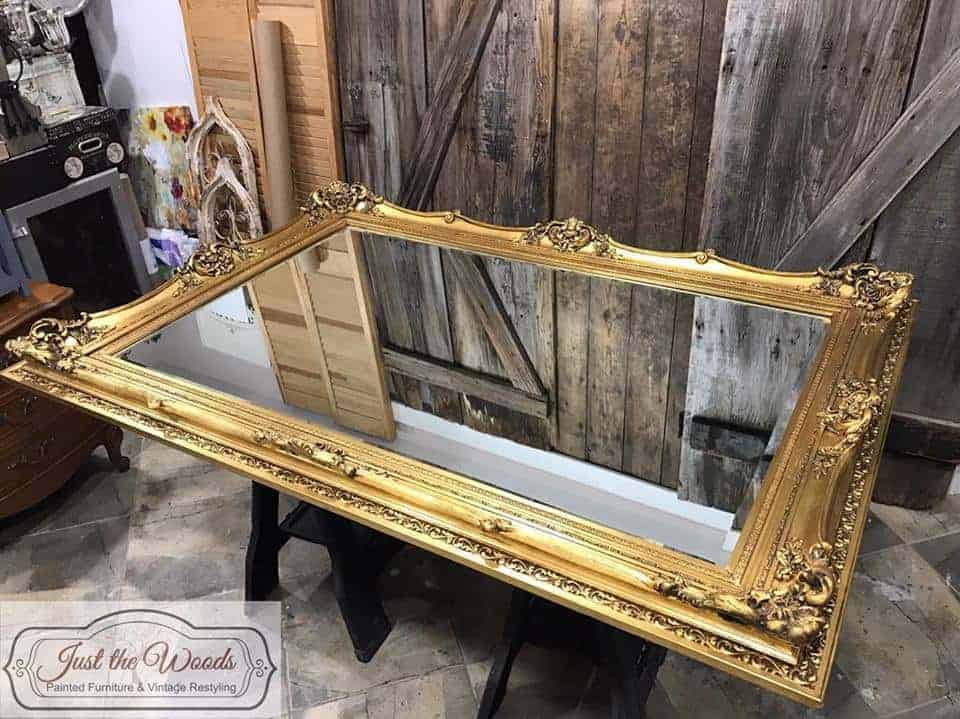 I keep a roll of brown packing paper in the shop for different reasons. This being one of them. Click here to see the entire mirror makeover: Elegant Ornate Mirror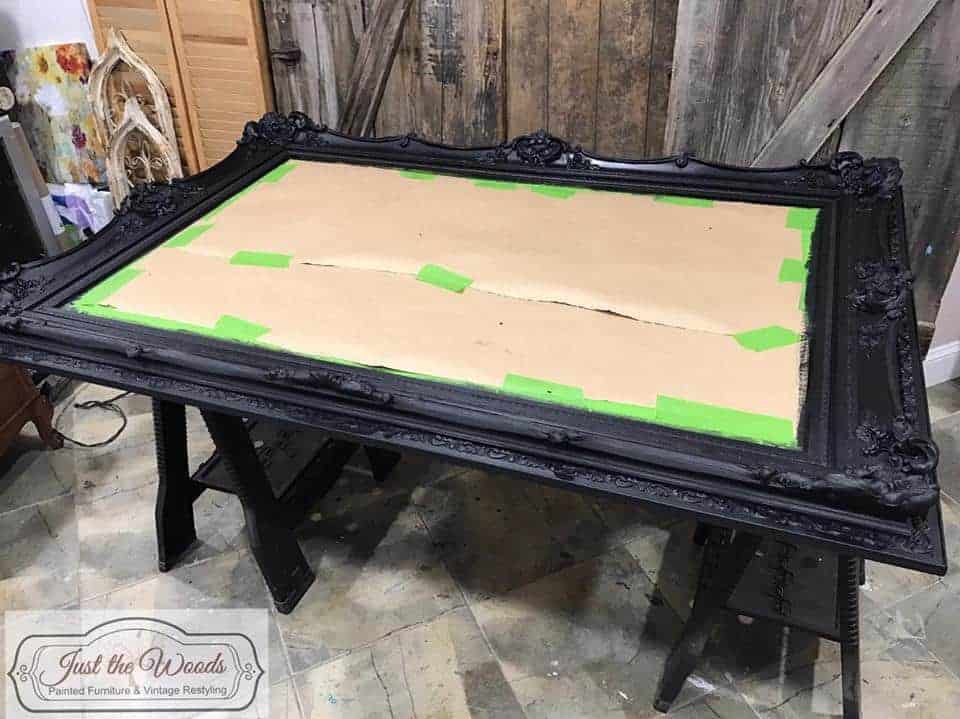 Simple Paper Method
This large mirror is part of an entire bedroom set. The wooden frame holds the mirror tightly making it non-removable.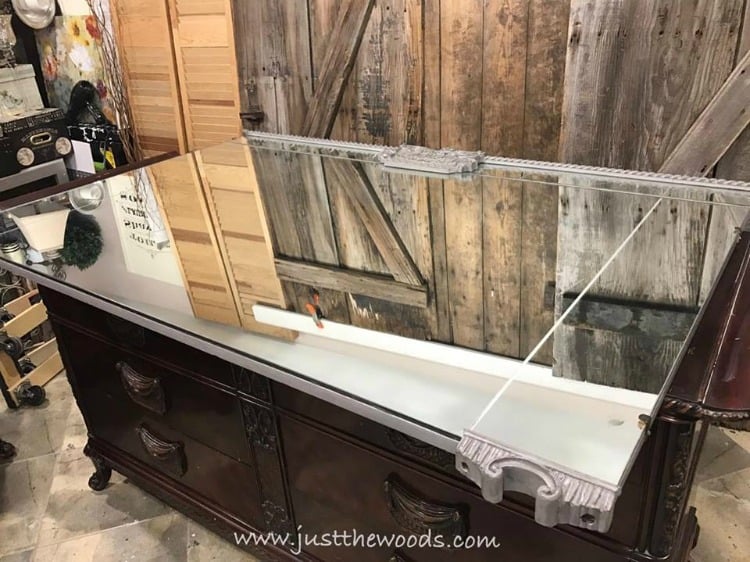 To paint this mirror you can simply place a piece of plain paper along the edge as you paint. Since the mirror frame is not as ornate as others the paper method works well in cases like this. Click here to see the rest of the makeover, including the entire bedroom set: How to Glaze Furniture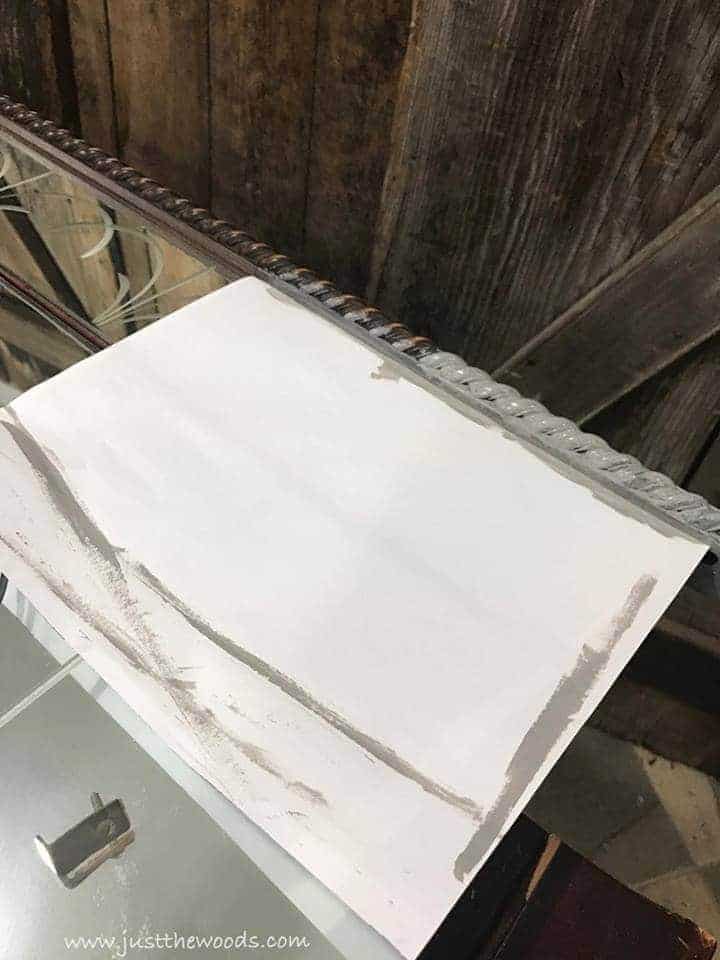 Combination Methods
There are in fact times where you may need to do a little of both. This extra large mirror frame is so ornate that no one method is perfect.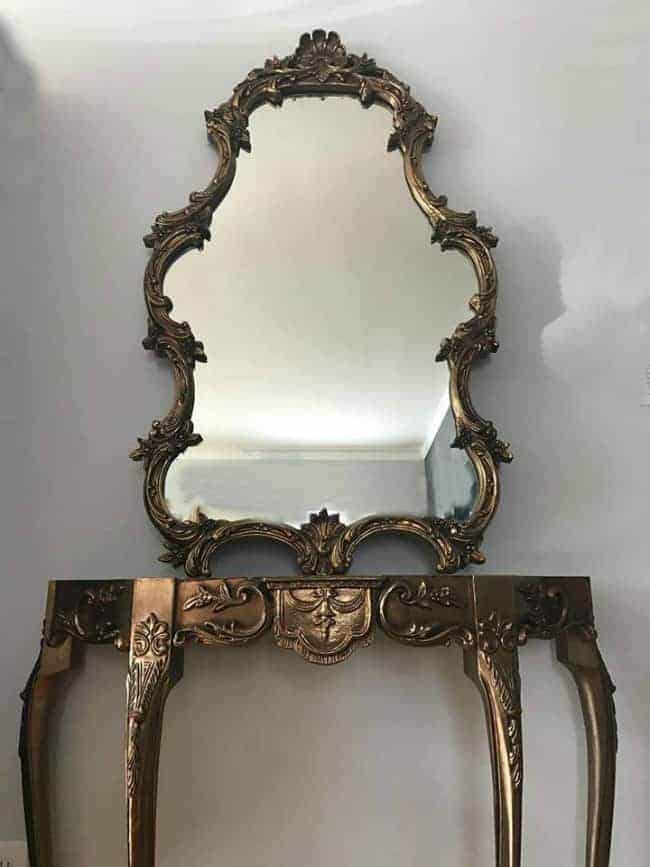 This large mirror has a backing that cannot be removed so we will have to paint the mirror frame with the mirror attached. Due to the fact that the frame itself is so ornate, I chose to tape the frame using Scotch Blue Platinum painters tape. The platinum tape tears so nicely.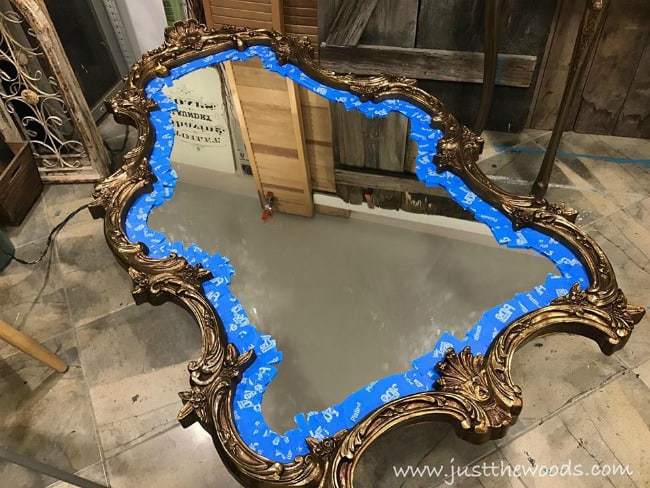 The tape makes it easier to paint the mirror frame.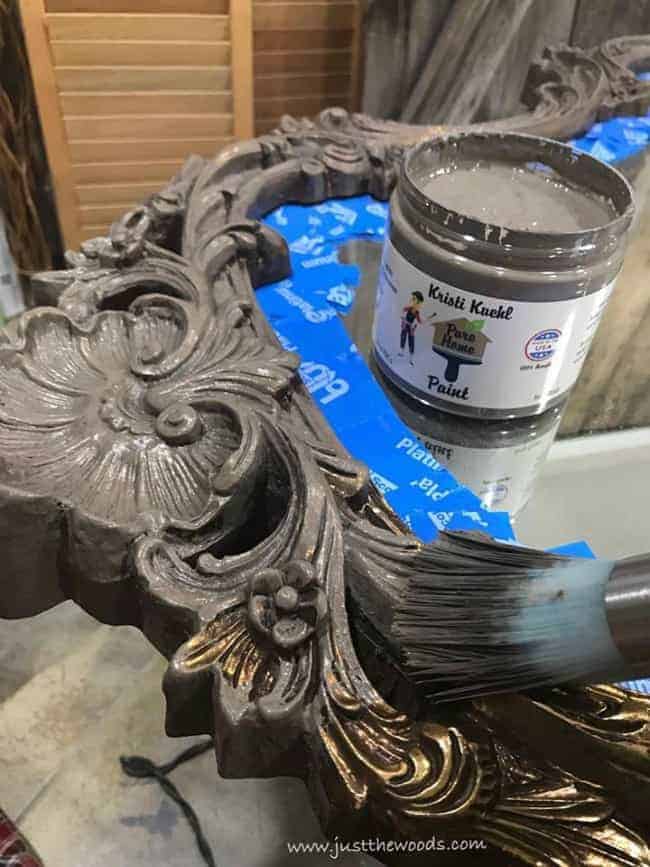 This painted mirror makeover is getting a layered and slightly distressed finish. As you can see there is plenty of paint on the tape and not on the mirror itself.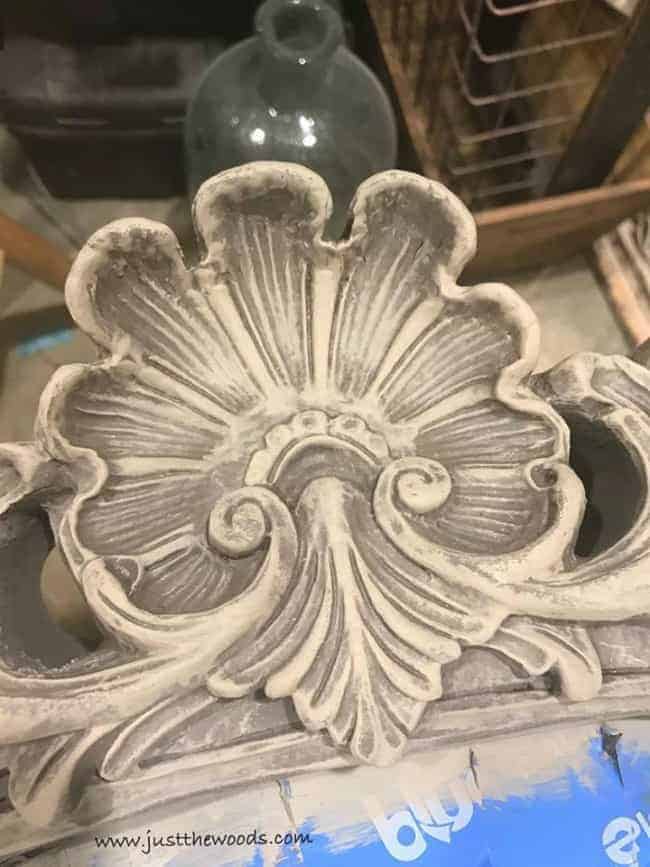 Once complete you can peel off the tape. As long as you taped going in one direction the tape should, for the most part, peel off in one direction.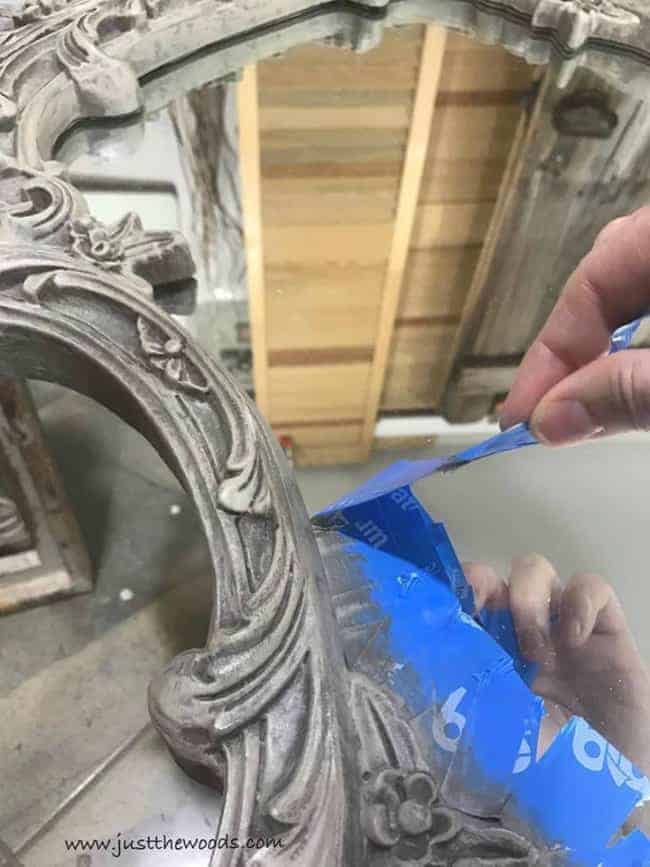 Next, go back with your flat razor and/or Exacto knife for minor clean up and remove any paint that still made its way onto the mirror.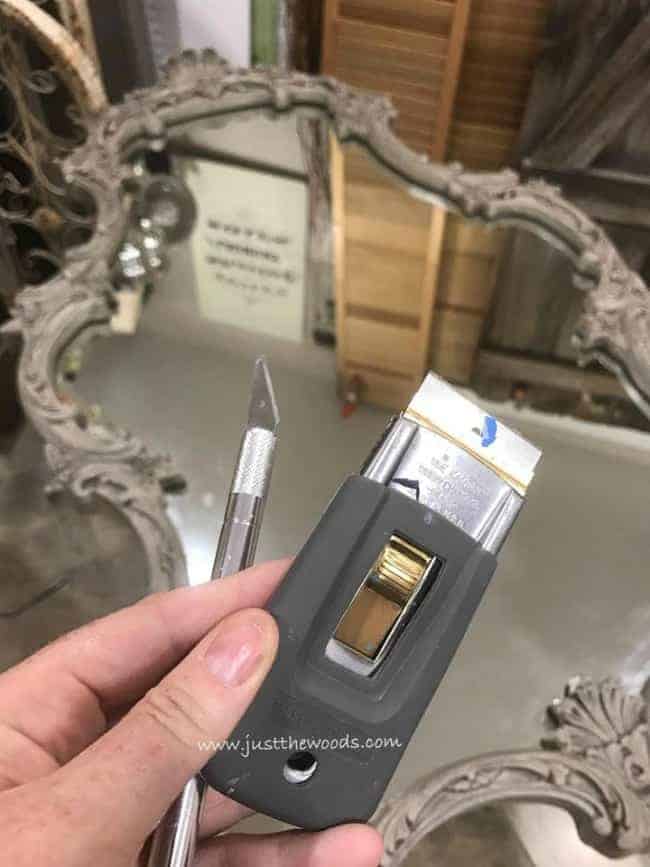 Click here to see the matching table to the ornate mirror above: The Best No Mess Method to Distress Painted Furniture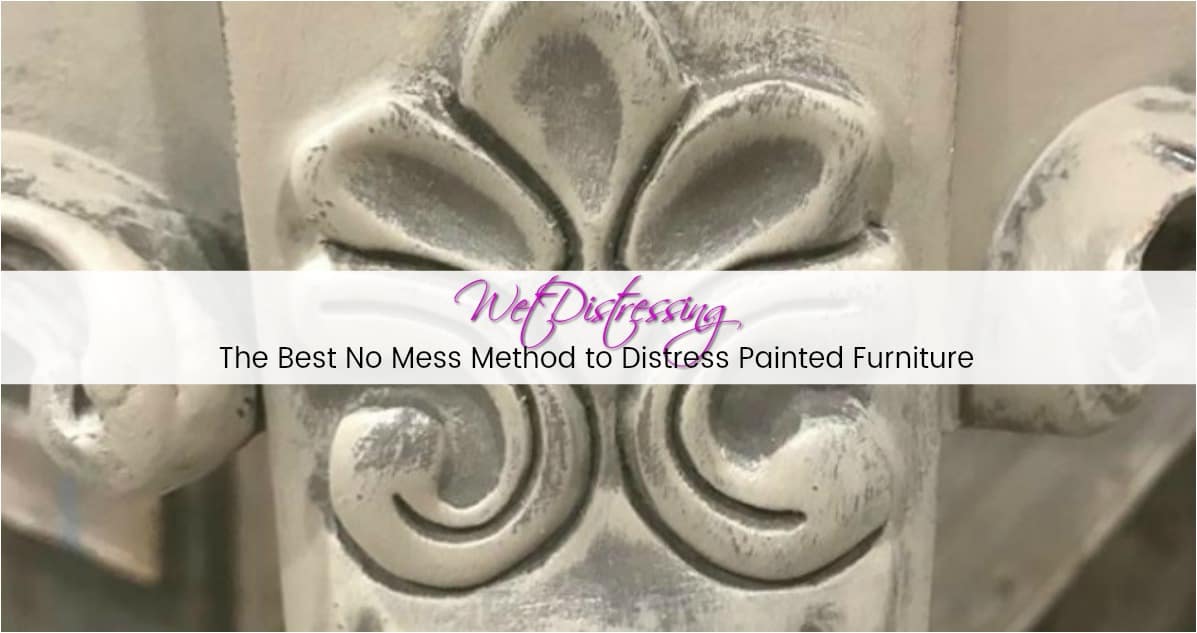 Cleaning Your Painted Mirror
Now that your mirror frame is painted you still want to clean the mirror for your pretty reflection. I prefer to use wipes rather than spray for a newly painted mirror to avoid the overspray. These Windex wipes work great.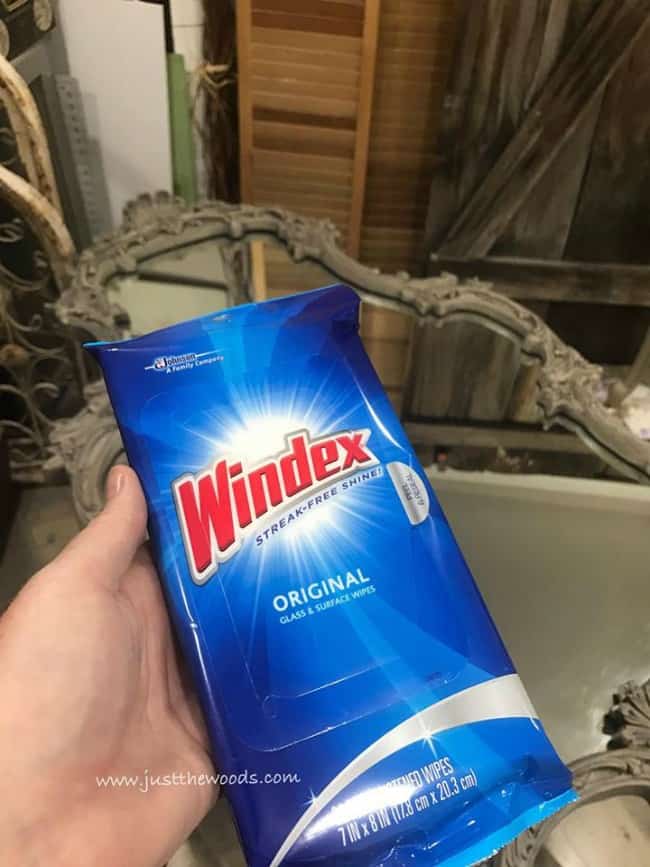 After cleaning the mirror with Windex wipes make sure to go over it again with a lint-free cloth to remove any of those dust spots – you know the ones that I  mean.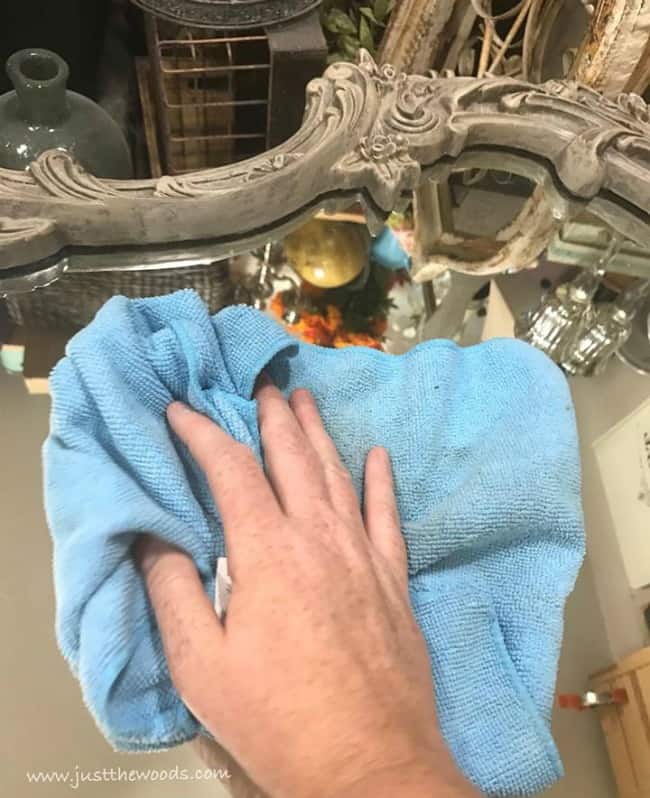 If you like this post make sure to check out all of the tips & secrets that I wish someone told me when I started painting furniture here: Painting Furniture Secrets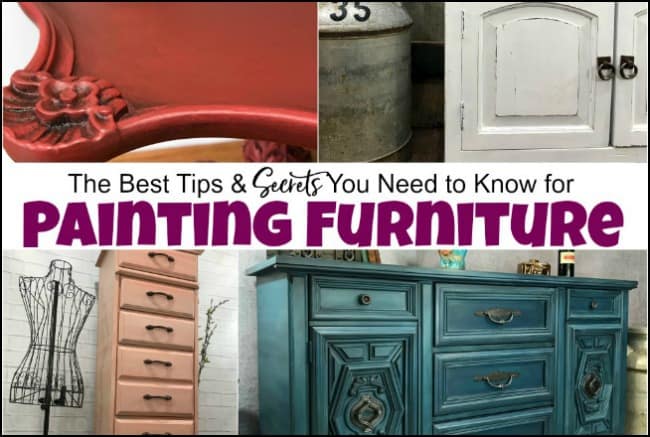 DIY Mirrors
For more inspiration check out this collection of DIY Modern Mirrors.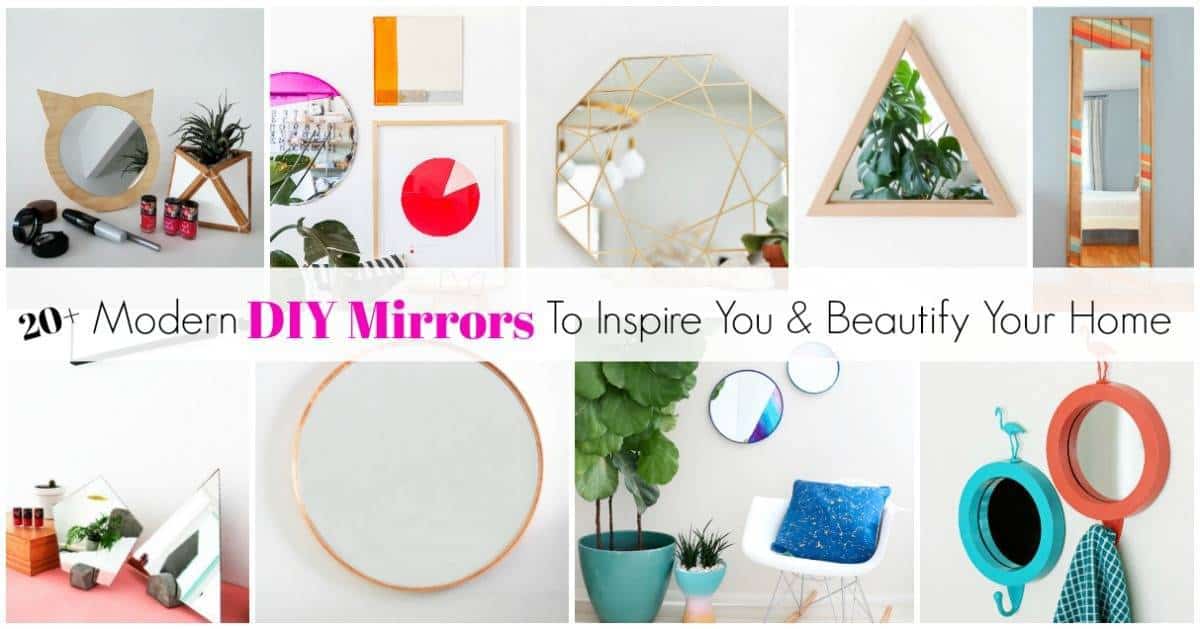 Prefer to lose the mirror and transform your old frame into a chalkboard? You can do that too here: DIY Chalkboard
Don't Forget – Follow Just the Woods and Share this post to Inspire others:
FACEBOOK  *  INSTAGRAM  *  PINTEREST
 Stay connected! For more tips and tricks sign up here :