Leather Top Vintage Desk
We've all seen leather top vintage furniture at one time or another. If you are anything like me you may avoid them because you aren't sure what to do with it. Do you save the leather top? Replace it? Cover it up? Remove it? There are so many uncertainties, but I'm here to let you know that there doesn't have to be. You can actually save that vintage leather top and it's super easy.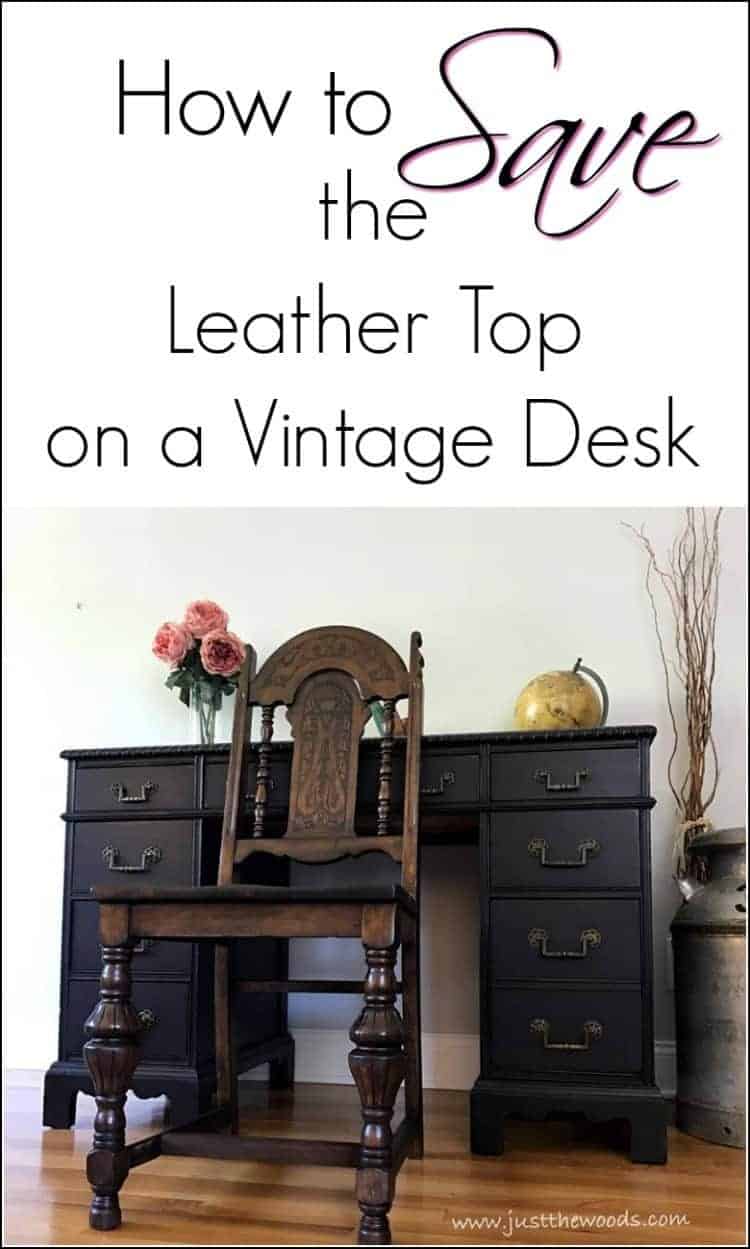 This desk will have the leather preserved rather than painted. The desk will also need a bit of work before we can get to that though. You can also paint leather furniture like shown on the vintage leather inlay tables.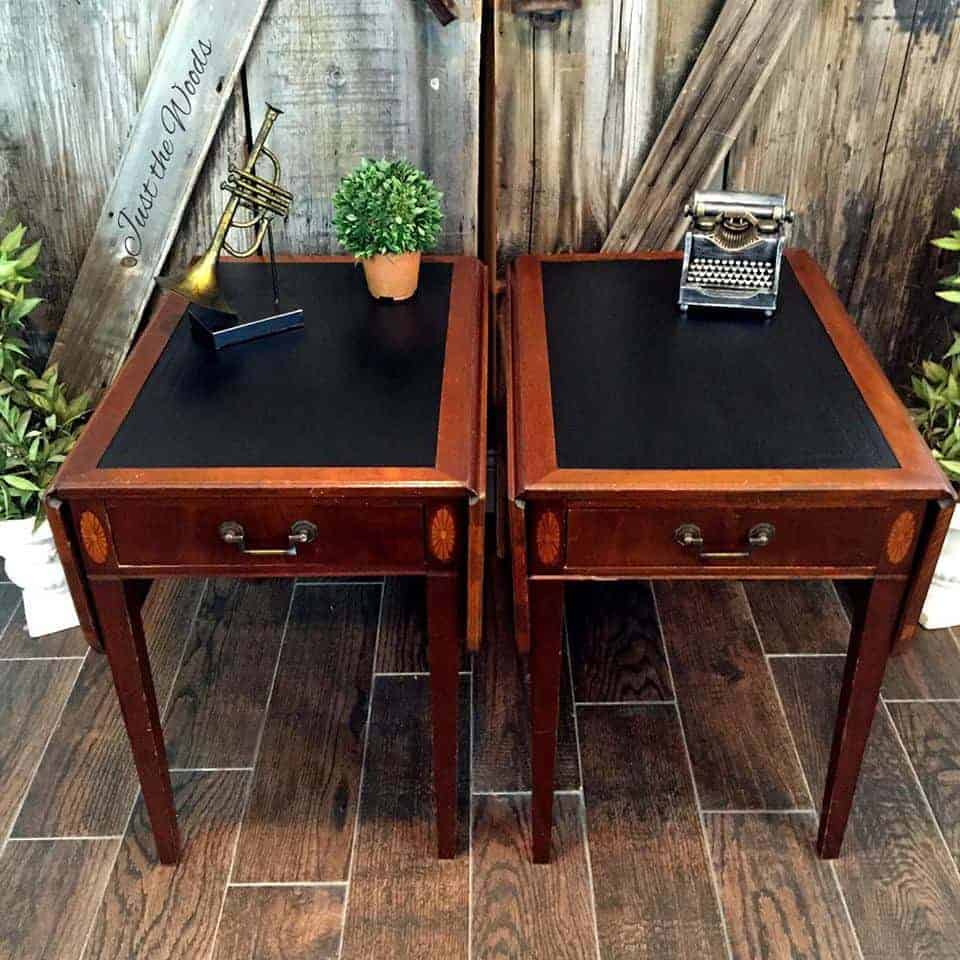 Here is another leather top vintage desk that is given a painted makeover. The leather inlay is painted and the body is given a dry brushed finish. See the full makeover here: Dry brushing furniture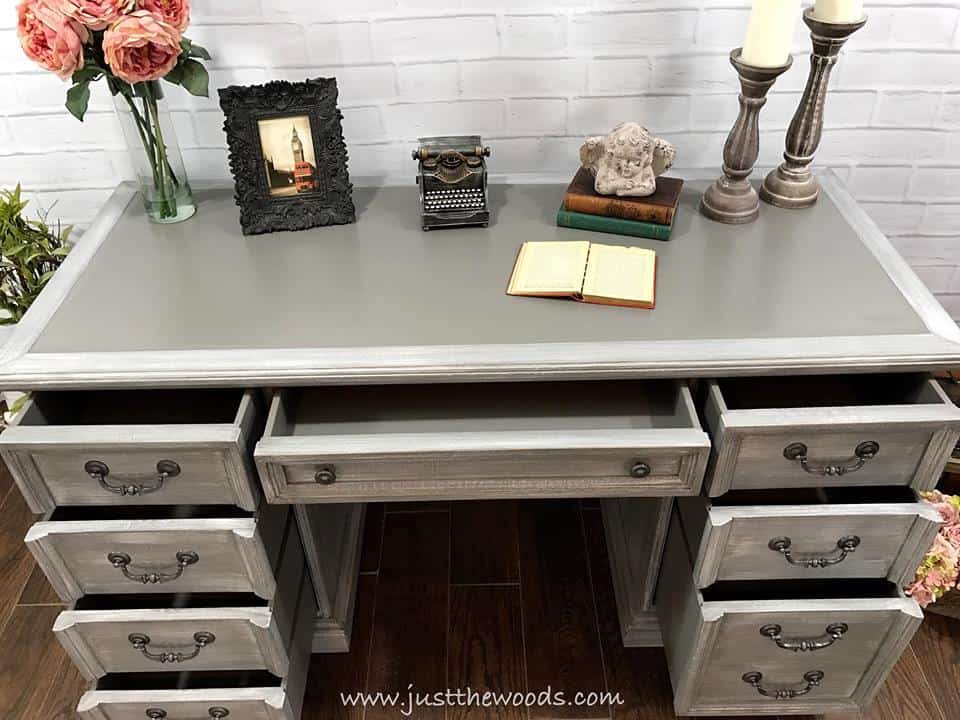 Unfinished Vintage Desk
I was hoping that no one claimed this desk with leather top for custom when I purchased it and tossed it into inventory. Who thinks like that? My main reason being was that I was quite uncertain about how to handle the leather inlay. Might I add that the person I bought this vintage desk from told me that the top was wood. Um, what?
Disclosure: This post contains affiliate links for your convenience. Click here for my full disclosure policy.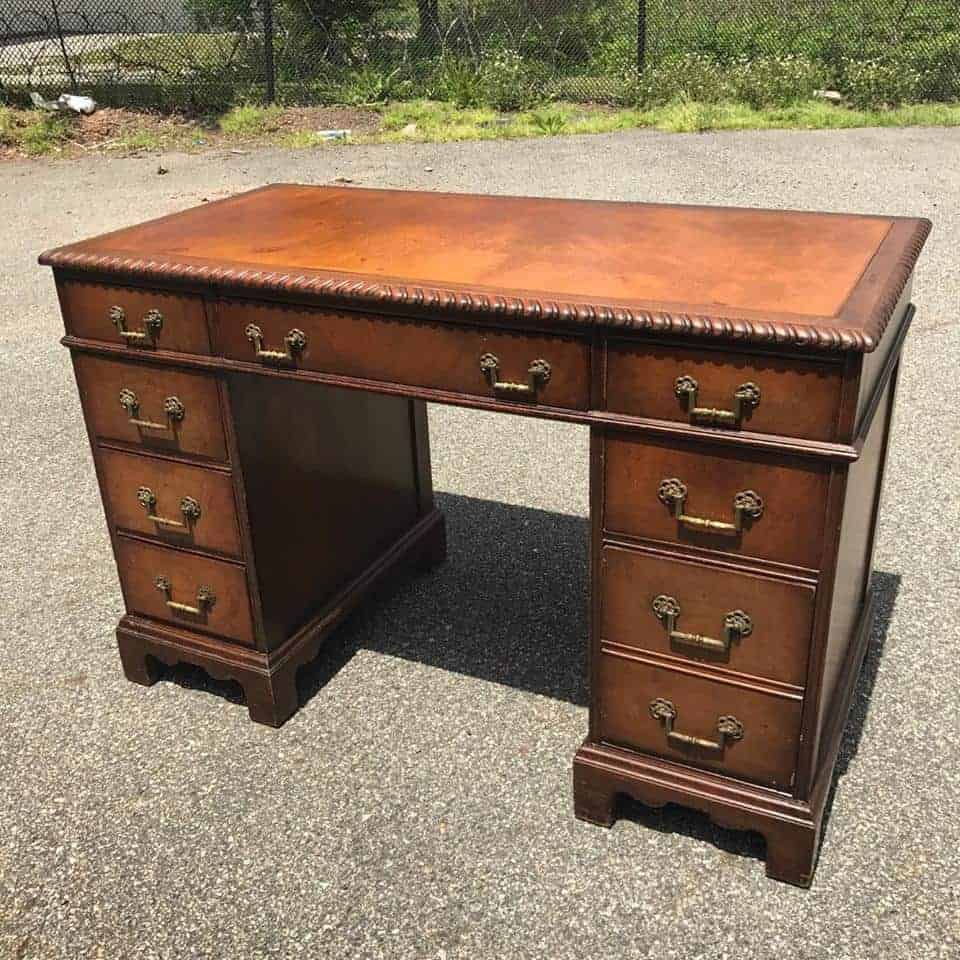 From the photos, the desk doesn't look to be in that bad of shape. Then you get a closer look. The leather had some serious imperfections, stains, rings and slight damage. Like any other piece of vintage or antique furniture, a leather top desk can't be expected to remain perfect over the years.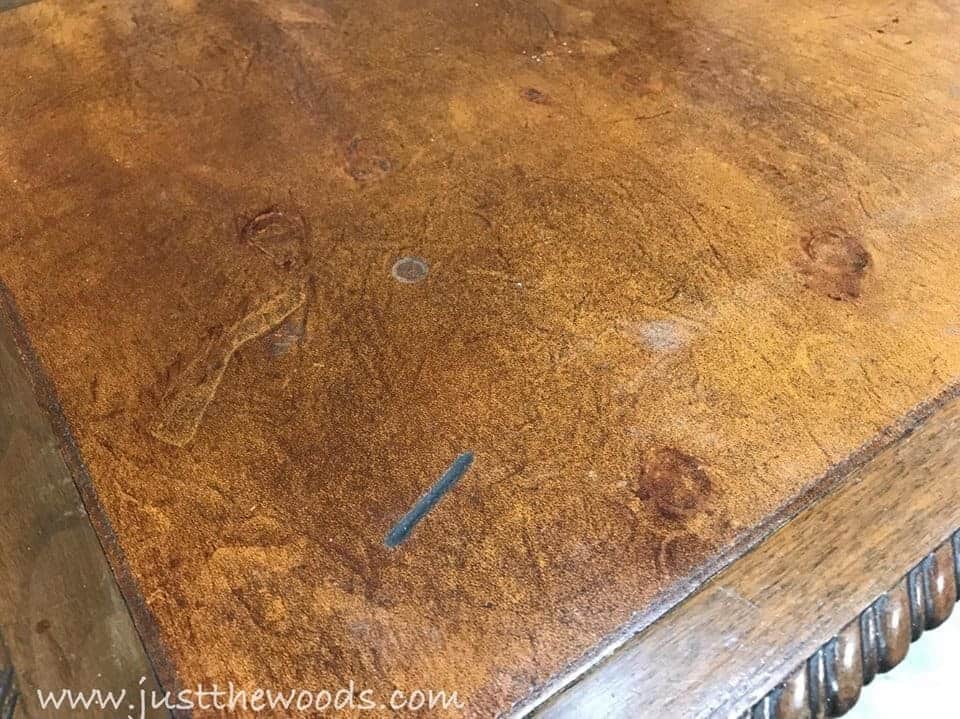 It was also slightly separating.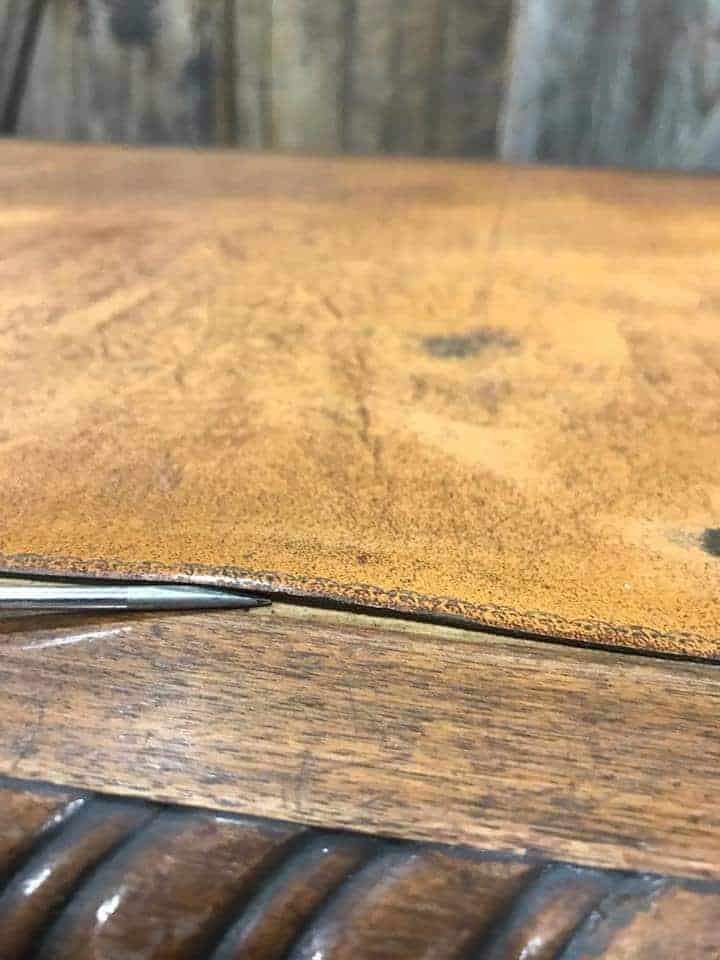 Inside the drawers are a little gross and some of the drawer stoppers are missing.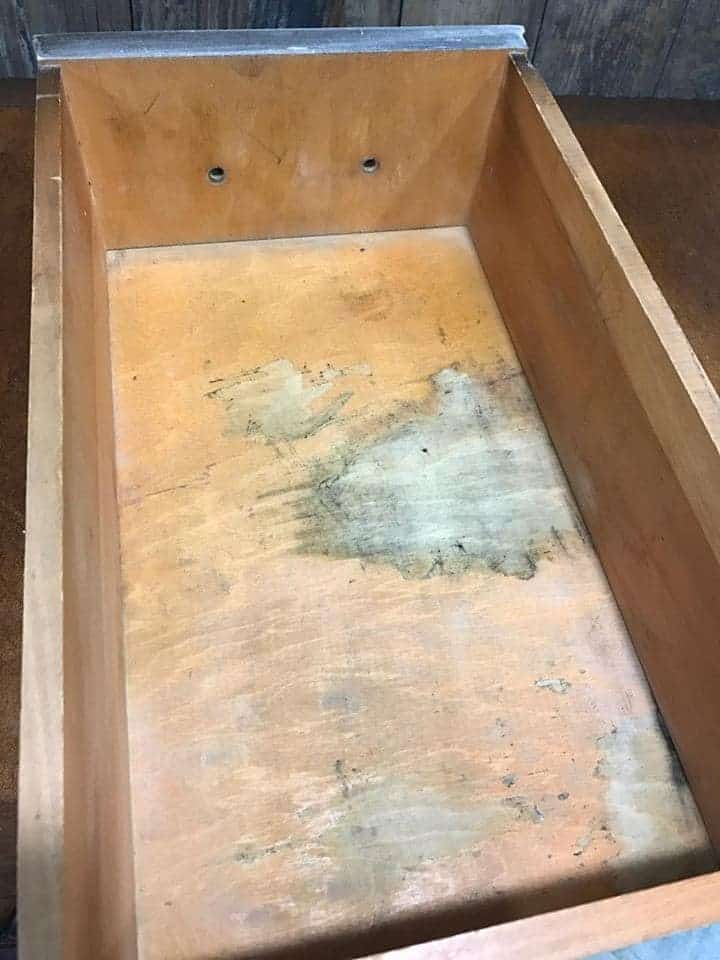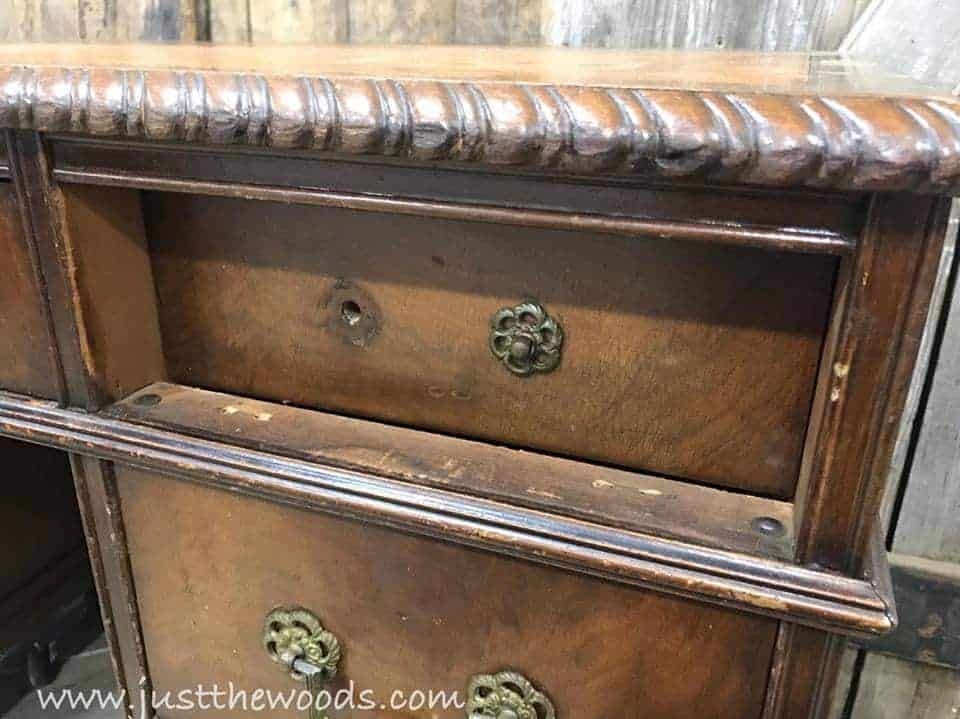 It appears that the seller failed to mention the sly replacement of one of the drawers pulls. At this point, I'm not sure if I should laugh or cry. One step at a time with the project and the project is underway.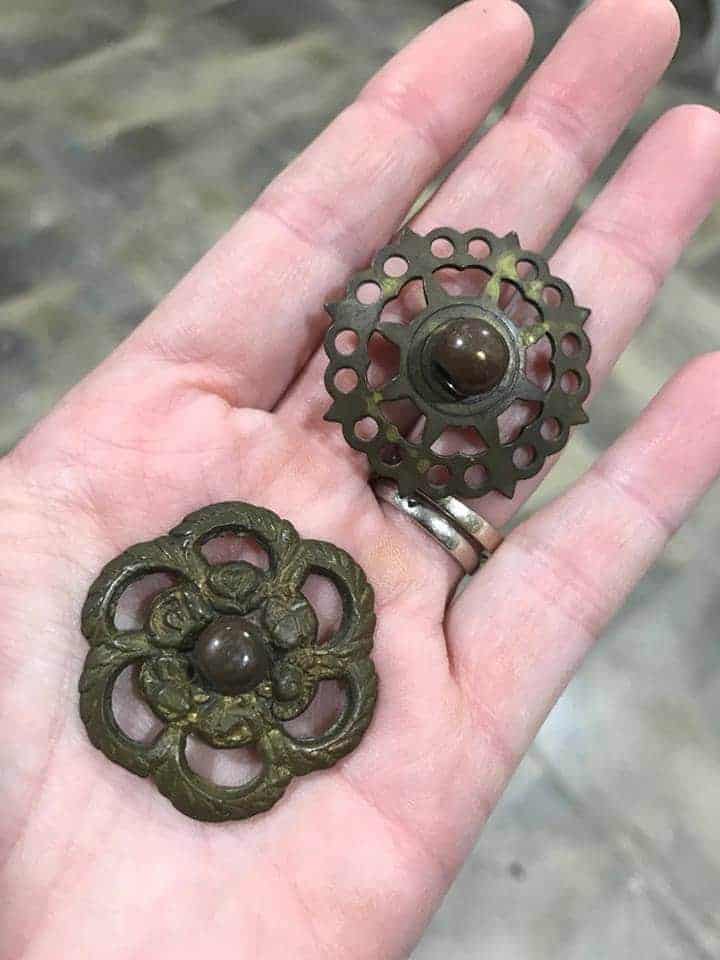 How to Save the Leather Top on a Vintage Desk
MATERIALS NEEDED / SOURCE LIST
Repairing and Preparing the Vintage Desk
The surface of the desk receives my standard method of How to Prep Painted Furniture. But to repair the separating leather you must insert wood glue between the leather and the desktop using a wood glue syringe.  A simple baby wipe or a damp cloth is used to wipe away any excess glue.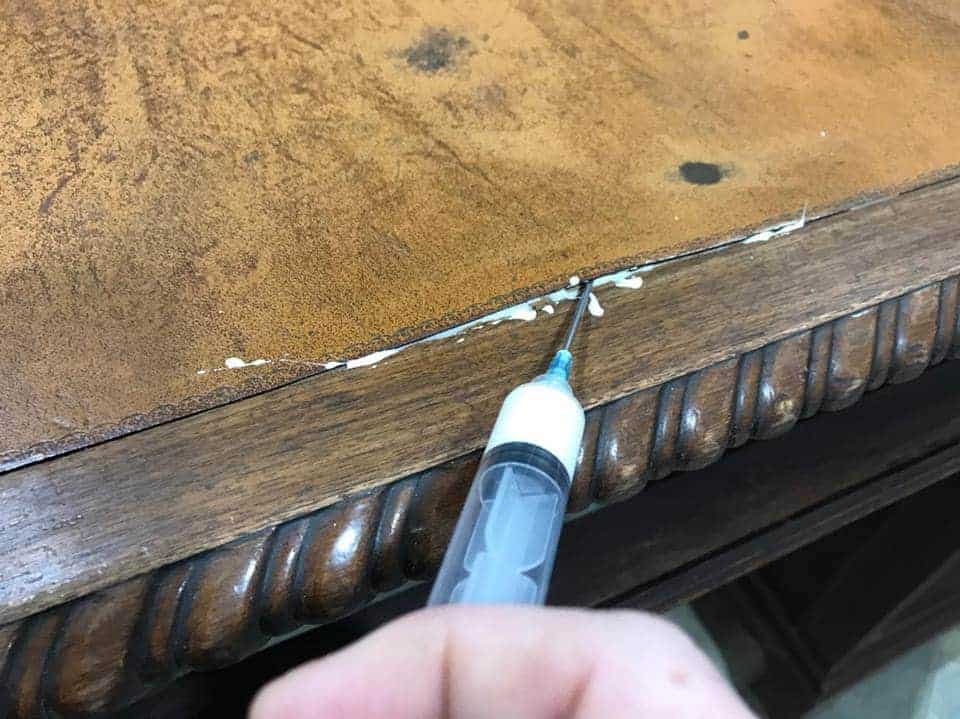 A few trigger clamps keep the desktop tight until the glue dries.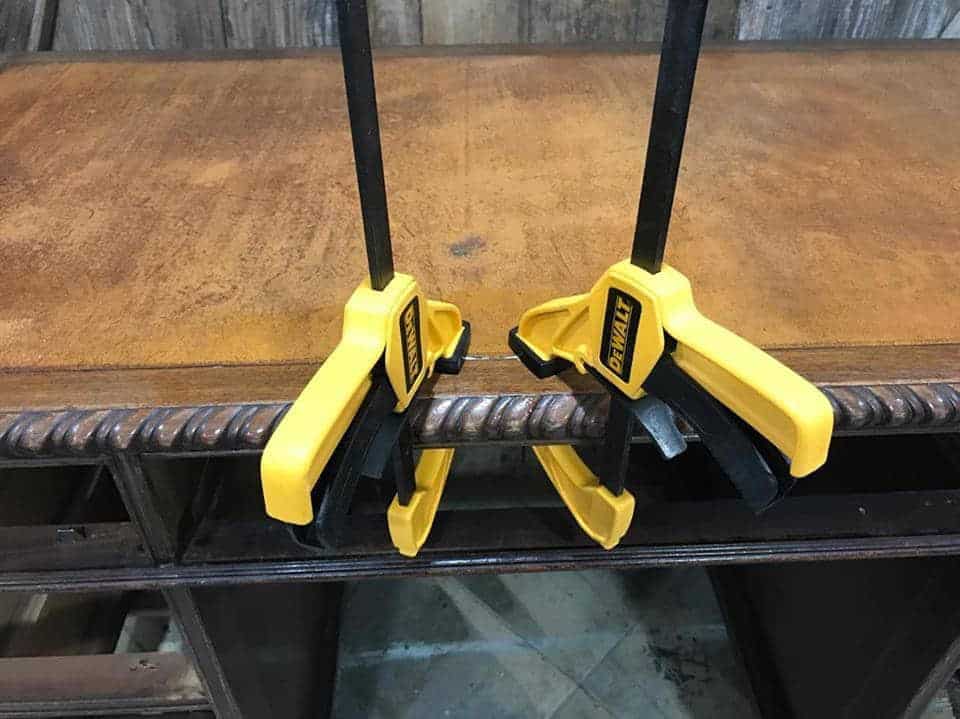 Once the top is secure it's time to prep and clean the leather. The leather top is lightly sanded using a fine grit piece of sandpaper and then wiped clean with a damp sponge. The sandpaper and sponge manage to remove a large amount of dirt and improve many of the imperfections on the leather inlay desktop.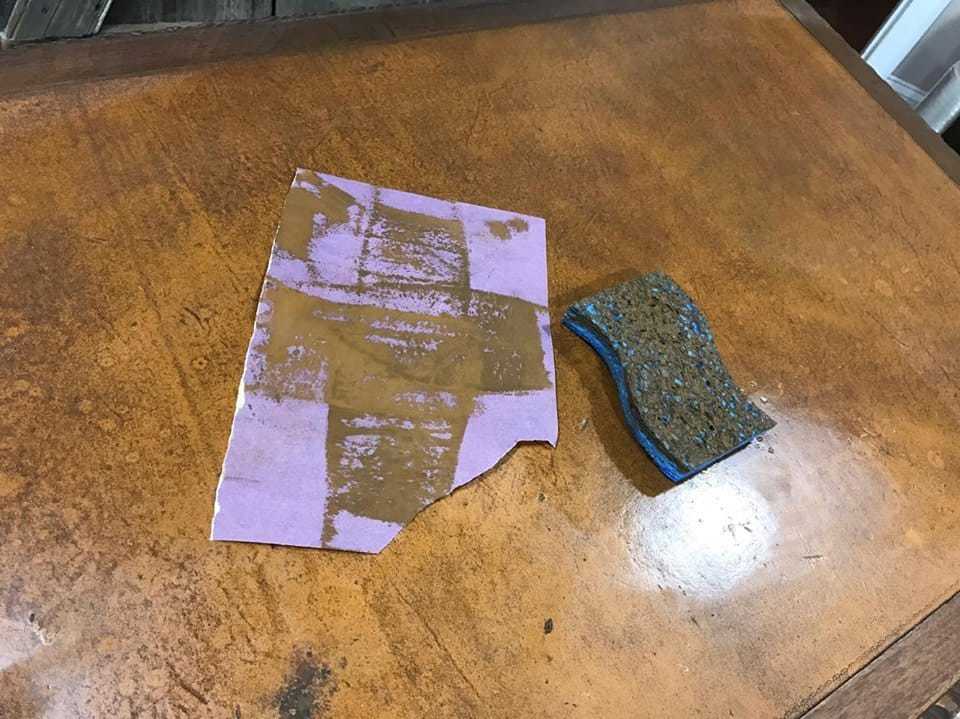 It's amazing to see how much dirt accumulates on the leather over time. Yuck.
Staining the Leather Top of a Vintage Desk
It's time to attempt the save. There are still imperfection but they are much better and a bit more manageable now.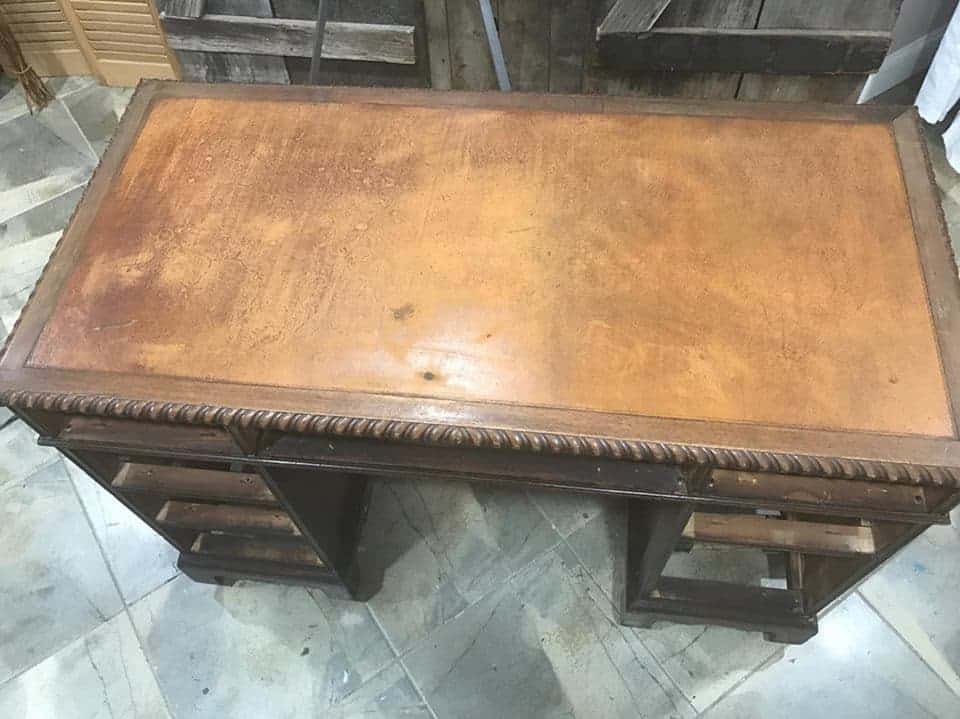 The top is 'painted' with a coat of brown wood stain. One coat was okay but still a bit too light and uneven.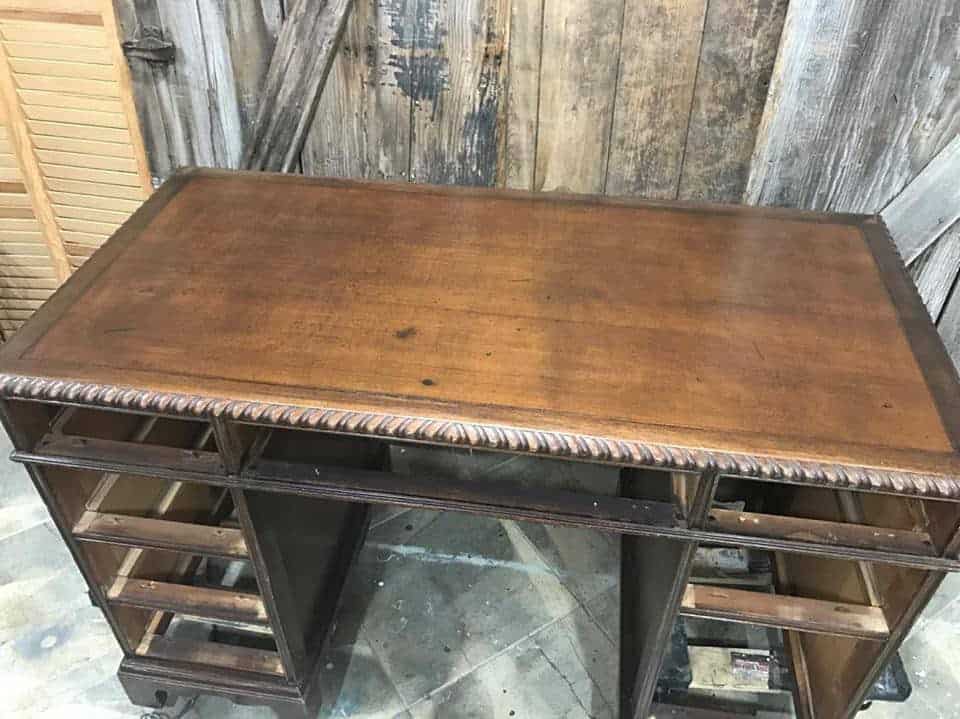 Next, a darker wood stain is added to the mix to darken up the leather. This darker stain is a gorgeous dark stain that I fell in love with when it was used on the Memphis Blue Desk project.  You can watch the application of the second coat of stain in this short video.
After the video, another coat of wood stain is applied creating a rich dark finish on the leather top inlay.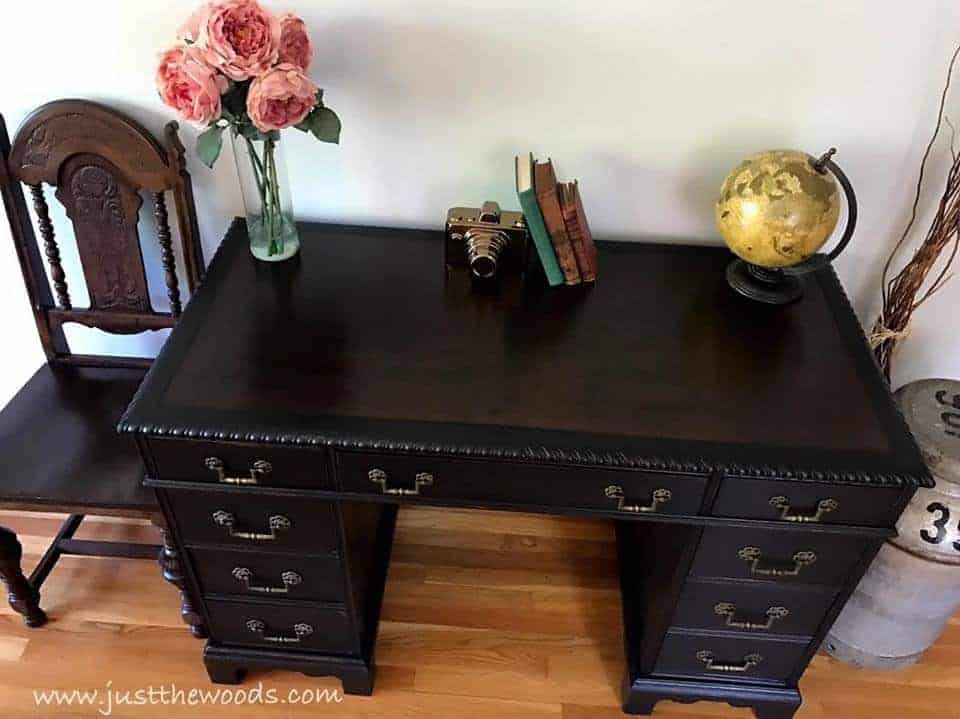 The dark wood stain does a great job of covering many of the imperfections. And the leather on this vintage desk still maintains its soft leather feeling.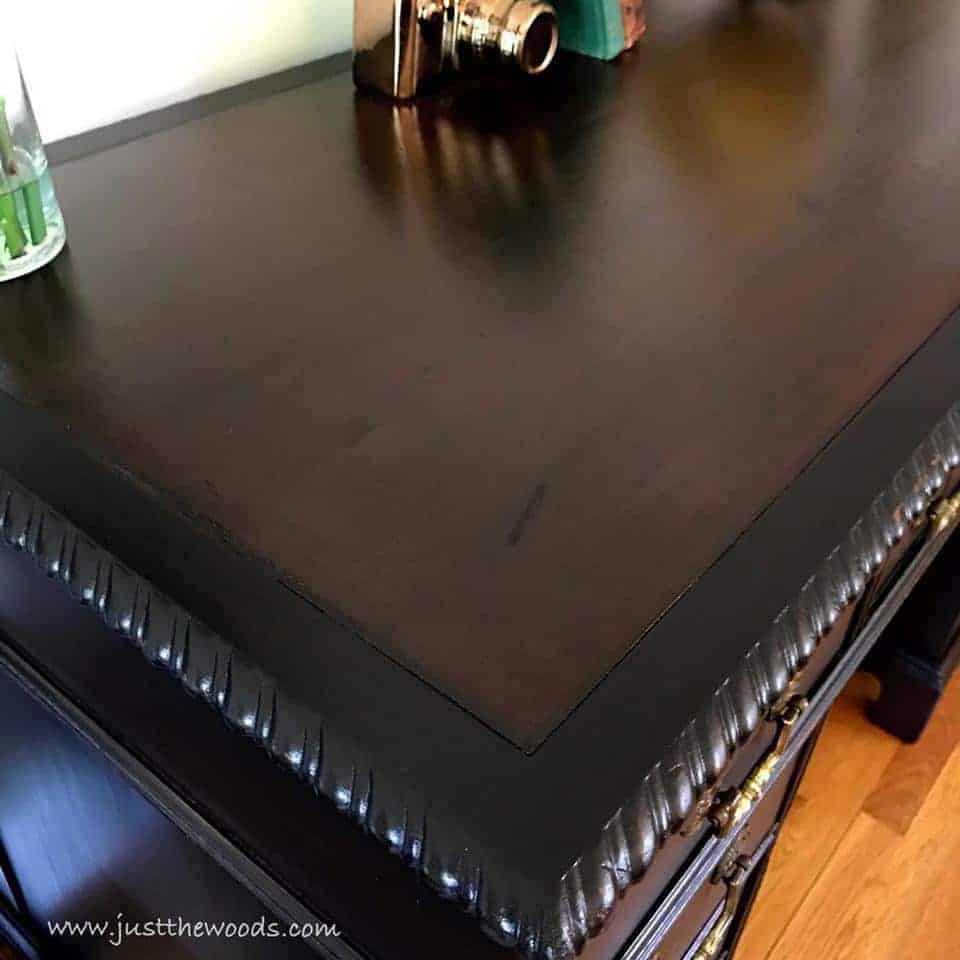 If you are feeling overwhelmed or just starting out you can always start at the beginning with How to Paint Furniture – a Beginners Guide.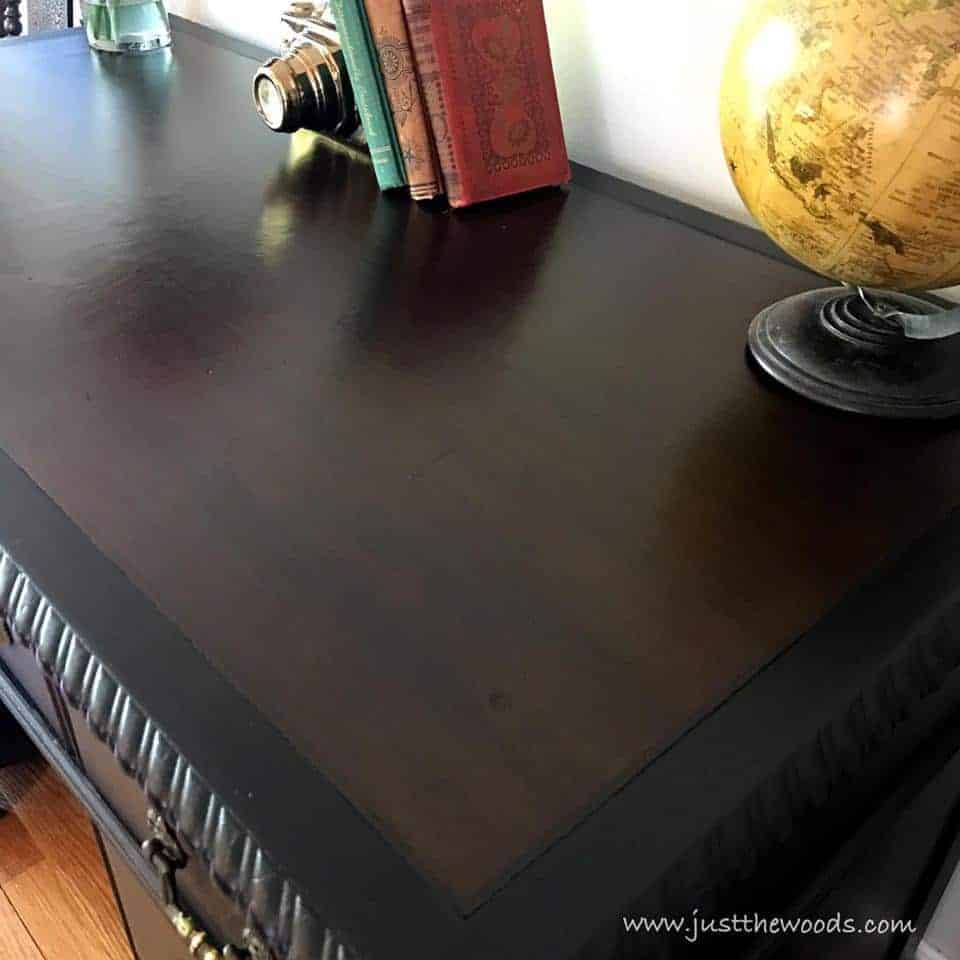 Making the Drawers Pretty with Paint and Paper
Due to the fact that the drawers were pretty gross, they had to be thoroughly cleaned as well. A sanding block scrubbed the inside of some of the worse drawers.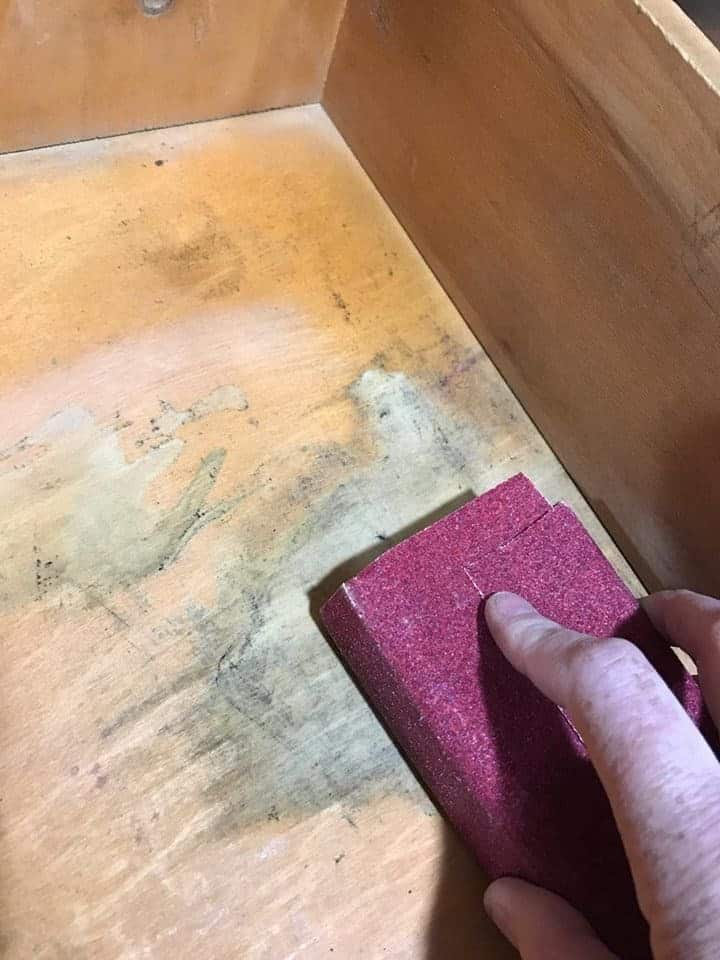 The insides of the drawers receive a subtle pop of color with a deep teal while the outsides of the drawers get a lighter treatment with a super light gray. This is to act as a base under the print that will be applied. This same process is shown & explained on a bold peacock vanity here: How to Decoupage Furniture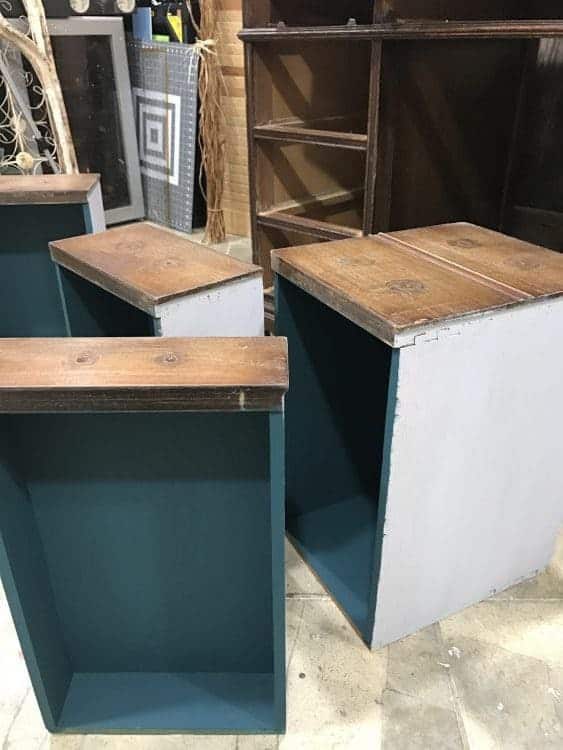 A vintage newspaper print is decoupaged to the outer sides of the drawers. I discuss more tips and tricks of decoupage in my eBook.  The previously dirty drawers are now much more visually appealing if I do say so myself.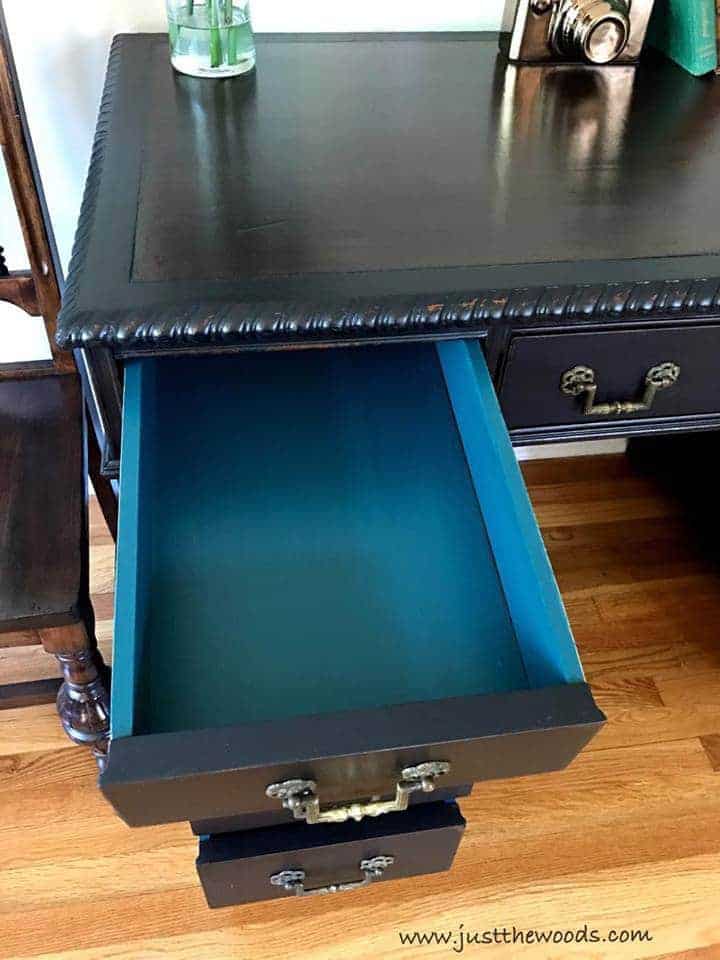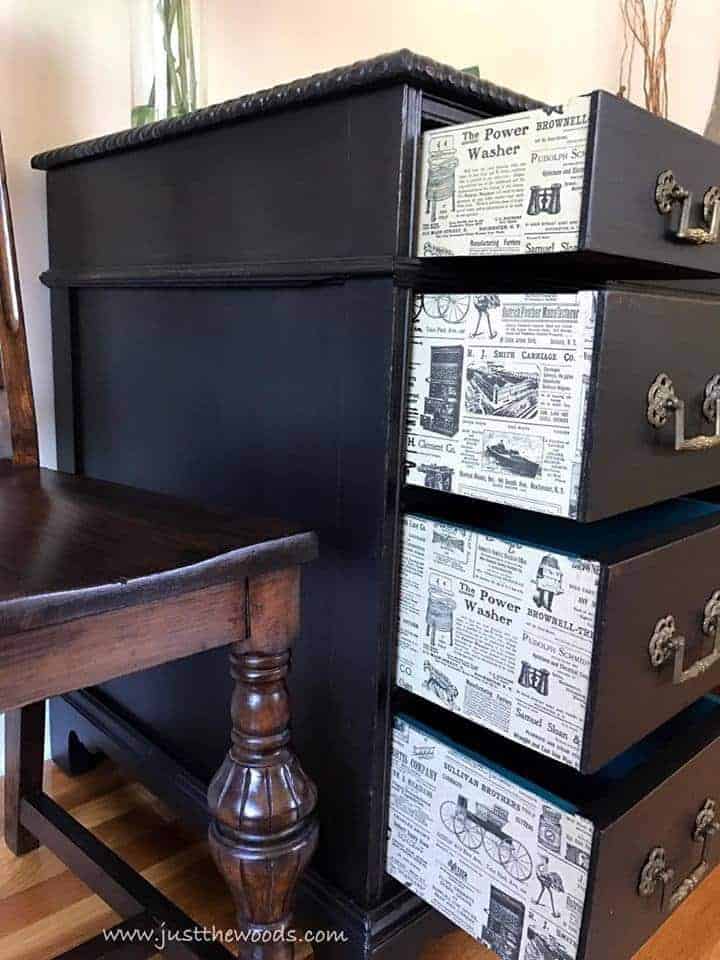 Painting the Vintage Desk
I am aiming for a bit of a lighter black finish. To achieve this only one coat of black furniture paint is painted on the desk using a damp Cling On before being distressed with a wet clean cloth. Doing this creates a softer distressing along the edges. The painted surface of the desk is sealed with is a black tinted protective finish. You can find great quality furniture paint online HERE.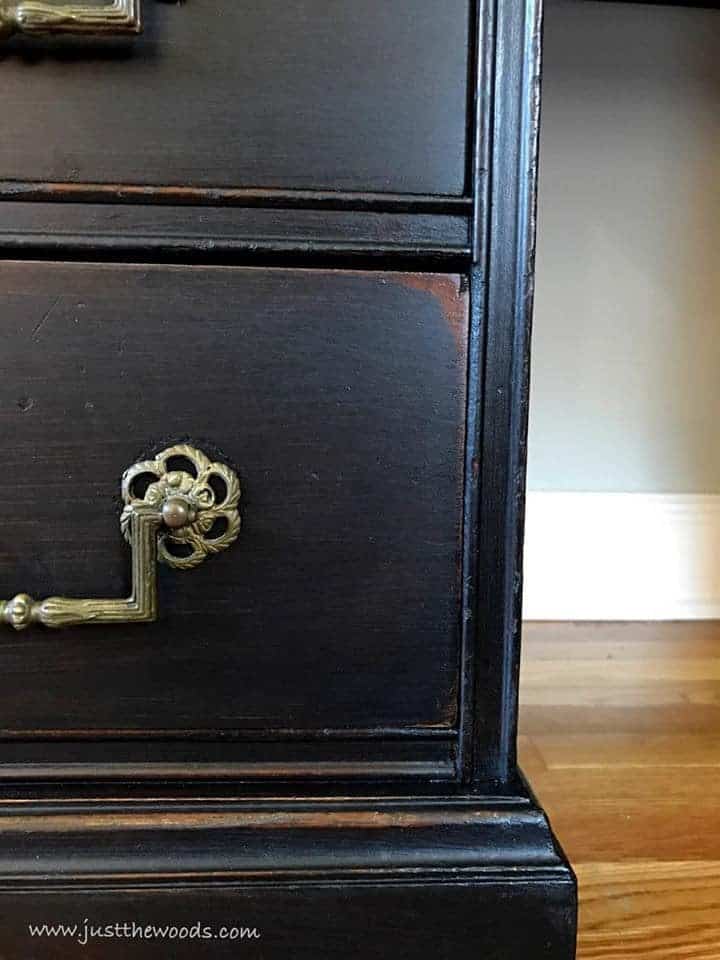 Here is a full tutorial with VIDEO showing how I seal my painted furniture projects: Sealing Painted Furniture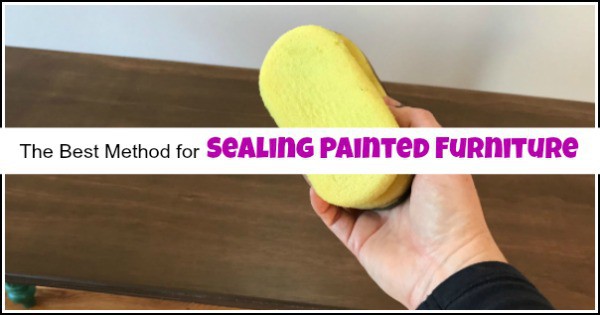 A Desk Needs a Chair
Clearly, a desk needs a chair and this ornate Jacobean-style chair will do. It belongs to a set of four and I still haven't decided whether or not it was a good idea to split the set up or not. The chair color is too light for this desk and I had to decide on if it should be painted or stained or a combo of both.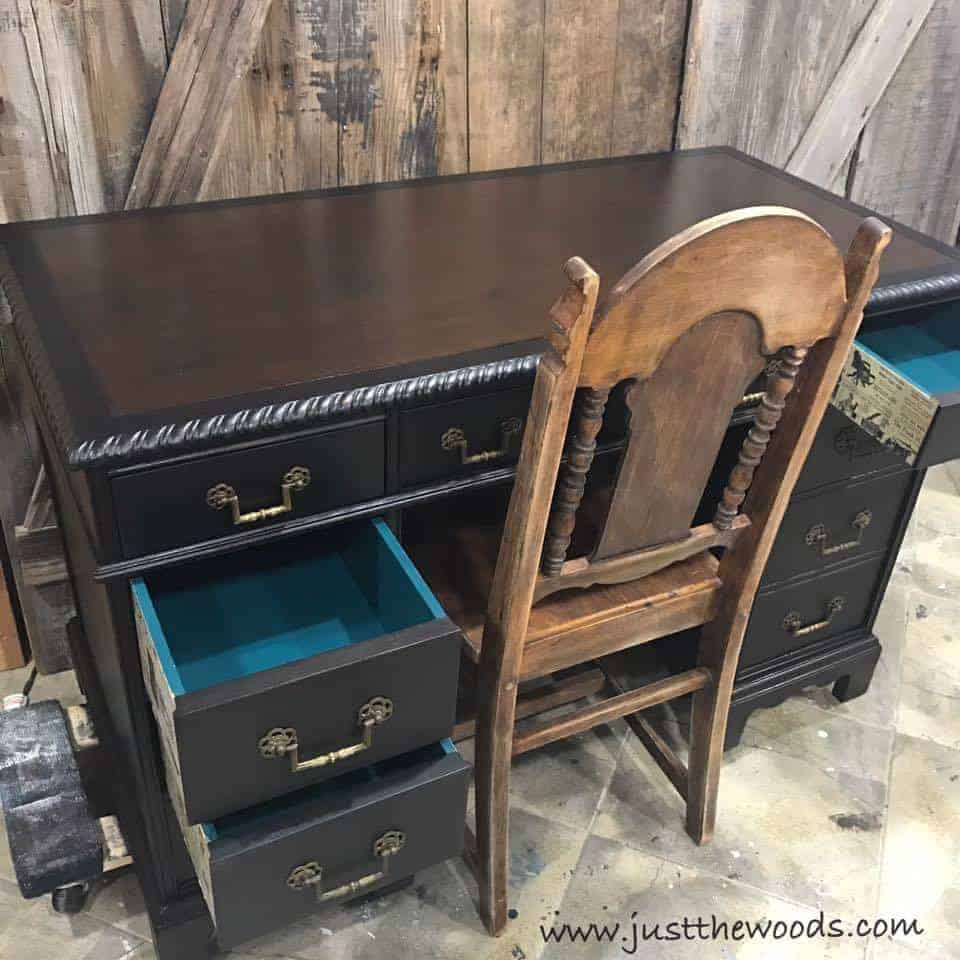 After tossing back and forth on how to finish the chair I decided to stain it to match the leather top of the desk. I feel that a makeover should have one 'wow factor' to prevent the piece from becoming too busy. Keeping the chair a dark stain will do exactly that while creating a classic look. Two coats of dark wood stain and the chair is a perfect match for the desk.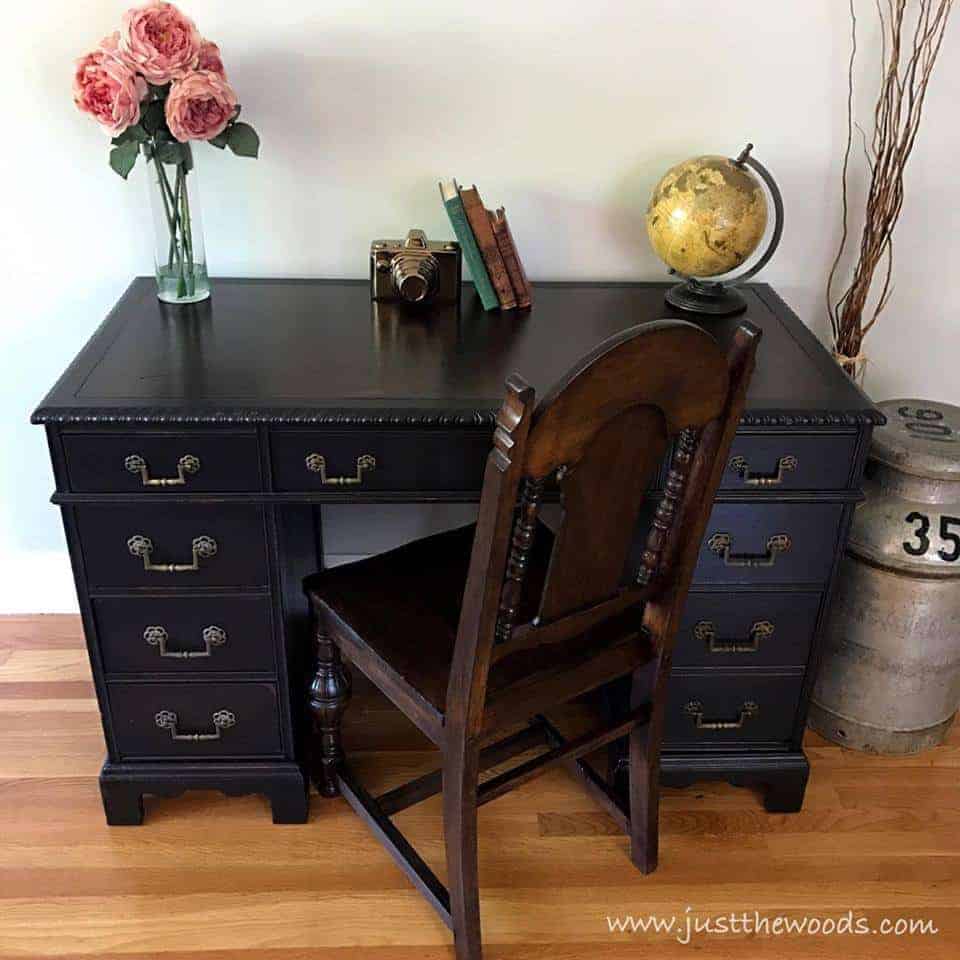 The Result and Saving the Leather Top of a Vintage Desk
This vintage desk now sits as my own personal workspace in the basement and I love it. It's perfect with all of its imperfections.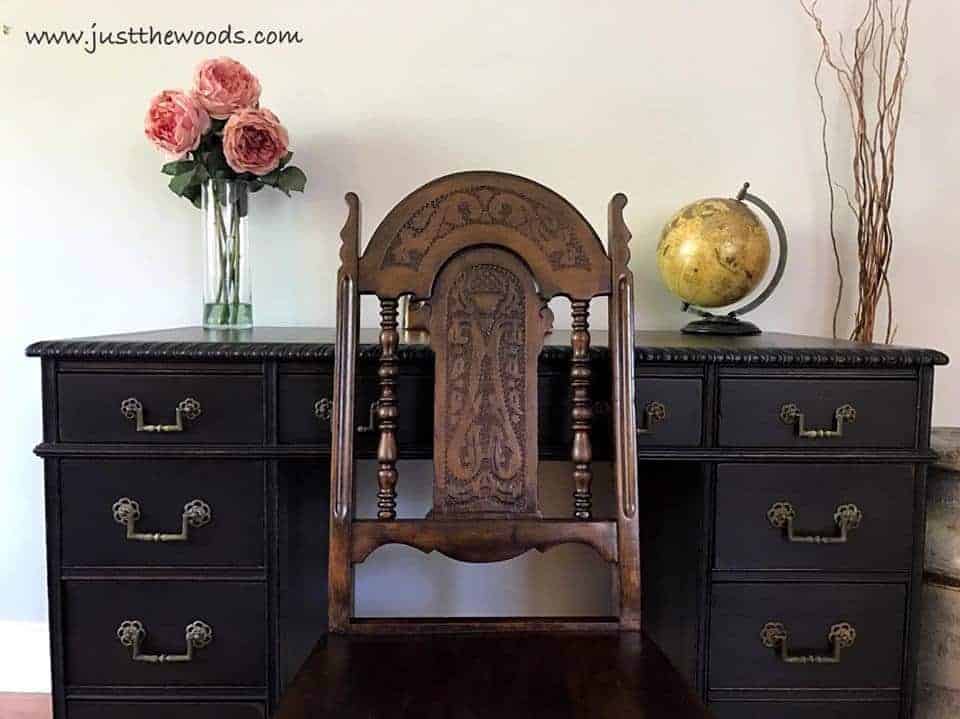 [clickToTweet tweet="How to save the leather top on a vintage desk. " quote="Whether you want to save the whales or save the leather make sure you invite a friend. click to tweet" theme="style5″]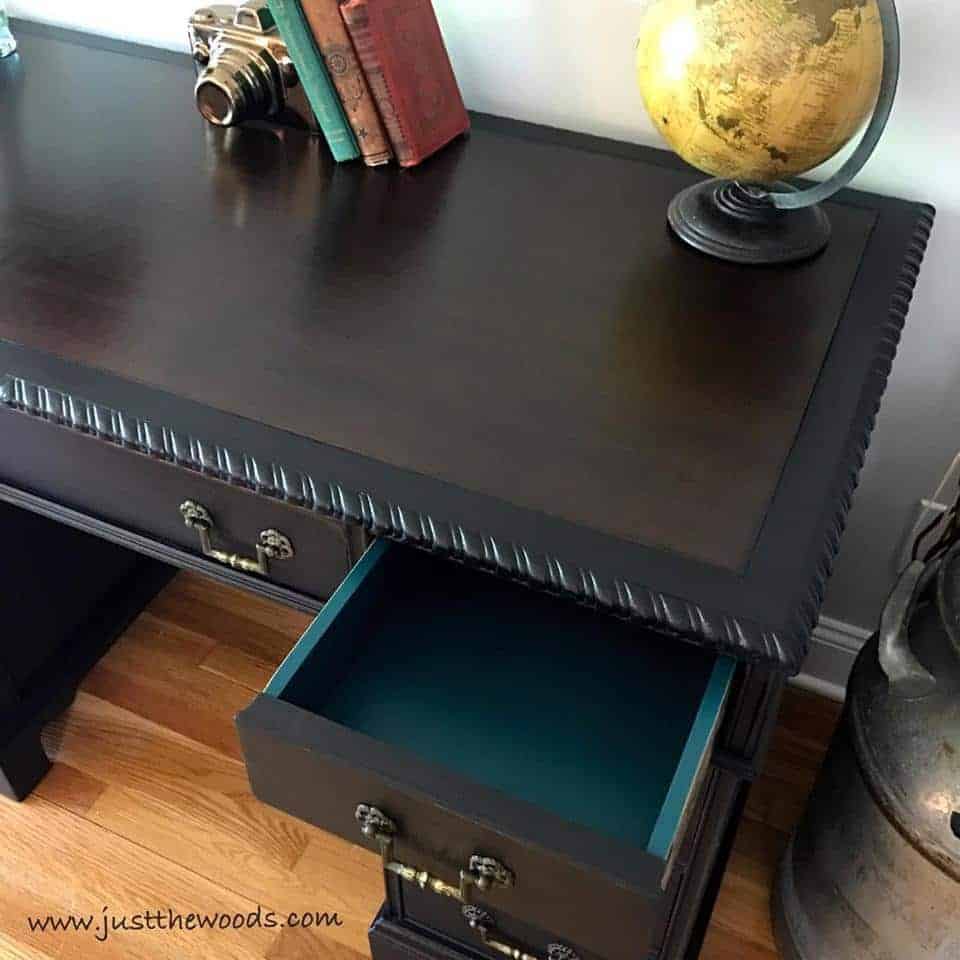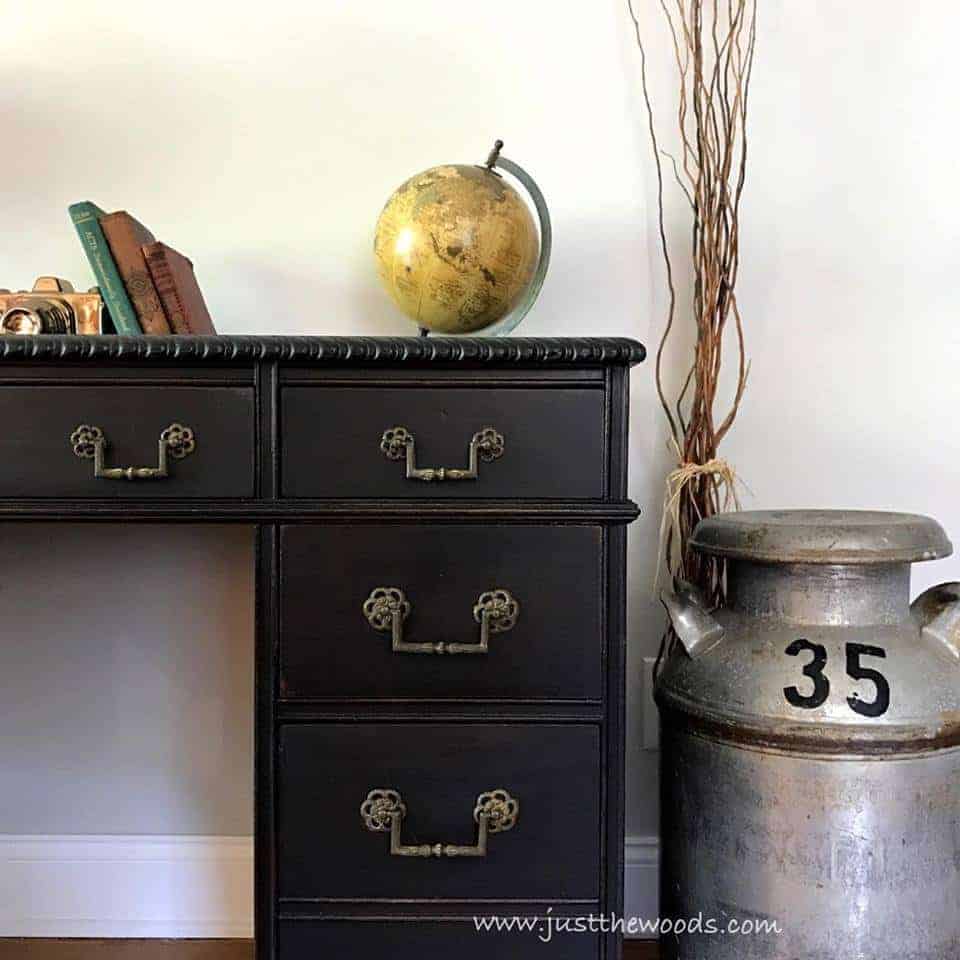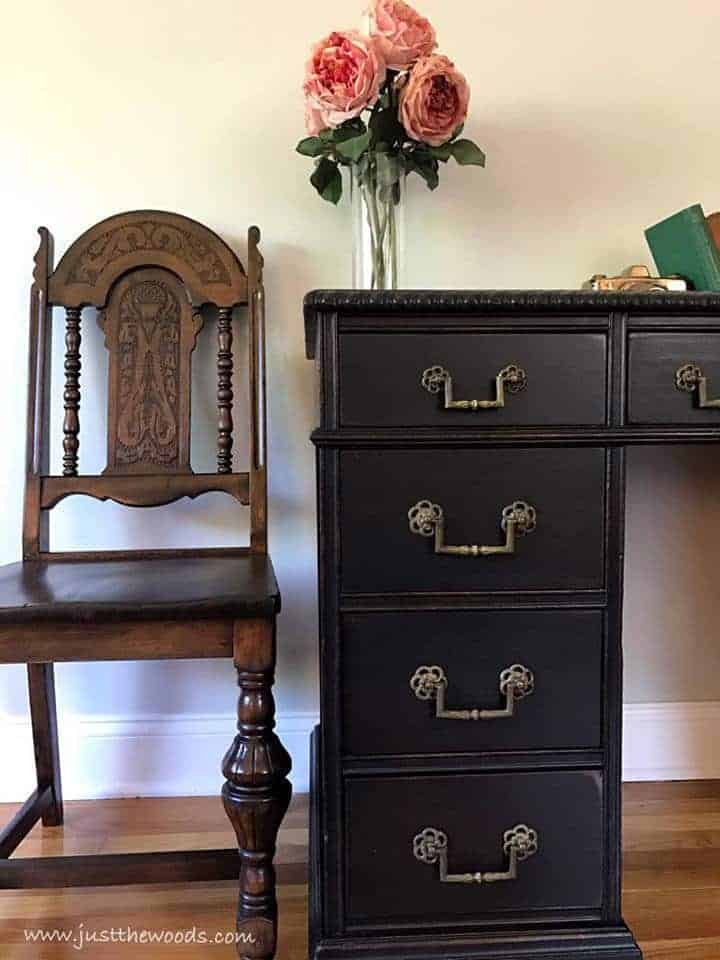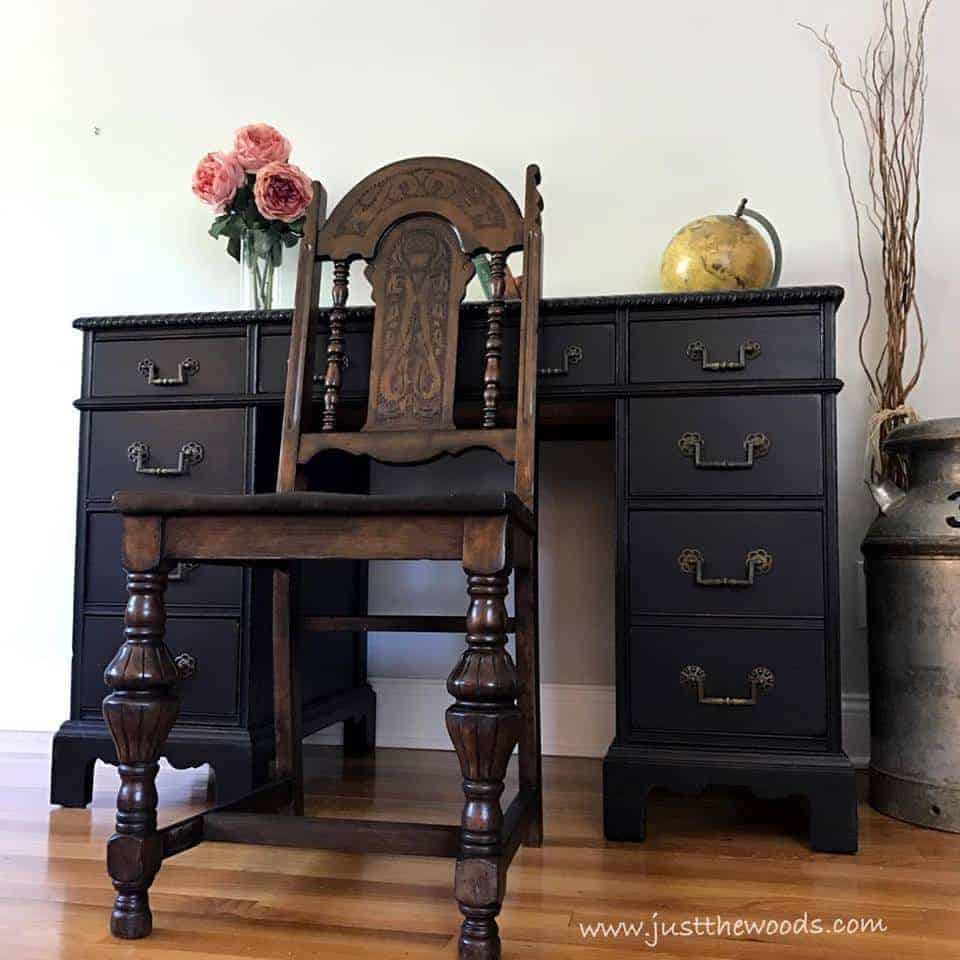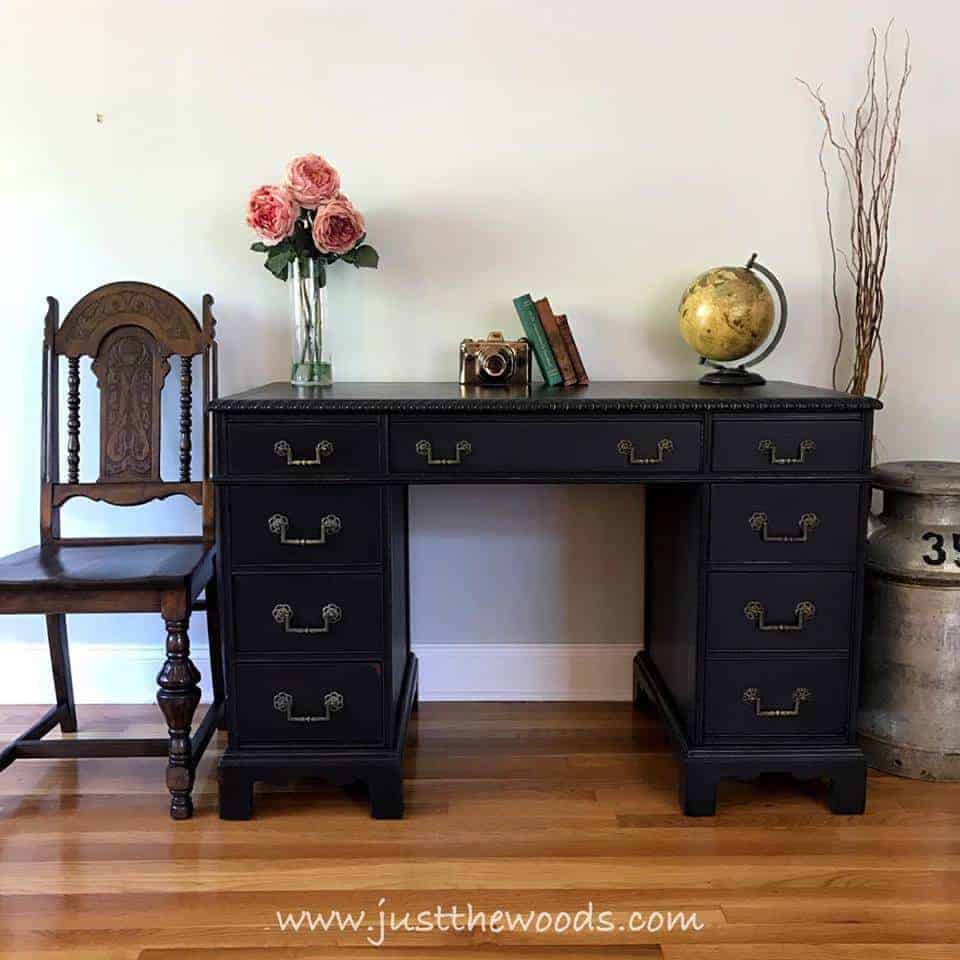 I made sure to get a small desk blotter to protect the leather top when I work with my laptop. I would actually recommend this for painted desks as well.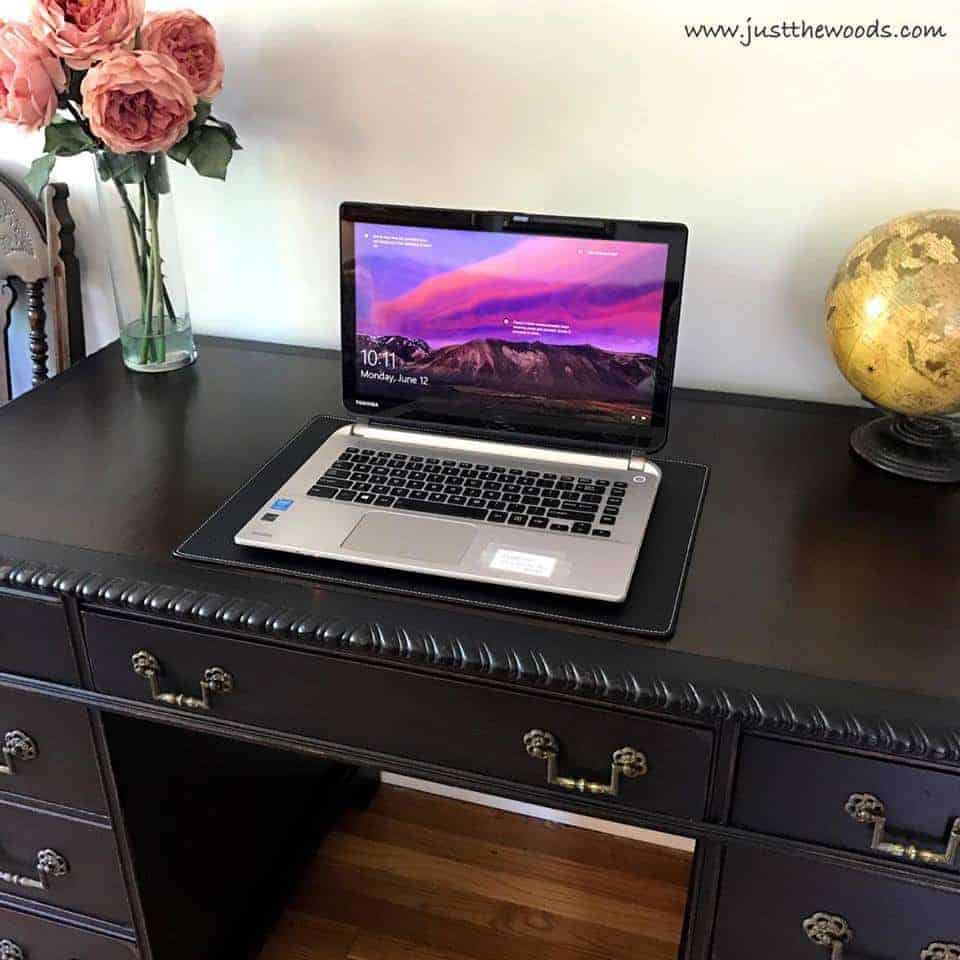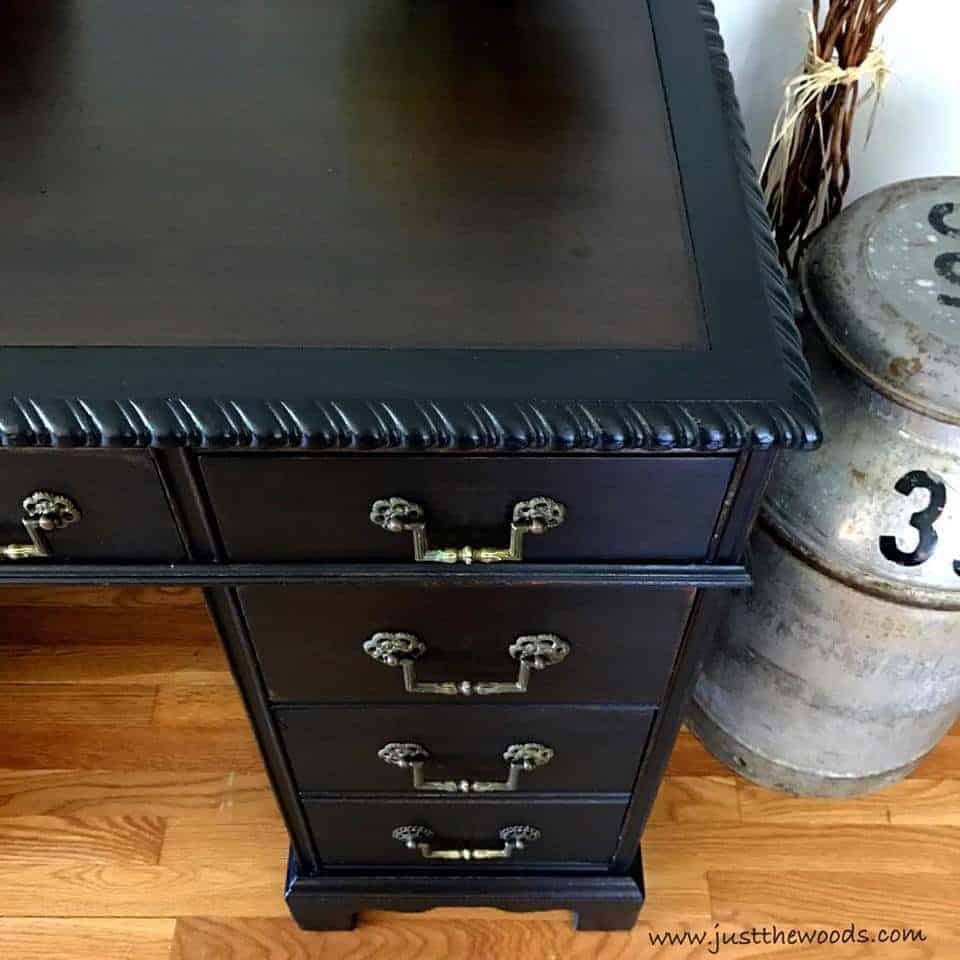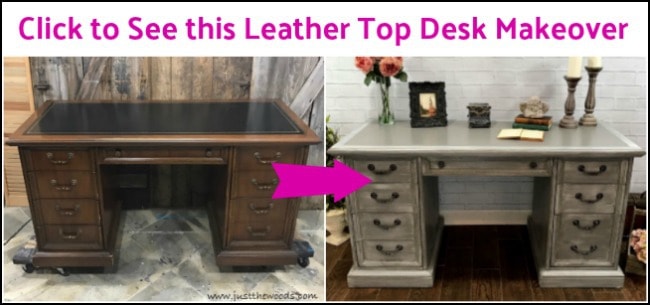 Wait! Don't Go!  It's that time of the month again for:
Furniture Fixer-Uppers
A few of my creative and talented blogger friends and I have joined together in our monthly Furniture Fixer Uppers share.  Let's see what my friends are up to! It seems a few of us had the same idea in mind working on desks, and our friend Larissa from Prodigal Pieces isn't here this month but she'll be back for the fun next month. Make sure to click the links below the image to check out all the amazing projects that my bloggy girls are working on this month. 
If you like this post make sure to check out all of the tips & secrets that I wish someone told me when I started painting furniture here: Painting Furniture Secrets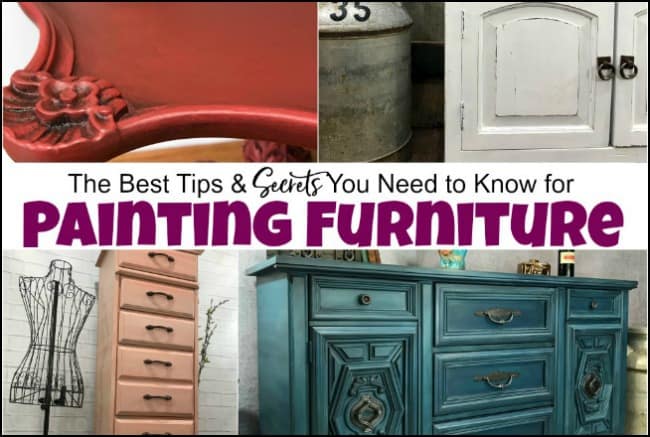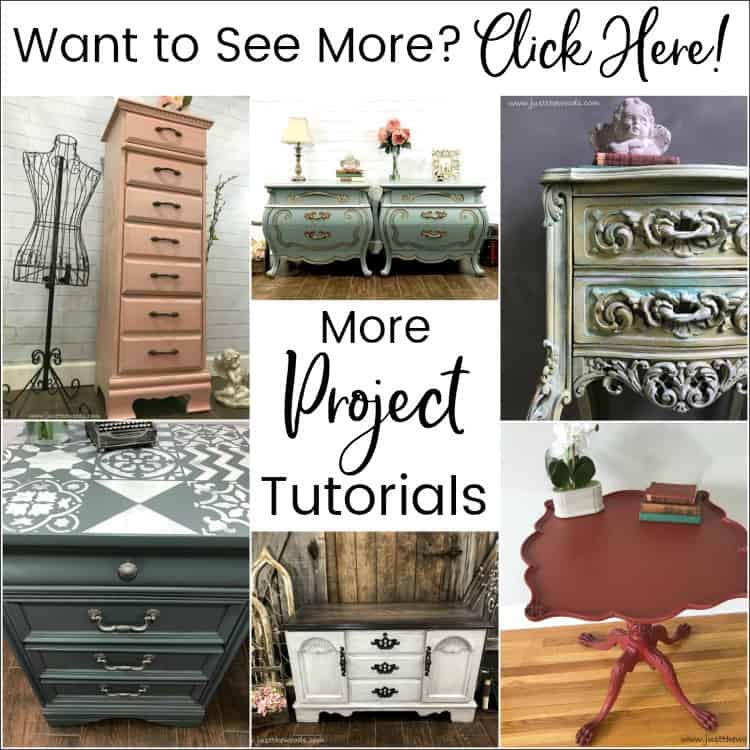 Don't Forget – Follow Just the Woods and Share this post to Inspire others:
FACEBOOK  *  INSTAGRAM  *  PINTEREST
Subscribe to our mailing list here:


Like This Makeover? Then You Might Love These
The Best Black Distressed Painted Furniture Projects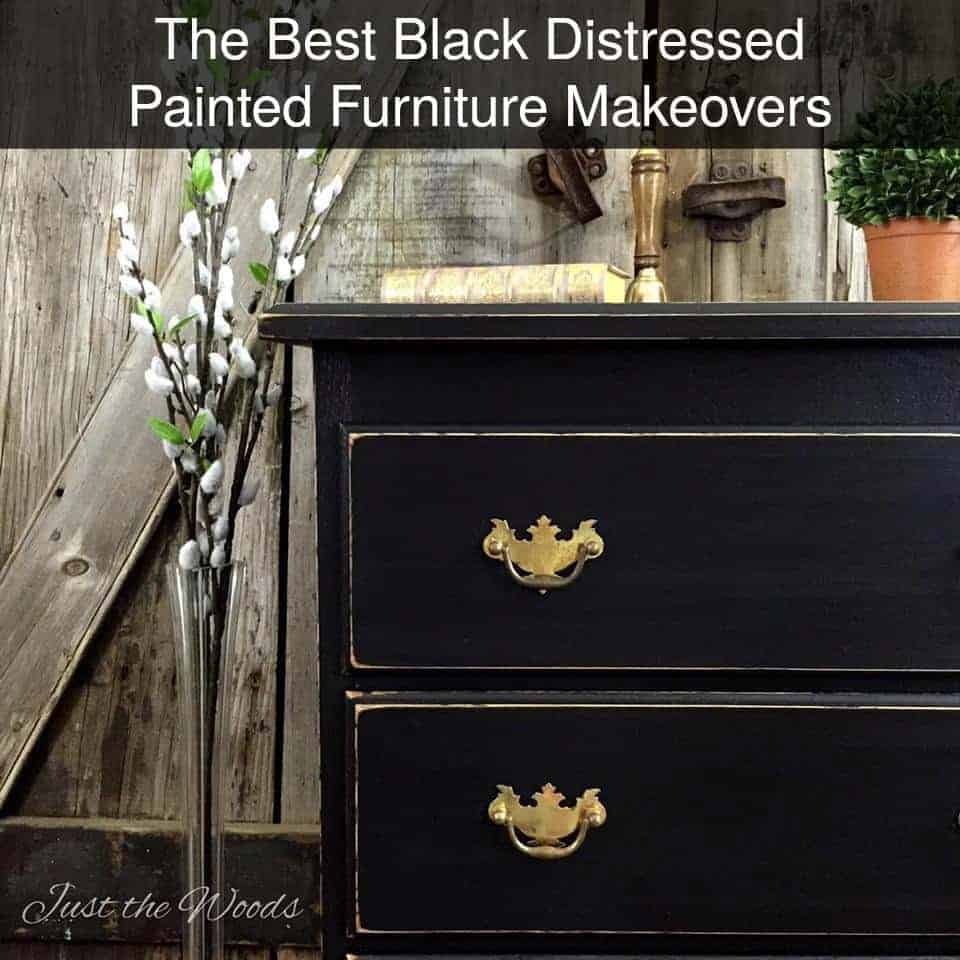 Amazing Vintage Desk Makeovers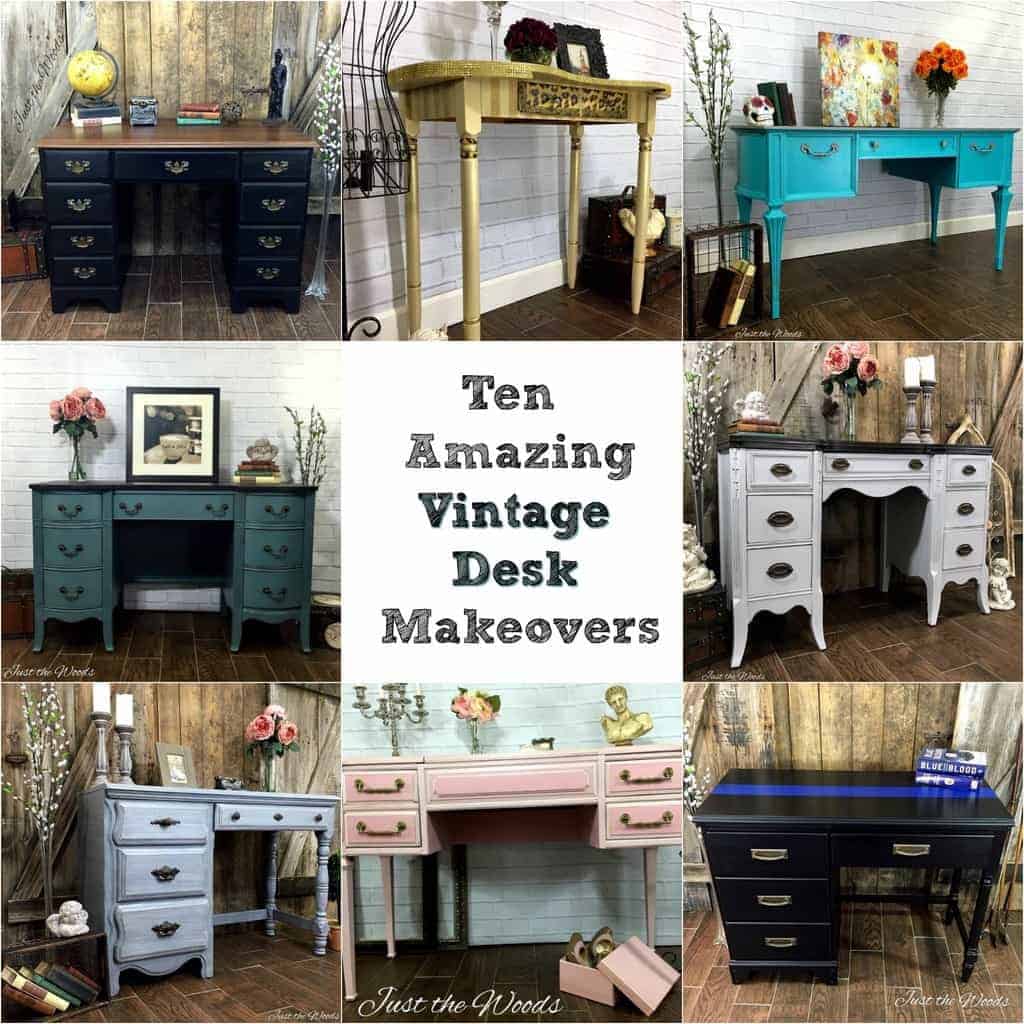 If the staging props and home decor in the photos strike your fancy then make sure to check out: