Things are never the same when they end as they are when they first started. From the first day you are sworn in, people tell you time flies and your career will be over in a blink of an eye, enjoy it while it lasts, etc. You never really believe it, and it certainly doesn't resonate as anything other than words from some old timer. But you're young and eager and ready to learn and you want to help people. You are squeaky clean and polished. A police officer with the NYPD. That's how it starts. But then the journey is different for all of us. Before you know it you realize that the old timer was right and you find yourself saying the same things. You tell people that time flies and before you know it you will be retiring. But this time you feel sentimental and even a little teary-eyed. How did that just happen?
A Moment of Truth
As I have been writing this blog and sharing projects, sharing my life, sharing my family there is one thing that I never fully put out there. I am a Detective with the NYPD. Or at least I have been for many years. But this chapter is closing and retirement has finally arrived. I didn't keep this part of my life a secret to be sneaky. But I am very aware of what goes on in our country and I know that not everyone loves the police. I also prefer simple. To sum me up- I love my country, my family, my wine and my paint. Everything else can complicate things. Click here for a little bit more about me: About me.
As I place my shield and ID on this pillow and get a new ID card marked retired I am in a glass case of emotion. Excited to move forward, yet feeling sentimental, and sad. I may be writing this for you, but a part is writing this for me as well. Here is a deeper peek into my life with the NYPD.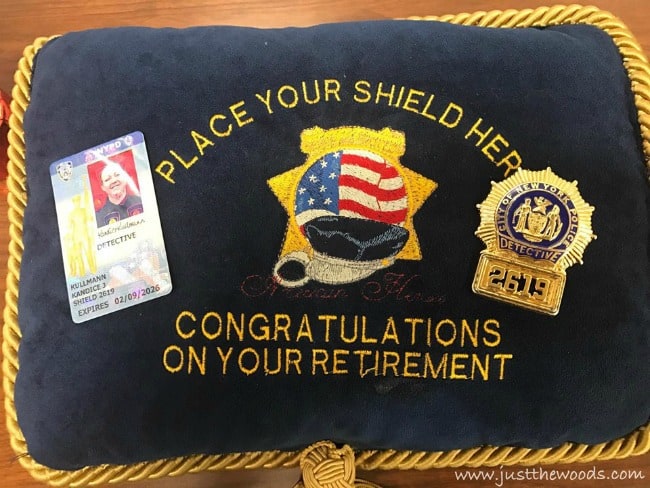 Life as a Female in the NYPD
Sorry to say but I don't have any scandalous stories. I truly can't complain. The job has, for the most part, been good to me. I've worked with amazing people and forged friendships that have a bond that is hard to explain. Much like the same ones that formed while I was in the Navy.
I started working patrol in Bushwick Brooklyn in the 83 pct. The entire time I worked there I worked at night. As a matter of fact, almost my entire career has been working nights. Since we didn't have cameras in our cell phones back then most of the photos are pictures taken of pictures and not the best quality.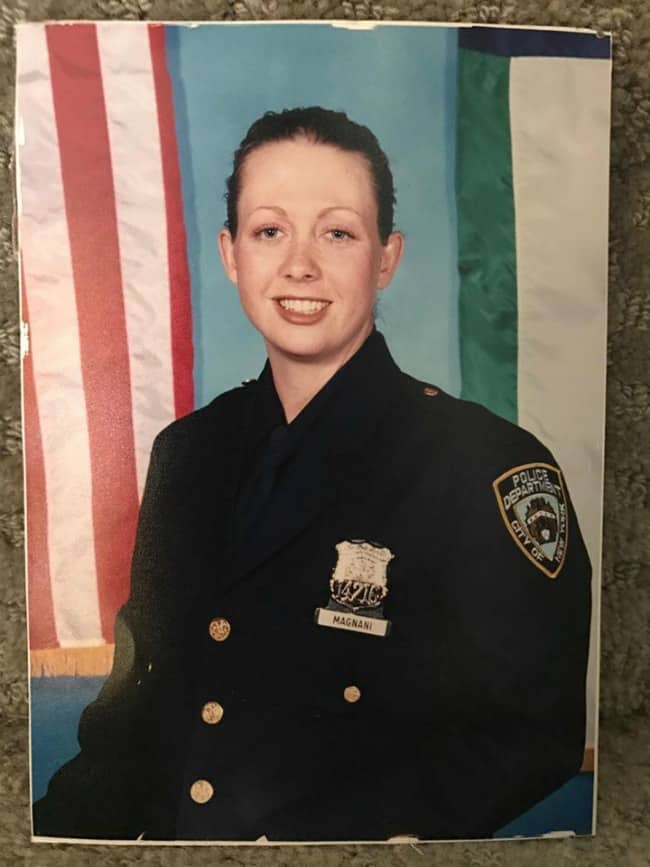 While working in Bushwick Brooklyn I did the standard rookie assignments, but 9/11 also happened when I was a rookie cop. Spending time down there you have no idea the impact that it will have on your life as you get older. You see friends and coworkers get sick. You never know when that ticking clock inside of you will ring and it's your time. Since we will never really know what we were exposed to down there all we can do is continue to get ourselves checked.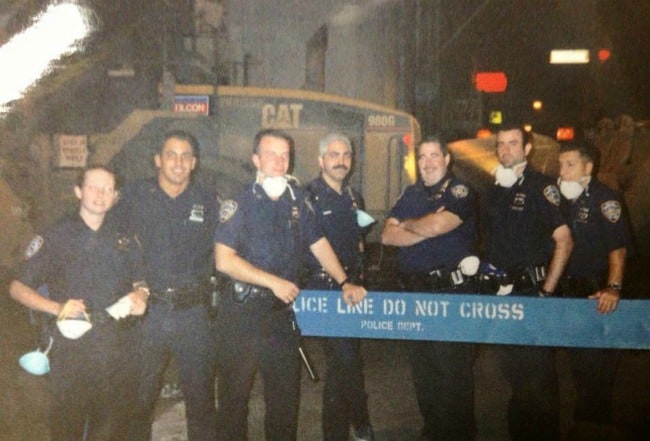 My skin cancer has been certified as 9/11 related cancer. It's been removed, but that's this time. What about next time?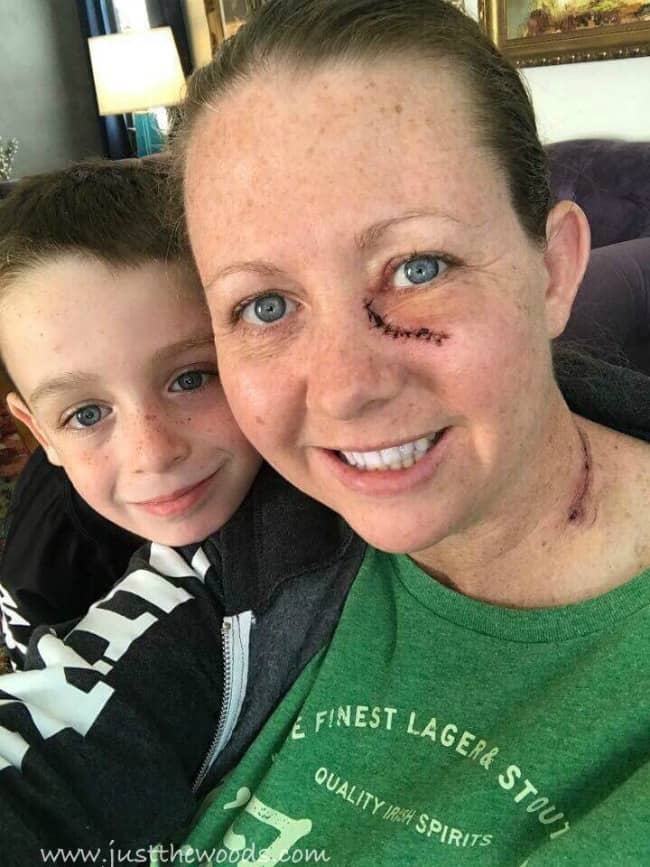 There were car chases and foot pursuits. Scuffles and all-out fights. I've been punched, bitten and spat at. I've screamed for help over the radio and responded to others calls for help. But with the crazy, there was also the rewarding and the fun. I've seen the good and bad in people and did what I could to help when it was needed.
There were also times we were sent into Manhattan for different details, parades, and events. I thought I lost this photo with Robin Williams. But cleaning out my locker I found it again. He was amazing and friendly and everything you would expect from him. He approached us on the street with open arms as we were waiting for our assignments.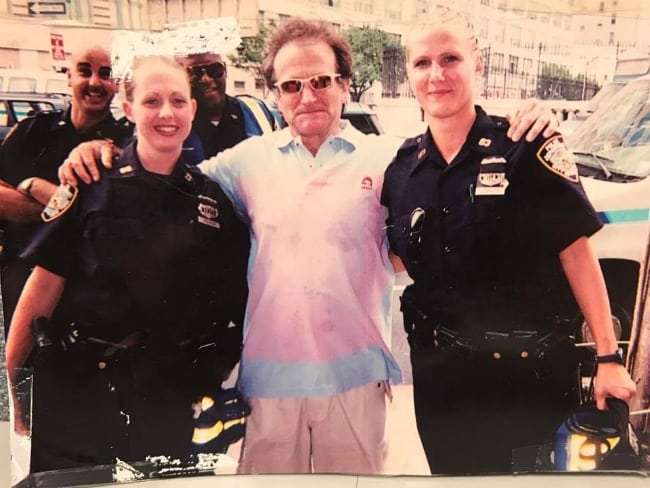 I also had the chance, on many occasions to do a little undercover work as a prostitute. Those were some really fun times! I'll spare you those photos and the details. I don't want to make anyone blush 🙂 Instead here is a photo of my old pal Peaches (he is from Georgia) and we were so young. He's back in Georgia and now he plays in a band.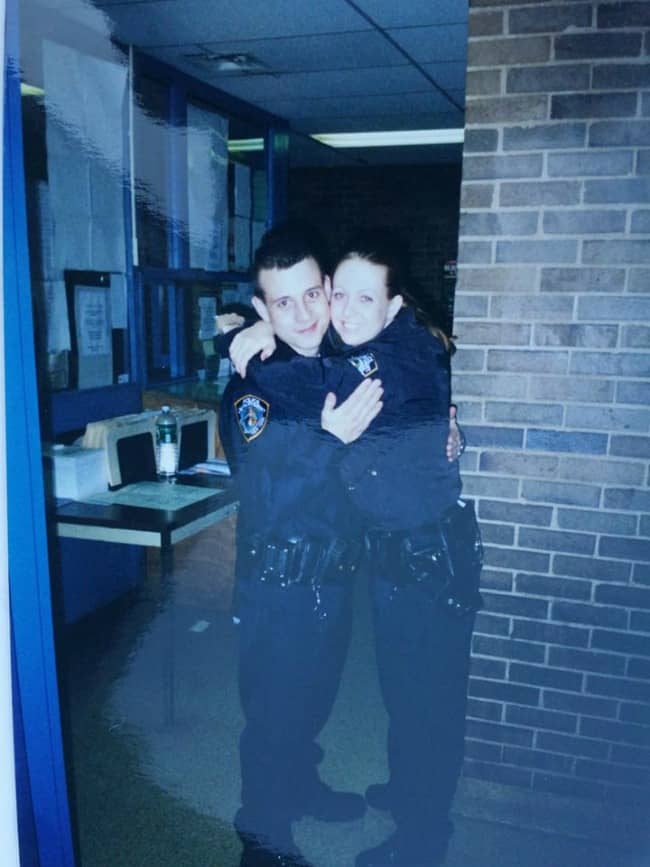 On to Brooklyn North Task Force
After a few years on patrol in Bushwick, I transferred to the Brooklyn North Task Force. This was a specialized unit that handled crowd control, searched for missing children and elderly among other things. The unit has since been disbanded and something else created in its place.
When I got the phone call to come in for the interview I had been working midnights in the 83 and thought the call was a joke from a fellow cop. I told him to stop messing with me and I hung up on him. As it turned out it wasn't a joke. It was, in fact, the Lieutenant calling to set up the interview. Thank goodness that Lieutenant had a good sense of humor.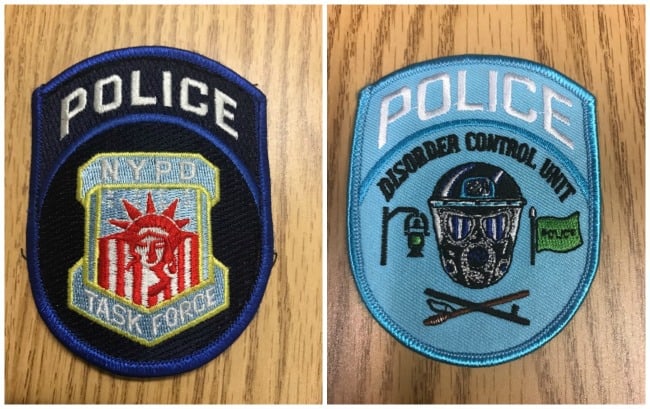 The NYPD Task Force unit was really a great place to work. We bounced around all over the Borough of Brooklyn North, spending most of our time in East New York. I had partners there that were like a marriage. We just worked well together. My partner John aka Ippy and I would take the day off from work if the other wasn't going to be in for some reason. We didn't want to work with anyone else. We worked nights, we were active and had our shares of arrests, fights, chases, and even a flasher. I made the newspaper with Ippy. Here's the article if you want a chuckle: Flasher. I even got to meet Elmo.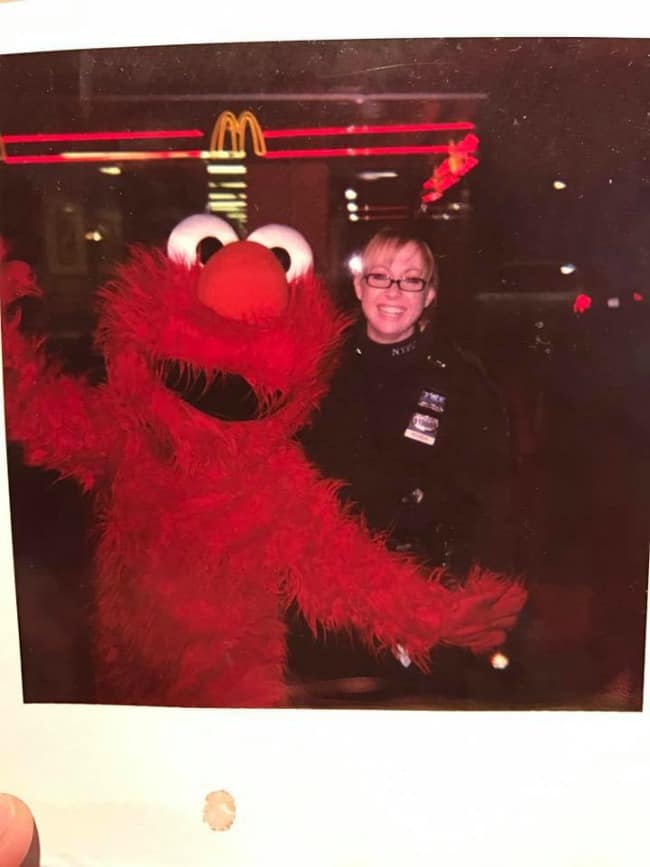 Auto Larceny
While in Task Force I also had the opportunity to work in Auto Larceny which was such a wonderful experience. My partner and I would play Christmas music in the patrol car from Thanksgiving through Christmas. During this time, when we pulled someone over for a moving violation instead of giving out tickets we handed out holiday cards (as long as the violation was minor and they had all of their paperwork in order). That felt better than giving out summonses anyway.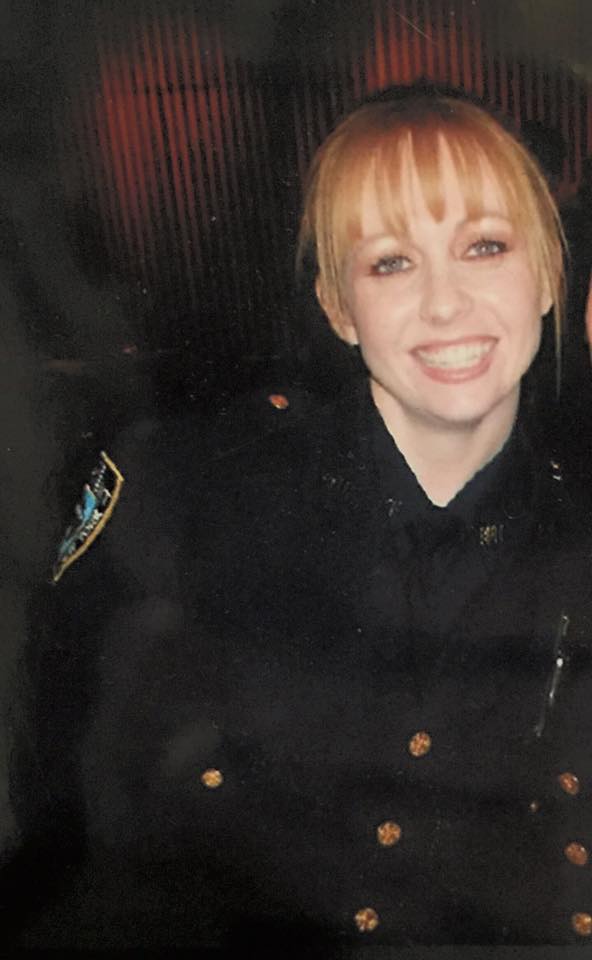 On to the Gang Unit
I reached a point in my career after approximately 4 years at Task Force that I knew that if I didn't leave task force and go somewhere else I would never leave. I was happy there. So I left. Seems strange Im sure, but it was time. I went to Brooklyn North Gang. I will never forget the first time I came into the office and there was a large man who looked pretty mean. He was one of the undercovers. He came in mumbling and cursing about the rookies and how we need to know our place. I admit I was a bit nervous. Then I learned that he was a giant teddy bear with a heart of gold. In fact, the majority of that office was. They were all sarcastic, funny, inappropriate, great Detectives and many became like family. We would get together outside of work, with our families and for special occasions.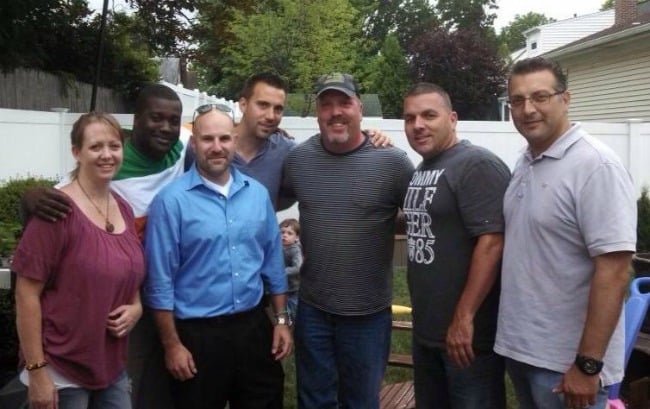 We take photos to remember the good times. This photo above was the last time we had all gotten together before Derrick passed away from a heart attack. I cried like a baby.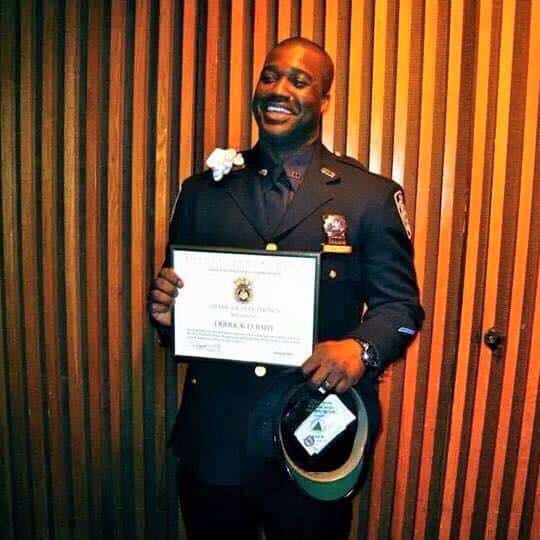 Over the course of an entire career with the NYPD, or any police department, we tend to lose many of our own. Some we know personally and some we don't know. They all hit the heart pretty hard. Derricks death hit me really hard, as did another cop, coworker and friend Alex who also had a heart attack and passed away way too young. Derrick is the reason I started painting thin blue line furniture. The first one that I did I raffled off as a fundraiser for his family.
Before walking out the door for the very last time I made sure to go say goodbye to the Chief. He was in charge of the Gang Division when I first came to the unit. But 10 years later he is now in charge of the entire Detective Bureau. I'm not a coin collector but he gave me this coin and its got to be the nicest coin I've ever seen and I will cherish it along with the memories.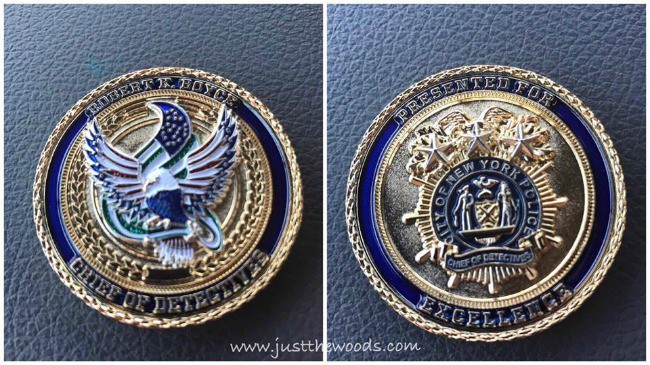 After Brooklyn North Gang I moved over to the Gang Division where I have spent the remainder of my career with the NYPD. (a total of 10 years in Gang) It's not as flashy or fun but it works. My career seemed to transition around the same time that my personal life transitioned. When I was about to start a family and become a mom I also got an investigative position at work. Meaning no more running around in the street, making arrests or getting into God knows what. Instead, I've worked primarily with the Gang database and entering gang members..  blah blah blah. It's boring but again, I can't complain.
Closing this Chapter and Moving Forward
Now that retirement has arrived it seems a new door has opened and a transition is happening. For starters, I should be able to get a normal night sleep instead of the average 3 hours I have been getting working these crazy hours over the past few years. Since I had Jackson I have worked the opposite shift as my husband. He would work during the day and as soon as he would get home from work I would leave for work. High five and out the door. My schedule on a normal day has been 530pm to 4am for at least the past year. Im tired, Im chubby, Im not feeling healthy. This schedule takes a toll on the body. It's not natural.
So with this upcoming transition, I plan to sleep more, paint more, craft more, write more, enjoy my kids more and live more. This furniture painting business and DIY blog will become my full-time job. That along with being mom and wife, since we all know that is also a full-time job. But now I can go from 3 'full-time' jobs down to 2. I invite you to continue (or join) this journey with me.
– I'll miss the clowns but I won't miss the circus.

Don't Forget – Follow Just the Woods :
FACEBOOK  *  INSTAGRAM  *  PINTEREST
 Stay connected! For more tips and tricks sign up here :