vintage painted turquoise desk with gray washed top revealing patterned wood grain underneath and silver gray hardware to match. 
Vintage Painted Turquoise Desk with Gray Washed Top
A painted turquoise desk is not what was originally planned for this makeover. This vintage desk had been sitting in my inventory for around a year. It's gorgeous with a combination of robust curves and sleek lines. There were many inquiries for it, but the size was never right. While waiting for my next custom piece to be dropped off I decided to pull this desk from inventory for a makeover. Initially, I was thinking neutral, maybe a light chestnut stain on top with an off-white body and pearl glaze. Something soft and feminine. But you know how that goes..  plans change.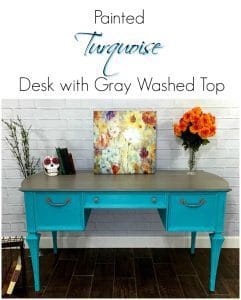 Materials Needed:
Disclosure: This painted turquoise desk post contains affiliate links for your convenience.
Staging / Home Decor
The Before – Unfinished Vintage Desk
Can you see the potential here? Can you see the neutral plan that I originally saw or do you see bold?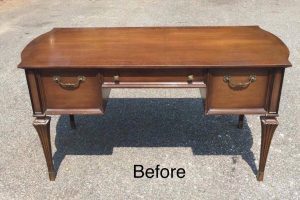 The top of the desk has a gorgeous wood grain pattern that I want to preserve if possible. There are also scratches on the top that needs to be sanded away. It's that delicate balance of removing the damage while preserving the details.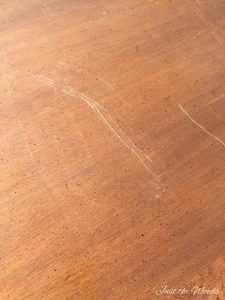 My trusty electric sander removed the scratches while revealing a really unique patterned grain.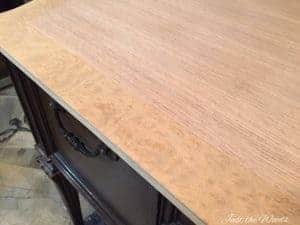 While pondering what color to finish the base of the desk I posted to my Facebook page for suggestions.  It was there that the desk was scooped up for custom. This will now become a painted turquoise desk with a gray washed top, how fun!
The Process – a Gray Wash
The top of the desk is given a gray wash using a diluted gray chalk type paint. You can find great paint options online HERE. You create the wash with paint by diluting the paint with water. The gray wash initially is a bit too light in my opinion. We will come back to that.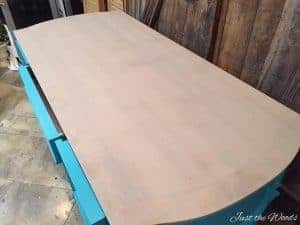 Next, the body of the desk is hand painted in a light tiffany blue color.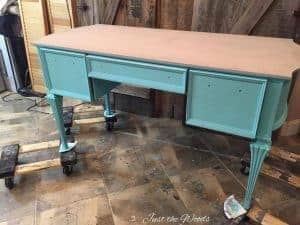 After the light blue, a bold turquoise is added over top of it. Doing this will create a bit of depth. I'll get a close-up to show further down.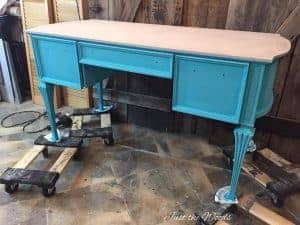 To darken up the top while still revealing some of the wood grain underneath I go over the wash with a black tinted glaze. The dark glaze adds just the right amount of darker gray to the top. As an added bonus, the glaze is also a protective finish.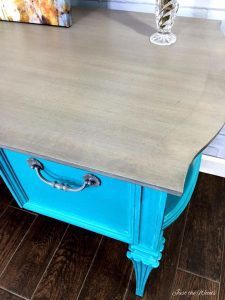 New to painting furniture and not sure where to start? Start at the beginning with How to Paint Furniture – a Beginners Guide.

The Hardware – Painted Hardware
The original hardware is kept, cleaned and painted in the same gray that is used for the wash on top. Silver is then added over the gray, giving a slight metallic finish to the hardware. This is my process for How to Prep, Paint Hardware.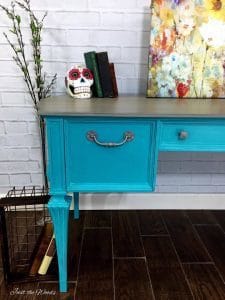 Painting Layers to Create Depth
Bits of the lighter blue are revealed underneath the darker turquoise when distressed. This little detail creates both a bit of depth and character.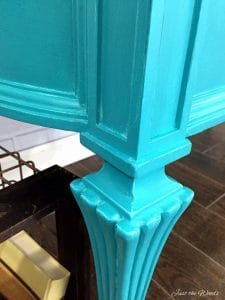 The Result – Turquoise Painted Desk
This painted turquoise desk in such a bright fun color makes a statement now. It may sound crazy, but I actually went out and bought orange flowers specifically for photographing this desk. Sometimes I think I may have lost my mind when it comes to staging. 😛 Click here to find my Best Resource Guide to Staging Furniture (& Unique Home Decor)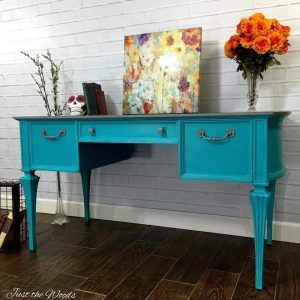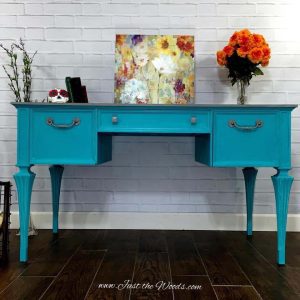 Love the uniqueness of bold blue furniture? Click here for a variety of blue accent furniture available online: HERE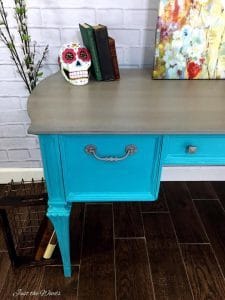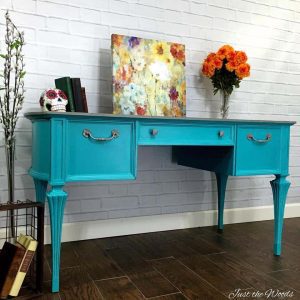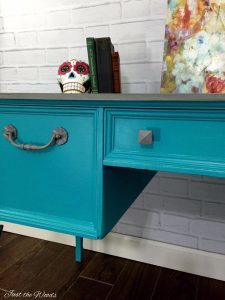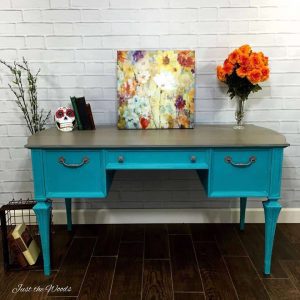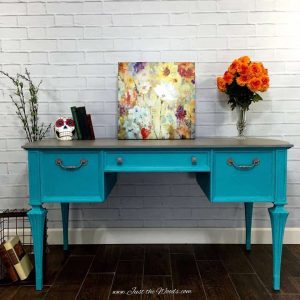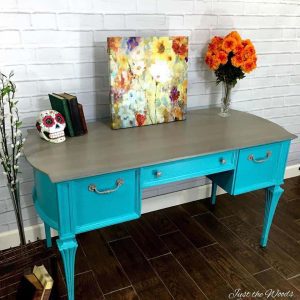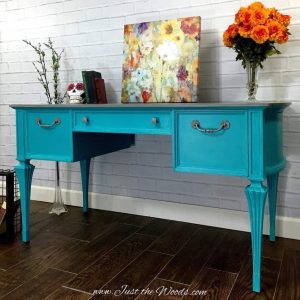 For more fabulous desk makeovers make sure to check out Ten Amazing Vintage Desk Makeovers.
Click here to see another bold blue painted furniture makeover using layers to create depth. Paint Furniture in Layers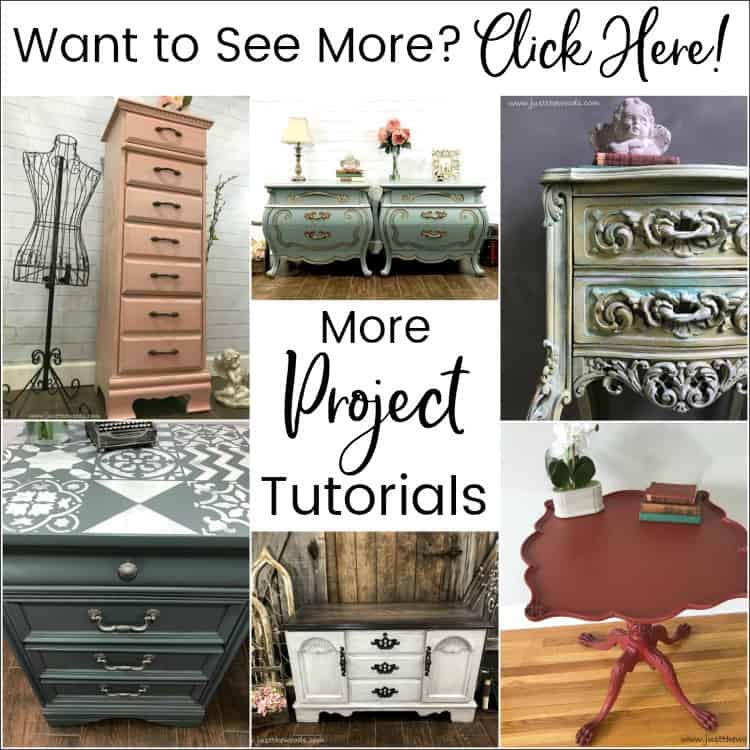 Don't Forget – Follow Just the Woods and Share this post to inspire others:
FACEBOOK  *  INSTAGRAM  *  PINTEREST
Subscribe to our mailing list here:
PINTEREST PIN READY TO SHARE: