This gray desk didn't start off gray at all. It is vintage, originally made by Stanley furniture had been stashed away in my customer's attic for some time. Abandoned, forgotten and dusty it's time for it to come out and get a makeover in shades of gray! Every single shade of gray in my paint arsenal is used for this makeover. When you can't choose one color why not use them all for a custom gray desk.
Disclosure: This post contains affiliate links for your convenience. Click here for my full disclosure policy.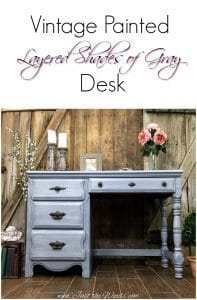 Gray Desk Painted in Layered Shades of Gray
Materials Needed:
Kristi Kuehl Pure Home Paint
Staging / Home Decor
The Before – Unfinished Vintage Desk
The desk is simple enough but lacks personality. The dated orange finish of the wood and subtle curves are nice and all. What this desk lacks in color, it makes up for in design but it needs something more.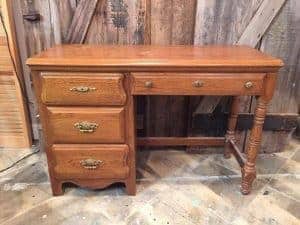 The Hardware
The original hardware was a shiny, brassy gold color. Though the color wasn't ideal, the details are perfect for the desk.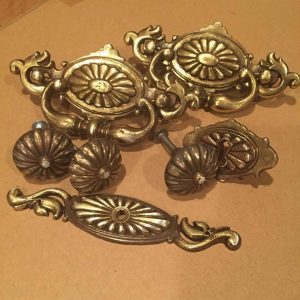 We decided to keep the original hardware and make it oil rubbed bronze. To do this the pulls and knobs are prepped and painted black using Derby by Kristi Kuehl Pure Home Paint.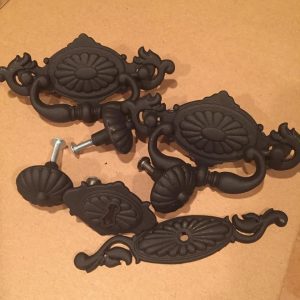 Next, the hardware is painted with Bronze Hardware Opulence, giving a metallic bronze appearance.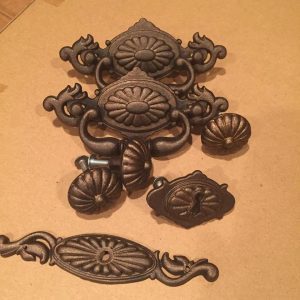 Lastly, the hardware is sealed using ebony protective glaze creating the perfect oil rubbed bronze.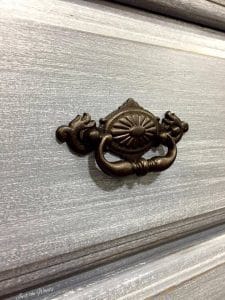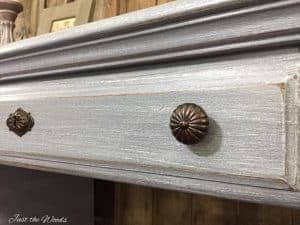 In short: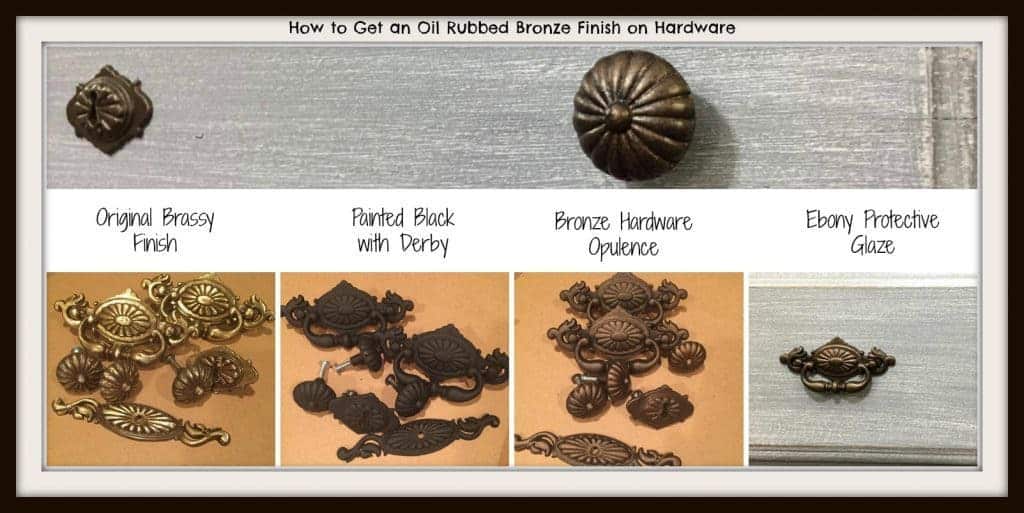 Click here to find my more detailed process for cleaning, prepping and painting hardware: Hardware
The Paint – Painting a Layered Gray Desk
I admit that I am guilty of getting too involved with the project that I failed to take step by step photos along the way. Prior to painting the desk is fully prepped. Click here to see how I clean, and prep for painted furniture: PREP. The desk was hand painted in layers upon layers of shades of gray.  Starting with Slate, then Stone, followed by dry brushing storm and tahoe and so forth and so forth.  The layering continued until I was satisfied with the result. You can find this same painted finish here on the: Painted Pineapple Pedestal Table. Once the layers of shades of gray were complete the desk was distressed and sealed with Matte protective finish and ebony protective glaze.  This layered process creates a pretty weathered gray look. For a more detailed tutorial on how to achieve this painted finish make sure to check out: Dry Brushing Furniture Tutorial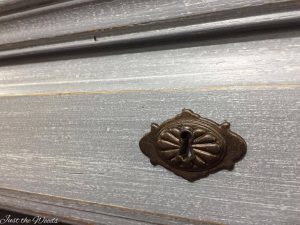 New to painting furniture and not sure where to start? Start at the beginning with How to Paint Furniture – a Beginners Guide.

Vintage Painted Layered Shades of Gray Desk
Out of the attic and back into the home office where this painted vintage desk belongs.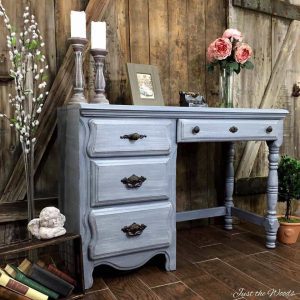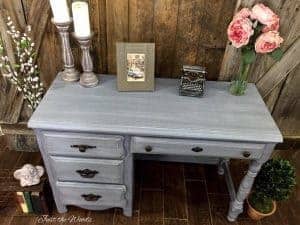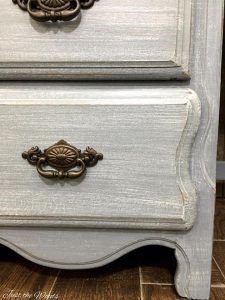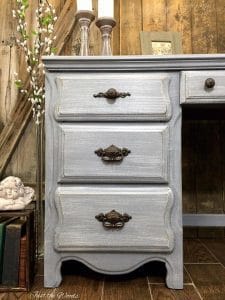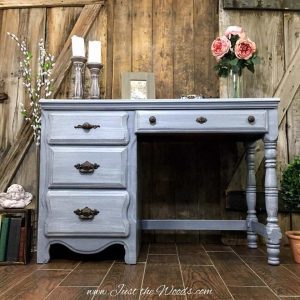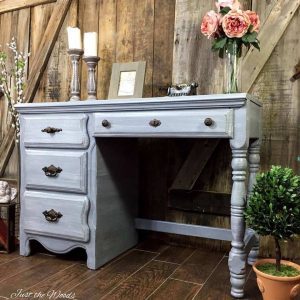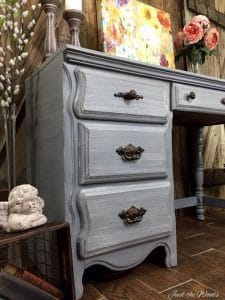 For more fabulous desk makeovers make sure to click Ten Amazing Vintage Desk Makeovers.
I'll be sharing this post at these fabulous link parties.
Don't Forget – Follow Just the Woods and Share this post to Inspire others:
FACEBOOK  *  INSTAGRAM  *  PINTEREST
Stay connected! For more tips and tricks sign up here : 
Pinterest Pin: