The Best Resource Guide for Staging Furniture 
Let me start with a confession. It's no secret that I have a bit of a hoarding problem when it comes to home decor and staging props. As a matter of fact, I have an entire wall of shelves in my workshop dedicated to props for staging furniture. Granted, it didn't happen overnight, nothing ever truly does, but it's become a 'thing' of mine that I have grown to enjoy as part of the furniture painting process. There are steps to this business: the hunt of finding a piece, the makeover and then the staging and photos. Once the painted furniture itself is long gone and off to its forever home the photos are all we have left for our portfolio, so make them count.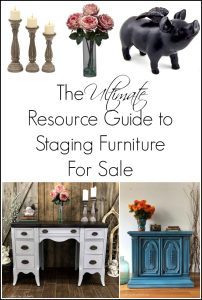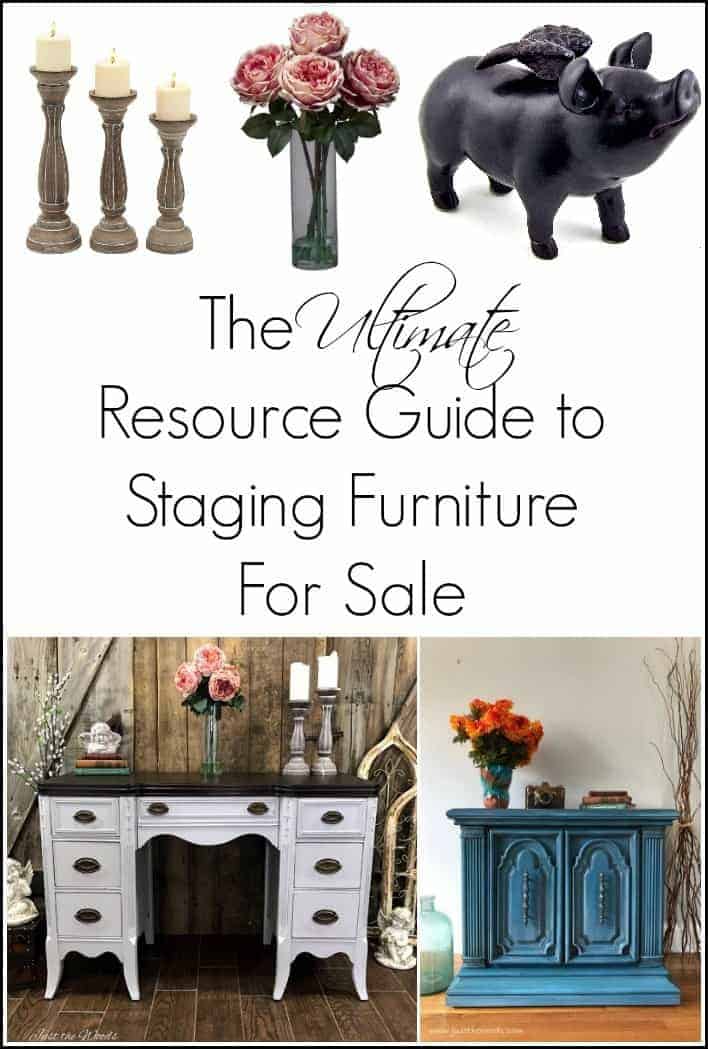 When staging furniture I treat each piece the same whether it's already sold or will be for sale. The photos matter. Welcome to my episode of home decor and props for staging furniture, would you like to know where I've found all these amazing items? Keep in mind even if you don't stage or sell furniture these are also great home décor items. Many of my staging props have migrated into my home décor over time, but the bulk are here on my shelves.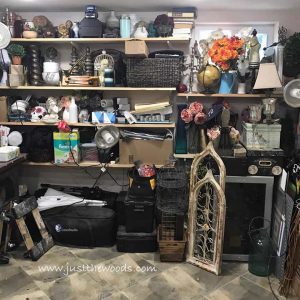 Staging Props Found Online
Im going to start with the easiest of the staging items, the ones found online, ordered and sent right to my doorstep. Because we all appreciate convenience right? You can also find some gorgeous and affordable home decor in the 7 Best Home Decor Sites for Amazing Deals post.
Disclosure: This post contains affiliate links for your convenience. Click here for my full disclosure policy.

 Faux Flowers
Many of my
furniture staging
items have been ordered online. One of my go-to
props
are my faux
pink flowers.
They add a great amount of color to
staging furniture 
and can be found here:
Faux Pink Flower Bouquet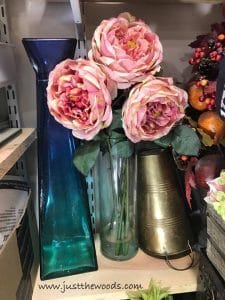 The pink flowers are the most used of all of my faux flower bouquets. Here is an example: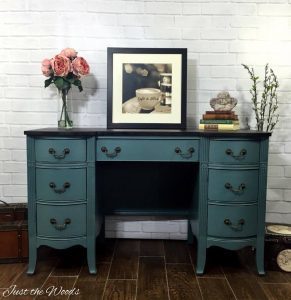 Purple & Orange Faux Flowers
It's a good idea to have other color options when it comes to faux flowers, and I will tell you why. Here's a big secret: pink does not complement every color. 😉  Besides, it's nice to mix things up a bit. Another resource for faux flowers is your local craft store. You can find an amazing selection of faux flowers like these orange ones and purple ones. Both the orange and purple bouquets were found here:
Faux Flower Arrangements. 
In addition to the pop of color flower arrangements I also tend to use faux pussy willows in a tall vase. These are great for adding something tall and thin alongside a painted piece and was found at the same place as the orange and purple flowers above. You will see them often in the photos below. They have also managed to leave the staging prop area of my shop and now live in my living room, but I still steal them often for
furniture staging
.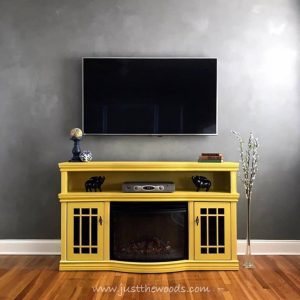 Another small bouquet that I use on occasion is my vase of green and lavender
hydrangeas
.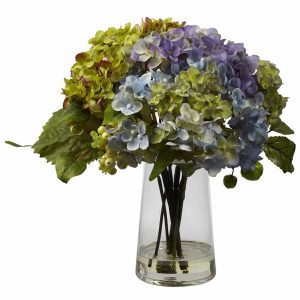 Enough about flowers, you get the idea.
Vintage Style Items
Along with faux flowers, it is a good idea to accumulate some vintage style items, what I mean by that is items that are new but have a vintage appearance.
These vintage style suitcases are used quite often when I'm staging furniture.  These can be found here: Old Style Suitcases. They come in handy when there's a space on the floor that needs a little something.  For example: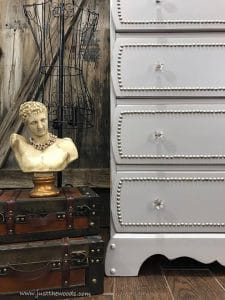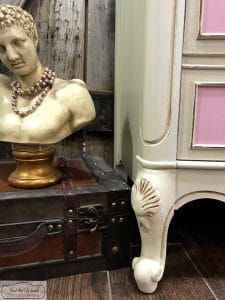 Other vintage style items that work nicely with staging furniture are clocks and picture frames. The ornate black frame was ordered here: Black Photo Frame
[clickToTweet tweet="The Best Guide to Unique Home Decor & Staging Furniture for Sale" quote="As I share my decor addiction with you make sure to go ahead and share it with your friends too." theme="style5″]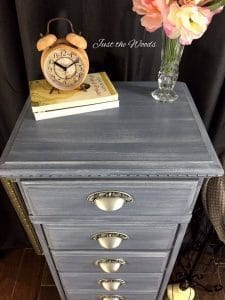 Though the frame in this staged lingerie chest was not found online the image inside was. To avoid filling staged photos with photos of yourself and your family you can fill them with simple vintage style postcards, which can be found here: Vintage Style Postcards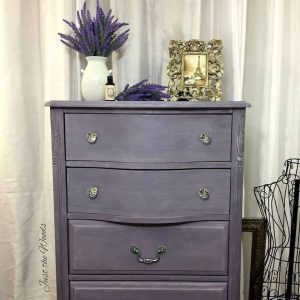 Candles
 A set of pillar candles adds height within photos since you don't want multiple items all the same size. These were found online and are also used often. They have been relocated away from my staging prop shelves and made their way into my personal home decor. These can be found here: Wooden Pillar Candles

Wire Mannequin Dress Form
The dress form is often used when staging bedroom furniture like dressers or lingerie chests and can be found here: Wire Dress Form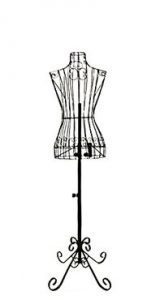 Here is an example of the dress form used with furniture staging:

Balls
As silly as it may seem balls are great, the decorative kind of course. These decorative balls were found here: Decorative Spheres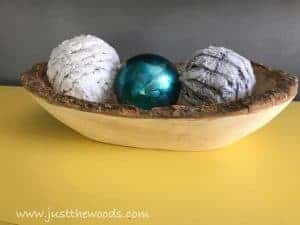 While these were found in the decor section of a local craft store. I was poking around the store with my mom and she purchased some for herself too!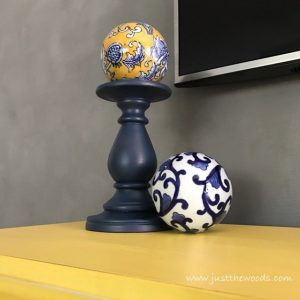 Metal & Wood Items
Metal and wooden items add texture when staging furniture, and to home design. I find when staging a masculine type piece of furniture it tends to compliment the piece better than pink flowers. This area of the shelf may look crazy but it makes sense to me. Take the metal decor trumpet, for example, it works well with staging a painted desk and can be found here: Metal Decor Trumpet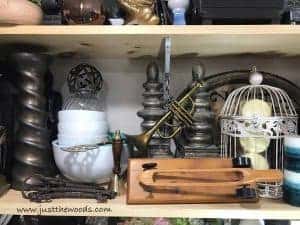 Here is an example of what I would consider masculine furniture staging, not that furniture really is masculine or feminine but its the feeling you get when you look at a finished piece. In this case, often black, browns and navy.




Boxwood Greenery
Sometimes floral decor is great for color, and other times simple greenery works too. These faux boxwood plants are great and can be found here: Faux boxwood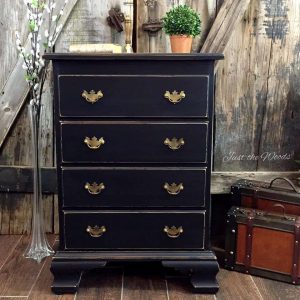 Not Everything Can Be Found Online
Unfortunately, not everything can be found online, especially when you want to add unique items to your staging, or your home. Many great finds have been at random antique shops. Some items to look for at antique shops are vintage books and anything that stands out to you. Here are a few items that I cherish and were scooped up at antique stores, Goodwill and estate sales.
There is something about old books, especially the colored leather bound books. These are now part of my living room decor but I use them often. They were bought at an antique shop in Florida while on a family vacation.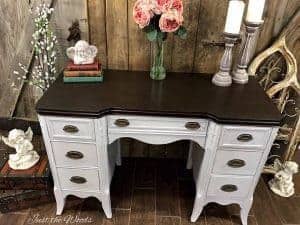 I must be a creature of habit because I often top the stack of books with my stone angel or flowers or another small decor item.
Another unique item is my stone bust of David. I tend to grab him when staging something romantic and feminine. He was found in a vintage shop down in New Jersey. I gave him a little jewelry for an added touch.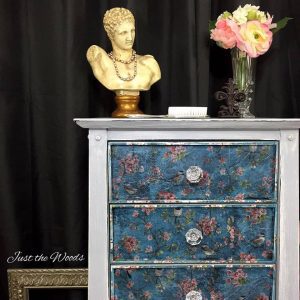 Sometimes he's on top of a painted piece and sometimes he hangs down low.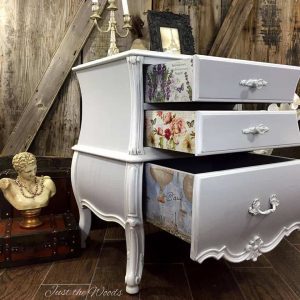 I found these old cathedral windows at an adorable little shop out on Eastern Long Island. Initially, I bought one and then went back for a second.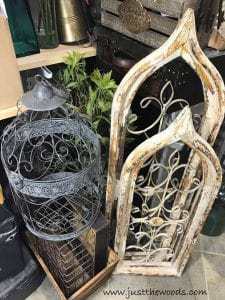 They are often added alongside a painted piece, almost like background decor.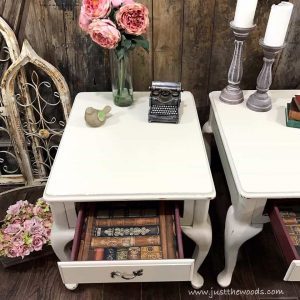 These old golf clubs belonged to my husband's grandfather. Sometimes it's best to use what you have.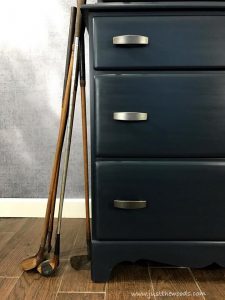 Colorful glass jars always add both texture and color. If you are at the local Goodwill go ahead and scoop up some glassware. If they don't have a decent selection than the dollar store or craft store is always good for these.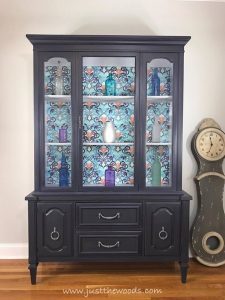 This vintage milk jug was rescued from an old barn in the Catskills where I acquired quite a few pieces of furniture. The milk jug actually stays on my front porch, but I pull it in for staging when it suits the style of the painted furniture being photographed.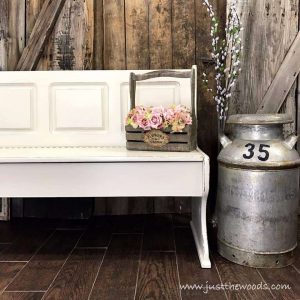 Im about to surprise you with something. I bet you wouldn't be able to guess where I found these angels that I use all the time?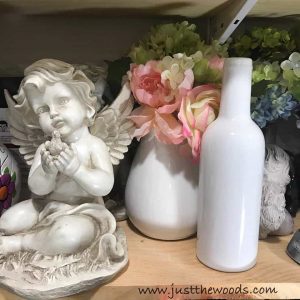 Ready? Drumroll..  CVS! Yep, check the gardening and small decor section when you run in for toothpaste or to fill a prescription. You will be amazed at the affordable items and seasonal items that you can find there. These angels are used all the time in my staging.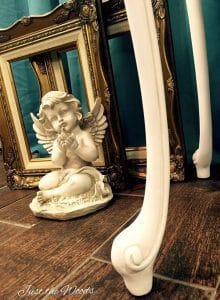 Borrow from your children if you have them! Don't be afraid to rummage through your kids' toys if needed. This giant teddy bear was perfect for staging toy boxes and a high chair.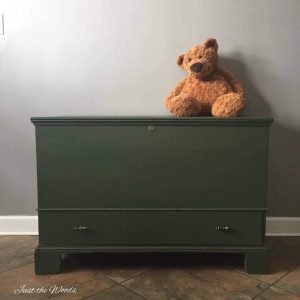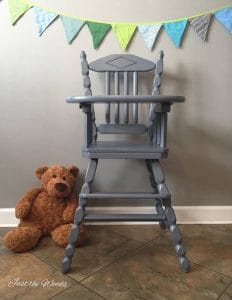 Whether you pull artwork from your walls in your home or pick something up from a random antique shop art is always a good idea. I prefer to add artwork over mirrors because with mirrors you have to be mindful of the reflection. This vintage art was brought back from that same barn in the Catskills and is now a part of my living room gallery wall.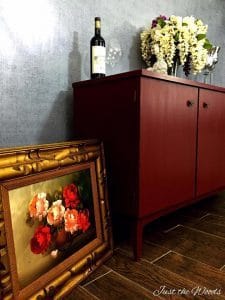 If you don't make it to estate sales then check out your local decor store. Places like TJ Maxx, Michaels and Hobby Lobby have great art and sometimes they are in the clearance section which makes it even better.
Deciding on What to Use for Staging Painted Furniture For Sale
Sometimes deciding on what staging prop or decor item works with a piece can become a struggle. To help alleviate some of that struggle you should make the color wheel your best friend. It's as simple as pairing colors opposite of one another.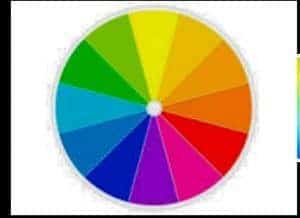 On more times than I can remember I referred to the color wheel and realized that I needed something in a different color for a piece that I was working on. I often think about staging a piece before I even finish it. For example, while painting this turquoise desk I referred to the wheel and noticed that orange works with blue. I didn't have anything orange to stage with so I am a bit embarrassed to admit that I ran out and bought orange flowers specifically for staging this desk.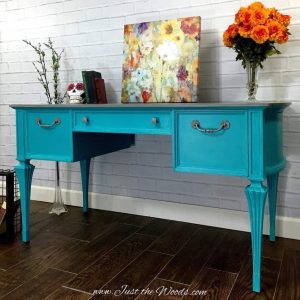 Examples:
While working on this vintage dresser makeover with deep yellow drawers I see that purple compliments yellow. Because of this, I made sure to get purple flowers for staging this piece.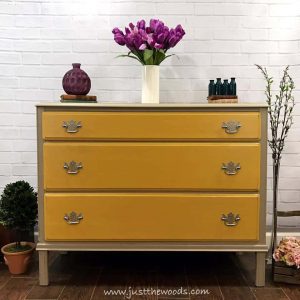 There is always a bit more freedom with colors when working with neutrals, for example, a gray piece can be staged with almost any colors.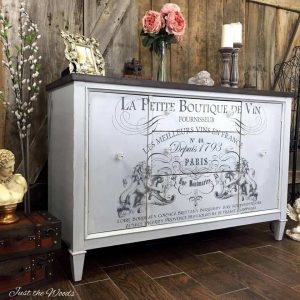 In Conclusion
If nothing else I hope I have helped you either with staging ideas or inspiration. Maybe you will look at home décor and color in a different way now. Are you running to CVS yet? 🙂
Still not satisfied? Here are a few more links to additional items that I have acquired for staging furniture not specified above:
Backdrop Options
Looking for backdrop options? You can find out where I get these and more here: Affordable Backdrop Options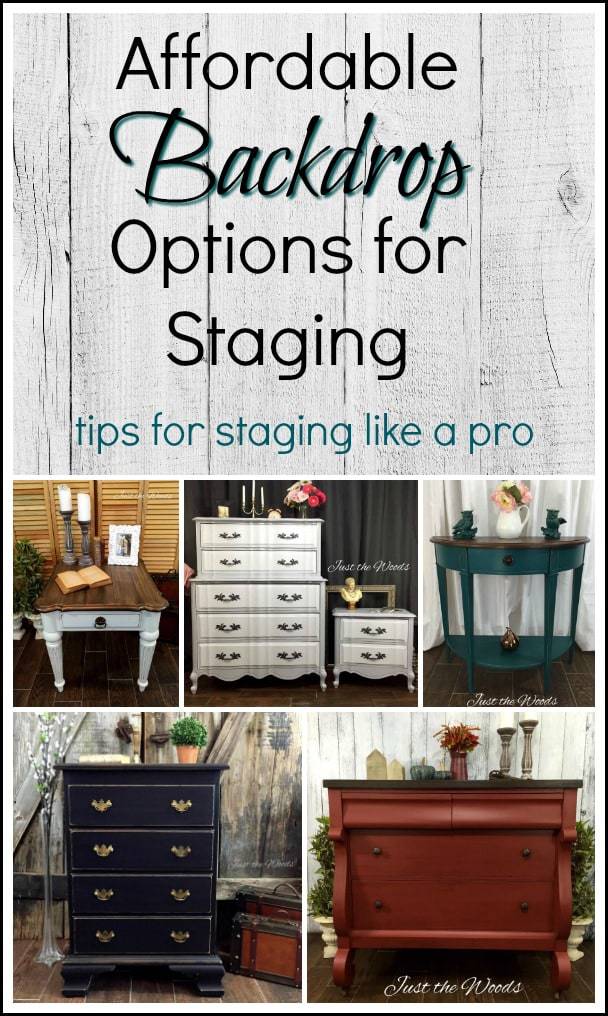 Lighting and Photography
See how to photograph furniture in less than ideal spaces, with less than ideal lighting here: How to Photograph Furniture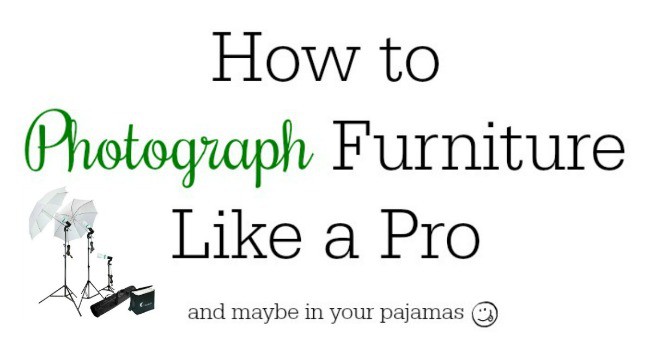 I'll be sharing this post at these fabulous link parties.
Don't Forget – Follow Just the Woods and Share this post to Inspire others:
FACEBOOK  *  INSTAGRAM  *  PINTEREST
Subscribe to our mailing list here:
PINTEREST PIN READY TO SHARE