These paleo pumpkin recipes are sure to please because I've rounded up a little something for everyone. If you are pumpkin obsessed, you'll love this collection of paleo recipes that will help you find scrumptious ways to incorporate this seasonal gourd into a variety of tasty dishes. In addition to being a versatile ingredient that works well in both sweet and savory recipes, pumpkin is an excellent source of vitamins A and C as well as being rich in fiber. These paleo pumpkin recipes will give you inspiration to create deliciousness such as cakes, muffins, pies, cookies, and beverages. You'll also find savory delights such as soup, stew, curry, hummus, casseroles and more. Browse these paleo ideas that spotlight pumpkin in sweet and savory ways.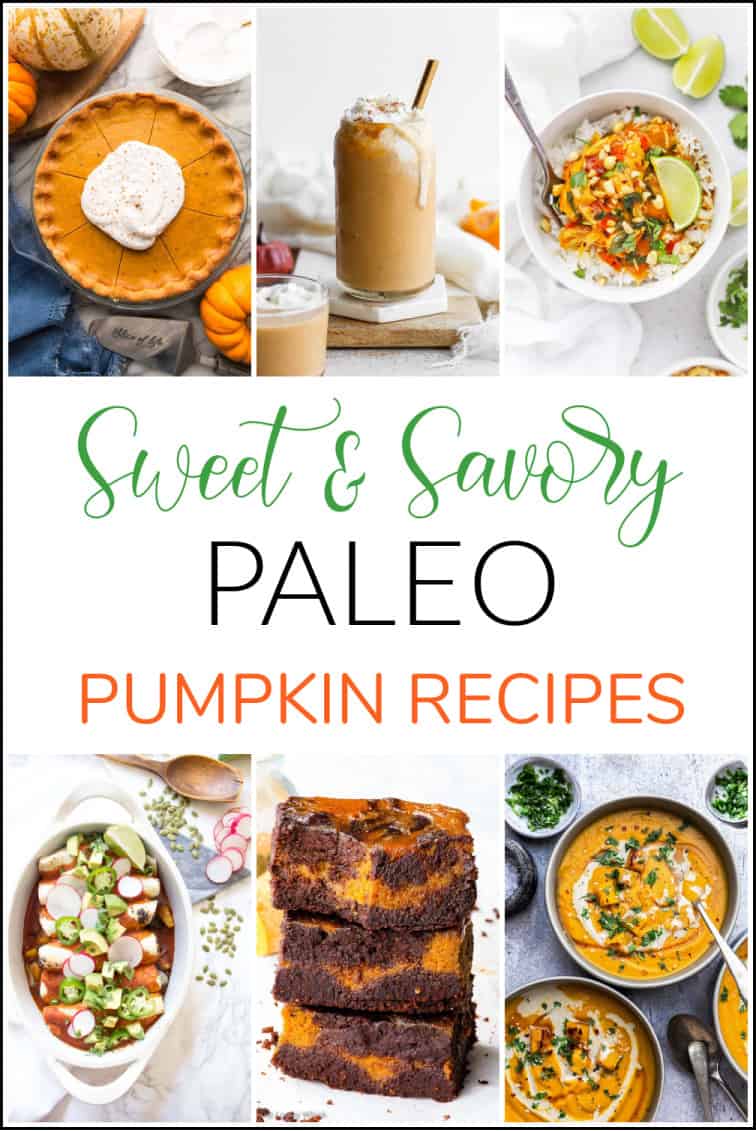 Disclosure: This healthy easy Waldorf salad recipe post contains affiliate links for your convenience. Click here for my full disclosure policy.

Clean Eating Basics
As long as you are using quality ingredients, meaning ingredients that are whole and/or organic and without added chemicals or additives these paleo pumpkin recipes are amazing any time of year. I mention that this is a clean eating recipe because I am all about eating healthy and clean eating. If you are new to a clean eating way of life then you need to check out Everything You Need to Know about a Clean Eating Diet. You can also see how I lost 50 lbs and am keeping it off by following a clean eating diet here: How I Lost 50 Lbs Clean Eating. I tend to try different things and mix different flavors to keep meals healthy and tasty.

What makes a Pumpkin Recipe Paleo?
The Paleo style of eating for the most past and simply put, reverts back to earlier times of eating meat, fish, nuts, seeds, fruit and veggies. A Paleo diet does not include grains/wheat, dairy, refined sugars or legumes. Since I typically eat a clean diet that is gluten free, dairy free, refined sugar free and soy free it often also falls under the paleo category. I confess I do on occasion eat lentils and rice which isn't actually Paleo, but depending on the individual you eat what feels right for your own body. More importantly than strictly sticking with a particular style of eating I believe that you should make sure to consume quality, whole, organic and unprocessed foods as often as possible. What works for one person may not work for another.
20+ Sweet & Savory Paleo Pumpkin Recipes
Have you ever wondered what to do with pumpkin? Or how to cook with pumpkin? Pumpkin and it's puree are deliciously healthy but often we find ourselces unsure of how to use them. Well, wonder no more. This variety of pumpkin recipes will keep you busy in the kitchen for quite a while.
For more healthy clean eating recipes make sure to follow my clean eating Pinterest board here:
Clean Eating
.


Don't Forget – Follow Just the Woods and Share this post to Inspire others:
FACEBOOK * INSTAGRAM * PINTEREST * RECIPES