This sugar free fudge brownies recipe makes the perfect treat because it satisfies the sweet tooth without the negative impact of a sugar spike followed by a crash. Made with just a few simple ingredients the recipe is easy and a family favorite. These sugar free chocolate fudge brownies are also vegan, gluten free, dairy free, grain free, paleo, keto, and falls under the category of clean eating. Keep in mind that these tasty brownies are free of added sugar and refined sugars but the cacao chips may have a small amount of sugar in them. You can opt for the 100% cacao chips to keep it completely sugar free.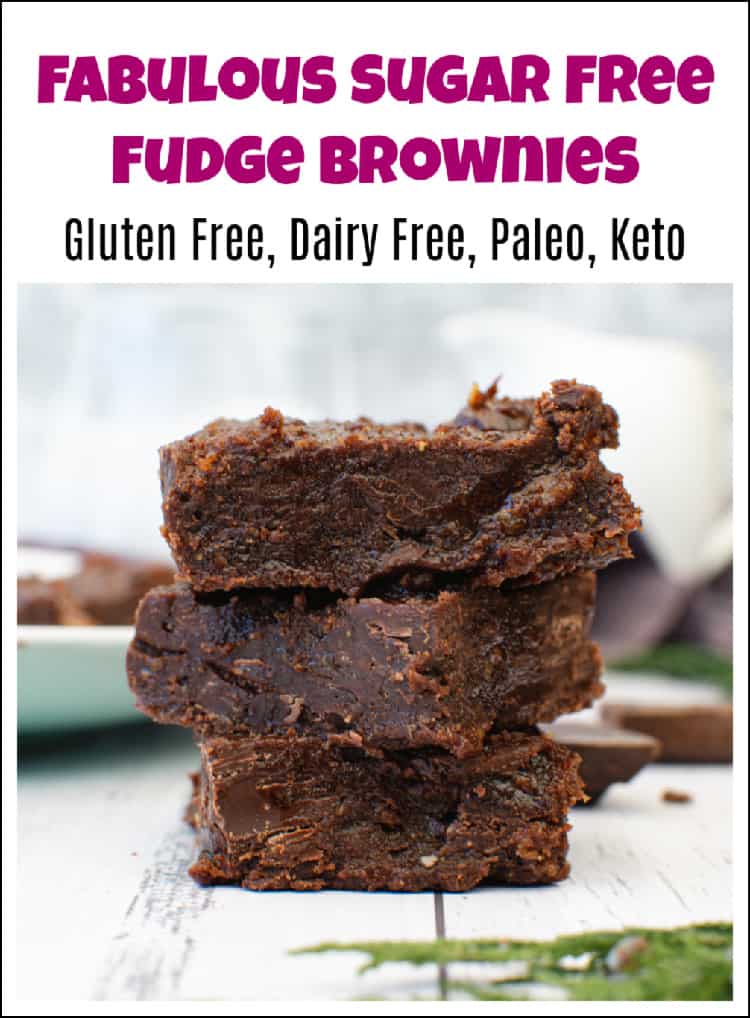 Disclosure: This healthy sugar free brownies recipe post contains affiliate links for your convenience. Click here for my full disclosure policy.

Easy Sugar Free Chocolate Brownies Recipe
What You Will Need (Full Printable Recipe Available Below)
Ingredients:
1 cup cashew butter
2 cups cacao/chocolate chips
1 tsp vanilla extract
1 ripe/overripe banana
Clean Eating Basics
As long as you are using quality ingredients, meaning ingredients that are whole and/or organic and without added chemicals or additives this easy sugar free brownie recipe makes the perfect clean eating snack. I mention that this is a clean eating recipe because I am all about eating healthy and clean eating. If you are new to a clean eating way of life then you need to check out Everything You Need to Know about a Clean Eating Diet. You can also see how I lost 50 lbs and am keeping it off by following a clean eating diet here: How I Lost 50 Lbs Clean Eating. I tend to try different things and mix different flavors to keep meals healthy and tasty.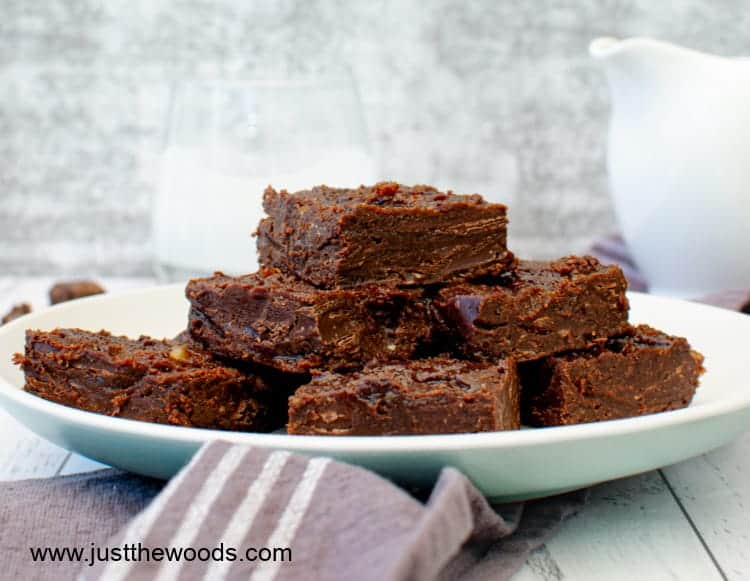 I love snacks and have a bit of a sweet tooth. These sugar free chocolate brownies are one of my all-time favorite healthy clean eating snacks. I keep mine in an air tight container in the fridge for when I want something quick, easy and to curb the sweet cravings. I admit that once in a while I eat so many that it feels like I'm defeating the purpose. They are so yummy it's hard to believe they are healthy. Keep in mind that they are not a low calories food, but when you are eating whole, unprocessed and clean ingredients there is more to nutrition then calories. Along with all of my delicious smoothie recipes, there are always healthy energy balls, muffins and/or donuts in my grab and go stash of snacks.

How to Make Healthy Brownies (No Sugar)
Let's start with our simple ingredients to make these easy sugar free healthy brownies. You know what else makes these easy? These are no bake sugar free brownies! It doesn't get much easier than that.
Ingredients:
These tasty treats are simply sweetened with banana instead of conventional sugar, because fruit is natures candy right?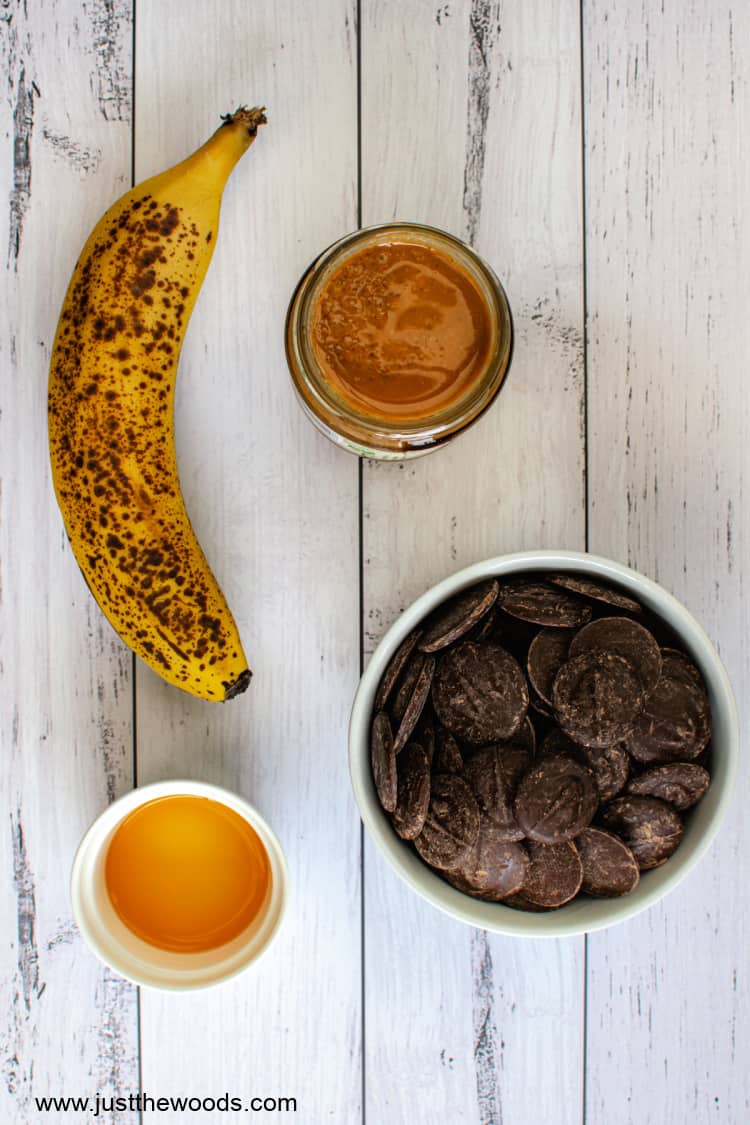 When it comes to nut butter, cashew butter is my all time favorite. For these sugar free fudge brownies I am using my homemade cashew butter. You can either make your own with this recipe here: Homemade cashew butter recipe. Or you can get it online. This brand is one that I like when I don't have any homemade cashew butter on hand: cashew butter. Whichever you choose, try to use a nut butter without added sugars, salt and oil.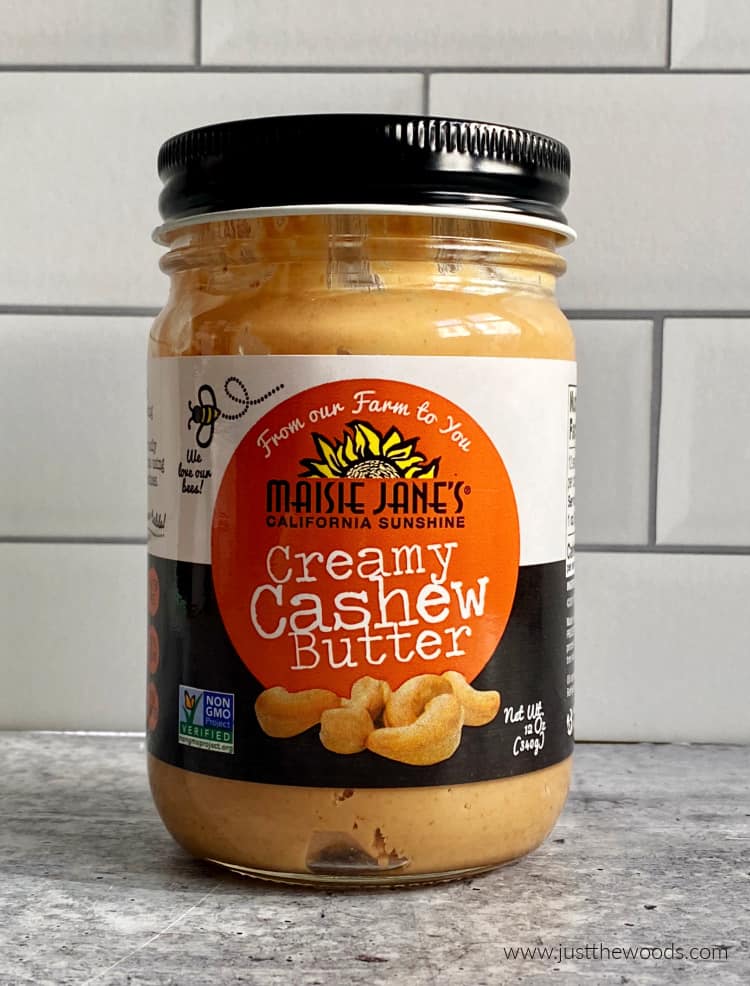 Next, chocolate! When it comes to cacao or chocolate chips there are 4 different type of chocolate chips that I use when baking. This comes down to personal preference.
The higher the percentage the less sweet and more pure cacao. When I use 100% cacao chips my kids accuse me of using fake chocolate. lol. For these chocolate fudge brownies without sugar I am using the 85% cacao chips. To keep these brownies 100% sugar free you will need to opt for the 100% cacao chips.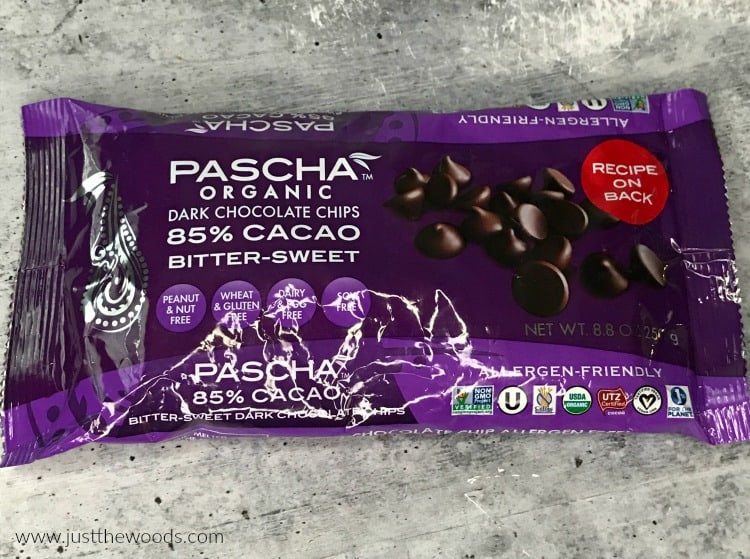 Directions:
Line an 8×8 baking dish with parchment paper.

In a medium bowl, mash the overripe banana.

Using a separate bowl combine the vanilla extract and cashew butter.
Melting the Chocolate: If you have ever melted chocolate of any kind before then you may be familiar with a double boiler. This is simply a pot with water in it and then another pot above it. The top pot is where you melt your chocolate. This method is meant to prevent you from burning the ingredients since they are not directly on top of the heat source. You can get a double boiler online here:

Double boiler

.

If you prefer to microwave, simple place the chocolate chips in a microwave-safe bowl.

Put the bowl of chocolate chips into the microwave for 30 seconds on high power. Remove the bowl from the microwave and stir the chocolate. Place the bowl back for another 30 seconds on high power. After this, keep microwaving the chocolate chips on high power for 10-second increments, stirring in between every time until the chocolate is smooth and fully melted.

Add cashew butter, melted chocolate and vanilla to the mashed banana and whisk to combine.
Transfer the sugar free brownie mixture to the parchment-lined baking dish.

Freeze until firm (1-2 hours). Slice and enjoy (makes 16 pieces).

These sugar free treats are a little different from traditional brownies and fall somewhere between fudge and a brownie, hence the fudge brownies. Regardless, they are delicious!

Store leftovers covered in the refrigerator for 1 week or in the freezer for up to 2 months.


Printable Recipe

Fabulous No Bake Sugar Free Fudge Brownies

Total Time:

2 hours

10 minutes

This sugar free fudge brownies recipe makes the perfect treat because it satisfies the sweet tooth without the negative impact of a sugar spike followed by a crash. Made with just a few simple ingredients the recipe is easy and a family favorite. These sugar free chocolate fudge brownies are also vegan, gluten free, dairy free, grain free, paleo, keto, and falls under the category of clean eating

Ingredients

1 cup cashew butter
2 cups chocolate chips
1 tsp vanilla extract
1 overripe banana

Instructions

Line an 8x8 baking dish with parchment paper.
In a medium bowl, mash the overripe banana.
Using a separate bowl combine the vanilla extract and cashew butter.
Melting the Chocolate: If you have ever melted chocolate of any kind before then you may be familiar with a double boiler. This is simply a pot with water in it and then another pot above it. The top pot is where you melt your chocolate. This method is meant to prevent you from burning the ingredients since they are not directly on top of the heat source.
If you prefer to microwave, simple place the chocolate chips in a microwave-safe bowl. Put the bowl of chocolate chips into the microwave for 30 seconds on high power. Remove the bowl from the microwave and stir the chocolate. Place the bowl back for another 30 seconds on high power. After this, keep microwaving the chocolate chips on high power for 10-second increments, stirring in between every time until the chocolate is smooth and fully melted.
Add cashew butter, melted chocolate and vanilla to the mashed banana and whisk to combine.
Transfer the sugar free brownie mixture to the parchment-lined baking dish
Freeze until firm (1-2 hours).
Slice and enjoy.
Store leftovers covered in the refrigerator for 1 week or in the freezer for up to 2 months.

Recommended Products

As an Amazon Associate and member of other affiliate programs, I earn from qualifying purchases.

Nutrition Information:

Yield:

16

Serving Size:

1 Amount Per Serving:

Calories:

209

Total Fat:

15g

Saturated Fat:

6g

Trans Fat:

0g

Unsaturated Fat:

9g

Cholesterol:

0mg

Sodium:

50mg

Carbohydrates:

20g

Fiber:

2g

Sugar:

14g

Protein:

3g

nutritional values are estimates and may vary depending on products/ingredients used.

For more healthy clean eating recipes make sure to follow my clean eating Pinterest board here:

Clean Eating

.

Don't Forget – Follow Just the Woods and Share this post to Inspire others:

FACEBOOK * INSTAGRAM * PINTEREST * RECIPES