When looking for pegboard tool organization ideas this pegboard tool organizer is perfect for organizing tools on a pegboard wall with limited space.
Since our small closet renovation and organization, I have been in full organization mode. Lately, I have been looking for pegboard tool organization ideas to get my small workshop in some sort of order. Most of my tools have been scattered around my workshop with screwdrivers and hammers in buckets and clamps wherever they may hang. This simply isn't working and I am in desperate need of a better way to organize tools. My friend Jen showed me a photo of her pegboard tool storage and suggested a pegboard wall to organize the tools. It's perfect and I immediately drag my hubby out so we can get me my own pegboard tool organizer. Thank Jen 😉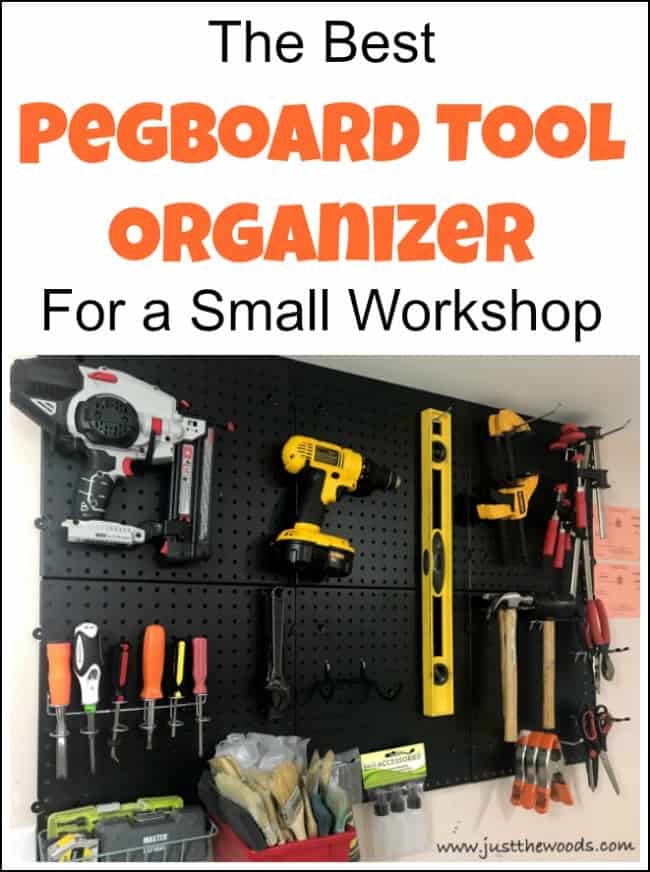 Disclosure: This pegboard tool organizer post contains affiliate links for your convenience. Click here for my full disclosure policy.

DIY Pegboard Tool Organizer
Materials Needed / Source List:
Tools on Tool Hanging Wall
Placing a Wall Pegboard for Tools
The only semi-available wall in my small workshop that could possibly work for my tool organization has my corkboard on it. I will have to relocate my corkboard somehow.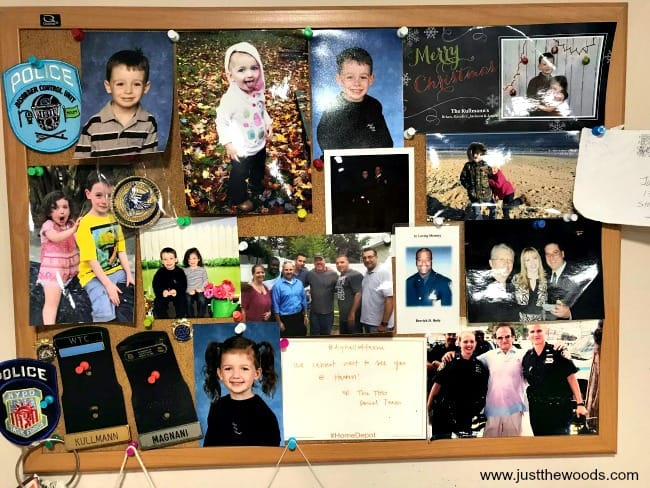 How to Hang a Tool Pegboard
The tool pegboard that I decided to go with is an interlocking metal pegboard tool organizer. Having zero patience I picked it up at the local hardware store but you can find the same or similar style pegboards online HERE. I love that this pegboard tool holder is metal making it super strong and sturdy. First, you want to measure your wall space where you plan to hang your pegboard wall. Then order the tool pegboard squares that work for the space measured. My pegboard storage wall requires 6 interlocking pegboard squares.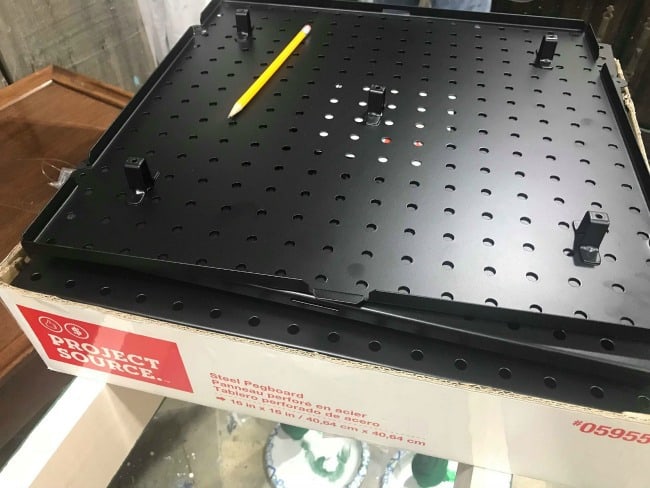 Place your pegboard tool organizer on the wall one square at a time and use a pencil to mark where the screws will attach the pegboard to the wall.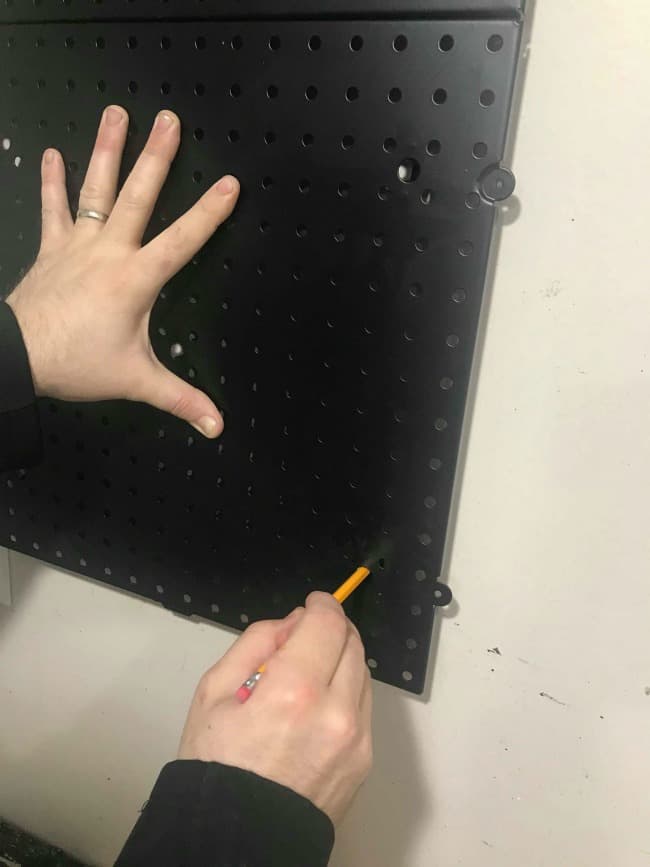 Now that your holes are marked you will want to use sheetrock anchors first.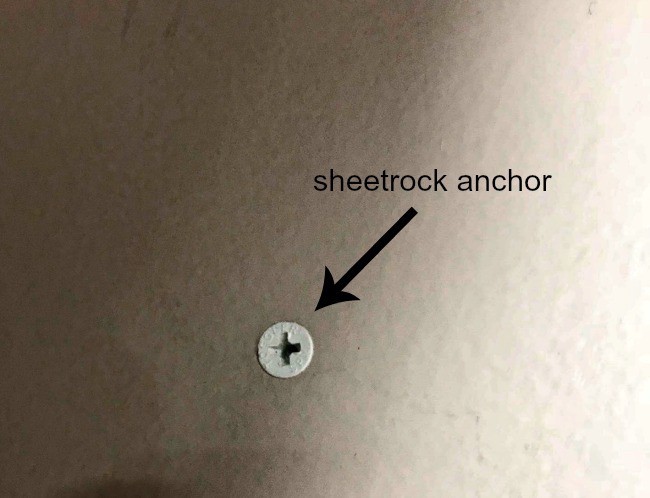 After you place your sheetrock anchors you can secure the pegboard to the wall with screws. I would definitely suggest using sheetrock anchors first if you are hanging your pegboard wall into drywall.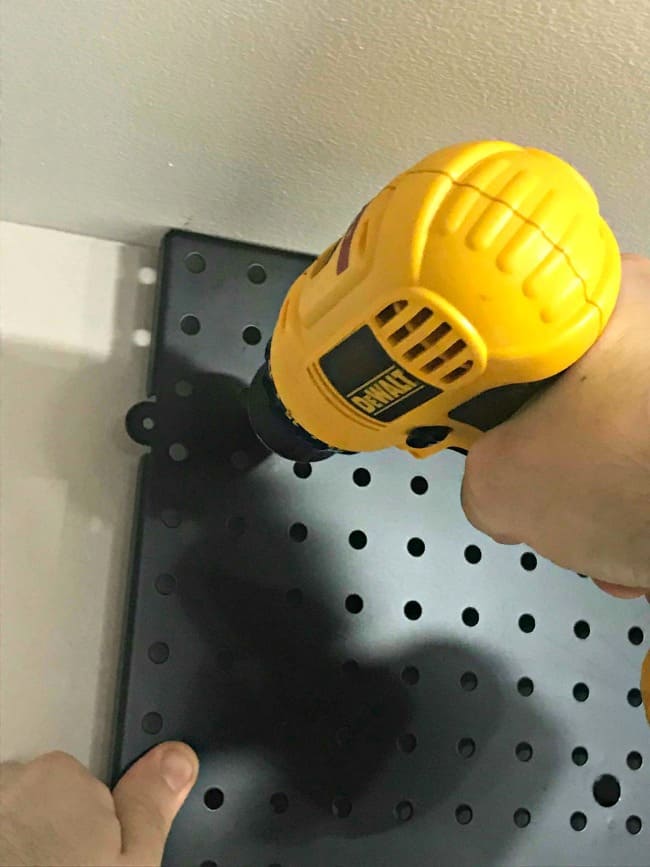 Once you hang your first section the others should be easier since you can line up and interlock the adjoining pegboards.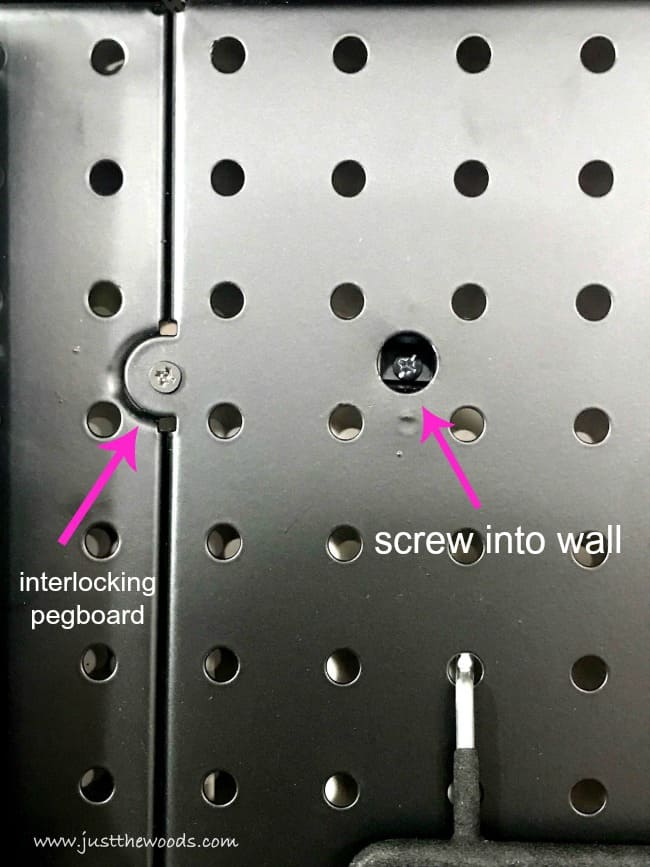 Quick Time Video of Tool Pegboard Organizer
Here is a quick video of the installation of this tool pegboard organizer.
Organizing Tools on a Pegboard Wall
Now that the pegboard storage system is set up we can go ahead and hang our tools. There are a wide variety of pegboard hooks that you can use for your newly hung tool hanging board. Find pegboard attachments HERE.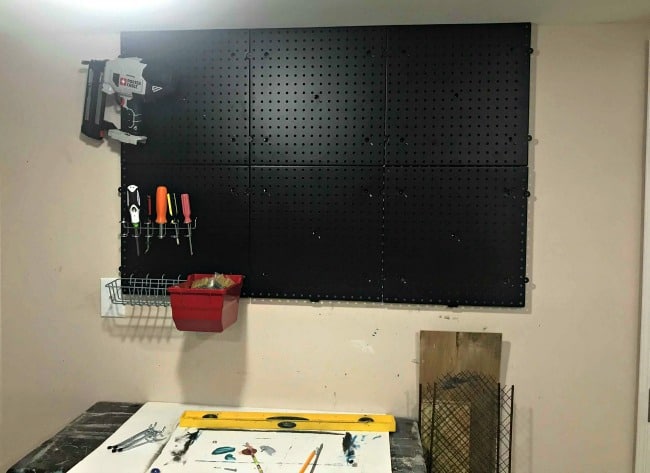 After a bit of rearranging, I have managed to organize my tools on the tool pegboard organizer in a way that suits me. There is a place for everything.
Screwdrivers and similar tools:
Clamps:
Electric drill:
Cordless nailer:
Chip brushes and foam brushes:
Hammers, pliers, scissors and more:
Tool Organization on Pegboard Wall
My tools are not readily grabbable and I am loving how neat and organized they are.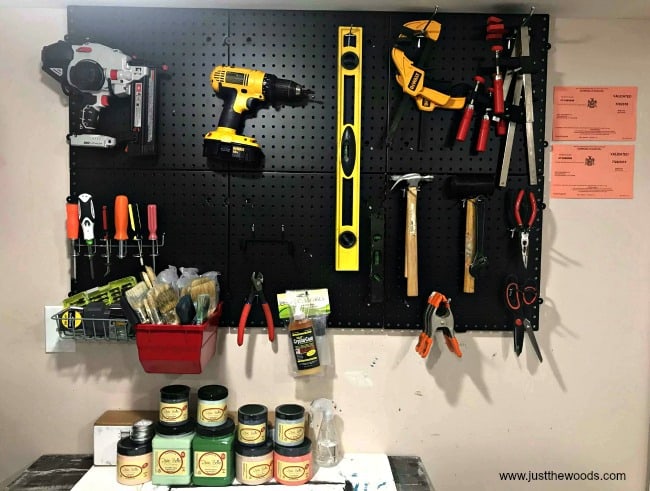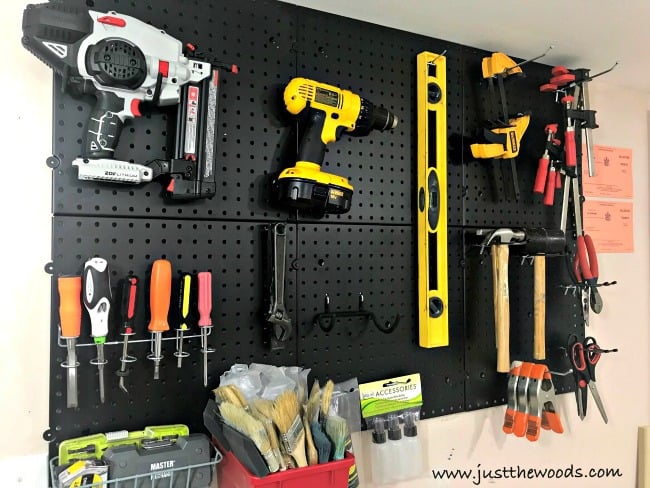 By organizing the majority of my tools onto the pegboard wall I am able to free up some space over on my work table where I keep more paint brushes, sandpaper, paint supplies and all the other "stuff" 😉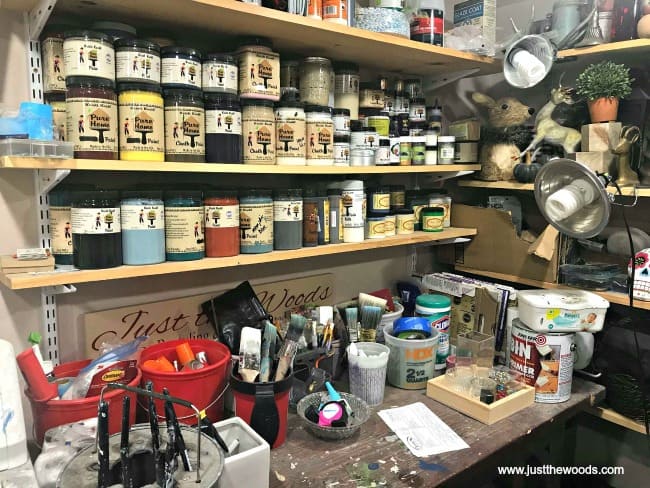 Tools on my Wall
If you are curious about any of the tools on my wall you can find some here:
Tools on Tool Hanging Wall
A big thanks to my hubby for helping out with the installation. Now I just have to find a way to keep him from stealing tools from my wall. hmm
Don't Forget – Follow Just the Woods and Share this post to Inspire others:
FACEBOOK * INSTAGRAM * PINTEREST
Stay connected! For more tips and tricks sign up here :