Now sure what to do with old sweaters? If you have an old sweater laying around and you hate the idea of getting rid of it how about an upcycled sweater craft? This craft is a super easy and super cute way to use old sweaters while being crafty and creative at the same time.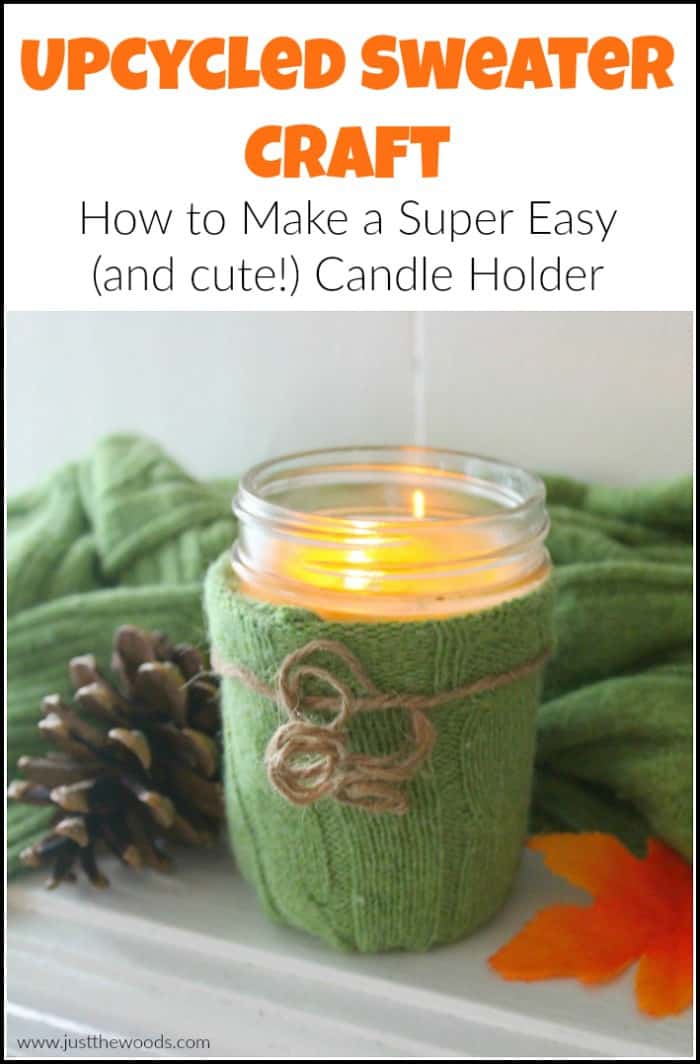 Disclosure: This upcycled sweater craft post contains affiliate links for your convenience. Click here for my full disclosure policy.

Supplies Needed to Make a DIY Sweater Holder / Upcycled Sweater Craft
Materials Needed / Source List:
Tools
an old sweater (one you have laying around, or even from a thrift store)
jar candle, glass
hot glue gun
scissors
twine or ribbon

Find all of my favorite tools and products on my

Amazon Page here
Upcycled Sweater Candle Holder Craft
It always seems like when the weather cools down we break out all the candles. You know those warm scented vanilla and apple scents that remind us of Fall and then the holidays to come. With the cool weather also comes cozy sweater weather! Woohoo! But sometimes our favorite sweater no longer fits, or we have worn it so much that we can't wear it anymore. No worries, we can use old sweaters for creative and fun upcycled sweater crafts. Previously I shared how to make a cozy winter hat from an old sweater, today I'm sharing how to make a candle holder from an old sweater for a simple display.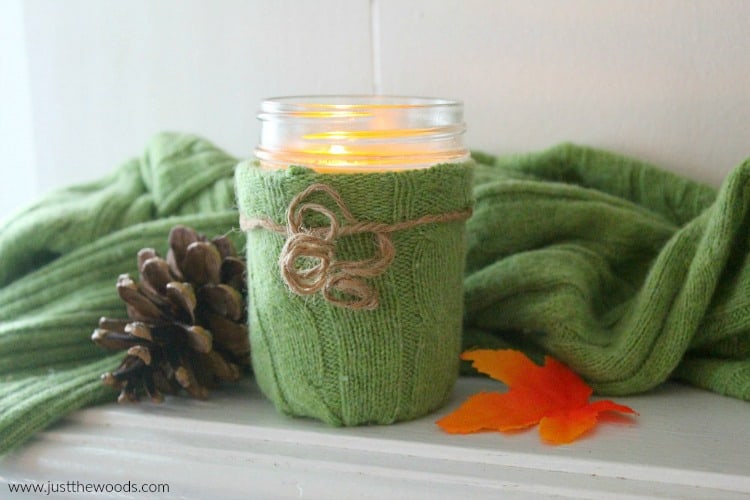 Directions:
First, let's gather our craft supplies. Choose an old sweater, grab your scissors, and hold glue gun and let's get started.
Begin by cutting out a thick strip of sweater fabric. Make sure that the strip of fabric is large enough to wrap around your glass candle jar. For example, if you are using an 8 oz. mason jar or so then you will need about an 8×8 inch cut of fabric.
Lay the sweater fabric down and place the jar onto the fabric. Position the jar near the top of the fabric and lay it flat so that you don't have a bunch of excess fabric at the mouth of the jar.
Roll the fabric around the jar, pulling tightly as you go. It's ok to have excess fabric near the bottom, we can easily trim the extra.
Once the jar is fully wrapped in the sweater, gently fold the fabric over to create a clean seam. Next, add a thick strip of hot glue along the side and secure the fabric in place.
Grab your scissors and trim away any excess fabric at the bottom of the jar. It is important for the candle to sit flat, so you want to keep this trimming as clean as possible. Make sure to leave just a little bit of fabric to fold over. This will look nicer than cutting the sweater flush with the bottom (those edges may fray if you do that).
Take the remaining fabric and pull it towards the center of the base. Secure this extra fabric with a generous dab of hot glue.
Now fold over any remaining fabric at the mouth of the jar to create a sort of cuff. Make sure to leave at least a 1/2″ space at the top to prevent the sweater from catching on fire. Safety first! 😉
Lastly, finish your candle holder by wrapping a piece of ribbon or twine around the mouth of the jar.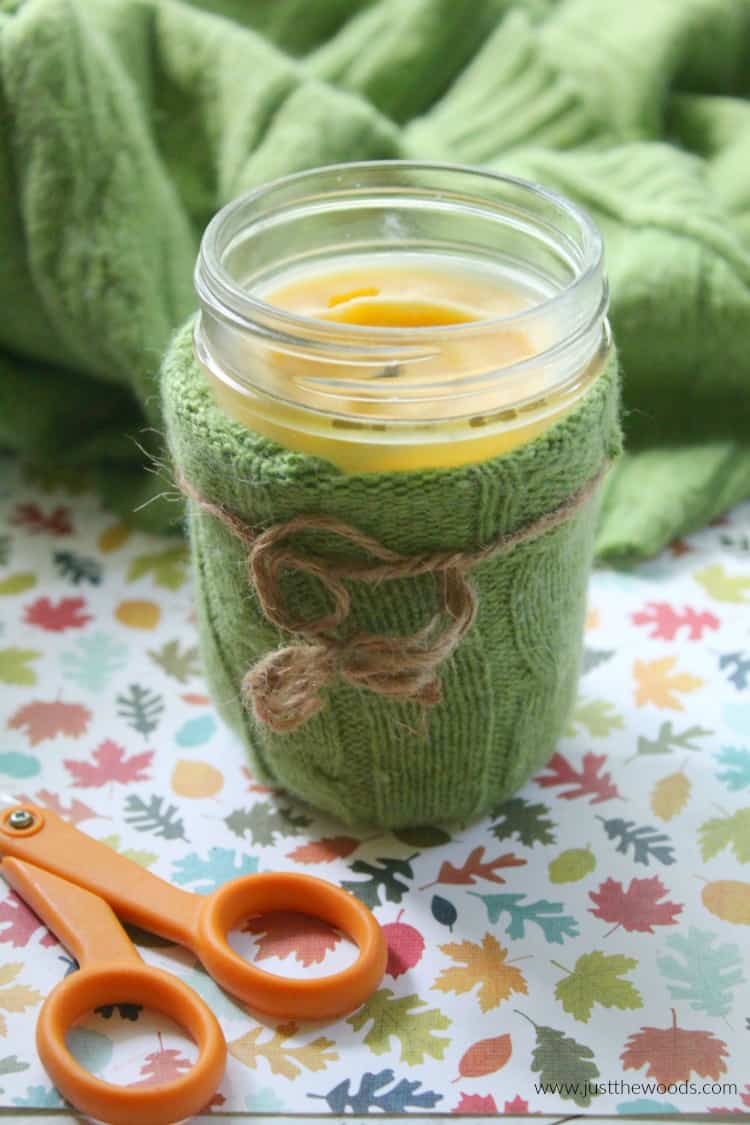 DIY Sweater Candle Holder
Your upcycled sweater candle holder is all finished and ready to be displayed! That was so easy and the end result is just charming. It's a koozie for your candles!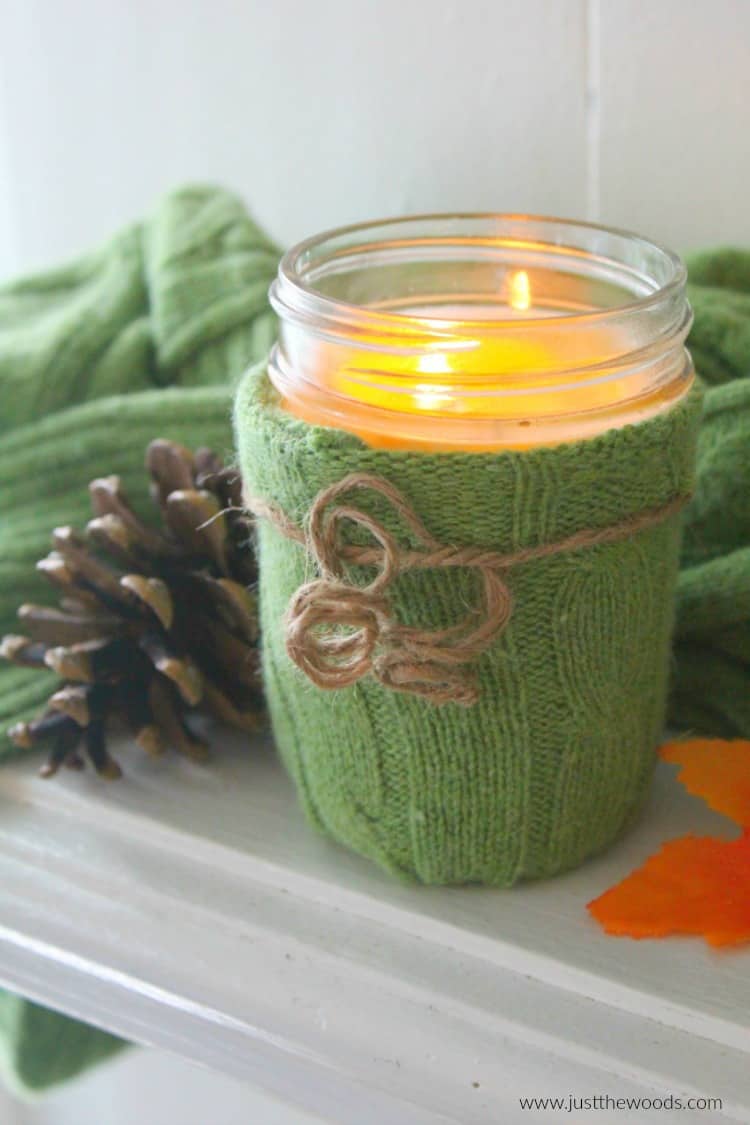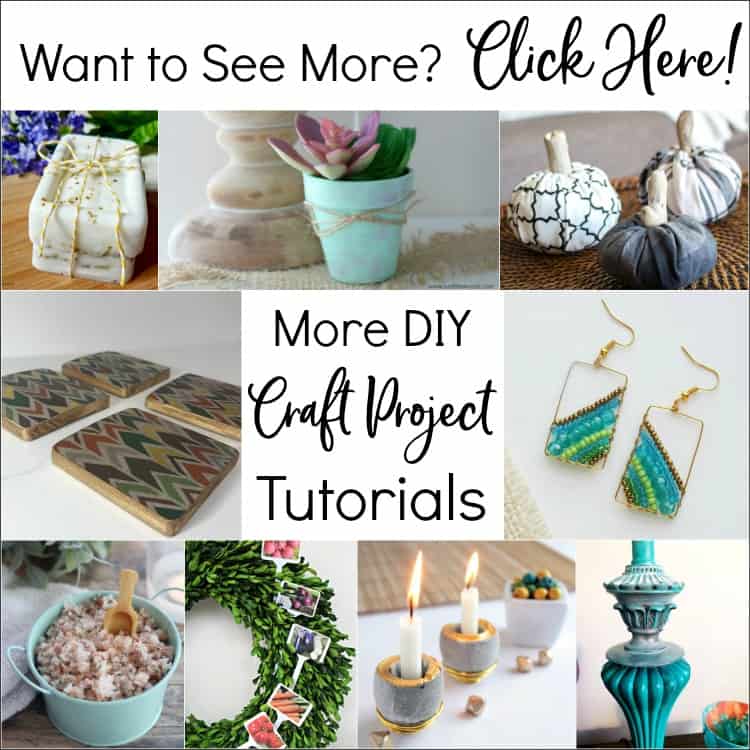 Don't Forget – Follow Just the Woods and Share this post to Inspire others:
FACEBOOK * INSTAGRAM * PINTEREST

Stay connected! For more tips and tricks sign up here :