Painting furniture can truly save an old piece of furniture. Sometimes a piece is damaged, or missing parts and the makeover can completely transform it. My customer bought a house and was lucky enough to be able to keep some of the items inside. His wife loves this turn of the century washstand and James, being a thoughtful hubby asked me to refinish this piece in eggplant. It will be a surprise for his wife, and eggplant is her favorite color. He snuck it out of their basement and brought it to my shop with hopes that she wouldn't notice that it was missing.
Disclosure: This post contains affiliate links for your convenience. Click here for my full disclosure policy.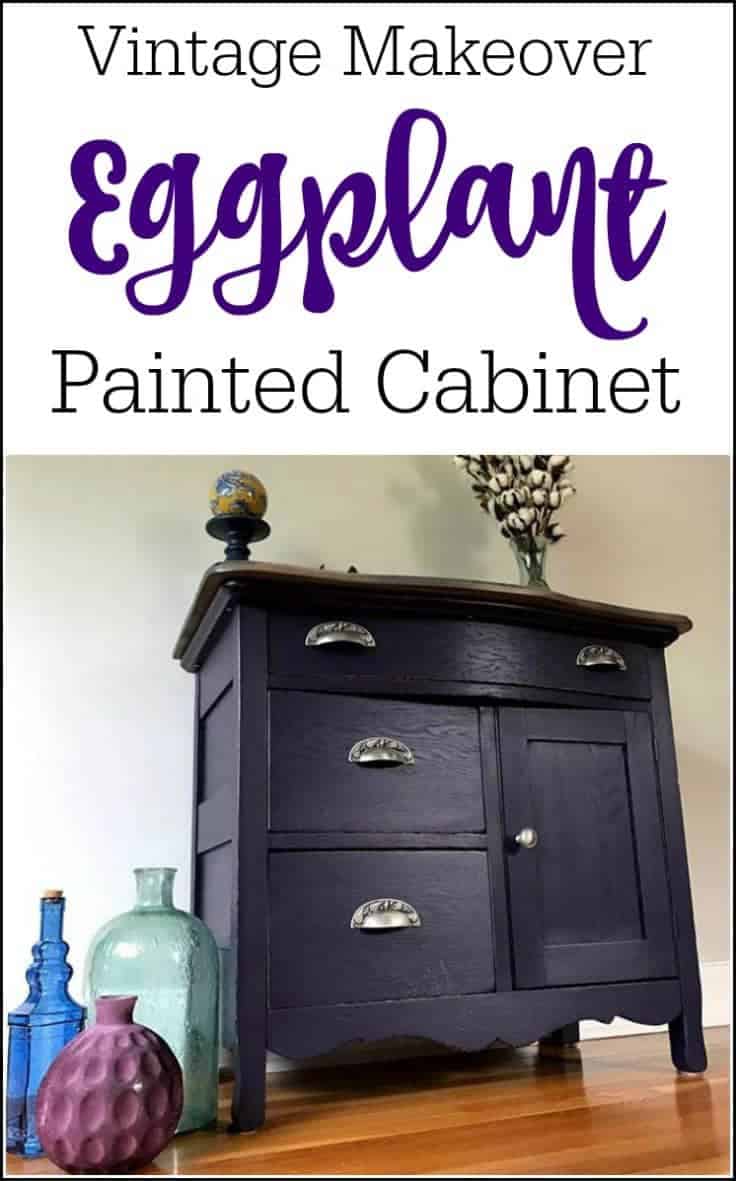 Painting Furniture and How to Prevent Sticking Drawers
MATERIALS NEEDED / SOURCE LIST
Before Painting Furniture Repairs Need to Be Made
The entire cabinet was sanded and cleaned, hardware removed and the contact paper removed from the drawers. The beauty of contact paper is it actually does preserve the beauty of the wood underneath. Click here to see how I Prep Painted Furniture.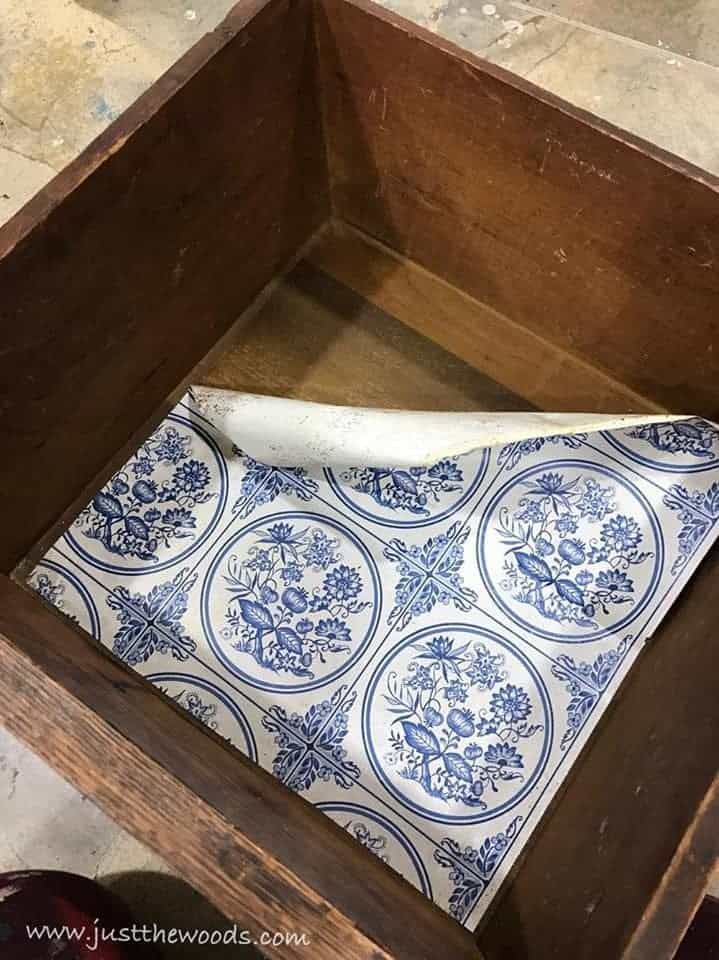 There is an old keyhole on the cabinet door that needs to be filled since we are replacing the hardware. The new hardware had a slight obstacle to overcome. Click here to see how the hardware was tackled: How to Stretch Hardware Holes.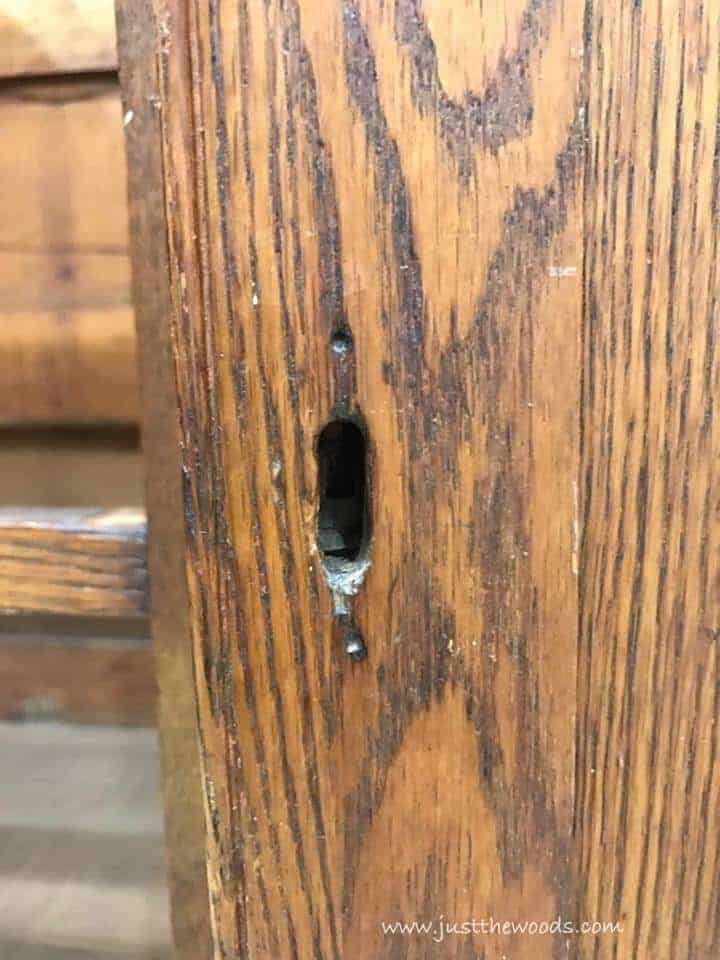 The hole was filled and sanded smooth.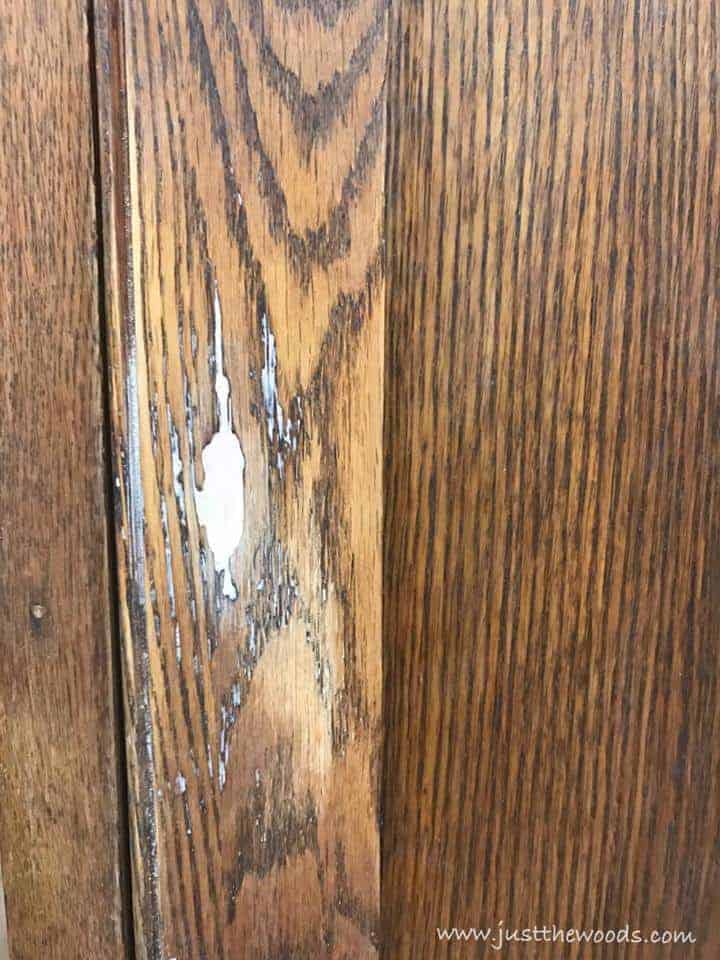 New placement was measured for the new hardware pull and a new hole drilled.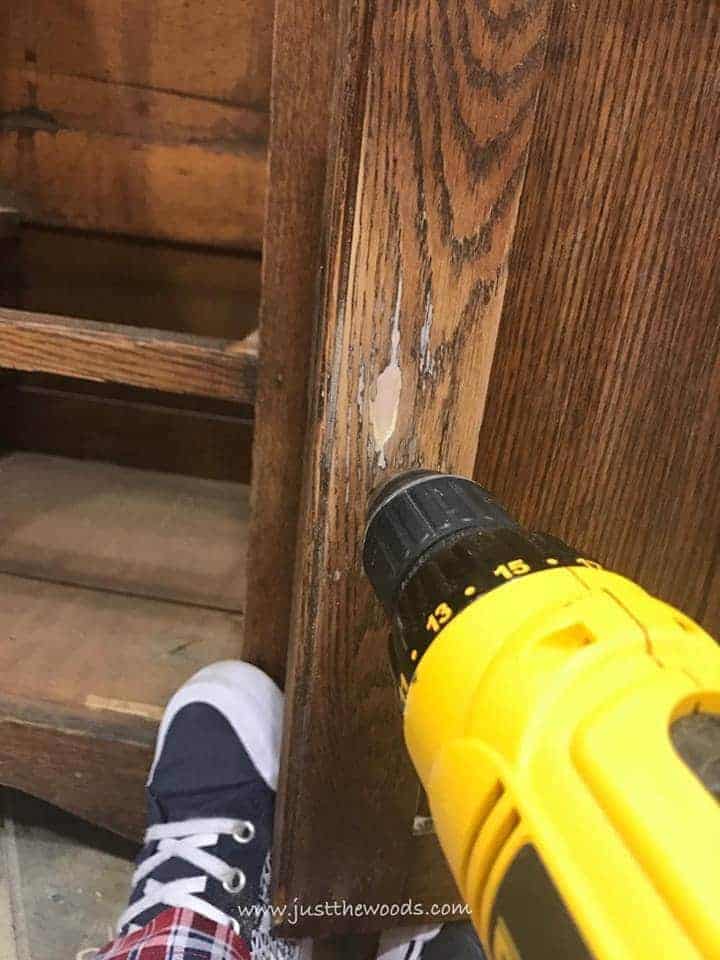 Painting Furniture in Eggplant Purple
The entire body of the piece was painted in a deep purple eggplant because it's my customer's wife's favorite color. I wonder if my hubby even knows my favorite color. Eggplant is a new color added to the Kristi Kuehl Pure Home Paint line. I'd like to think it was inspired by my Eggplant Painted Parlor table that now sits in my living room.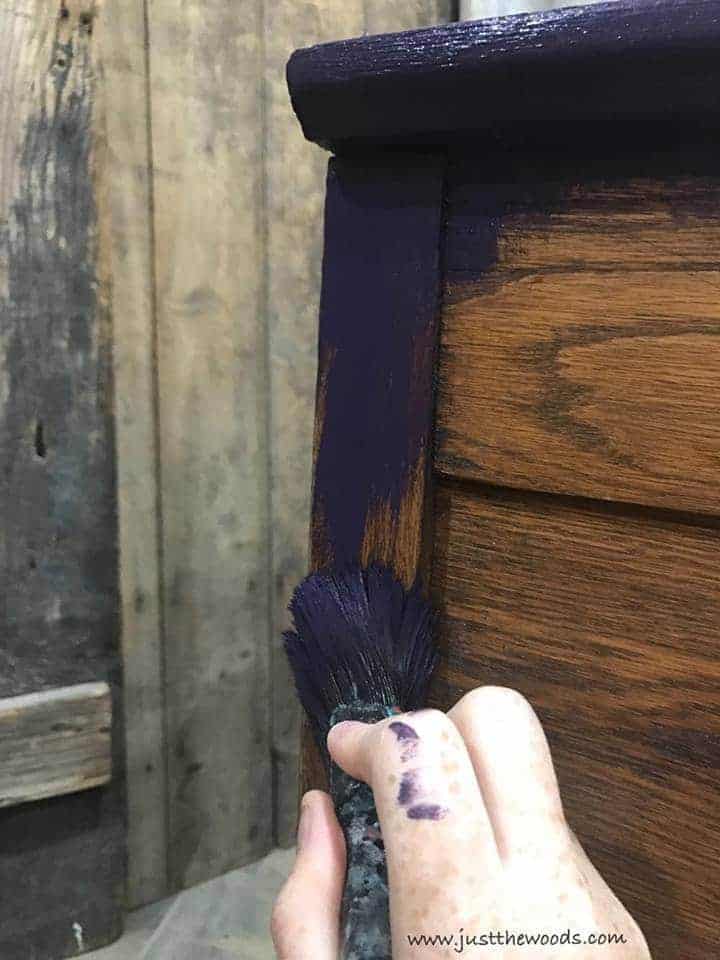 In between coats of paint, the surface was lightly sanded for a smooth finish.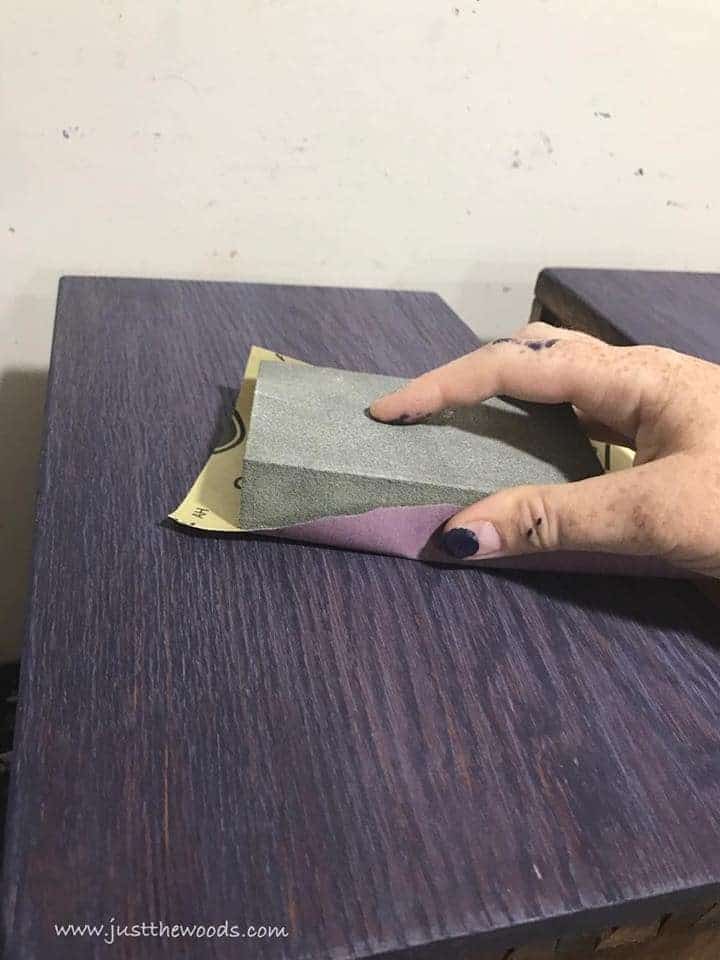 After two coats of eggplant, the piece was distressed and sealed for protection using clear the matte protective sealer. The inside of the drawers was freshened up with Chesnut protective wood stain.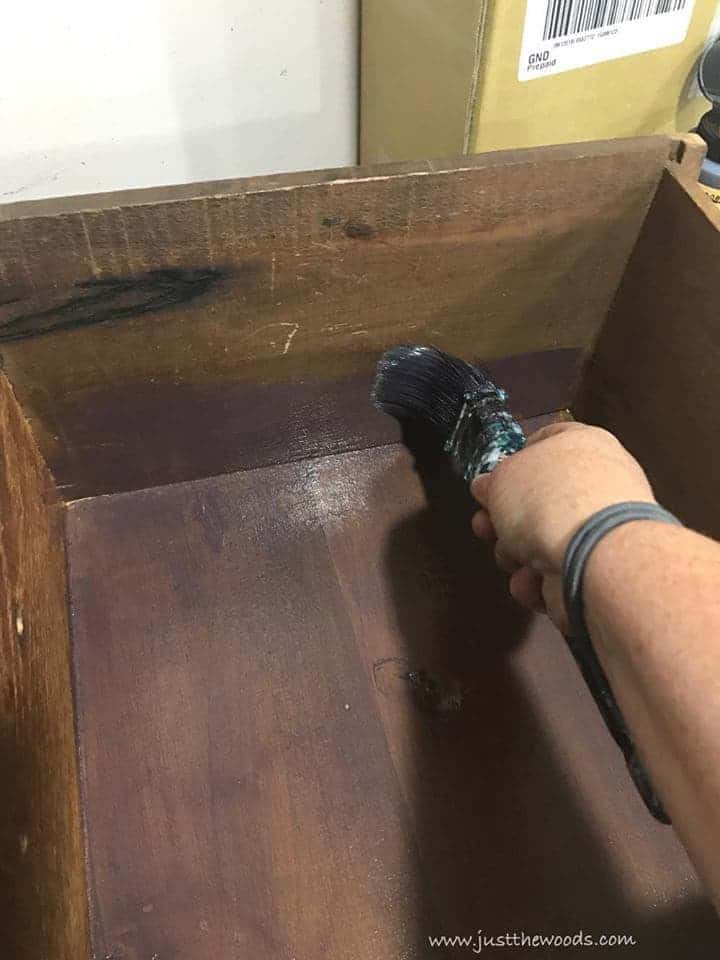 Sticking Wooden Drawers
Like many pieces where wood rubs against wood over time, they may stick. I've heard of many different solutions to prevent drawers from sticking, here are a few:
rub with a stick of beeswax
rub with a bar of soap
beeswax oil
candle wax
Can you see a pattern here? Those listed as are all great suggestions but I'll tell you my favorite. To allow the drawers a smooth slide I apply Daddy Van's Furniture Polish to the spots where wood meets wood with a clean rag.  Of all the methods to prevent drawers from sticking this has worked the best and it allows wooden drawers to slide easier.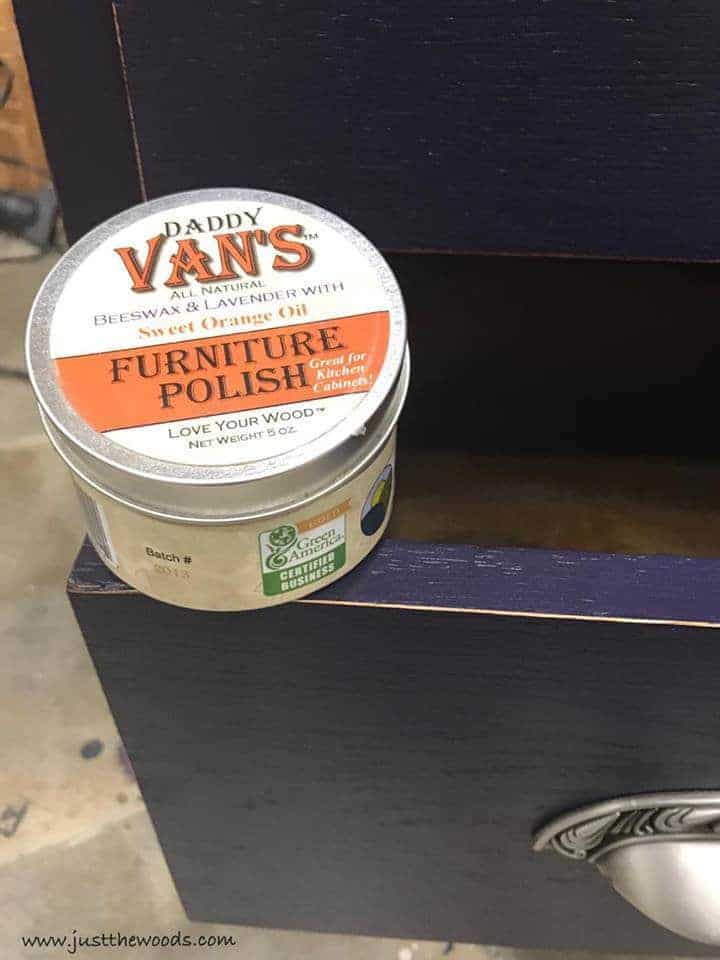 This Painted Eggplant Cabinet is Headed Home
My customer's wife was surprised and loves her new/old eggplant painted cabinet. It has made its way out of the basement and into their home.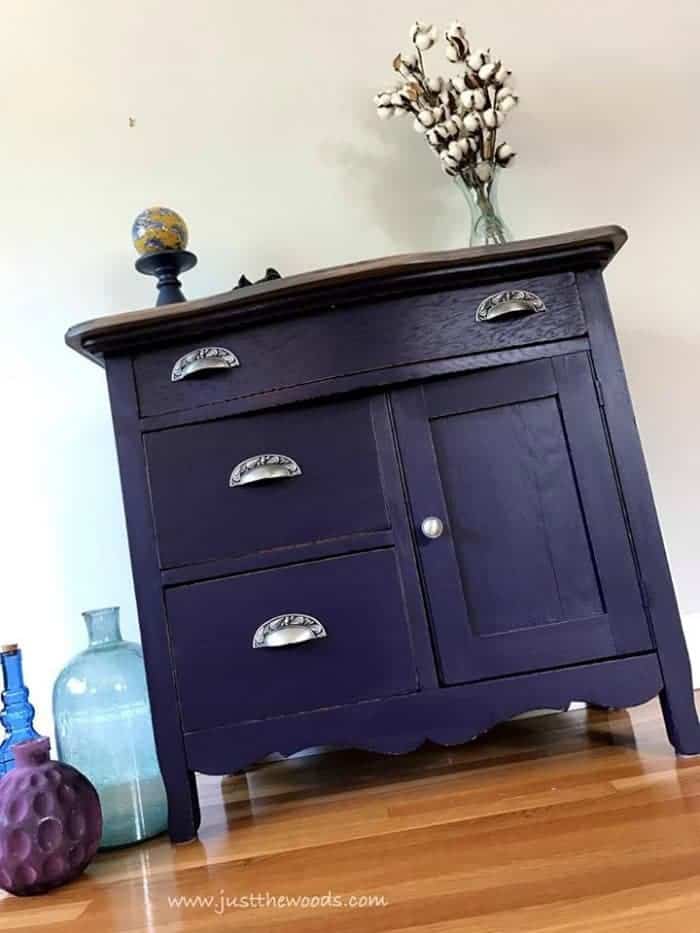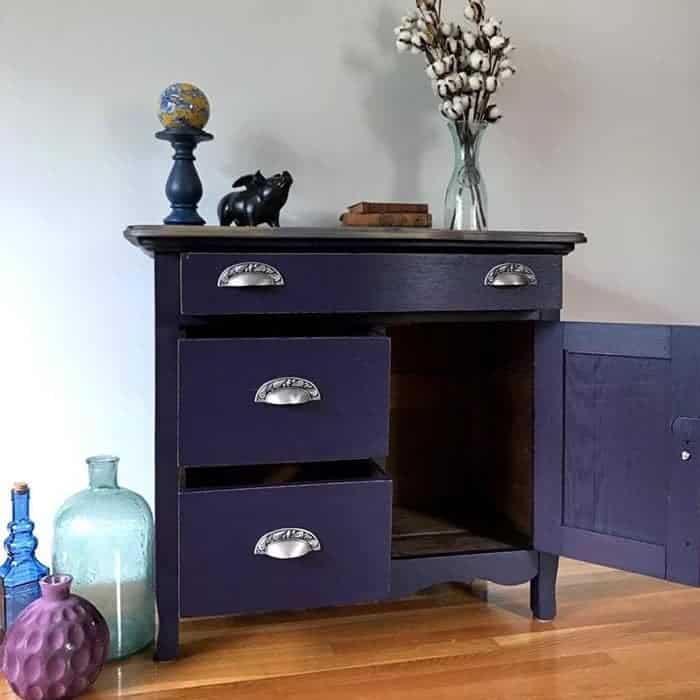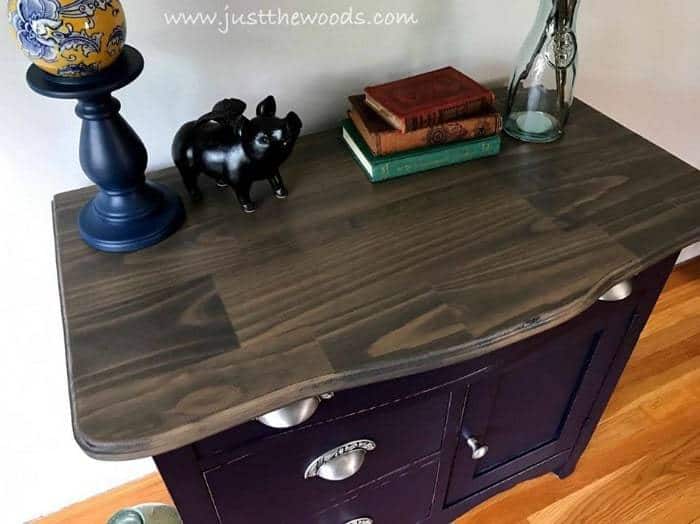 The project had a few issues with the hardware. Check out how those issues were addressed here:
This project also required a custom table top. Check out the step by step tutorial on how to build a table top from scratch here:
Don't Forget – Follow Just the Woods and Share this post to Inspire others:
FACEBOOK  *  INSTAGRAM  *  PINTEREST
 Stay connected! For more tips and tricks sign up here :