Who Doesn't love a Barn Sale? Desk Rescue From an Old Barn
This desk rescue occurred in upstate New York. This beauty of a desk was saved from an old barn in the Catskills. The barn was originally a working barn with a silo on the property. It was transformed into a living space with a kitchen, bathroom, and second-floor loft for sleeping.  The transformation is amazing as well as all of the vintage furniture and finds left inside.
Disclosure: This post contains affiliate links for your convenience. Click here for my full disclosure policy.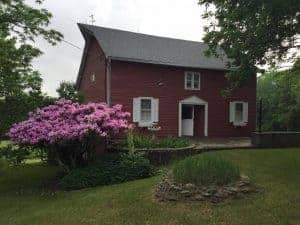 Desk Rescue Painted Memphis Blue
Materials Needed / Source List
Kristi Kuehl Pure Home Paint 
Staging / Home Decor
The History of a Vintage Desk
According to the previous owners, the desk along with the matching nightstand and dressers was a wedding gift to the original owners back in the 1940's. It seems it was originally a vanity and had a mirror, but over the years the mirror can no longer be located. Due to limited space in my truck, I was only able to bring back the desk and nightstand but hope to get back up there to retrieve the dressers as well.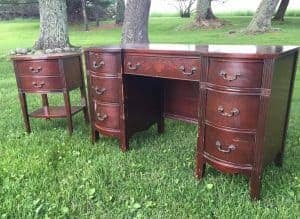 This Duncan Phyfe set was originally made by Vanleigh Furniture Co New York.  They made excellent quality furniture from the 1930s- 1970s, which dates this set from somewhere in the 1930s-1940s.  The set itself without a doubt shows signs of age but is still in excellent condition.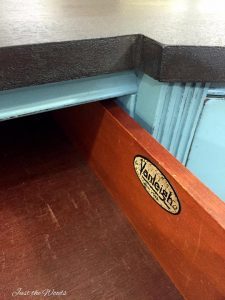 The Makeover – Painting a Vintage Desk
From the moment I saw this piece I had a vision for the end result.  I have been waiting for the perfect piece to paint in Memphis blue and this is it!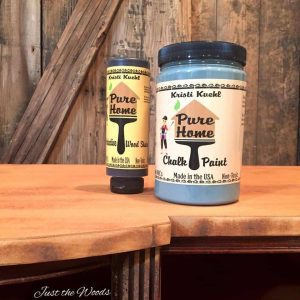 The desk is prepped for its makeover. This is my process for How to Prep Painted Furniture.

I decided to sand the top down to smooth out as many of the scratches and imperfections as possible.  I then gave it a new fresh stain using Protective Wood Stain in Teak.  Teak is a dark non-toxic stain and protective finish in one that went on like a dream and managed to bring out the detail in the wood grain as well.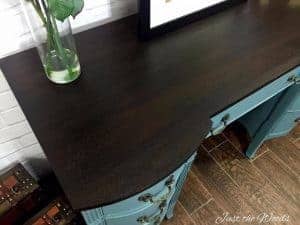 The rest of the desk received the royal treatment.  Two words: Memphis Blue.  Oh, my this color!!  There are so many words that come to mind to describe this gorgeous color – it's warm, jazzy, blue with hints of teal green and gray undertones, it's both masculine and feminine, grungy and elegant.  I admit, some of these apply more to the finished piece than just the color, but I hope you get the idea.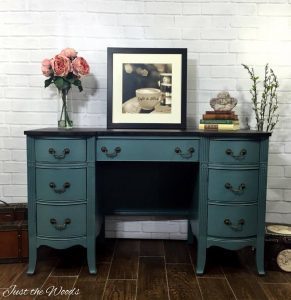 Hardware
The beautiful ornate hardware was cleaned and left in its original condition to preserve the natural patina that comes with the age of the piece.  The patina combined with the distressing gives a bit of a grungy feeling to the desk while the details and curves create an elegance.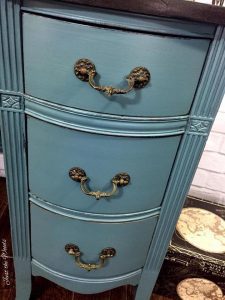 The Result – Desk Rescue in Memphis Blue
From barn to beautiful. You never know what you might find in an old barn.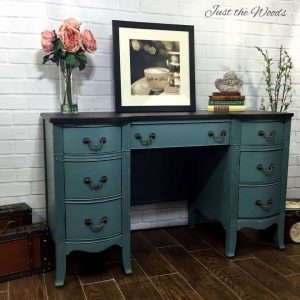 The entire piece was sealed for protection using Kristi Kuehl Pure Home Paint & Finishes Satin Protective Finish.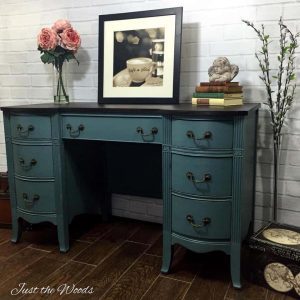 If you are feeling overwhelmed or just starting out you can always start at the beginning with How to Paint Furniture – a Beginners Guide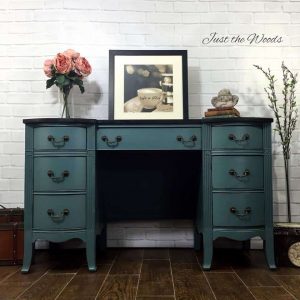 Do you love this color? You can find accent furniture in this color (or similar) here: BLUE ACCENT FURNITURE

For more fabulous desk makeovers make sure to click here and see Ten Amazing Vintage Desk Makeovers.
I'll be sharing this post at these fabulous link parties.
Don't Forget – Follow Just the Woods and Share this post to Inspire Others:
FACEBOOK  *  INSTAGRAM  *  PINTEREST
Subscribe to our mailing list here:
PINTEREST PIN READY TO SHARE