Go Bold with Orange Painted Furniture *Redesigned Coffee & End Tables*
These vintage coffee and end tables were originally made by Mersman and are from the 1970s. The end tables each feature a dovetail drawer, while the coffee table merely has a faux drawer. The hardware on the trio was not at all original to the pieces but was thrown on at some point before they came to me, and they weren't even the correct size.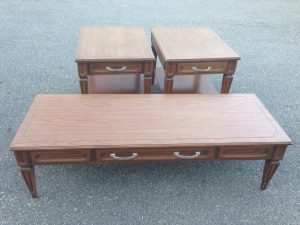 Materials Needed / Source List:
Disclosure: This orange painted tables post contains affiliate links. This post contains sponsored links from Knobs.com but all opinions are my own
The Before – Unfinished Vintage Mersman Furniture
These three tables sat in my unfinished inventory for at least a year, ignored and avoided. No one had any interest in them. I suppose they were waiting for me because they are a perfect fit for our living room makeover project.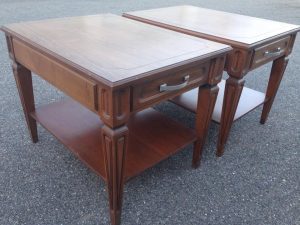 The first thing to do was remove that inappropriate hardware before thoroughly prepping the set. This is my full process for How to Prep Painted Furniture. I was able to find amazing hardware on Knobs.Co. They truly carry a unique and diverse array of hardware. These ornate Cartier pulls are going to look amazing!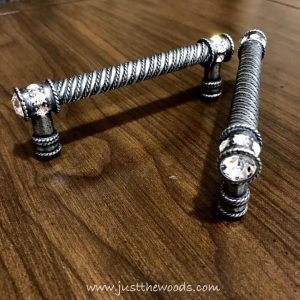 Adding Stain to Vintage Veneer Tables
While prepping the tables I realized how pretty the wood on the table tops are, and it took every ounce of me to not attack them with the electric sander. The tables were all solid wood, except the table tops which were merely a wood veneer and sanding them so aggressively could've damaged them. No worries!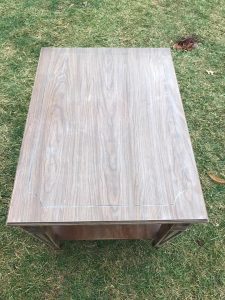 They were simply sanded by hand with paper sandpaper and cleaned to prep them for stain. I then darkened them up with a dark protective wood stain, which has to be my favorite stain to work with. Didn't those table tops darken up beautifully?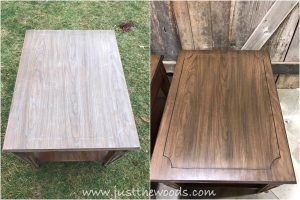 Because the veneer is so super smooth I wanted to make sure that my wood stain went on evenly and smooth as well. So, as an extra precaution, I went over the stain with a white Taklon brush leaving the top smooth as a baby's bottom.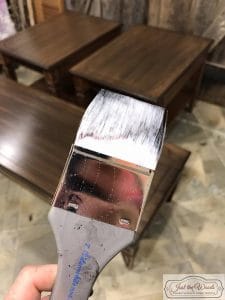 Plugging Holes on Faux Drawer
Remember I mentioned that the coffee table had a fake drawer? Well, I see no reason to keep a fake drawer, so I decided to plug up those holes with wood filler. Once the wood filler was dry I was able to sand the filled holes smooth.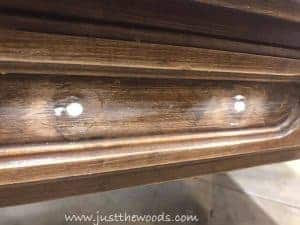 The Paint – Bold Orange Painted Furniture
Believe it or not my hubby requested that these tables be painted orange for our living room! Who is this man and what has he done with my husband? The trio was painted in bold orange followed by an ebony protective glaze. You can find great quality furniture paint online HERE.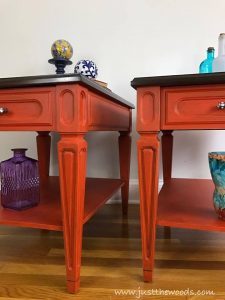 The Result – Bold Orange Painted Tables
Who knew orange would be the perfect choice for these once avoided tables?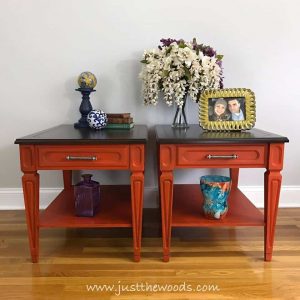 Gorgeous hardware from The Knobs Company! You can find these beauties HERE.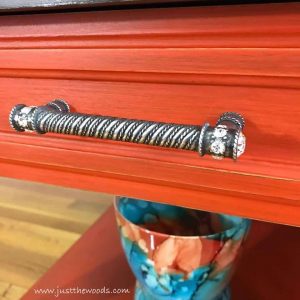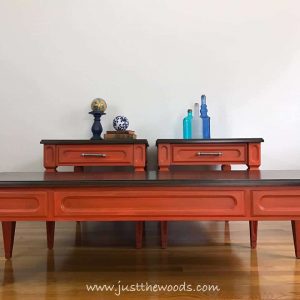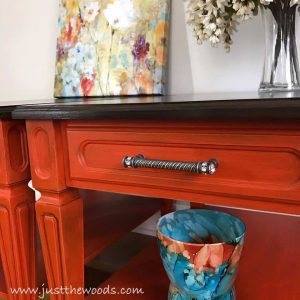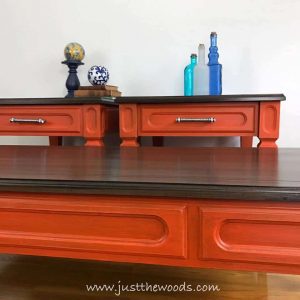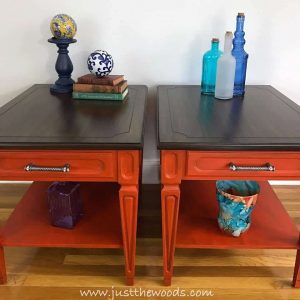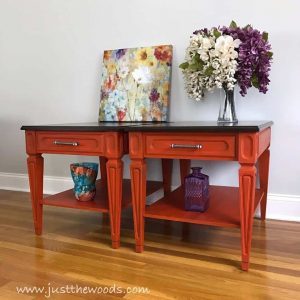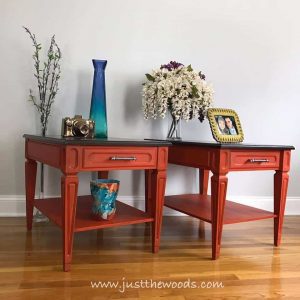 Checking Back
After a couple of years of daily use with a busy family including two young kids, the tops of the tables did not hold up well. The stain over the smooth laminate was in hindsight, not a great idea. But that's ok. The tops have been repainted with a more durable product and are holding up beautifully now. You can check out the update here: Repainting Furniture with the Best Furniture Paint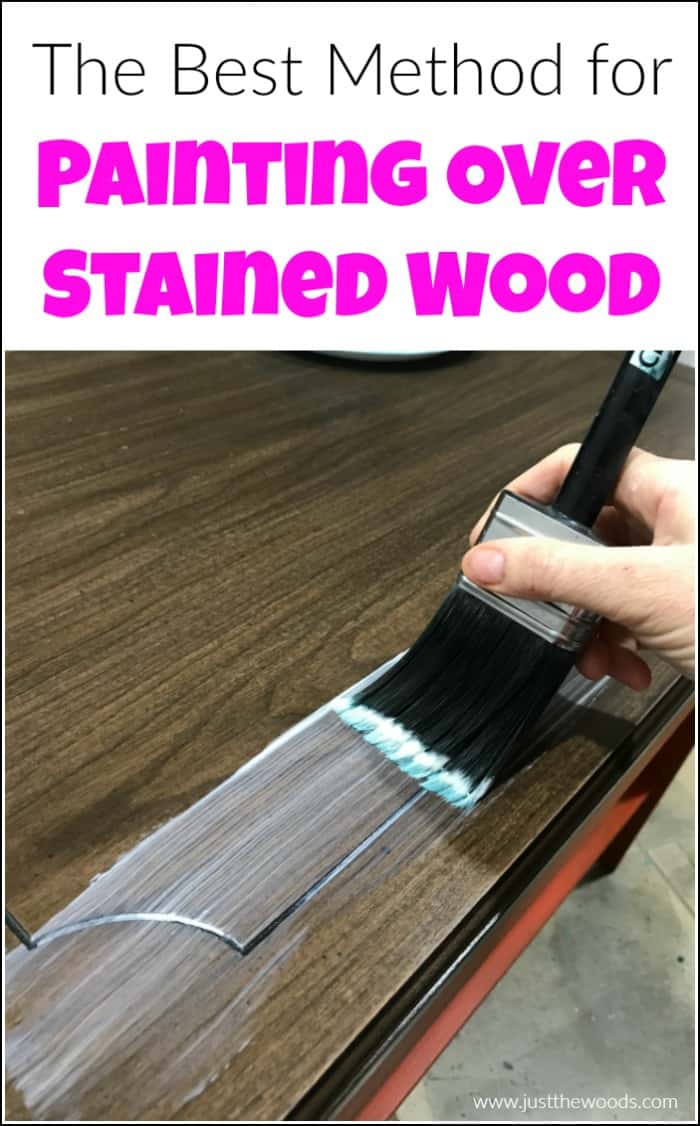 Care to See the Other Projects of the Room Makeover?
Like I mentioned these tables were part of our entire living room makeover. To see more projects related to this living room makeover, check out these other posts:
******************************************************************************************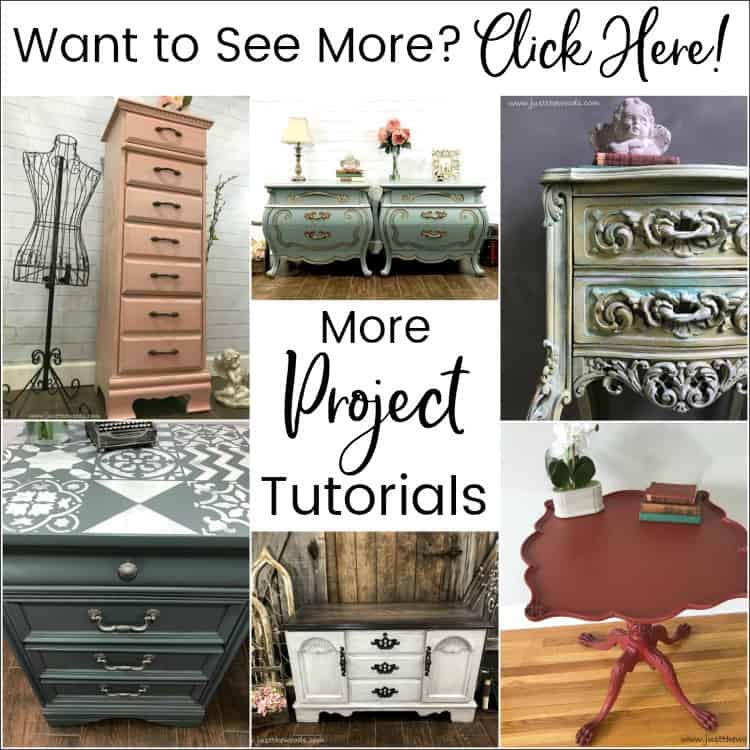 Don't Forget – Follow Just the Woods :
FACEBOOK * INSTAGRAM * PINTEREST
Subscribe to our mailing list here:
PINTEREST PIN READY TO SHARE