How to Change the Look of Your Gallery Wall with New Frames
Do you have a gallery wall, or maybe some art prints that are missing a wow factor? As we are wrapping up our living room makeover I decided that I want a gallery wall to display some art and prints that we already have. But the current mix of the different pieces or art and prints and frames don't quite jive together.
Materials Needed / Source List:
Disclosure: This gallery wall post contains affiliate links
Our Gallery Wall Artwork and Prints
We have these two paintings in golden frames that we plan to base our gallery wall around. These paintings are from my husband's side of the family and were in his grandfather's home.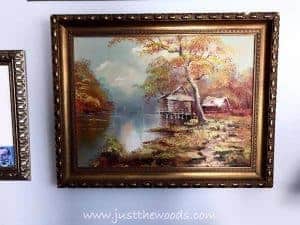 I love the pop of red in this floral painting with the chunky gold wooden frame. It makes me feel fancy in a world of legos, dinosaurs, and dolls. 😉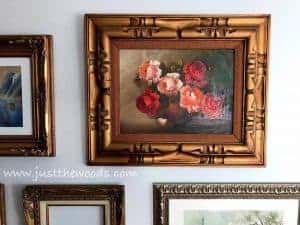 French Images
On to the other gallery wall pieces. For starters, I have these prints that I brought back from Paris. Long story short, when I got out of the Navy I spent some time in the reserves, in the National Guard. In 2001 I was sent to Germany for 3 weeks, and one weekend while on a break from work I packed a backpack and took a train to Paris for the weekend. I took advantage of the time and saw everything I could see, bringing these prints as well as the French money back. The money is no longer in circulation because they now use the Euro. TMI, I know.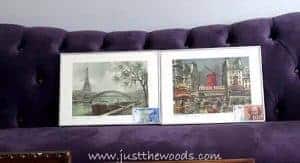 As you can see, the frames are simple, silver and metal. I had them matted and framed years ago. There is absolutely nothing decorative about them, which has been fine up until now. While bopping around online and searching for vintage style frames I found the perfect most fancy- nonfancy frames I could. To be honest the frames look gorgeous and they aren't made of wood or glass. In fact, they are very lightweight and the cover is a sort of plexiglass I suppose. They are perfect.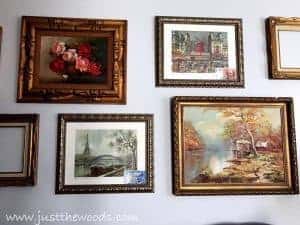 The new frames have actually changed the appearance of the prints themselves, giving them a more high-end appearance in my opinion. You can find these ornate frames HERE.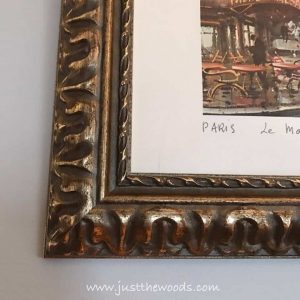 Here is a before and after: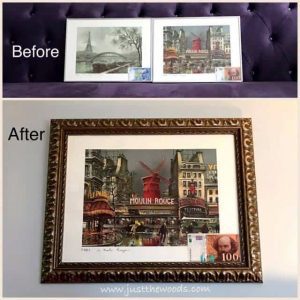 Family Art Drawings
Artists seem to run in my family on my mother's side. My mother is extremely artistic and creative and her mother before her was an artist as well. A few years ago my mother gave me these drawings that she found in her home. They were done by my grandmother and were even signed and dated. I also had them matted and framed, unfortunately, the matte covered up her signature and dates.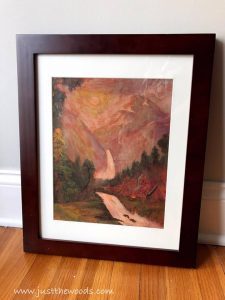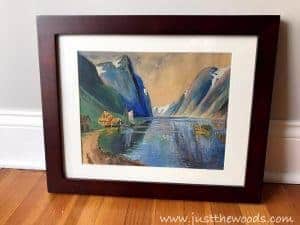 For some time now, I have kept my grandmother's art on the wall in my workshop. It's been nice having them down there but I would rather have them on display to be seen. The boring wine colored frames don't do them any justice either. So again, I hit the web and found a pair of gorgeous, ornate, vintage style frames that are perfect!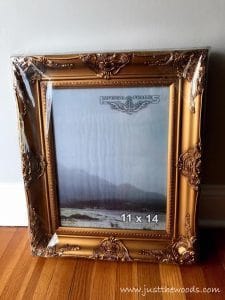 These new frames completely changed the look of the artwork inside them and make them look like museum quality. What a difference!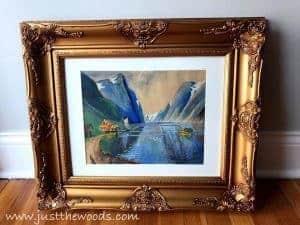 You can find these ornate beauties HERE.
Gallery Wall with New Frames Create a Whole New Look
I am in love with our new gallery wall, which I'm sure we will tweak here and there, but for now, its perfect. I made sure to use a level and make sure the frames were all straight, but I confess I did not measure the spacing between frames when putting them up. It was a complete "let's see how this looks" type of moment.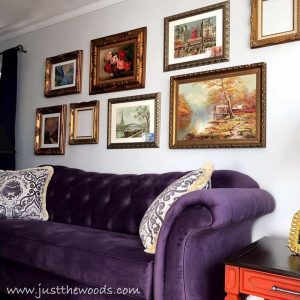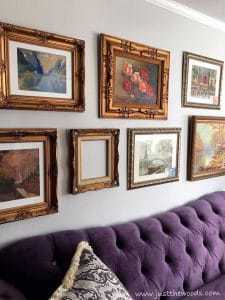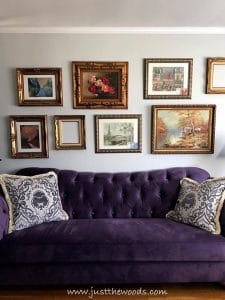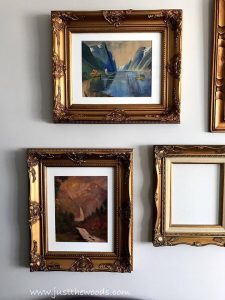 To see more projects related to this living room makeover, check out these other posts:
******************************************************************************************
I'll be sharing this post at these fabulous link parties.
 Don't Forget – Follow Just the Woods :
FACEBOOK  *  INSTAGRAM  *  PINTEREST
Subscribe to our mailing list here:
PINTEREST PIN READY TO SHARE