These cashew tahini brownies are so soft, gooey and delicious. I love being able to make homemade brownies from ingredients in my pantry and not from a box. My family doesn't notice the difference and they are getting healthy brownies made with clean eating ingredients.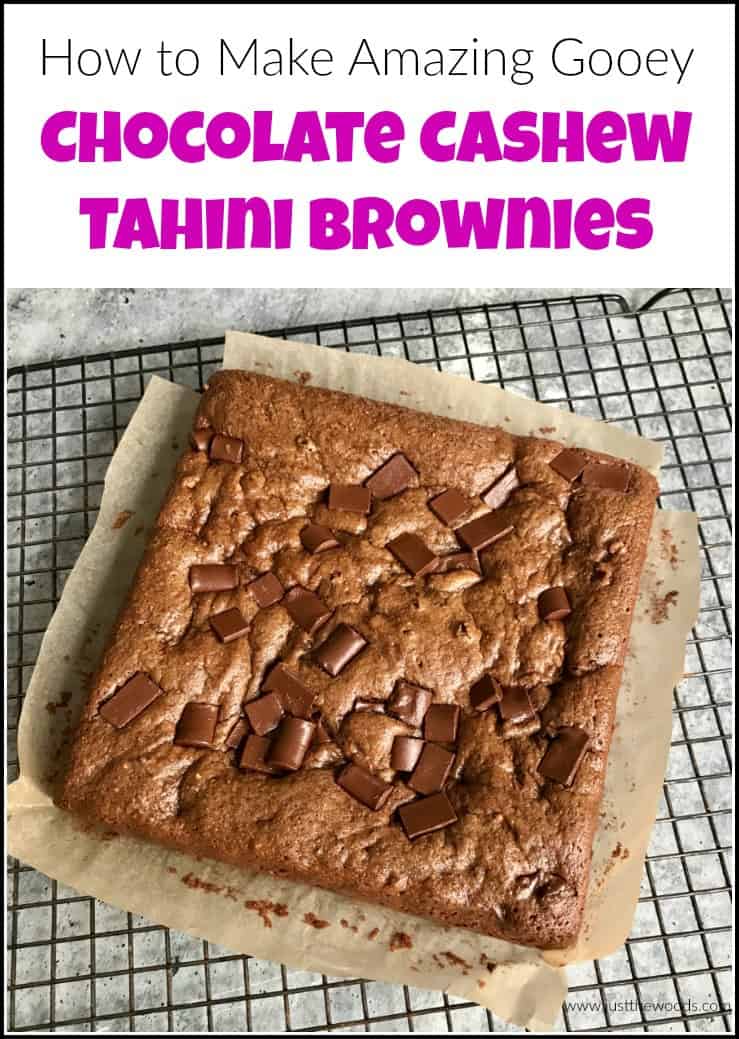 Disclosure: This clean eating healthy tahini brownies recipe post contains affiliate links for your convenience. Click here for my full disclosure policy.

Homemade Cashew Tahini Brownies Recipe
What You Will Need (Full Printable Recipe Available Below)
Ingredients:
1/2 cup unsweetened sesame tahini (find some here:

tahini

)
1/2 cup cashew butter (find it here:

cashew butter

)
1/4 cup pure maple syrup
1 tsp vanilla extract (find it

vanilla extract

)
2 eggs
1 Tbsp cashew flour
1/2 tsp baking soda
1/2 cup coconut palm sugar
1/3 cup cacao powder (find it here:

cacao

)
1/2 cup cacao chips and a few more to sprinkle on top
Homemade tahini brownies are another one of my all-time favorite healthy clean eating snacks. I love the soft gooey chocolateness when they come out of the oven. These easy homemade brownies are perfect when you want something quick to curb the sweet cravings. My kitchen always has some sort of snack, whether I'm sipping on a delicious smoothie, or healthy energy balls, muffins and/or donuts. I am a huge 'snacker' so this delicious cashew tahini brownie recipe has played a large part in my clean eating journey to losing over 50 lbs.
Getting Personal
Along with eating clean and trying to keep my family eating healthy I also see a nutritionist. To make a long story short he runs a full blood panel and can see where my body is lacking things or has an abundance etc. Then we take this info and use food as a sort of medicine to address any issues. For example, my thyroid is a mess, my glutamine is extremely low, and my hormones are a mess. To keep it simple, my current diet now includes more cashews and less almonds. More pork, and less chicken.
I find myself seeking out recipes and then making a lot of changes to them to keep them healthy for myself and my family. As a result I now plan to add more alternative clean eating recipes to my blog. Like many of my recipes, these gluten free chocolate brownies made with tahini are gluten free, clean eating, and paleo. As an added bonus, feel free to add vegan protein powder for a bit of protein if you'd like.
Clean Eating Basic
Continuing on, and rewinding at the same time – I mention that this is a clean eating recipe because I am all about eating healthy and clean eating. If you are new to a clean eating way of life then you need to check out Everything You Need to Know about a Clean Eating Diet. You can also see how I lost 50 lbs and am keeping it off by following a clean eating diet here: How I Lost 50 Lbs Clean Eating. I tend to try different things and mix different flavors to keep meals healthy and tasty.
How to Make Healthy Tahini Brownies
Ingredients:
As always, let's start by gathering our ingredients. Homemade brownies from scratch are such a better option then that pre made box stuff.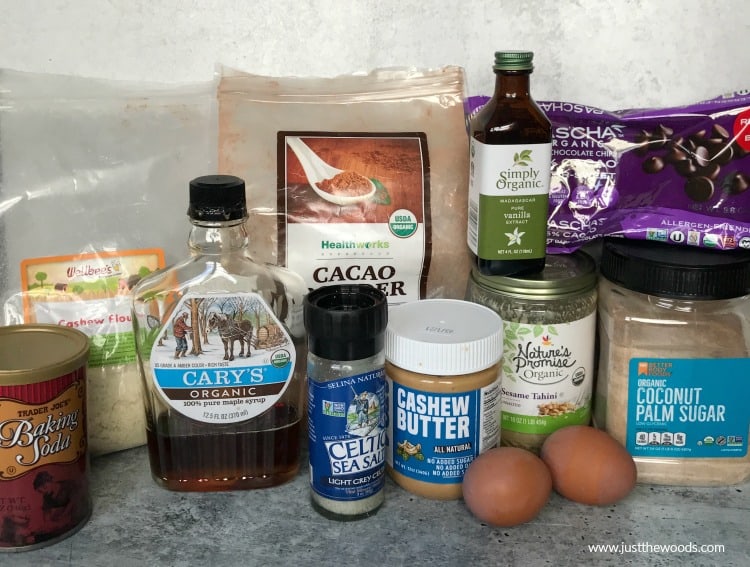 These are a base ingredients for making the best grain free tahini brownies. A quick rundown:
Cashew flour – this is a great alternative to almond flour and a staple in a paleo lifestyle as well as clean eating diet. It is made from nothing but cashews which provide you with those healthy fats. If you can't find this in your local grocery store (often you can't) you can get some online here:

cashew flour

.
Cashew butter – cashew butter is another alternative to almond or peanut butter and it adds a delicious mild nutty flavor to these healthy fudge brownies.
Tahini– tahini is simply made from sesame seeds and is full of healthy fats and antioxidants.
Pasture raised eggs – when buying eggs I try to get pasture raised. These have a deep orange yolk instead of yellow because the hens are allowed to roam about the pasture and soak up the sun. They tend to be much better for you then the conventional eggs.
Maple Syrup – make sure to use pure maple syrup like this one here:

syrup

.
Coconut palm sugar – This is a healthier alternative to processed refined sugars. Coconut palm sugar also falls low on the glycemic index and is not as sweet as other sugars. You can find it online here:

coconut palm sugar

.
Cacao and Cacao chips– make sure to use

cacao powder

and not cocoa powder. And there are 3 different type of chocolate chips that I use when baking. This comes down to personal preference.

The higher the percentage the less sweet and more pure cacao. When I use 100% cacao chips my kids accuse me of using fake chocolate. lol. For these chocolate cashew brownies I am using the 85% cacao chips. And I am tossing a few of the Enjoy Life cacao chunks on top.
How to Make Homemade Brownies:
Preheat the oven to 350 degrees.
Line a 8×8 baking pan with parchment paper. This makes it easy to pull your homemade brownies from scratch out of the pan once cooked.
Combine in a bowl: tahini, cashew butter, coconut palm sugar, pure maple syrup, vanilla extract and eggs.
Next, add the cacao powder, cashew flour, baking soda. You can also add a sprinkle of salt. The salt is optional. I add a dash of this

salt

.
Lastly, add the cacao chips. Mix thoroughly.
Pour your homemade brownie mix into your parchment lined pan, top with a few more cacao chips and pop into the oven.
Cook for 22 – 25 minutes until your easy homemade brownies pass the toothpick test.
Remove from the oven and let cool.
Once cool, cut your brownies and enjoy.
Easy Homemade Cashew Tahini Brownies from Scratch
This recipe makes approximately 16 brownies. Try not to eat them all at once. If you eat them still warm they are so gooey and oh so good. Once they cool they are deliciously chewy homemade brownies. You can't go wrong either way. I tried to take a few photos of these homemade fudge brownies when they were still warm. You can practically taste them from the photo with that soft warm melted chocolate.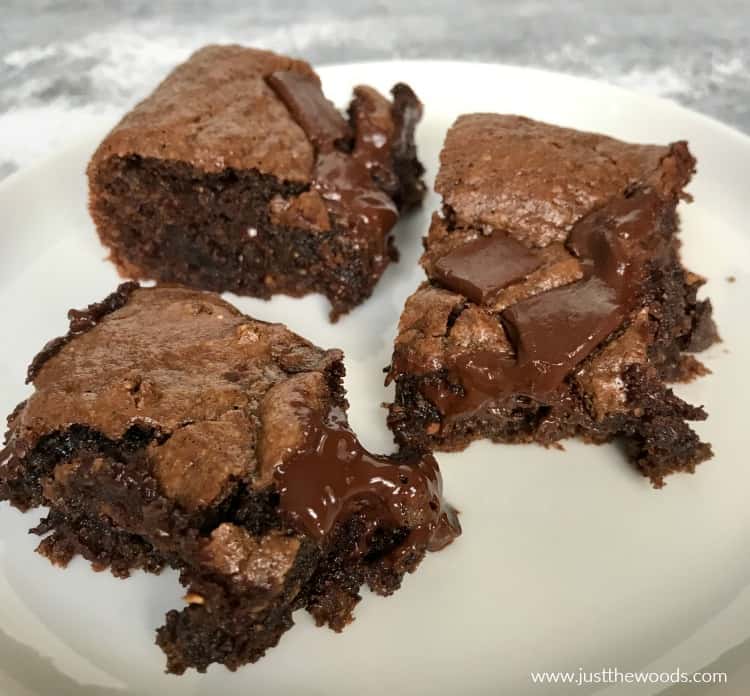 Then I was invaded and a few family thieves stole my delicious homemade tahini brownies. This may be why I don't normally work on recipes with the family home. 😛

Once everyone left the kitchen and found something else to do I manage to grab a few new shots. These tasty brownies are fully cooled by now and I can make a cleaner cut in the cooled cashew tahini brownies.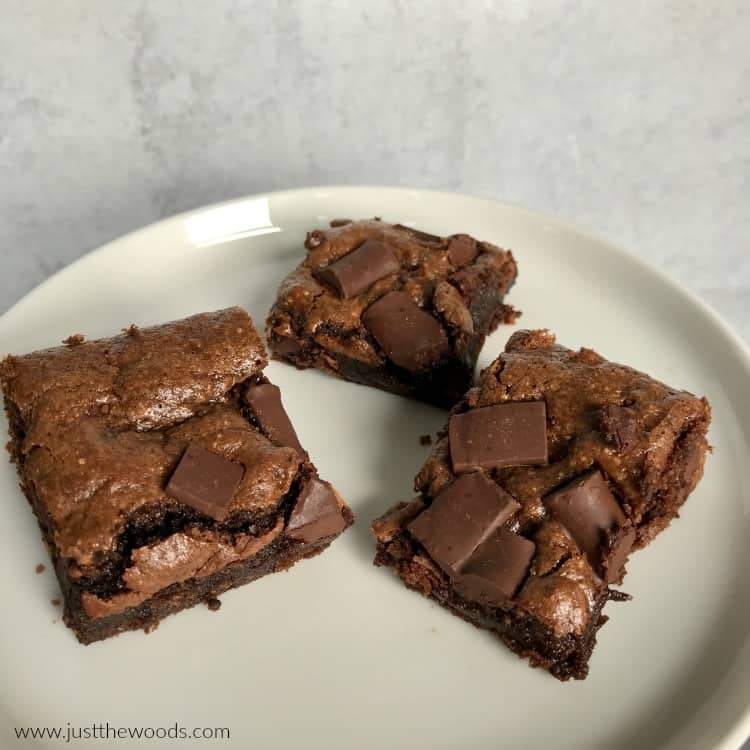 If no one sees you eat them do the calories even count?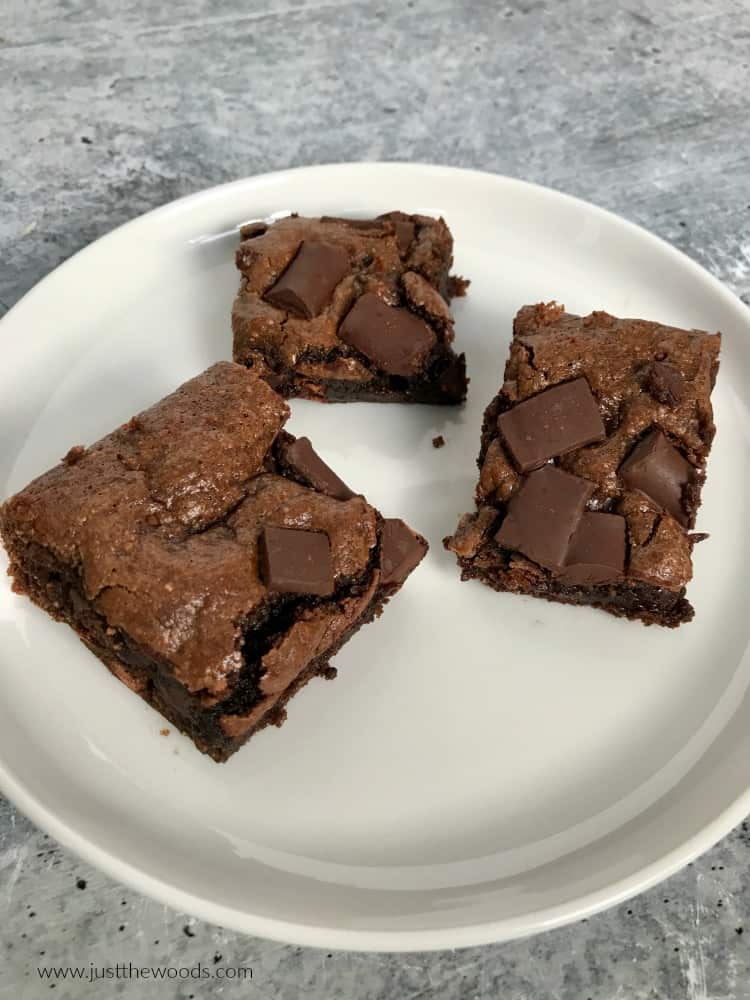 This homemade cashew tahini brownie recipe is inspired by and a modification of another grain free brownie recipe. I've made a few changes to the original recipe, but you can find that recipe here if you'd like: Grain free tahini brownies.
Printable Recipe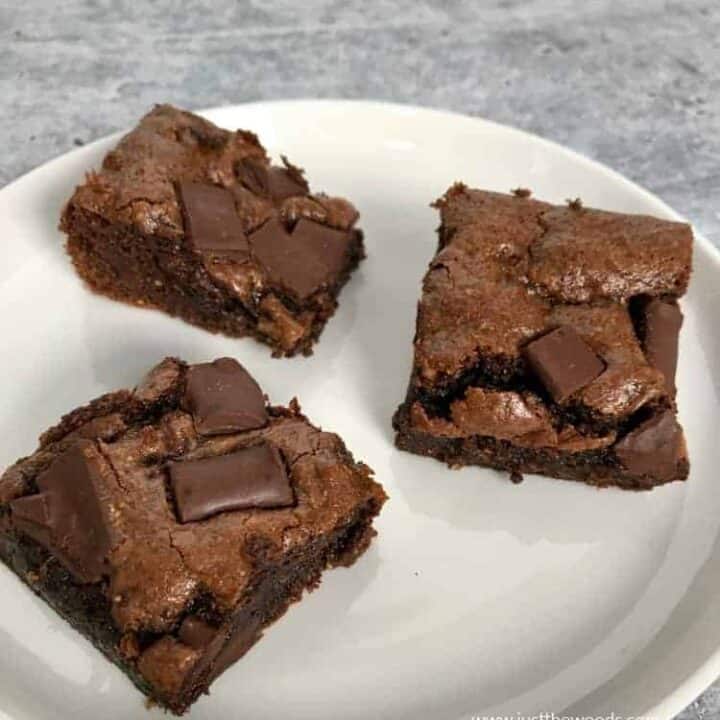 How to Make Amazing Gooey Chocolate Cashew Tahini Brownies
These cashew tahini brownies are so soft, gooey and delicious. If you want to know how to make homemade brownies from scratch then you will love this easy brownie recipe.
Ingredients
1/4 cup pure maple syrup
1 tsp vanilla extract
2 eggs
1/2 tsp baking soda
1/2 cup coconut palm sugar
1/3 cup cacao powder
1/2 cup cacao chips and a few more to sprinkle on top
Instructions
preheat oven to 350 degrees
line 8x8 baking pan with parchment paper
combine tahini, cashew butter, coconut sugar, maple syrup, vanilla extract and eggs
add in cacao powder, cashew flour, baking soda
fold in cacao chip
pour into pan, top with a few cacao chips and pop in oven
cook for 22-25 minutes until pass toothpick test
remove and cool
Recommended Products
As an Amazon Associate and member of other affiliate programs, I earn from qualifying purchases.
For more healthy clean eating recipes make sure to follow my clean eating Pinterest board here:
Clean Eating
.


Don't Forget – Follow Just the Woods and Share this post to Inspire others:
FACEBOOK * INSTAGRAM * PINTEREST * RECIPES