Let's clean brass hardware. So often when painting furniture we have vintage furniture with vintage hardware. Of course, when it comes to hardware we sometimes we replace the old with new, but often we don't have to. As long as you know how to clean brass hardware then we can preserve a bit of the original piece of furniture while we restore, refresh or paint it.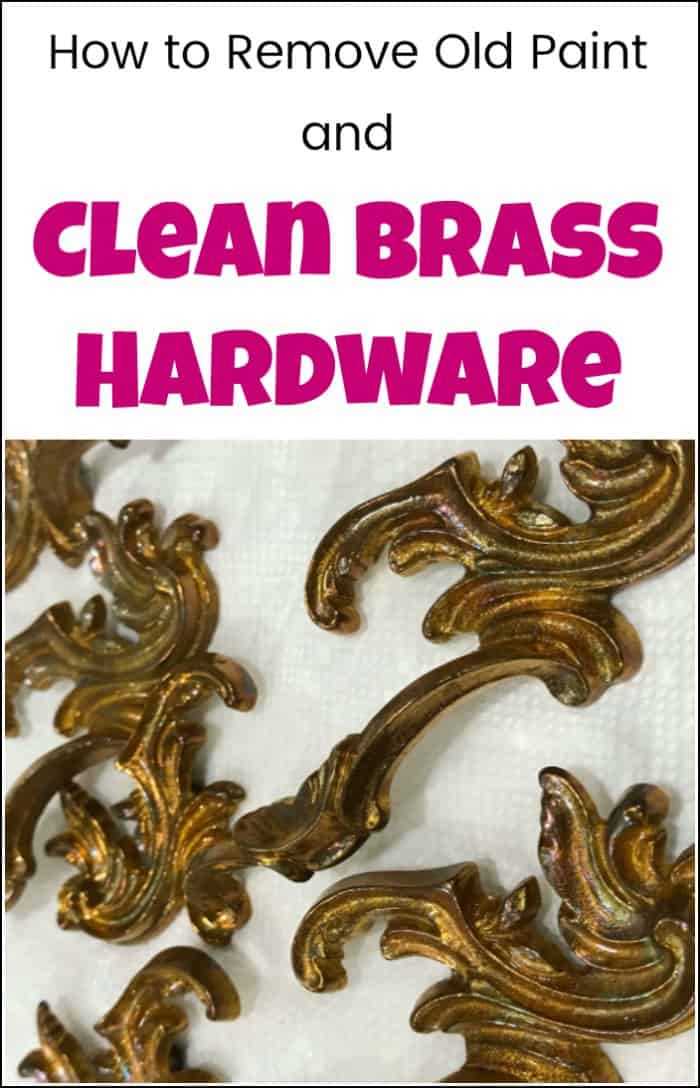 Disclosure: This how to clean brass hardware post contains affiliate links for your convenience. I may be compensated if you make a purchase after clicking on my links. Click here for my full disclosure policy. 

Supply List for Cleaning Brass Hardware
What You Will Need 
Tools
Standard Pot
Old Toothbrush
Find all of my favorite tools and products on my Amazon Page here 
Original Vintage Hardware
The original hardware pulls have an ugly mustard paint on them. I admit that I had every intention of cleaning these pulls and then painting them. But as well all know, plans change.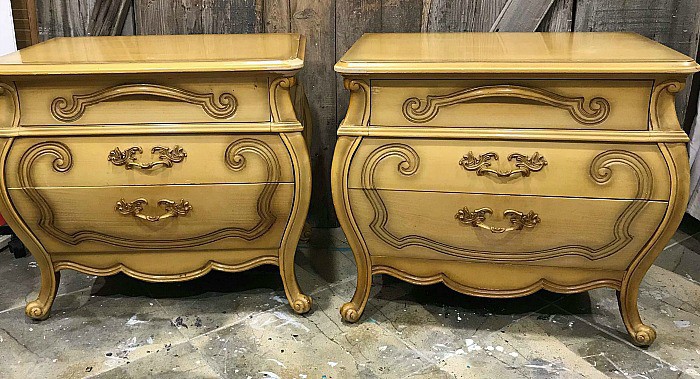 How to Clean Brass Hardware
My steps for how to clean old brass hardware is rather simple. It is the same method I use for cleaning any and all vintage hardware, especially when I intend to paint the hardware. This time, in particular, my home remedy for cleaning brass hardware just happened to reveal such a gorgeous finish that I can't bring myself to paint over it.
Remove the Paint from Vintage Hardware
First, you want to remove your hardware from your furniture. 
Next, drop your hardware into a pot on the stove with water. Grab your household baking soda. 
Add your baking soda to the pot of water and hardware. I don't normally measure, but I would say approximately a half a cup worth. 
Allow the water to boil for around 15-20 minutes. Keep an eye on it to make sure that the water doesn't boil over. 
Turn off heat and move your pot to the sink. Be careful, I like to use my silicone kitchen gloves to avoid getting burned. You can find them HERE. You will also notice that the water is pretty gross. 
Make sure to go back and clean the stove top. There will most likely be white splatter marks from the baking soda. If you need a more thorough kitchen cleaning you can check out my How to Get a Clean Kitchen in Half the Time. 
Scrub the Hardware Clean
At this point, I grab my scrub brush and old toothbrush to remove the residue left behind from boiling.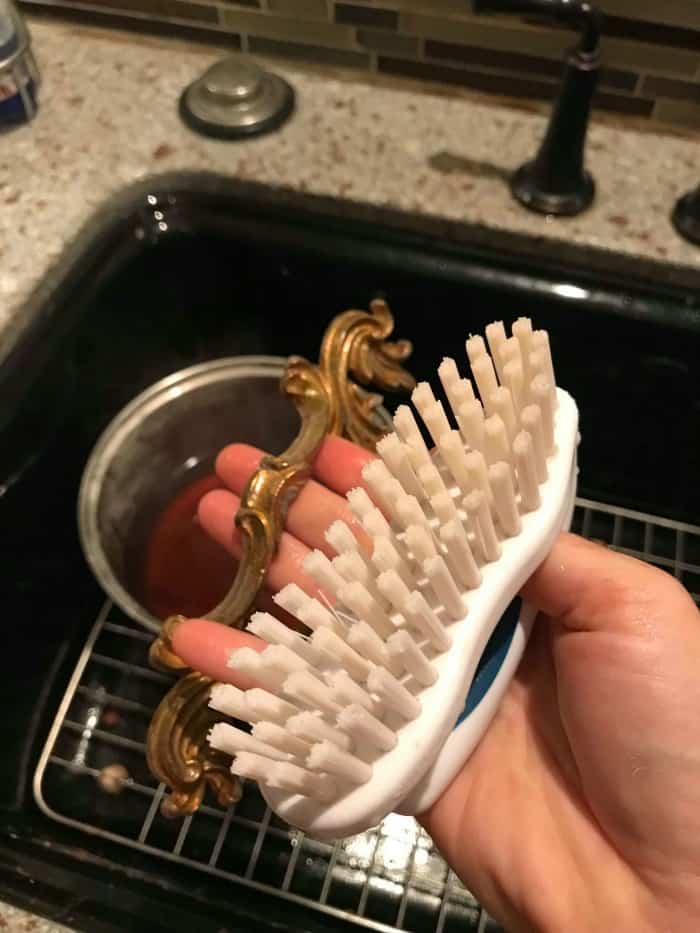 Since the hardware is sitting in the still hot water, I use my gloves to grab the brass hardware to keep from getting burned.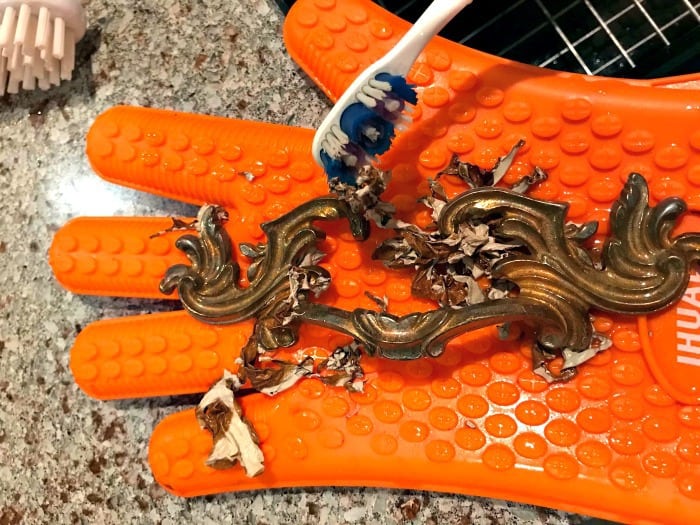 Here is a video showing how the paint falls off of the hardware from using this DIY brass cleaner method.
Once all of the paint is removed you can set it aside on a few paper towels to let them dry.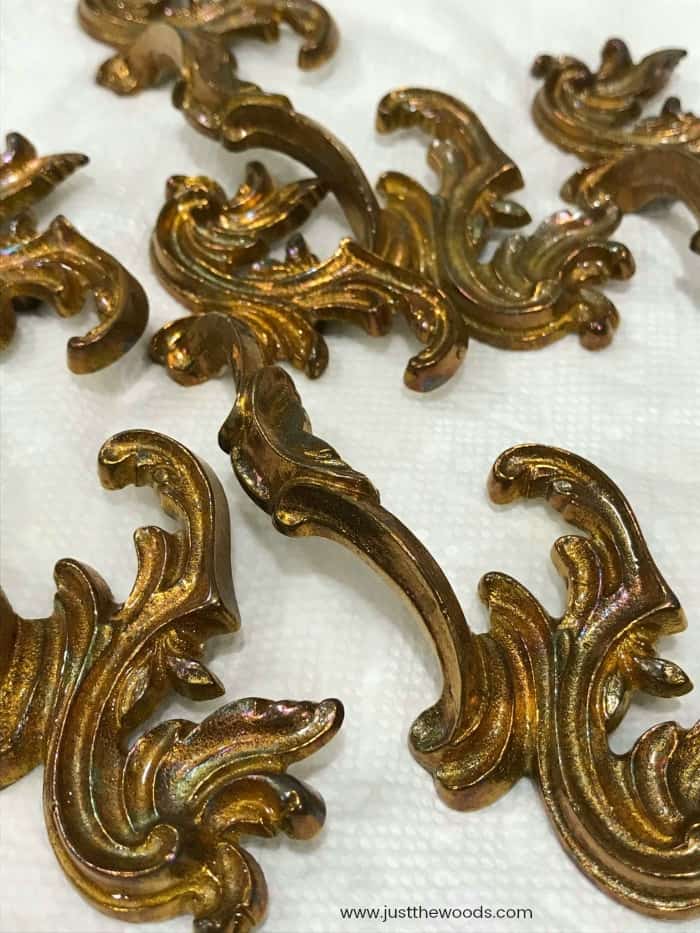 Can you see how pretty the cleaned brass looks with the subtle iridescent colors? 
Vintage Hardware Preserved to Its Original Beauty
At this point, you can either choose to paint the hardware if you aren't happy with the look, but in this case, the gorgeous brass hardware is placed back onto the furniture. There is no need to paint over these gorgeous pulls.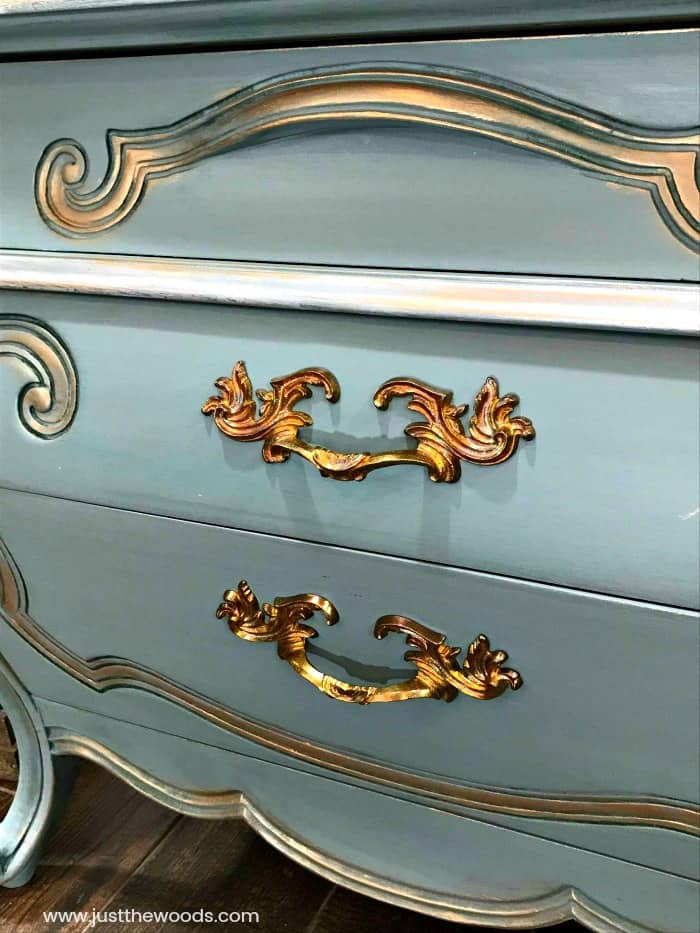 If you do prefer a painted hardware look then you need to check out these painted furniture projects with painted hardware. 

Don't Forget – Follow Just the Woods and Share this post to Inspire others:
FACEBOOK  *  INSTAGRAM  *  PINTEREST
 Stay connected! For more tips and tricks sign up here :