Did you know that you can make
DIY soap
quite easily? This pumpkin spice
handmade soap recipe
is perfect for the cool Autumn months when the leaves start to change and you break out your chunky warm sweaters. There are so few
soap ingredients
that it almost feels like cheating.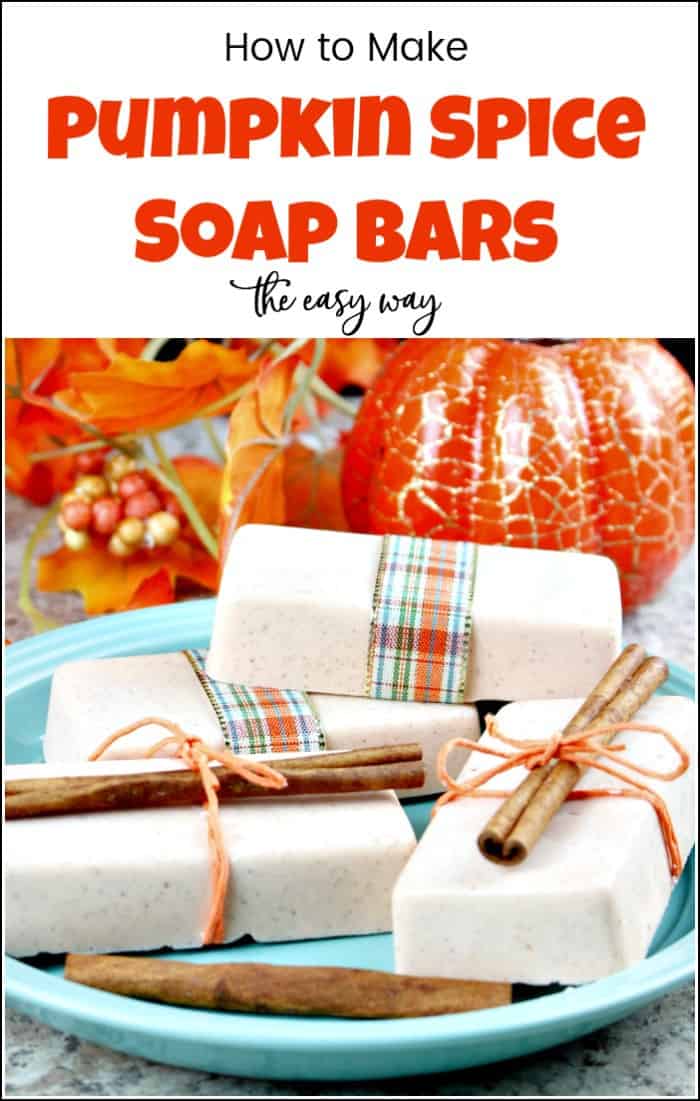 Disclosure: This pumpkin spice DIY soap bars recipe post contains affiliate links for your convenience and I may be compensated if you make a purchase after clicking on my links. Click here for my full disclosure policy. 

Supply List for Pumpkin Spice DIY Soap Bars
Materials Needed / Source List
Makes 4 (3 oz) Soap Bars
1/2 block of 2 lb melt and pour shea butter soap (suspension formula) (You can find it here

)

3-4 drops Vitamin E oil (You can find it here)
Rectangle soap mold (You can find the one I used here

)

Soap colorant  – red and yellow (You can find it here)
 

microwave-safe bowls

Find all of my favorite tools and products on my Amazon Page here
DIY Soap Bars Recipe
If you want to know how to make soap without lye than you will love this homemade soap recipe. This all natural soap will smell so good and leave your skin so soft that you may want to keep it all to yourself. But if you are the sharing type you can give a few DIY soap bars to your friends.


Directions for How to Make Soap at Home
Gather your soap ingredients. 
Cut the shea butter soap base in half.  Place one of the halves back in the container. You will only need one half of the package, you can save the other half for later. Or if you prefer to make more you can use it all but remember to double the rest of the ingredients in this soap making recipe. 
Continue to cut the "squares" that are already scored into the soap and place in a medium microwave-safe bowl. (I used a large Pyrex measuring cup). 
Microwave the shea butter base until completely melted (around 30 seconds, depending on your microwave). Next, remove from microwave and stir.
Add 3 drops of the red soap colorant and 6 drops of yellow soap colorant. Stir to combine. You can add more red colorant if you want a darker orange soap. Stir well to distribute the color. 
Add the vitamin E oil and stir well.
Then add the pumpkin pie spice and stir to incorporate. You will want to make sure that your soap base is the suspension formula. This will allow the pumpkin pie spice to be distributed throughout each soap bar. If you aren't using the suspension formula you risk the pumpkin pie spice settling at the bottom of your DIY soap bars. 
Pour the soap mixture evenly into your soap molds.  
Allow the DIY soap bars to harden at room temperature for at least 2 hours. If you don't want to wait you can speed up the process by chilling your handmade soap for 1 hour. 
Once your DIY soap bars are fully hardened, gently pop out each soap bar from the molds and ENJOY!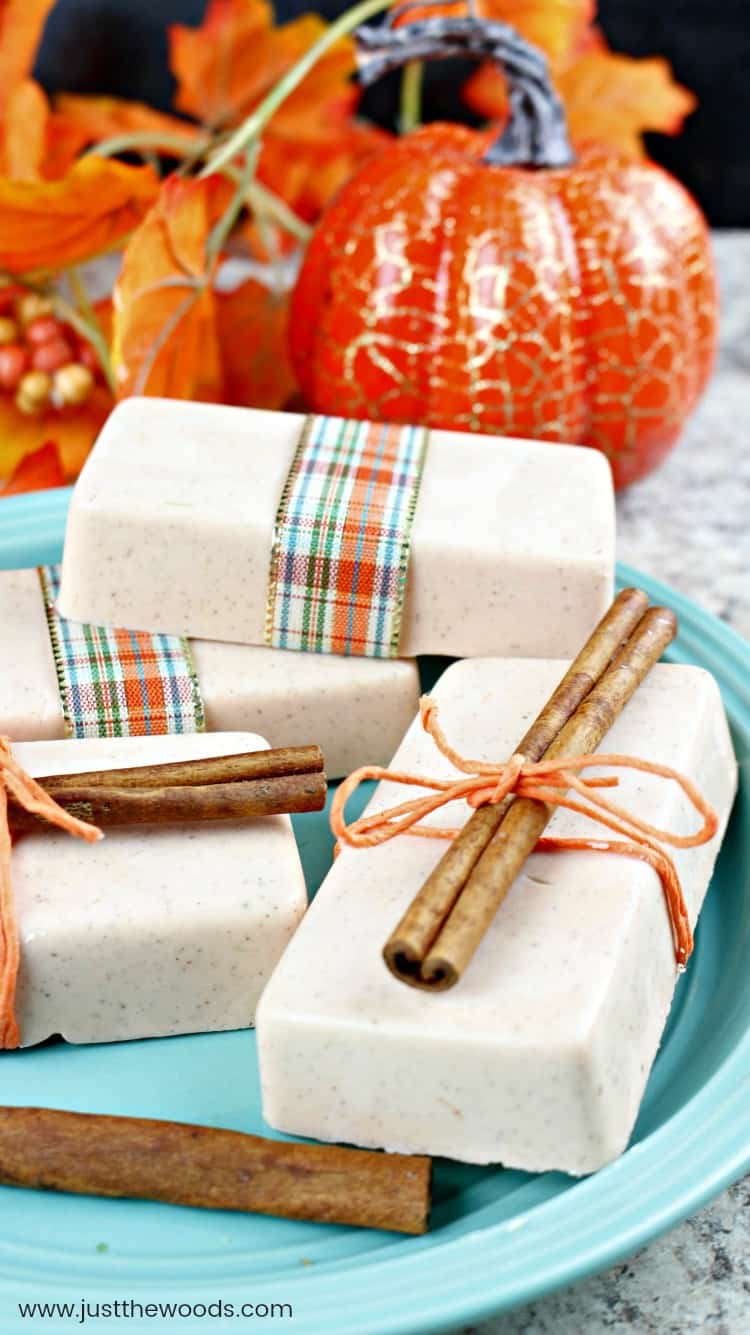 Amazing Pumpkin Spice DIY Soap Bars
This is the absolute easiest method for making your own soap at home. Of all the homemade soap recipes I think this one happens to be the easiest.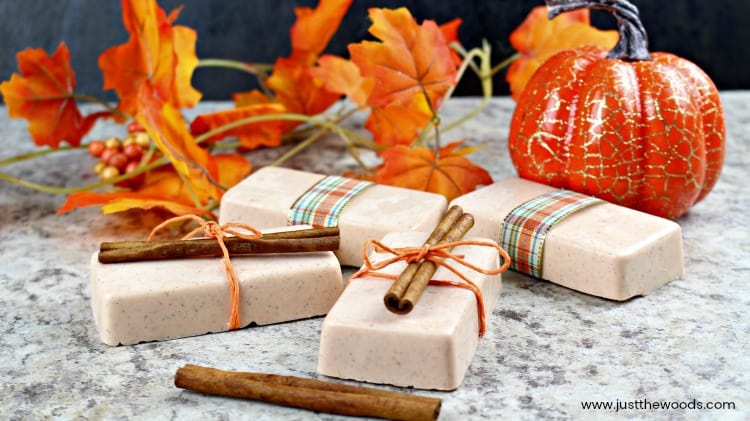 Not only do these pumpkin spice DIY soap bars smell amazing, but they are also quite pretty too! You may not want to get out of the shower once you use them. 😉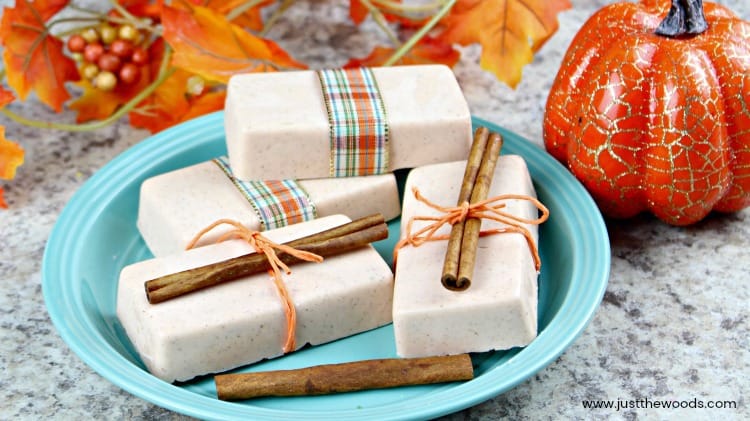 Keep them to yourself or gift them to friends and family. We all have at least one pump spice-loving friend so go ahead and share.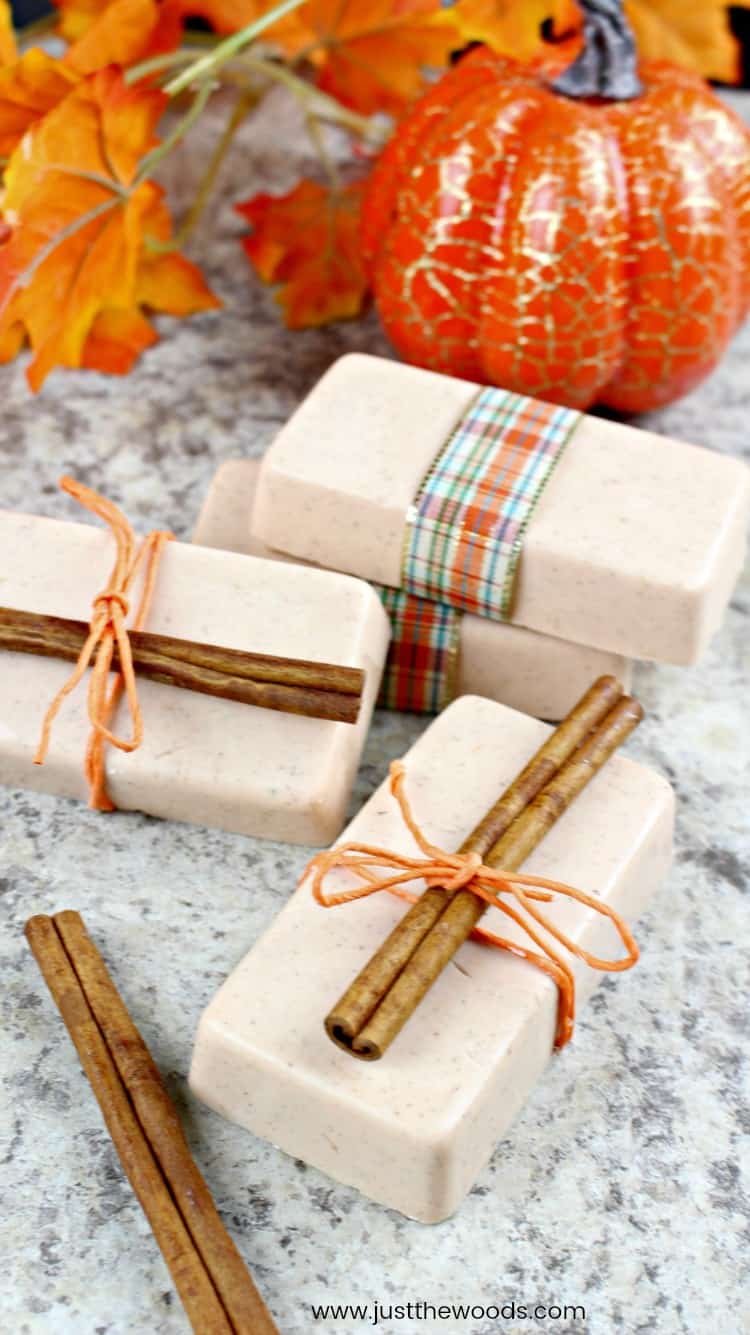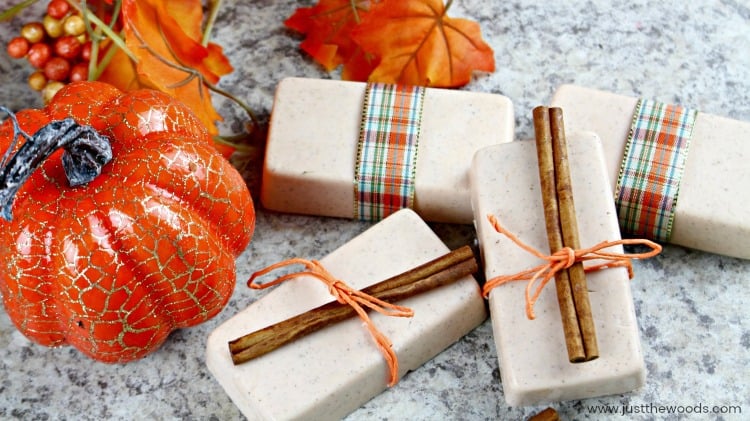 Don't Forget – Follow Just the Woods and Share this post to Inspire others:
FACEBOOK  *  INSTAGRAM  *  PINTEREST
 Stay connected! For more tips and tricks sign up here :