Custom Angelic Blue Painted Sideboard
Can we just start with how amazing the details are in this Thomasville painted sideboard and the amazing story behind it?
The Back Story – my furniture angel
His name was Doug and he saved me and my aching back. I made arrangements via text with someone, a random phone number really to purchase a large sideboard/ buffet/ server/ hutch. I had no idea who I was communicating with but they told me that I would be meeting up with their friend Doug at the location. When I arrived Doug pulled up in his leather jacket, shaved head, and beard. He looked like he should've jumped off a Harley. We chatted as I examined the buffet and as he helped me load it into my truck I jokingly said that I need to take him with me to unload since it's so heavy. Without a second thought, Doug asked where I was heading and offered to come with me to help me unload. I told him that I was only joking but I wholeheartedly appreciated and accepted his offer. Once the piece was loaded and tied down Doug jumped into the passenger seat of my truck and accompanied me to my storage unit. Once there he helped me shuffle some items inside, load the new piece in and take others out. He was so patient, waiting while I snapped a quick photo and then we left. He had me drop him off nearby and wouldn't accept anything more than the price of the piece itself. I would never recommend letting strangers jump in your vehicle but it worked for me and Doug was my furniture angel that day.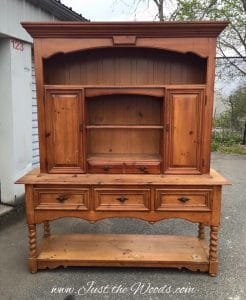 Look at all that storage!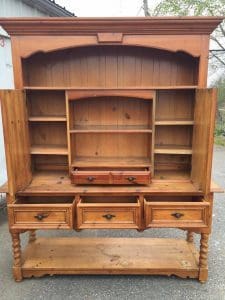 The Prep – Repair
From afar this giant beauty is amazing, which it is, BUT it is not without flaws.  There was so much repair work involved with the prep of this piece.  I spent over four hours alone just doing repairs and cleaning. Here is probably the worst of it..  a deep gouge that required a serious patching. I often wonder what happened to a piece of furniture in its previous life to create such damage.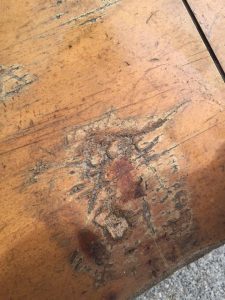 I patched and sanded and patched and sanded this gouge.  With any old furniture makeover, it isn't perfect but it is a major improvement. This repair was done using Bondo. I share more about using Bondo to repair furniture in my Tips and Secrets for Painting Furniture.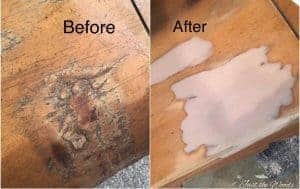 The Prep – Cleaning
Disclosure: This custom blue painted sideboard post contains affiliate links for your convenience.
In addition to the repairs, I also had to give this beast a major cleaning.  I sand the entire piece down with standard sandpaper and then clean with a sponge, water, vinegar, and soap.  I snapped a photo of the water during the first scrubbing, as you can imagine this required a few water changes. YUCK. Here is my How to Prep Painted Furniture.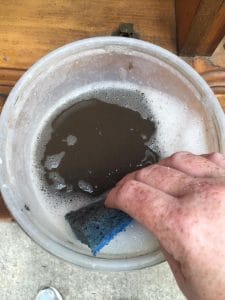 Little Steps
Before I was able to start painting I decided to remove the backing on the top half of the piece to make it easier to get inside. It was attached with long staples that were all removed with my handy pliers.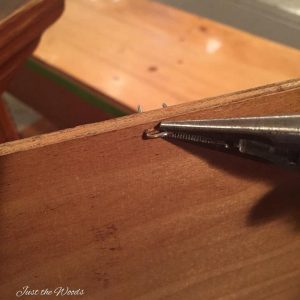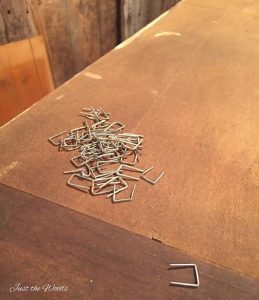 It's always easier to work on a piece like this with the backing removed. Luckily the backing on this piece is made of wood, on some vintage pieces, it's made of cardboard requiring a complete replacement of the back.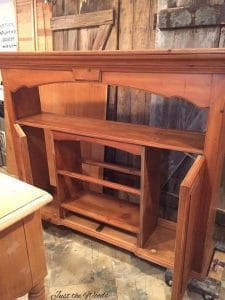 Another thing I found a little odd or funny was that when I removed the shelves from inside the cabinet area they didn't match, at all.  I'm assuming someone replaced a few over the years.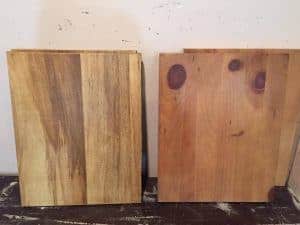 The Fun Part – Paint
Once the repairs, cleaning, and prep were complete it was finally on to the good stuff.  This first layer of this painted sideboard is a navy blue base.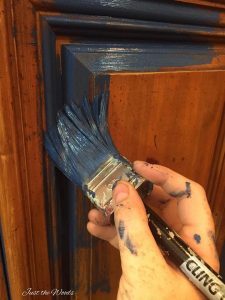 You can find great quality furniture paint online HERE. An added bonus, when painting furniture, you want to make sure to use a quality non-toxic furniture paint.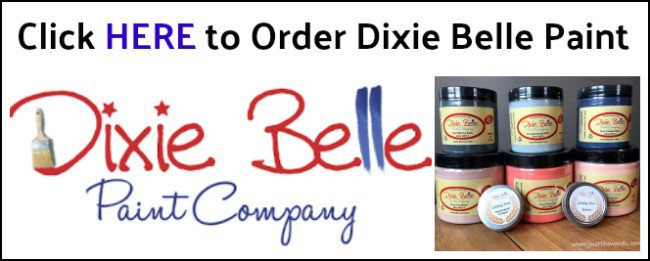 After two base coats of navy I then custom mixed a deep teal and added a full coat over the entire piece. Since I don't have any paint stirrers left I stole some simple wood shims from my hubby's shop to stir up my paint.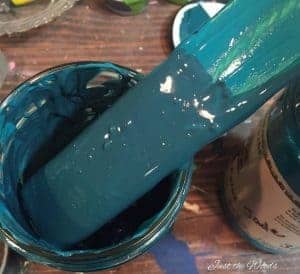 High Lights and Details
The highlights were then done with a small artist brush, or more specifically a makeup brush.  I bounced around between colors and added paint in all of the crevices of the piece. These details aren't noticeable from afar and are done to be subtle.
I also added a few layers with the same mixture to add a sort of striations to the piece. By adding very soft layers I've added a subtle appearance of striations which give the piece depth.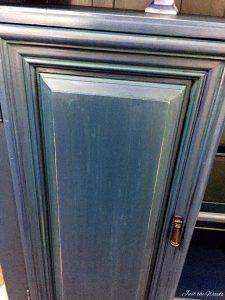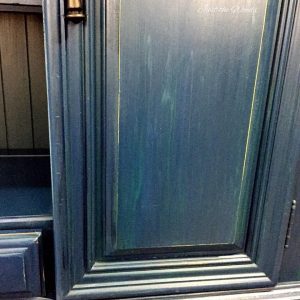 If you prefer a video tutorial, there is a ONE HOUR long video tutorial on blending and layering paint available in my shop here: Layering Paint Video
The Hardware
The hardware was removed and refreshed to a matte black. I've done a step by step tutorial on the process of cleaning, prepping and painting the hardware that you can see here.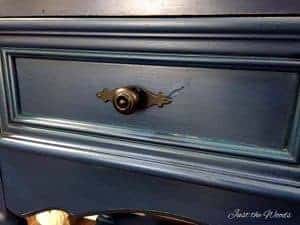 Sealer
Once the highlights and details were finished the piece was sealed for protection with a black tinted sealer. You can easily add a small amount of black paint to your clear sealer to achieve this as well. This creates a soft black glaze appearance on the flat areas and adding a bit more depth in the crevices.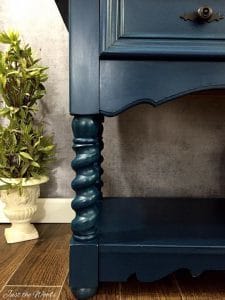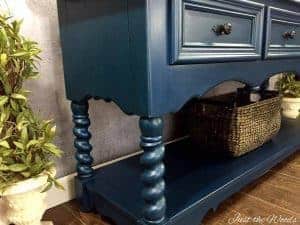 Staging Dilemma
Due to the height of this painted sideboard, I was unable to put it together for photos. The height is 80″ whereas the height in my staging area and shop are 78.5″, so what's a girl to do?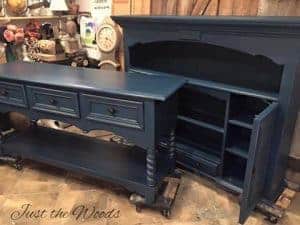 The painted sideboard was delivered to its forever home and looks great in its new spot!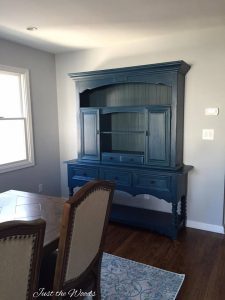 This was probably one of the top 5 of most damaged pieces that I've worked on..   stick a fork in me, I'm done!
For another oversized makeover that was too large to stage check out The Ceiling is Too Low for the China Cabinet.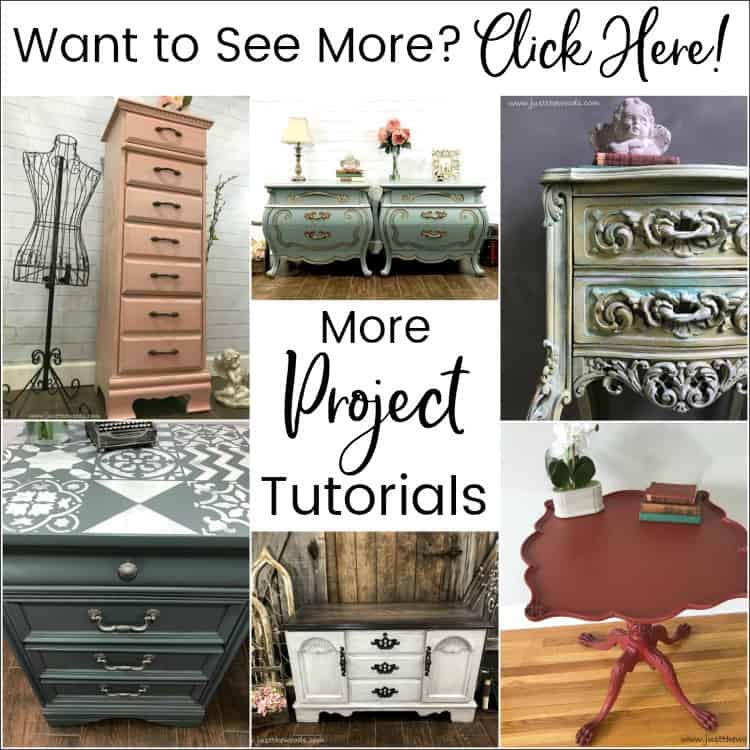 Don't Forget – Follow Just the Woods :
FACEBOOK  *  INSTAGRAM  *  PINTEREST
Subscribe to our mailing list here:
PINTEREST PIN READY TO SHARE