A coffee bar sign was not what I had in mind. I almost didn't take part in this month's Thrifty Chicks makeover. Our theme this month is "kitchen" and I had no idea what to make, upcycle or work on. In the last minute frenzy, I ran out to the local thrift store in hopes of getting inspired. The pressure is on. I strolled into the thrift store still wearing my plaid pajama pants and I'm sure I was a sight for sore eyes. Things were different, I noticed that they were completely rearranging the store and it was a bit chaotic. I tried my best to avoid the furniture section. As I mentioned in my painted layers post I do not NEED any more furniture.

My Thrift Store Find
I kept my browsing to the area filled with kitchen items, glassware, trays, and chotskies. Then I saw it. I couldn't look away. And I couldn't help but laugh at it too. This solid wood wall hanging with raised woodland creatures. At first glance, it appeared to be a tray but the back had a sawtooth hanger for hanging on the wall. I think I can make this into a coffee bar sign.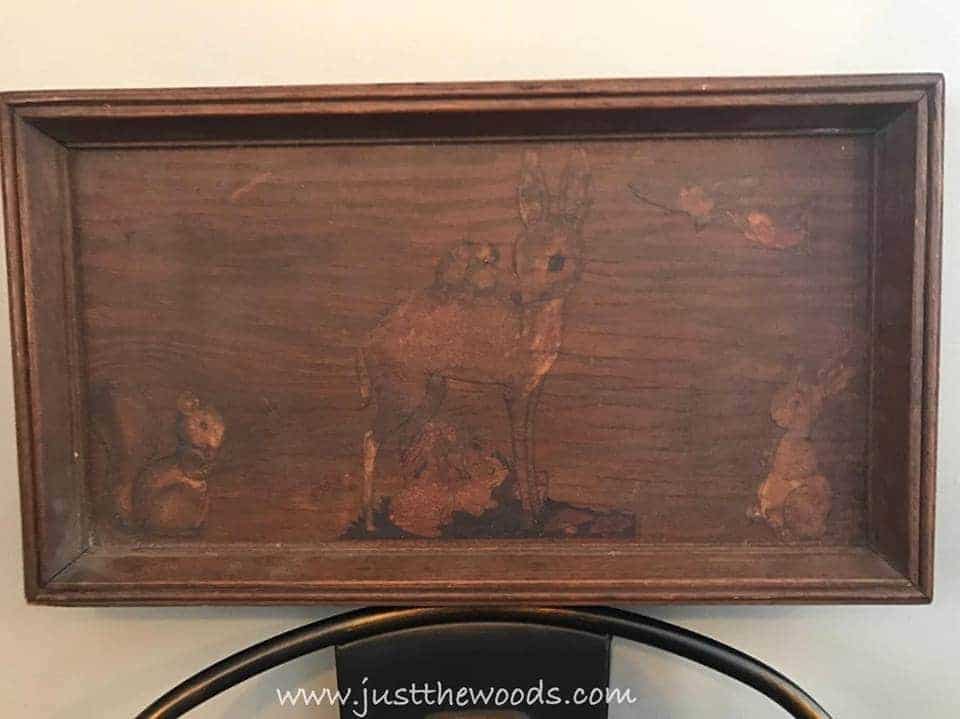 What? The price tag was only $4.99 for this sweet deal of Bambi and it's furry friends.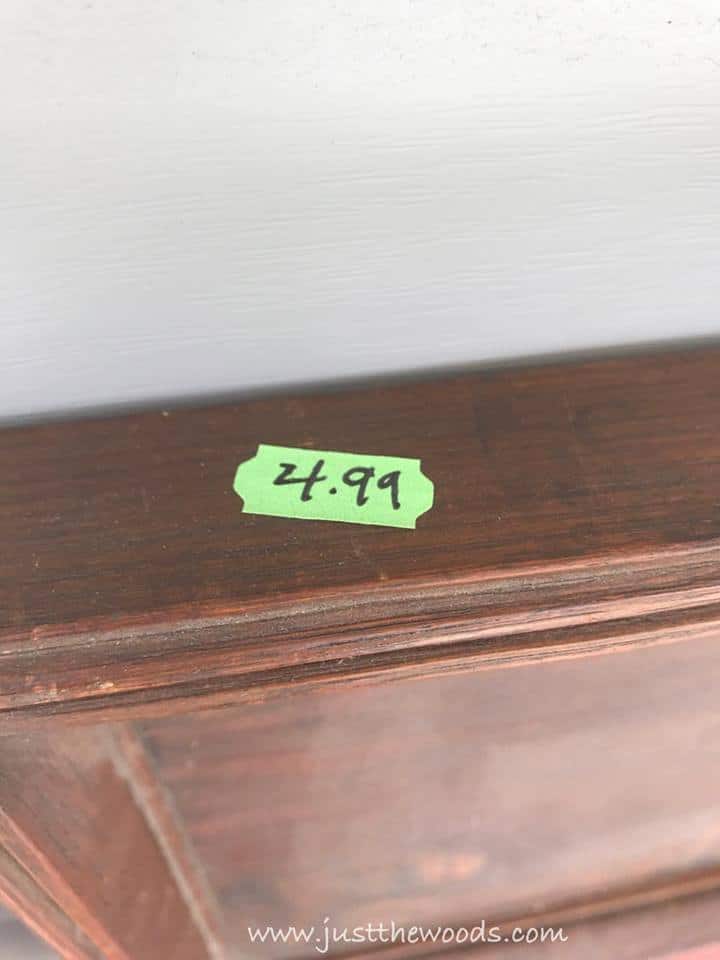 But when I got to the register the clerk only charged me $2.99. I'm assuming in the spirit of rearranging and reorganizing the store they dropped a few prices. It must be my lucky day 😉

Disclosure: This post contains affiliate links for your convenience. Click here for my full disclosure policy.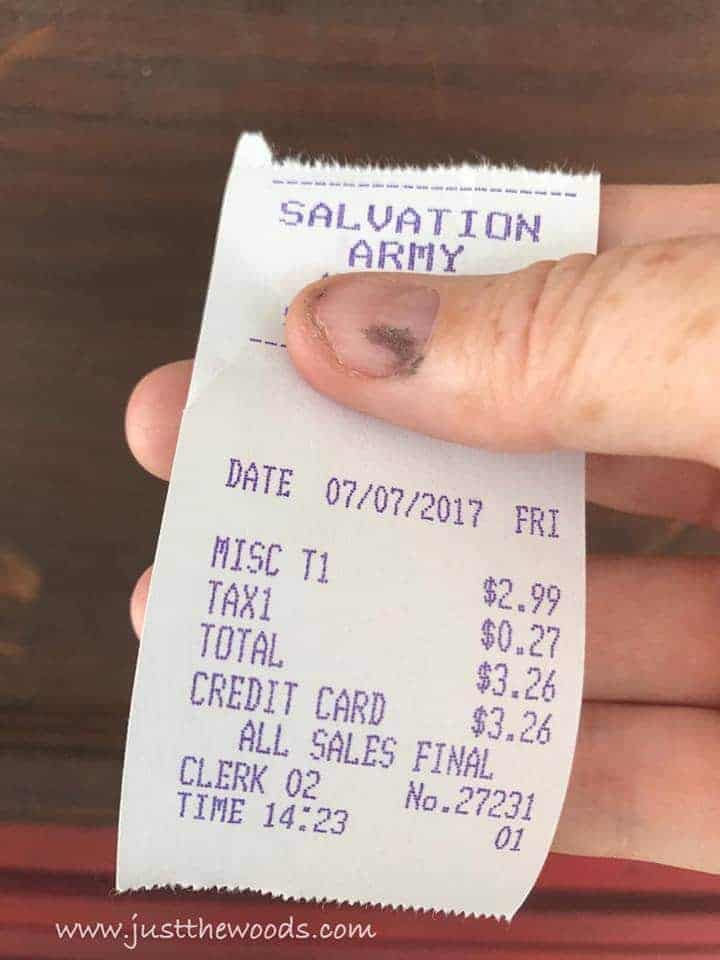 Thrifty Chicks
As I mentioned at the beginning I've joined up with a few other great bloggers in a monthly creative share. This month we are all focusing on the theme 'kitchen.' Some may upcycle or paint, some may create a new project. Make sure to check out the other projects towards the end of the post!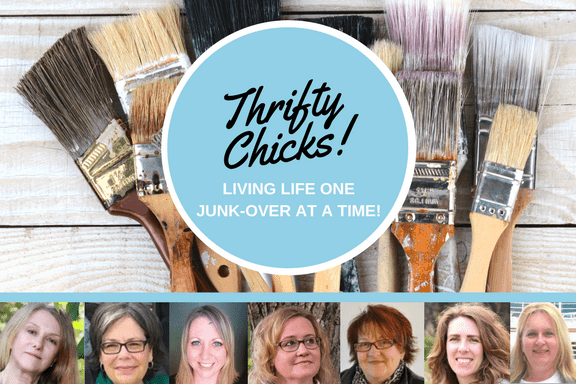 How to Make a Coffee Bar Sign
MATERIALS NEEDED / SOURCE LIST
Cricut Machine
Sandpaper
Specialty Coffee Storage Jar
Preparing My Thrift Store Find
To give you a clearer picture of the thrift store sign check out these close up photos. The center features a deer with birds on its back.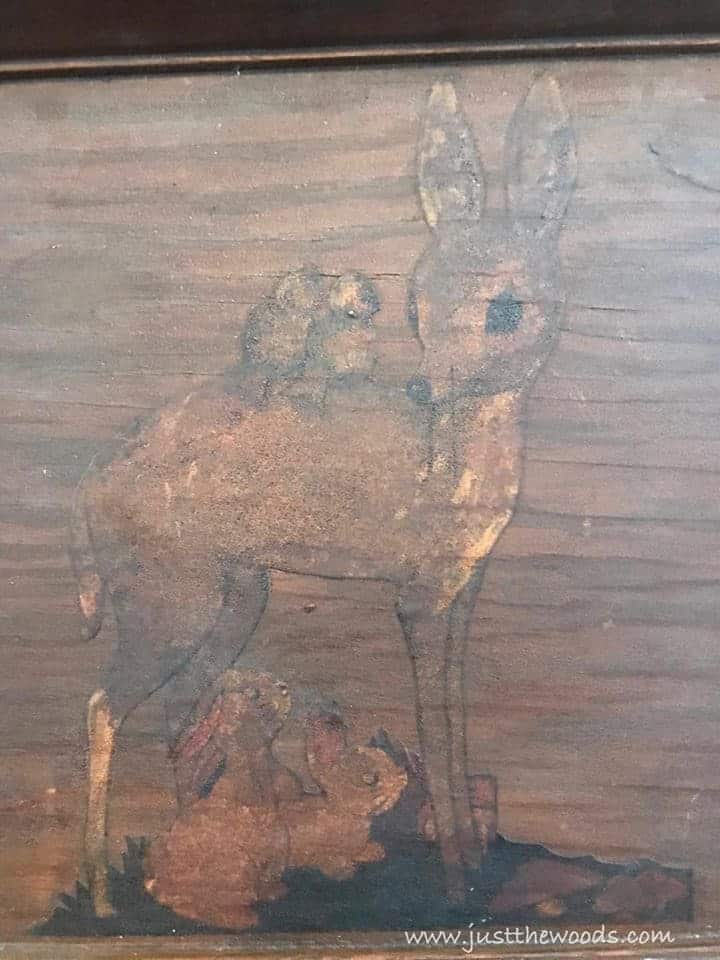 There are a squirrel and a bunny in each corner.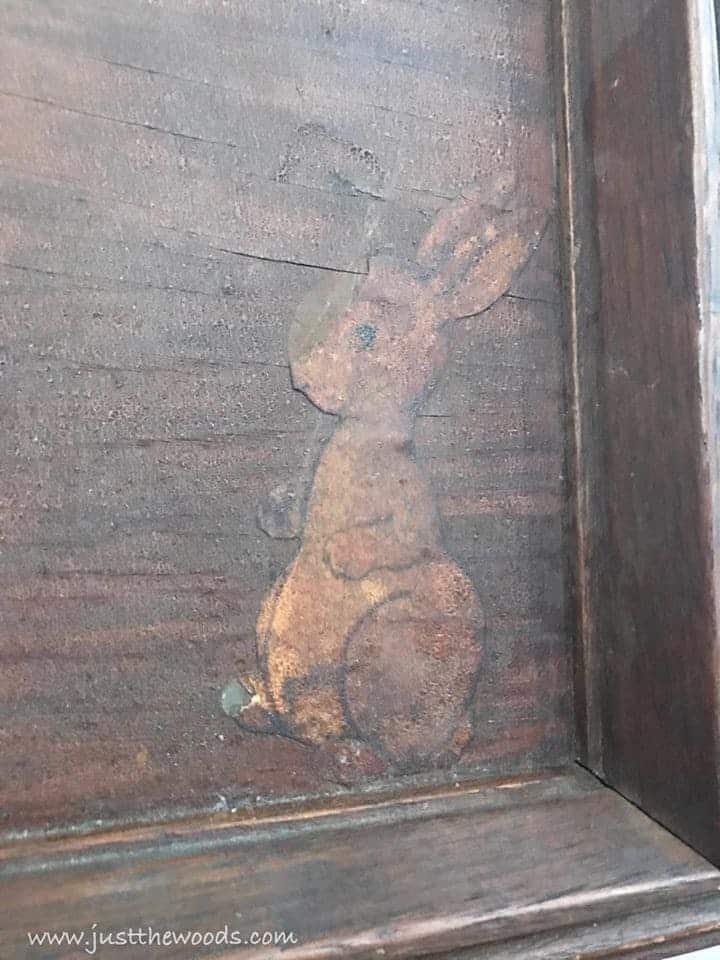 These woodland creatures aren't flush with the surface, they are actually raised.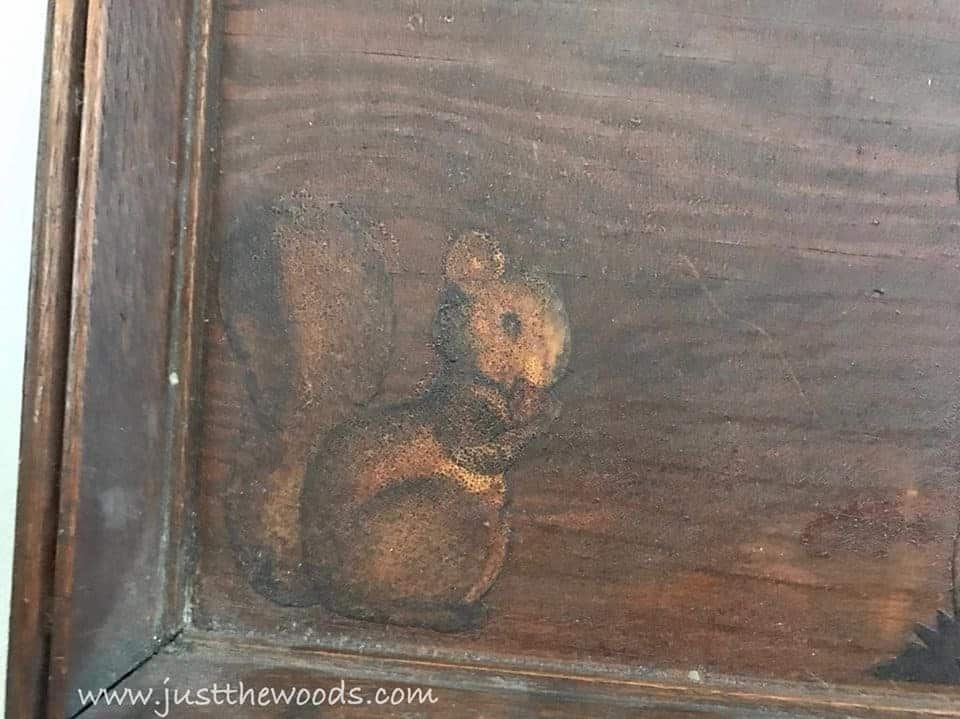 They need to go. Bye-bye Bambi and friends. For the majority of the surface, I used my orbital sander to remove the raised animals.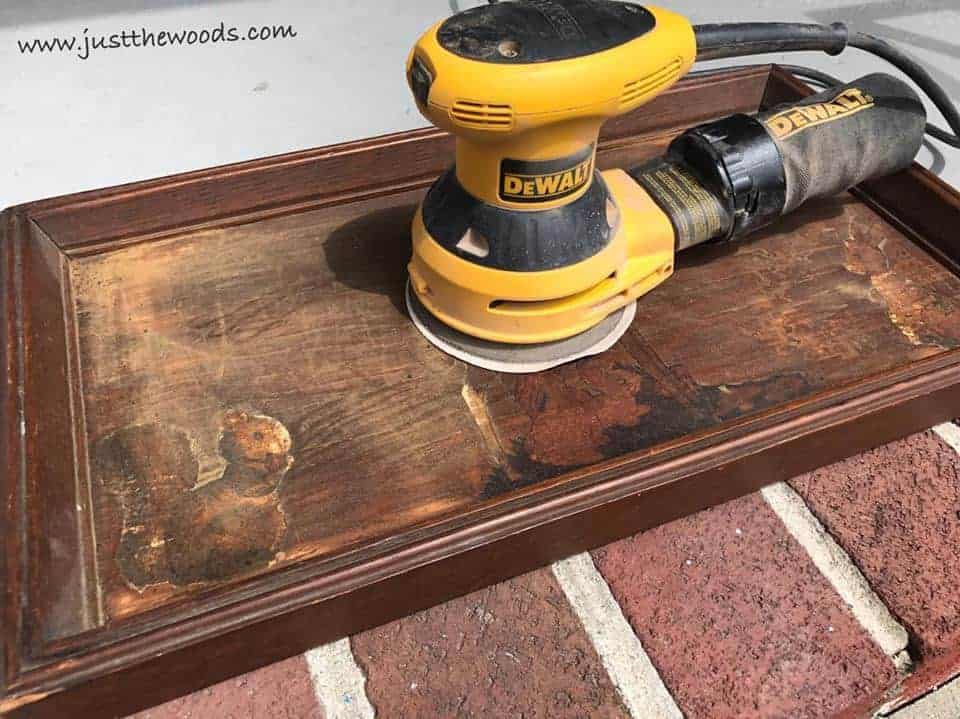 To get into the corners, I broke out the handheld mouse sander.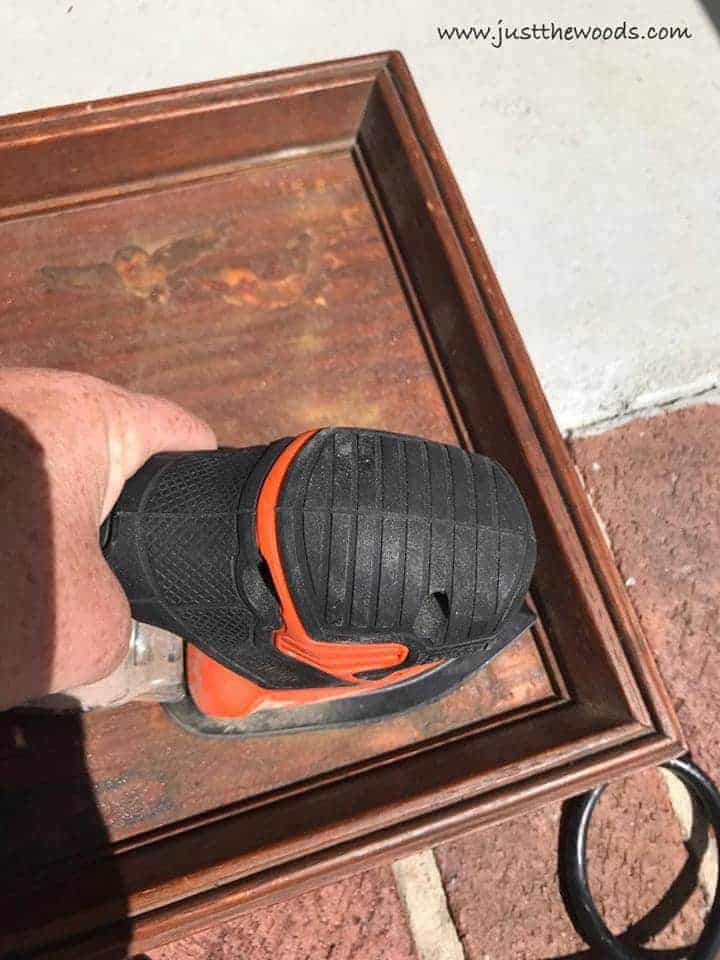 Going, going.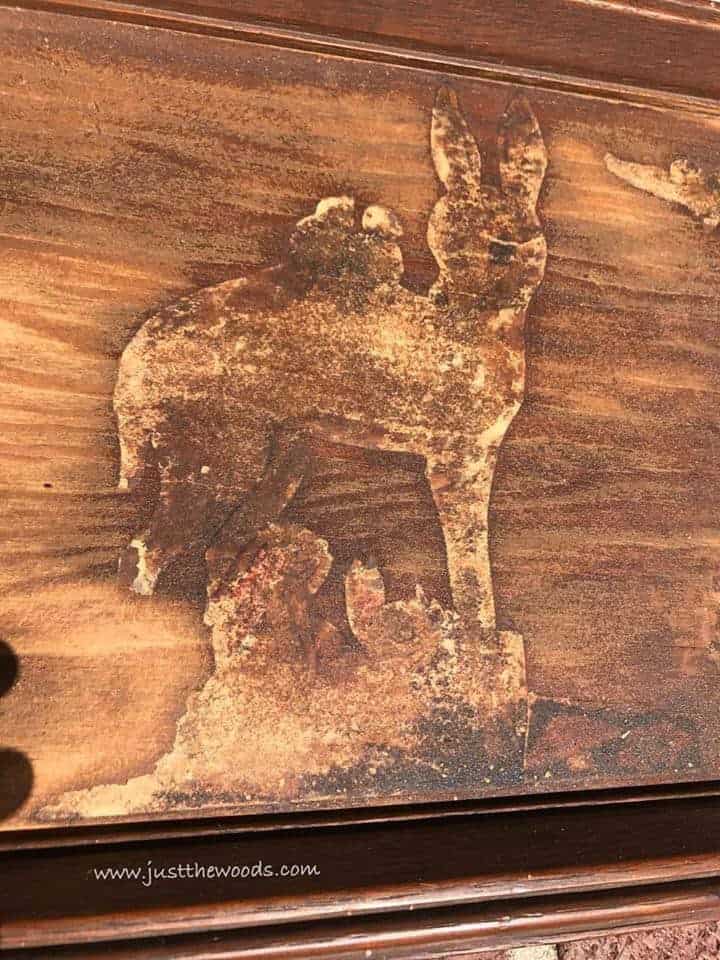 Gone.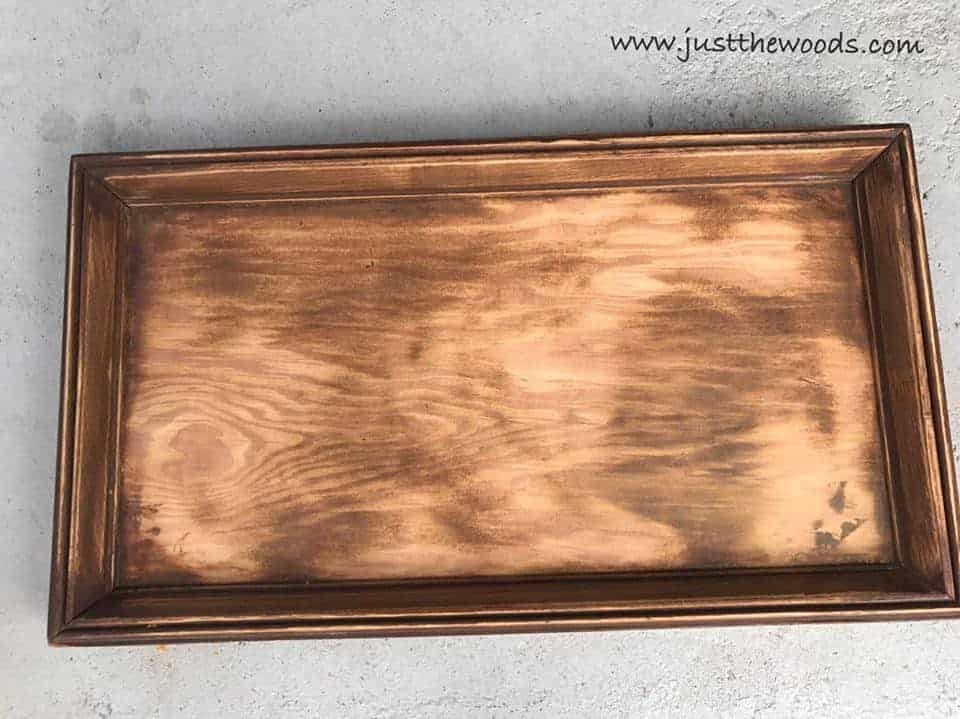 Painting a Wooden Coffee Bar Sign
After sanding and cleaning the sign is painted in a warm gray that will pair perfectly with my kitchen. 
Two coats of gray and you would never know that there were ever deer and squirrels here before. You can find great quality furniture paint and stain online HERE. An added bonus, when painting furniture, you want to make sure to use a quality non-toxic furniture paint.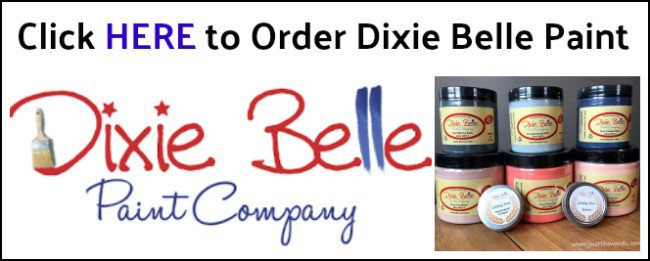 Creating a Stencil with the Cricut Explore Air
I confess that I am still rather new at using my Cricut machine. But I'm excited to learn more and more and drive my girlfriends crazy with questions at the same time. Check out more stenciled projects by clicking here: STENCIL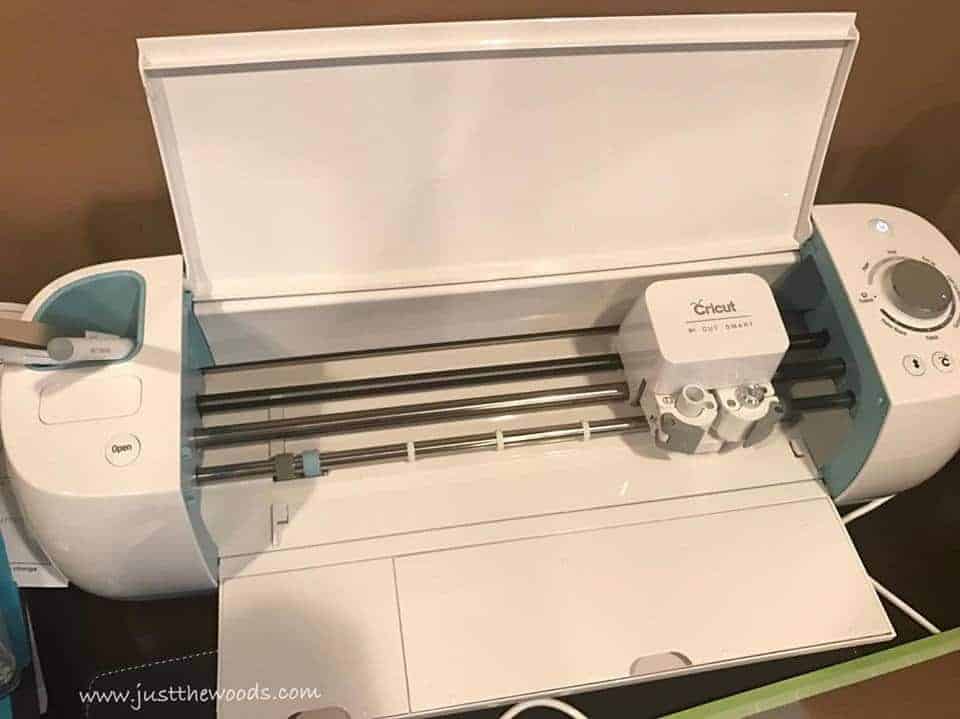 I rummaged through my drawers of Cricut supplies to figure out which material to use to create a stencil. Times like these I think there is such a thing as too many options.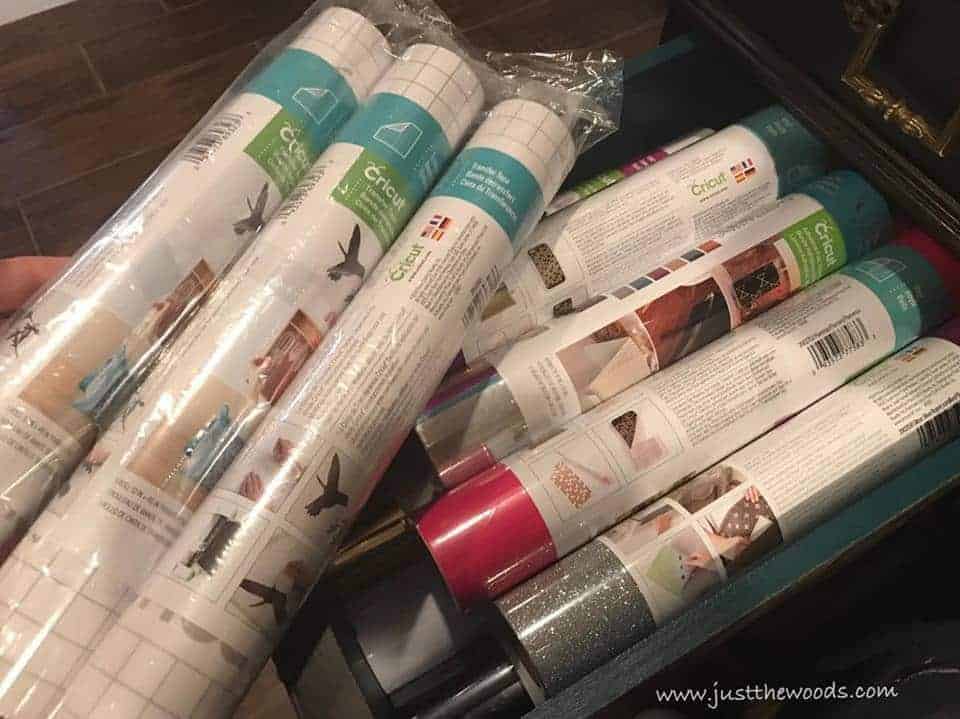 I measured the size of the sign area that will become my coffee bar sign.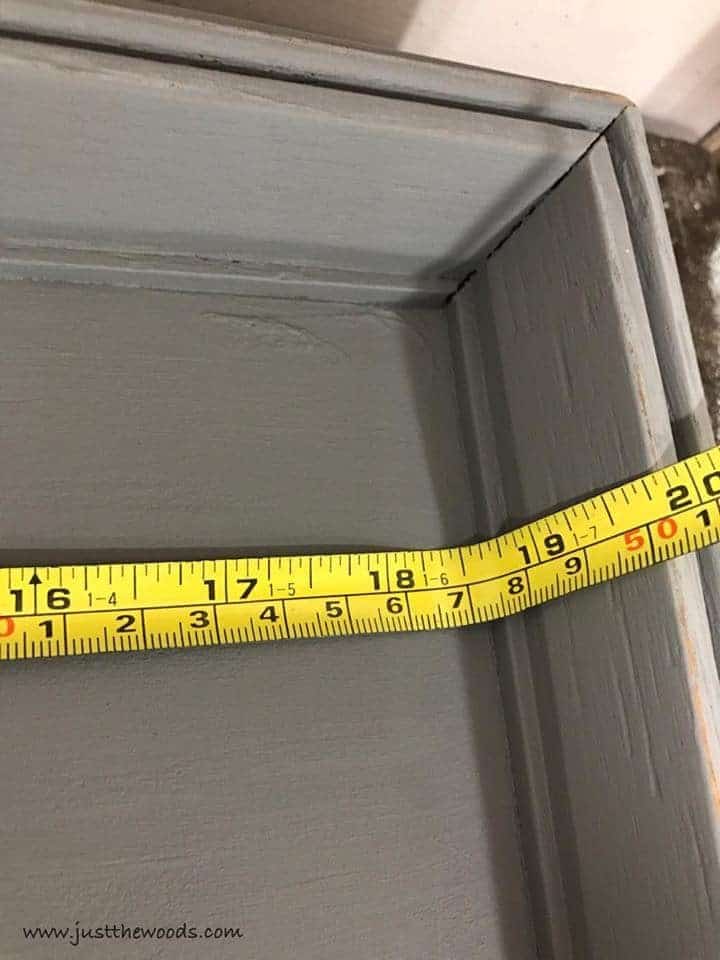 Then, I decided to wing it and tape two pieces of Cricut paper together to make sure the stencil is long enough. Time to create a stencil. Following the steps in the Cricut program and the advice of my fellow blogger pals, I cut out my coffee bar sign saying. "Start each day with Coffee and Gratitude"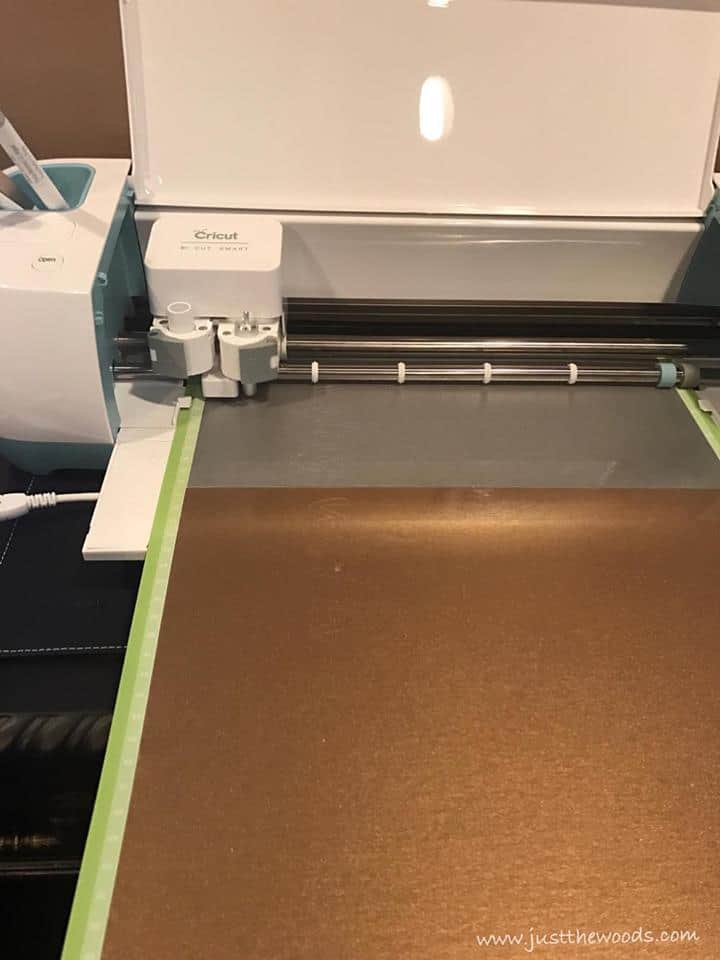 Stenciling the Wooden Sign
Using adhesive spray I placed the stencil onto the wooden sign.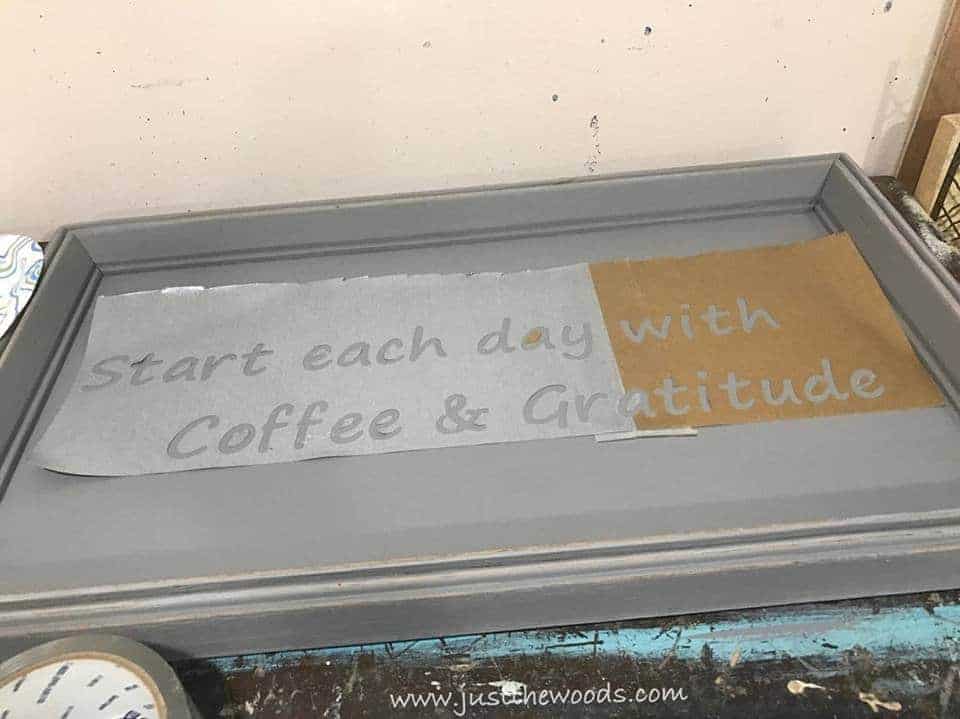 Next, using a stencil foam dabber (pouncer) I pounce a little vanilla colored paint onto my sign.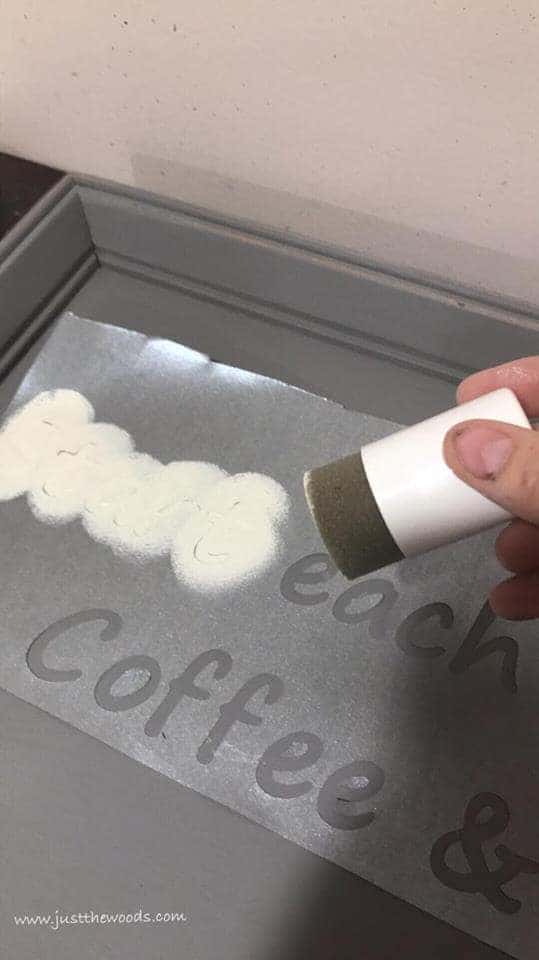 Stencil Reveal
Once satisfied that the letters are painted and dry I was able to carefully lift off the stencil.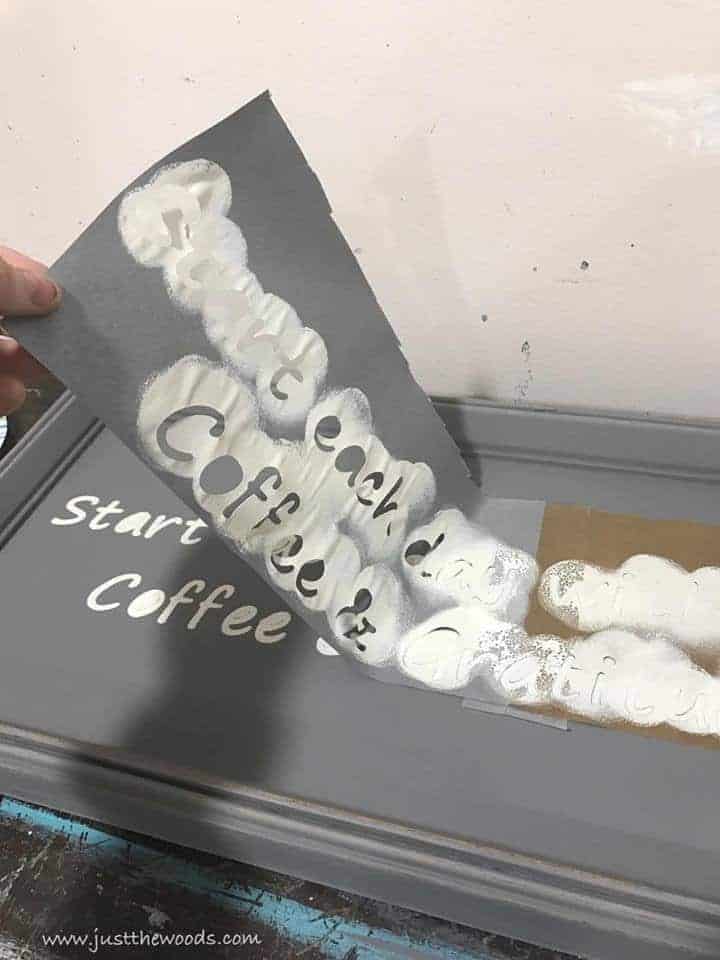 Not too shabby! The surface was lightly sanded and the edges distressed prior to sealing.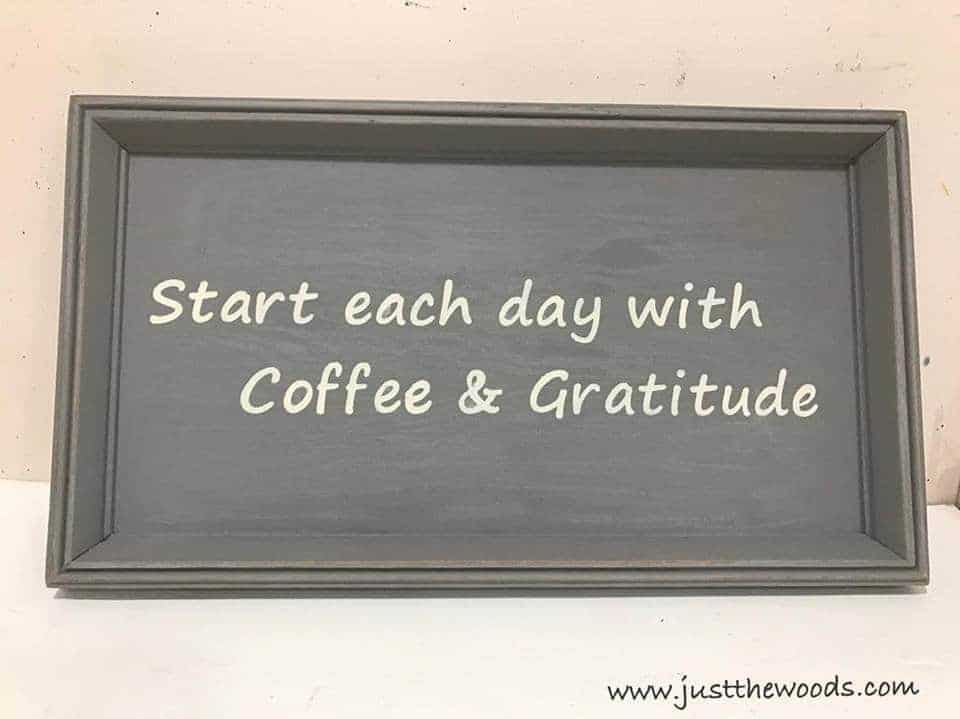 Ready to make your own stencils and so much more? Get your very own Cricut machine here: CRICUT.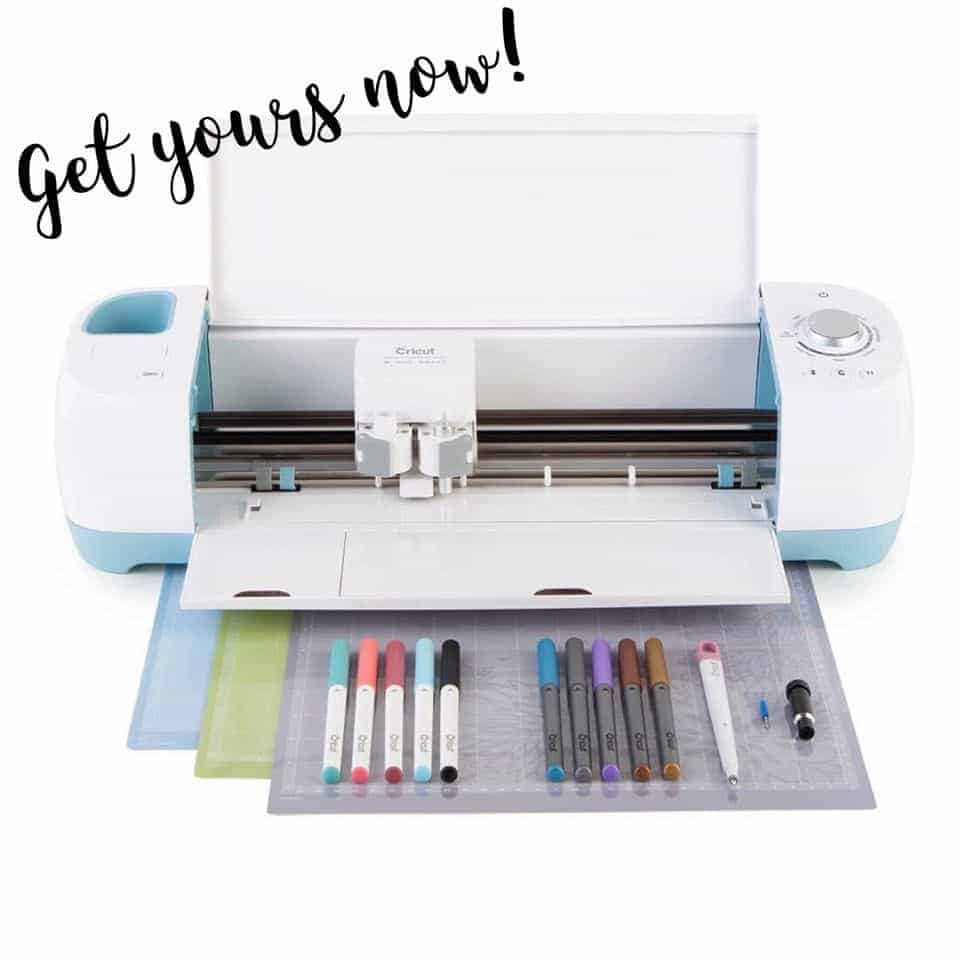 Not ready to make your own stencils? There are ready made stencils available online here at my all time favorite stencil shop: STENCILS.
Coffee Bar Sign from Thrift Store Find
Though the pressure was on to get this project done, I am quite happy with it. I also look forward to more projects using the Cricut machine. My new sign now sits with my Ninja coffee maker to remind me how to start each day. (Not that I really need the reminder) 😉 Would you have walked right past that wooden sign or would you have scooped it up? I'd love to hear your ideas of what you would do with it!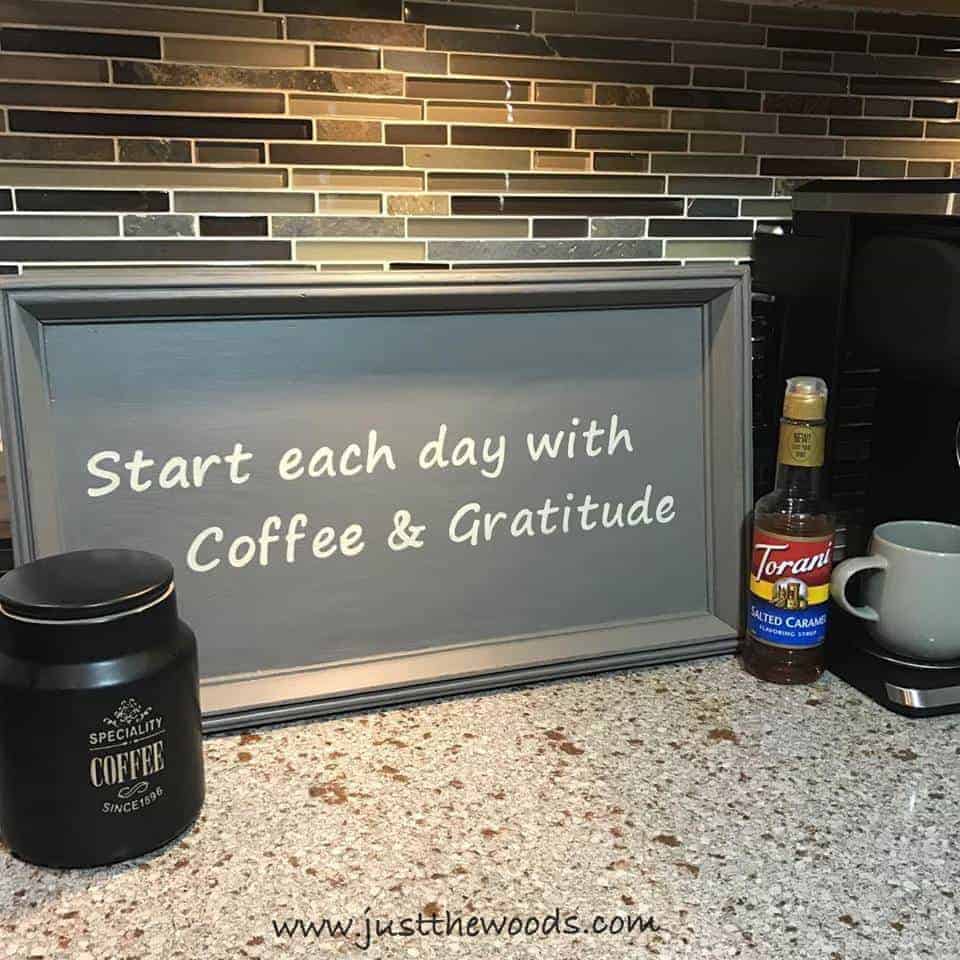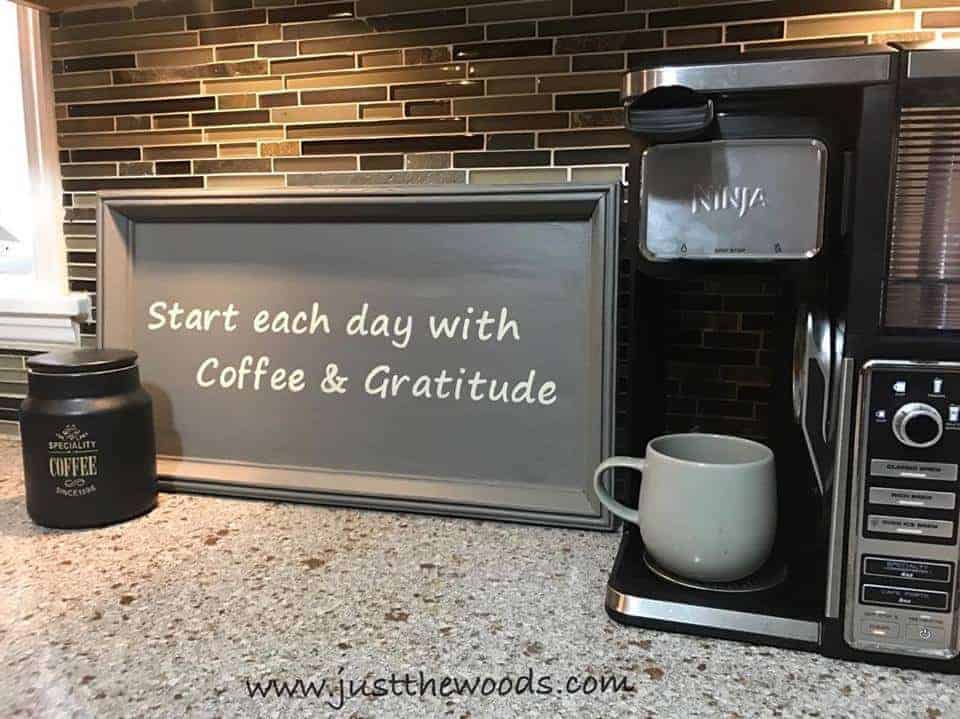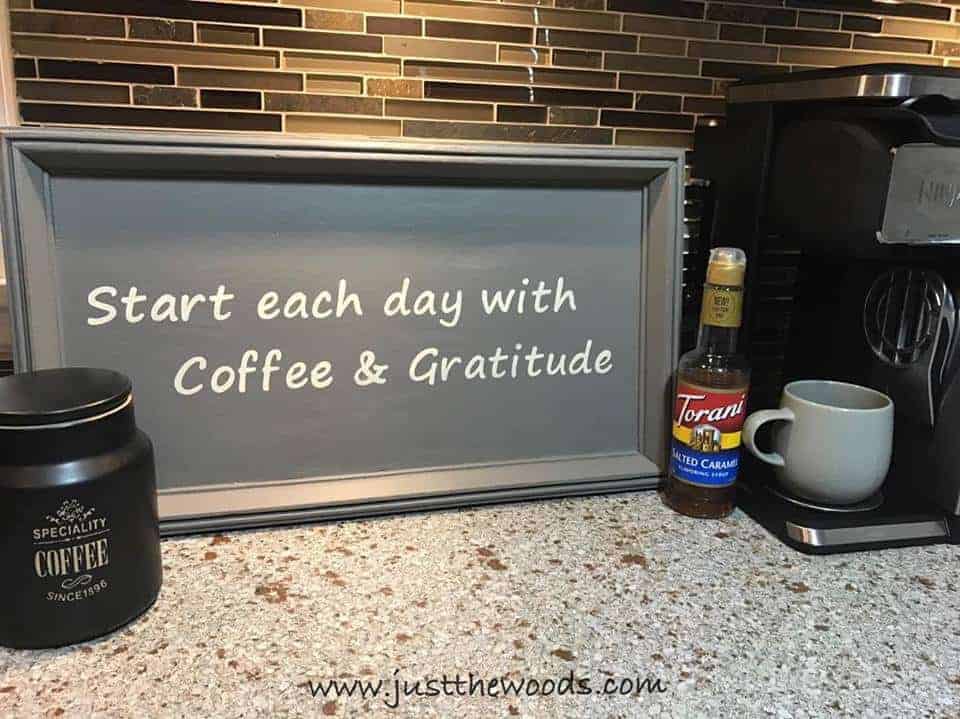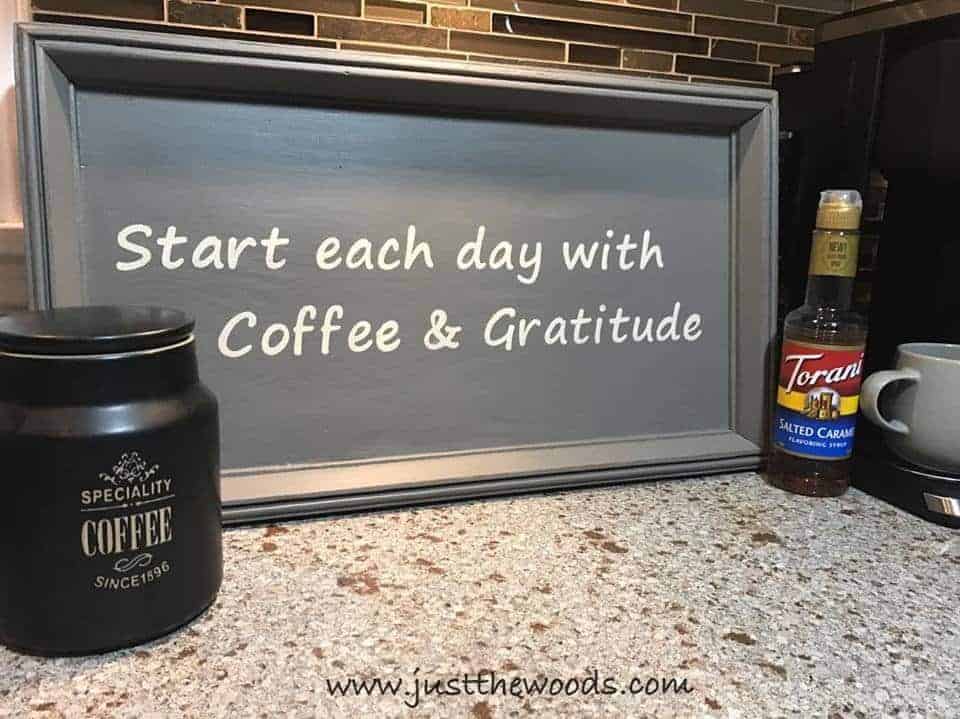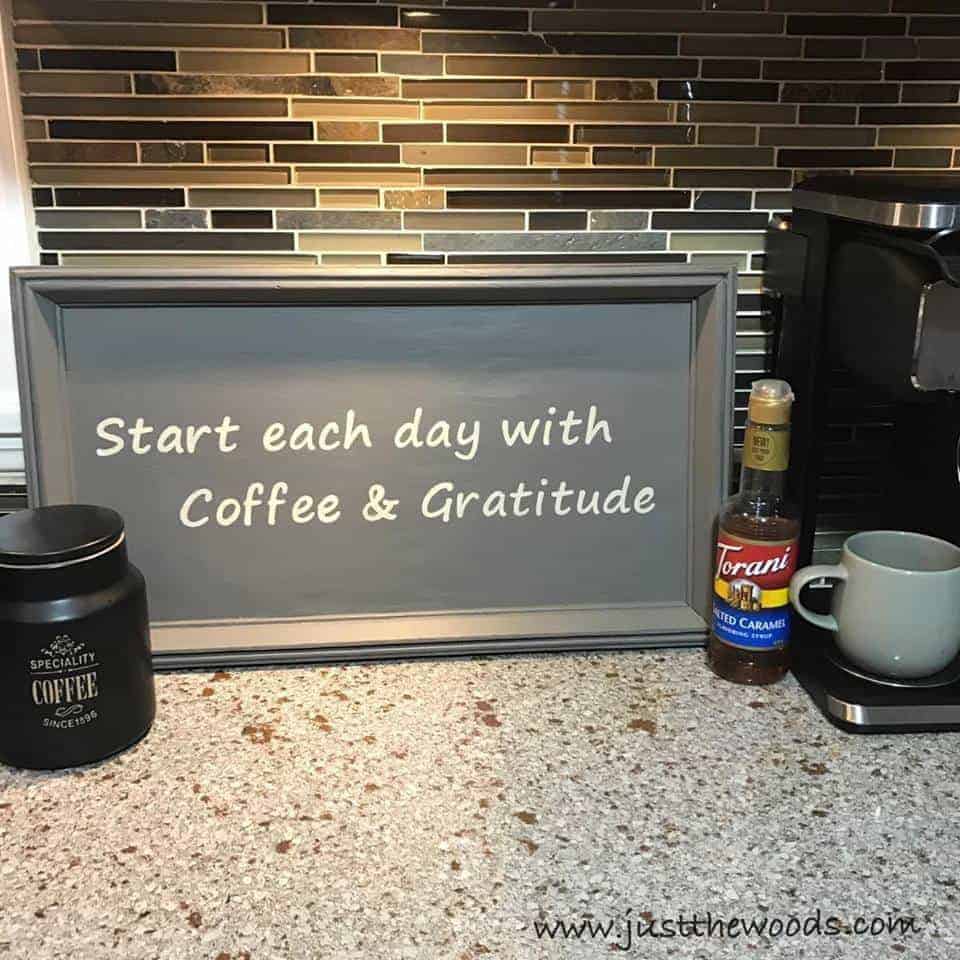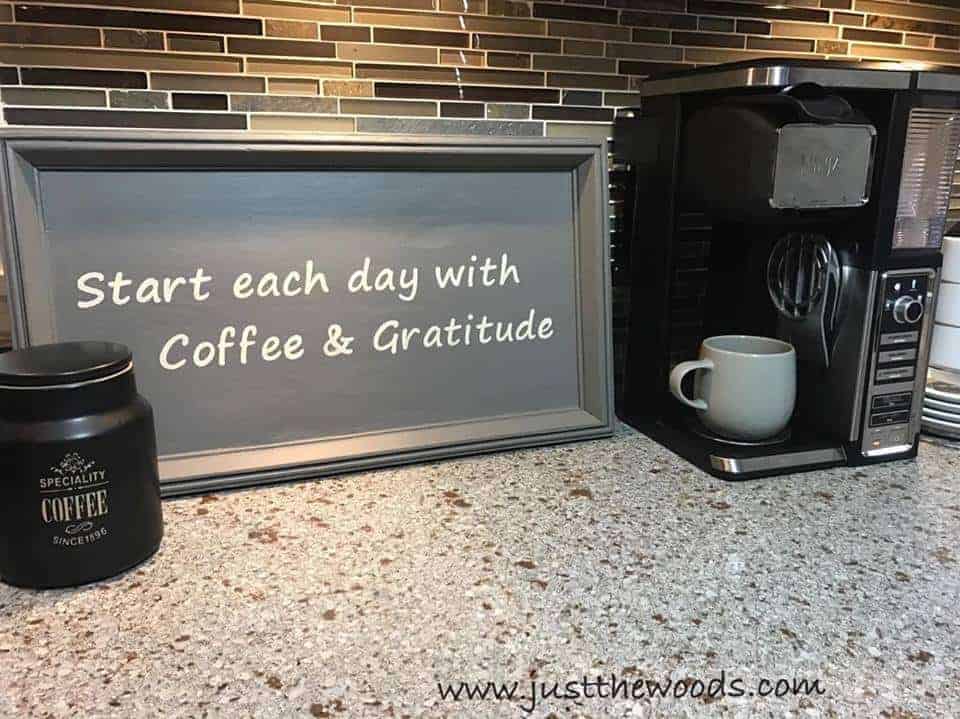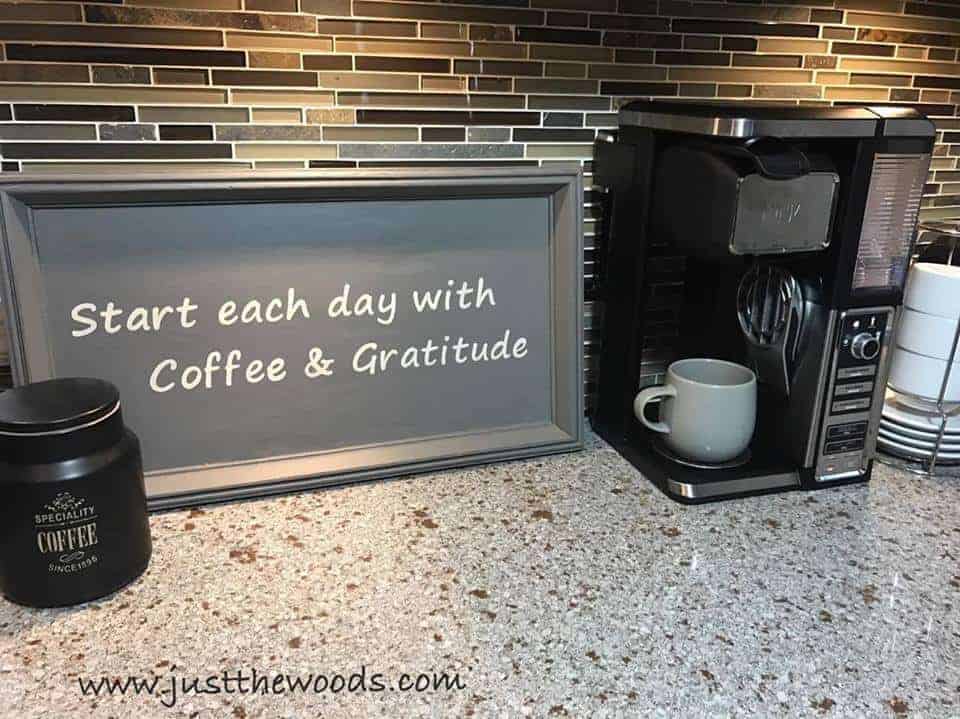 Wait Don't Go! It's Thrifty Chicks Time
A few of my creative and talented blogger friends and I have joined together in a monthly Thrifty Chicks project share.  We get together on the second Wednesday of each month and will have a theme for each month's project. This month we are focusing on anything kitchen related. Let's see what my friends are up to! Make sure to click the links below the image to check out all the amazing projects that my bloggy girls are working on this month. In case you missed last months Thrifty Chicks post you can still catch it here: Painting Outdoor Adirondack Chairs.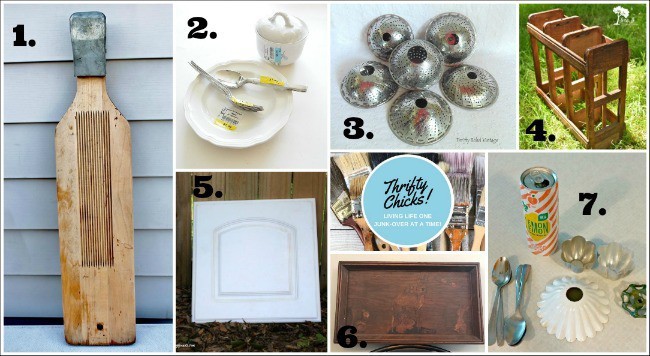 Adirondack Girl at Heart – Christmas in July Kitchen DIY Project 
The Interior Frugalista – DIY Silverware Wind Chimes
Thrifty Rebel Vintage – How to Make Repurposed Strainer Flowers
Lora Bloomquist – Sewing Machine Drawer Kitchen Organizer
Shoppe No. 5 – Kitchen Cabinet Door to Towel Holder
Just the Woods – How to Make a Coffee Bar Sign
Little Vintage Cottage – What to Do with Random Kitchen Do-Dads
I'll be sharing this post at these fabulous link parties.
Don't Forget – Follow Just the Woods and Share this post to Inspire others:
FACEBOOK  *  INSTAGRAM  *  PINTEREST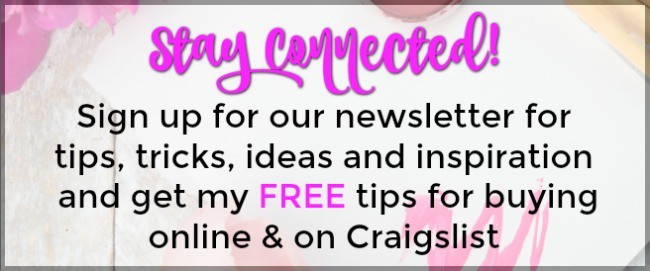 PINTEREST PIN READY TO SHARE