Painting Outdoor Adirondack Chairs with HomeRight Finish Max Extra
The HomeRight Finish Max Extra is not to be confused with the HomeRight Finish Max that we all know and love already. I used the Finish Max while working on our shed project and it was so easy to use that my 4 year old even helped. After finishing the shed I realized that the backyard Adirondack chairs were in really sad shape and could use a facelift. We've had them for a few years now and they sit in the yard by the chiminea where I prefer to spend many summer nights sipping wine by the fire.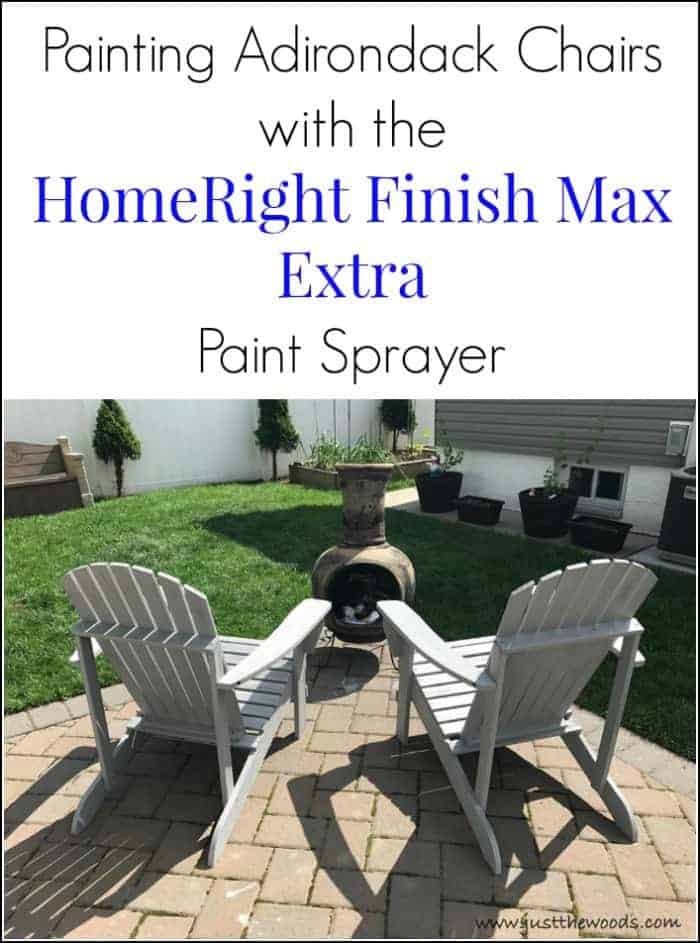 I also want to let you know that I've joined up with a few other great bloggers in a monthly creative share. This month we are all focusing around the theme 'chairs.' Some may upcycle or paint chairs, some may create a new project using chair parts. Make sure to check out the other projects towards the end of the post!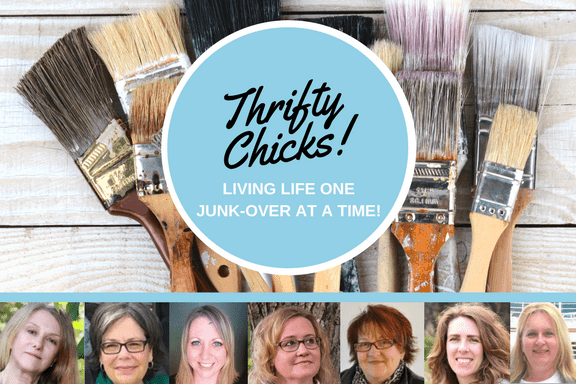 Unfinished Adirondack Chairs
Back to these chairs. They are wobbly and worn and have been weathered over time. We had purchased them as a kit a few years back where we had to put them together ourselves.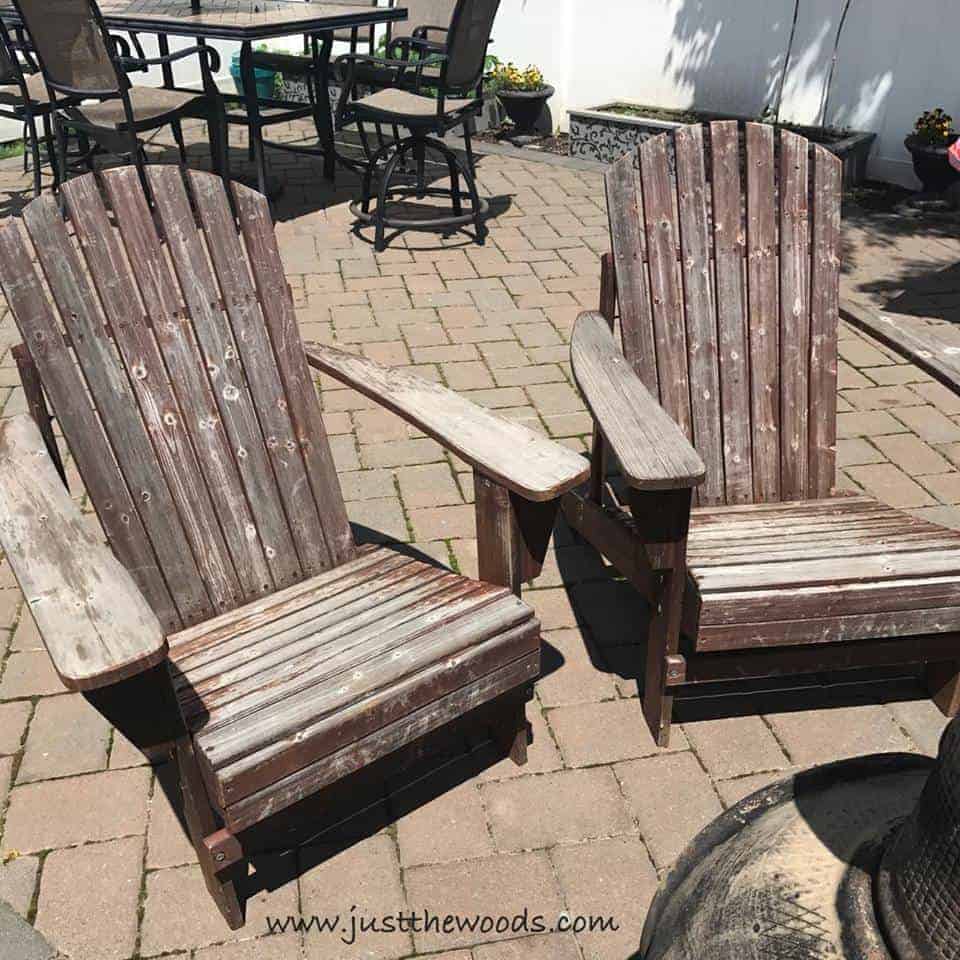 Disclosure: This post is sponsored by HomeRight. Click here for my full disclosure policy.
After tightening the screws where I could I was ready to spruce them up. But since hubby claims that I get paint everywhere when I work I made sure to take precautions and lay out a plastic tarp across the lawn. I know that HomeRight has an awesome paint shelter and I kick myself for not scooping one up. It would've made things much easier for me. Hindsight.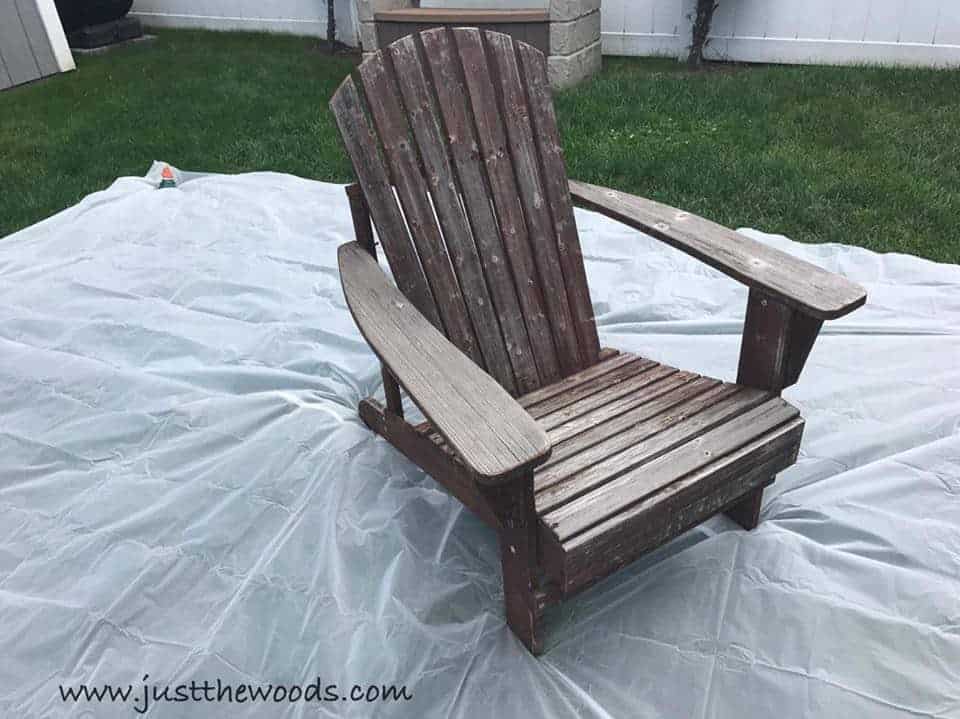 Since it was a breezy day I had to break out my fancy weights to hold down the plastic and prevent it from blowing around.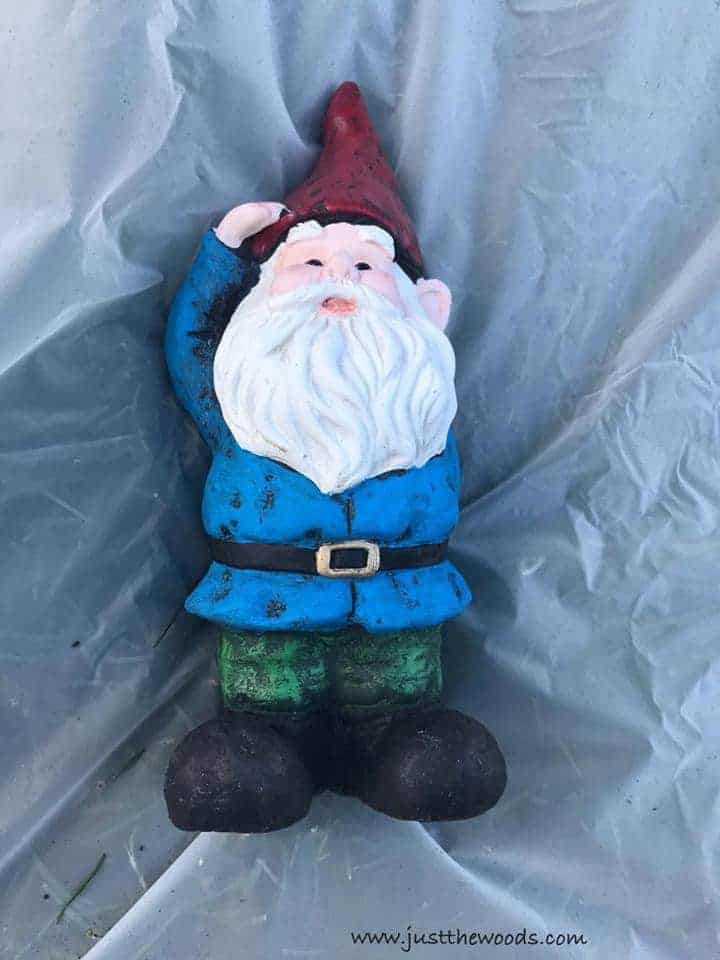 The Paint
Since I still had leftover paint from the shed project I decided to use the same paint. It's a Behr Exterior Gray called Anonymous with paint and primer in one. I simply stirred it up and poured it into the HomeRight paint container. I didn't dilute the paint at all.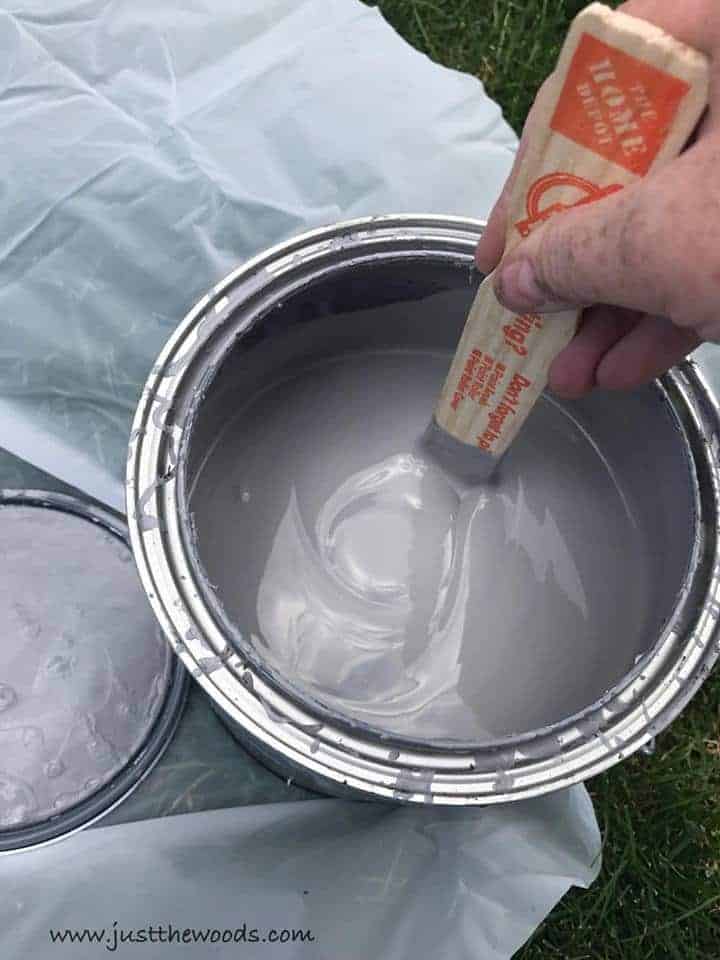 With paint in the sprayer, I was ready to go. Click here for more paint sprayer projects and tutorials: Paint sprayer
Painting Outdoor Adirondack Chairs
Rather than try to explain how well the sprayer worked, I'm sure it would be easier for you to see for yourself in this quick video.
As you can see the HomeRight Finish Max Extra works like a dream. The once red and weathered chairs now have a soft gray finish that look lovely in the yard.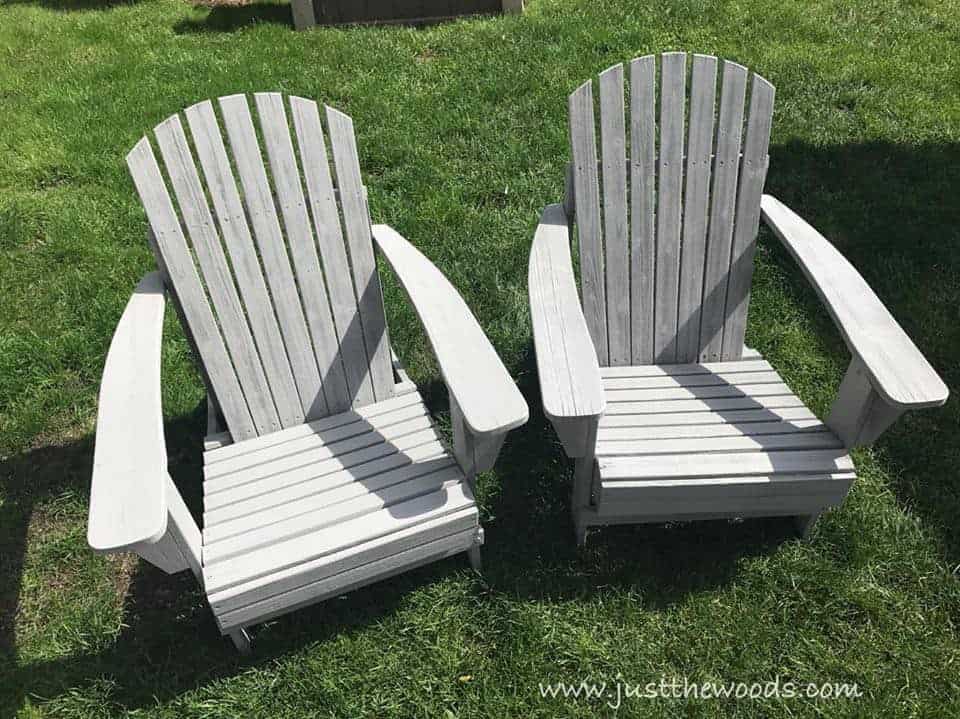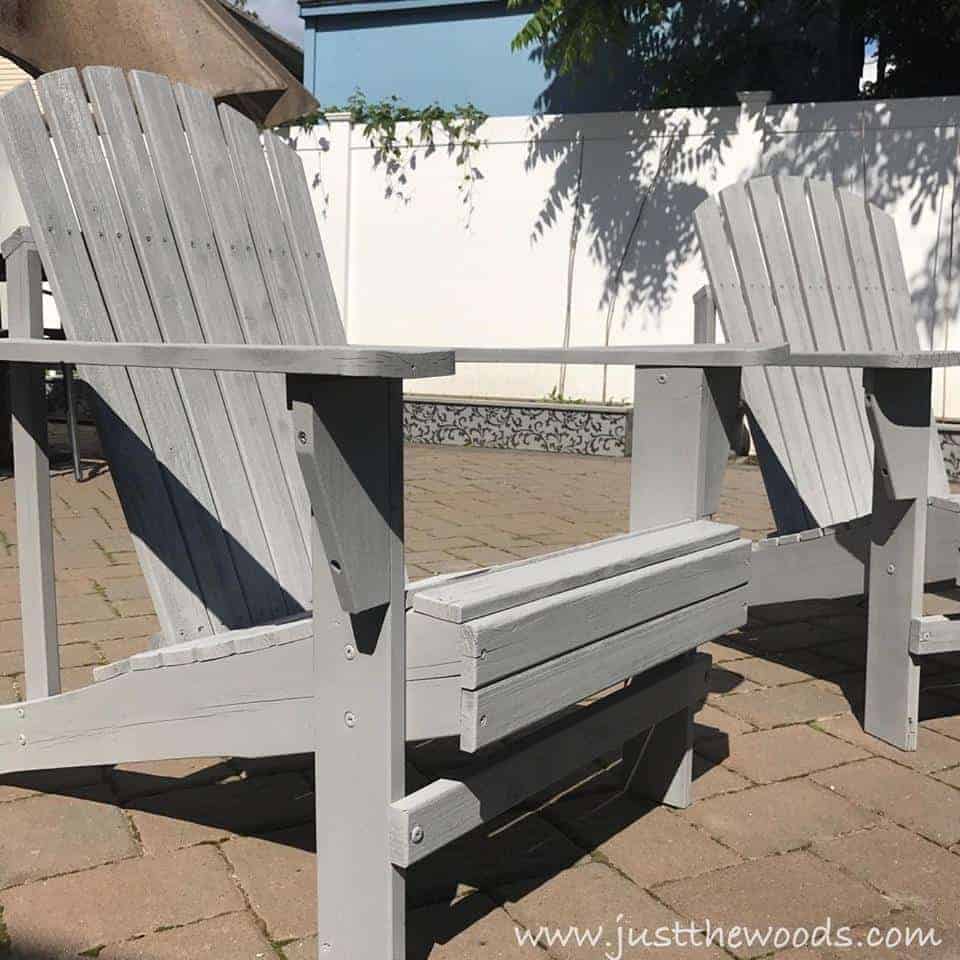 If you are unsure of how to clean your paint sprayer when done then make sure to check out How to Clean a Paint Sprayer.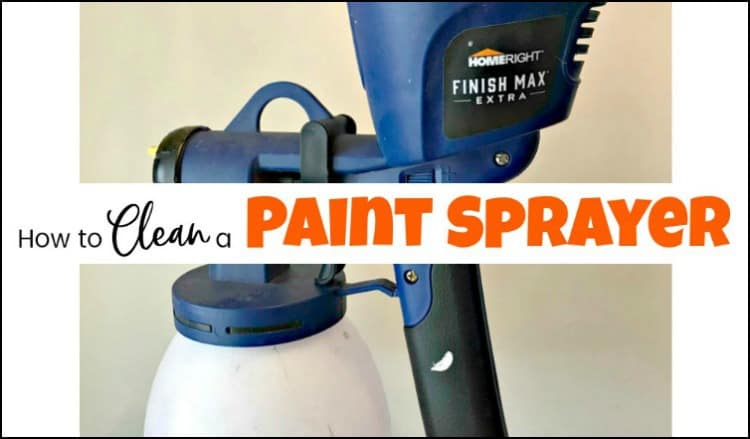 As Good As New
Back in their place in front of the chiminea and a welcome spot to enjoy an evening fire.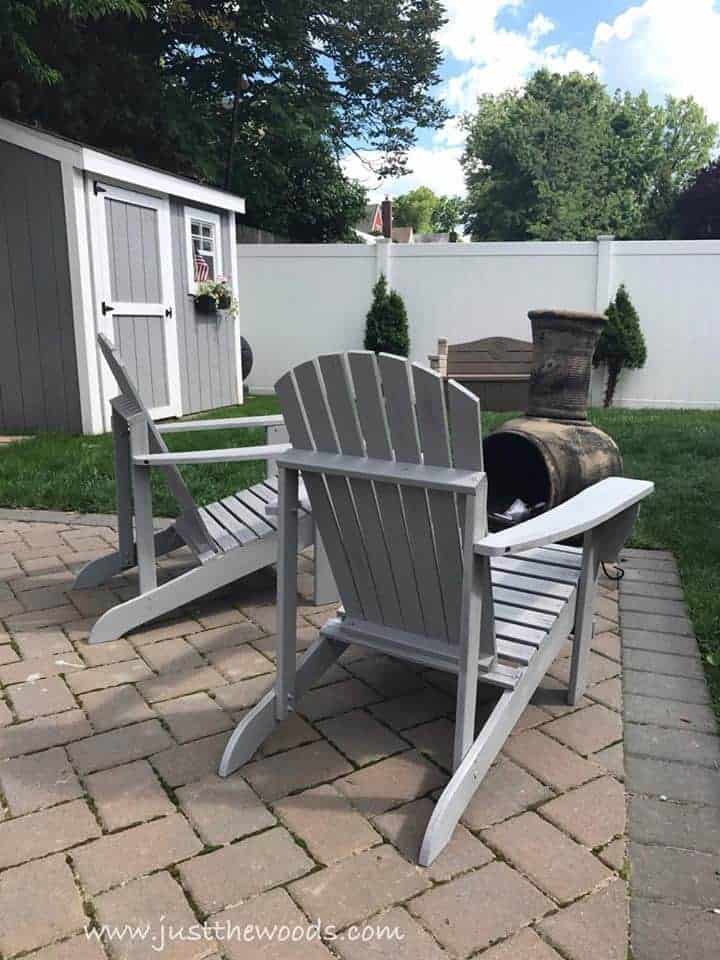 [clickToTweet tweet="How to use the @HomeRight Finish Max Extra to paint outdoor Adirondack chairs. #ad #spon " quote="Spread the word, there's a new paint sprayer in town"]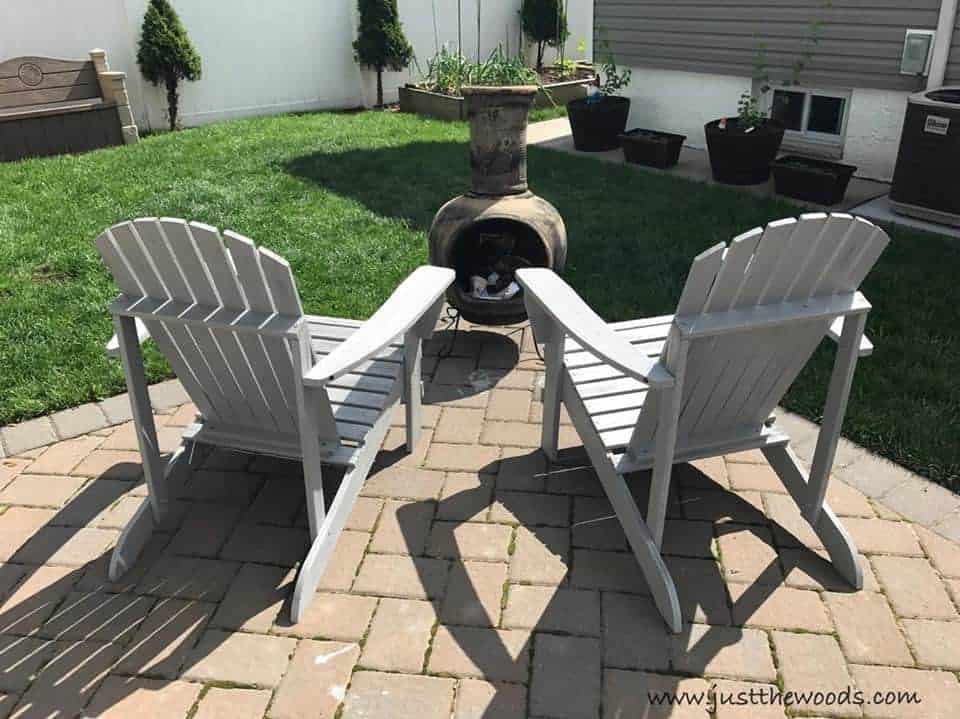 Once the kids are in bed and the sun starts to go down its time to relax.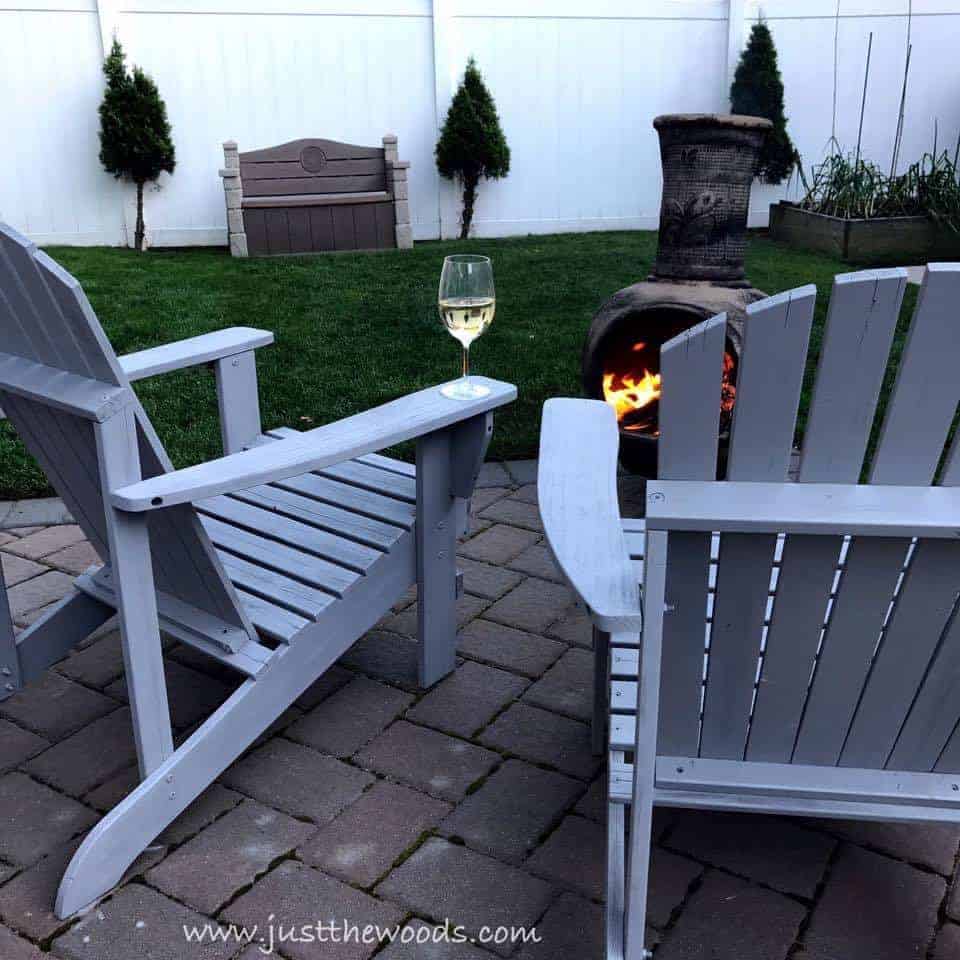 And a quick FYI about clean up, it is as easy to clean as it is to use. The Finish Max Extra comes with a little brush that helps clean the sprayer along with a bit of soapy water. Easy peasy. If you'd like to get your hands on a brand new HomeRight Finish Max Extra you can find them HERE. HomeRight carries a wide array of awesome DIY tools that can be found online.  


Thrifty Chicks
A few of my creative and talented blogger friends and I have joined together in a monthly Thrifty Chicks project share.  We get together on the second Wednesday of each month ???? and will have a theme for each months project. This month we are focusing on chairs. Let's see what my friends are up to! Make sure to click the links below the image to check out all the amazing projects that my bloggy girls are working on this month.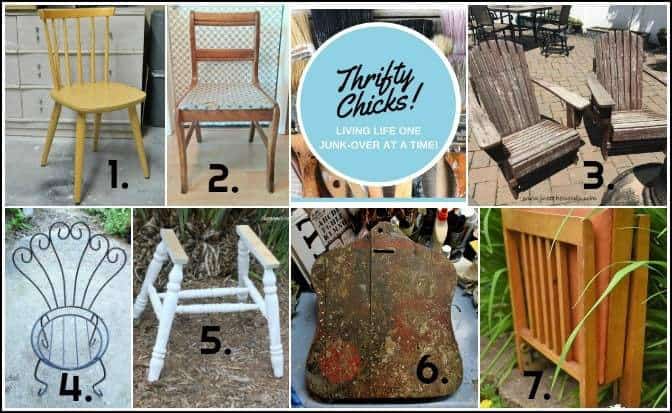 The Interior Frugalista – Playful Scandinavian Half Painted Chairs
Little Vintage Cottage – Repurposed Dining Chair
Just the Woods – Painting Outdoor Adirondack Chairs with HomeRight Finish Max Extra
Thrifty Rebel Vintage – Repurposed Chair to Bird Feeder
Shoppe No. 5 – What Can You Make with an Old Chair
Adirondack Girl at Heart – How to Turn an Abandoned Chair Seat into a Farmhouse Sign
Lora Bloomquist – Leg-o-Matic Chair Refresh
I'll be sharing this post at these fabulous link parties.
Don't Forget – Follow Just the Woods and Share this post to Inspire others:
FACEBOOK  *  INSTAGRAM  *  PINTEREST
Subscribe to our mailing list here:
PINTEREST PIN READY TO SHARE