DIY Christmas decorations are so fun to make. You can make your own easy DIY Christmas decorations with just a few simple supplies. When it comes to Christmas decoration ideas you don't have to spend a fortune either. These can easily be done on the cheap. If you have an old sweater then you can easily make this upcycled sweater craft. This project is a super easy and super cute way to use old sweaters while being crafty and creative at the same time.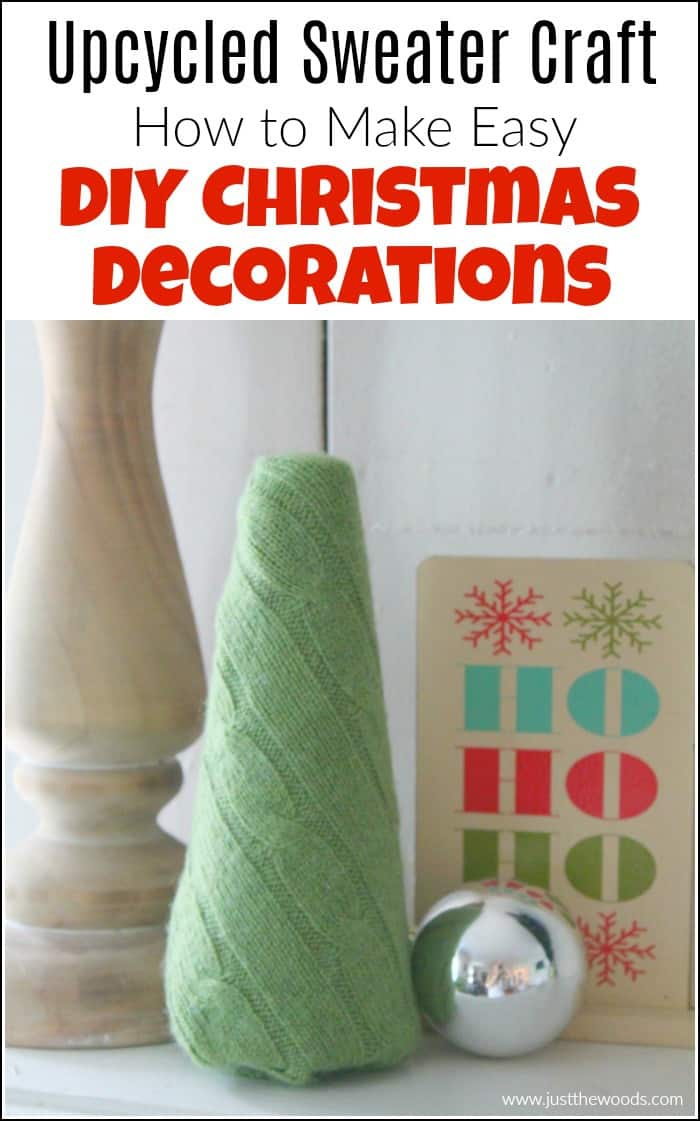 Disclosure: This upcycled sweater DIY Christmas decorations craft post contains affiliate links for your convenience. Click here for my full disclosure policy.

Supplies Needed for Homemade Christmas Decoration / Upcycled Sweater Craft
Materials Needed / Source List:
Tools
an old sweater (one you have laying around, or even from a thrift store)
styrofoam cone (find online

HERE

)
hot glue gun
scissors

Find all of my favorite tools and products on my

Amazon Page here
Upcycled Sweater DIY Christmas Tree
It always seems like when the weather cools down we break out our favorite jeans and cozy sweaters. But sometimes our favorite sweater no longer fits, or we have worn it so much that we can't wear it anymore. No worries, we can use old sweaters for creative and fun upcycled sweater crafts. Previously I shared how to make a cozy winter hat from an old sweater, how to make a fun DIY Fall wreath, and how to make a cute candle holder from an old sweater. Today I'm sharing how to make an easy DIY Christmas tree craft from an old sweater for simple DIY Christmas decorations.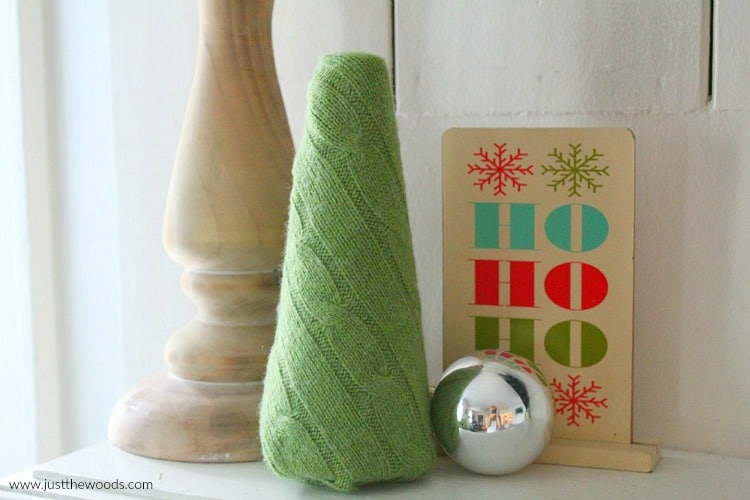 Directions:
First, let's gather our craft supplies.

Tips for choosing an old sweater

we used green, but you can use any color you wish.
Cable knit is best because it is thick and covers the foam well).
Look for old sweaters at thrift stores. You can usually find them for a buck or two! Or, use sweaters that no longer fit or have holes, stains, etc.

Also grab your scissors, styrofoam cone, and a hot glue gun. You should be able to find a styrofoam cone at your local craft store, or even the dollar store. But if for some reason you can't, you can also find them online

HERE

.
Begin by cutting a square of fabric from your sweater. Taking a 12×12 inch cut from the back or front panel is ideal.
Lay the cone flat at one end of the fabric. Next, roll the sweater fabric around the cone. Make sure to roll tightly as you go.
As you roll, carefully fold some of the fabric over the tip of the cone and continue to wrap.
When wrapped tightly like this you will create a smooth top and you will also not need any glue at the top of the cone.
Once the cone is completely wrapped, carefully cut around the cone to remove the extra fabric. Don't worry if it isn't perfect, you will have the chance to trim again.
Use your hot glue gun to secure the seam of fabric on the side. Make sure to fold the fabric to create a clean seam prior to gluing. This seam will run completely from the top of the cone to the bottom.
Now, trim away any excess fabric under the cone. Fold any remaining fabric inward and secure with hot glue for a clean finish.
Easy DIY Christmas Decorations from an Upcycled Sweater
Your upcycled sweater Christmas tree is now ready to be displayed. You can easily make a few and use these cute sweater trees as display them on your mantel or anywhere in your home. DIY Christmas decorations using recycled materials is fun and easy.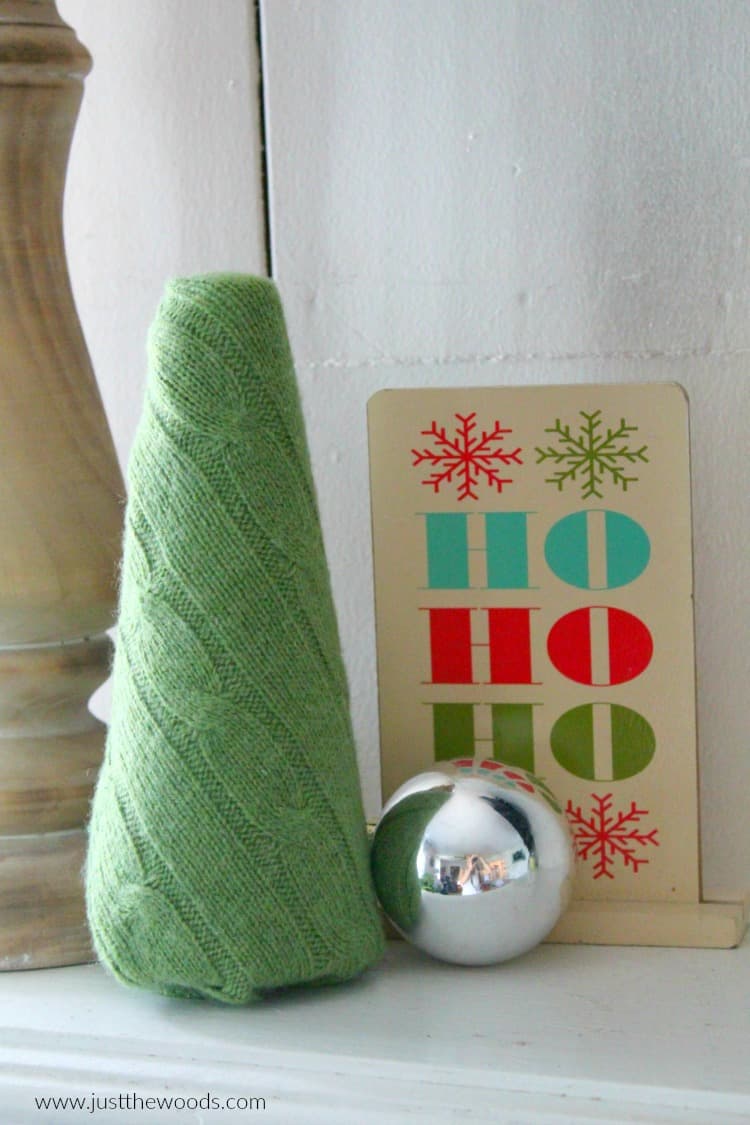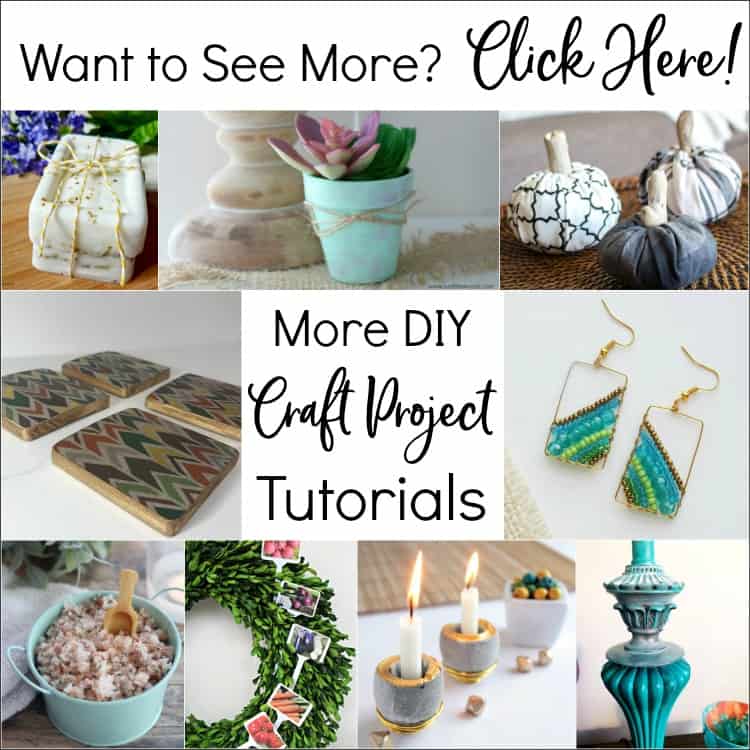 Don't Forget – Follow Just the Woods and Share this post to Inspire others:
FACEBOOK * INSTAGRAM * PINTEREST

Stay connected! For more tips and tricks sign up here :