How to Make the Best DIY Coasters with Gold Leaf. Create a unique gift with decoupaged wood coasters and gold leaf trim for the best DIY coasters to gift (or keep) 
DIY Coasters with Gold Leaf 
Once you know how to make DIY coasters you will always have an easy gift idea at your fingertips. These DIY coasters are not only easy to make but they also make the perfect hostess gift or even a teacher gift. Since we have numerous pieces of painted furniture in our home, we have at least 3 sets of coasters in our home because my family members tend to leave their drink glasses everywhere. The best thing about making your own handmade coasters is that you can make them completely different each time, making them totally unique. Have you ever considered making your own DIY coasters with decoupage and gold leaf?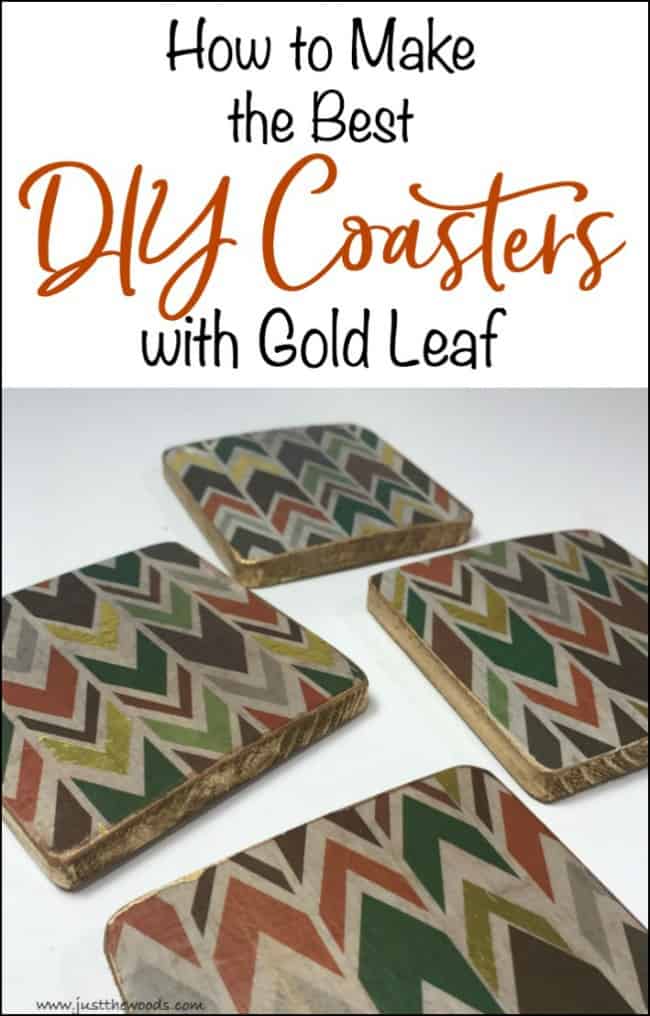 Disclosure: This post contains affiliate links for your convenience. Click here for my full disclosure policy. 
How to Make DIY Coasters
Materials Needed / Source List:
DIY Coaster Supplies
This simple project only requires a few simple supplies. The hardest part may be choosing your decoupage tissue for your coasters. If you love decoupage projects than you may find this Decoupage Supplies post helpful. But if you are just looking for decoupage tissue than you can find a wide variety (here) or decoupage napkins found (here).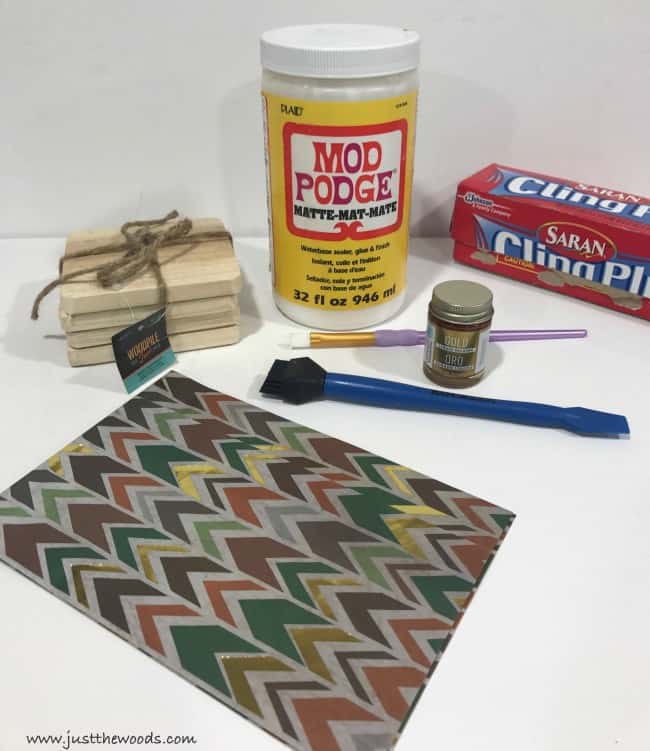 One nice thing about these unfinished wooden coasters is that they come with the safety rubber nubs on the bottom to prevent any scratches on your furniture. If you are working with coasters that are unfinished underneath (or with tile) then you can easily add felt to your DIY coasters to protect your furniture. You can find felt with adhesive backing (here)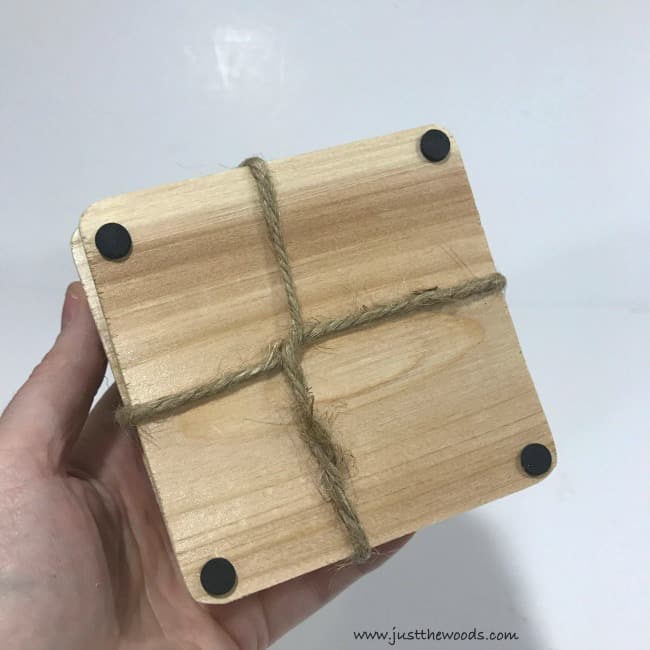 Adding Decoupage to Wooden Coasters
Now that you have your unfinished coasters and your decoupage print picked out let's grab our Mod Podge.
Using the handy little silicone glue brush apply a thin coat of Mod Podge to your wooden coaster. If you need a glue brush you can find them (here).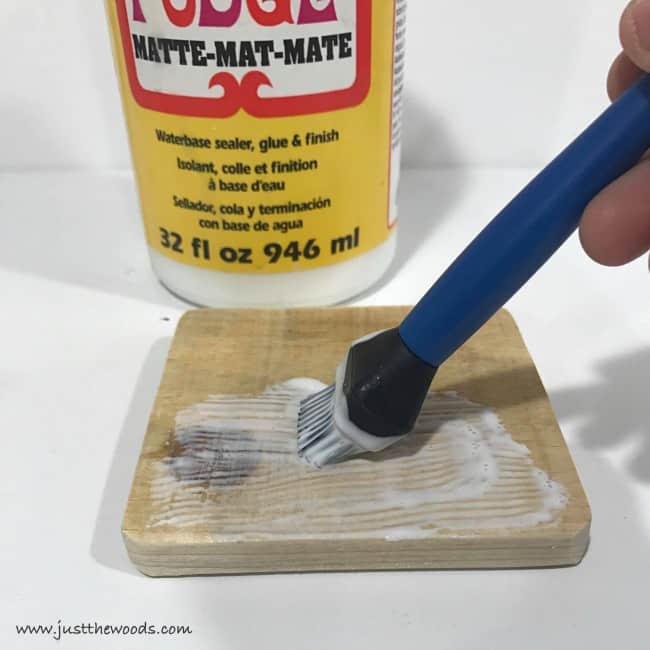 Next, place your decoupage tissue onto the wood coaster and smooth out with plastic wrap to remove any bubbles.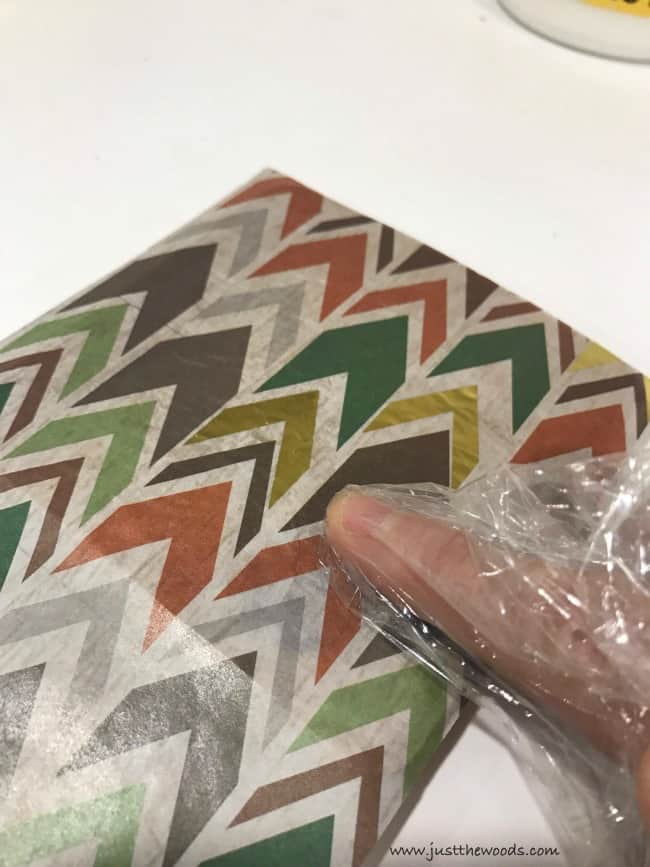 To get a clean edge on your DIY coaster go ahead and remove the excess tissue with a sanding block.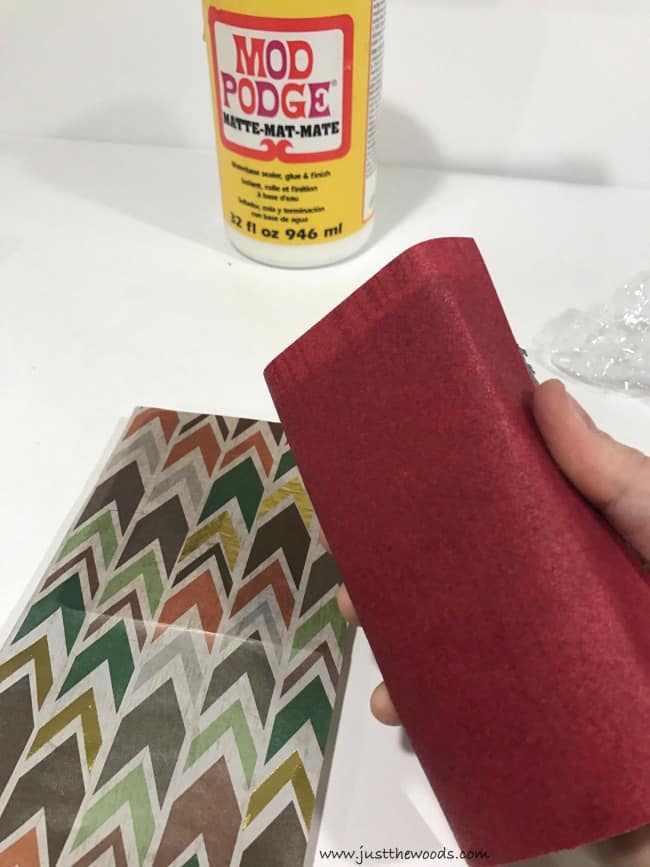 By sanding in a downward motion you 'tear' the tissue from the coaster leaving a clean edge.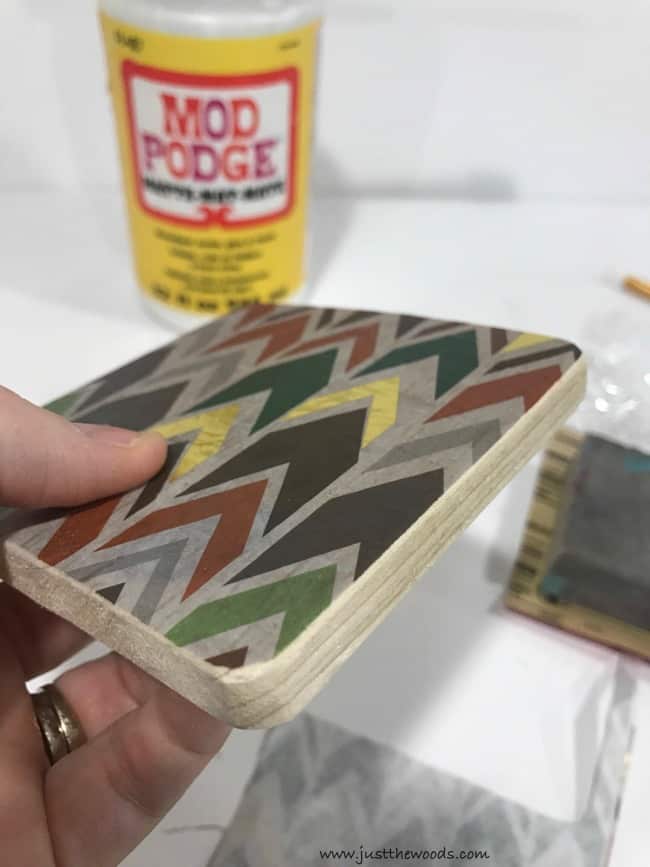 Repeat this same process for all of your DIY coasters.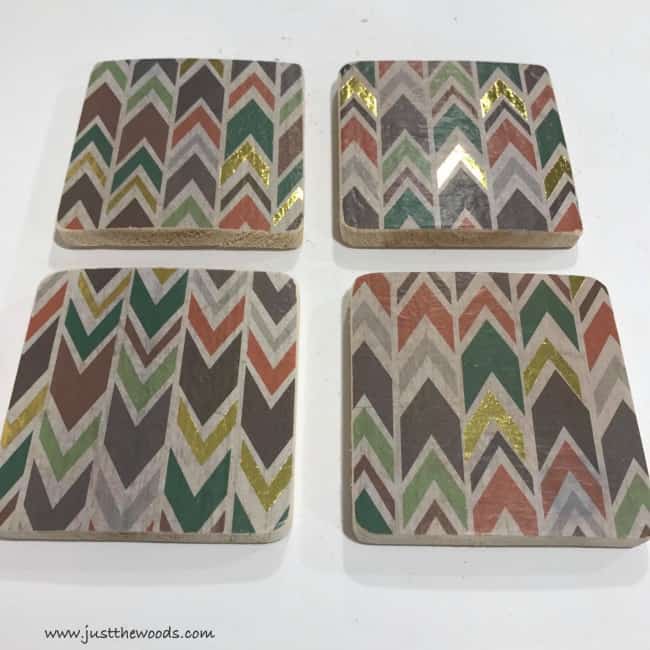 Adding Gold Leaf to DIY Coasters
Now that you have applied your decoupage to your DIY coasters its time to add a little glam to the edges. Since the arrow pattern features a few metallic gold arrows I am adding metallic gold leaf paint to the coaster edges.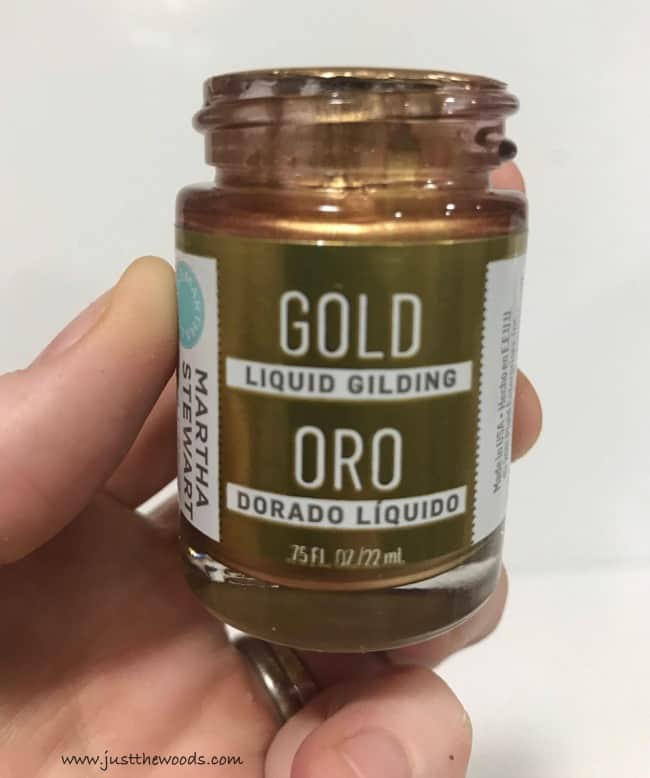 Using a small paintbrush carefully paint the sides of the DIY coasters. Because the wood is raw and unsealed the liquid gold leaf will absorb into the wood.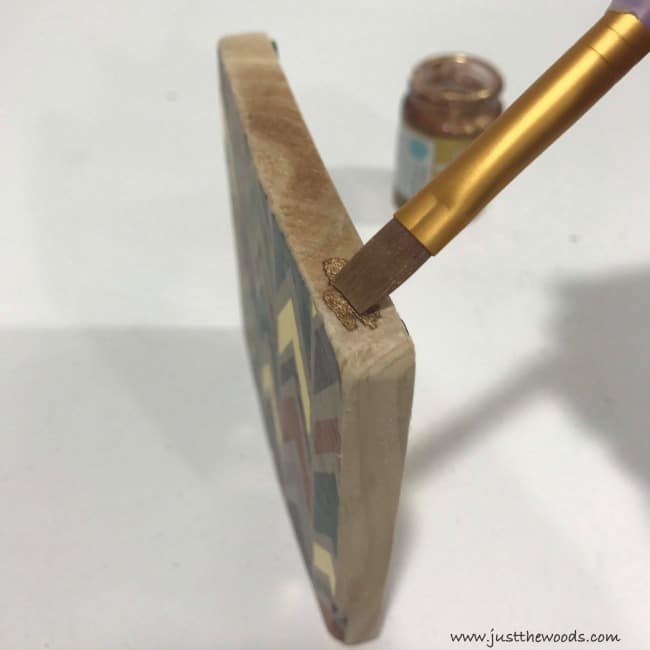 Once dry, the gold leaf adds a gorgeous unique touch to your DIY wood coasters.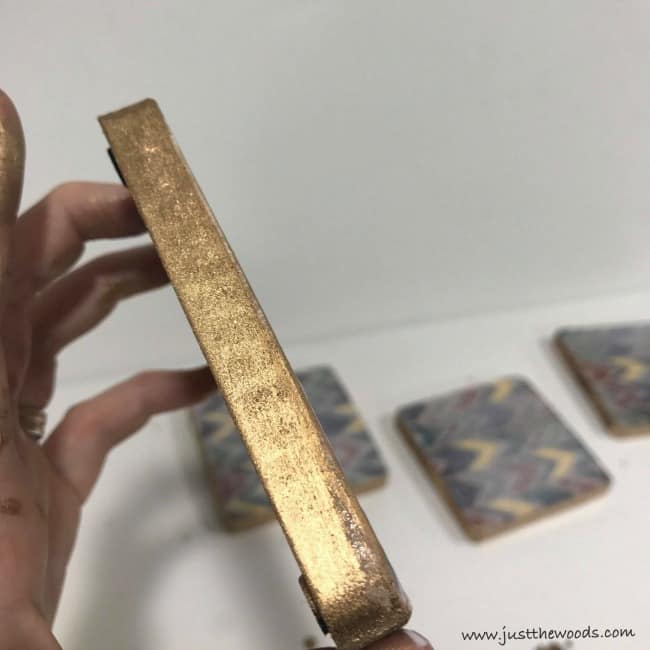 Seal Your Handmade Coasters
You want to make sure to seal your handmade coasters. Go ahead and add another layer of Mod Podge over your tissue.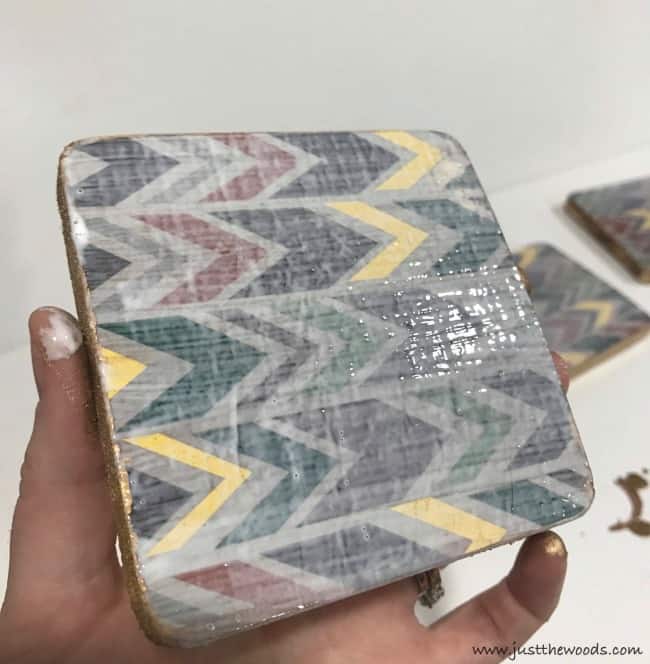 Once the Mod Podge is completely dry you can seal the handmade coasters with a clear sealer. I'm sealing with Gator Hide by Dixie Belle because it is a clear sealer that also repels water. You can get Gator Hide (here)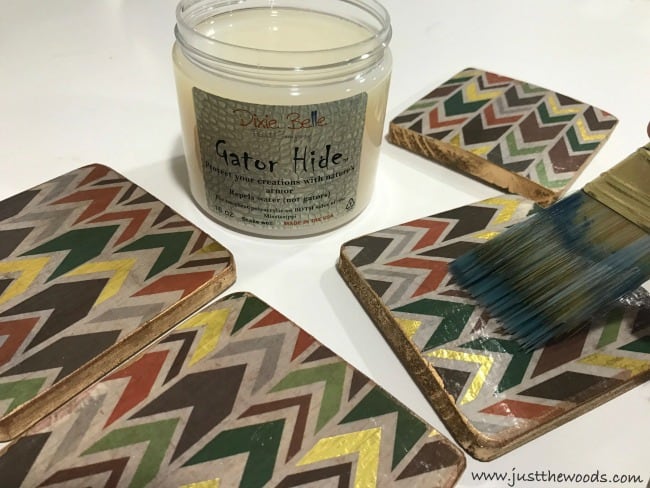 Handmade DIY Coasters with Gold Leaf
Once dry your handmade DIY coasters make the perfect gift, or you may want to keep them for yourself!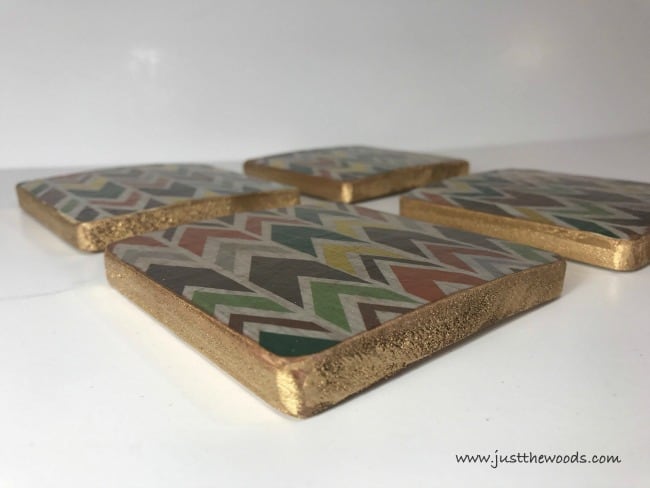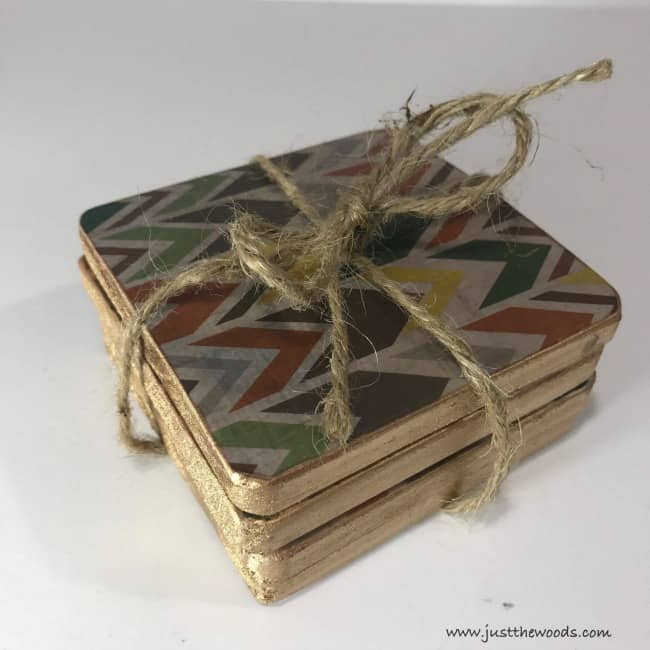 If you like this then make sure to check out all the other projects using metallic paint: Metallic Makeovers Or if you love the idea of homemade coasters but prefer not to do the work? You can find a wide variety of unique handmade coasters online (here)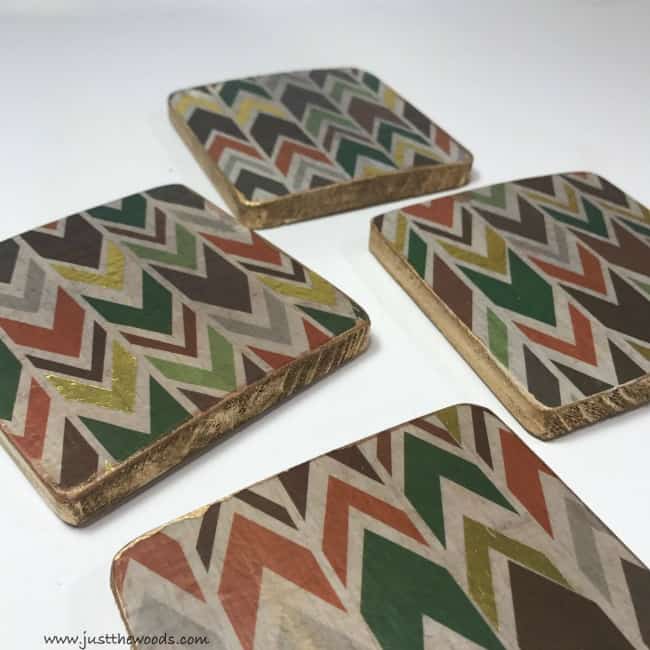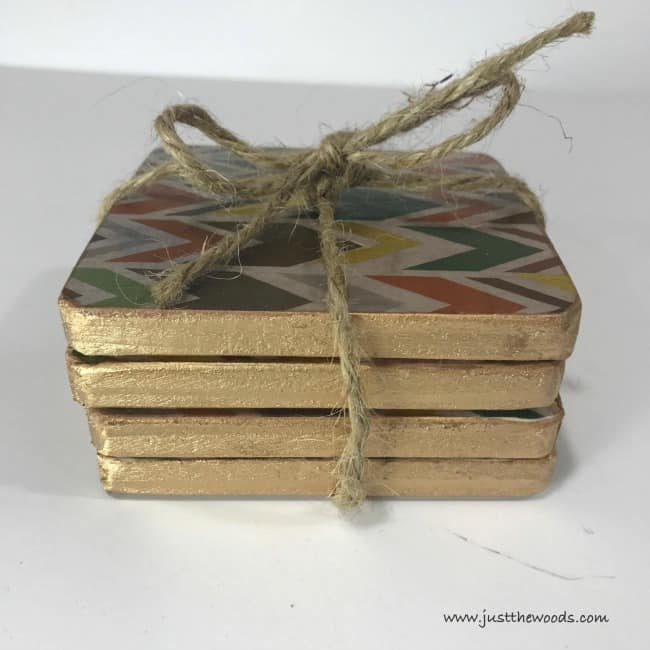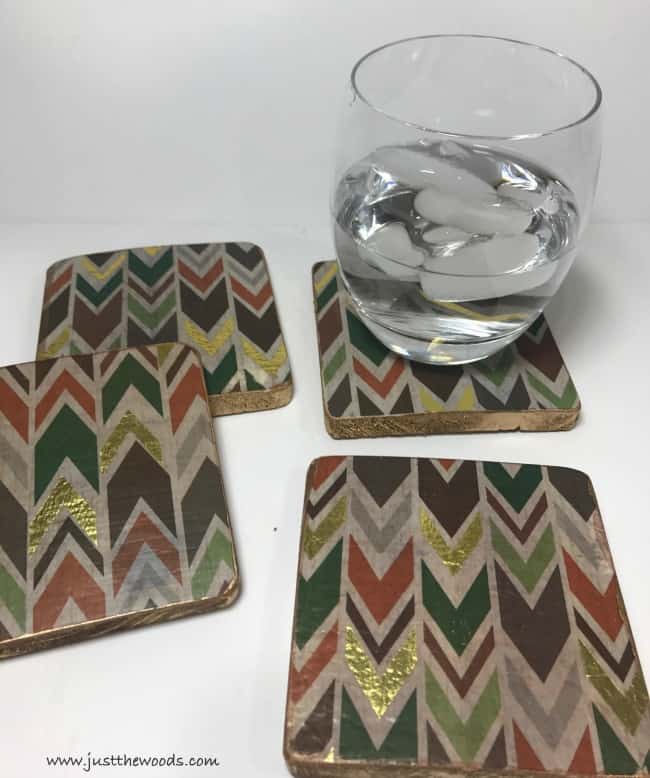 Second Version of DIY Coasters
These DIY coasters can also be made using the same process but you can use tile instead of wood. For example, these homemade tile coasters are made with travertine tiles and decoupaged napkin.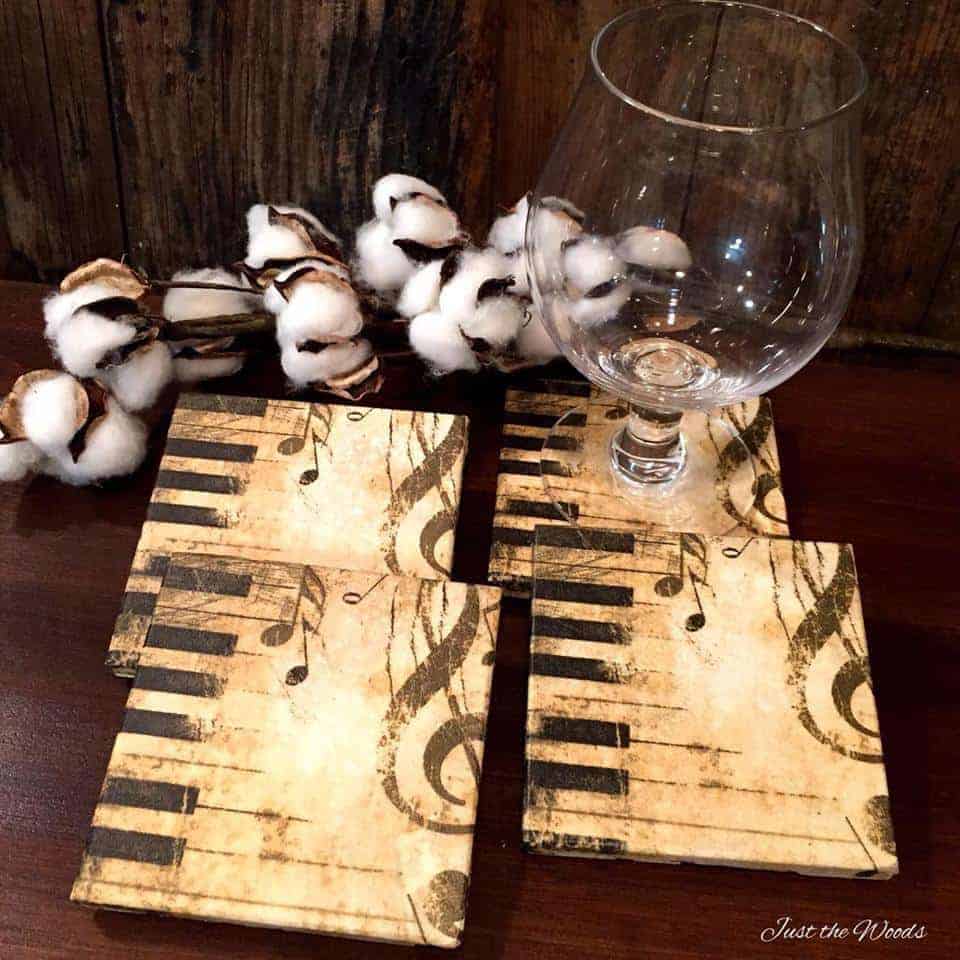 I'll be sharing this post at these fabulous link parties.
Don't Forget – Follow Just the Woods and Share this post to Inspire others:
FACEBOOK  *  INSTAGRAM  *  PINTEREST
 Stay connected! For more tips and tricks sign up here : 
Pin it!