Decoupage Supplies. When you want to know where to find decoupage supplies and what you need for decoupage projects. Decoupage materials found online.
Whether you are a furniture painter or a crafter if you love decoupage then you may wonder where to find decoupage supplies. Wouldn't it make life easier if there were a decoupage materials list for all decoupage supplies found online? Or better yet, a list of must-have decoupage supplies? Since I have quite a few decoupage painted furniture projects under my belt I'm giving you my must-have list.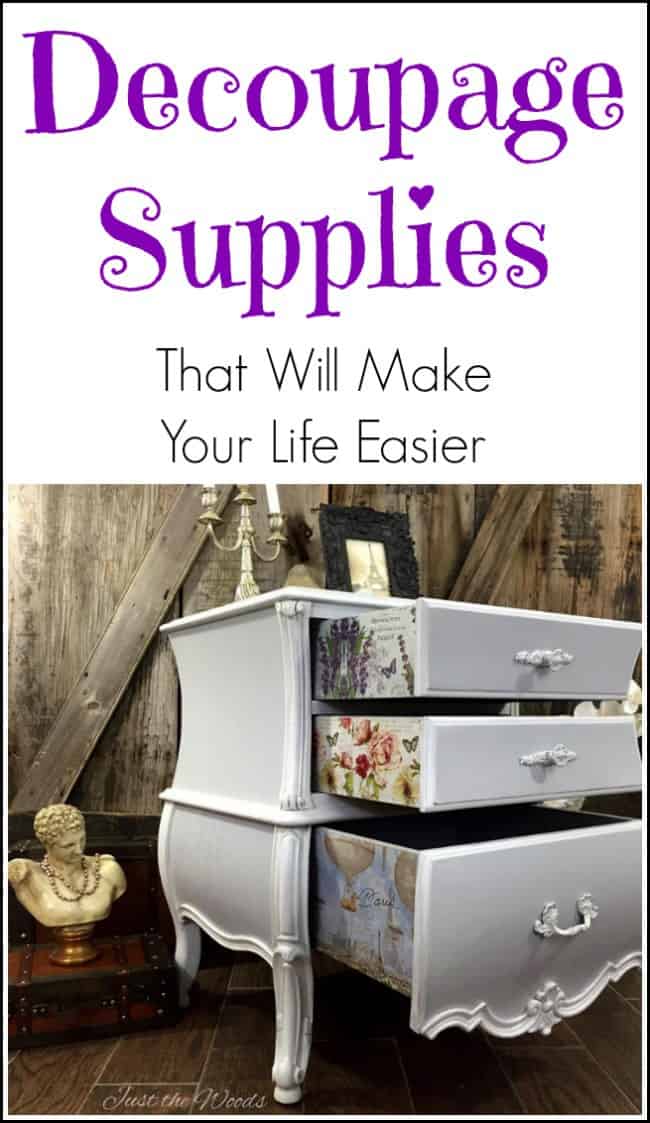 Disclosure: This post contains affiliate links for your convenience. Click here for my full disclosure policy.
Decoupage Supplies That Will Make Your Life Easier
For starters, when it comes to your decoupage tools and materials you will want to find you decoupage prints first. There is such a wide variety of types of decoupage materials to use from napkins, tissue, wallpaper, fabric, etc. Luckily you can order most of your supplies for decoupage right here online.
When looking for gorgeous decoupage napkins online for my painted furniture projects I tend to find them all (HERE) Click here for an example of painted furniture with napkin decoupage: Bombe Chest with Decoupage Drawers

Sometimes napkins may be too delicate to work with and you prefer decoupage tissue. Tissues are a fantastic alternative and a great decoupage material to use on your painted furniture and craft projects. Not sure where to buy decoupage paper online? You can find great quality decoupage tissue (HERE) I have also recently discovered this amazing online shop for decoupage tissue (HERE). Click here for an example where painted furniture is updated with decoupage tissue paper: Vintage Leather Top Desk
When working on a larger project using fabric for decoupage can create an amazing result. There is a wide variety of fabric for decoupage available online (HERE) Click here for an example of decoupaging with fabric: Peacock Blue Painted & Decoupaged Vanity

One more product that I enjoy working with is wallpaper. Specifically textured wallpaper. Using wallpaper for decoupage can add a feature that is both unique but also adds depth. To find where to buy textured wallpaper for decoupage click (HERE).

Decoupage Glue
When applying your decoupage print you will want to use decoupage glue to adhere the material to your project. There are a few options, and there are many individual brands of decoupage glue out there. I admit that I have tried a few, but I always come back to my one trusted Mod Podge. Not sure where to order your glue? You can order it online (HERE)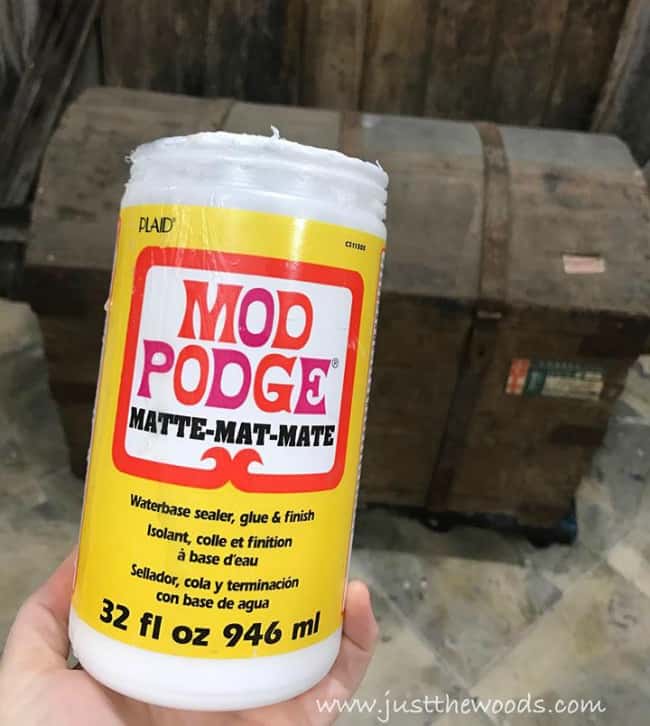 Applying Decoupage Glue
When applying your Mod Podge you can use a few different types of brushes. I recommend never using a nice, new, quality paintbrush. Rather, use an old, or cheap paintbrush. Another handy tool to apply Mod Podge is this Mod Podge applicator found (HERE) or this silicone glue brush applicator found (HERE). You can see the silicone brush in action on the video in this post where I use it to flatten the decoupage material and get into corners: Paint & Decoupage Furniture

Cutting Tools
When cutting and trimming your decoupage material it makes sense to have proper cutting tools with your decoupage supplies. Especially when you need clean precise cuts. A cutting mat will always come in handy for this. You can find them (HERE)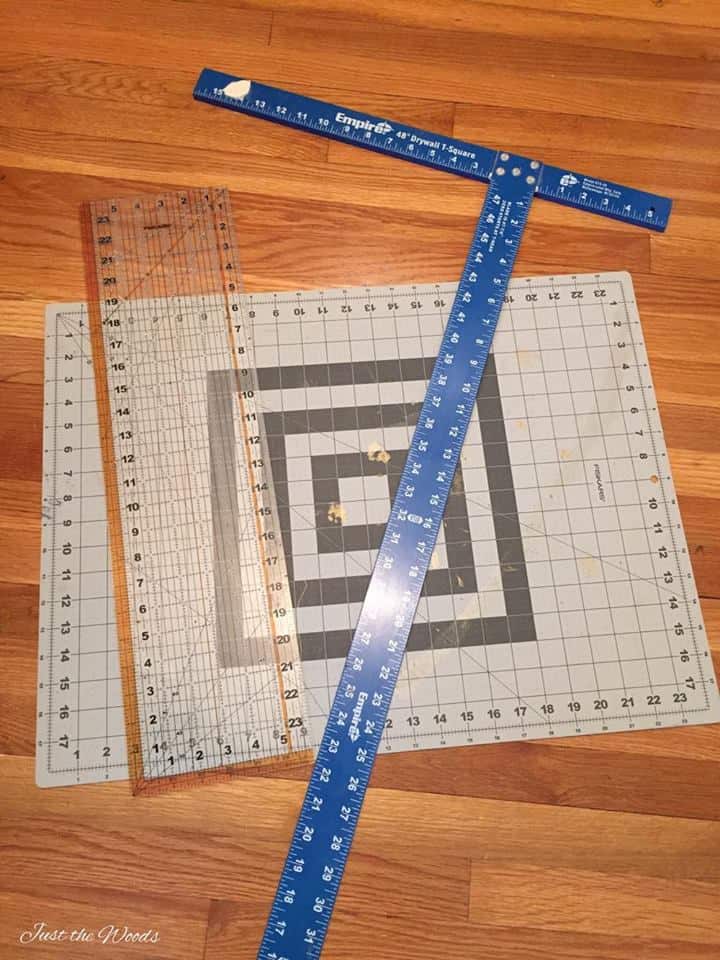 Now that we are talking about cutting, also make sure to get yourself quality scissors (here) and an Exacto knife (here)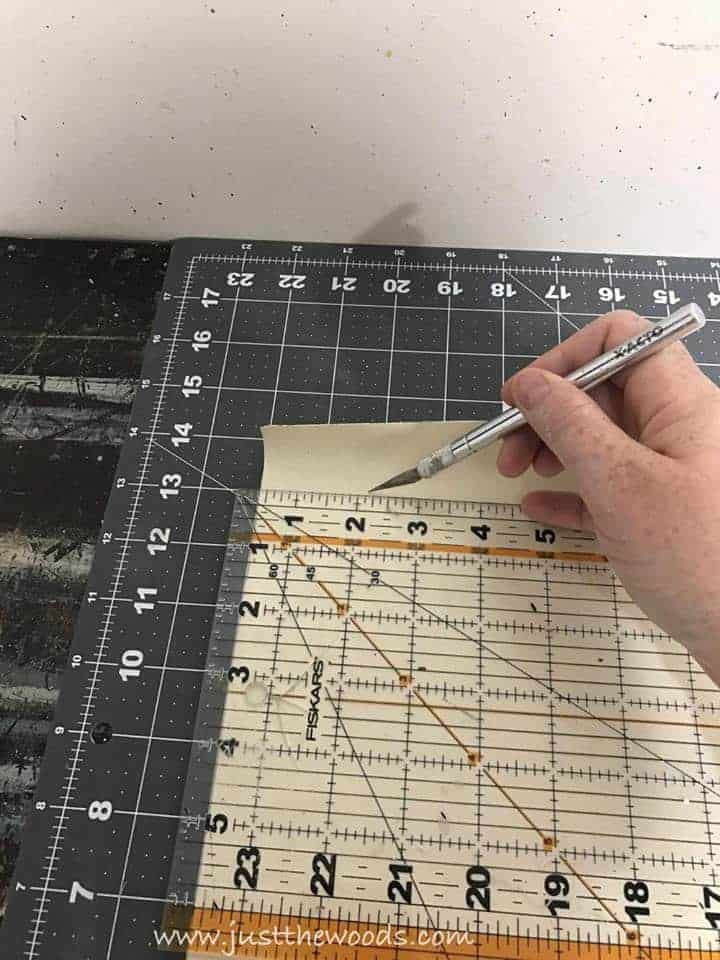 Clean Up Decoupage Materials
A few things just to make your decoupage project go easier are baby wipes for easy cleanup. When you get too much glue or drips, I find baby wipes the easiest to use for clean up. Personally, I use baby wipes a lot! Another handy item to add to your decoupage materials list is plastic wrap. The clear plastic wrap works well for rubbing your tissue/napkin/paper etc smooth without tearing.
Looking for decoupage ideas and inspiration? Make sure to stick around and check out all the creative projects found here: DECOUPAGE
If you like this post then you will also love The Complete Guide to the Easiest Image Transfers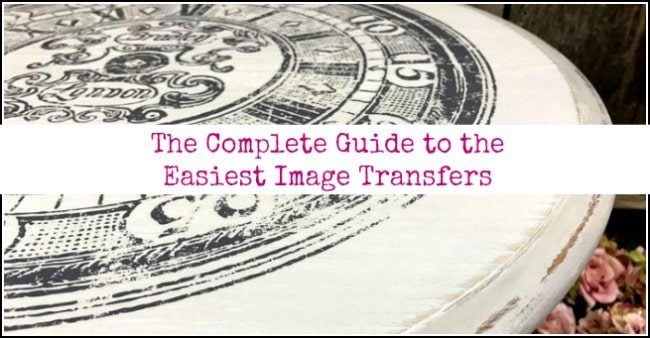 Don't Forget – Follow Just the Woods and Share this post to Inspire others:
FACEBOOK * INSTAGRAM * PINTEREST