DIY No Sew Curtains
These no sew curtains aren't just easy, they are super easy. It's safe to say that they may even rank as one of the easiest DIY projects you could ever tackle. These DIY curtains are so easy that you only need a few simple things to get them done. I'll give a quick back story on where we are using these super easy no-sew curtains. They are inside our no-frills rustic cabin. Welcome to our cabin in the Catskill Mountains.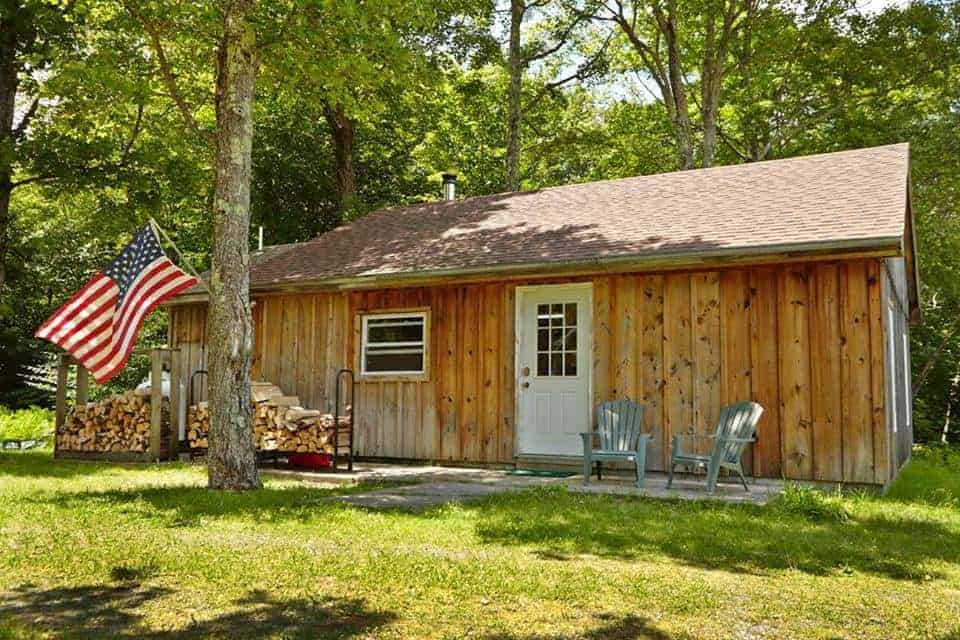 We bought this cabin a few years back from a couple of hunters who had all but abandoned it. It was NOT cozy at all, it was exactly what you would expect from a hunter's cabin. Over time we gave it our own personal touch and made it quite cozy on a budget. It's full of second-hand items and unique cabin decor. As you can see, it is rather dark inside with wooden walls, wooden planked floors, and a wooden ceiling. That's a lot of wood. Disclosure: This post contains affiliate links for your ceonvenience. Click here for my full disclosure policy.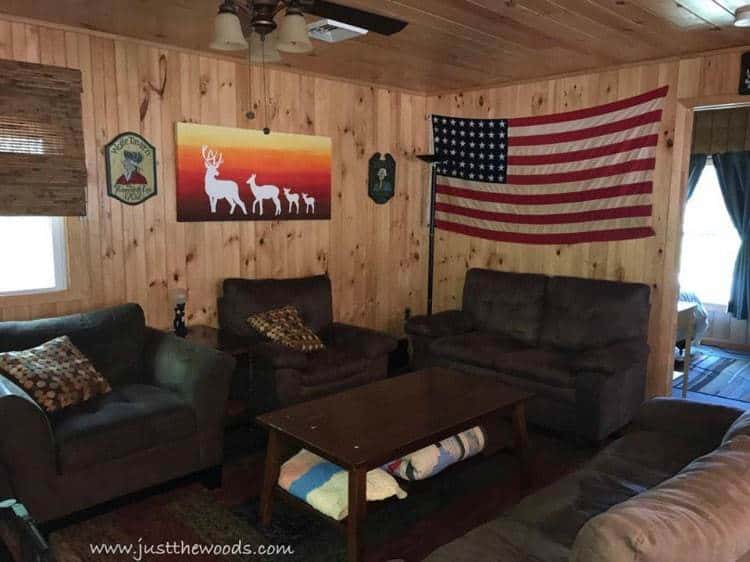 The original window treatments that came with the cabin are a type of roll up bamboo blinds, which was fine until they stopped working properly. Since we rent the cabin out seasonally on the weekends my temporary note saying "broken blinds please don't touch' on a postcard and stuck into the roll just wasn't cutting it. How embarrassing. We decided that it's time to replace the broken blinds and let a little more light in.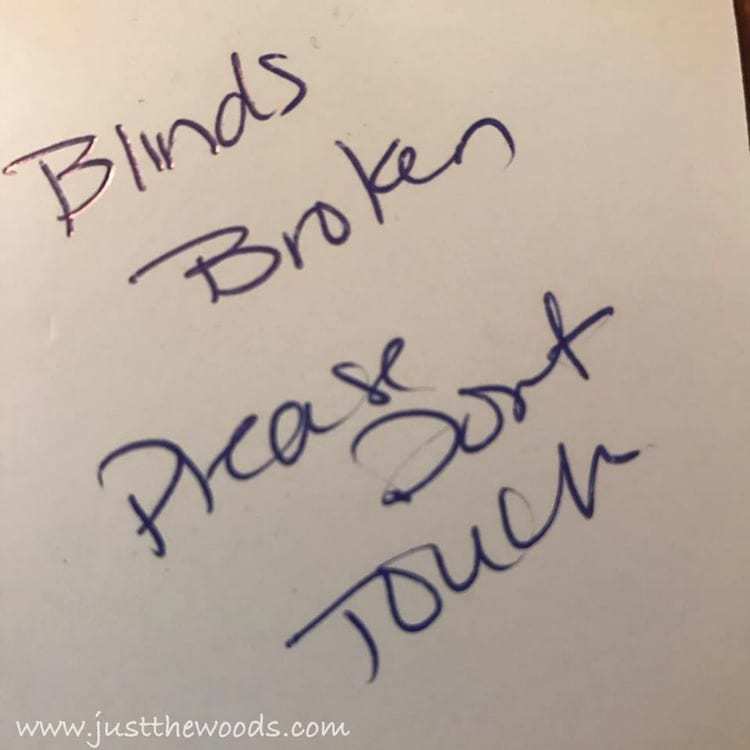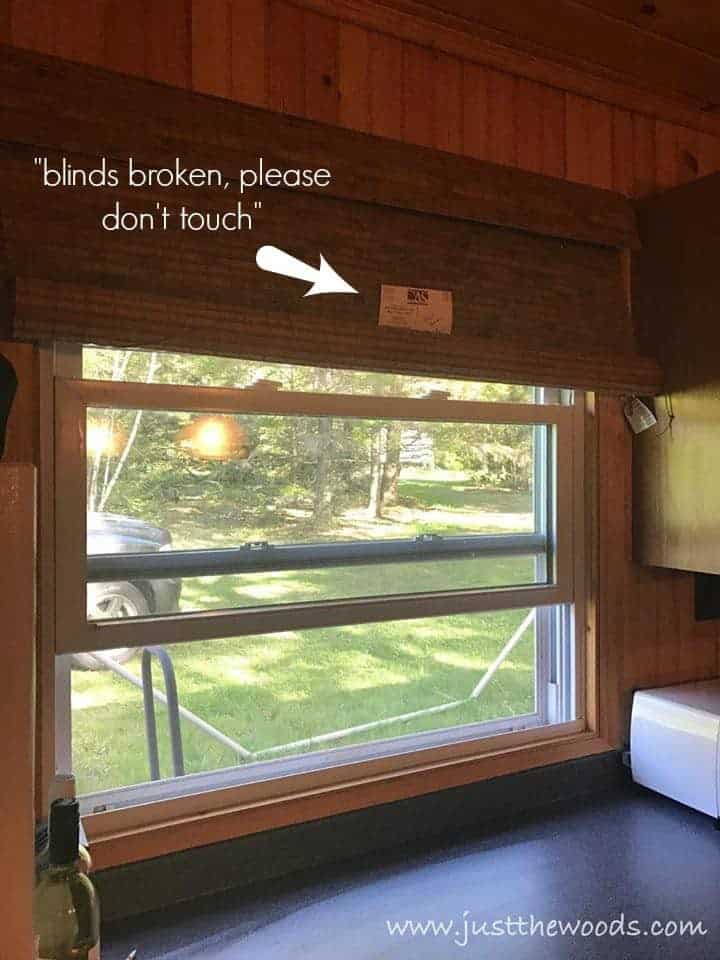 Super Easy DIY No Sew Curtains
Materials Needed / Source List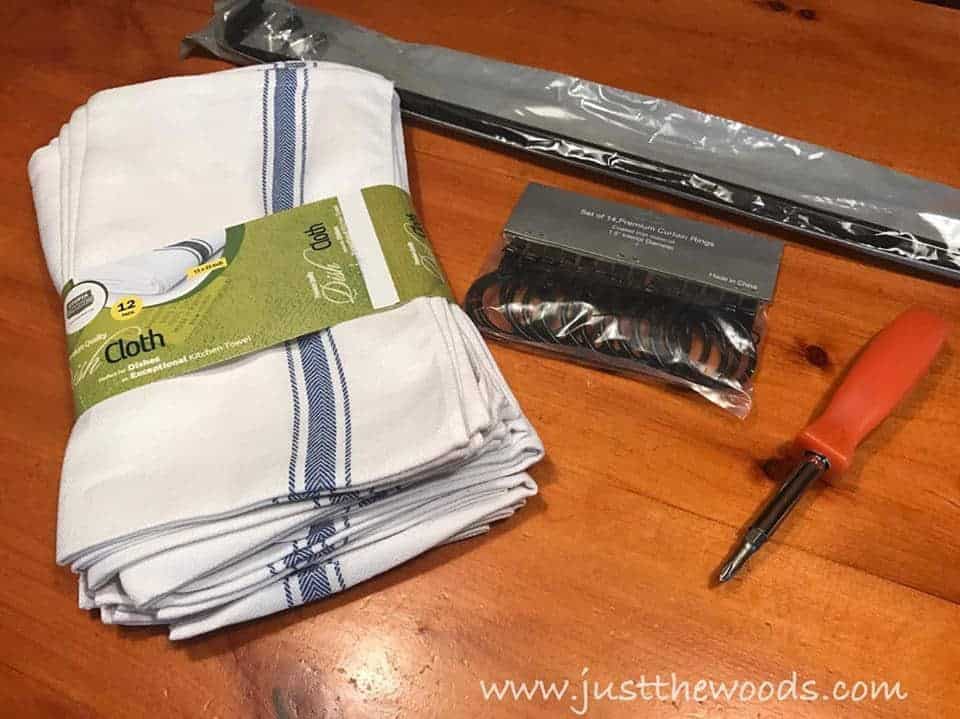 Installing Simple DIY No Sew Curtains
Supplies don't get much simpler than this! Once the old roll up bamboo blinds were removed I used the existing holes to install the brackets for the single curtain rod. Because it's in a cabin I wasn't too worried about an exposed hole in the wall.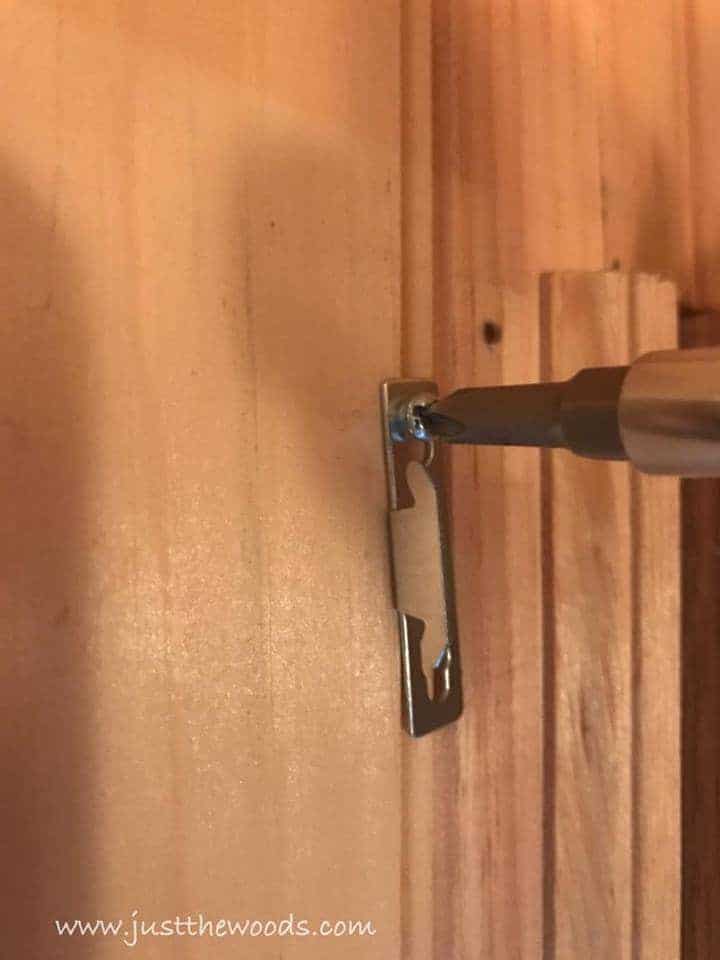 Since the dish towels come folded up you will most likely have visible folds or wrinkles.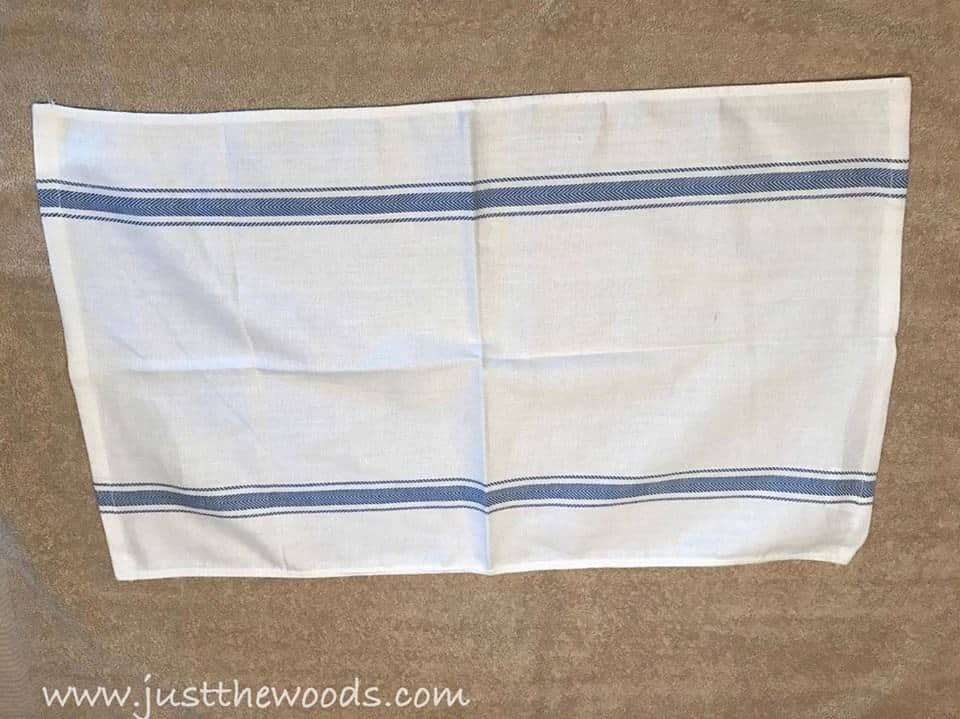 Since I'm ironing on the wooden kitchen table, I first placed a towel down to protect it. Then iron out all of the creases and folds in the dish towels because no one wants wrinkled curtains. The wooden table at the cabin was the first kitchen table that we built. We moved this table to the cabin when we built our current Reclaimed Barn Wood Farm Table.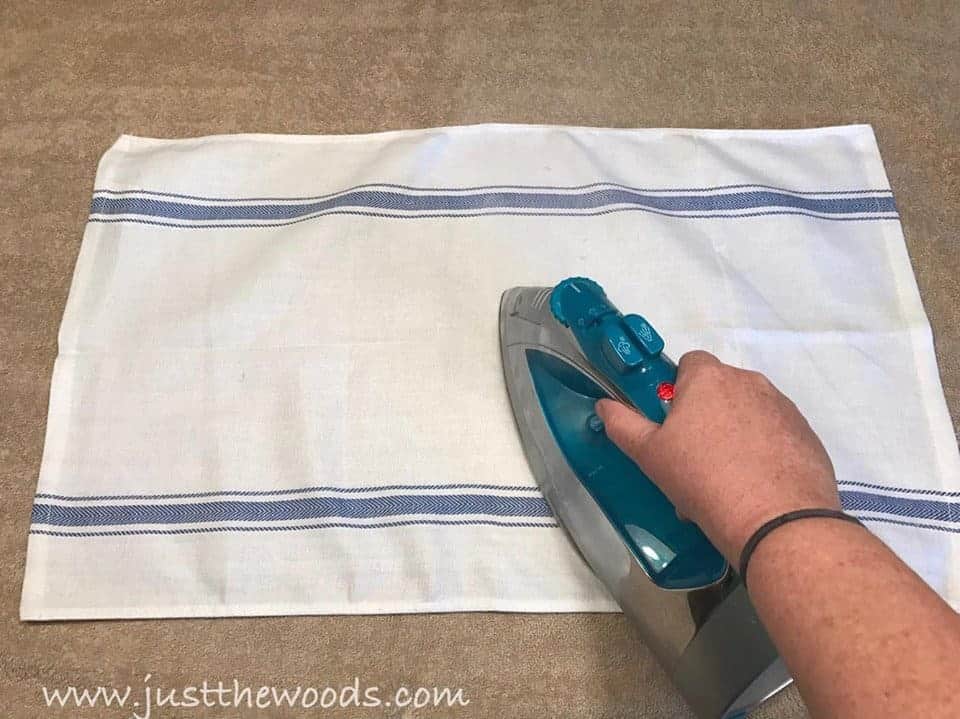 Hanging Your DIY Dish Towel Curtains
Now that your creases are gone grab those curtain clips and slide them all onto the curtain rod.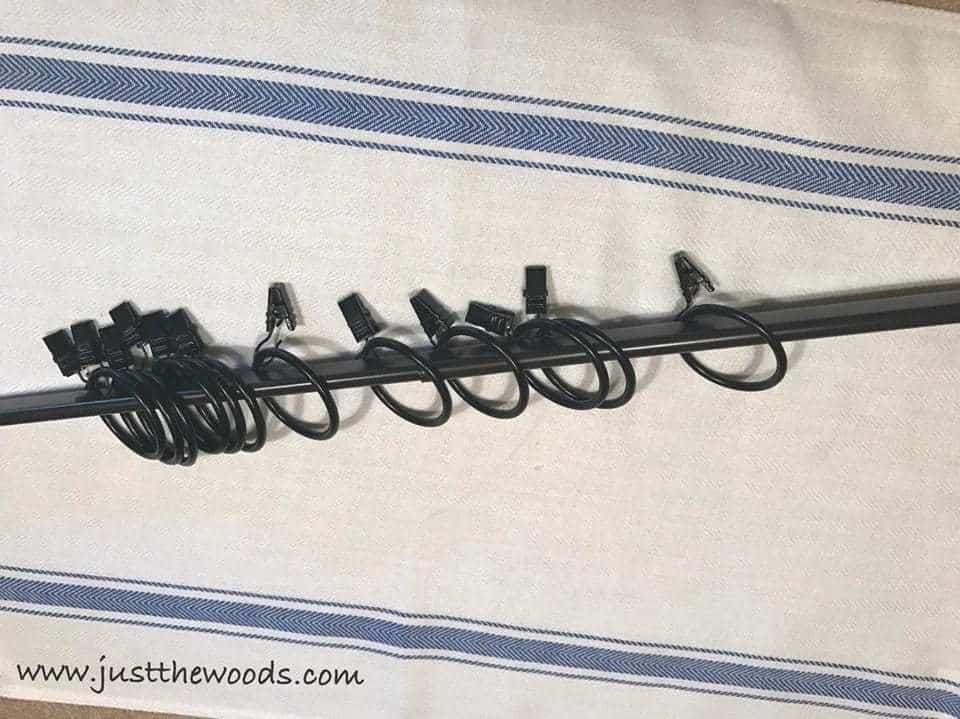 Next, attach your curtain rod to the hardware that you already mounted onto the wall and one at a time clip your dish towels. Easy peasy.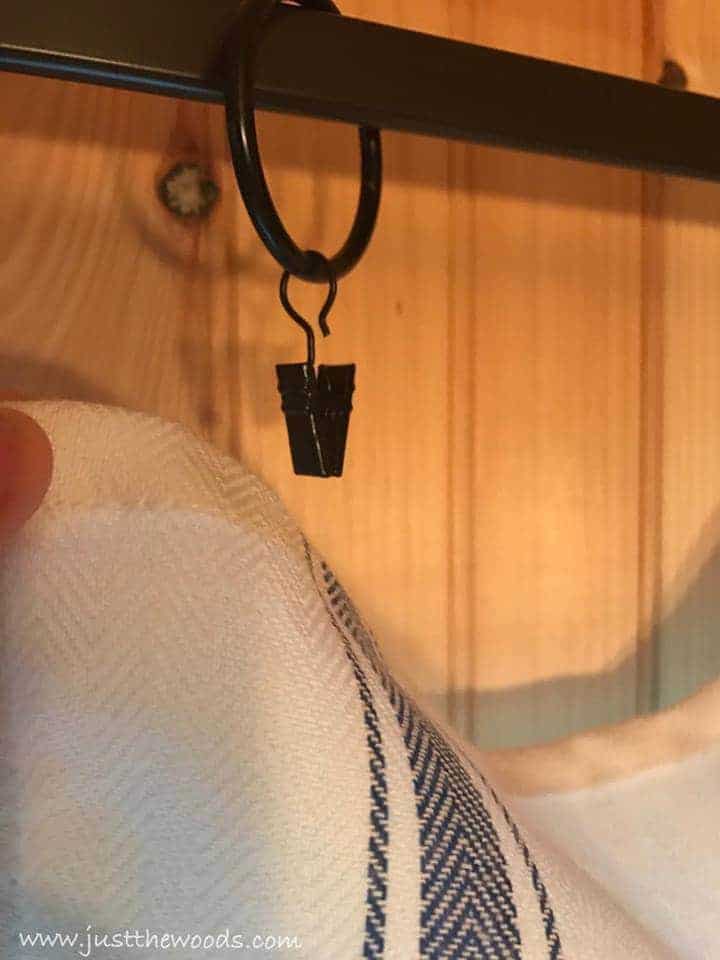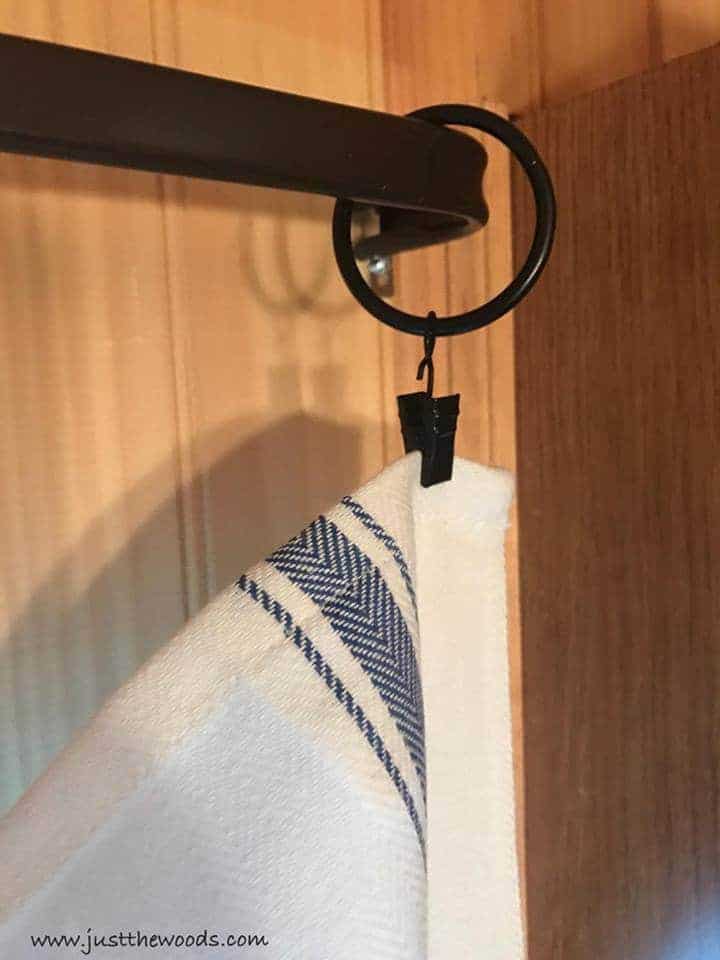 This window is in the kitchen area of the cabin and took 6 dish towel curtains to adequately cover the window without overcrowding it.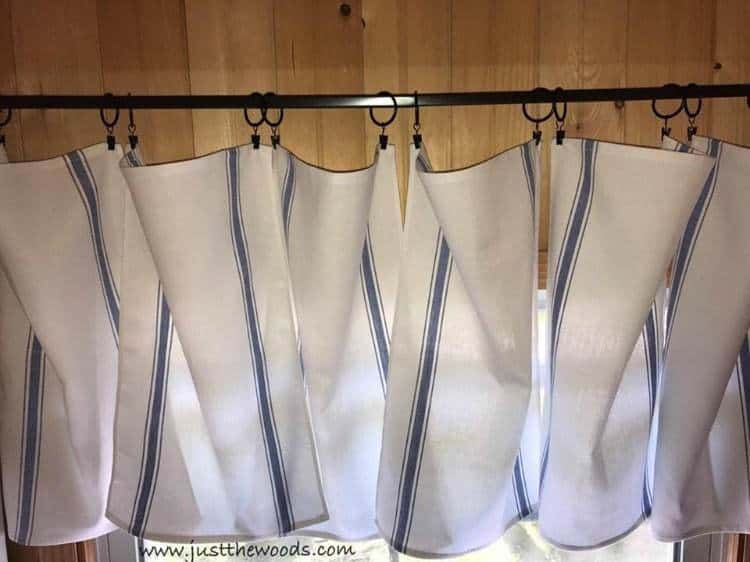 Easy No-Sew DIY Curtains
A few simple steps and we have quick and easy no-sew DIY curtains. It really is that easy.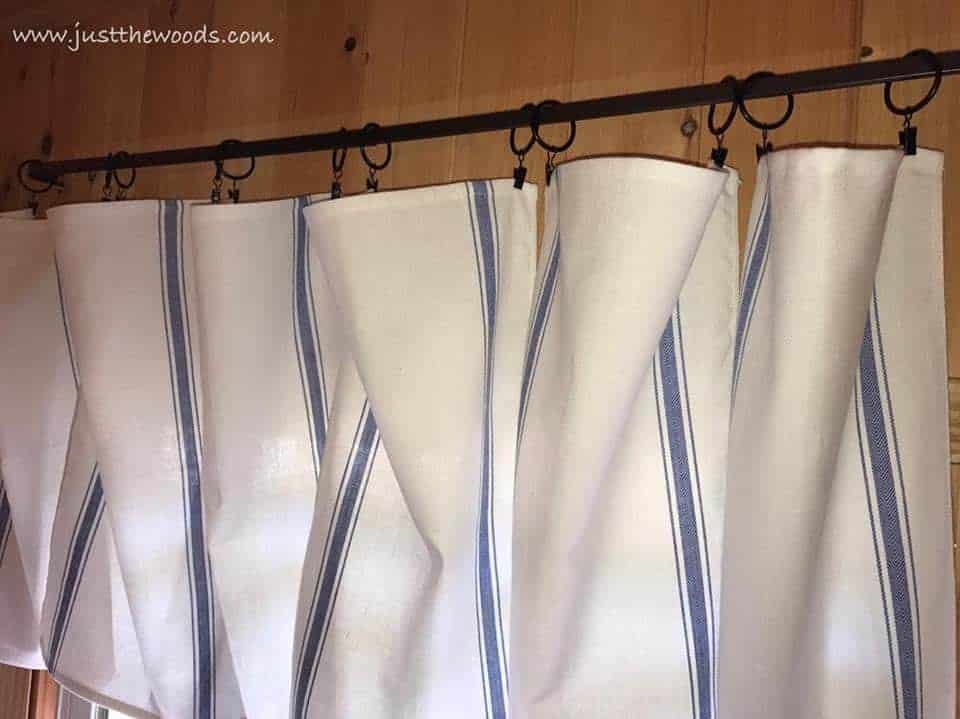 Yes, that is a vintage light up beer sign over the refrigerator, there's another over the stove! We like to call our decor style 'cabin-tastic'.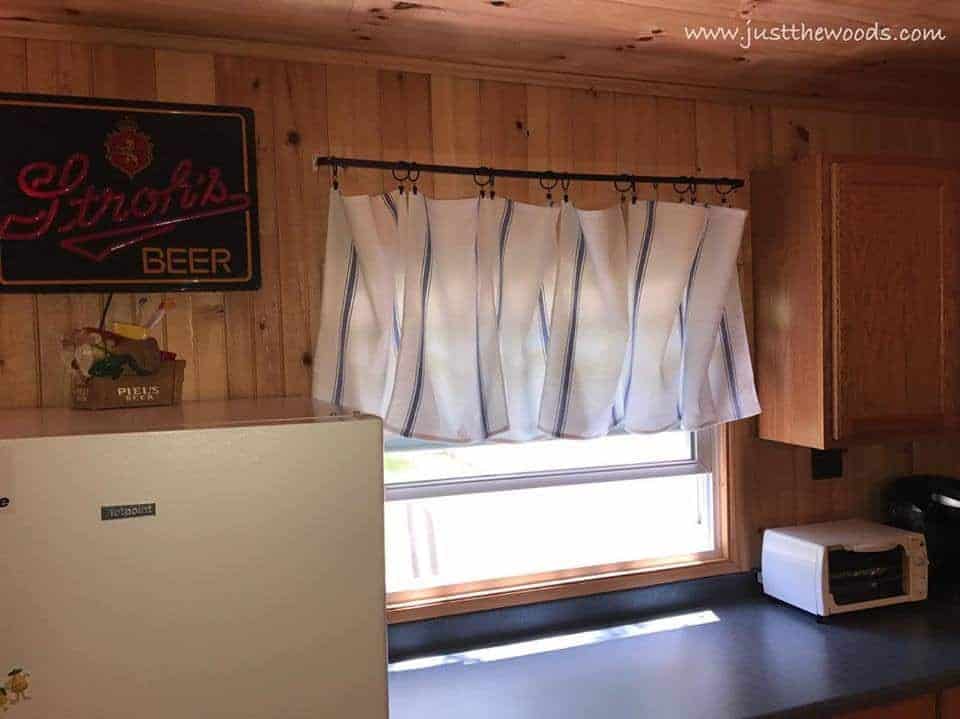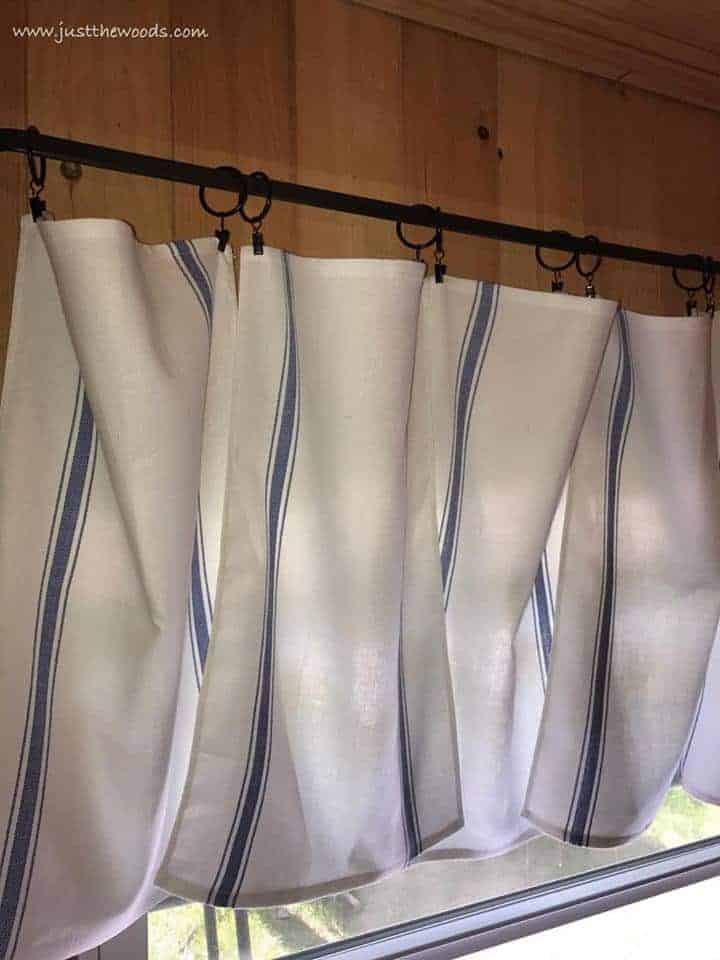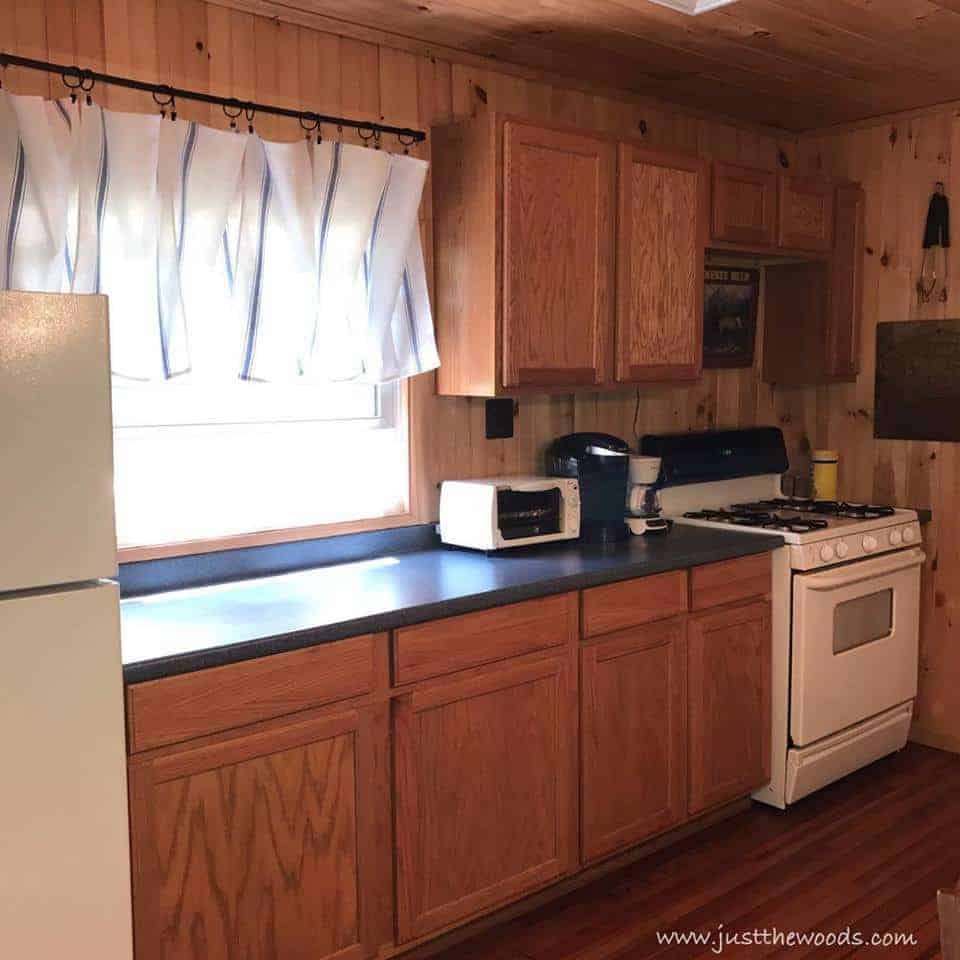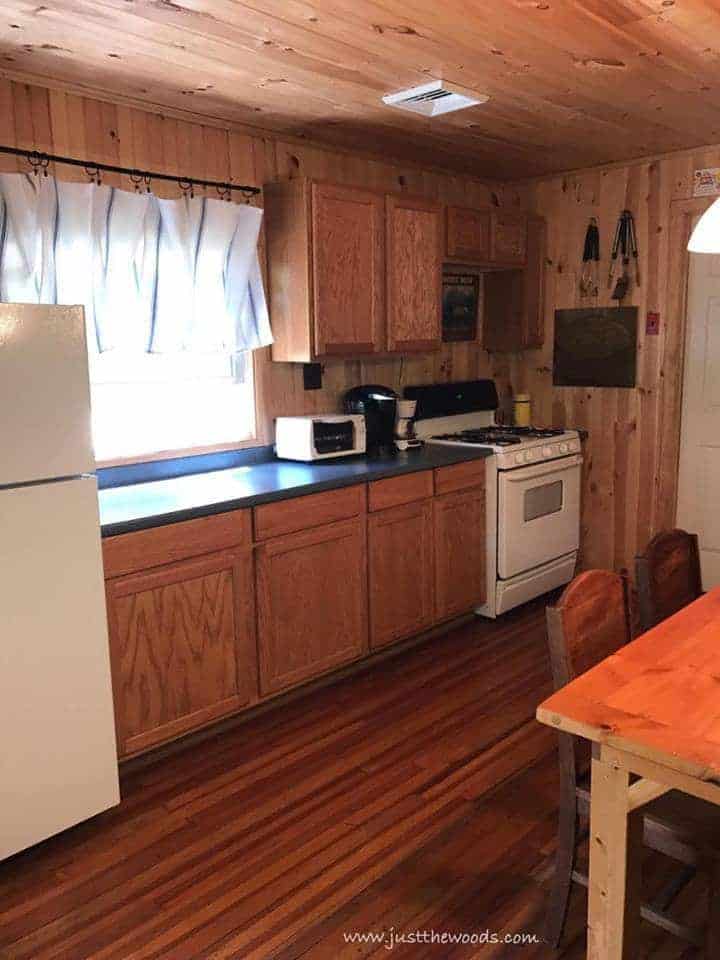 Cabin Life
We try to make it to the cabin at least once a month to get away from the hustle and bustle of the city. You can't beat the mountain air, the evening fires, and the gorgeous views. Feel free to find out more about our simple cabin HERE.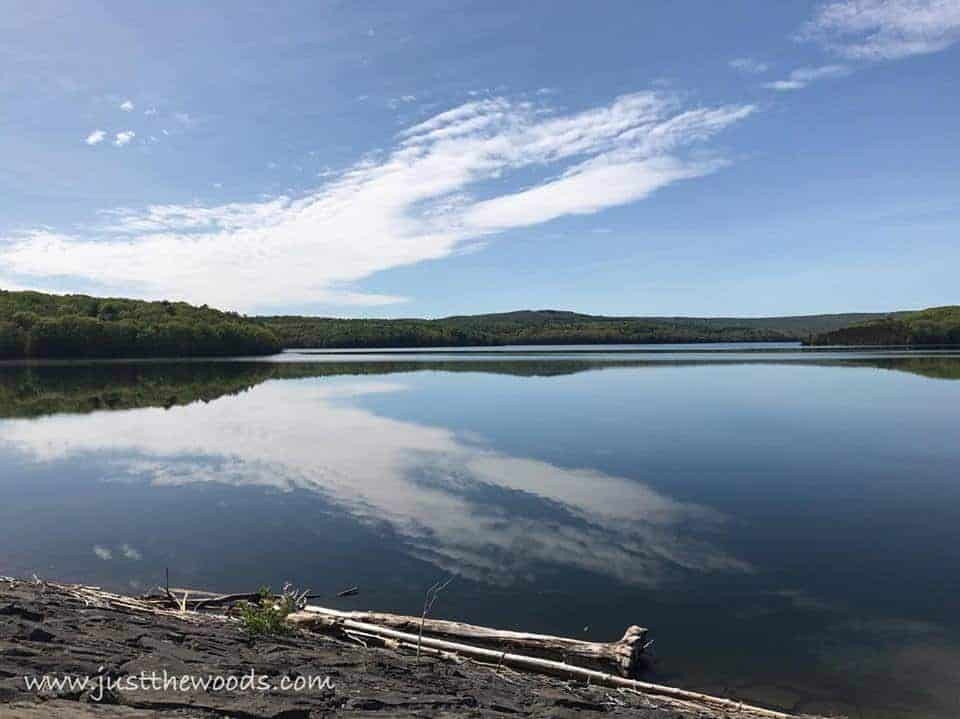 This trip we attempted fishing at the reservoir. Unfortunately, there wasn't a fish in sight, but that didn't really matter anyway.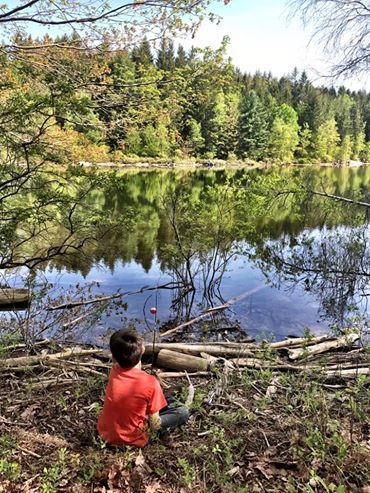 I'll be sharing this post at these fabulous link parties.
Don't Forget – Follow Just the Woods and Share this post to Inspire others:
FACEBOOK  *  INSTAGRAM  *  PINTEREST
Subscribe to our mailing list here:
PINTEREST PIN READY TO SHARE