DIY Reclaimed Barn Wood Table
In our home we build, we paint, we DIY, we compost, we garden, we take chances, we say bad words and build our own farm table from reclaimed barn wood. Oh boy. Often the 'team' projects with hubby and myself lead to bad words, but the end result is always worth the crazy in between.
Disclosure: This post contains affiliate links for your convenience. Click here for my full disclosure policy.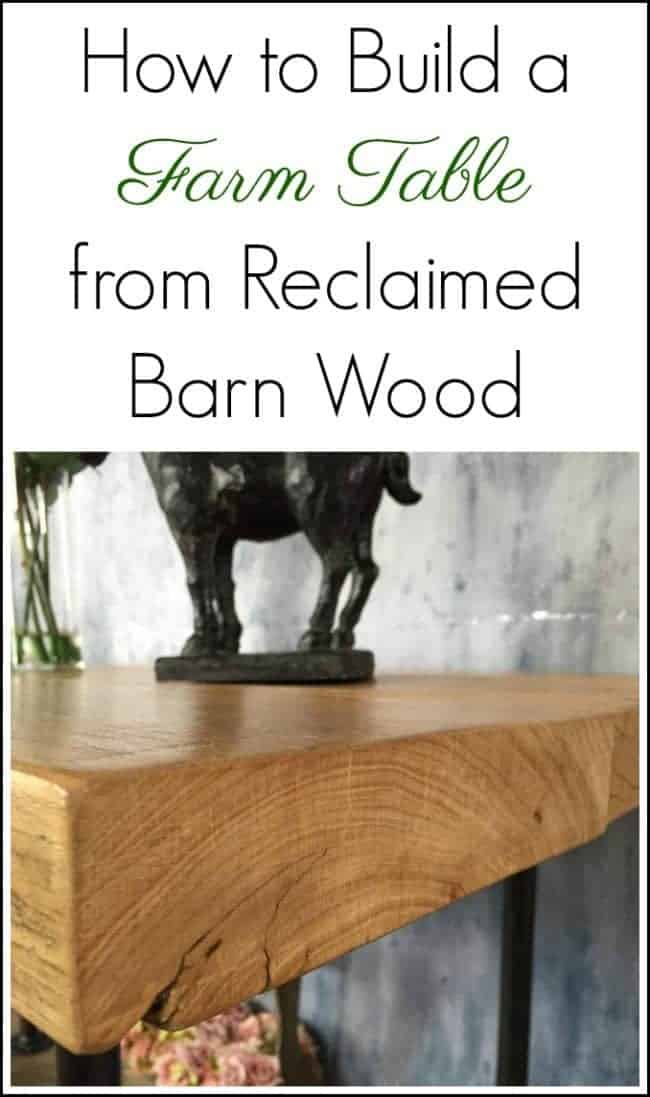 How to Build a Hand Made Farm Table
Materials Needed:
Reclaimed Barn Wood or you can use cut lumber (ex. from Home Depot)
Sandpaper
Staging/ Home Decor
Collecting Materials
This may be my longest post to date. But also the largest project, and I have to admit that the work itself was done by my husband and I was merely his helper. We decided to build a farm table using reclaimed barn wood from scratch. Our first stop was to an awesome secret spot, secret because I've been forbidden from sharing its location, to pick out the wood. It's really no secret, its located in New Jersey. Go ahead and google, it's easy to find *wink* This place had a huge selection of slabs, doors, and everything wood. Most of the wood comes from salvaged barns in Ohio!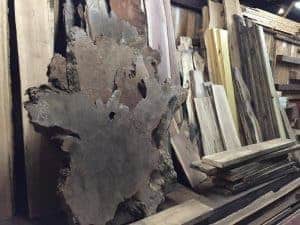 Personally, I love my barn wood door backdrop, so I couldn't resist and bought myself another! There were so many to choose from, but they were quite pricey so I had to choose wisely. Click here to see how I use my barn doors in staging: The Best Resource Guide for Staging Furniture.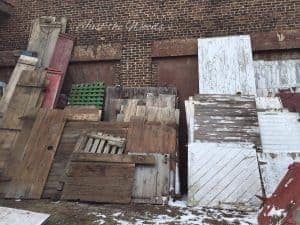 Back to the table, we decided on three thick slabs to make a decent size table. As you can see they weren't exactly the same size so they needed to be trimmed.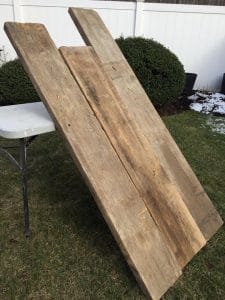 The Process – Building a Farm Table from Scratch
After measuring, we broke out the table saw and trimmed the edges.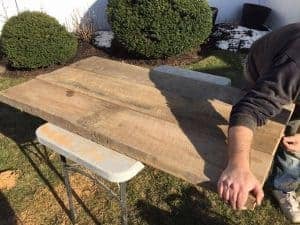 The sides were also trimmed since they aren't perfectly shaped like new wood that you would buy from a lumber yard. After trimming, the sides also had to be planed to allow them to line up with one another with minimal gaps in between them.
You can click here to see what I did with the extra wood that was trimmed off: Barn Wood Tea Light Candle Holders.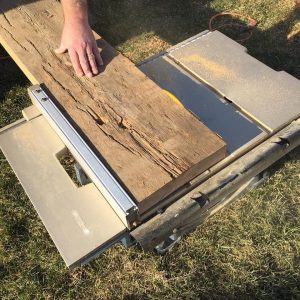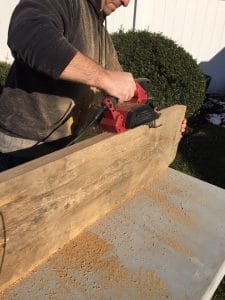 Once they were trimmed, shaped and sanded properly on the edges they were secured together and clamped for the night.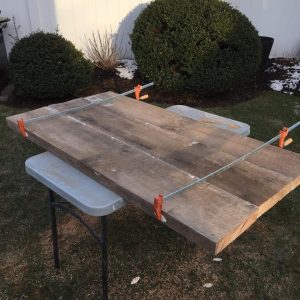 To add extra support they were braced with additional wood underneath. (the only wood that isn't reclaimed barn wood)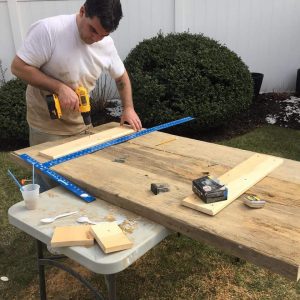 Building Industrial Style Table Legs
For the legs, we purchased black steel gas pipes which had to be measured and cut to size. After the steel pipes were cut they had to be manually threaded with a pipe threader. Gas fittings were used to connect the piping. This step resulted in a few choice bad words, it seems you can actually get them already threaded. But why should we take the easy route, when we can make ourselves crazy instead.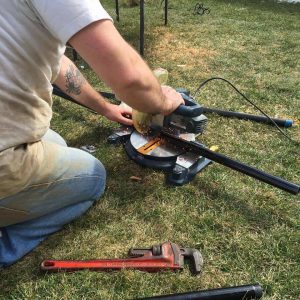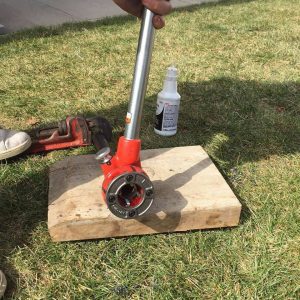 Once the legs were built and fit together they were thoroughly sanded to remove any original markings.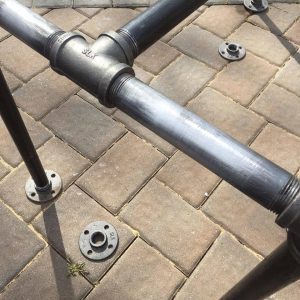 They were then sprayed with Rust-Oleum hammered black paint and attached to the underside of the table. The table top was then sanded thoroughly with various grits of sandpaper until smooth.
Sealing the Top of the Farm Table
The table top was then sealed with multiple coats of Varathane for protection. We chose not to add a stain to the top because its natural coloring is gorgeous already. There are shades of browns and grays in the wood along with saw marks from the original milling, knots, and grooves that you would come to expect from a reclaimed barn wood table.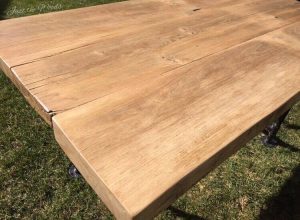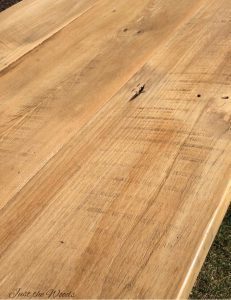 The slabs themselves are over two inches thick.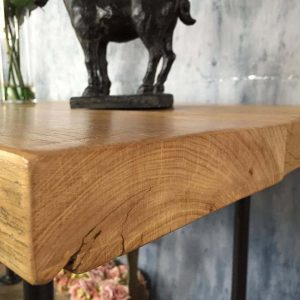 We chose to embrace the details on the outer edges and not smooth them out completely.
The Result – Barn Wood Farm Table
All the huff and gruff paid off and I love this table.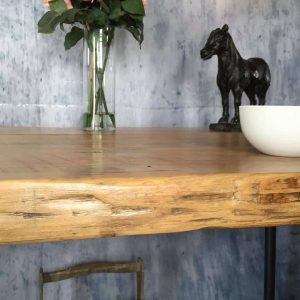 The legs have an awesome industrial feel to them.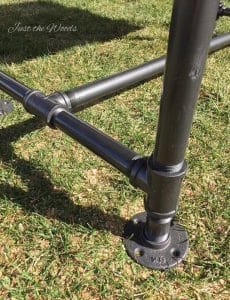 I'm a little in love with how this came out. Steel floor flanges were used as the "feet", it is important to make sure that all of the sizes are compatible to fit into one another.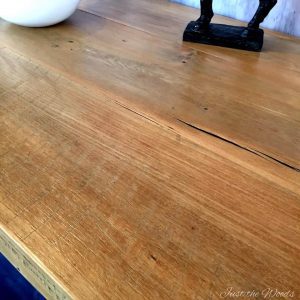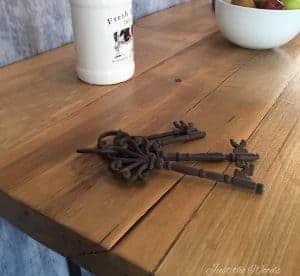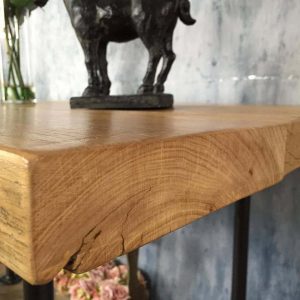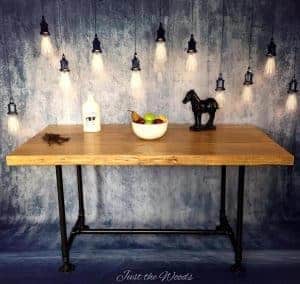 Real Life
Our appliances are black and the industrial style legs work perfectly with the rest of the room. I also decided to replace our old wooden chairs with these black metal chairs and LOVE them!
*If you'd like to see our entire kitchen makeover you can find that project here- Kitchen Remodel.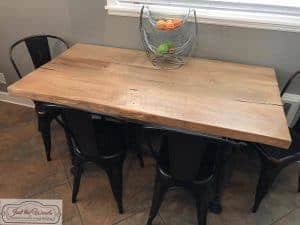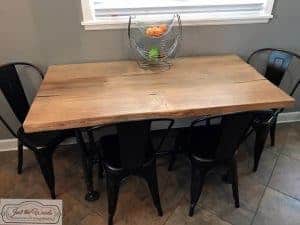 Of course, the kids felt the need to be included in at least one photo at the table. 🙂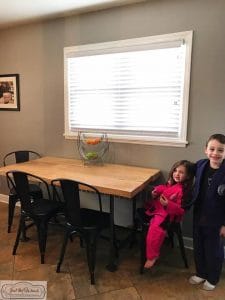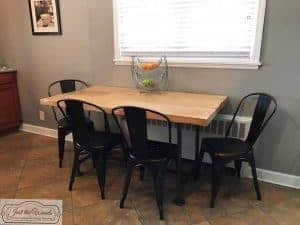 Don't Forget – Follow Just the Woods :
FACEBOOK * INSTAGRAM * PINTEREST
Subscribe to our mailing list here:
PINTEREST PIN READY TO SHARE