Painted and glazed kitchen island in a farmhouse or Tuscan style red 
Painted Kitchen Island – the Perfect Shade of Red
Would you like a red kitchen island? You can have one! A red kitchen island is a perfect addition to a farmhouse or retro style red kitchen. You can make this bold color work with many decor styles. Often being the center of the room, it may as well shine.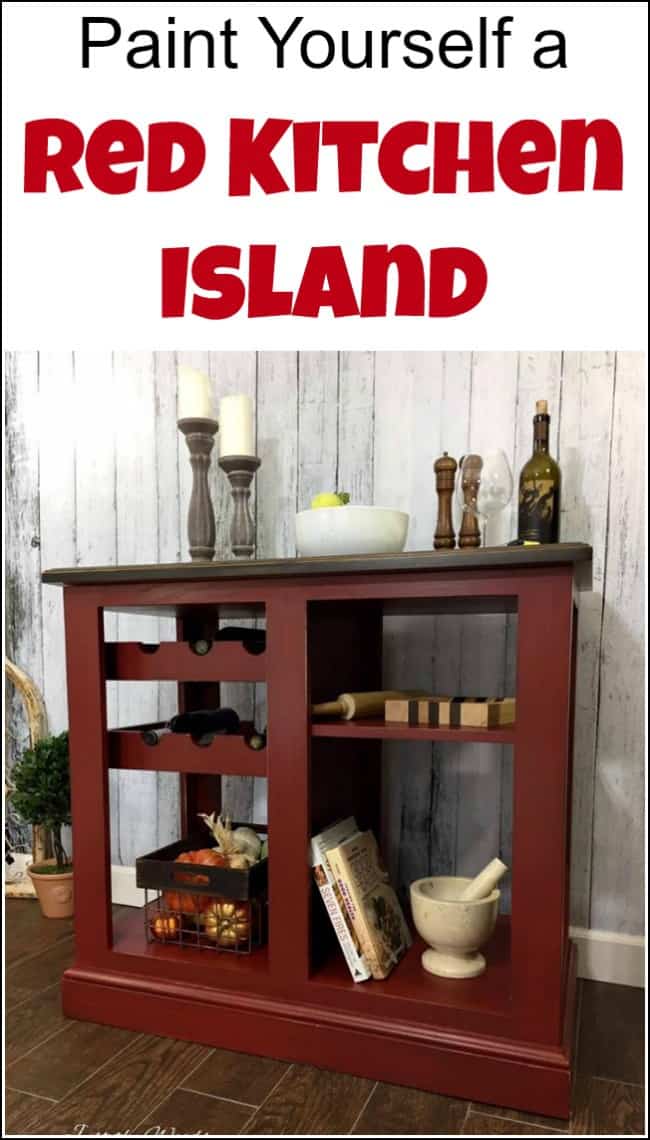 This kitchen island came to me a while back and has sat in my inventory since.  There have been many inquiries for it to be customized but nothing that ever turned into anything.  I decided that it's time for a makeover. It is solid wood, very well made, sturdy and a bit too neutral in color.
Disclosure: This post contains affiliate links for your convenience. Click here for my full disclosure policy. 
How to Paint a Red Kitchen Island
Materials Needed / Source List:
Lint Free Cloth
Paint Brushes
Kristi Kuehl Pure Home Paint:

Teak Protective Wood Stain
Sable Protective Glaze
Derby Paint
Cranberry Bliss Paint
Razorback Red Paint

Sandpaper
Decor Items
 Before – The Unfinished Kitchen Island
Initially, I had hoped to leave the top in its original condition since the kitchen island itself is in beautiful shape. Unfortunately, it received a few too many scratches while being moved around in storage over the months. Before bringing the piece into my shop the top was sanded down to bare wood with my electric sander.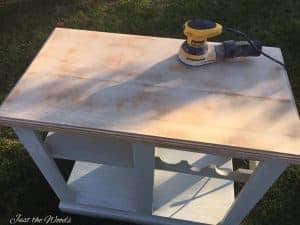 By sanding the top I now have a blank slate to work with and can darken it up as I see fit. The island top is stained using Kristi Kuehl Pure Home Paint protective wood stain in teak. After the first coat of wood stain, the surface is lightly sanded and then glazed with Sable protective glaze resulting in a rich espresso color. A few coats were applied to ensure optimum protection, assuming a kitchen island will get a bit more traffic than a dresser for example.
New to painting furniture and not sure where to start? Start at the beginning with How to Paint Furniture – a Beginners Guide.

The Paint – the Perfect Shade of Red
The base of the kitchen island has a factory finish of off-white or cream.  It is first painted black using Derby, as a  solid dark base coat.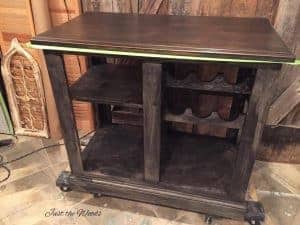 I then questioned myself and what was I thinking tackling a kitchen island with a fixed wine rack and such small areas to get into. I've concluded that a fixed wine rack is right up there with spindles in the 'pain in the arse' category.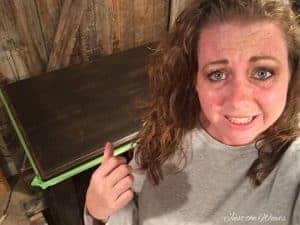 For the smaller areas, I use my bendable Cling on Brush and my short handle Wooster brush.  There's nothing worse than painting a short area and the handle of the brush continues to crash into the opposite end because it's too tall for the space.  The short angled brush is perfect for those short areas. You can get one (here)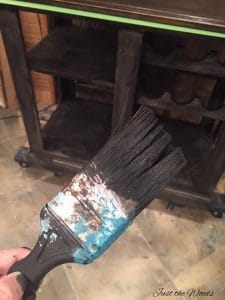 I continue on..  the second coat applied is a deep, rich cranberry with Cranberry Bliss.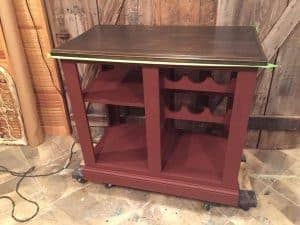 Followed by a cherry red called Razorback red.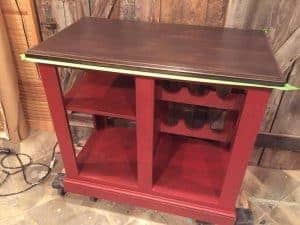 We are layering paint colors for that perfect red kitchen island.

I don't want the kitchen island to be black, nor cranberry nor red which is why the colors are layered in this way. The entire island is distressed creating a unique layered look, where bits of each color peek through.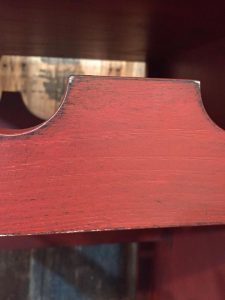 Lastly, the entire base is sealed and glazed using Sable protective glaze creating a finish that would compliment both a farmhouse style or Tuscan style kitchen.
The Result – Red Painted Kitchen Island
Believe it or not, this painted kitchen island had a difficult time selling. Many compliments, but no buyers. I suppose a kitchen island can be difficult due to different size and style kitchens. So, it was donated to the Staten Island Chamber of Commerce (where I am a member) for their Holiday Gala and raffled off. It went to a very sweet and grateful woman here on Staten Island. I always feel that a piece ends up where it is meant to be, and I think it was meant to go to her all along. (insert puffy heart here)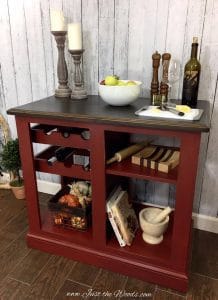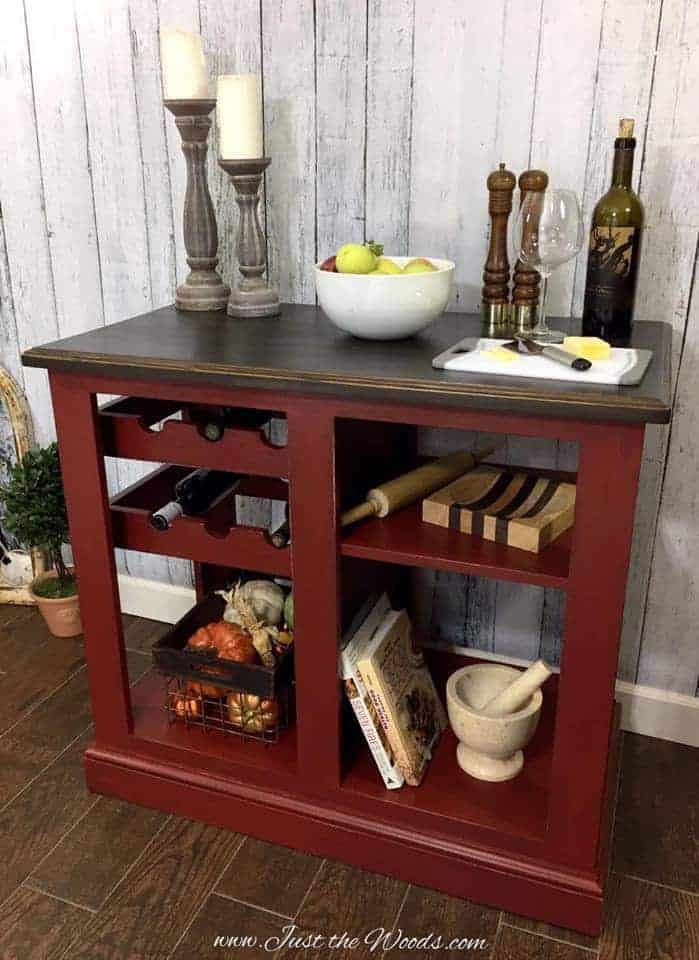 The dark espresso stained top with slightly distressed edges give such a warm feeling.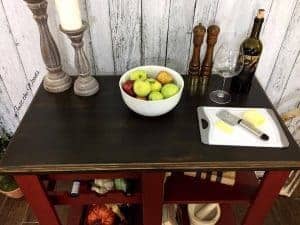 Glazed over red paint for extra charm.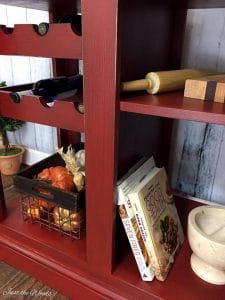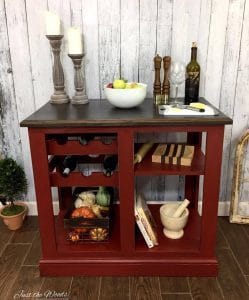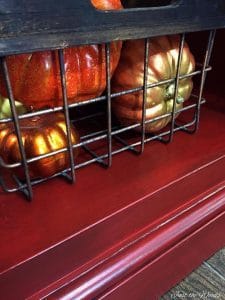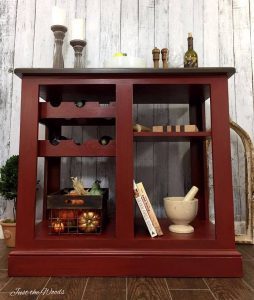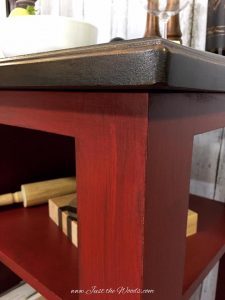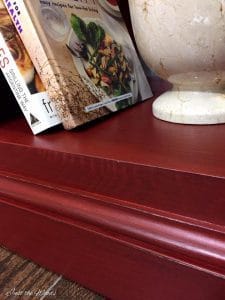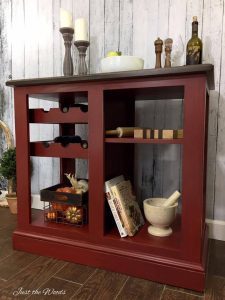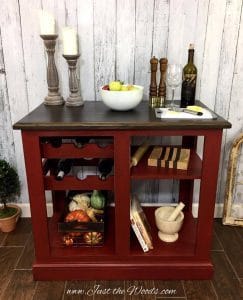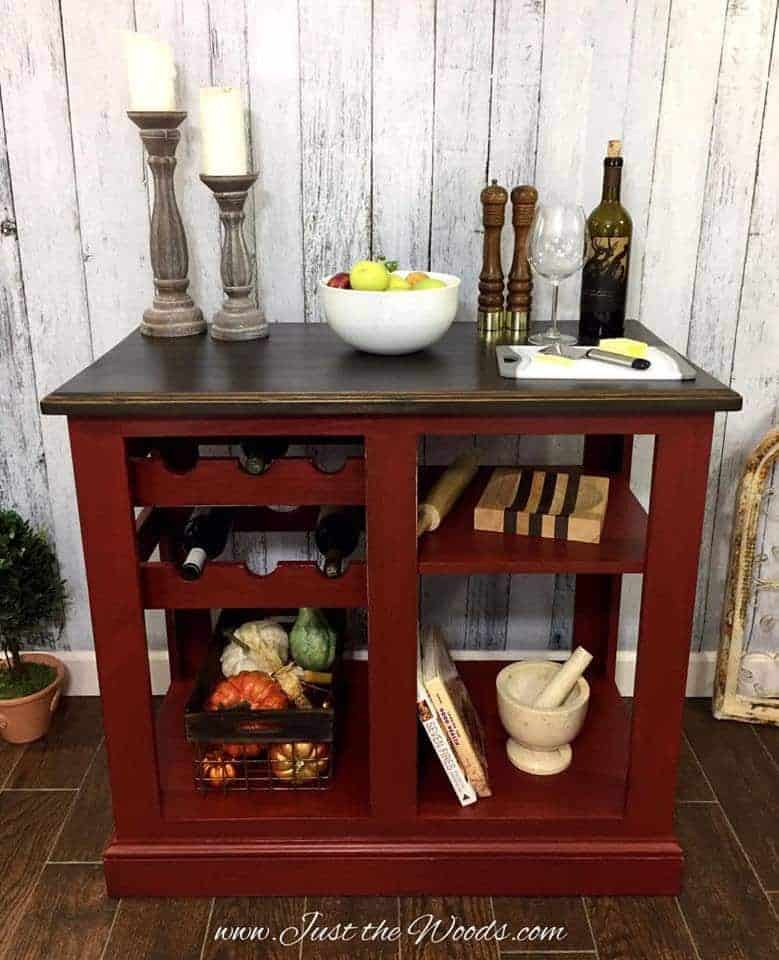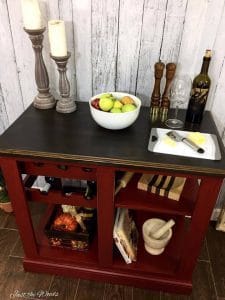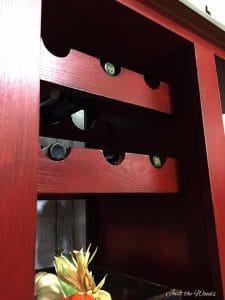 If you prefer not to DIY but still want a red kitchen island, you can find many affordable red kitchen islands for sale (HERE)
Are you redesigning a red kitchen? Here are a few red kitchen accessories that you will love: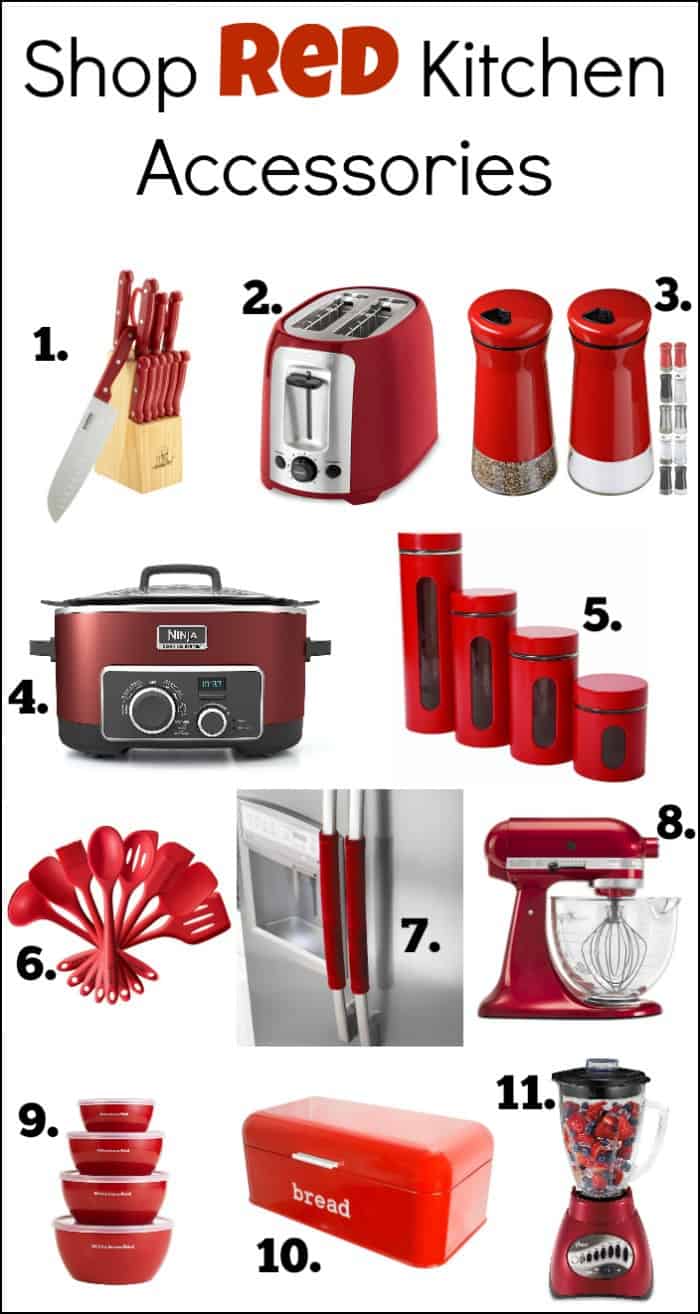 1 / 2 / 3 / 4 / 5 / 6 / 7 / 8 / 9 / 10 / 11
I'll be sharing this post at these fabulous link parties.
Don't Forget – Follow Just the Woods :
FACEBOOK  *  INSTAGRAM  *  PINTEREST
Subscribe to our mailing list here:
Go ahead and Pin – Sharing is Caring