A painted toy box can be the perfect distraction from the eyesore of overflowing toys. But add a pretty image transfer and decoupage and you get a beautiful keepsake.
Image Transfer on Painted Toy Box
This toy box is actually not old, I confess. It's rather new actually in comparison to most pieces that I work on. I believe it had a date underneath stating 2001. But every household with a child seems to have or need a toy box, so I decided to give this one a makeover.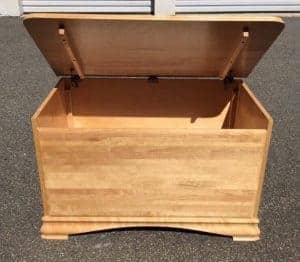 Materials Needed / Source List:
Disclosure: This image transfer toy box makeover post contains affiliate links for your convenience.
Unfinished Toy Box
One benefit to a newer toy box is that it already has a slow close lid to protect those little fingers from getting smashed. It also has a removable bottom, which is a good thing because the bottom had seen better days. I know just what to do to remedy that!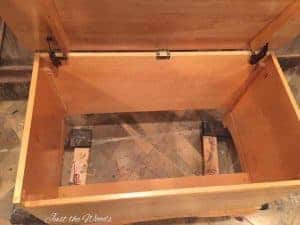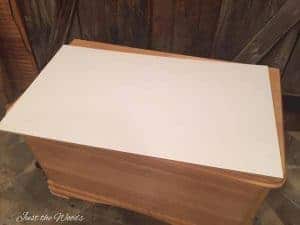 The Project
The removable bottom is lined using this gorgeous fabric from Minted. The soft colors are so pretty yet neutral enough for anyone. The quality of the fabric is also far better than any other I've worked with. Swoon!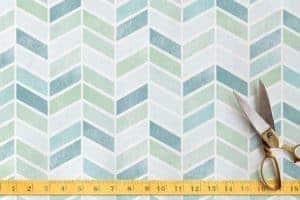 Next, I pulled a color from the fabric to start painting the toy box. I chose a soft mint paint color. You can find great quality furniture paint and stain online HERE. An added bonus, when painting furniture, you want to make sure to use a quality non-toxic furniture paint.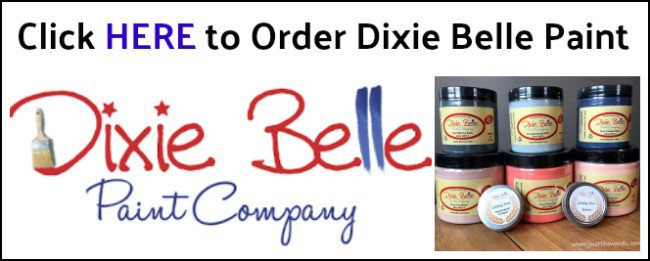 You can see how pretty the paint color looks with the fabric of the toy box bottom.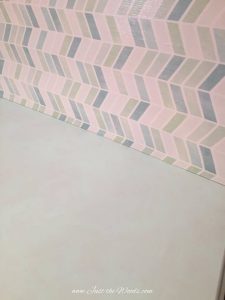 Don't get angry with me, but I don't leave the toy box painted in the pretty pistachio color. There's more. After two coats of the mint, the chest was then painted in a neutral off-white creating almost a whitewash appearance. The entire toy box was then lightly sanded using my favorite flexible sandpaper, revealing the soft green color underneath. The flexible sandpaper seems less abrasive than the paper type, even when using the same number grit.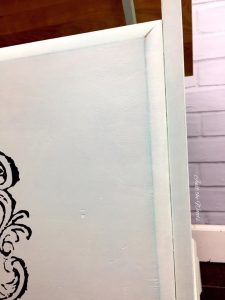 The Image Transfer
On to the fun part, the image transfer! This is my second time working with one of these transfers; if you'd like to see my first project you can see it here: French Image on Vintage Buffet. Since the toy box has a much smaller front surface than say a dresser or buffet I chose to only use a portion of the image transfer that I purchased.
From the larger piece I was able to trim and cut out the part that I plan to use and save the remainder for another project.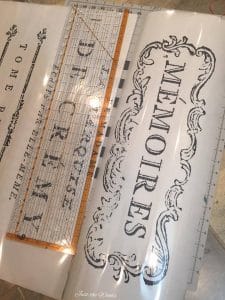 I explain in the video how I went about transferring the image onto the toy box.

The Result – Painted Toy Box with Added Image Transfer
The whitewashed soft green almost plays tricks on your eyes. Is it white? Is it green? Either way, it's neutral and does not scream "hey, I'm a toy box" making it suitable for blankets and such when the kids grow too old for stuffed animals and plastic figures.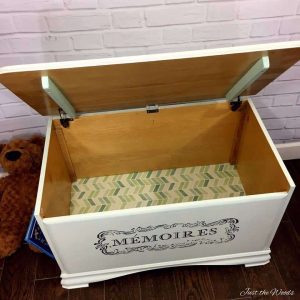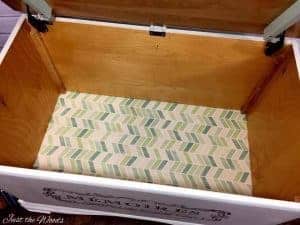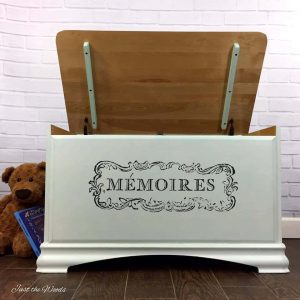 This painted toy box was donated and raffled off at my kids' school annual holiday craft fair and fundraising event. Click here to see all of my projects that have been donated to support local fundraisers, schools, and charities: Donation Projects.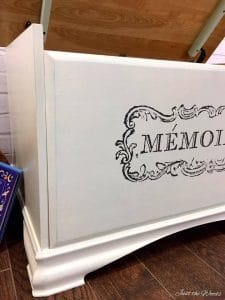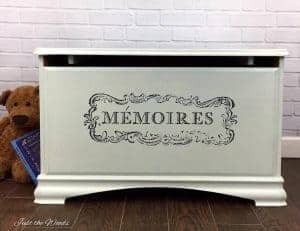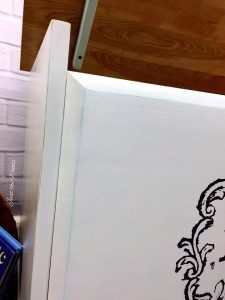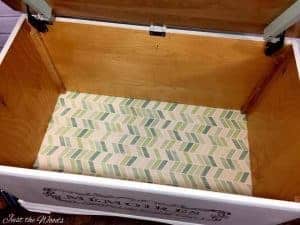 If you are just starting out you can always start at the beginning with How to Paint Furniture – a Beginners Guide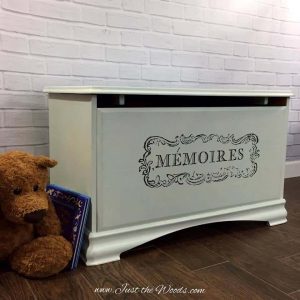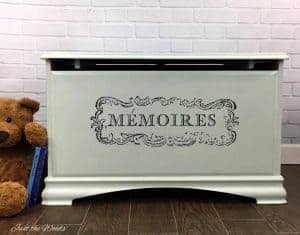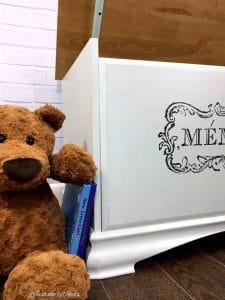 In case you're wondering, I chose to NOT paint the interior of the toybox because it seemed silly to me to think that anything other than steel can hold up against kids and their toys. *wink*
You can order image transfers here.
If you are looking for more creative DIY toy storage ideas then make sure to check out DIY Toy Storage Ideas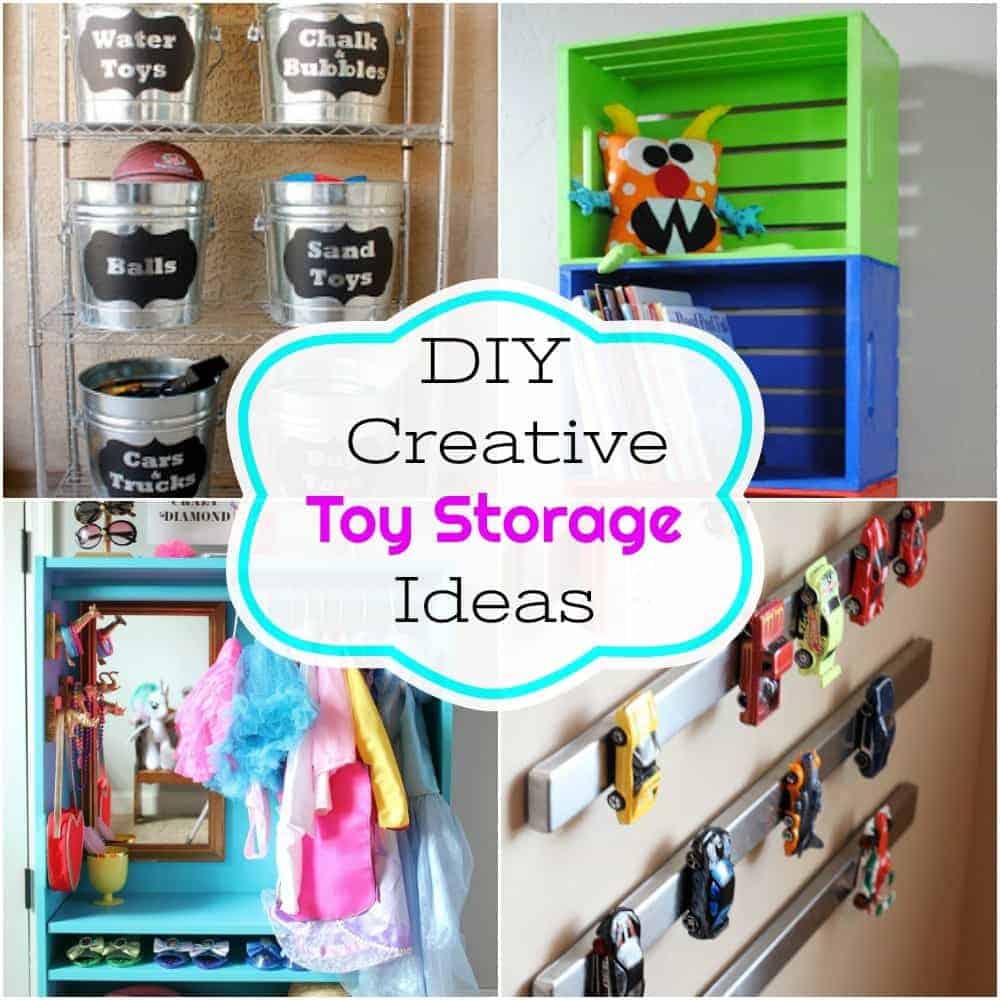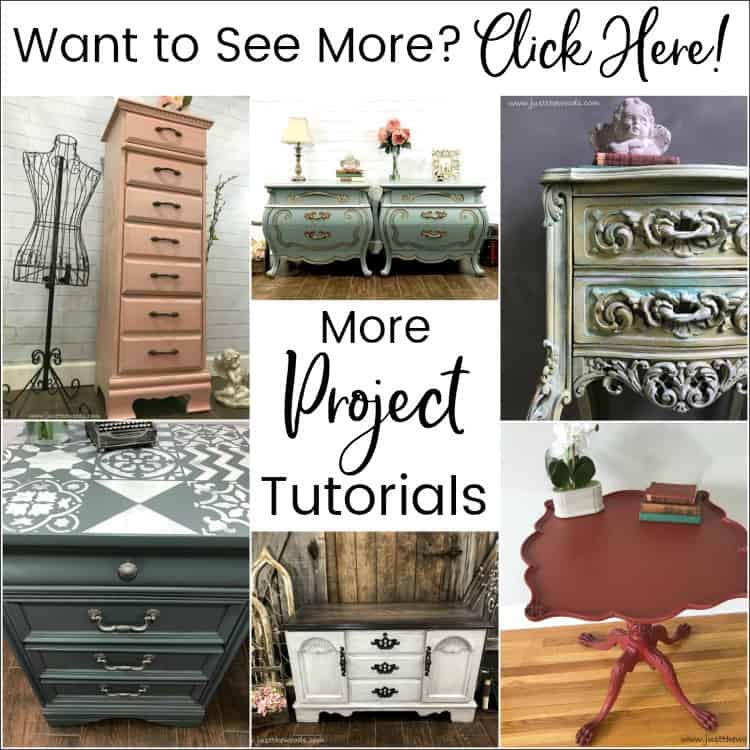 Don't Forget – Follow Just the Woods and Share this post to Inspire others:
FACEBOOK * INSTAGRAM * PINTEREST
Subscribe to our mailing list here:
*This toybox was donated to St Rita Catholic School for a fundraising raffle.