Create a Stunning Finish on a Painted Sofa Table using soft neutral chalk-like paint, wallpaper decoupage and a hint of metallic pearl paint on a painted sofa table. 
Painted Sofa Table Makeover
Looking for ideas for a how to refinish a sofa table? When it comes to painting furniture the options are endless. With so many techniques and colors and styles available to complete your sofa table redo, where do you even begin? In fact, I had initially planned a completely different painted finish for this vintage sofa table. But as we all know, things don't always go as planned and once your brush hits the paint it can all change.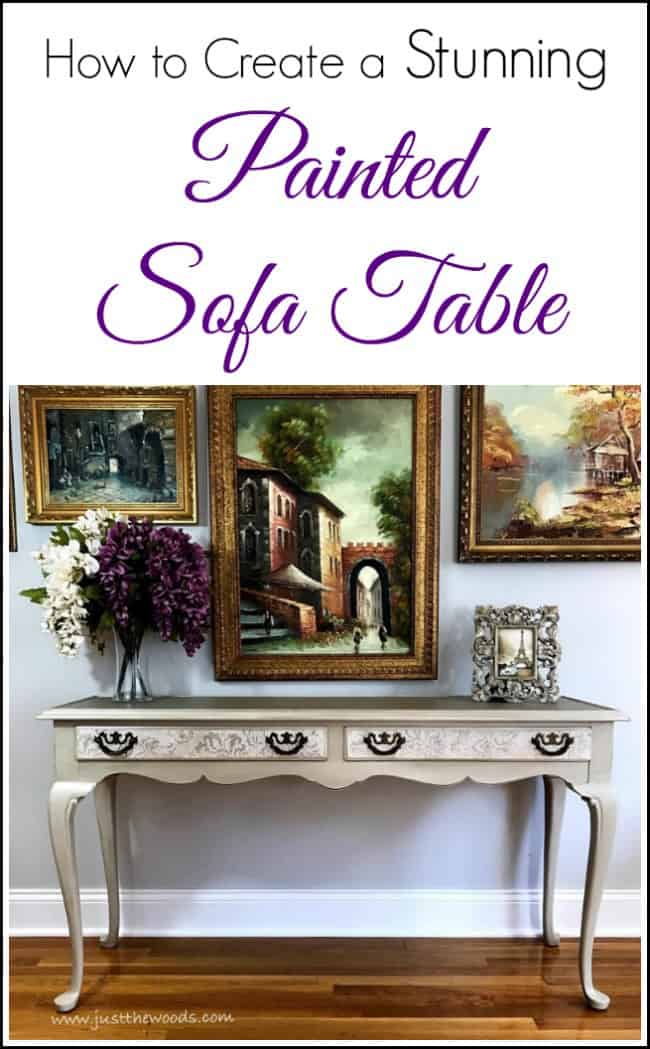 Disclosure: This post contains affiliate links for your convenience. Click here for my full disclosure policy. 
How to Create a Stunning Painted Sofa Table
Materials Needed / Source List:
A Vintage Drexel Sofa Table
This vintage sofa table made by Drexel has gorgeous curvy legs and very pretty vintage hardware. The sofa table itself has a very feminine feel about it, even with its bold dark wood appearance. For some crazy reason, it sat in my inventory for some time with zero interest. Today we are going to change that.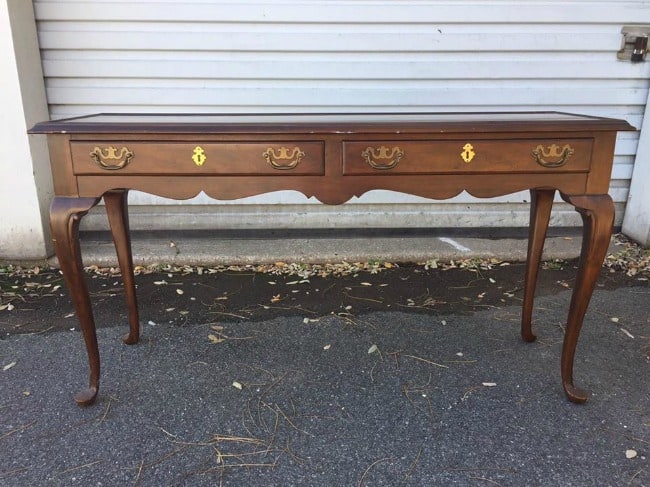 Preparing the Sofa Table for Paint
The vintage sofa table is cleaned, sanded and prepped the same as I always Prep Painted Furniture. It does have these decorative keyhole plates sometimes called escutcheons that are held in with very tiny nails.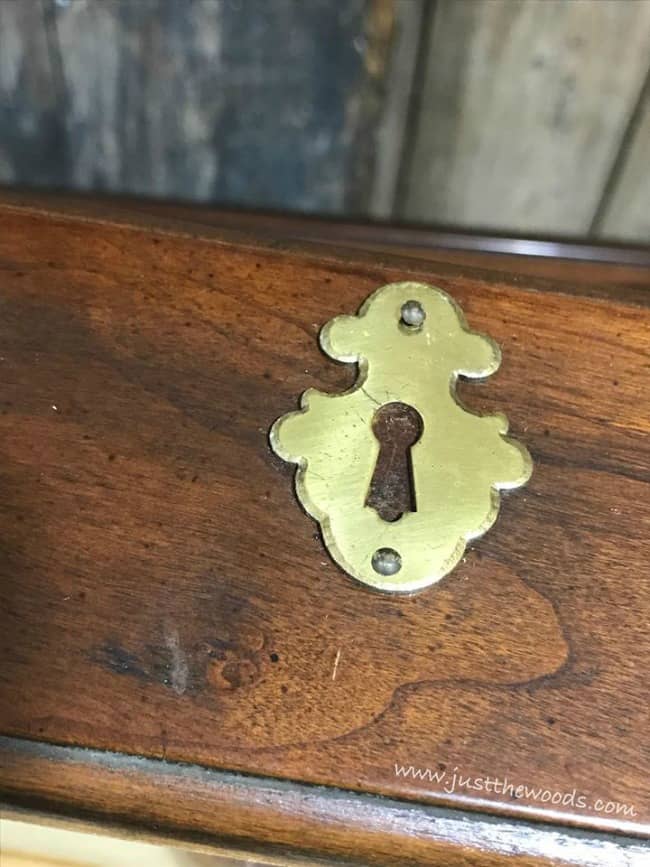 These can often be difficult to remove. Initially, I tried sliding a small screwdriver underneath with no luck. Then I even attempted to use a flat razor but stopped before I slipped and caused an accident. Then a lightbulb went off and I grabbed my tack lifter. I use the tack lifter for minor upholstery projects and for the Nailhead Dresser. It worked!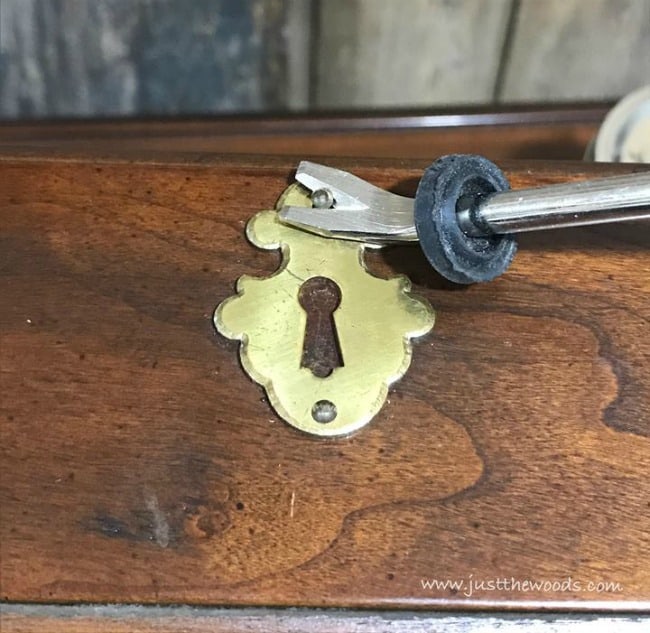 If you ever get stuck removing these tiny nails I highly recommend the tack lifter. It works like a dream and you can find them (HERE).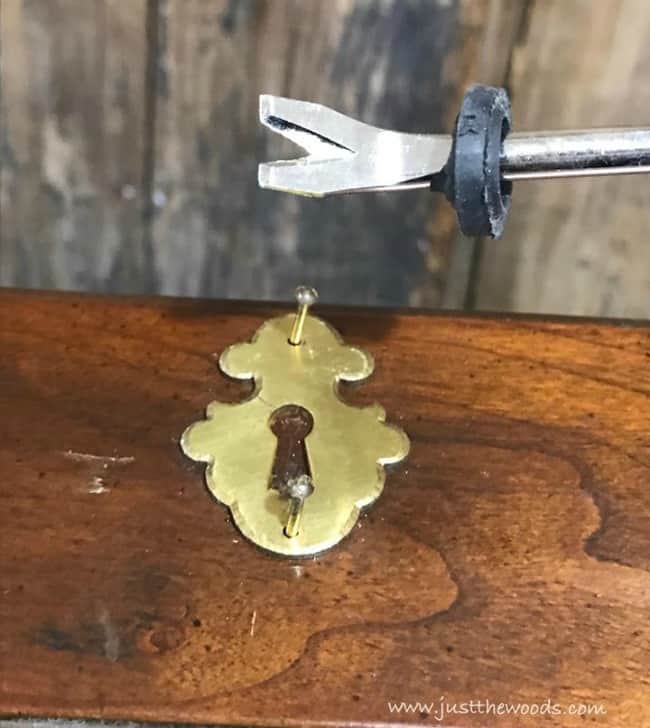 Painting a Sofa Table
Like I said, the original plan was to go with shades of deep red. But that plan changed once the sofa table makeover started. Instead, I grabbed a few neutral shades of off-white and cream along with the leftover custom mix color from a previously painted console table. You can find great quality furniture paint online HERE. An added bonus, when painting furniture, you want to make sure to use a quality non-toxic furniture paint.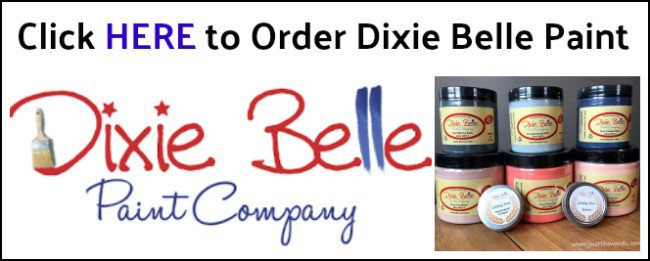 The entire sofa table is painted in the custom mix beige paint for a neutral base color using one of my soft Zibra brushes. Since the paint is leftover from a previous project its kept in a simple mason jar because you don't want to put a mixed color back into a paint container and mess up your colors.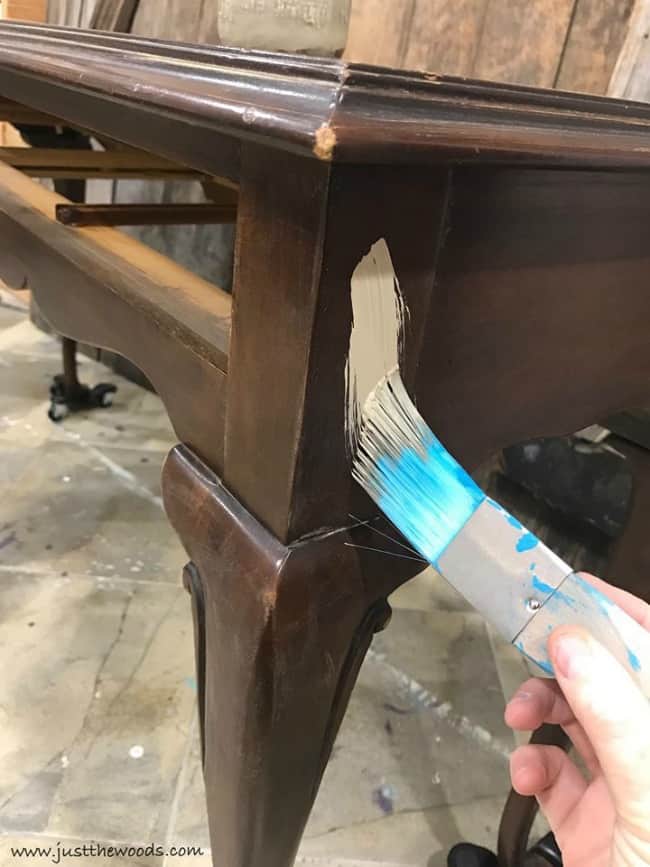 The mixed creamy beige creates a warn neutral base on the painted sofa table. The top of the painted table is taped off and left in this warn neutral beige.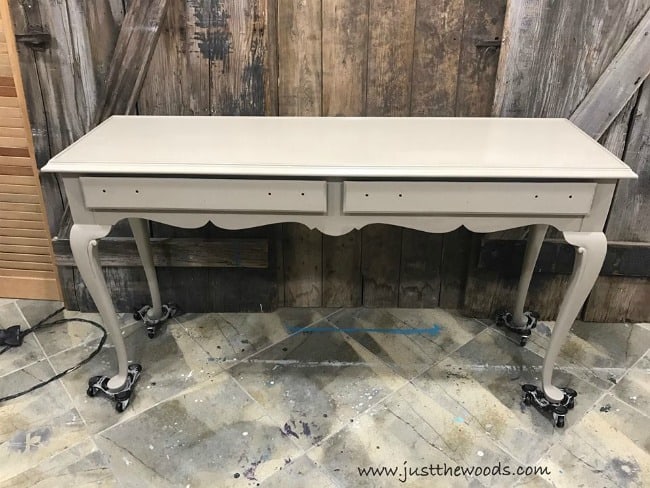 New to painted furniture? Not sure where to start? You can start at the beginning with How to Paint Furniture – a Beginners Guide.

Adding Soft Layers to the Painted Sofa Table
Next, the whites and creams are all randomly spooned onto a paper plate for easier painting. The rest of the wood sofa table is painted in these off-white and creams using a random painting technique. Drop your brush onto the plate, bounce around between the three colors and proceed to paint the table. The colors tend to blend together nicely and create a soft watercolor appearance in some areas. Then distress the entire painted sofa table with a fine grit sandpaper.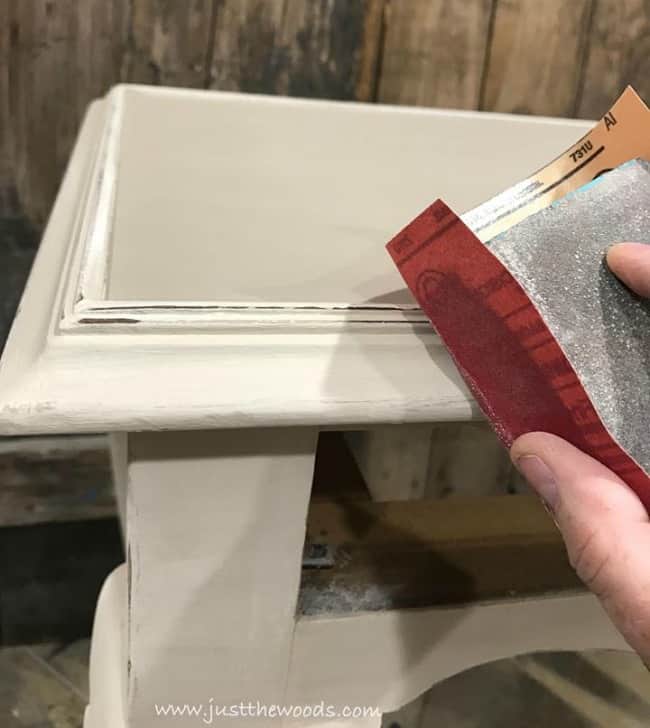 Since the legs are thin and curved, the flexible sandpaper works best for sanding them. It wraps around the painted table legs with ease making sanding much easier. You can find flexible sandpaper (HERE).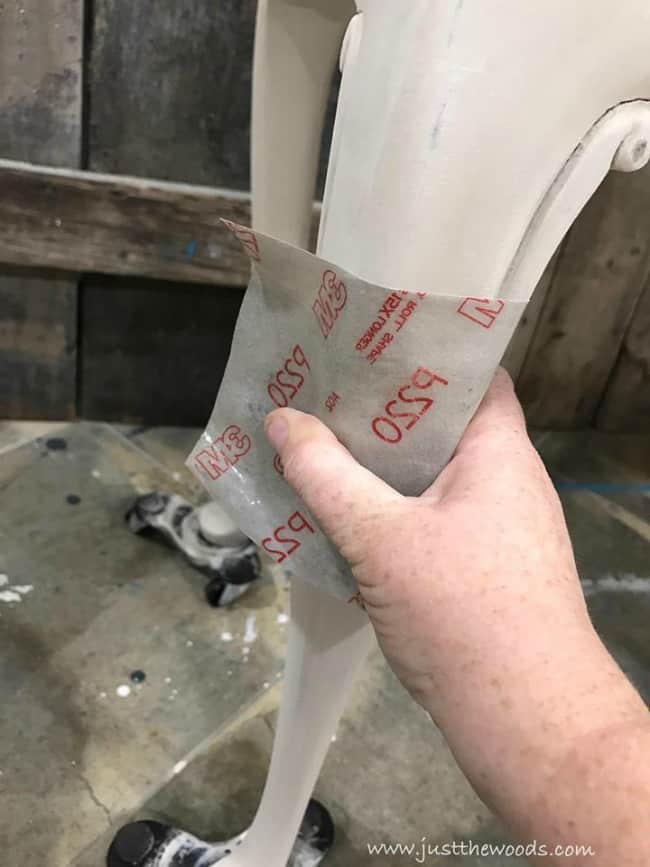 Make sure to wipe away your sanding dust with a lint-free cloth once you finish distressing. Hate the dusty mess? You can try the No Mess Method to Distress Painted Furniture.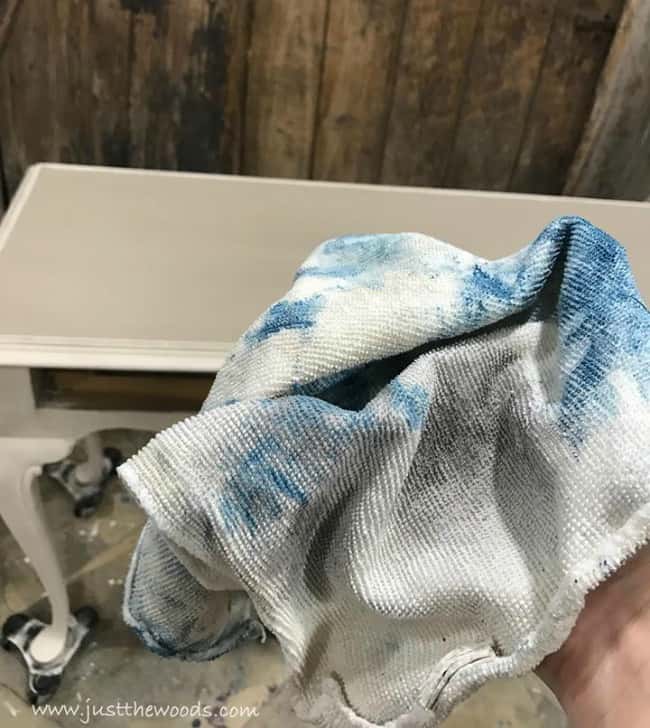 Adding Wallpaper Decoupage
For an extra touch, we are adding textured wallpaper to the painted sofa table. In addition to decoupage drawer fronts, the wallpaper will also be decoupaged to the sides of the sofa table. I'm using paintable textured wallpaper for this. You can find gorgeous patterns (HERE).  I'm using the Damask pattern found (HERE) It also works nicely for lining the inside of dresser drawers.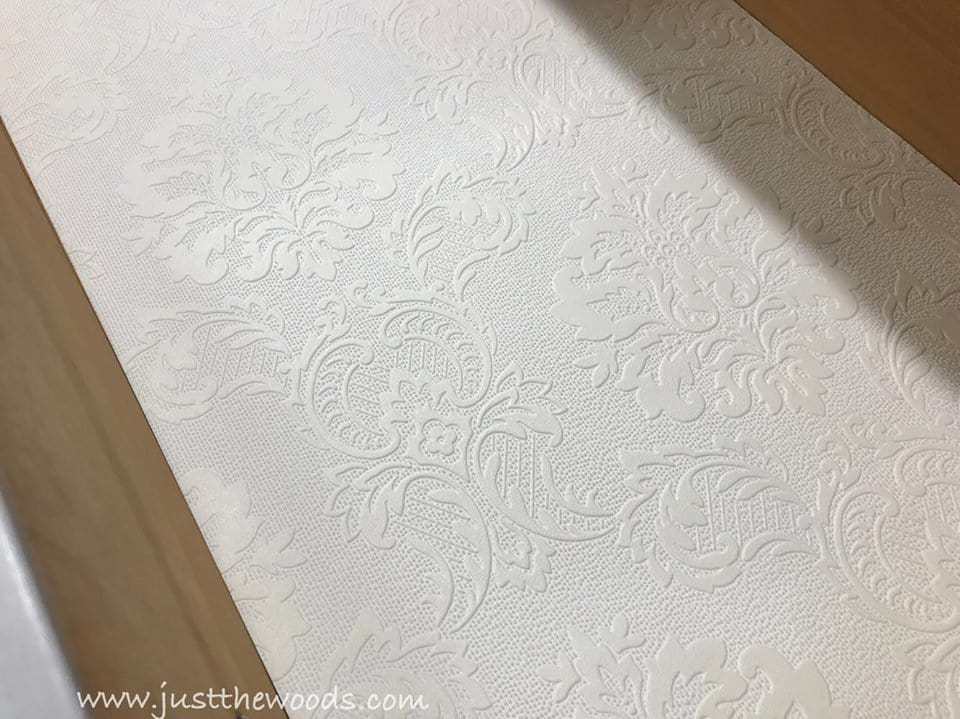 Prefer not to use wallpaper? There is a wide variety of decoupage napkins available online here: 

First, you will want to measure the surface where you will apply the wallpaper. In this case, measure the drawer fronts as well as the table sides. Then mark your wallpaper (pattern side down) Using a cutting mat and ruler will make this much easier. Get one (HERE)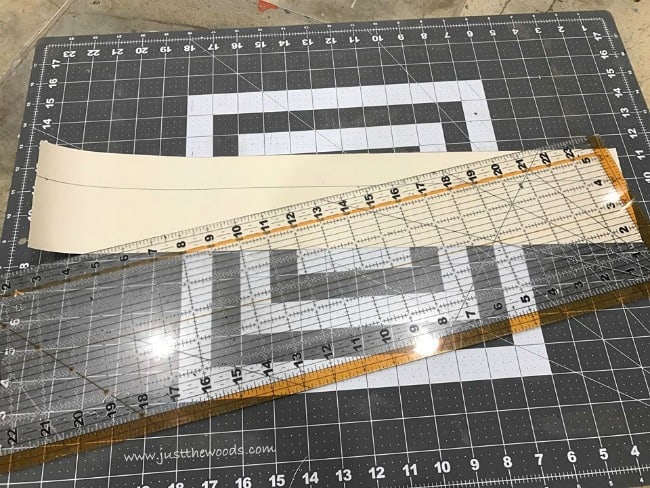 With a sharp pair of scissors cut out your wallpaper pieces to decoupage.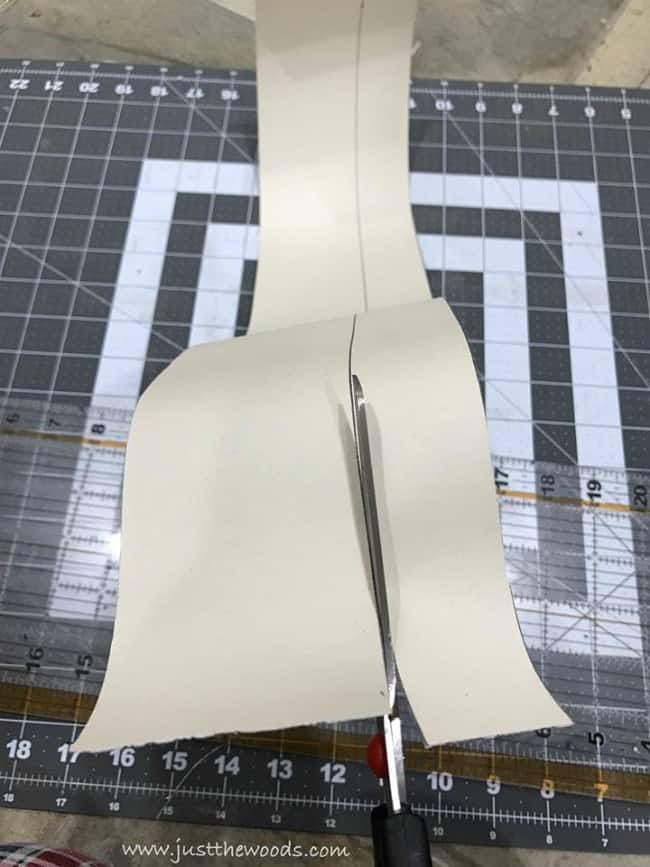 Painting Your Textured Wallpaper
Remember that paper plate with blobs of paint? Well, take a foam roller and roll right onto the plate to get some paint on the roller. Gently roll the paint onto the textured wallpaper. If there is too much paint on the roller simply roll some off onto a paper towel first. Using the foam roller will make sure that the paint only hits the raised details rather than covering the entire design. After rolling paint onto the wallpaper, I follow up and roll a hint of bronze metallic opulence for a subtle glaze. If you don't have a foam roller, you can find them (HERE)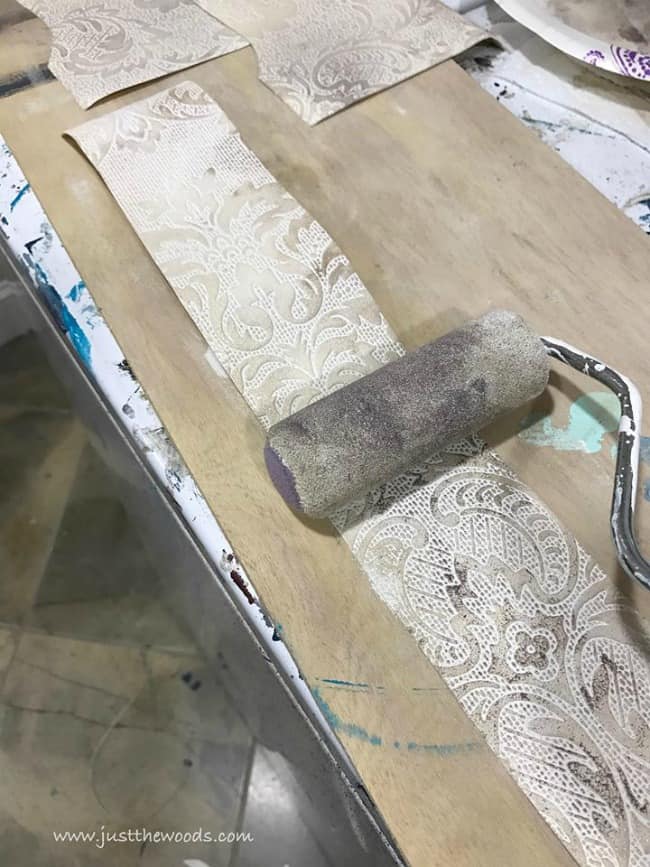 Once dry, apply your wallpaper to the painted sofa table with Mod Podge.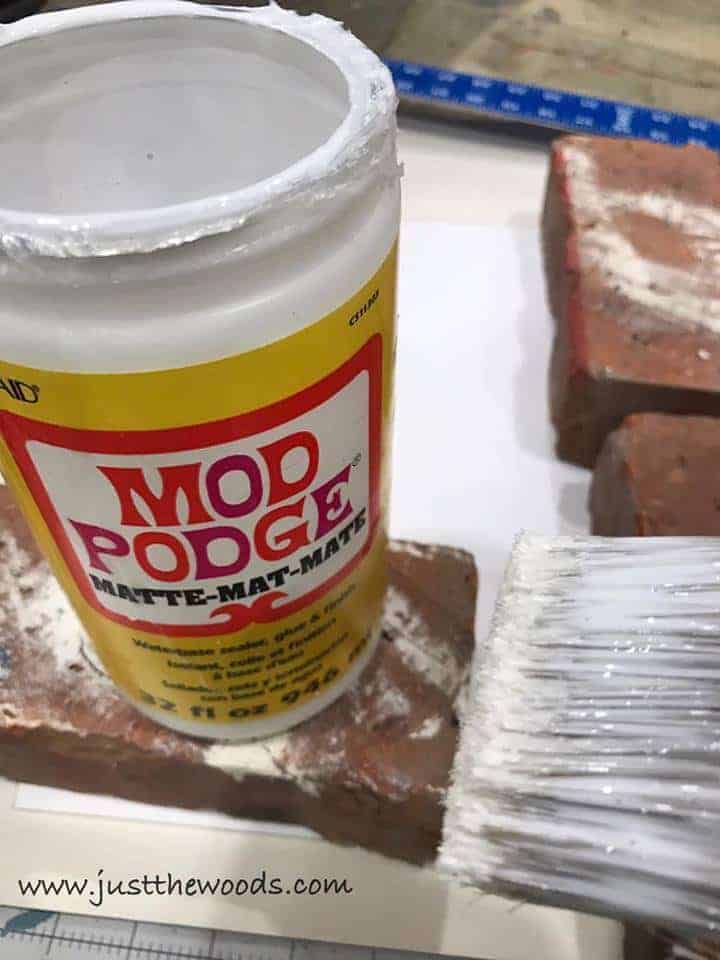 Sealing the Painted Table
To seal this painted sofa table with a bit of elegance I apply a pearl protective finish using my yellow detail sponge. You can see the subtle metallic pearl in the glaze on the plate. There is also a small amount of bronze added in just for fun.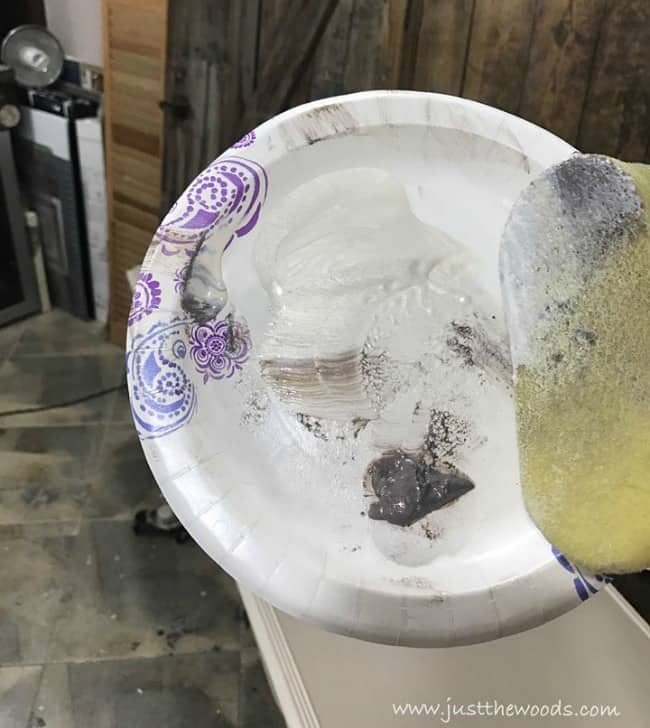 Here is a full tutorial with VIDEO showing how I seal my painted furniture projects: Sealing Painted Furniture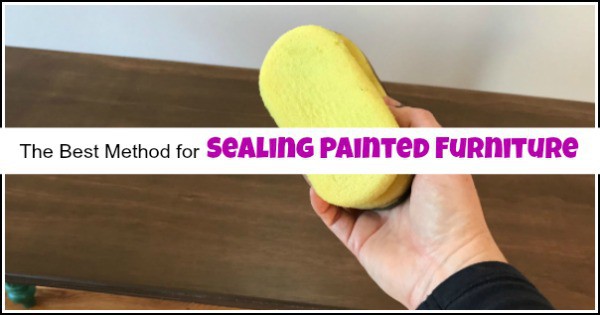 Stunning Painted Sofa Table
Though, not the original plan, this painted table came out gorgeously stunning with its elegant decoupaged drawers and metallic pearl glaze. This table has been donated to my kids' school and raffled off at their annual holiday fair and fundraising event. Click here to see all of my projects that have been donated to support local fundraisers, schools, and charities: Donation Projects.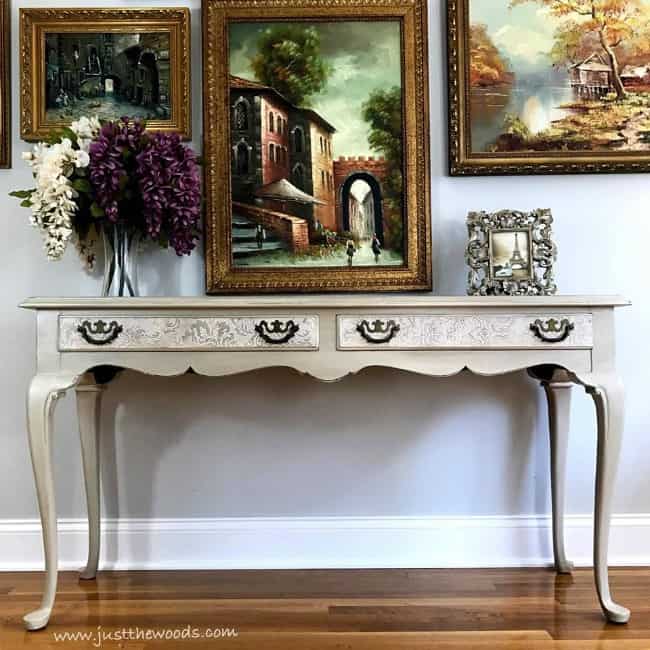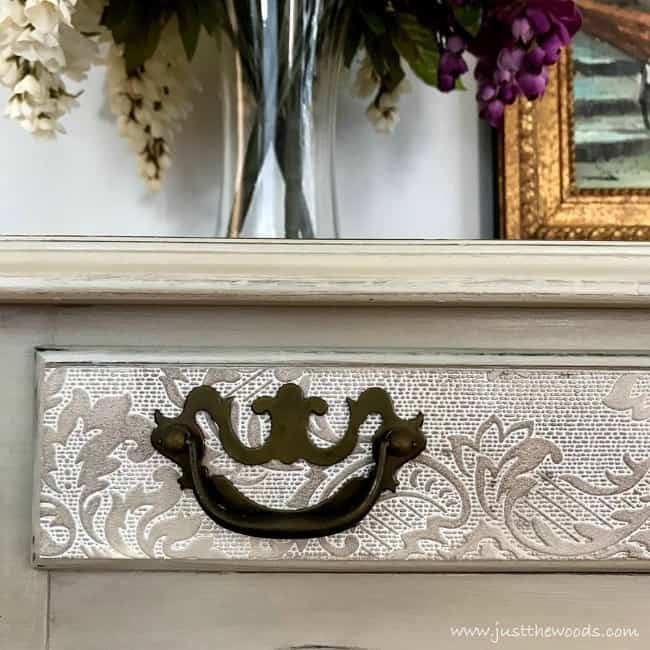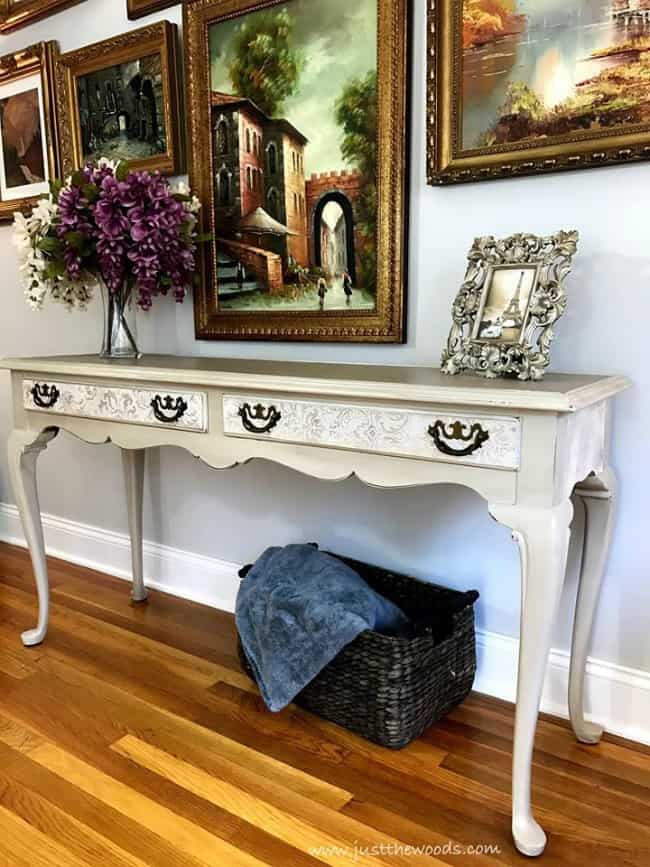 Looking for a gorgeous sofa table but prefer not to DIY? Click here for best selling sofa tables available online: Sofa tables for sale.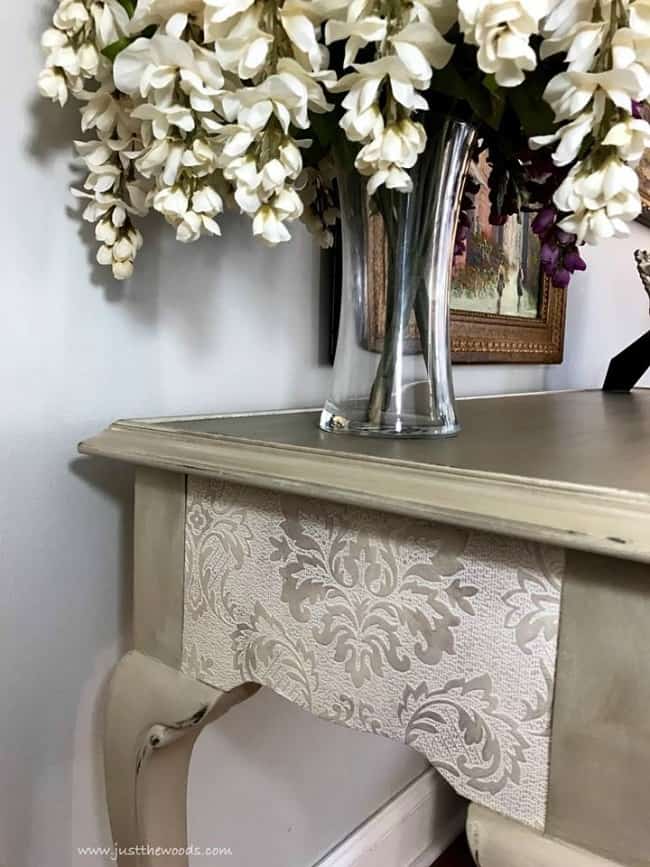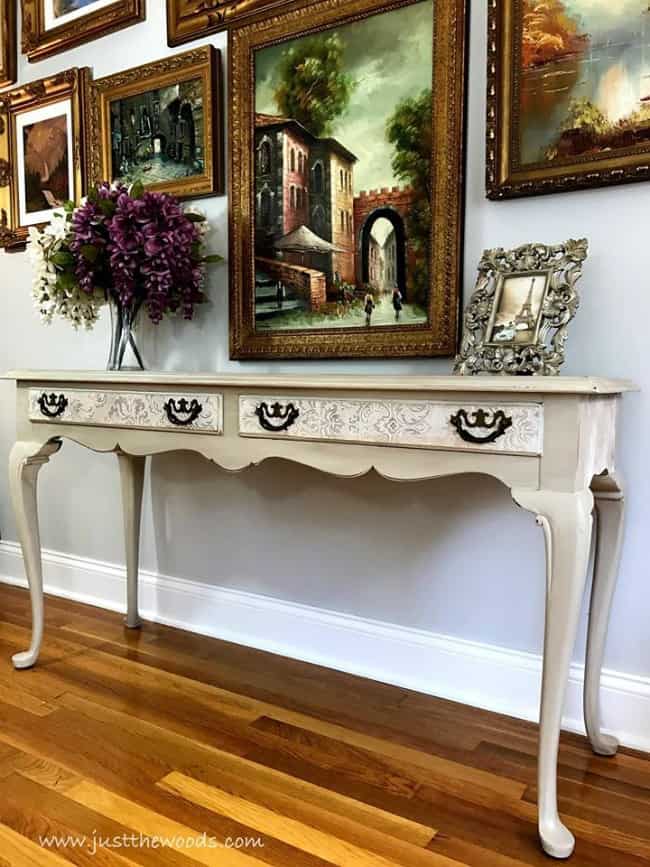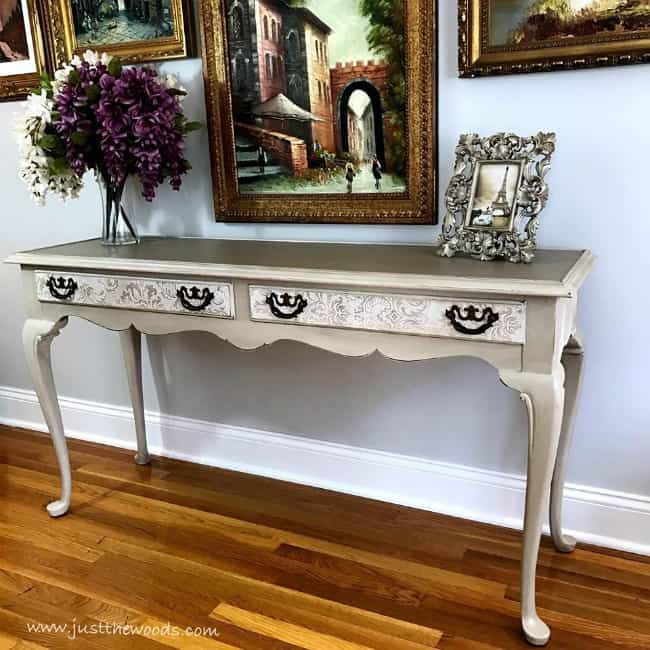 Love unique home decor but don't feel like spending hours scouring the internet? Let me do the work for you. Click to be added to the exclusive Home Decor & Fabulous Finds.

Don't Forget – Follow Just the Woods and Share this post to Inspire others:
FACEBOOK  *  INSTAGRAM  *  PINTEREST
 Stay connected! For more tips and tricks sign up here : 
PINTEREST PIN: