If you are just starting to paint furniture or want to know how to paint furniture, here are a few tips and secrets to furniture painting that will help you along the way. Whether you are chalk painting furniture and looking for the best furniture paint, or just need a few pointers let me help you. If you prefer hand-painted furniture or spray painting furniture these are for you.
When it comes to painting furniture there are always a few handy tips, tricks, and hacks to make the job a little bit easier. I wish someone had compiled them all together for me when I started painting furniture years ago. Which is exactly why I am doing this now. There are lists and tutorials out there for each individual furniture painting technique. But what about the shortcuts and the little things? Each and every painted furniture makeover comes with some sort of struggle. There is almost never a perfectly smooth and easy project. Let's dive into a few issues and then the secrets and tips for making painting furniture just a little easier with fewer headaches.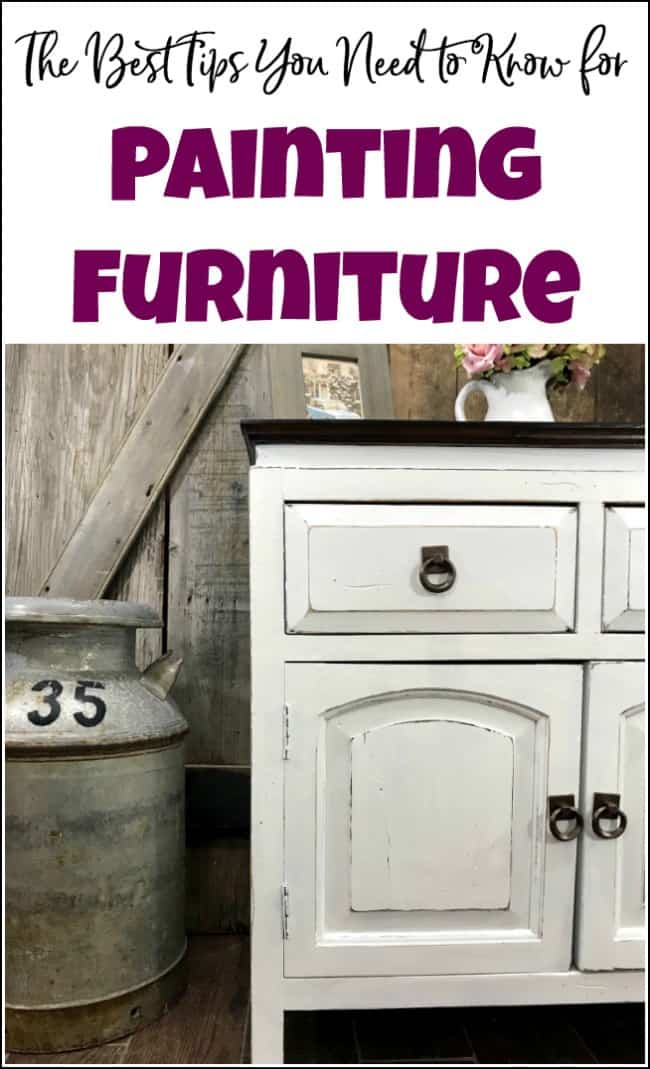 Disclosure: This tips for painting furniture post contains affiliate links for your convenience. Click here for my full disclosure policy.

Things You Need When Painting Furniture
We all have our 'must haves'. Painting furniture is the same, there are necessary tools of the trade aside from furniture paint. And yes, I prefer furniture paint and not any old paint I can find, but that's just me. Not knocking anyone else's paint choices. I am loving Dixie Belle Chalk Mineral Paint, you can get some HERE.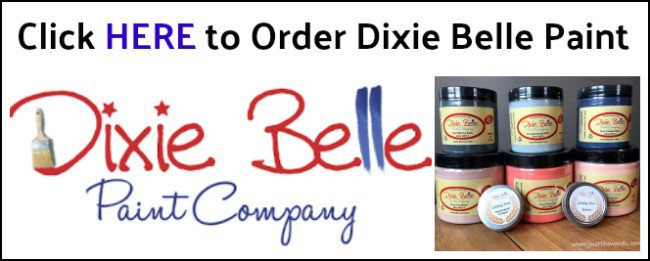 If you are unsure of what supplies you need for furniture painting then make sure to check out my Ultimate Supply List for Painting Furniture.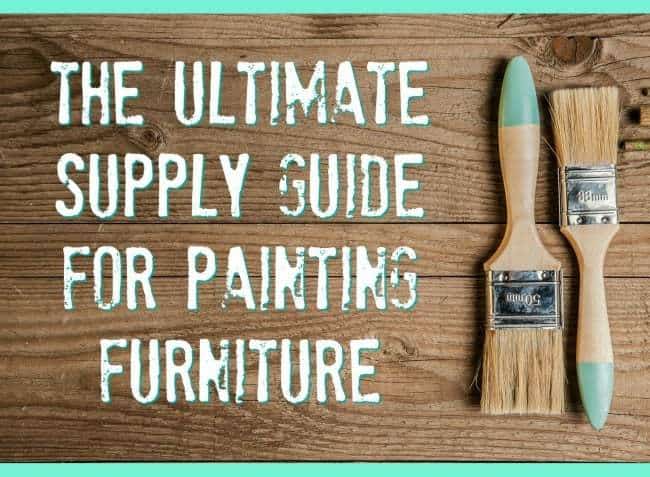 Once you have your supplies and your piece of furniture you will want to get started on cleaning and prepping your piece. This is pretty standard for all painted furniture makeovers. The only time I don't follow this process of extensive cleaning and prepping is when I am dealing with raw unfinished wood. Which is very very rare. Here is my process for How to Prep Painted Furniture.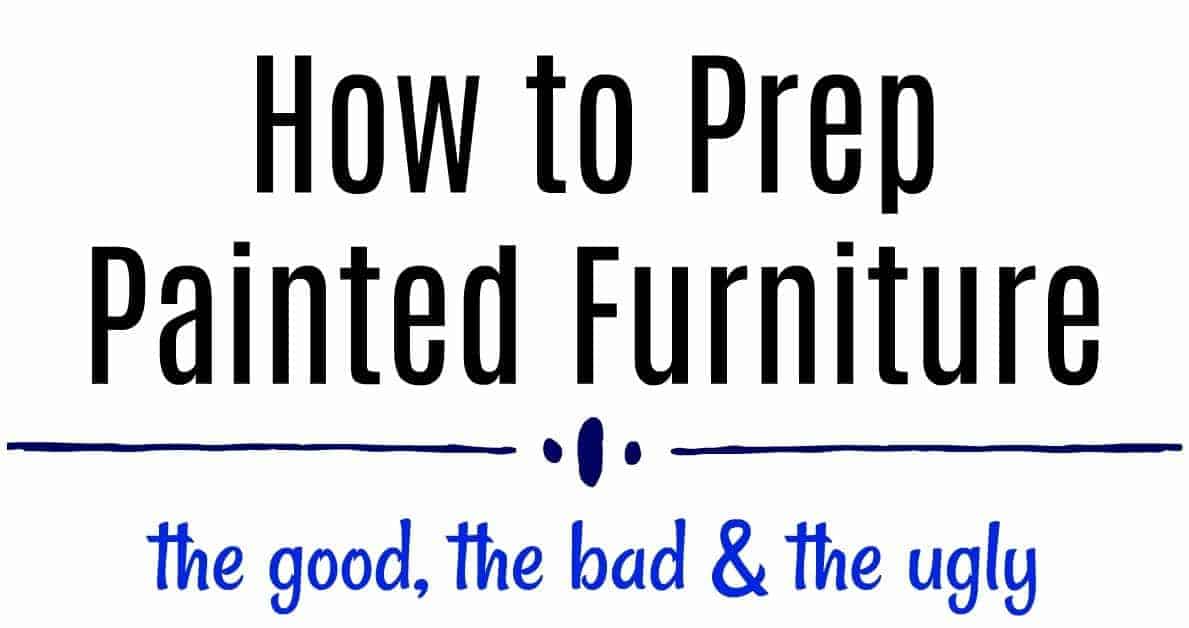 Sanding Indoors
But alas, issue number one. Many times we don't get that perfect weather to sand and clean outdoors. Especially, if you live near me in New York where we can get all 4 seasons within one week. It's been snowing in April here! So here is my secret to sanding indoors with an orbital sander. I can only speak for the equipment that I use, so in this case, the Dewalt Orbital Sander and Rigid Shop Vac is what I am using. Find the sander HERE and shop vac HERE.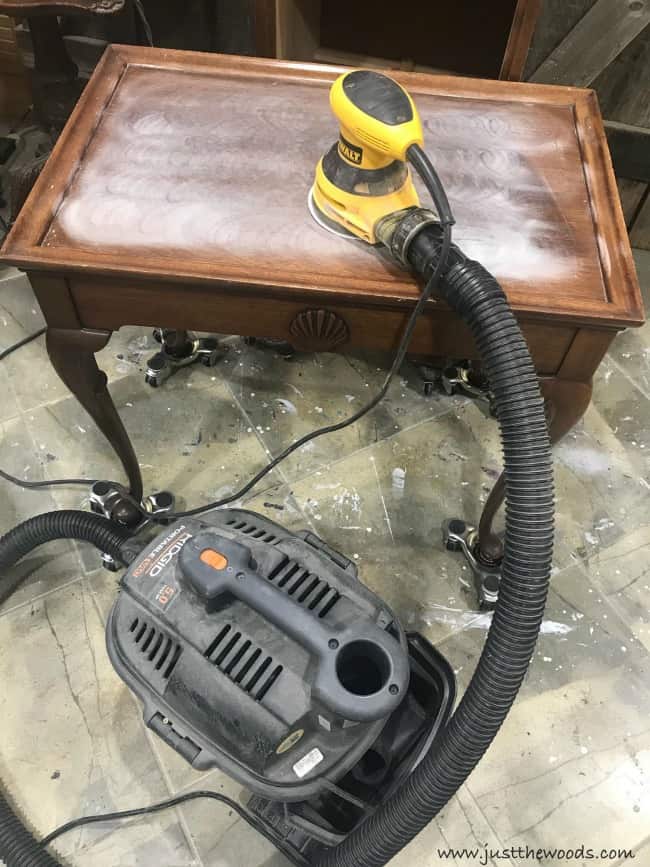 Click here to Pin this post for later.
I remove the dust bag from the Dewalt sander and insert the hose to my shop vac. Turn on the shop vac, then turn on the sander. This way you are able to sand indoors while all of the sanding dust is sucked away into the shop vac. Here is a quick video showing how I do this.
I have used this little trick for painted furniture projects as well as home improvement projects. Here I sand the top of a vintage flip top buffet before its painted furniture makeover. You can find this project here: Give Your Furniture Makeover that Wow Factor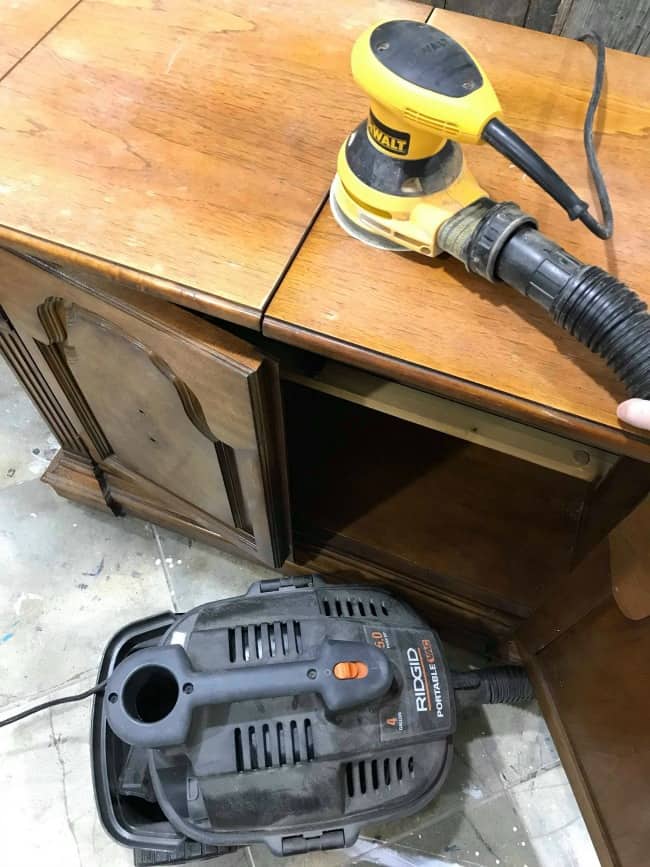 Here is use the same trick with my vacuum hose while sanding inside our small master closet in the bedroom for our closet renovation. You can see the whole project here: Small Closet Renovation & Organization.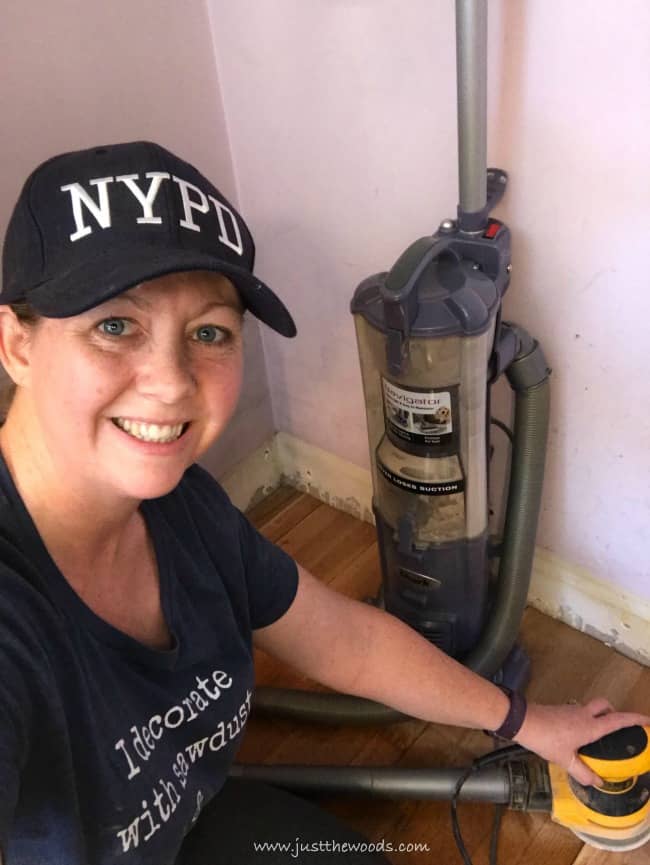 Sealing Painted Furniture
When it comes to sealing painting furniture I often hear people mention that they struggle with fuzzies or streaks. Some even get yellowing which may be due to applying your sealer too thick. This yellow sponge has been my best friend since discovering it. I use this for applying stain, glaze, sealer, washes and it can be reused. After each use, I just rinse, squeeze and leave to dry until I need it again. You can easily get these sponges online HERE. For a video tutorial on applying sealer with the sponge you can check that out here: How to Apply Clear Sealer.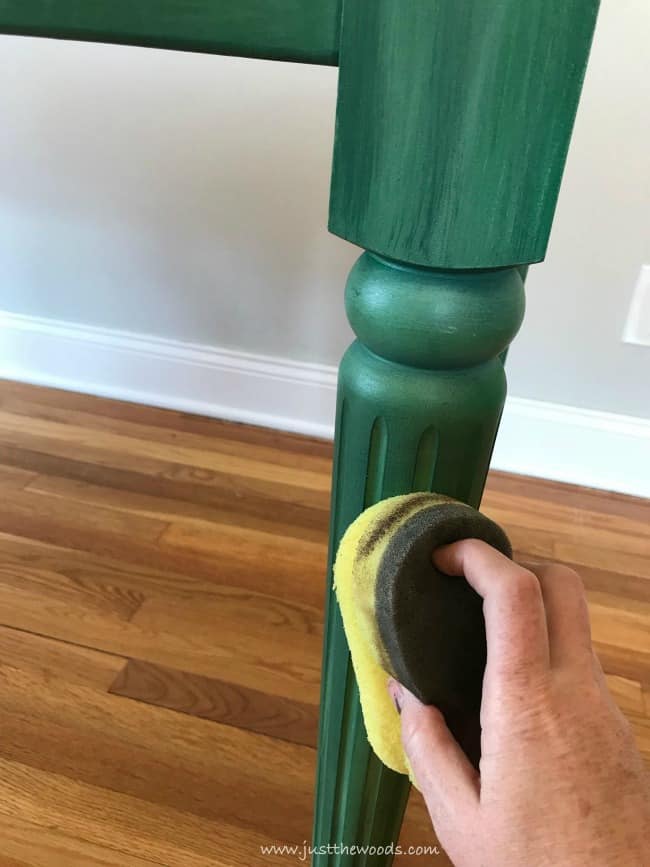 I even use this sponge to apply sealer over an image transfer project. You can see the whole makeover here: Transfer Images like a Pro.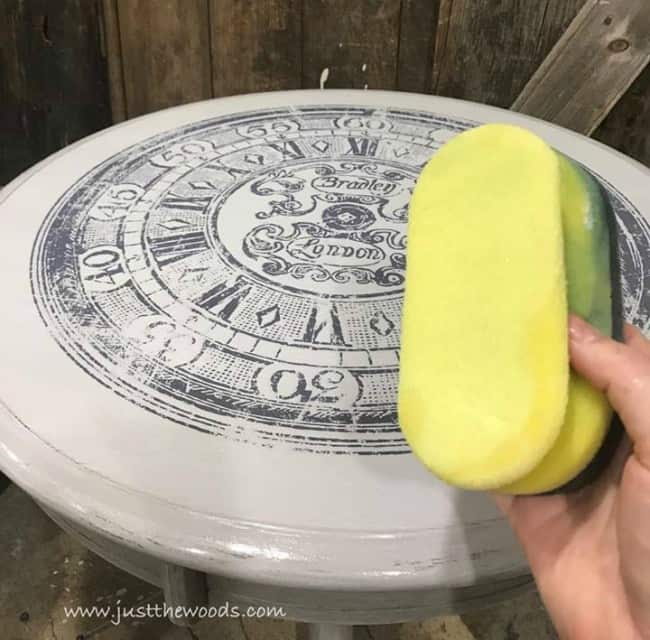 Click here to Pin this post for later.
Repairs
When repairs are more than filling holes, you can actually use Bondo for bigger repairs. Its super strong, it has to be since its kinda made for cars right? Get Bondo HERE.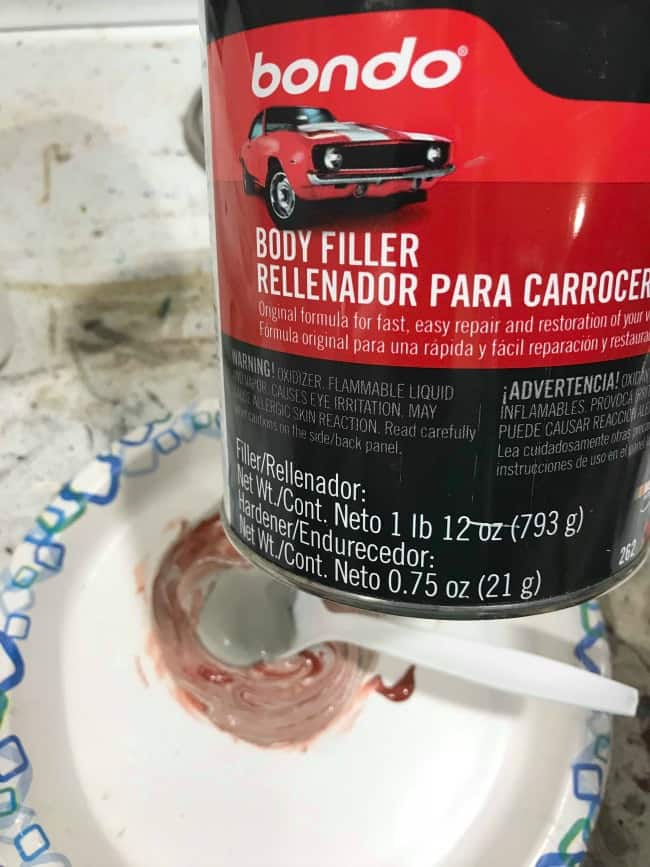 And see how I used Bondo to repair this damaged portion of a vintage lingerie chest here: Painting Layers on a Tall Lingerie Chest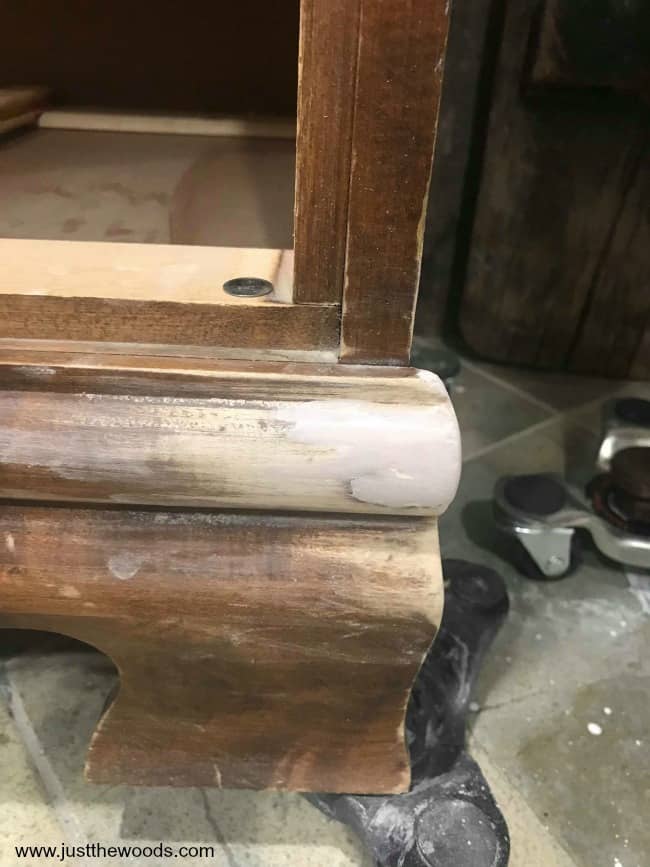 Sticking Drawers
All too often with old wood furniture, we run into swelling which causing drawers to sometimes stick or not glide as nicely as we would like. After trying out beeswax, candle wax, soap and everything else that may help, I have found that Daddy Vans Furniture polish is the best remedy. Lately, I find myself rubbing a little Daddy Vans on drawer tracks even if they don't stick just for that extra smooth glide. You can get this furniture polish HERE.
I have used this on more painted furniture projects than I can count!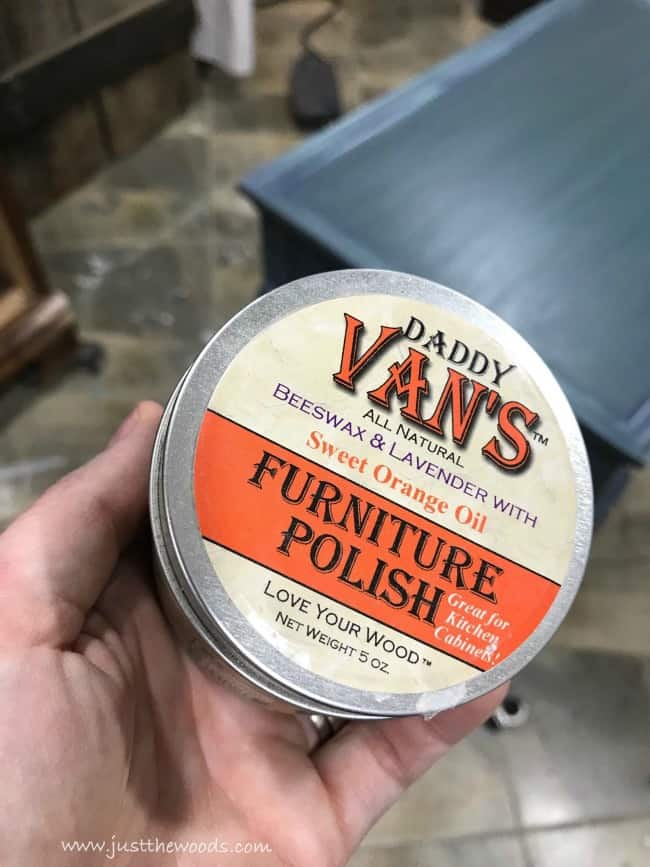 Mobility
Let's face it, we all want those little things that make our lives and our work easier. And sometimes, it's the little things that do just that. In this case, it's these little things. Furniture tri-dollies make it so easy to move your piece of furniture around so you can work your magic on it. Get these HERE.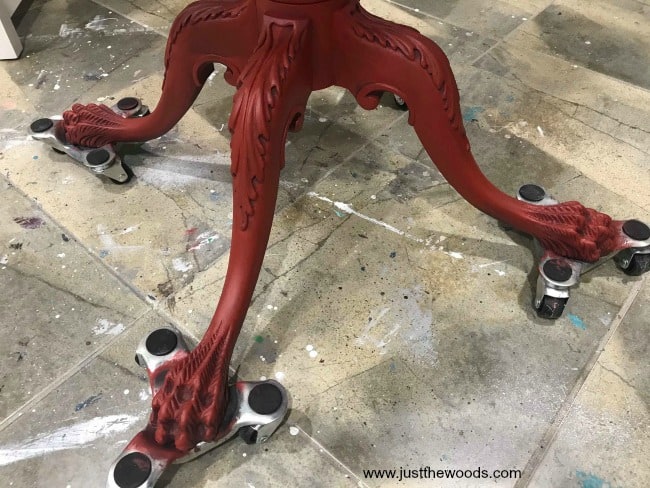 For larger items, I also like to use these bigger ones. You can find these furniture dollies HERE. And you can see the rest of this makeover here: How to Layer Paint on Furniture.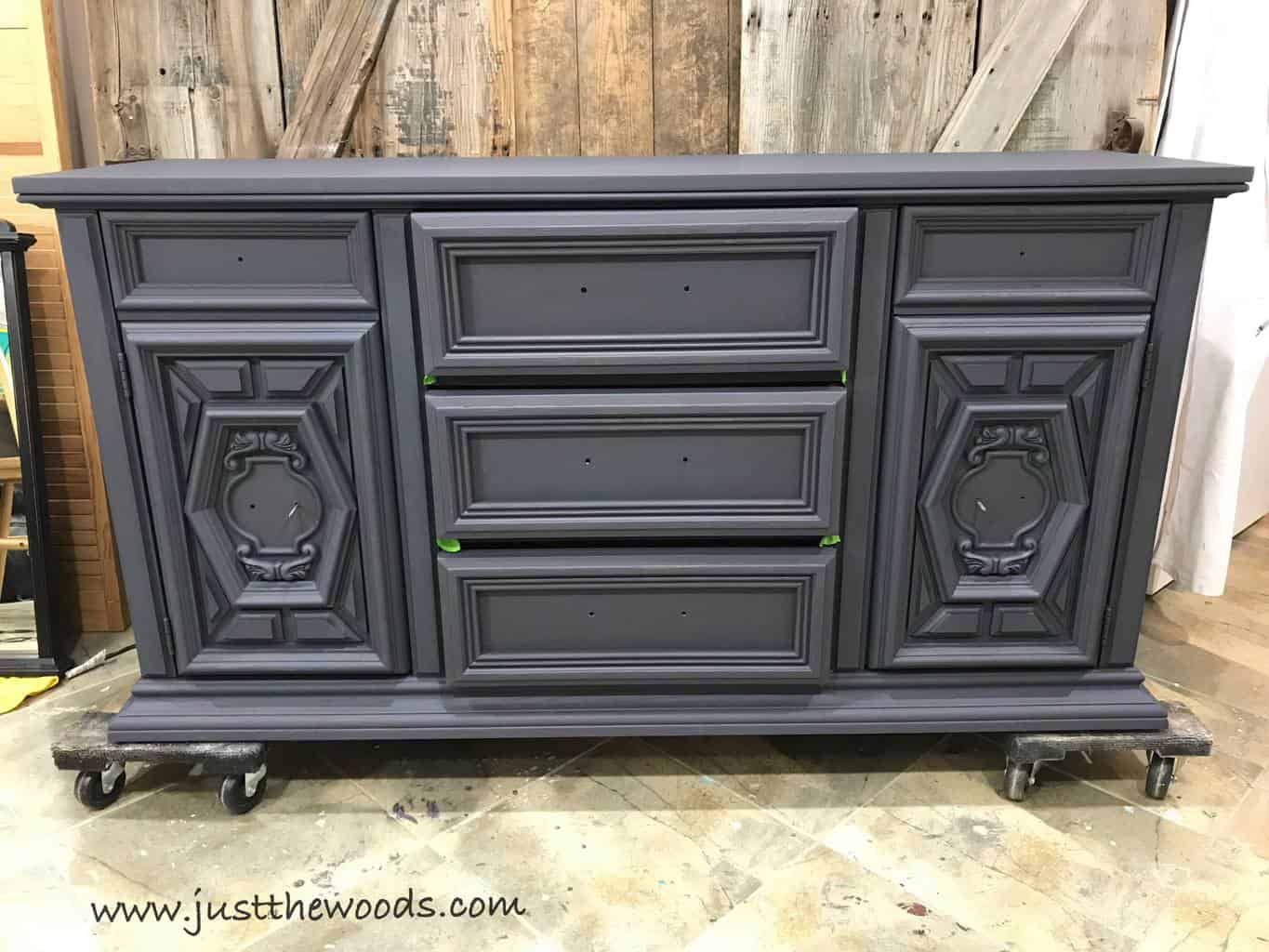 Labeling Drawers
When taking your vintage furniture apart to work on it you may find putting it back together to be a chore. Maybe the drawers don't fit back the same way, or you don't remember which drawer goes where. I use a plain piece of chalk to label underneath each drawer so I know exactly where it goes when the makeover is over. Some are as simple as top, middle, bottom.
While others may have more info.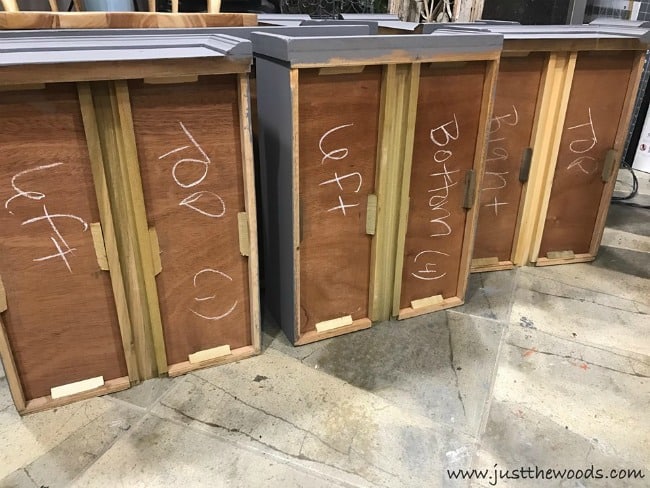 Then there are some that are simply numbered. But no matter which way you label your drawers you will always know where to place them when you finish painting.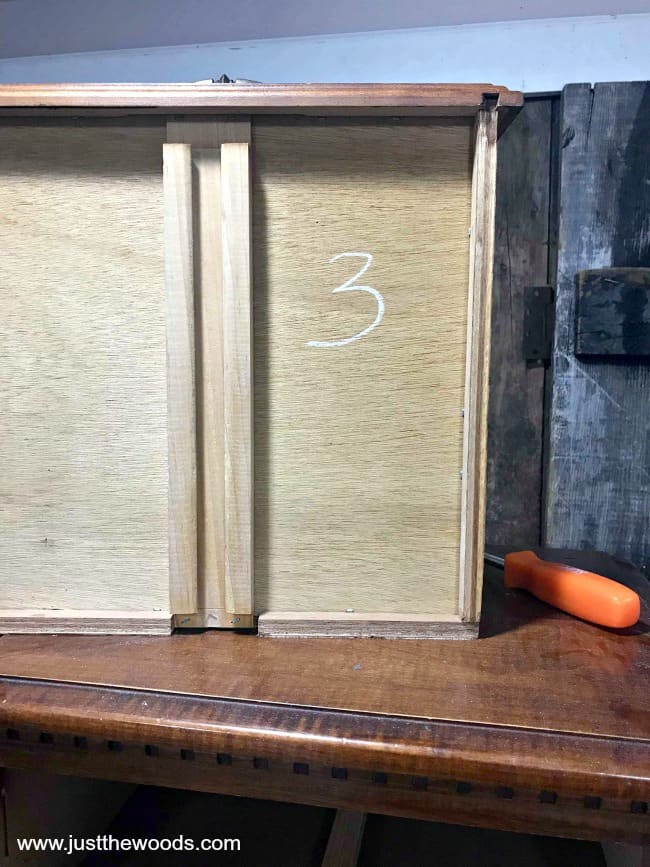 Tiny Nails
At least one time or another you may come across a piece of furniture with these very tiny nails. Often they are used to accompany vintage hardware or decorative hardware. If the nails are in place very well you may struggle with how to remove them without damaging the piece or the hardware.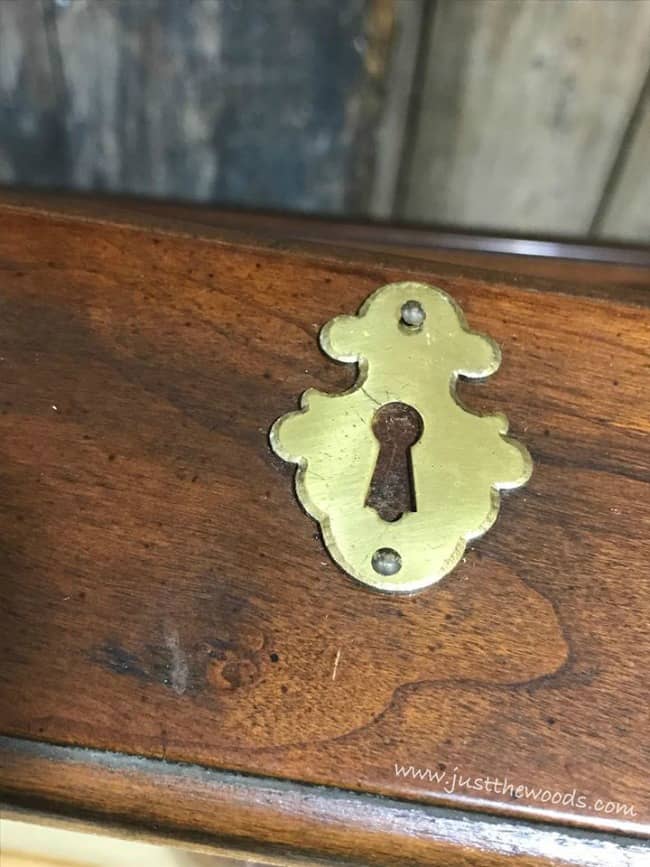 Luckily, you shouldn't have to struggle for very long. A tack lifter, normally used with upholstery works great for getting under the nailhead just enough to remove the nail.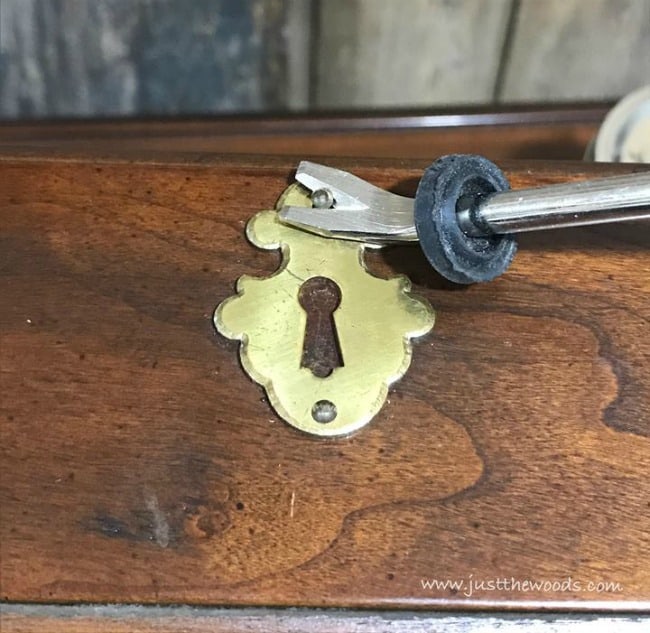 More often than not, it also allows you to pull the nail out without bending or damaging it so that you can use it again if needed. You can get a tack lifter HERE and see the rest of this project if you'd like here: How to Paint a Stunning Sofa Table.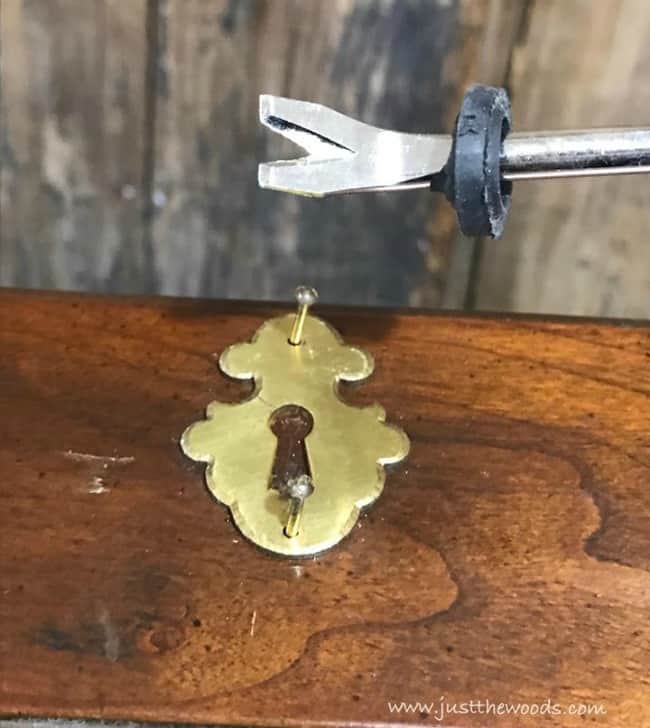 Painting Furniture Feet and Undersides
A quick tip about furniture painting and getting full access to the furniture feet is, yep, you guessed it. Flip it over! By flipping a piece over and working from the underside first you get full access to the feet and even the areas that you may miss if you didn't see it as shown below. You can see this bold vanity tutorial here: How to Paint & Decoupage Furniture.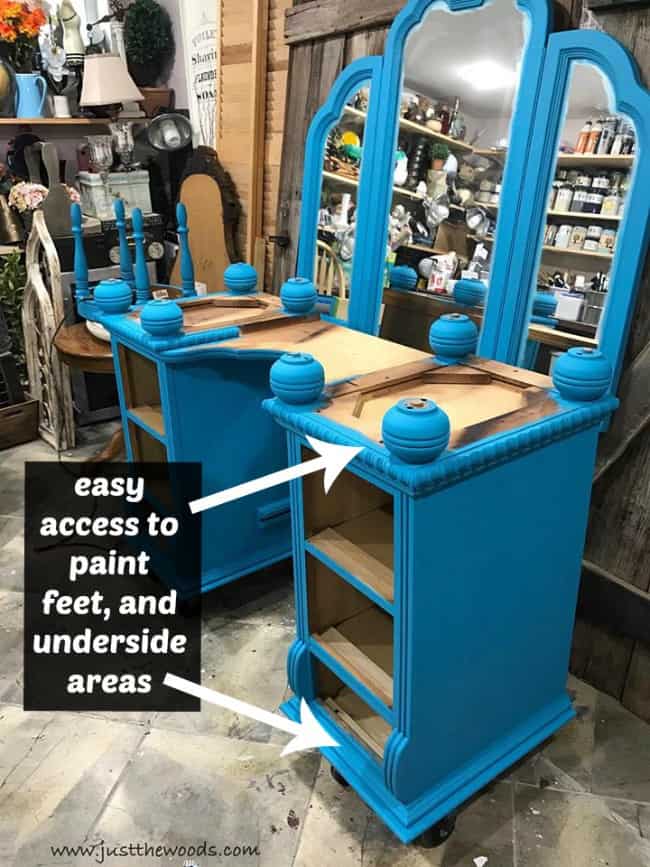 Flipping a piece of furniture over is something that I actually do quite often. Whether its a table.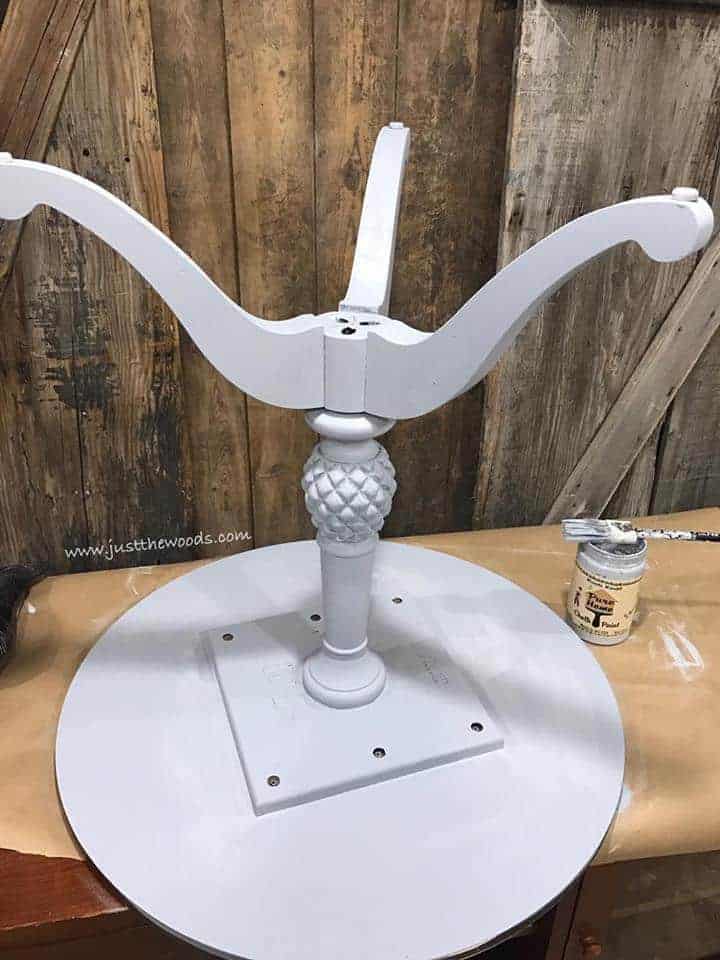 Or a high chair.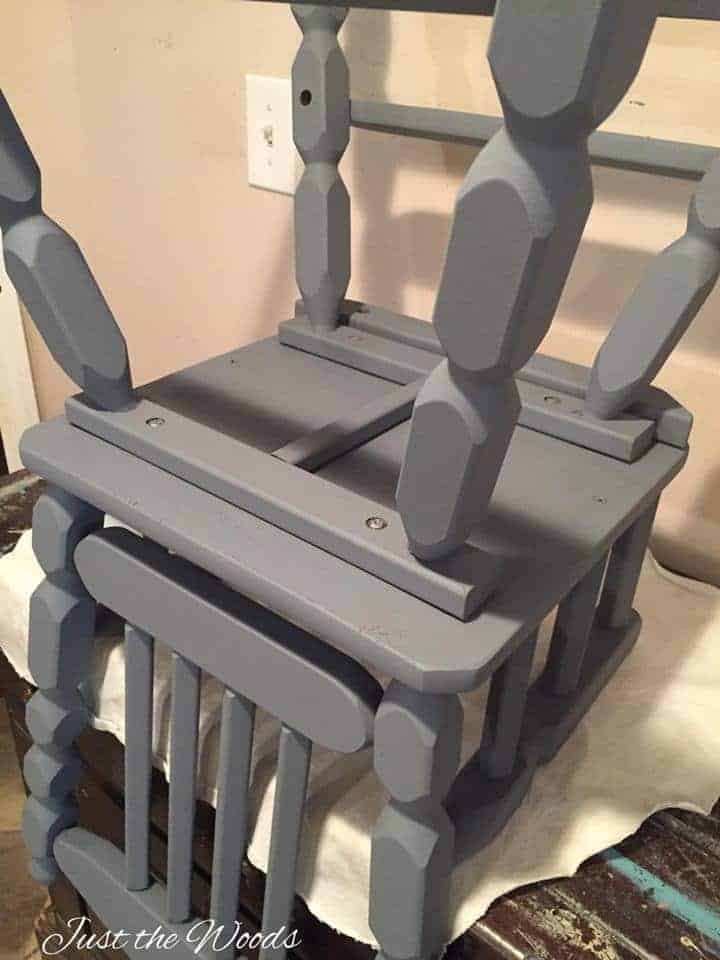 Click here to Pin this post for later.
Painting Furniture White
Here is a quick secret about painting furniture white. I often hear people complain or worry about their top coat yellowing on their white painted furniture. Naturally, no one wants to go through the work of cleaning, prepping, painting and sealing a piece of furniture for the end result to change leaving a yellow hue. To avoid this, I add a very small amount of white paint to my clear sealer to create a white tinted sealer to match my furniture paint. Knock on wood, I have yet to see it ever yellow! You can find more info on painting white furniture here: How to Paint Furniture White.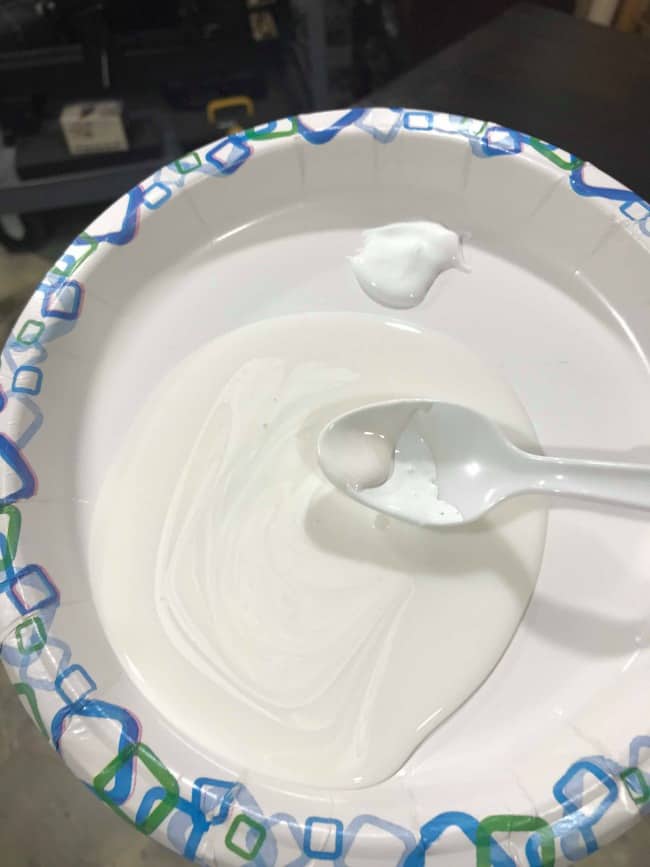 Similarly, with black painted furniture, I prefer to seal with a black tinted sealer for a rich dark finish. Check out all of these black painted furniture makeovers here: Black painted furniture.

Painting Corners
Have you ever painted a piece of furniture where the top, for example, comes to a corner and you don't want to overlap paint strokes? Let me show you what I mean. Instead, you want the paint to mimic the wood grain underneath and meet nicely at the corner. You can cover a portion with cardboard and then switch so that your corner looks natural even after paint. See the whole project here: Dry Brushing Furniture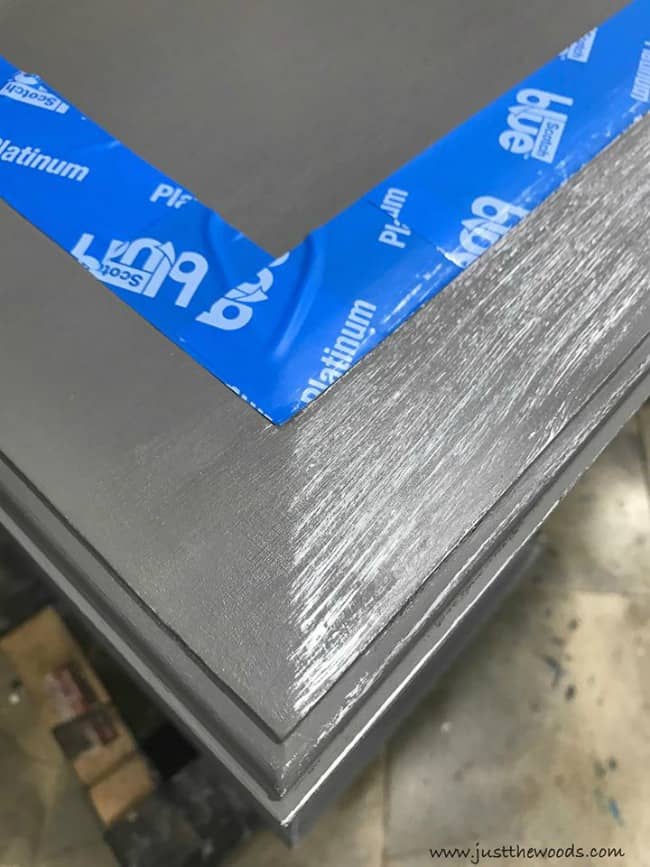 Staying Organized
Over time you may accumulate things like hardware. When we remove old hardware from a piece of furniture there is no reason to toss it away. Saving old hardware can come in handy for future projects. In order to keep your hardware organized try an over the door shoe organizer. This keeps the hardware organized and also out of the way. You can get one of these HERE.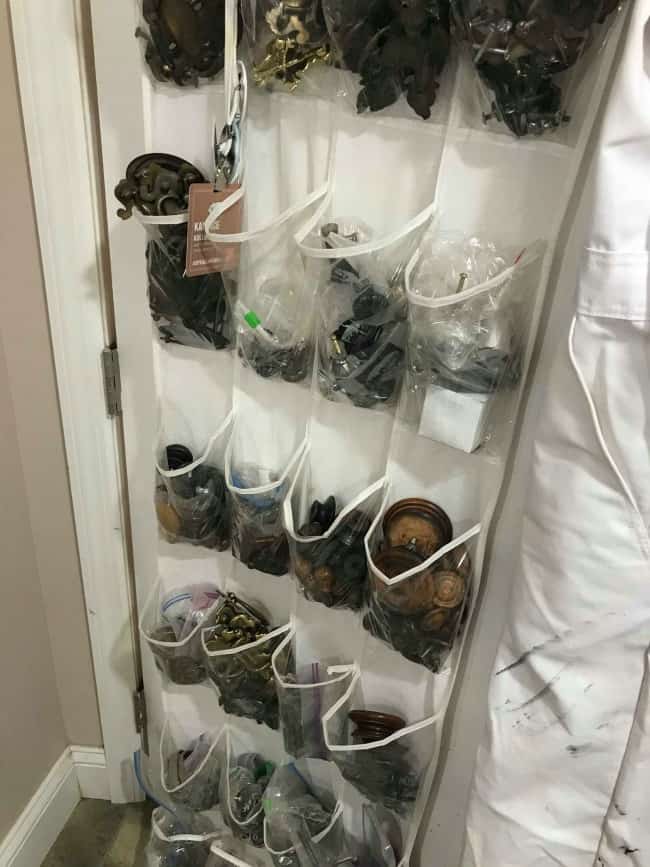 Clothing
We tend to get excited and ambitious and forget to protect or change our clothes. At one point in time, every single pair of jeans I owned, as well as most of my shirts, were covered in paint. Then I started painting furniture in my pajamas. It seemed like a good idea at the time. But now I have an abundance of DIY shirts that perfectly represent me and are totally ok to get messy. This is my newest favorite. You can find your own painting and DIY shirts here: DIY Apparel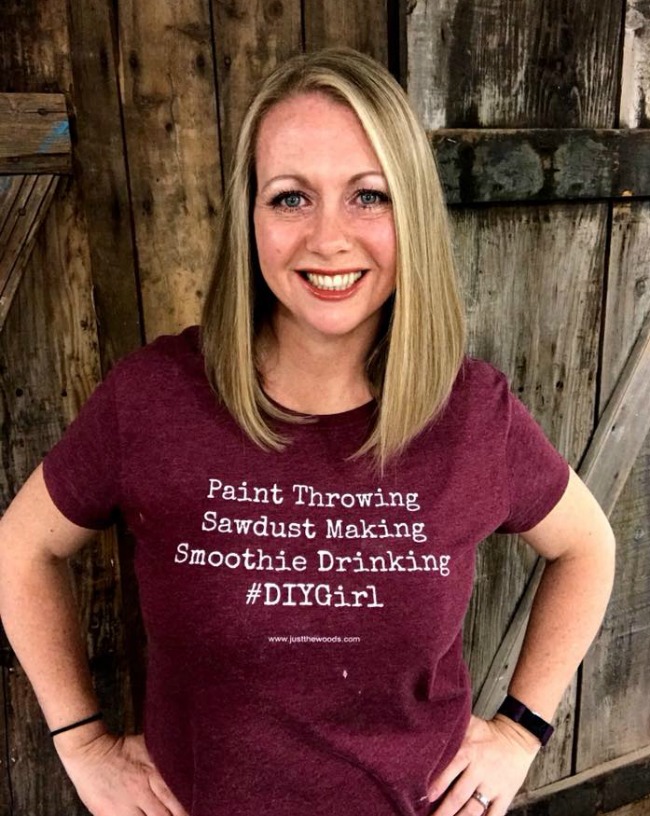 For more painted furniture projects, makeovers and tutorials make sure to check them out on the painted furniture blog here: Painted Furniture Tutorials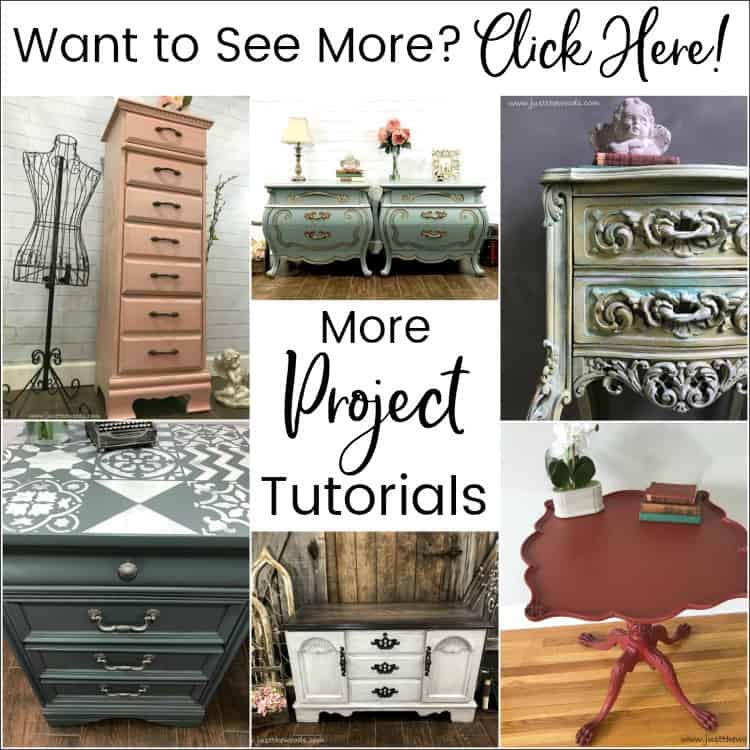 Don't Forget – Follow Just the Woods and Share this post to Inspire others:
FACEBOOK * INSTAGRAM * PINTEREST