The Best No Mess Method to Distress Painted Furniture. Learn how to wet distress. The easiest way to age & distress painted furniture without the mess.
How to Distress Painted Furniture
Wondering how to distress painted furniture? Do you know how to wet distress painted furniture? Like anything else, there are a few different techniques to achieve that antiqued distressed finish on your painted furniture project. Some methods make a big mess, and some can be done with no mess at all! If you would like to make your painted furniture look distressed without the mess, then you are in the right place. Let's start wet distressing!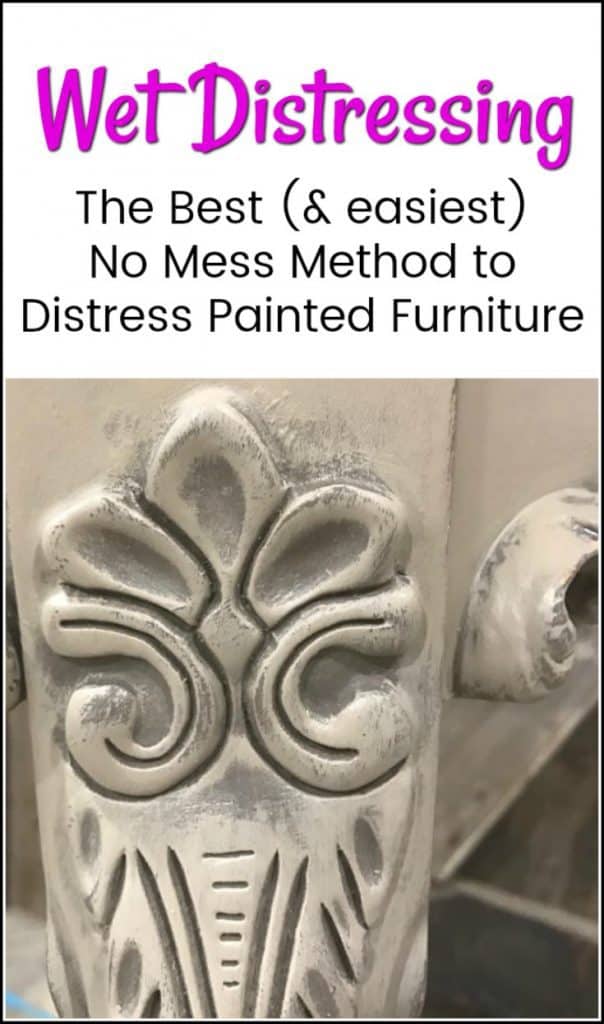 Disclosure: This post contains affiliate links for your convenience. Click here for my full disclosure policy.
The Best No Mess Method to Distress Painted Furniture
Materials Needed / Source List:
An Ornate Console Table
This vintage ornate console table is part of a set. It comes with a matching ornate mirror that belongs to my customer. It is from Italy and has been with the customers family for many years. But the gold tone of the original finish does not work in their home and it will be toned down with warm earth tones and subtle distressing.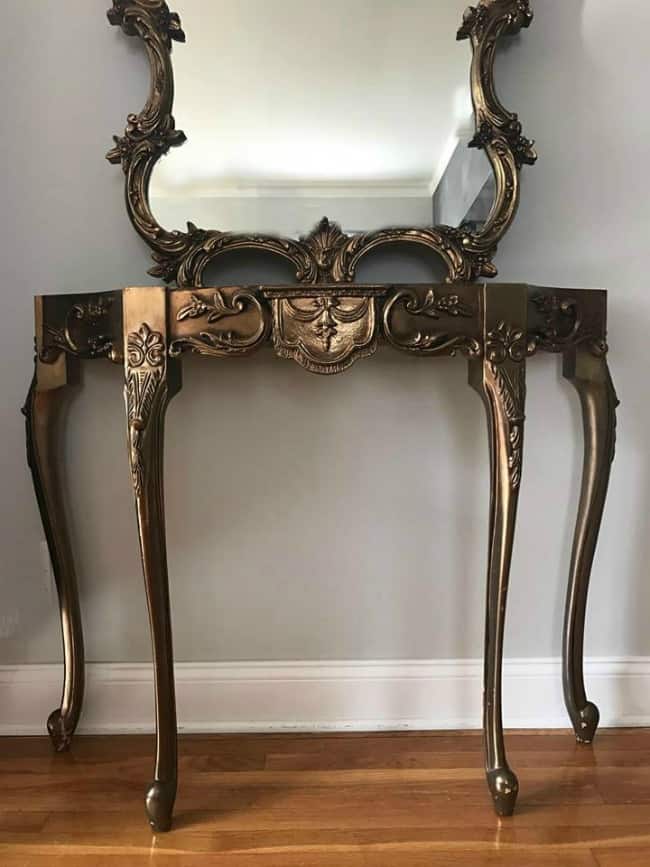 Preparing Ornate Furniture for a Makeover
Like all painted furniture projects, this table is thoroughly prepped and cleaned. Click here to see How I Prep Painted Furniture.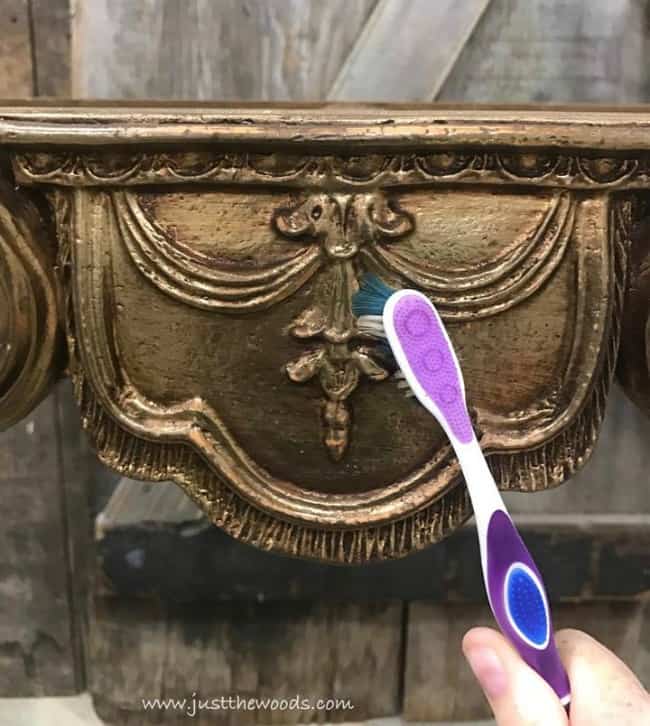 Painting a Base Color
Now that your piece is clean and ready for paint, choose your base color. This is the color that you want to peek through when you distress the paint. Sometimes we like to glam things up but in the case of this console table we are toning it down with a chocolate brown paint. Make sure to cover your entire piece of furniture with your base color, getting into the crevices and details. You can find great paint options online HERE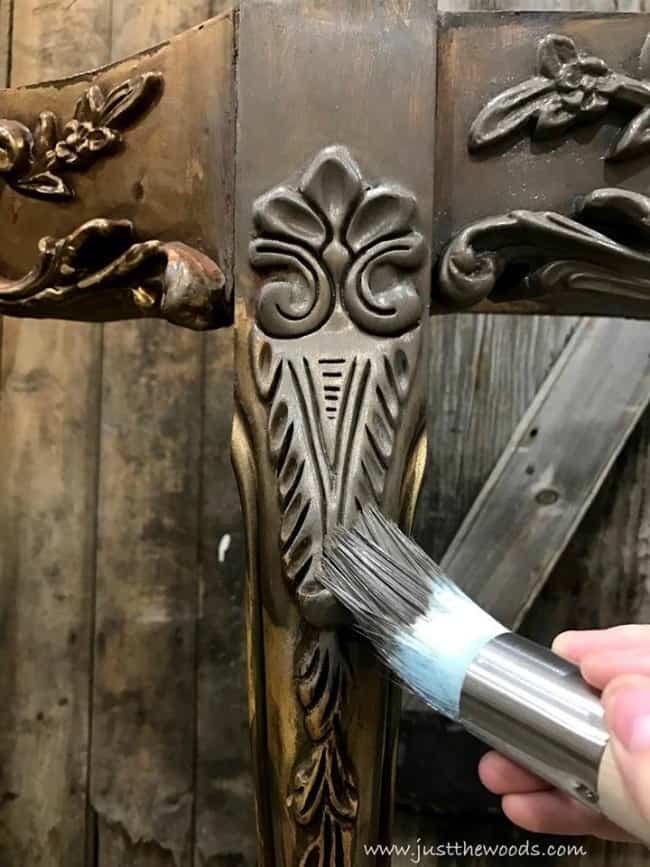 Two coats of chocolate brown and the original glam gold is gone. Normally, you can prop your furniture up on furniture dollies to keep the furniture off the floor and easily move around. In the case of this delicate and ornate table, the legs are super tall and thin. You can compare them to a baby giraffes legs. Because of this, I don't want to use furniture dollies, but instead, I place paper plates under the feet to protect the floor. (Even though in reality its already covered in paint splatters)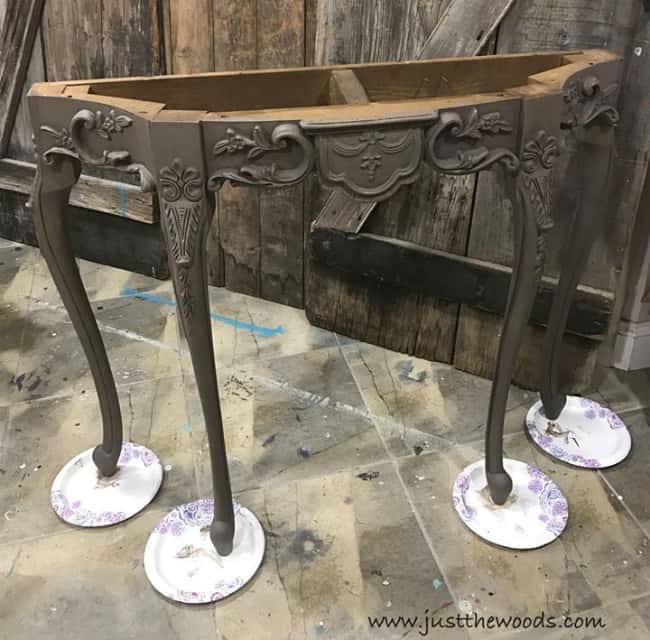 If you like the smooth chocolate finish you can stop there. But then this wouldn't be a post about how to wet distress painted furniture, would it?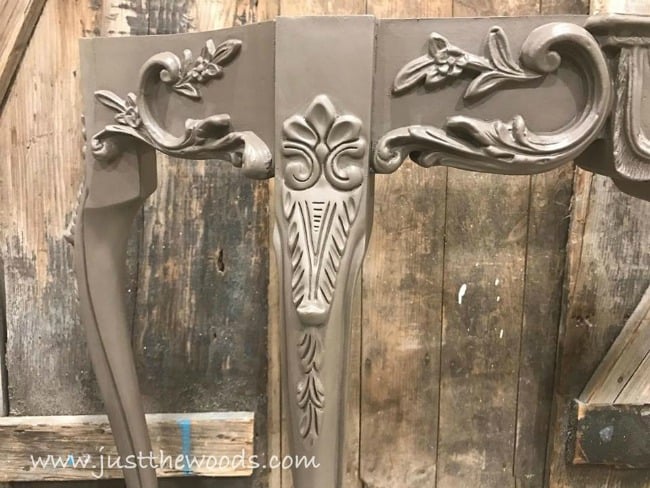 As an added step I apply a coat of clear sealer over the chocolate brown base. This extra measure is done to ensure that when you distress the paint you don't distress down to the original wood. You want to distress only to the base color. Here is a full tutorial with VIDEO showing how I seal my painted furniture projects: Sealing Painted Furniture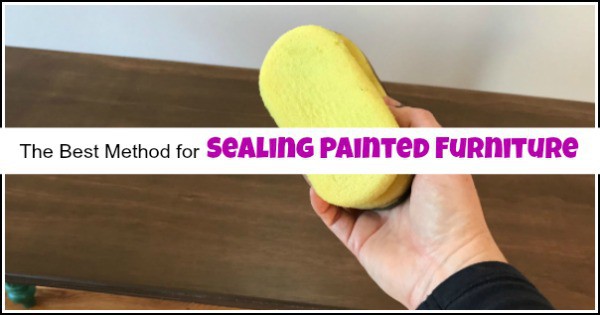 Painting Before Distressing Furniture
Next, you will choose, or mix your main paint color. The customer for this table came and we mixed a custom mix taupe color using dark brown and a light brown/beige. This custom mixed taupe color is painted over the chocolate brown. In case you are wondering, the table comes with a marble top that has been temporarily removed while it receives its painted furniture makeover.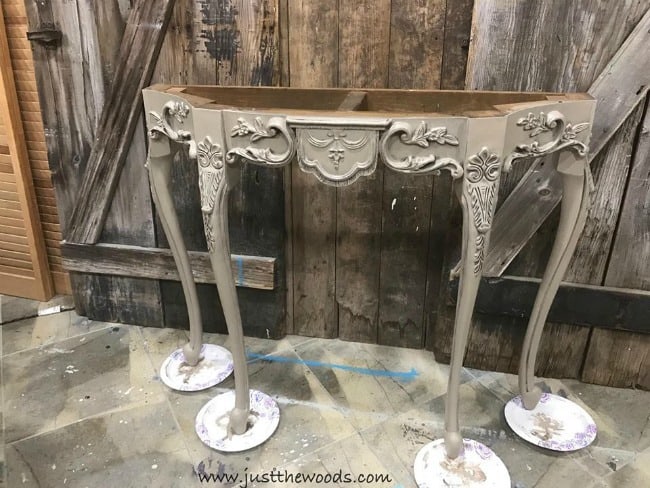 This time, you do not have to get into the crevices and details with your paint. Leaving those areas dark add more depth to your final finish.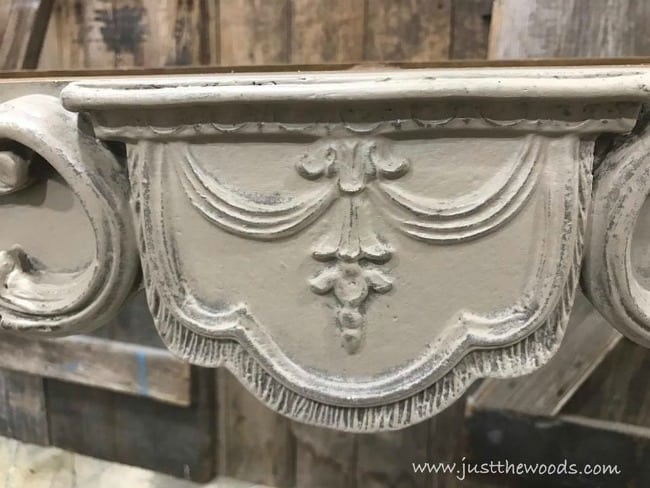 How to Wet Distress Painted Furniture
Now let's focus on the distressing technique that will make the less mess and create that antique look on your painted furniture. I tend to make sure to wet distress painted furniture right after painting the top paint color. All you will need is:
damp/wet cloth
dry cloth
water bottle/sprayer
optional (scrubby sponge)
First, grab a clean damp cloth, an old T-shirt works well.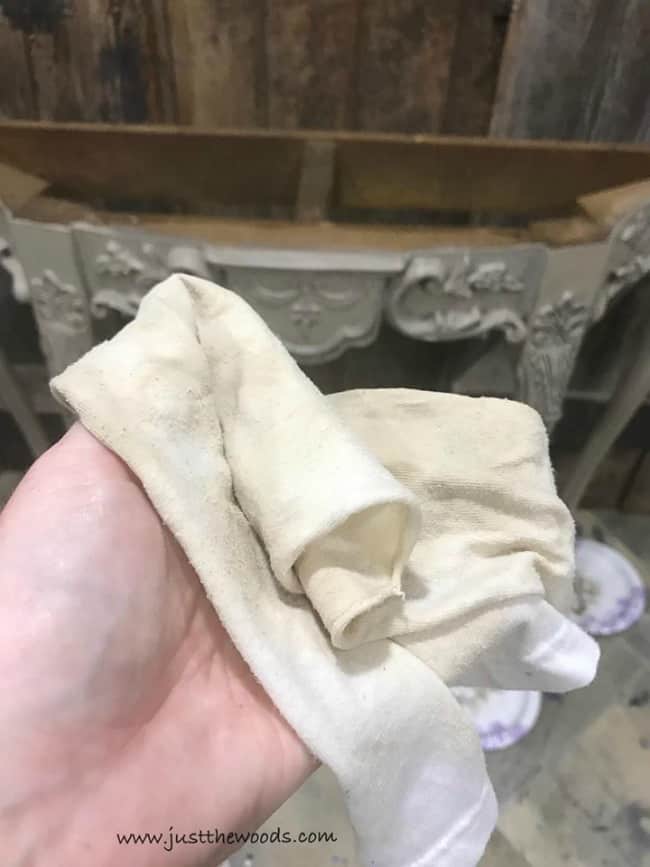 Using the wet cloth go ahead and rub away the paint on the raised edges for a natural and subtle distressed finish. As your cloth starts to get dry just spray it with your water bottle to keep it damp. The water will soften your paint and make it easier to rub it away. You can use more or less pressure as you see fit to remove as much or as little paint as you'd like.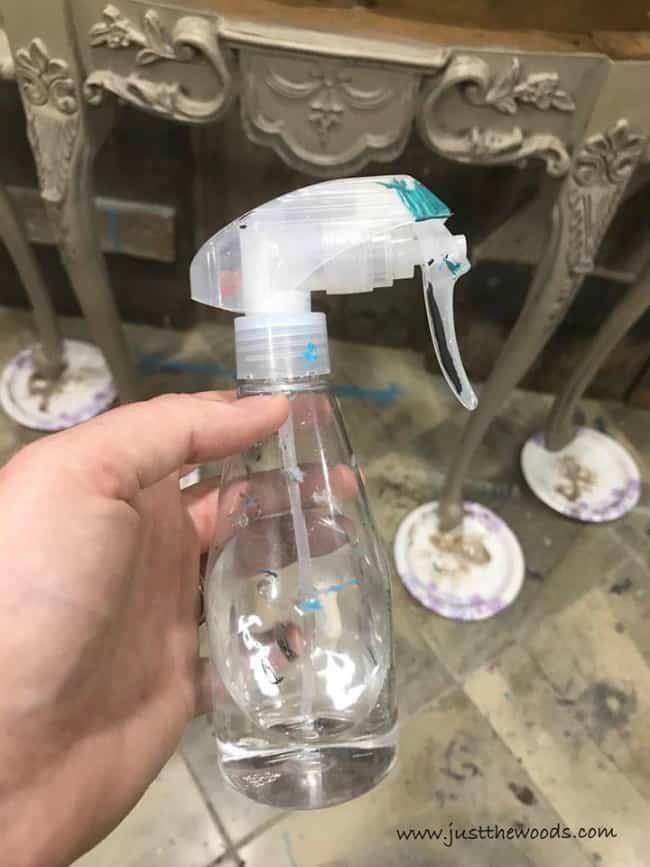 When distressing painted furniture with this no-mess distress method I prefer to keep the cloth wet instead of wetting the furniture itself. Also, make sure to keep a dry cloth to wipe away your distressed areas as you work.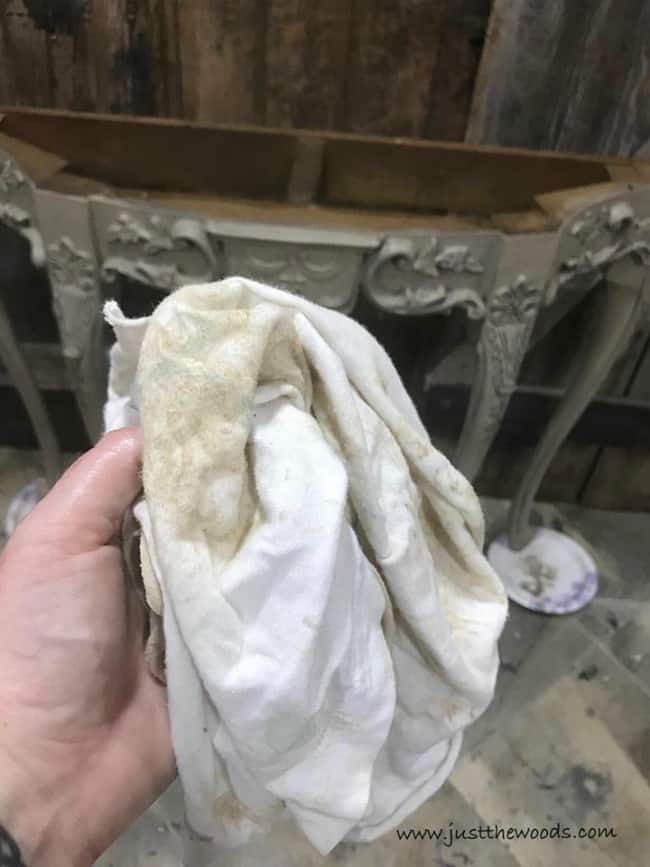 This distress technique is soft and subtle and only reveals a bit of the darker paint color underneath.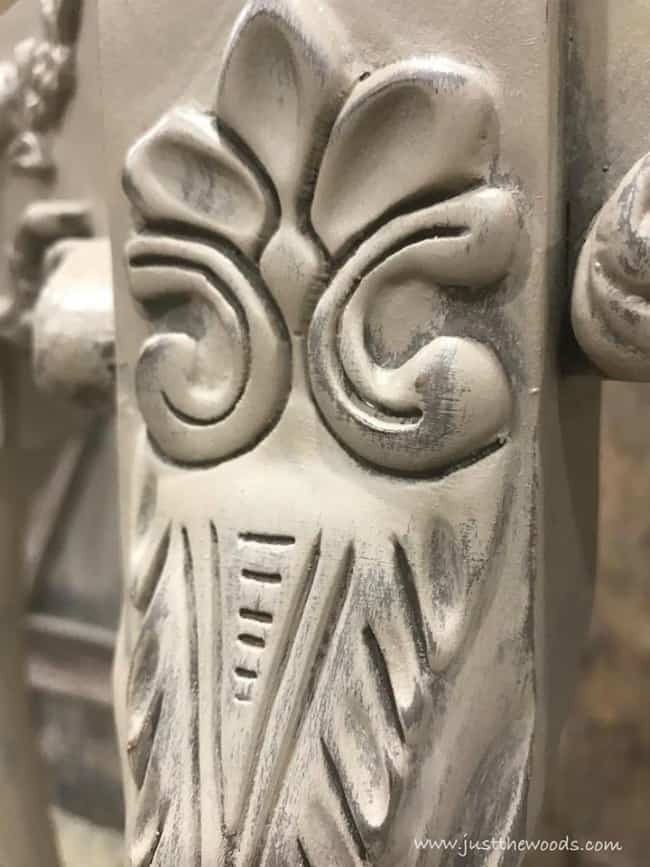 Prefer to see it an action? You can watch the live Facebook video here. Feel free to fast forward as you see fit, the video is rather long. Someone complained that they couldn't see the paint coming off in the video. The video shows the distressing technique, but the images below (and above) show the close up to see how subtle the results truly are.
Option 2
If you feel that your paint isn't coming off as much as you would like, you can opt for a damp scrubby sponge to rub away the paint. A damp scrubby sponge tends to be more abrasive than a damp cloth but still much gentler than distressing with sandpaper.
Sealing Your Distressed Painted Furniture
Satisfied with your subtly wet distressed painted furniture? Make sure to seal your piece for protection. This yellow detailer sponge is my all time favorite for applying the clear sealer. If you don't have one, you can get one (HERE).
Make sure, when applying your clear sealer to your ornate painted furniture to mind the details and crevices. Go over your piece with a dry chip brush to brush the details and remove any sealer that may pool inside.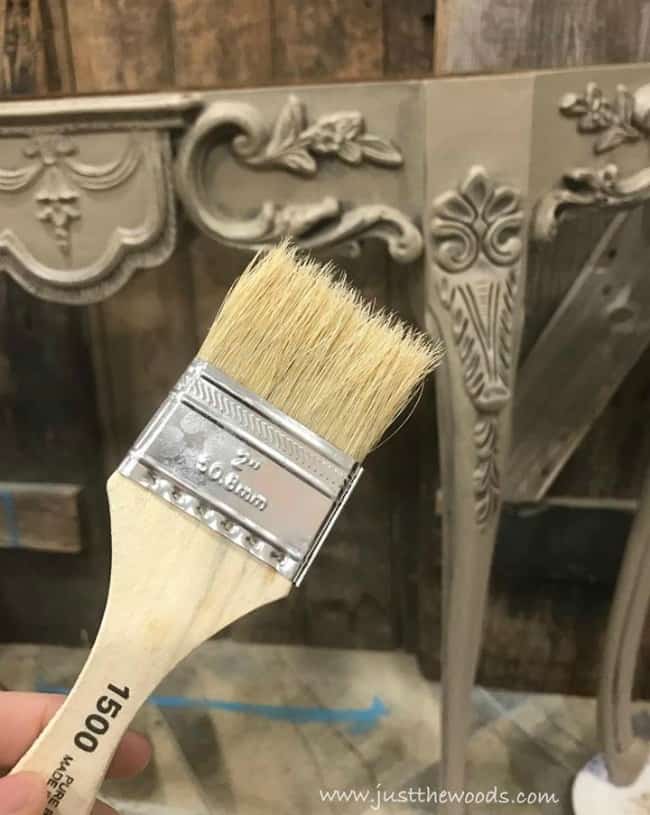 Click here to see the mirror that matches this table: How to Paint a Mirror Frame the Easy Way
No Mess Method to Distress Painted Furniture
I hope you now feel comfortable enough to wet distress painted furniture and not worry about making a dusty mess for a subtle aged and antiqued look.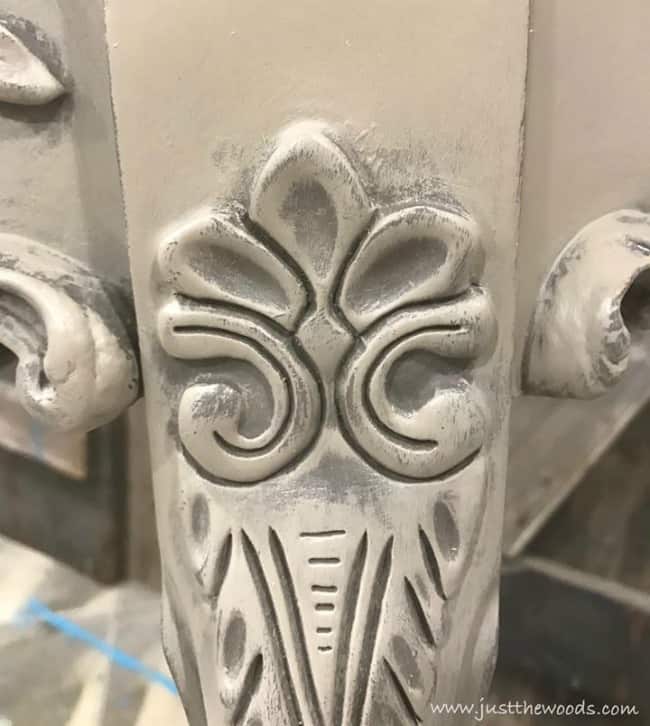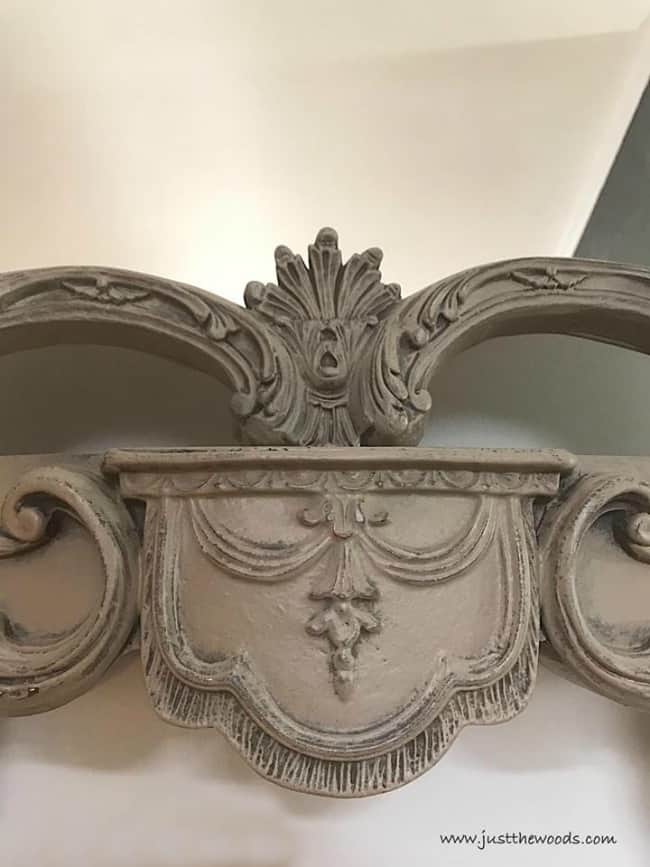 Need an accent or console table? There are many gorgeous console tables for sale (here)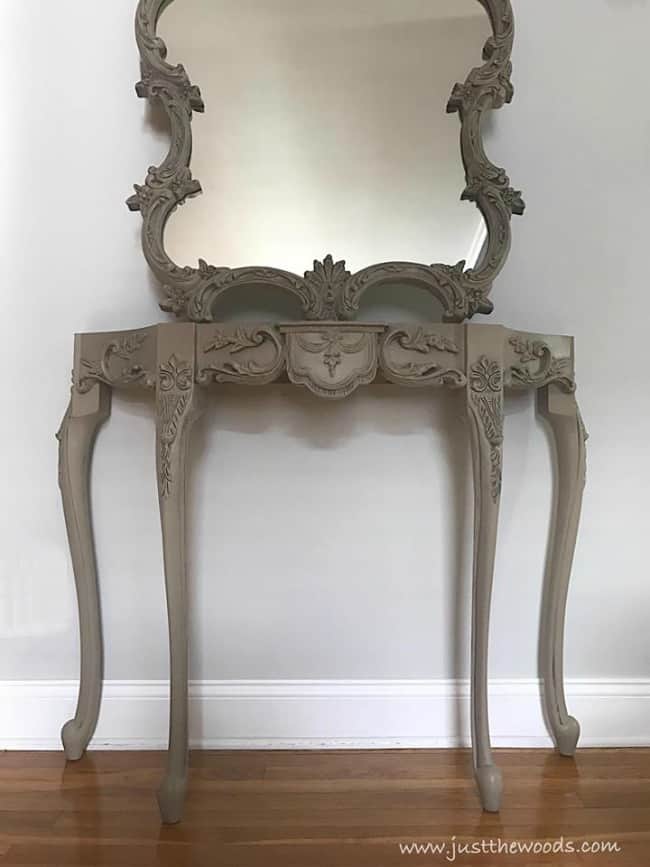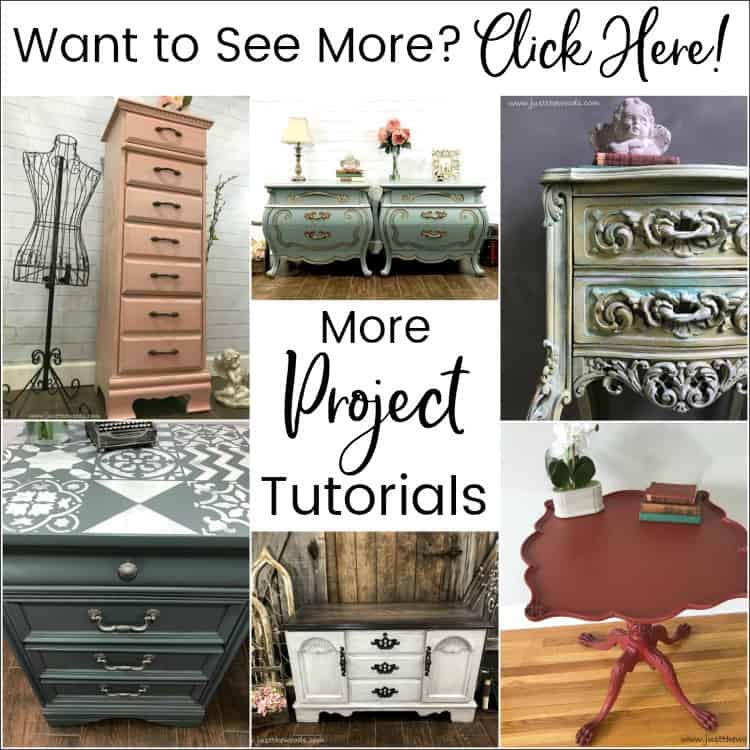 Don't Forget – Follow Just the Woods and Share this post to Inspire others:
FACEBOOK * INSTAGRAM * PINTEREST
PINTEREST PIN: