Sealing painted furniture and looking for the best top coat for painted furniture, or how to seal painted furniture? Look no further, this step-by-step tutorial with video walks you through how to seal painted wood using a sponge applicator.
So you've started furniture painting and want to know how to seal painted furniture? Guess what? You are in the right place because it's easier than you think. So rest assured that if you are racking your brain to figure out what's the best top coat for painted furniture or even the best clear coat for painted wood you can stop worrying. When trying to figure out the best way to seal painted furniture I bet you've heard about things like wipe on poly over chalk paint or polycrylic over paint. Perhaps you are considering wax to seal painted furniture. Stop right there and let me share what I have found to be the best method for sealing painting furniture to put your mind at ease.
Disclosure: This sealing painted furniture post contains affiliate links for your convenience. Click here for my full disclosure policy.

Simple Supply List for Sealing Painted Furniture
What You Will Need
Tools
Paint
Choosing Your Clear Coat for Painted Wood
When it comes to choosing a clear sealer for painted wood the options of what's available can seem endless. To keep this simple I will be using Dixie Belle's clear coat in Satin Finish and Gator Hide as the clear coat over painted wood table. The Dixie Belle clear coats come in satin, flat (matte finish), and gloss finishes. You can check out all of their sealers and finishes HERE. When sealing painted furniture you will need your protective top coat, a few paper plates, plastic spoons, a clean chip brush, lint-free cloth, and my all-time favorite yellow applicator sponge. You can get these sponges HERE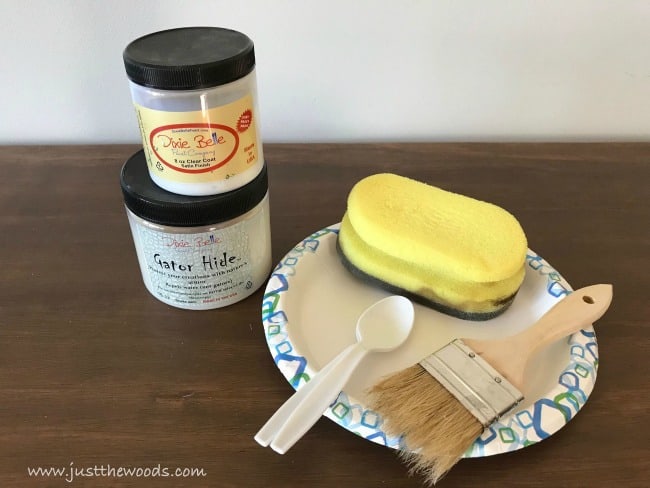 Preparing Your Painted Furniture For Sealer
Before applying your clear coat over painted wood furniture you will want to give it a once-over with a lint-free cloth (or tack cloth).
Grab a lint-free cloth and wipe off the surface to make sure that is free of any dust. The cloth will remove any dust making sure you are left with a clean smooth finish. Easy peasy.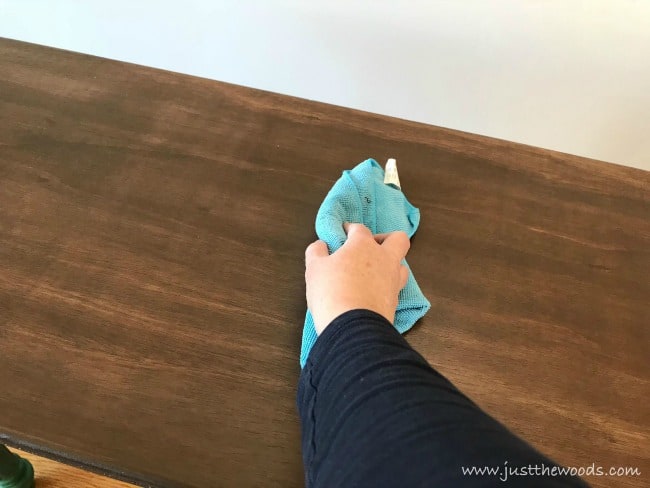 A Clear Sealer for Painted Furniture that Repels Water
What? Yes, you read that correctly! Gator Hide is water repellant and I am using it on the table top. This table is for my son who is 7 years old. He needs a place to work on his Legos and erector set and all the other kinds of things that little boys build. But let's face it – kids are gross! I want to make sure that if these little dirt mongers sneak a drink into the play area or near this table that the painted table top (or stained rather) will be protected from their spills and whatever else they may bring. Mom-1, Kids-0. Gator Hide is the perfect durable finish for this painted and stained piece of furniture.
It would also be great for sealing high-traffic items like kitchen cabinets, or a kitchen table.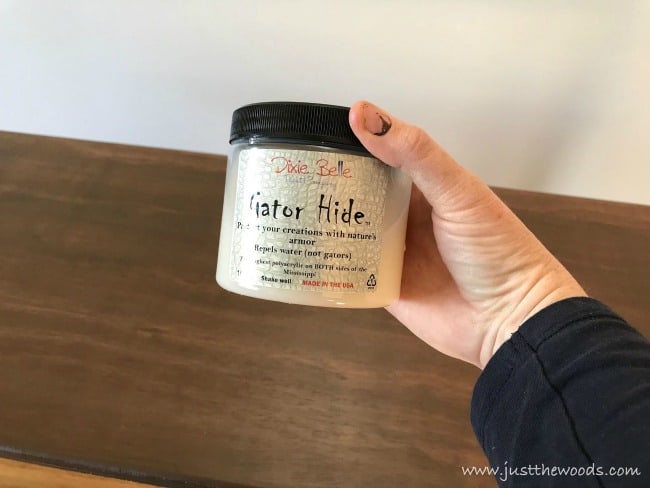 Spoon some Gator Hide onto a paper plate with a plastic fork. I keep all the fancy plates and cutlery in my shop as you can see 😉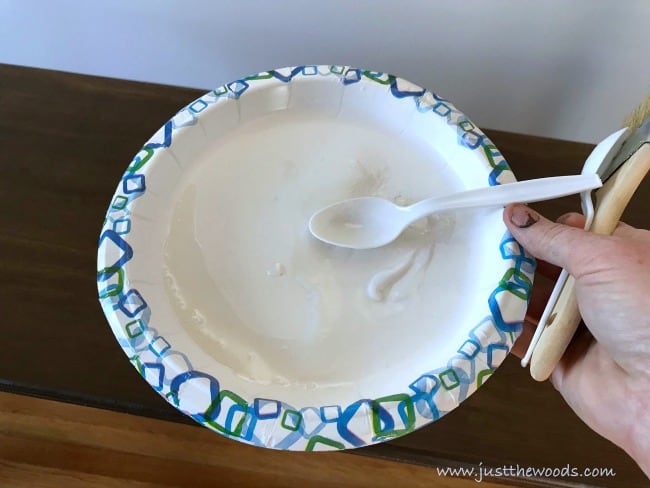 How to Seal Painted Furniture with a Sponge
Now grab that yellow sponge that I love so much and dampen the sponge before you do anything else. Don't make it soaking wet or dripping, just run it under water and then squeeze it out so that it is damp. Dab your damp sponge on the plate to get your clear furniture sealant onto the sponge and wipe it across your table surface. Do not use too much, do not wipe all willy-nilly, and do not drag the sealer. (Don't worry, I'll show you a video too). Using the sponge to seal your painted furniture piece will prevent any visible brush strokes that you may get if you seal with a brush.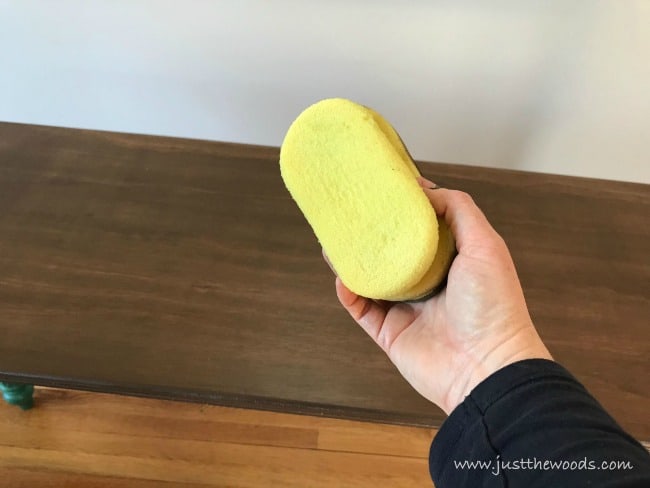 Click here to Pin this post for later.
Sealing Painted Furniture Table Legs
Now that you see how easy it is to seal painted furniture on a flat surface let's move on to a not-so-flat surface. The table legs and apron. For the bottom portion of this painted table, I am using Dixie Belle clear coat in a satin finish. Spoon a bit onto a new plate as well. Or use the same plate, either way, should be fine.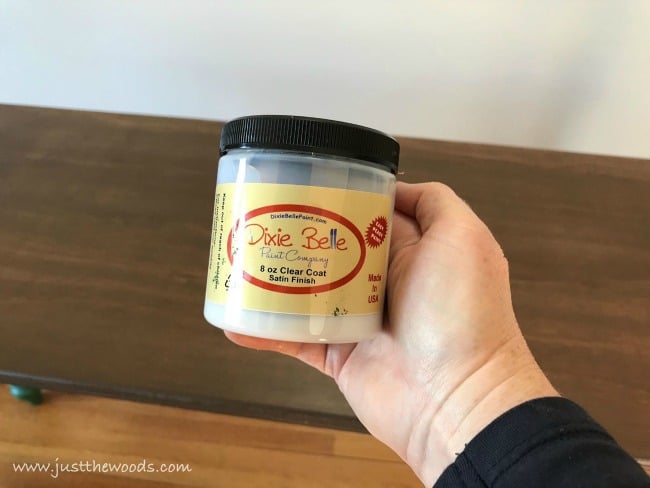 Grab that handy dandy little yellow sponge again and sponge your clear top coat over your painted furniture.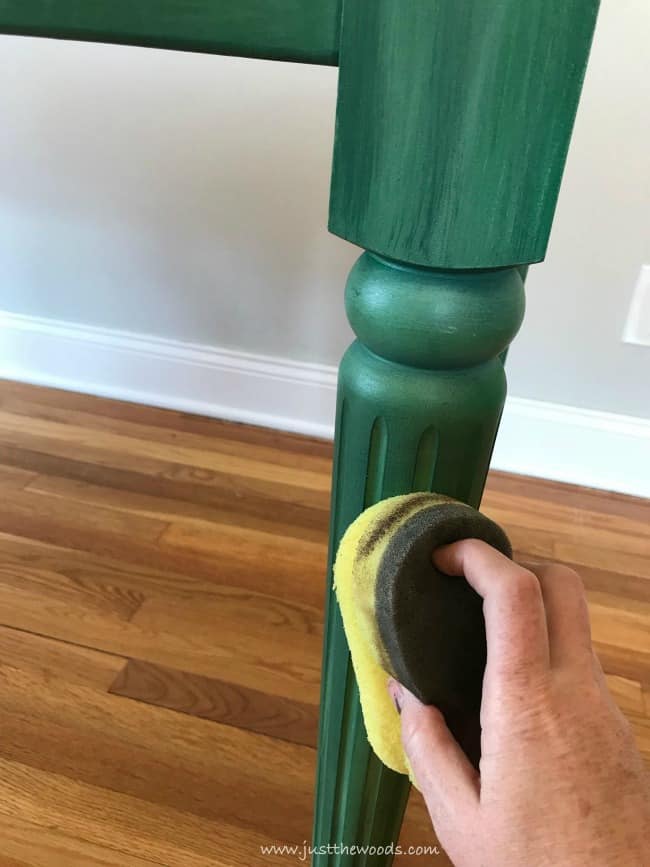 But because there are crevices and nooks and crannies on the legs like many pieces of painted furniture you want to make sure you don't have any build-up in these areas. Use a clean chip brush and go over the painted surface to make sure to wipe away any pooled-up clear sealer.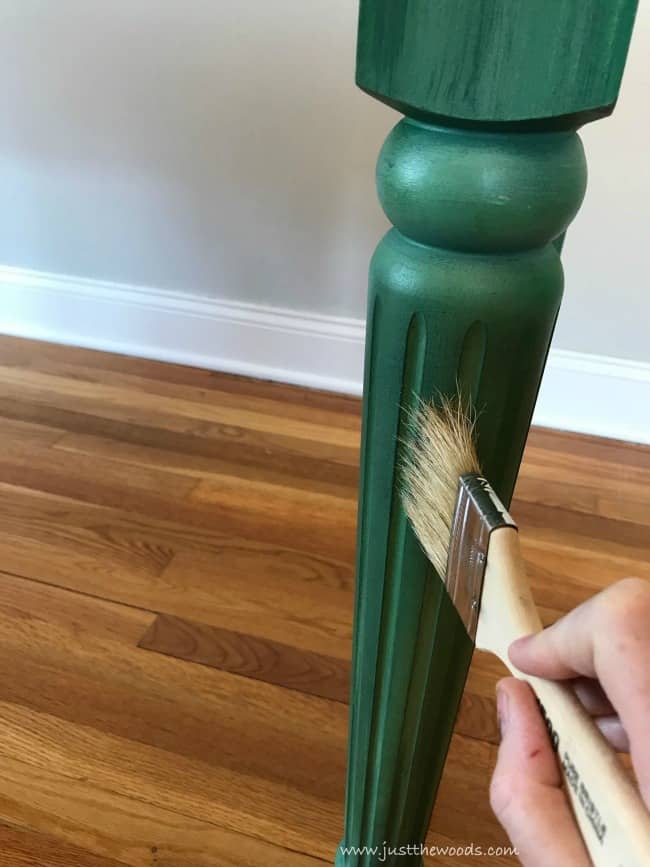 Click here to Pin this post for later
Video Tutorial for Sealing Painted Furniture
To make this even better I have put together a video tutorial showing you how to seal painted furniture using the applicator sponge. I walk you through the entire process, so if you are a visual person go ahead and check it out.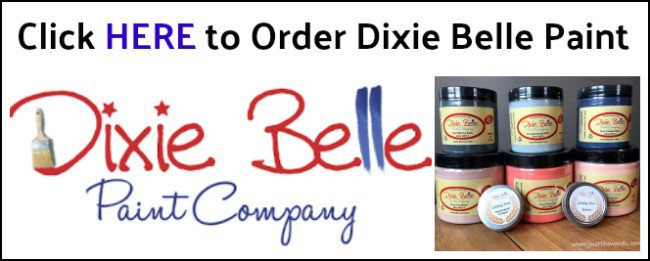 Painted Furniture Sealed for Protection
For a quick recap: Always make sure to protect your hard work with the best sealer. Apply your sealer in a thin layer over the entire surface of your painted furniture piece and allow for enough dry time between coats for the best protection and a flawless finish. Here is the finished painted table sealed to perfection. The tutorial for this makeover can be found here: How to Build a DIY Wood Table and Paint Gorgeous Green Layers!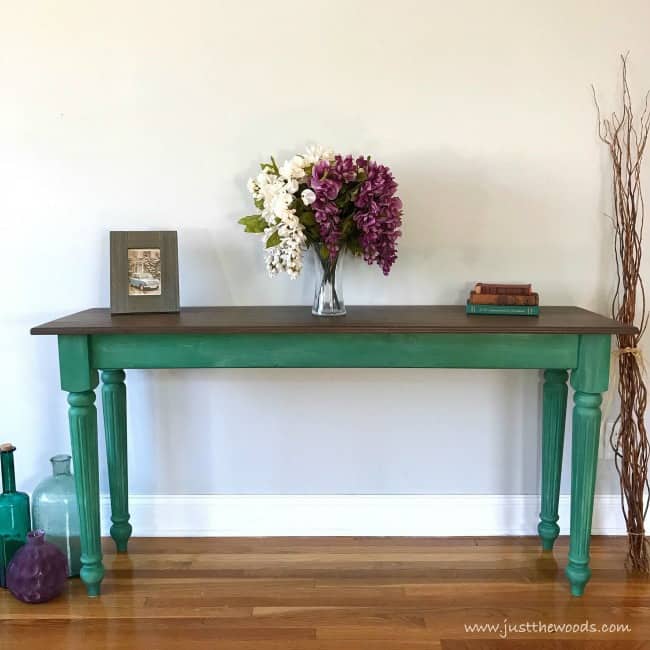 If you like this post make sure to check out all of the tips & secrets that I wish someone told me when I started painting furniture here: Painting Furniture Secrets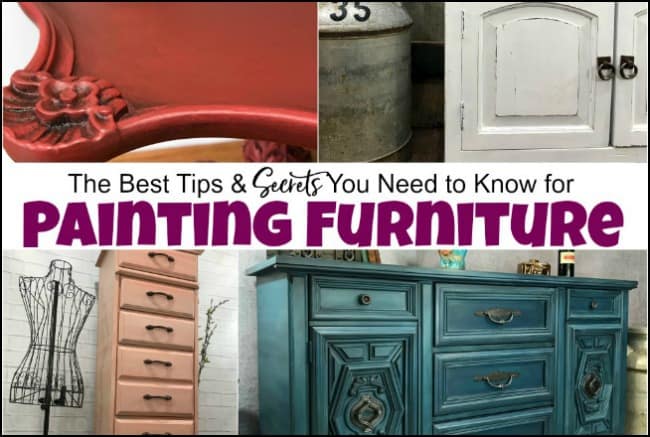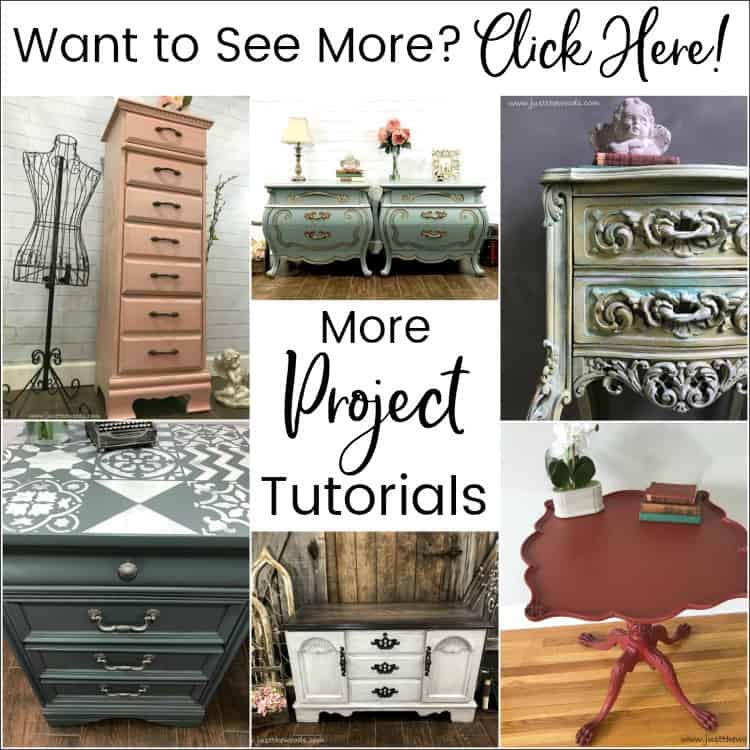 Don't Forget – Follow Just the Woods and Share this post to Inspire others:
FACEBOOK * INSTAGRAM * PINTEREST