An apple cider vinegar detox drink has replaced my morning coffee. In fact, this replacement started quite some time ago, but I'm finally getting around to sharing it now. I'm not saying that you need to quit your coffee, but maybe just consider adding this acv drink to your morning routine.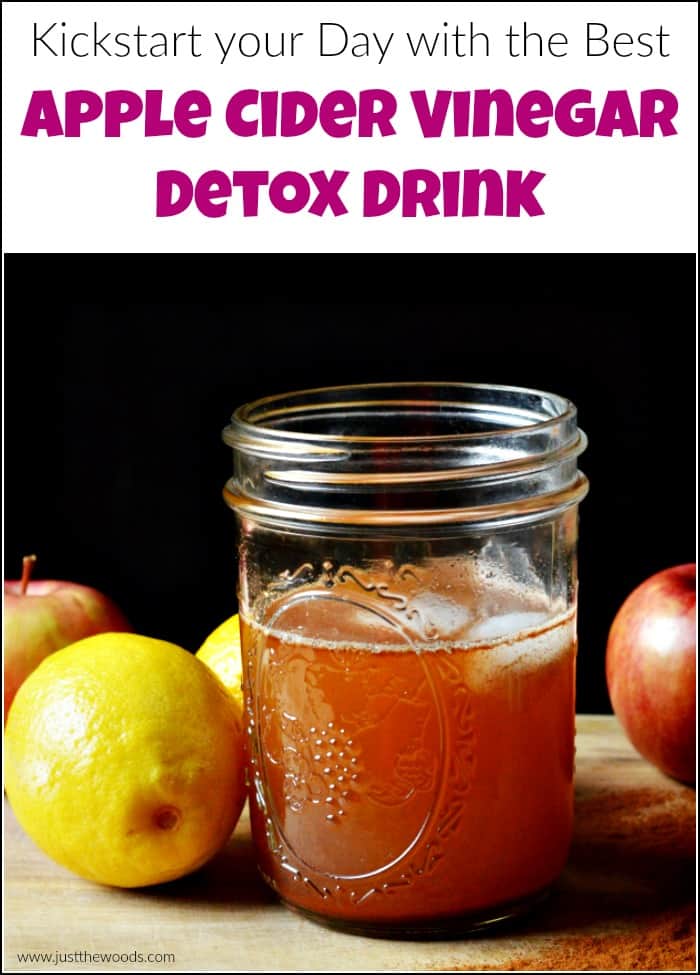 Disclosure: This organic apple cider vinegar detox drink post contains affiliate links for your convenience. Click here for my full disclosure policy.

Healthy ACV Detox Drink Recipe
What You Will Need (Full Printable Recipe Available Below)
Ingredients:
1 ½ cups water
2 Tbsp Apple Cider Vinegar (with the Mother)
2 Tbsp Raw Honey (you can get it

here

)
½ Tsp Cinnamon
2 Tbsp Fresh Lemon Juice
How to Make Apple Cider Vinegar Drink
This apple cider vinegar drink is part of my every morning. Like coffee, but not coffee. In the way that I don't expect the kids to start with their 4 thousand questions and breakfast requests until after I have my apple cider vinegar with honey and lemon first thing before starting the day. I started adding this apple cider vinegar and water drink to my morning routine around the same time I started my clean eating weight loss journey. If you are new to a clean eating way of life then you need to check out Everything You Need to Know about a Clean Eating Diet. You can also see how I, personally have lost 50 lbs and am keeping it off by following a clean eating healthy diet here: How I Lost 50 Lbs Clean Eating. Let's get into the health benefits of apple cider vinegar and why I start each day with this apple cider vinegar detox drink.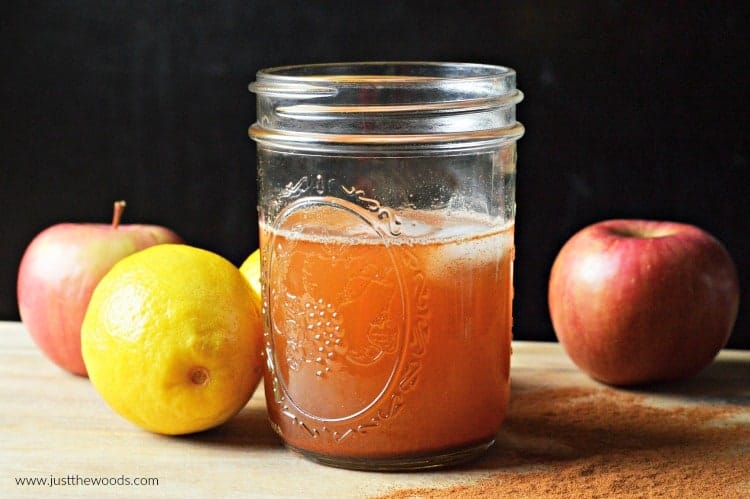 What is Apple Cider Vinegar?
For starters, I always thought apple cider vinegar was just another bottle in the cabinet in the kitchen. But it turns out that it's so much more. When it comes to making your own apple cider vinegar drink the type of vinegar you use does matter. You want to make sure to use Braggs Apple Cider Vinegar with the 'Mother'. This is very different from apple juice. What in the world is 'the Mother'? I know, I remember saying the same thing. Apparently, only organic, unfiltered apple cider vinegar has the Mother, which is full of probiotics making it great for digestion. If you can't find this kind of ACV at your local grocery store you can get it online HERE.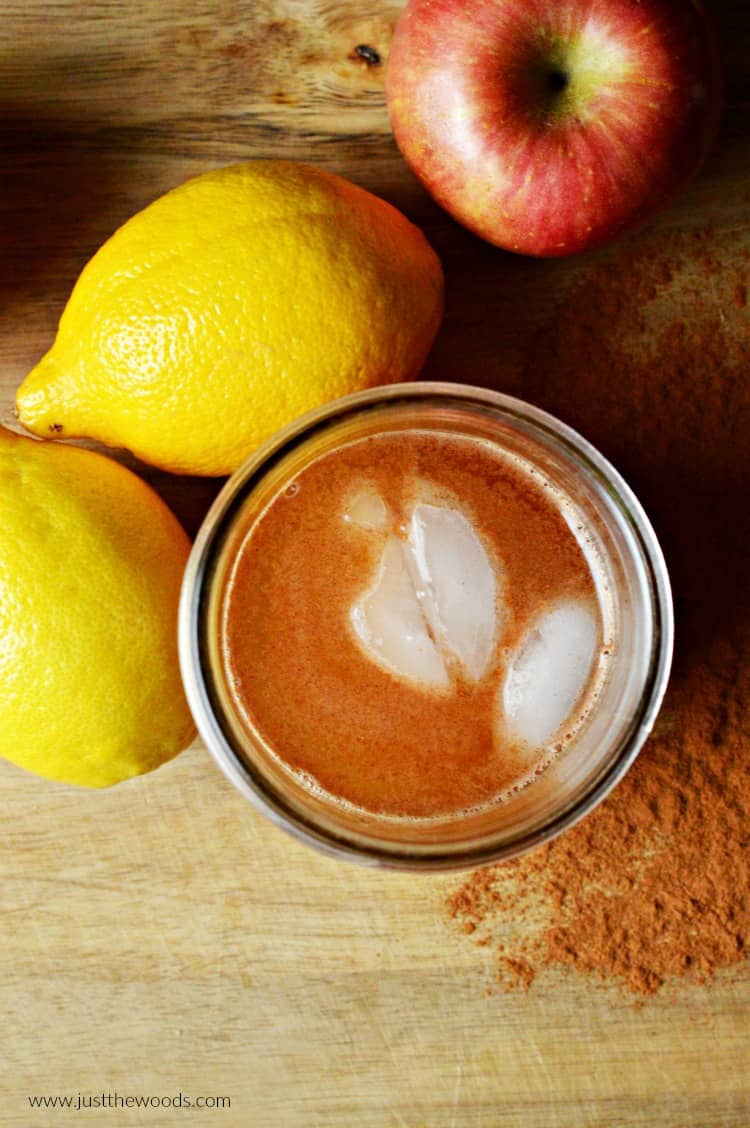 What is Apple Cider Vinegar Good For?
The health benefits of drinking apple cider vinegar seem endless. And who doesn't love natural ways of improving health? Here are just a few examples of what drinking ACV daily may do for your body:
lower blood sugar levels
help with weight loss
improve immune system
lower cholesterol levels
improve digestion
helps relieves allergies
How to Make a Detox Drink with ACV
I will tell you that I used to (and sometimes still do) take apple cider vinegar shots instead of the drink itself. But taking ACV shots, though fast, does not taste very good. I would shoot the shot fast, and follow with lemon water and honey. This was/is my setup: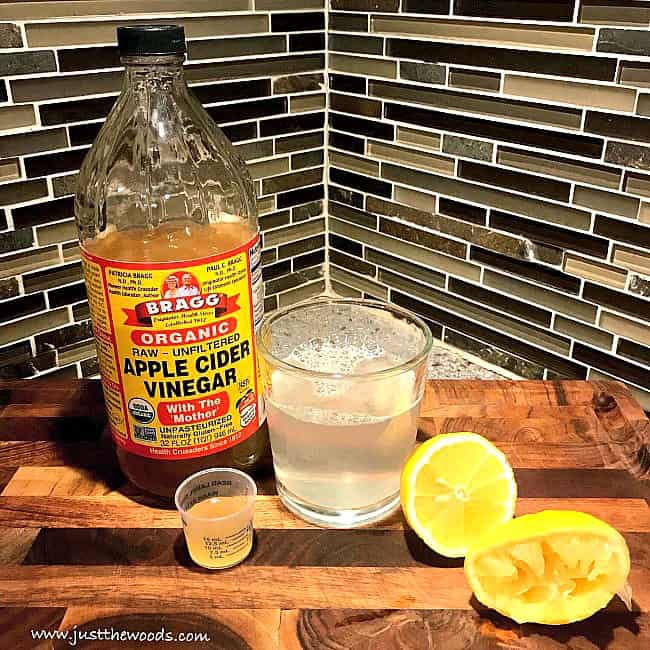 Now, I will show you a better way that isn't as harsh as my previous method. Keep in mind that apple cider vinegar can be rough on tooth enamel so you do want to avoid drinking it straight or letting it sit in your mouth. As a matter of fact, I asked my dentist about this and was told to make sure to rinse your mouth with a glass of water to ensure that there isn't any ACV sitting on your teeth.
To make your apple cider vinegar detox drink you will start with your cinnamon and organic honey. Make sure to use raw unfiltered honey, like this one

HERE

.
In a small dish, mix the honey and cinnamon thoroughly.
Next, add 1/2 cup of water to a glass. I prefer warm water over cold.
Add the cinnamon honey mixture to the water and place in the microwave for a few seconds. You only need to do this long enough to see that the honey dissolves.
Once the honey has dissolved and you can easily mix your drink you can add the tablespoons of apple cider vinegar and lemon detox drink ingredients to the glass and mix well.
Add a few ice cubes and enjoy your apple cider vinegar with honey and lemon detox drink daily. It's a good idea to drink this on an empty stomach for the best results.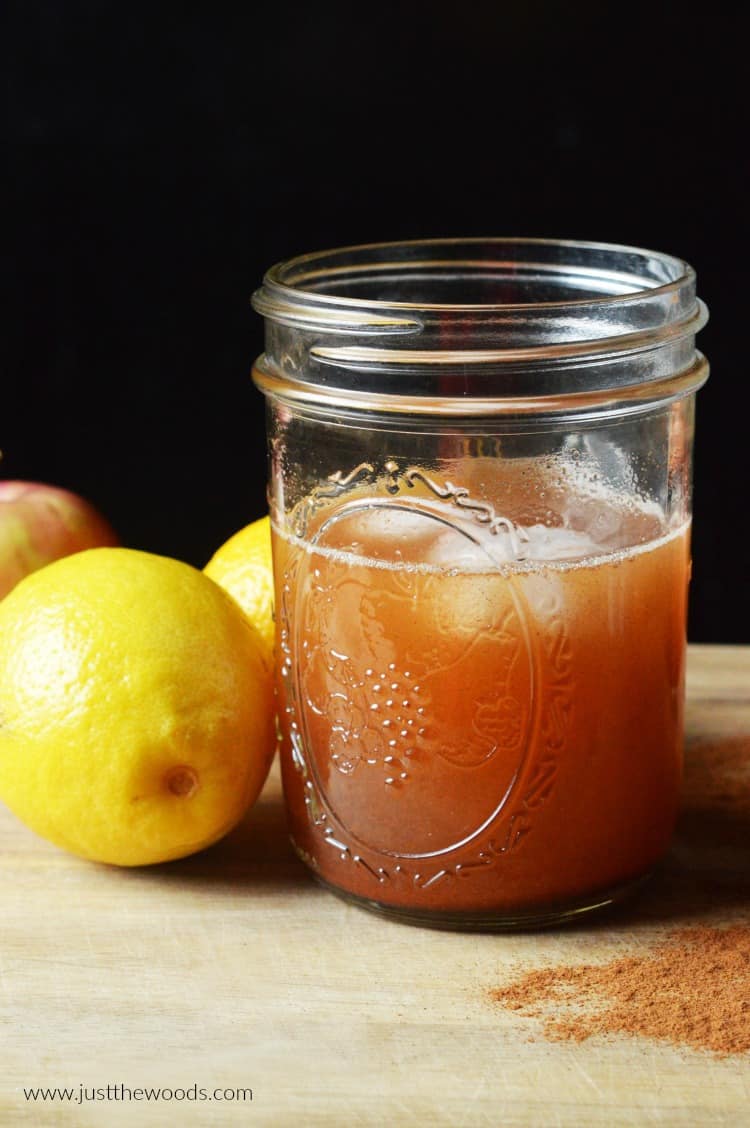 Effects of Drinking Apple Cider Vinegar
Personally, for me, I have noticed that my allergies have improved drastically. And as my weight tends to fluctuate 2-3 lbs it often leans towards the higher end on days that I forget or get too busy to drink it. (Im not sure if that's psychological or not lol). I feel my overall health is better on days that I do drink my ACV (it's rare that I forget, but I do notice that I don't feel as good on days that I forget if that makes sense)
For more healthy clean eating recipes make sure to follow my clean eating Pinterest board here: Clean Eating.

Apple Cider Vinegar Honey and Lemon Drink (printable version)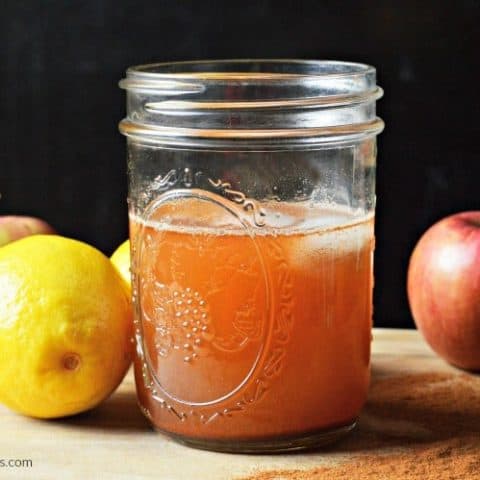 Apple Cider Vinegar Detox Drink
Start your day off right with an apple cider vinegar detox drink. With cinnamon, lemon and apple cider vinegar you are sure to start your day off right.
Ingredients
1.5 cups water
2 Tbsp Apple Cider Vinegar
2 Tbsp Raw Honey
1/2 tsp cinnamon
2 Tbsp fresh lemon juice
Instructions
In a small dish, mix the honey and cinnamon thoroughly.
In a glass, add ½ a cup of water and the cinnamon honey mixture. Place in the microwave for a few seconds or until you can easily mix the honey and it dissolves.
Add the rest of the ingredients to the glass and mix well.
Add a few pieces of ice to the glass to make it extra cold and refreshing.
Nutrition Information:
Yield:

1
Serving Size:

1 Servings
Amount Per Serving:
Calories:

144
Total Fat:

0g
Saturated Fat:

0g
Trans Fat:

0g
Unsaturated Fat:

0g
Cholesterol:

0mg
Sodium:

18mg
Carbohydrates:

38g
Fiber:

1g
Sugar:

35g
Protein:

0g
nutritional values may vary

Don't Forget – Follow Just the Woods and Share this post to Inspire others:
FACEBOOK * INSTAGRAM * PINTEREST * RECIPES