Elderberry tea, like elderberry syrup, is great for boosting your immunity. Whether you are around germ carrying kids all the time or keep a busy schedule it will never hurt to do whatever you can to take care of yourself. If you plan to enjoy a relaxing cup of tea you may as well make it an immune boosting tea right?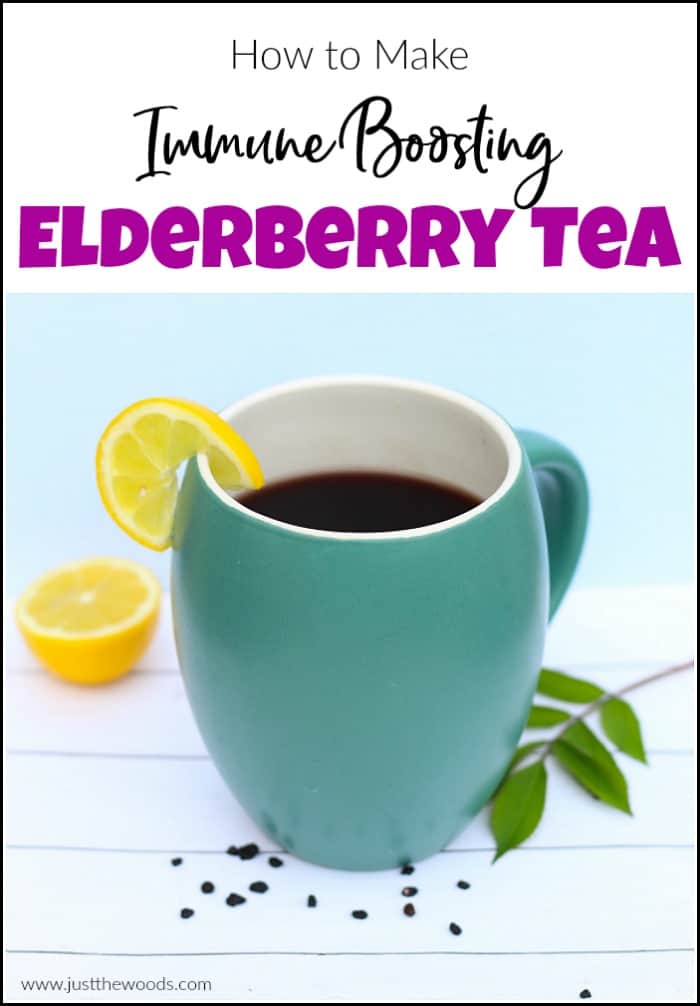 Disclosure: This elderberry tea recipe post contains affiliate links for your convenience. Click here for my full disclosure policy.

Immune Boosting Elderberry Tea Recipe
What You Will Need (Full Printable Recipe Available Below)
Ingredients:
1 Tbsp dried elderberries (you can get them HERE)
8-12oz filtered water
Raw Honey (I use this kind HERE)
Lemon
Cinnamon stick (optional)
How to Make Elderberry Tea
Personally, I like to start each day with my apple cider detox drink and then relax with an elderberry tea later in the afternoon. I have replaced my coffee routine with ACV and a variety of teas. This all coincides with my clean eating lifestyle. If you are new to a clean eating way of life then you need to check out Everything You Need to Know about a Clean Eating Diet. You can also see how I, personally have lost 50 lbs and am keeping it off by following a clean eating diet here: How I Lost 50 Lbs Clean Eating.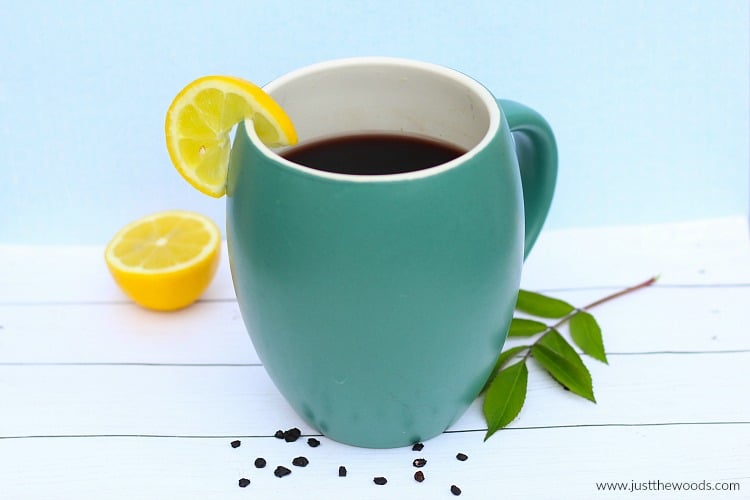 Making elderberry tea is a bit different than making 'normal' tea. When making a normal cup of herbal tea, you usually steep the leaves for a minute or two in hot water. When using dried elderberries, you have to let the dried elderberries simmer for 15 minutes to ensure all of the beneficial properties are extracted fully.
What Do You Need to Make Elderberry Tea?
Let's start by gathering your very simple ingredients to make this immune-boosting tea recipe.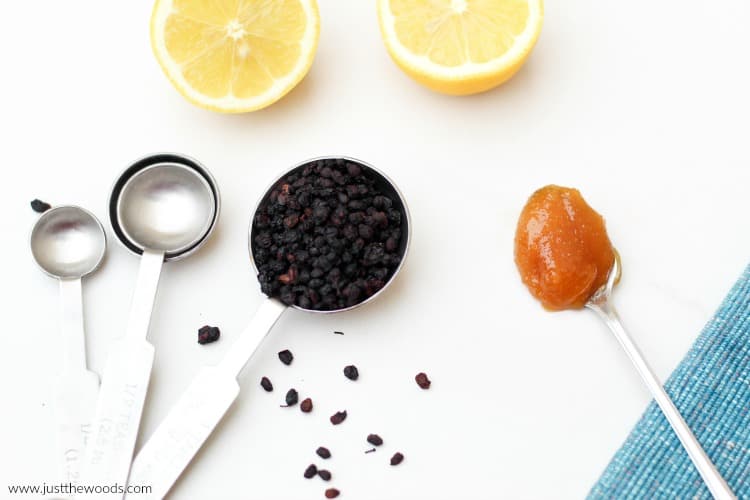 Dried elderberries. Chances are you won't find these little gems in your local grocery store. If you do then I'm a little jealous. Since I also make elderberry syrup for my kids and myself I order a large bag of dried elderberries online HERE.
Raw Unfiltered Honey. Honey is a natural sweetener, lower on the glycemic index and much better for you than traditional sugar. I always opt for raw and unfiltered honey. This is the honey that I love, and if I can't find it at my local grocery store I get it online HERE.
Fine Mesh Tea Strainer. Once you simmer your elderberries you will need to strain your tea liquid from the dried berries. A fine mesh tea strainer works best for this. You can get one like this online HERE.
Directions to Make Elderberry Tea for Flu:
Add 8-12 oz of water and 1 Tbsp of dried elderberries to a small saucepan and bring to a boil. You may also add a cinnamon stick to the pan if you'd like.

Let the mixture simmer on low heat for 15 minutes.
Using your fine mesh filter or tea strainer, drain your tea into a tea mug.
Add honey and lemon to taste.
Enjoy your cup of immunity-boosting goodness.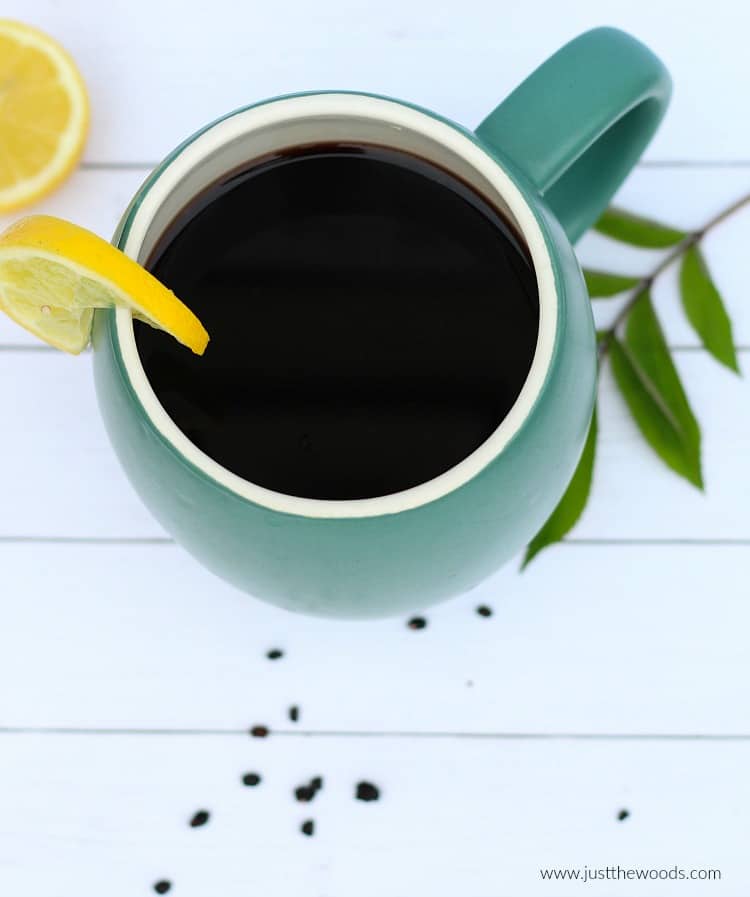 Effects of Drinking Elderberry Tea
This is simply a personal testimonial but, for me, I have 2 kids in school where the flu just continues to circulate. At one point 50% of the kids at school were absent with the flu. My 8-year-old has been sick once a month for the past 3 months with the flu and random viruses. He often refuses to drink the elderberry syrup that I make. Knock on wood (I don't want to jinx myself) but I have yet to get sick from these little germ carrying people. I also go to the gym 4-6 days a week where people are sweating and coughing and being all around gross. Again, knock on wood, I have managed to steer clear of the germs. Regardless of whether I am reaping some elderberry benefits or just plain lucky, I plan to err on the side of cautions and continue to drink my elderberry tea.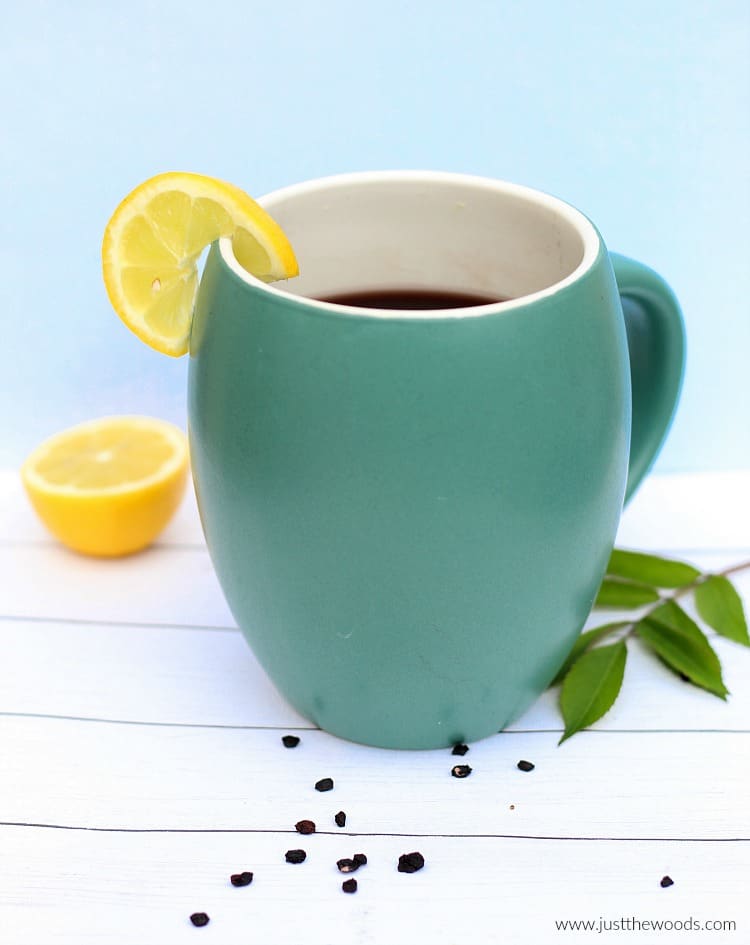 Where to Buy Elderberry?
I mentioned above that you can easily buy dried elderberries online, but if you also prefer not to make your own elderberry tea you can get that online as well. This is a great organic tea brand that you can use HERE.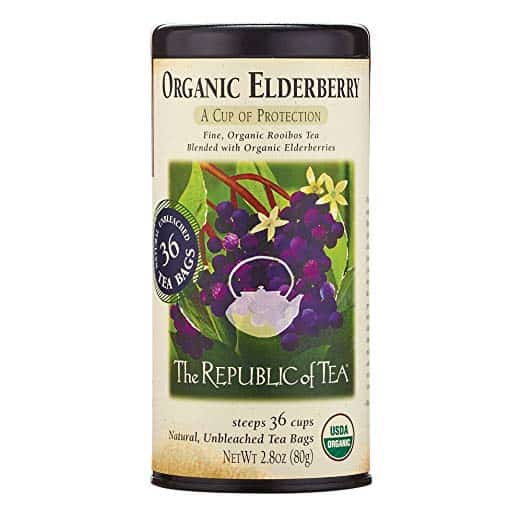 While you are at it, you can also find elderberry syrup online HERE.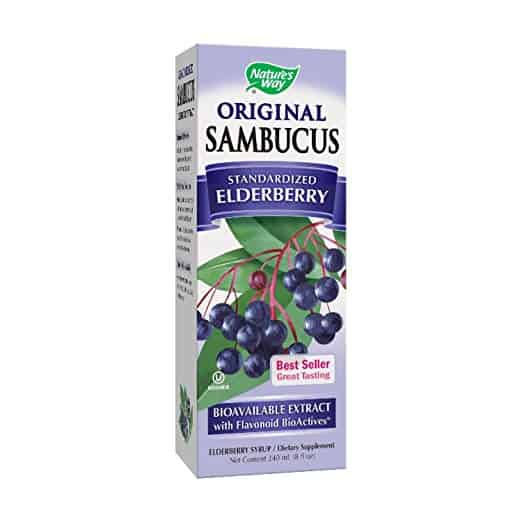 For more healthy clean eating recipes make sure to follow my clean eating Pinterest board here: Clean Eating.


Don't Forget – Follow Just the Woods and Share this post to Inspire others:
FACEBOOK * INSTAGRAM * PINTEREST * RECIPES