A toothbrush holder doesn't normally get much thought. Our upstairs bathroom does not have much space for storing toothbrushes. The walls are tiled and we would rather avoid drilling into the walls. Hanging toothbrushes on the wall is out of the picture.  There is no medicine cabinet and the sink is a pedestal sink. Thus, leaving very limited space for a toothbrush holder. But just because space is limited does not mean that you can't have a decorative place to store your toothbrush. I started brainstorming ideas and wanted to avoid the already done mason jar idea. I realized I was beginning to over think this simple and easy project. Keeping things simple I decided on a decoratively painted glass toothbrush holder.
Disclosure: This post is sponsored by Deco Art and contains affiliate links for your convenience. Click here for my full disclosure policy.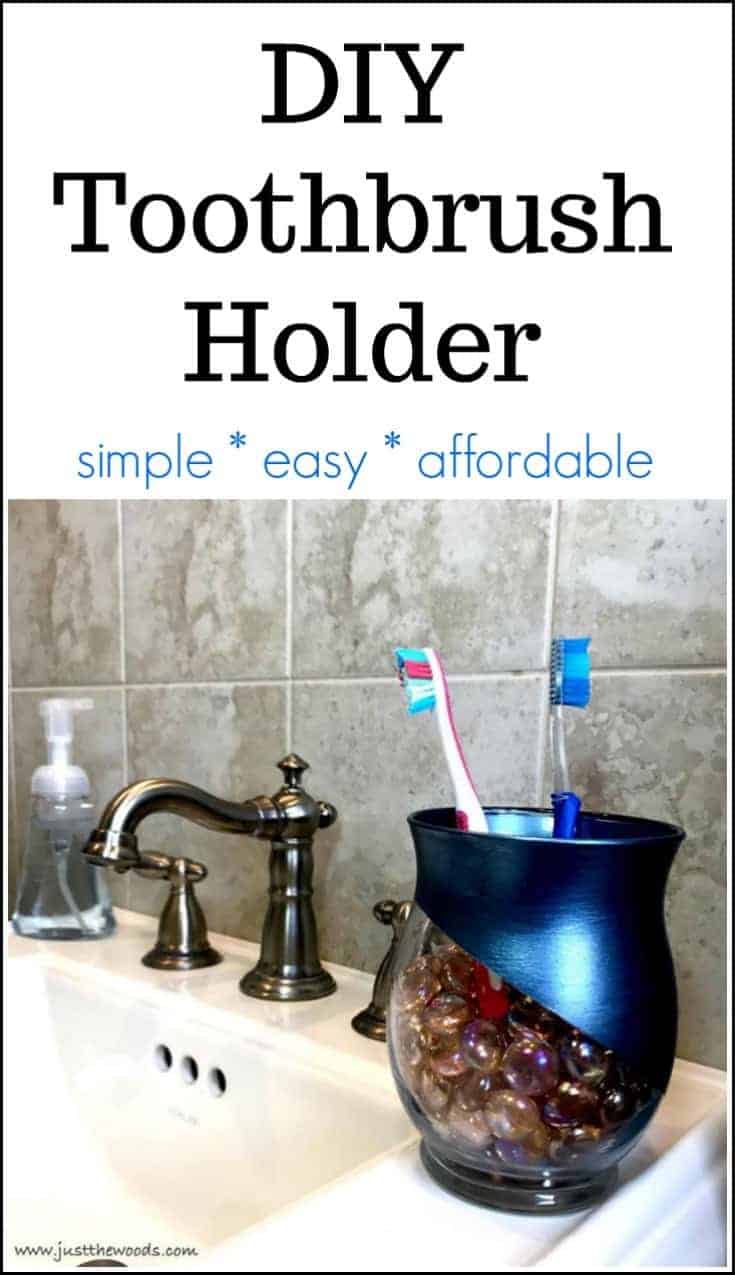 DIY Toothbrush Holder for a Small Bathroom
Bathroom Sink with Toothbrushes
As you can see here the toothbrush storage situation is less than ideal. It's rather naked actually. This is also the kids' bathroom so it's a chore to keep it from becoming overloaded with toys and chaos. Painting the tilt out hamper 2 years ago brought a little life into the room while still keeping it simple. Click here to see the hamper makeover: Painted Tilt Out Hamper.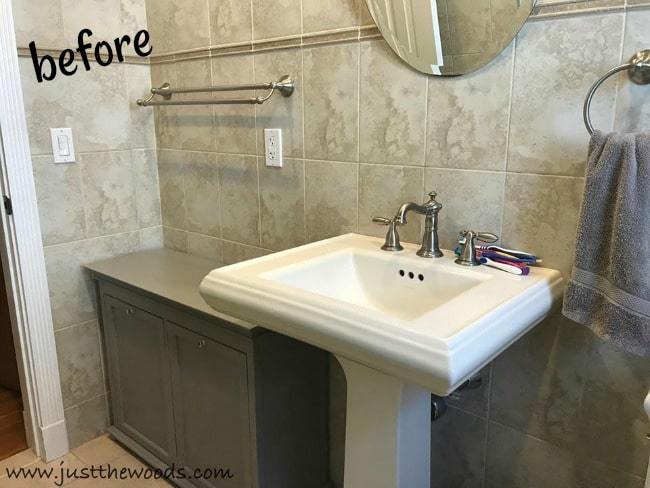 I would like to get those toothbrushes off the sink and into a slightly more organized container. To get started, I grabbed a few easy to find and simple supplies. Click here for more DIY projects and inspiration: DIY /Crafts.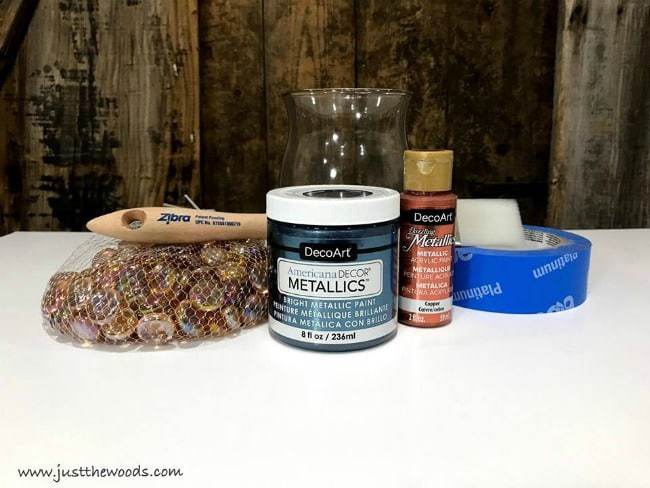 Painting a Glass Toothbrush Jar with Deco Art Metallic Paint
Using the scotch blue tape I made a random pattern on the glass to block a section. Also, before applying paint to the glass make sure to clean the surface. I use plain rubbing alcohol to remove any dirt or oil from the glass. The nice thing about the scotch platinum tape is that it's more rubbery in texture. This allows it to curve along the glass nicely for a smooth clean curved line.
Go ahead and paint the glass until you are happy with the transparency. With DecoArt Metallics you can achieve a metallic finish ranging from semi transparent to solid based on how many layers are applied. I chose a rather solid metallic finish.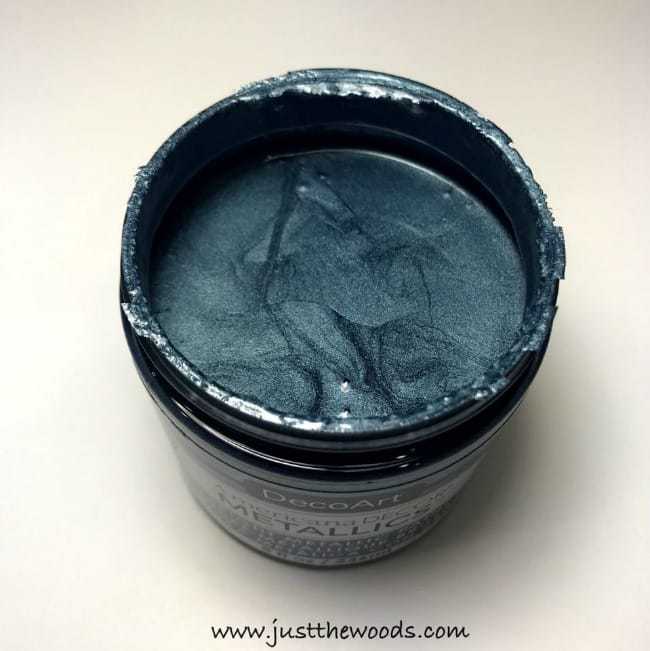 Once the desired finish is achieved remove the tape and fill the jar with your glass mosaic gems as desired.
Simple Decorative DIY Toothbrush Holder
Sometimes it's the little things and the simple things that make all the difference. This simple toothbrush holder is a prime example. Not all projects need to take a long time or cost a lot. The combination of the metallic sheen from the paint and the iridescent colors in the glass mosaic gems make this little DIY sparkle. It's a simple yet lovely decorative touch to a rather naked bathroom.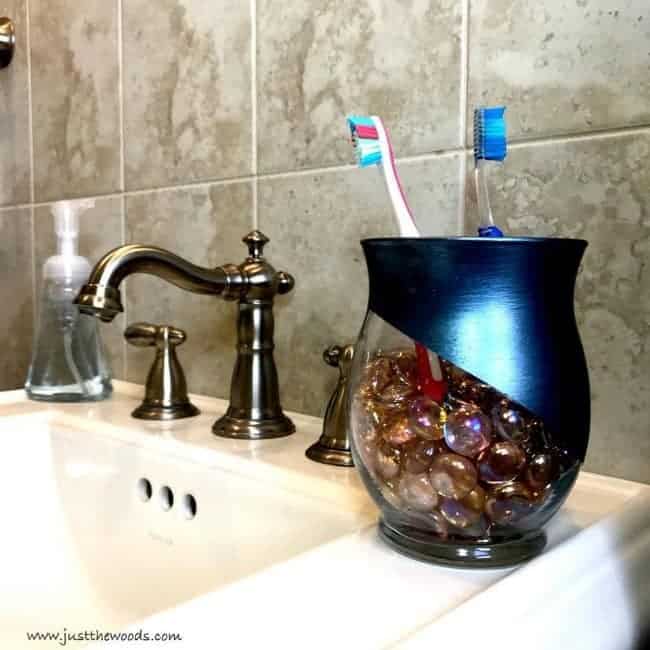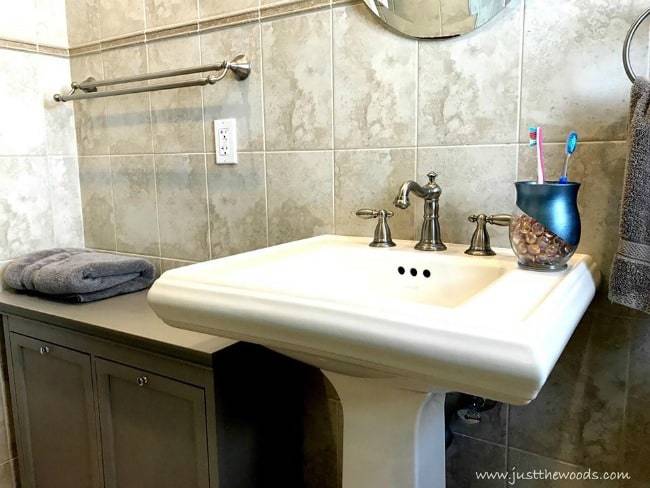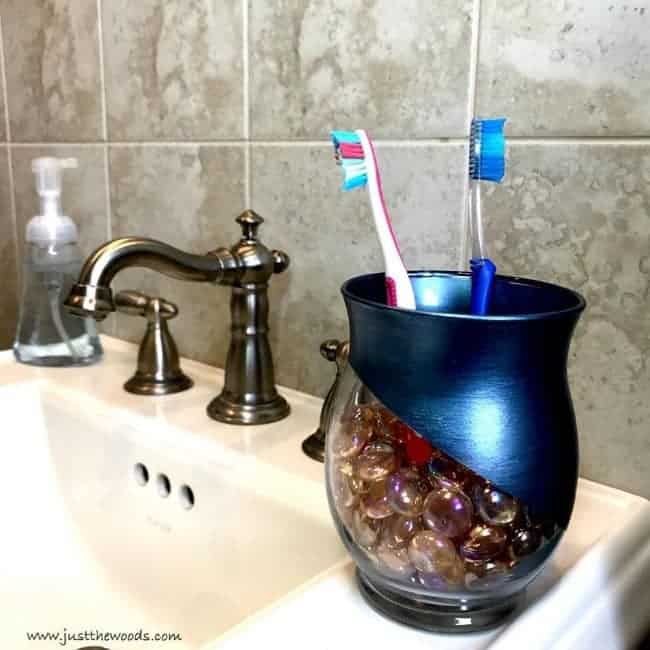 Don't Forget – Follow Just the Woods and Share this post to Inspire others:
FACEBOOK  *  INSTAGRAM  *  PINTEREST
 Stay connected! For more tips and tricks sign up here : 
Pinterest Pin: