How to Stop Bleed Through
If you have ever painted over dark wood, like mahogany, then chances are you may have seen that pesky pink show right through the wood. Did you know that it is possible to stop bleed through without using primer? Of course, each situation is different. For example, in a past makeover, I did resort to using a primer to stop bleed through when trying to get a farmhouse white finish on a painted dresser. But in this makeover Im going to share a different method.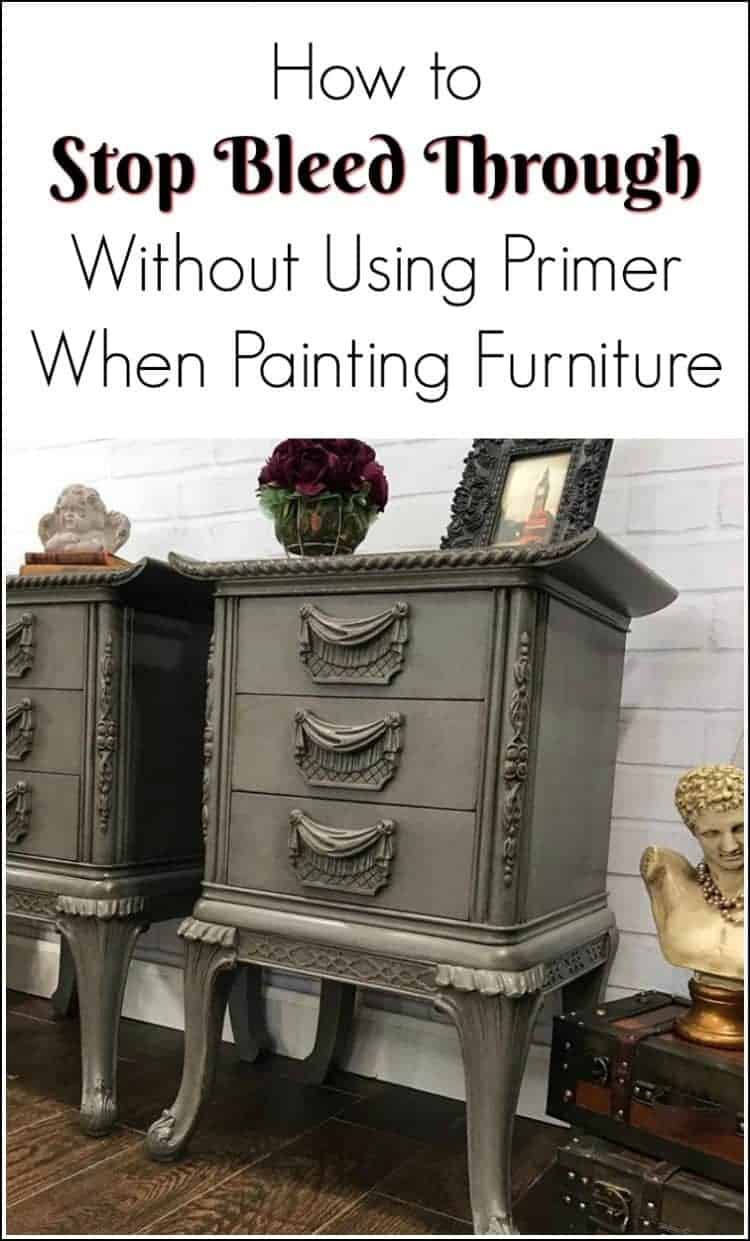 Make sure to stick around until the end because it's time for our monthly Crafty Girls and Furniture Friends share.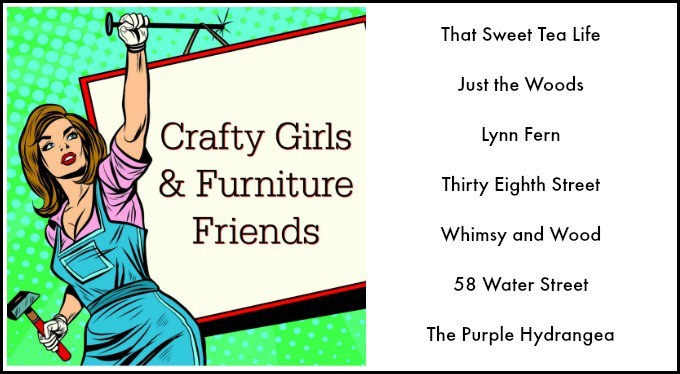 The Unfinished Mahogany Tables
These ornate vintage tables are part of an entire bedroom set that received a makeover. The nightstands are super cute with extremely unique details. The hardware is actually part of the drawers and are not removable. Don't get mad that I painted these, they are actually not the best shape. You'll see.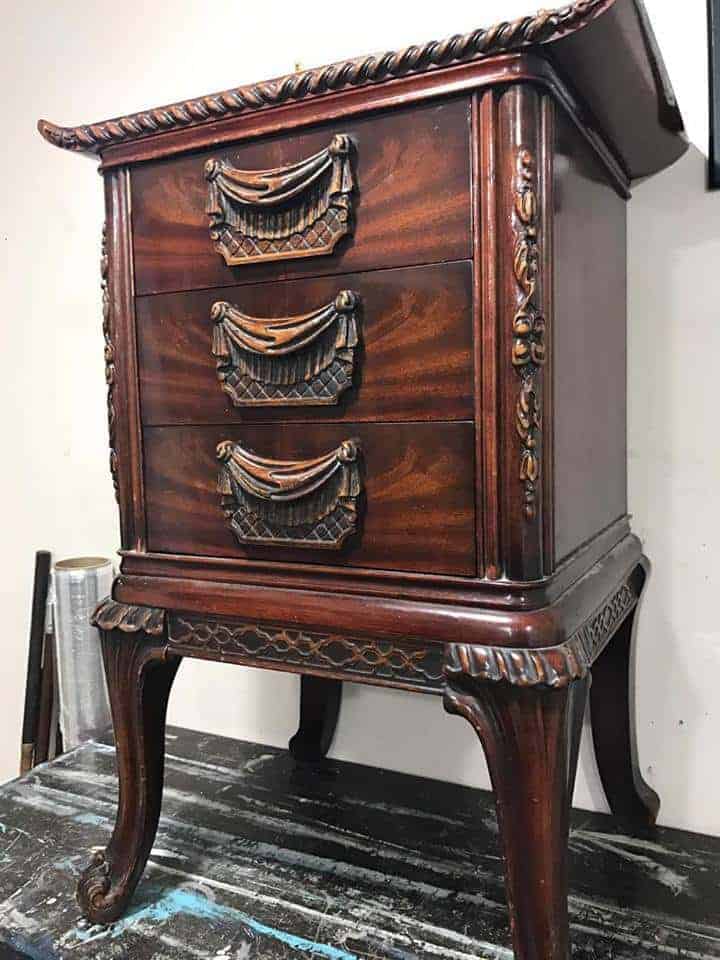 The nightstands required more prep than any of the other pieces of the set. In addition to my standard process of How to Prep Painted Furniture, I also had to address the wear and tear on the table tops. Disclosure: This post contains affiliate links for your convenience. Click here for my full disclosure policy.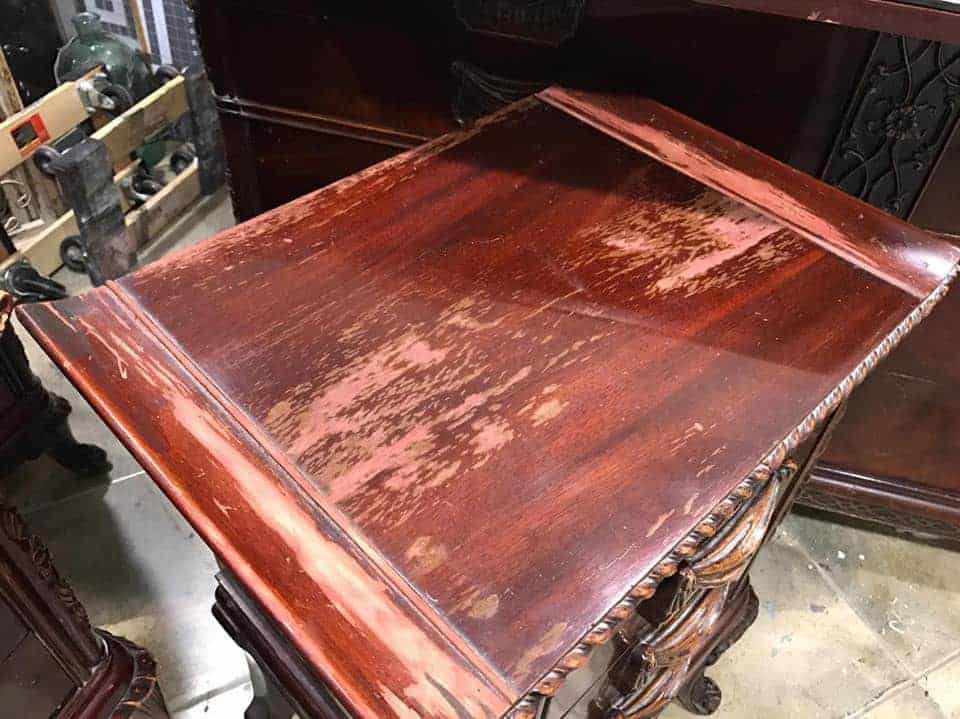 How to Stop Bleed Through Without Using Primer
Materials Needed / Source List
Preparing Mahogany Tables for Paint
The tops of the tables were hand sanded to address the damage. I knew that by doing this it would create bleed through issues, but there was no other way around it.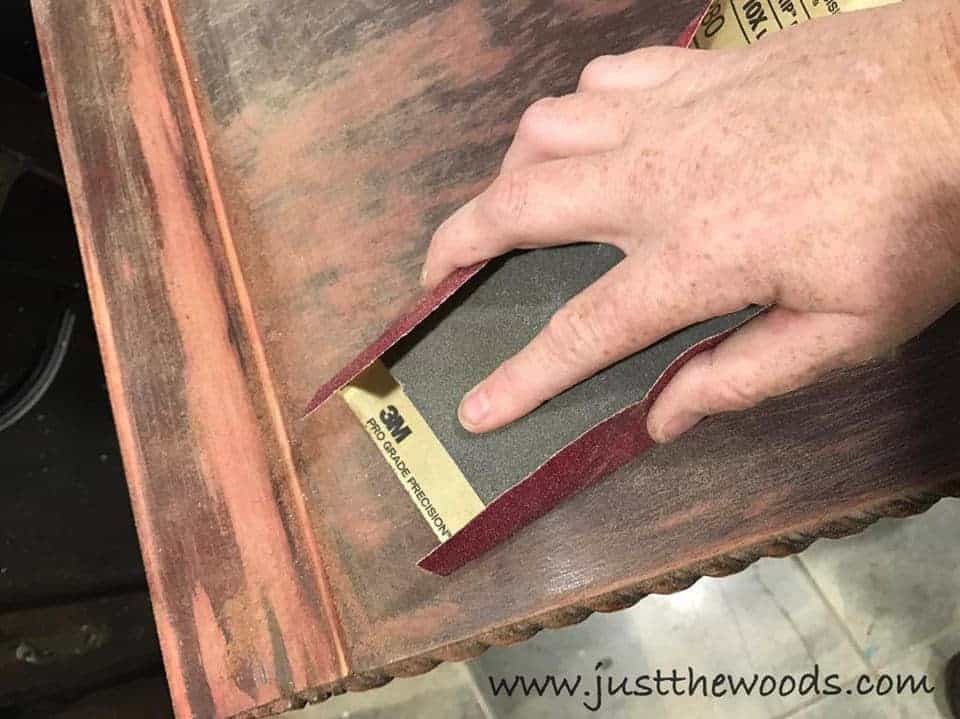 Sanding these smooth created enough dust for me to break out the shop vac and vacuum it up before cleaning.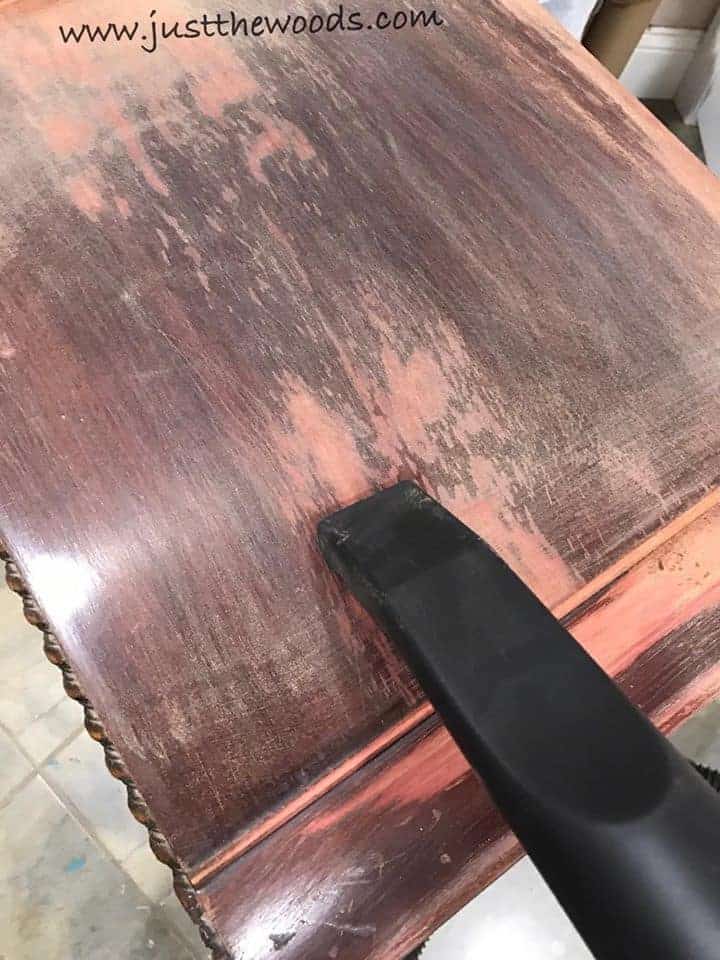 Painting Ornate Night Stands Stone Gray
Once sanded and prepped the tables were hand painted gray. But, just as I had expected that nasty pink bleed through came creeping through the gray.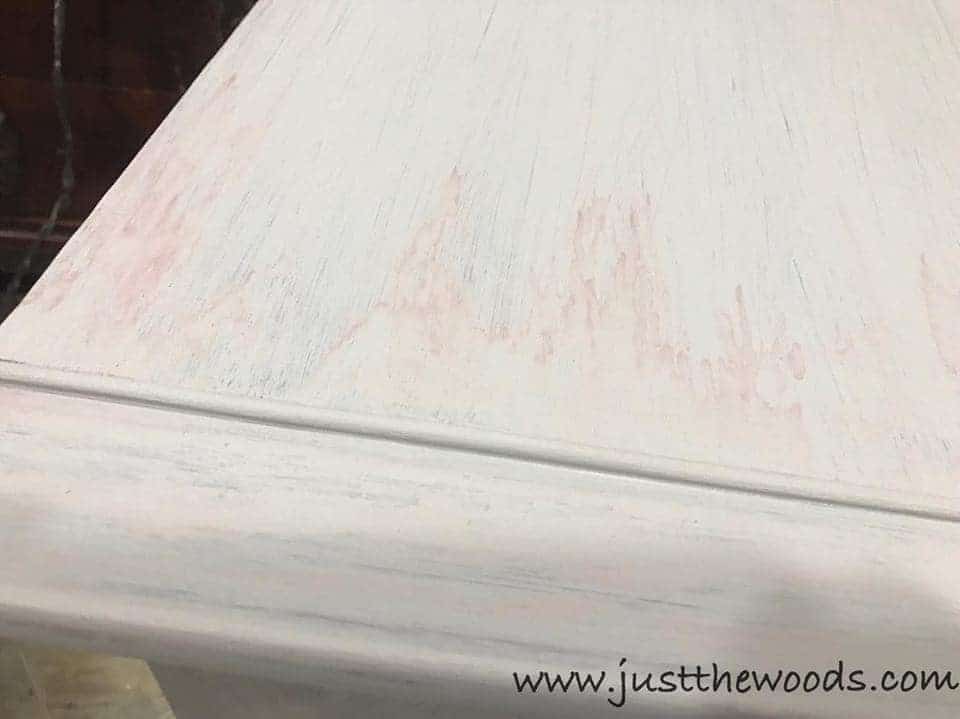 Seriously, how much does this make you cringe?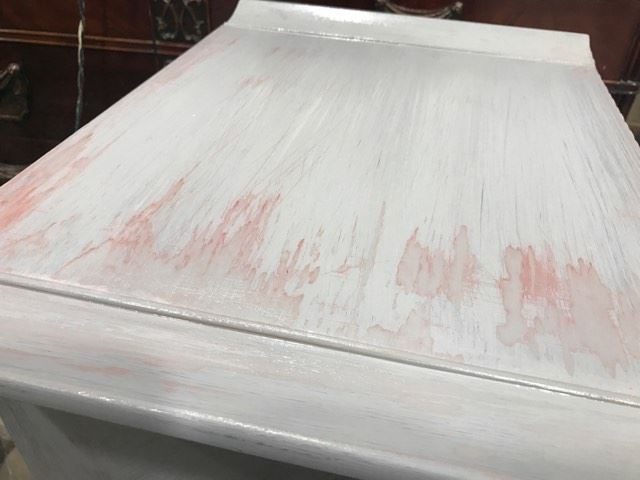 Instead of using a primer to block the bleed through I decided that I would use our clear protective finish to block and stop the wood from bleeding through the paint. This can actually be done with either the matte or satin.
Stop Bleed Through Without Primer
I liberally applied a layer of clear matte sealer on the table tops and on the sides of the tables. I would NEVER apply it this thick when sealing the piece but for blocking bleed through its A-okay.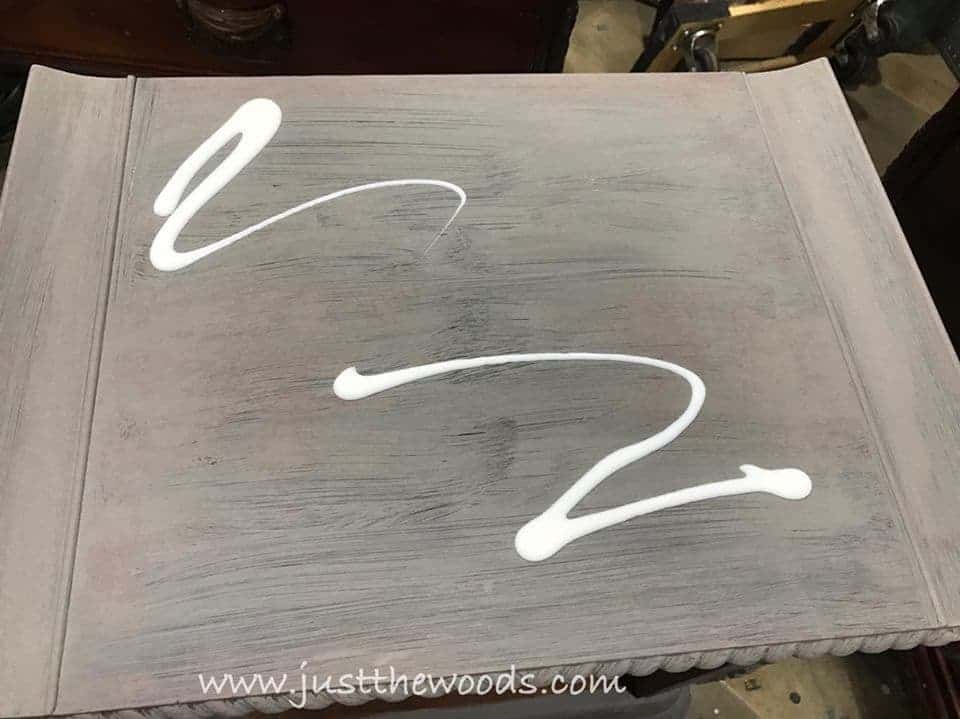 Once the clear sealer was dry I applied a second coat of gray and voila! If one coat doesn't do the trick a second clear coat and then paint should have you covered.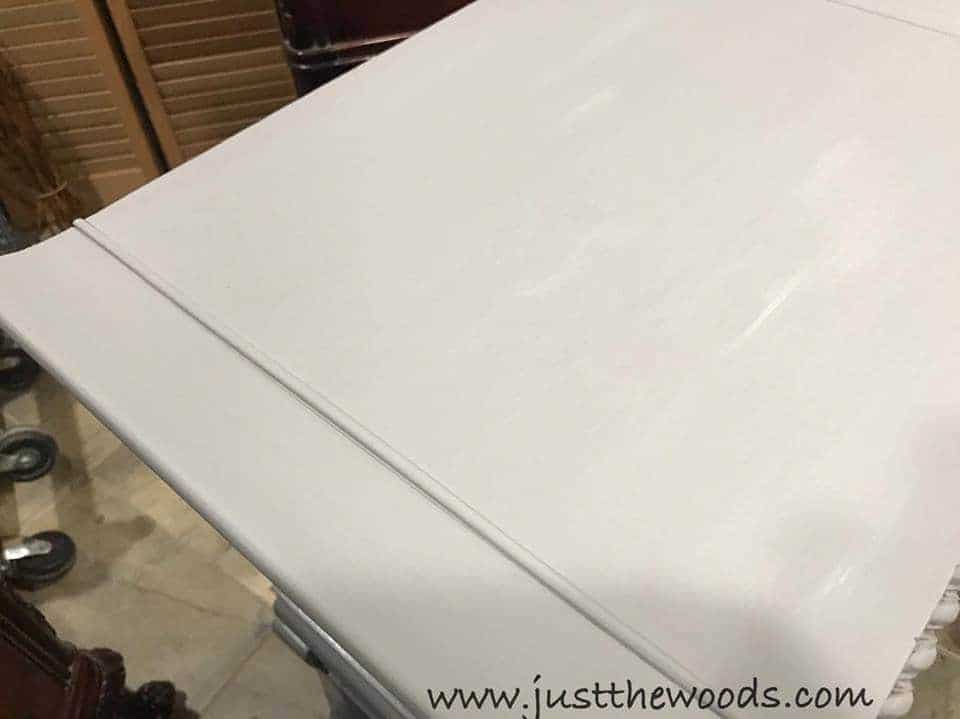 If you are painting furniture white and feel more comfortable using primer than make sure to check out 5 Things to Do When Painting Furniture White.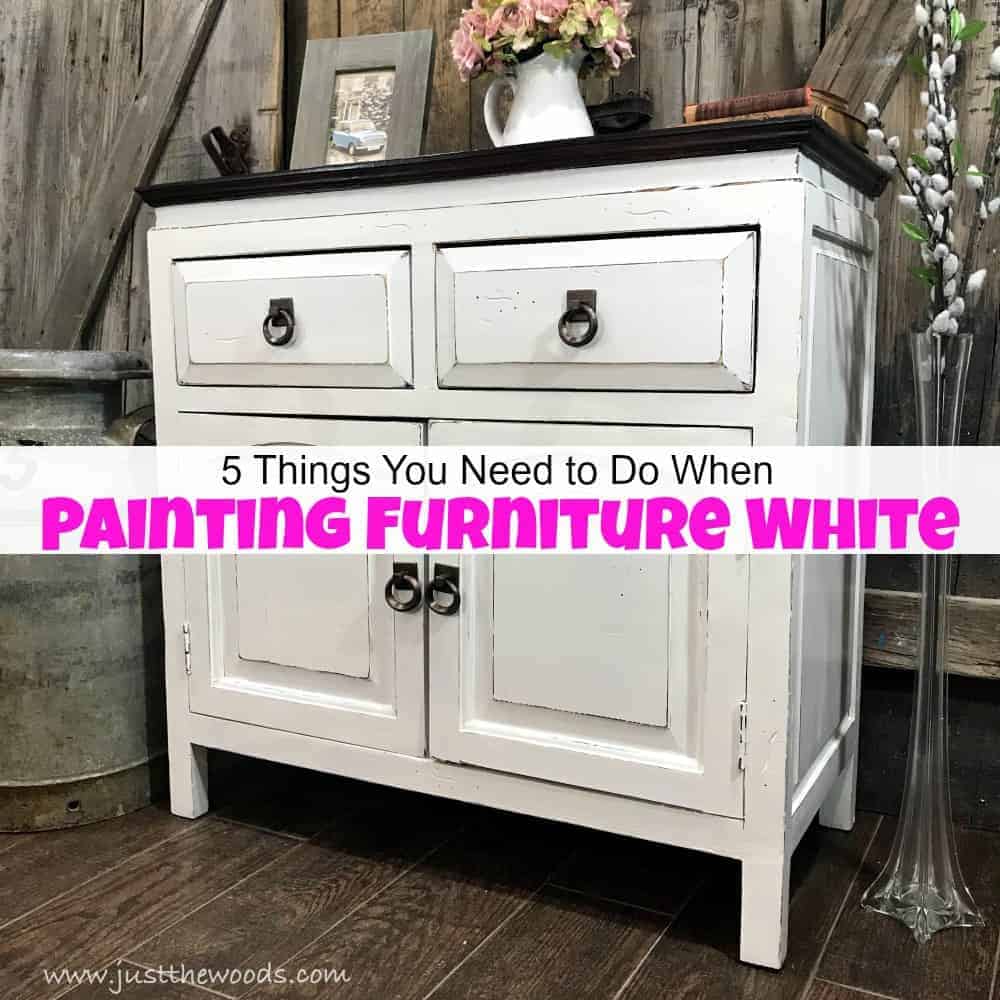 The tables were then lightly sanded for a smooth finish and are ready for glaze. [clickToTweet tweet="See how to stop bleed through without using primer." quote="Do you know someone who also hates that pesky pink bleed through? Don't keep it a secret – tell them about it!" theme="style5″]
Adding Glaze to Painted Tables
This little video was done with the matching dresser drawers, but the process of adding glaze remains the same for the nightstands. To see the whole bedroom set and the full tutorial on adding glaze check out How to Glaze Furniture.
The Result
After addressing the bleed through, adding paint and stain these little tables have gone from vintage red to glazed gray. The glaze really brings out the details of the tables and creates an old world feel.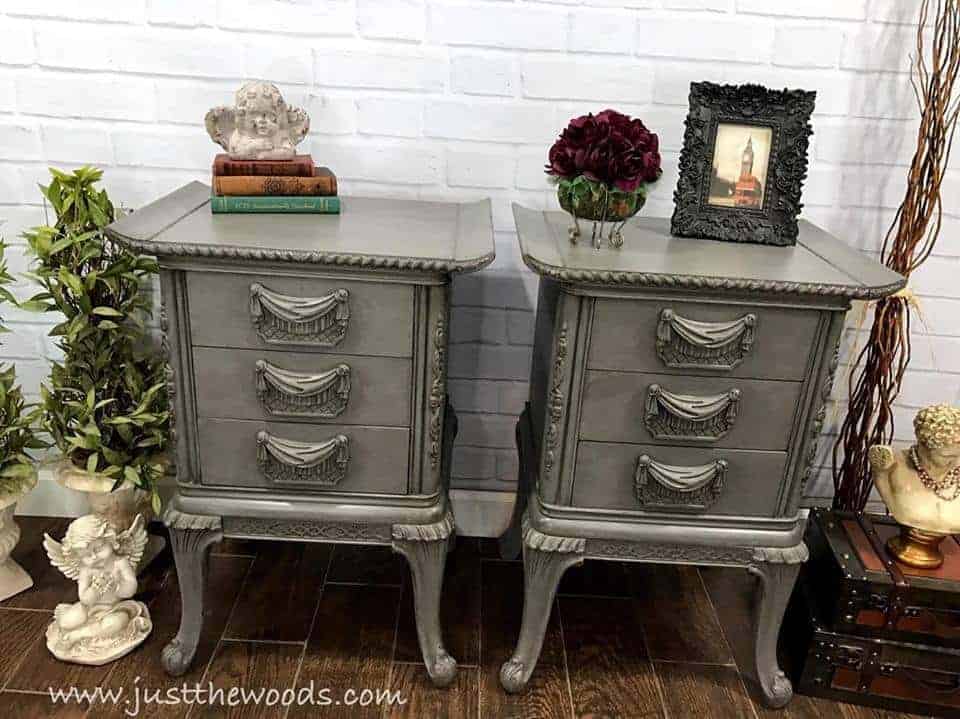 If you are feeling overwhelmed or just starting out you can always start at the beginning with How to Paint Furniture – a Beginners Guide.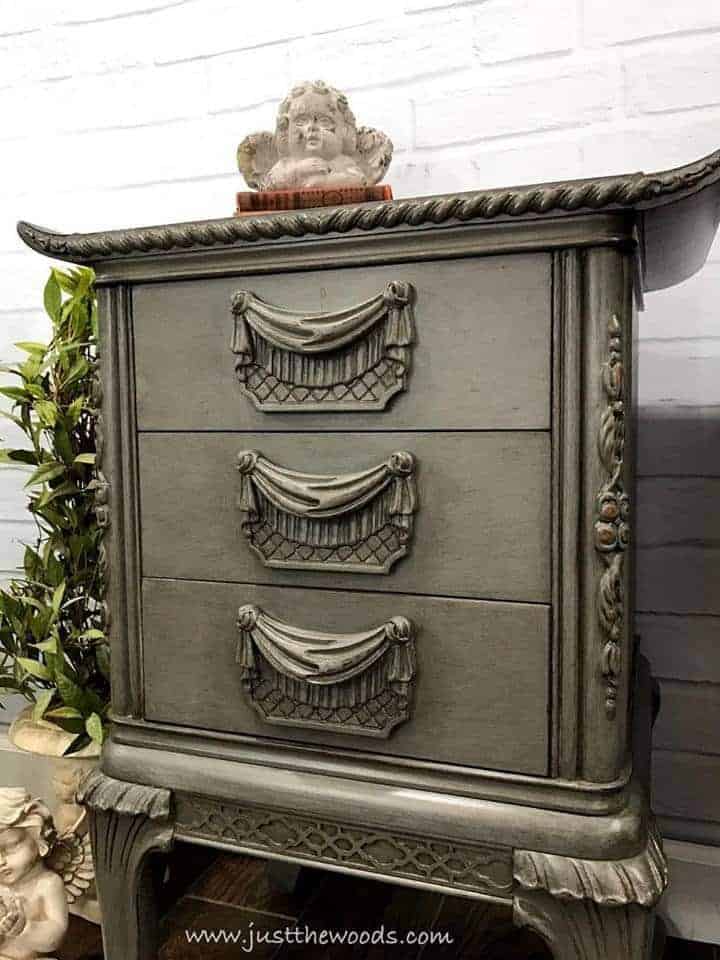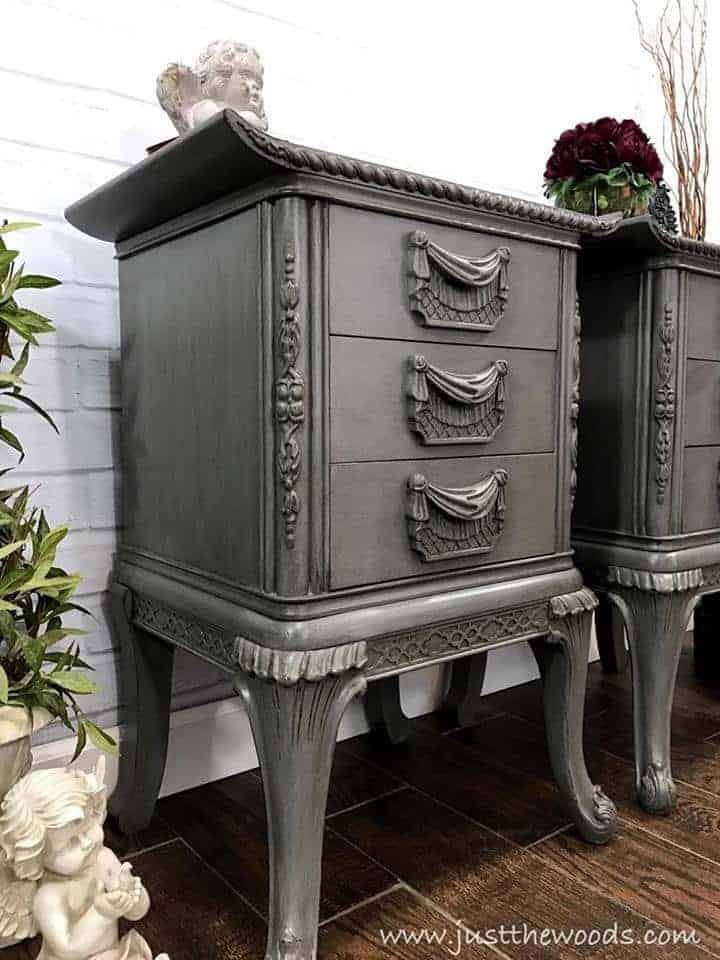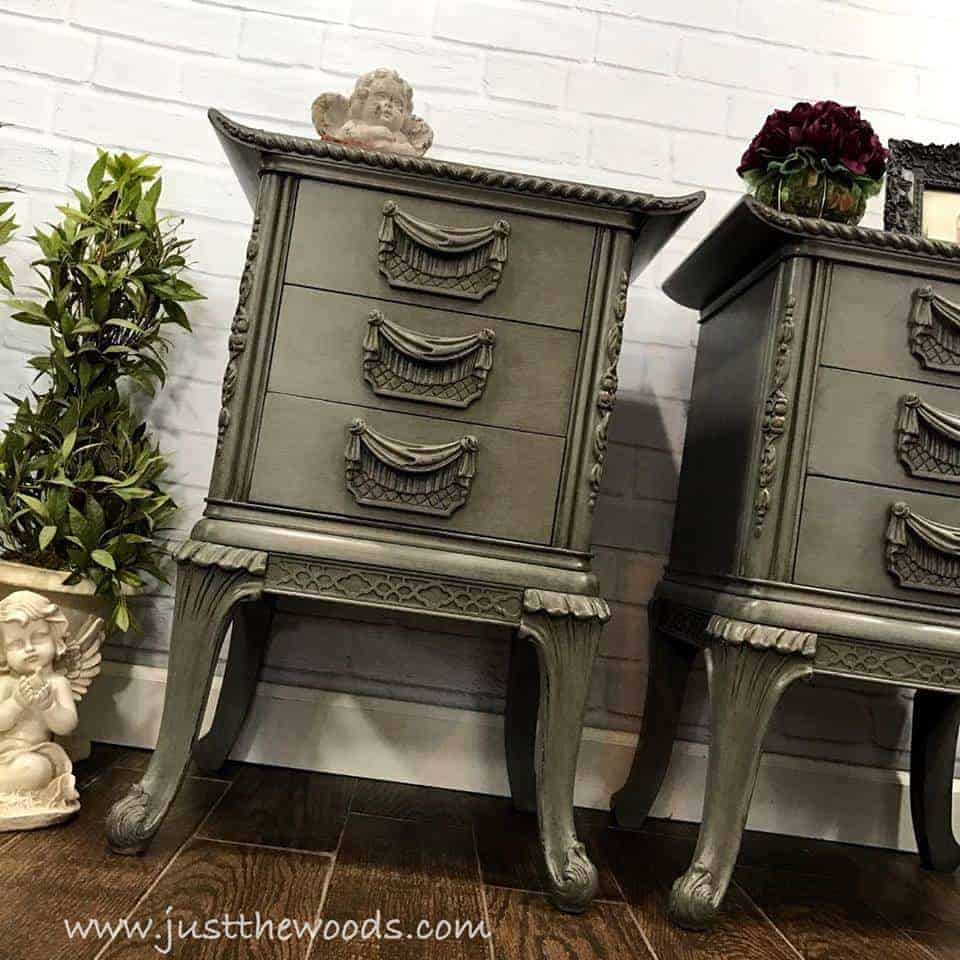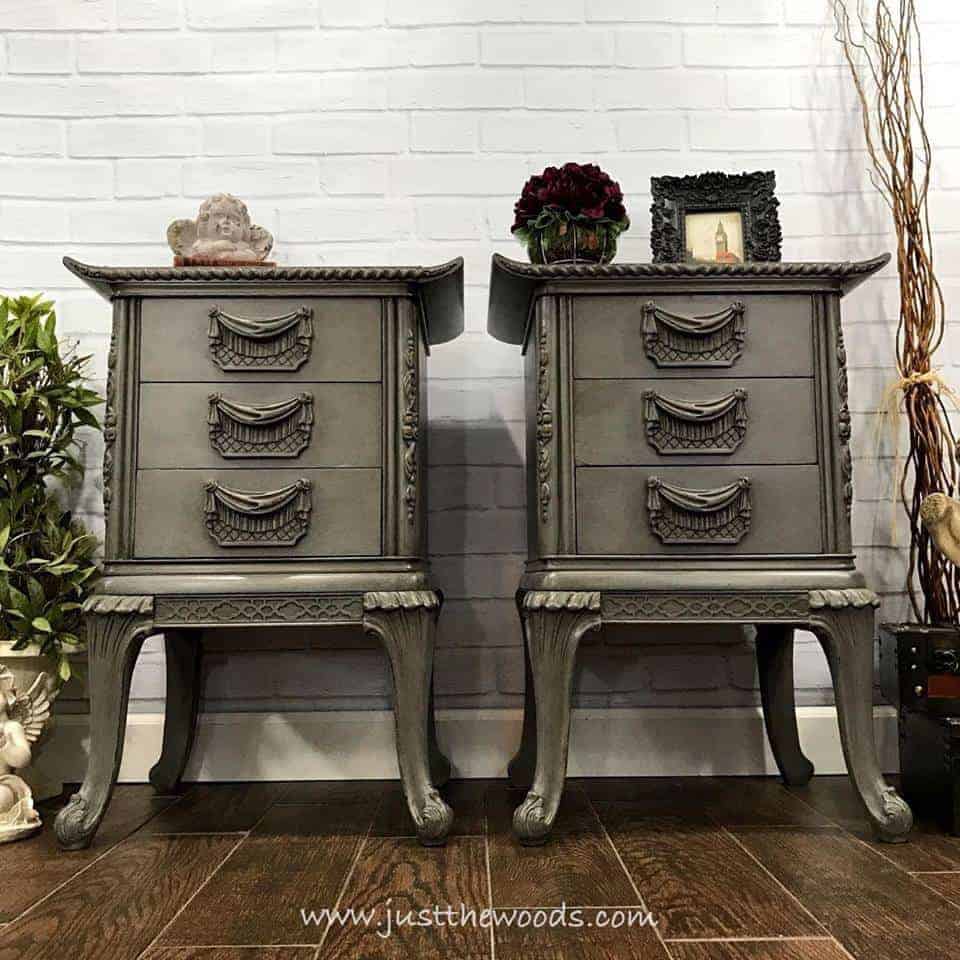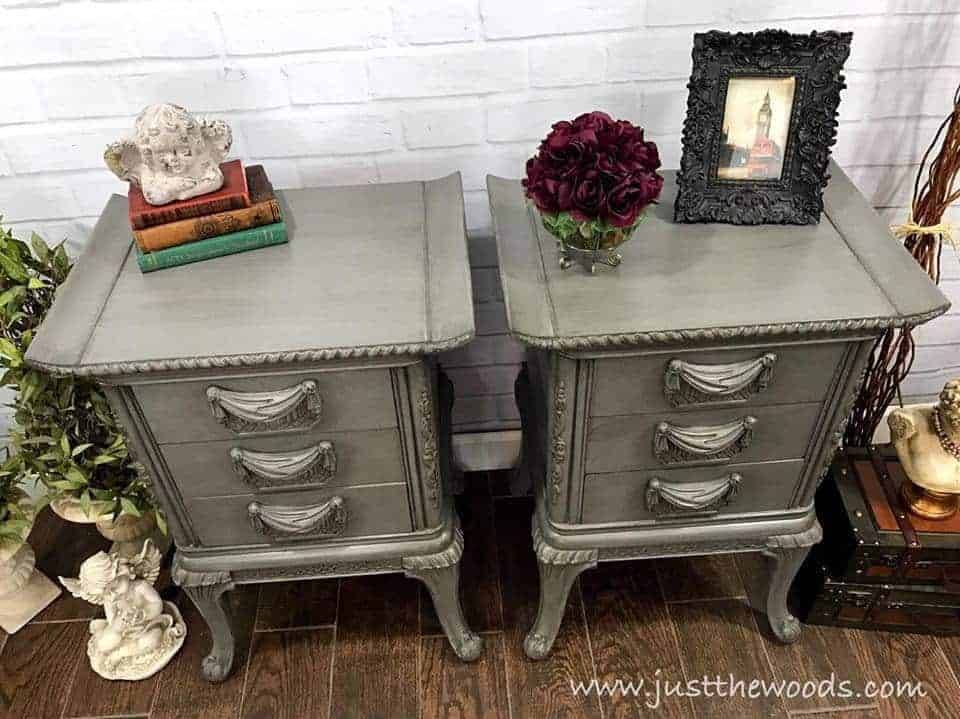 If the staging props and home decor in the photos strike your fancy then make sure to check out:
The Best Resource Guide to Staging Furniture For Sale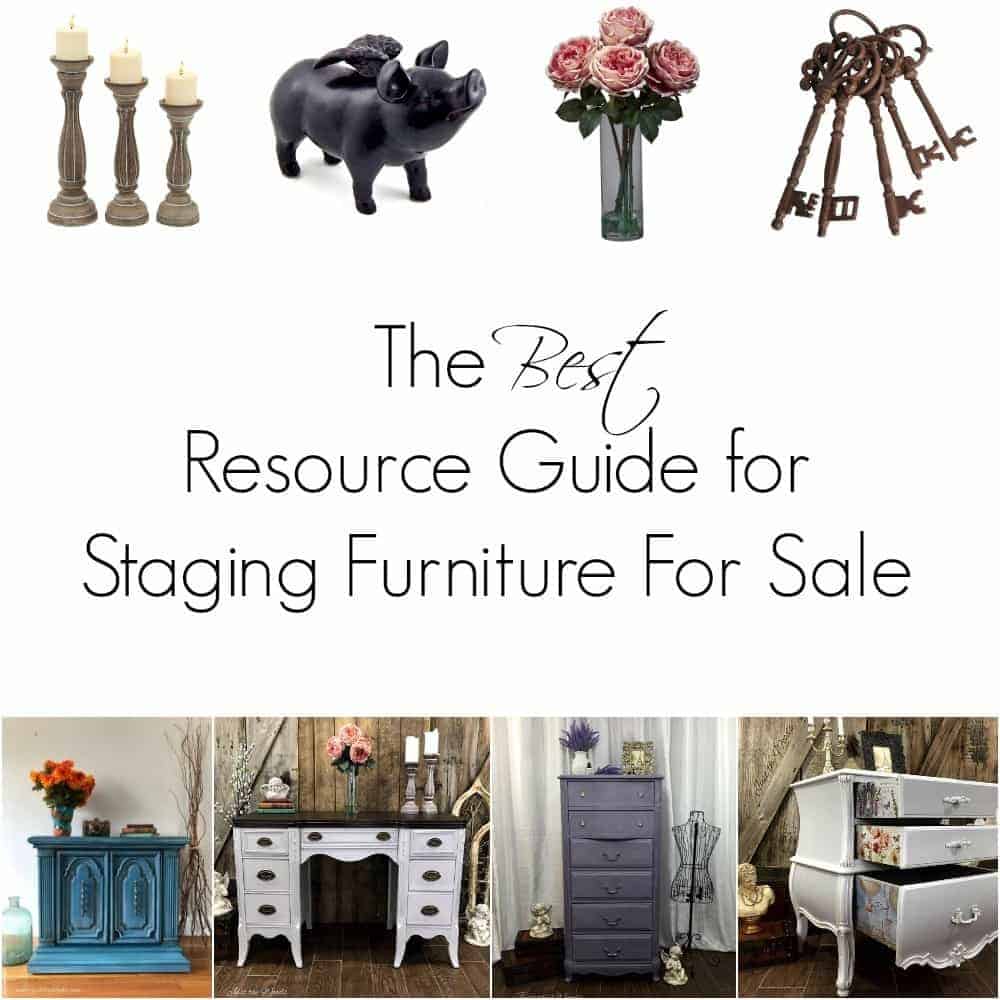 Crafty Girls and Furniture Friends
A few of my creative and talented blogger friends and I have joined together in our monthly Crafty Girls and Furniture Friends share.  We get together on the second Tuesday of each month ???? This month we are excited to welcome The Purple Hydrangea to our group. Let's see what my friends are up to! Make sure to click the links below the image to check out all the amazing projects that my bloggy girls are working on this month.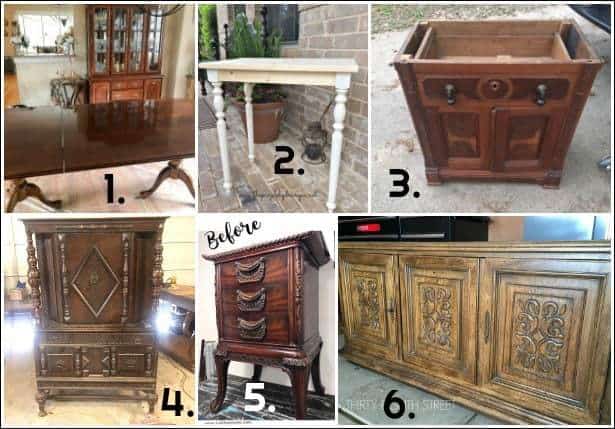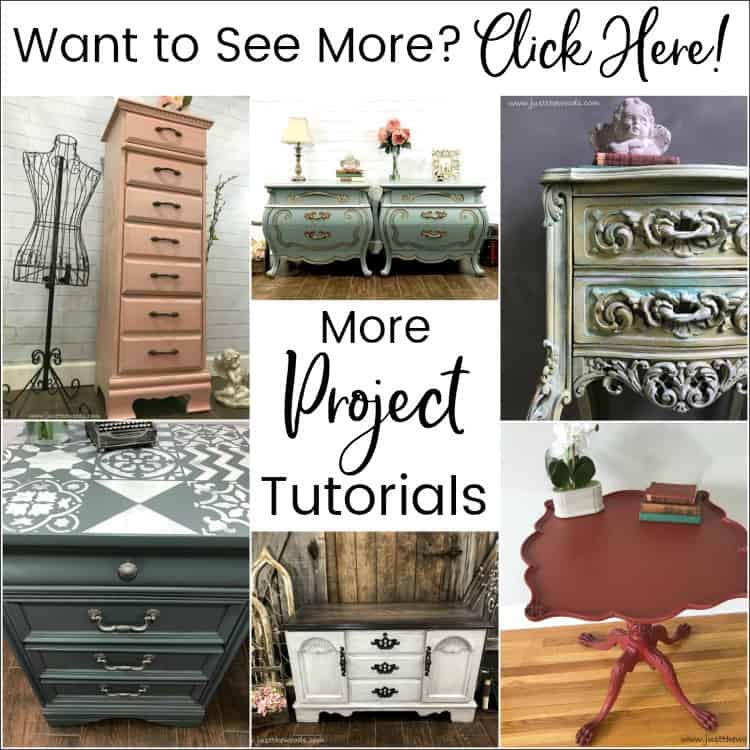 Don't Forget – Follow Just the Woods and Share this post to Inspire others:
FACEBOOK  *  INSTAGRAM  *  PINTEREST
Subscribe to our mailing list here:
PINTEREST PIN READY TO SHARE