A vintage desk makeover is not what I had planned for this afternoon. But I received a phone call from a previous customer (and previous coworker) about her vintage desk.
Lisa: "Kandice, we are heading to Staten Island (from Long Island) to visit family, and I want you to refinish a desk for me.
Me: "ok, do you have a photo? Send me a picture so I can see it"
Lisa: "No. It's in the truck and I'm bringing it to you now"
me: "What?!"
Lisa: "See you soon"
click
Without even a chance to check my calendar to see what I have scheduled because you know my life is all written in a flimsy black planner book. If it's not written in that planner it simply doesn't exist. Within the hour she pulled up and pulled this beat up old wood desk from her vehicle. It was a mess and I loved it.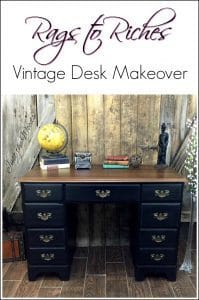 Disclosure: This post contains affiliate links for your convenience. Click here for my full disclosure policy.
Need a new desk and prefer new over a refinished desk? Check out this selection of available desks online: DESKS
Vintage Desk Makeover
Materials Needed:
Staging / Home Decor:
The Before – Unfinished Vintage Desk
A true rags to riches desk table makeover.
I have to admit that makeovers like this are a reminder of why I love what I do. This beat up old desk was in rare form, it had so much damage, scratches, and stains. Rather than fight it and try to make it perfect we embraced its flaws and gave it a rags to riches makeover. Which in turn has made it beautiful once again.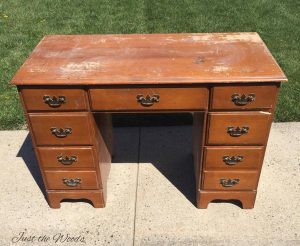 The Makeover – Saving this Ol' Vintage Desk
EEEEK look at that top!!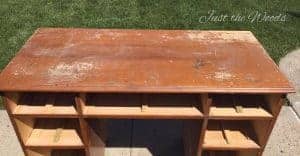 As you can see this little guy needed some major prep work. Proper prep is a very important step to painting a desk. The top, as well as the entire body, front to back and drawers, were all sanded down with my favorite electric sander. Lucky for me it was a gorgeous sunny day and my daughter was taking an extra long nap. Long naps = productive me.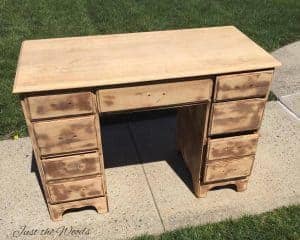 Paint and Stain Combo
Next, the top was given a fresh stain with a mix of a few different stains to give it a new rich color.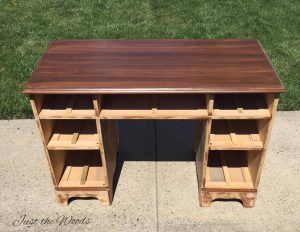 The drawers and body of the desk were then painted in a solid matte black and slightly distressed before being sealed for protection. Make sure to use a quality paint when painting furniture. You can find great paint online HERE.
The Result – Painted Vintage Desk
Under pressure and with little notice this desk is ready to head back to Long Island with its fresh new look.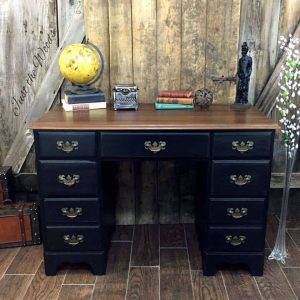 The black with the stained top is such a timeless look and one of my personal favorites.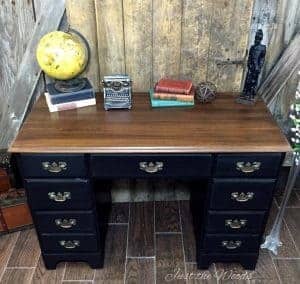 We decided to keep the original hardware and I simply cleaned them with an old toothbrush and a little soap, water, and white vinegar. Cleaning the grime away left a subtle brown tone on the handles that actually work beautifully with the brown in the stained top. That was an unexpected pleasant surprise!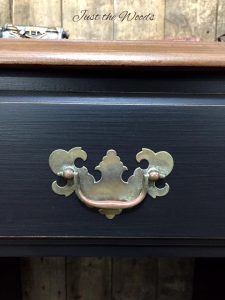 All ready to head back to home.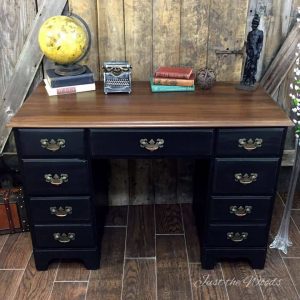 If you liked this vintage desk makeover then you will LOVE this one: Leather Top Vintage Desk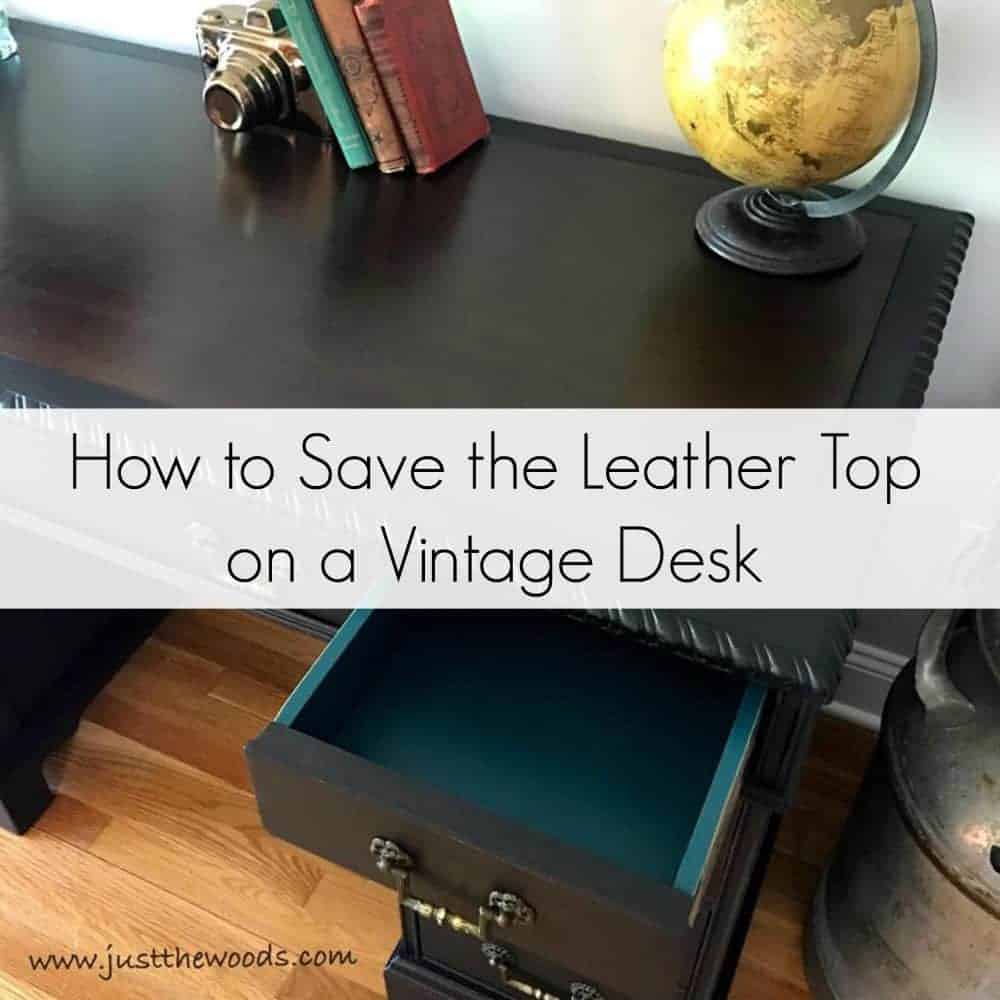 For more fabulous desk makeovers make sure to check out: Ten Amazing Vintage Desk Makeovers.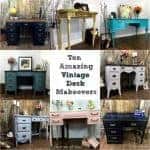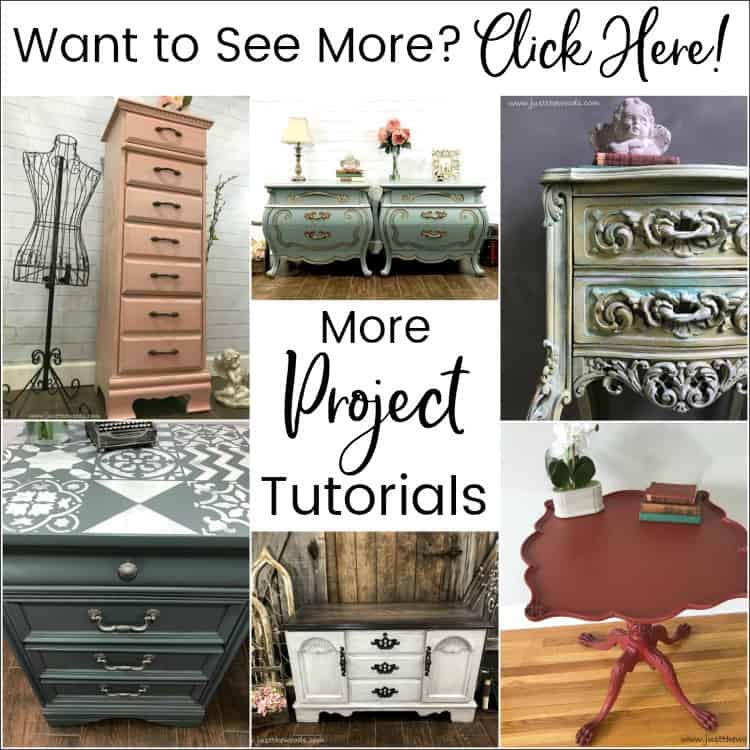 Don't Forget – Follow Just the Woods and Share this post to Inspire others:
FACEBOOK * INSTAGRAM * PINTEREST
PINTEREST PIN READY TO SHARE