How to refinish furniture is a question that we may ask but there are so many answers. Are we refinishing furniture with paint or stain? Today we are going to see how to refinish furniture back to its original amazing finish, and maybe even better.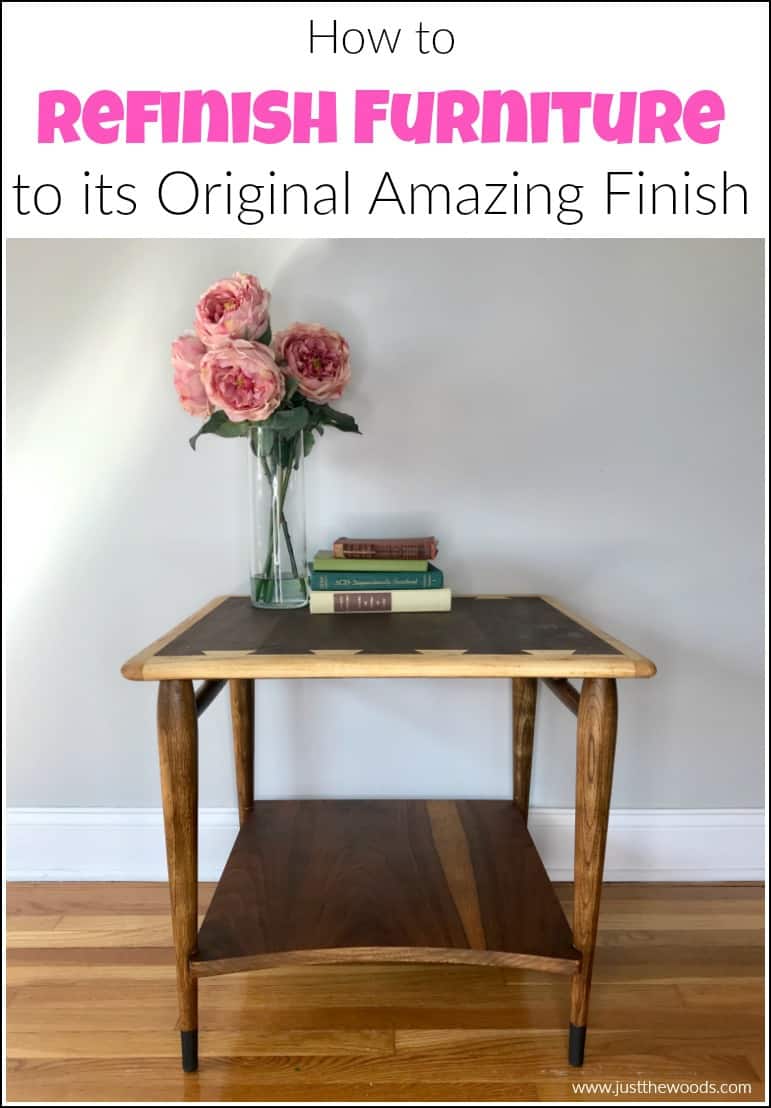 Disclosure: This how to refinish a table post contain affiliate links for your convenience. Click here for my full disclosure policy.

Supplies & Tools Needed to Refinish Wood Furniture
Materials Needed / Source List:
Tools
Sandpaper
Orbital Sander

Find all of my favorite tools and products on my

Amazon Page here
Paint
Before we begin, this wood restoration project is part of our monthly Furniture Fixer Uppers share. You know what that means! Make sure to stick around all the way to the end for more great DIY furniture before and after projects.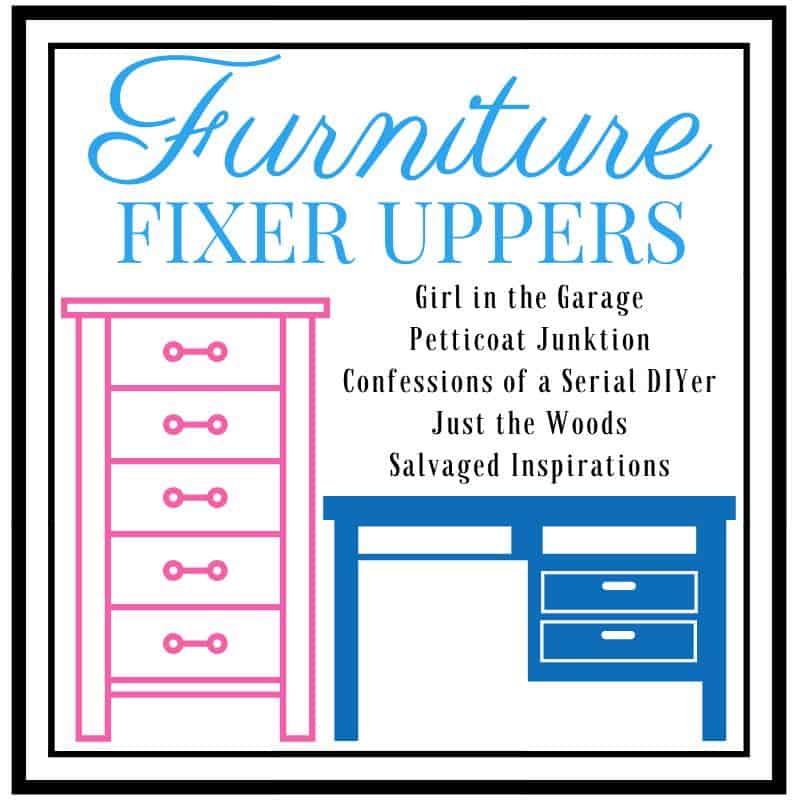 The Original Wood Lane Table
This Lane table is actually a mid century modern Lane Acclaim. After a few Google searches I learned that the Lane Acclaim line of furniture was first introduced back in 1959 and was quite popular. The pattern in the wood table tops is so unique as it dovetails both walnut and fruitwood together for a stylish look.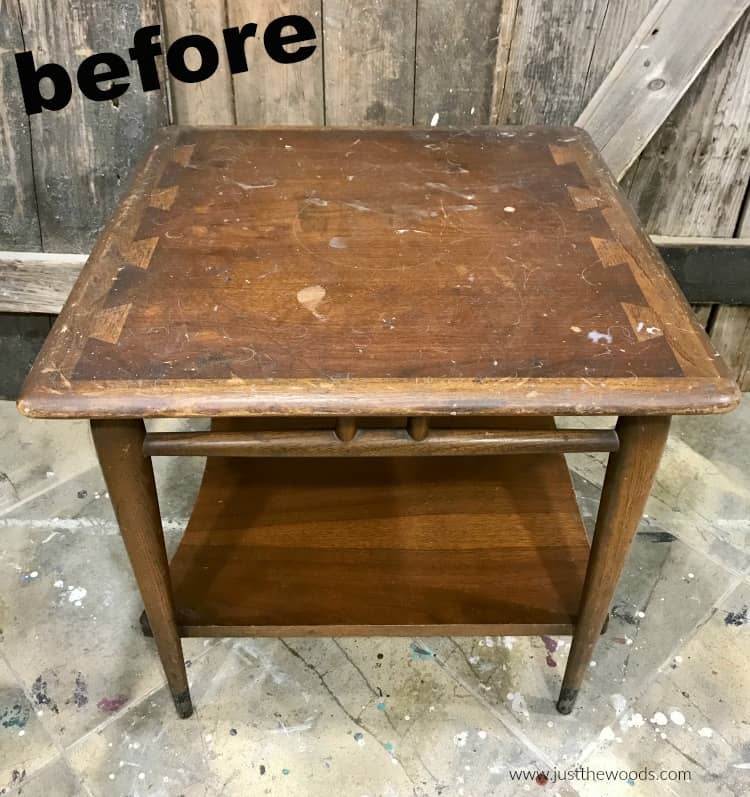 As you can see, this particular Lane table has seen better days and surely needs some work.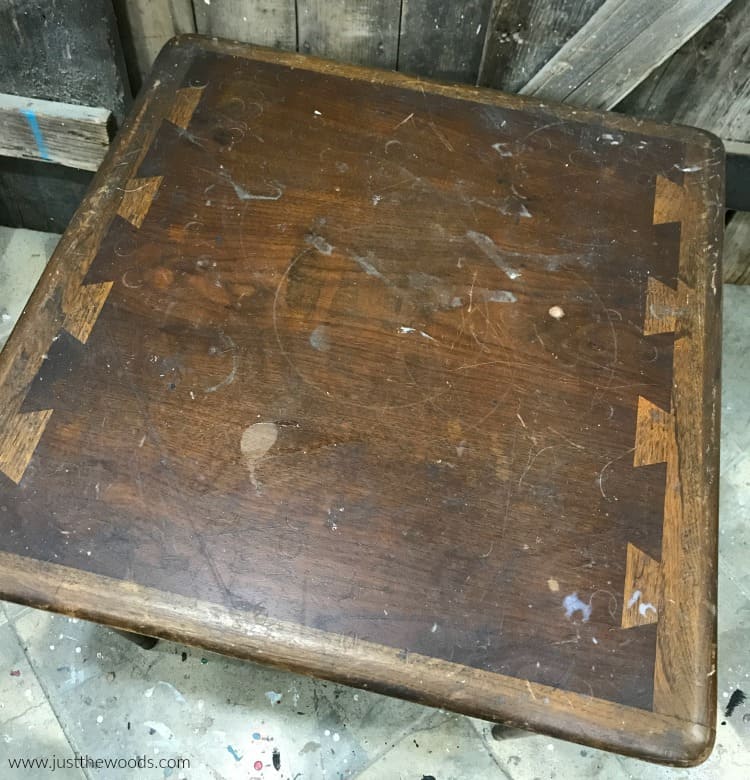 This table has some stains, scratches and damage on the top. But the rest of the wood table is in pretty decent condition.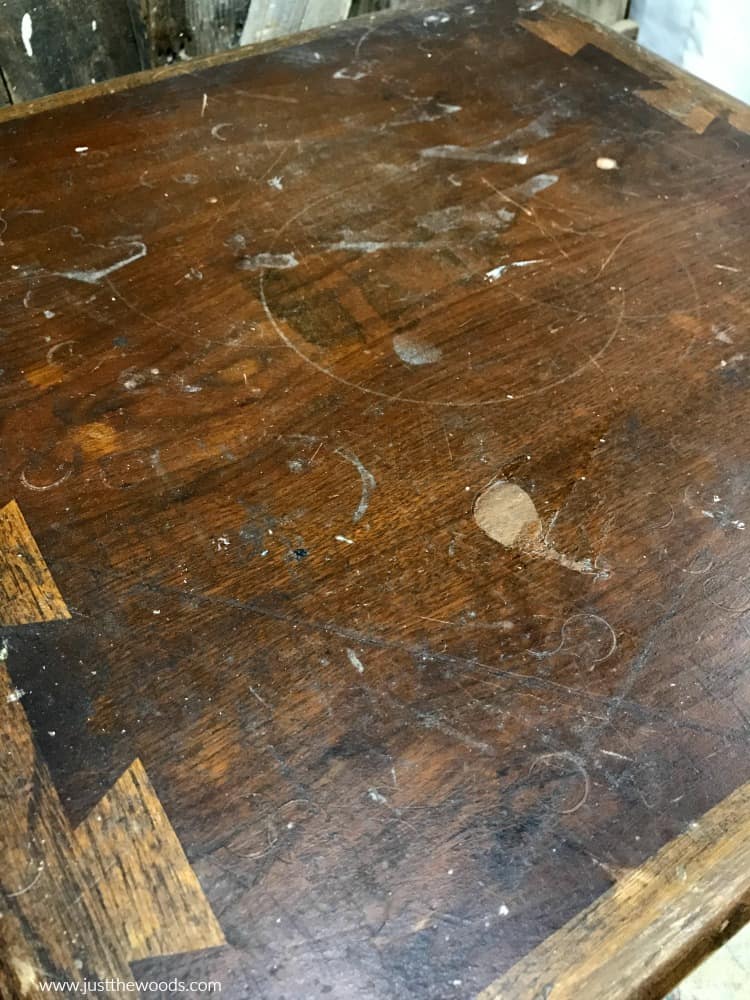 How to Refinish Furniture without Stripping
Not sure how to refinish furniture without stripping? Well, I think you always have 2 options when it comes to refinishing wood furniture:
You basically will need to do one or the other. Im sure there are exceptions to the rule, but in general you will choose one or the other. I prefer to sand. I am using my trusty orbital sander to sand the tabletop down to bare wood. This will smooth out the scratches and reveal the true wood grain pattern underneath. I share how to sand wood furniture indoors in my Tips for Painting Furniture post as well as in the video for this project below.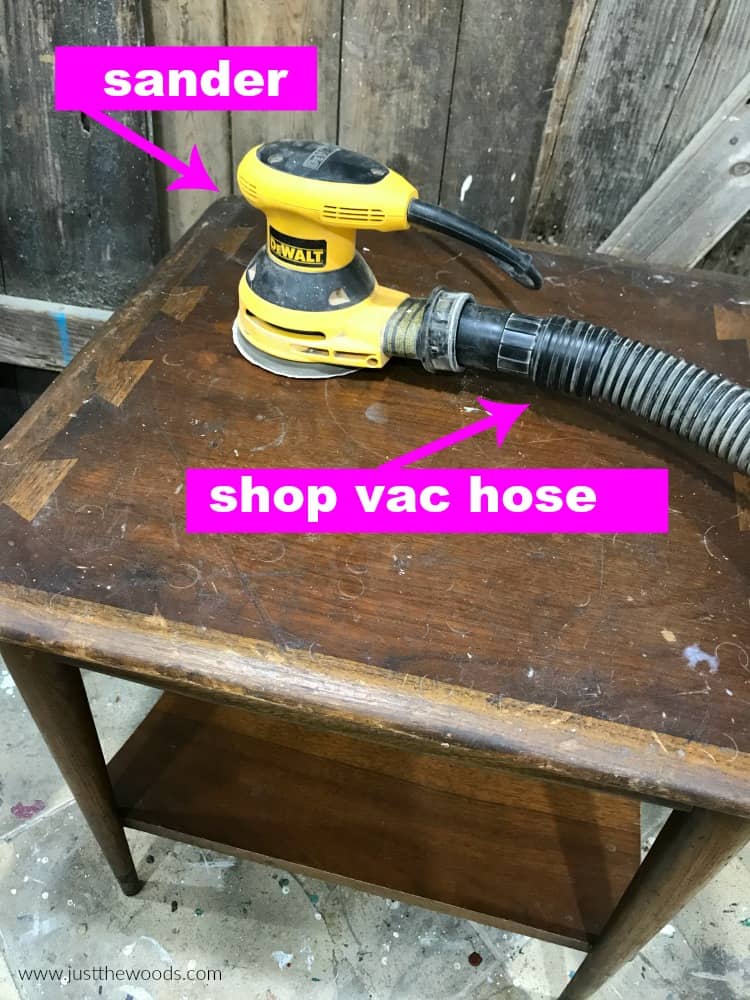 You can see here how much of a difference sanding makes on this table refinish as we sand away the dirt and damage.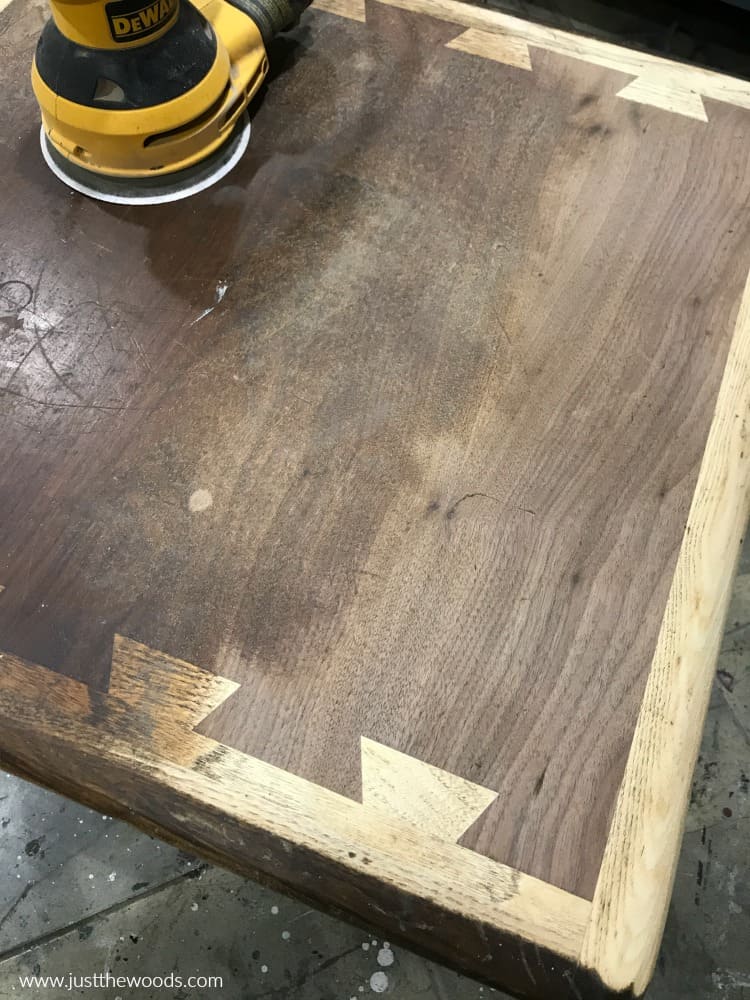 Make sure to sand the rounded sides of the table top as well. You will probably need paper sandpaper for this step. I am using 150 grit.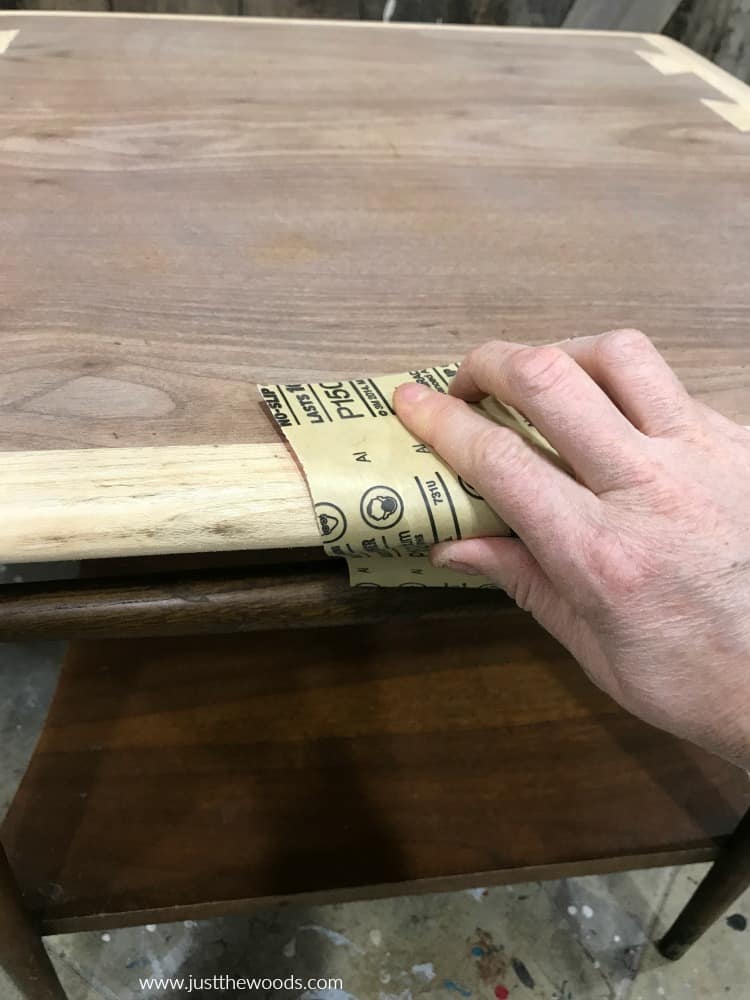 Once you finish sanding the table top we are on our way in this furniture restoration makeover. The top already looks much better.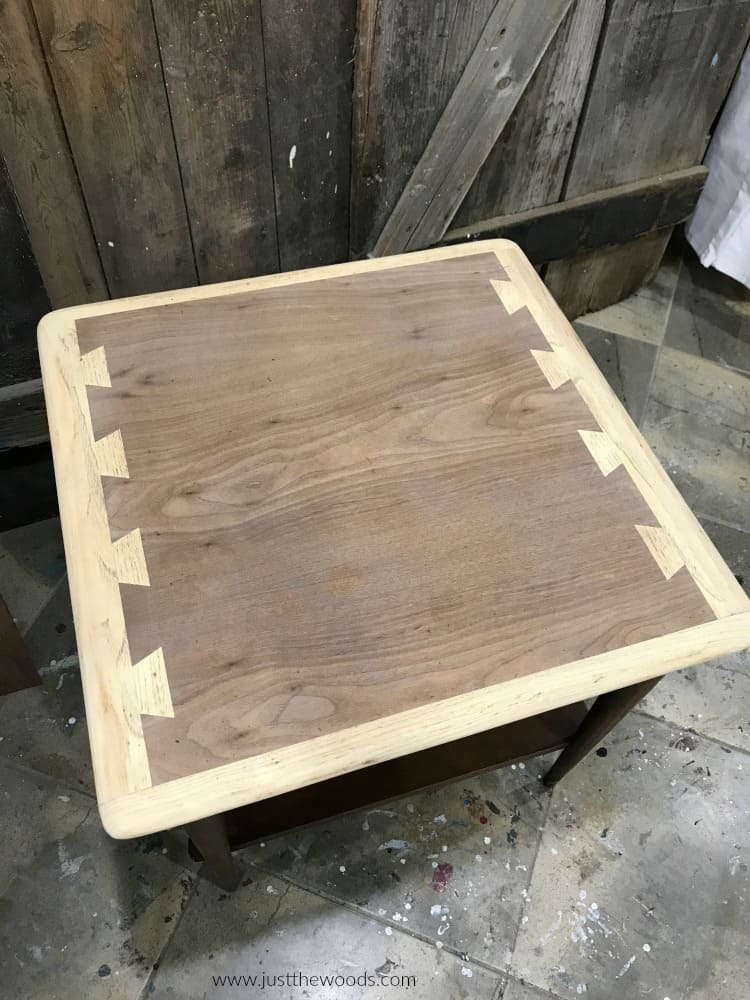 How to Sand Wood Furniture
Next, we will flip the table over and work on the rest. Make sure to lay the table on something clean like a cloth or old shirt so you don't re-dirty the table top that we just sanded. When you are refinishing a table you need to make sure to sand the entire surface. I like to start with the legs and work my way around. Start with a rough grit and then follow up with a finer grit to smooth it out. The bottom portion of the legs on this table are actually black.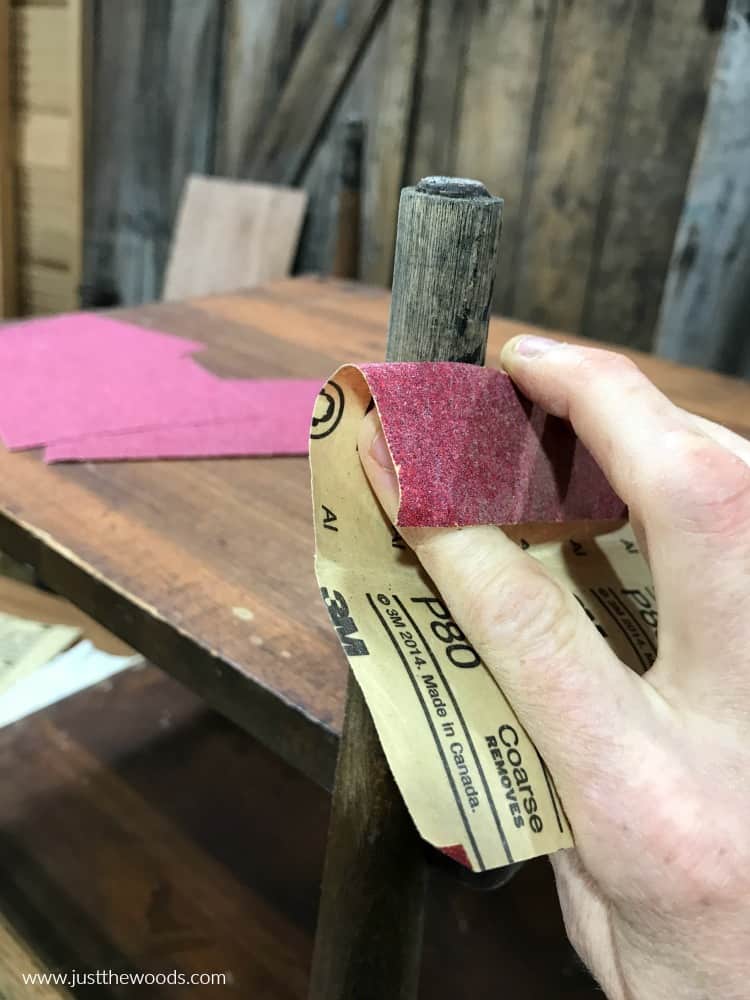 Go ahead and sand then surface of the rest of that table. Make sure to use some sort of protection so you don't breathe in the sanding dust. You can get paper masks like this online here: paper mask, or even a better respiratory mask here: mask. (With the current coronavirus situation mask sales are a bit insane online right now)
When you finish sanding the wood table, you can use a shop vac to suck up the majority of the dust.
Refinishing a Table: cleaning
Now that our table is sanded we can move on to cleaning. We still need to remove the remaining dust and dirt from the table. Grab a scrubby sponge and a simple solution of water, white vinegar and a drop of dish soap. Clean the entire surface of the table.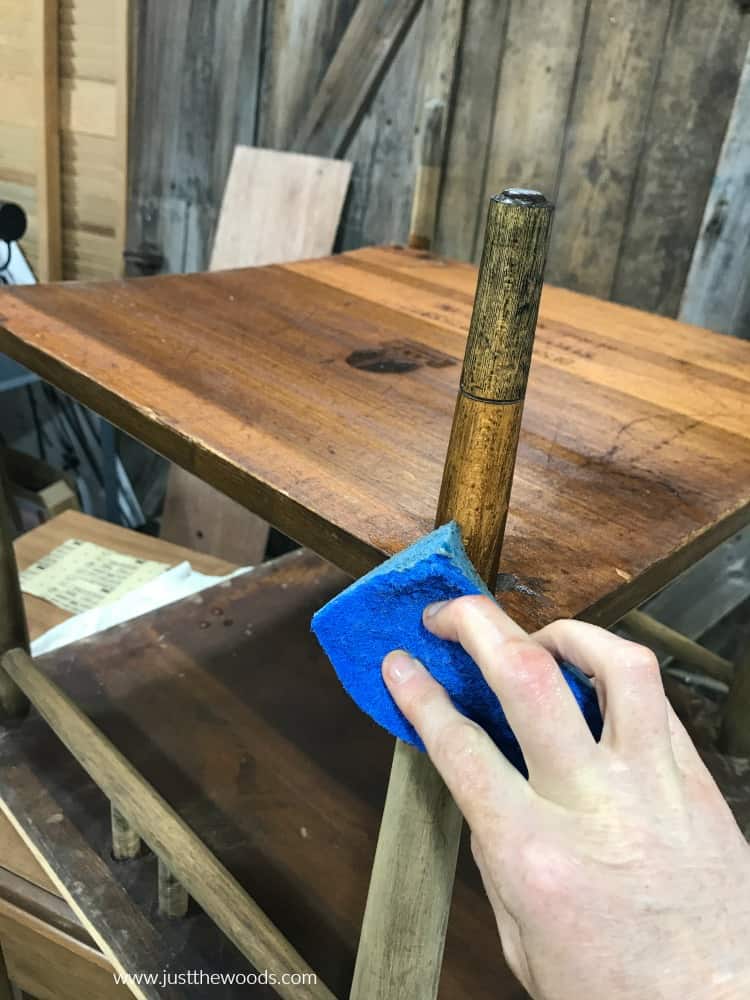 Follow up with a clean damp cloth.
Paint
Since we are restoring this Lane table as close to its original as possible we will be painting the small portions at the bottom of the feet back to black. You can see where the black paint was and where it stops.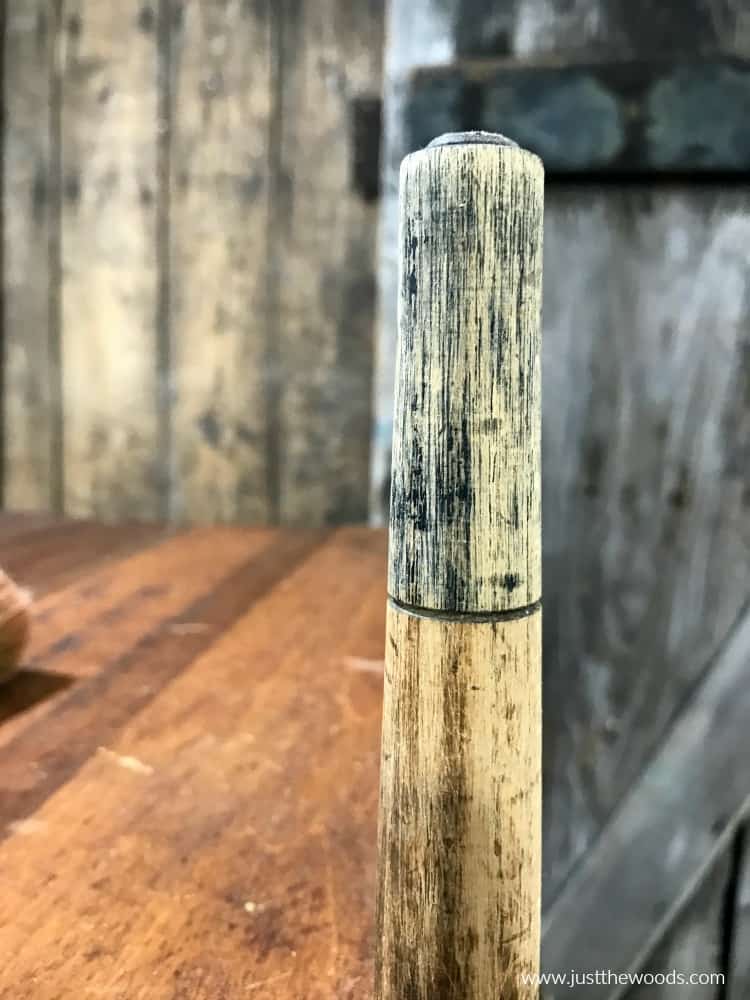 To keep a clean crisp line go ahead and tape off the area where we will paint. I am using my favorite painters tape found here: tape.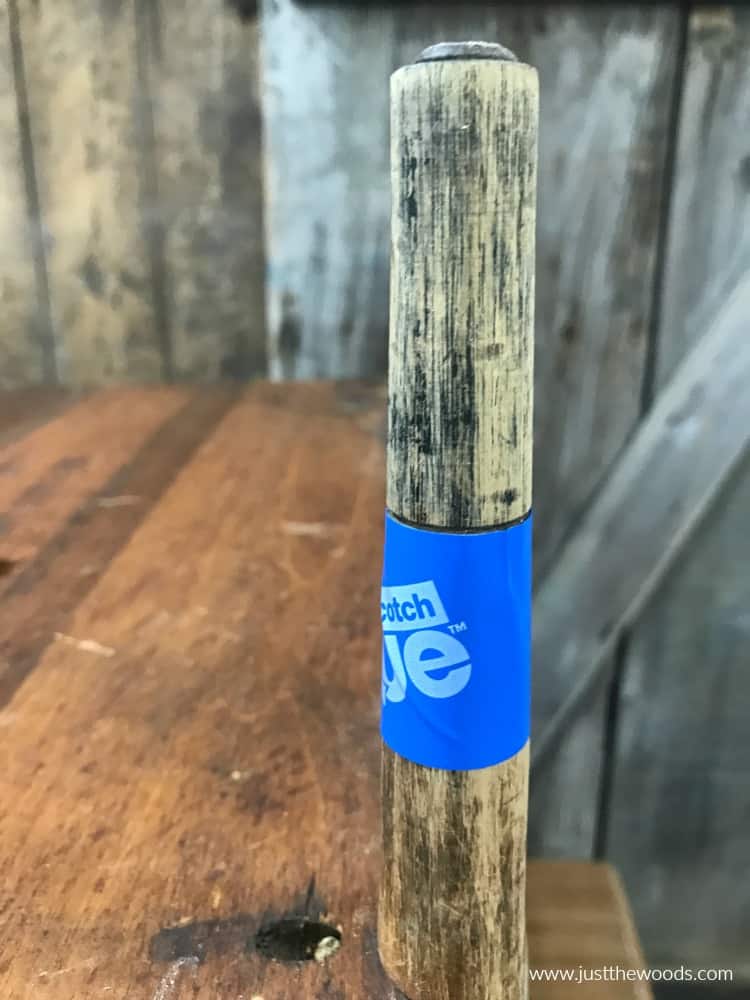 For the paint portion of this table refinish project we are using Black paint from Wise Owl. You can find this furniture paint color as well as many others online here: Paint.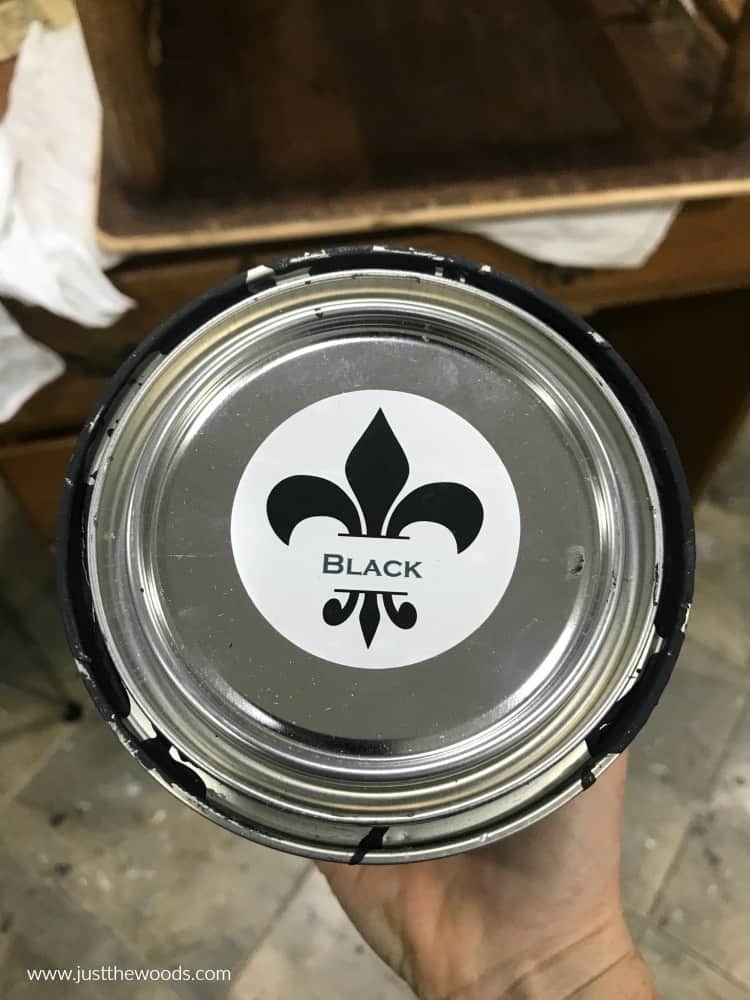 Next, grab your favorite brush and make sure it's clean. I often like to swap back and forth between Cling Ons and Zibra brushes. They both have soft bristles, are easy to work with and clean up well. (I abuse my brushes) To be honest, I like them both. Zibra brushes are a bit more affordable and can be ordered online (HERE). Cling Ons are always awesome and can be ordered online (HERE).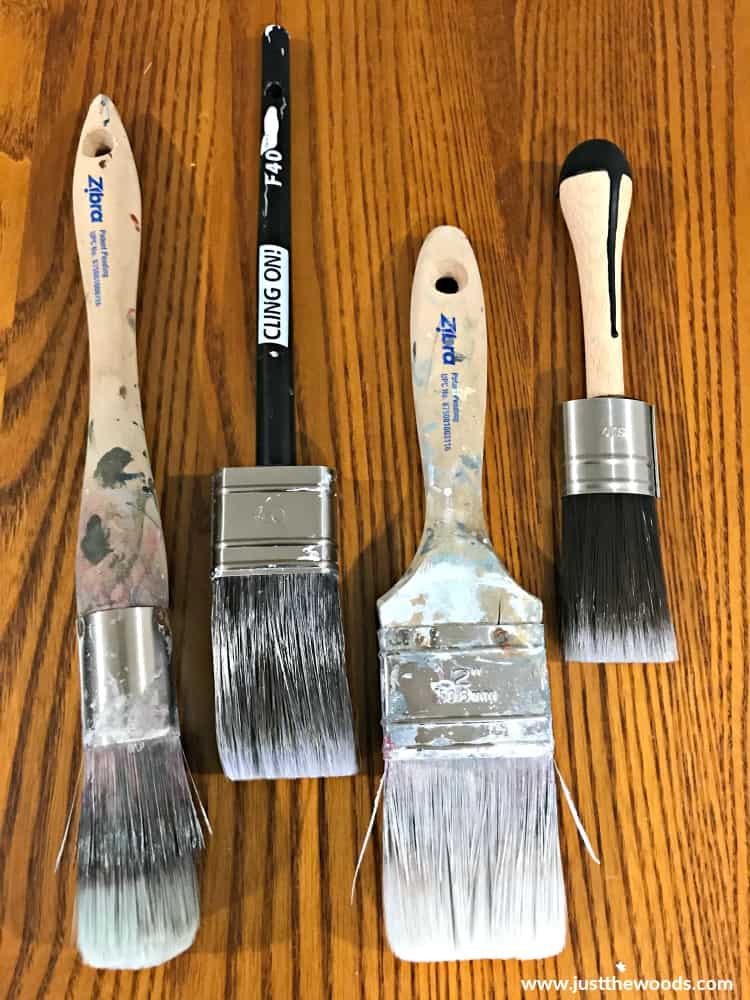 I'm using my mini Cling on brush.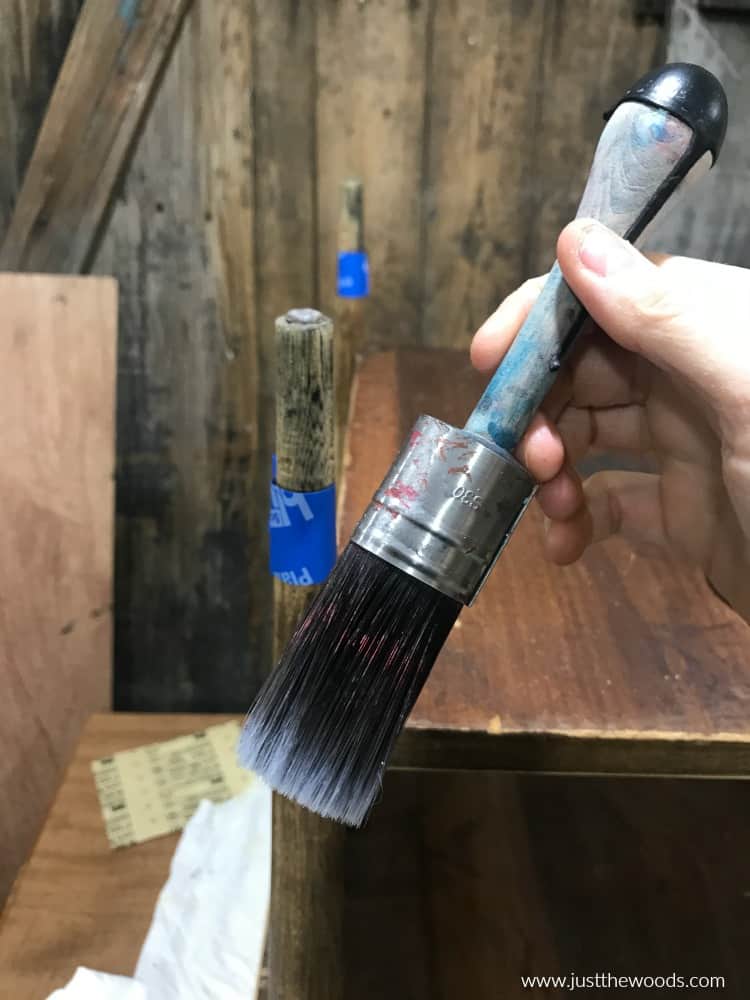 Carefully apply the paint to the small areas of the taped off table legs.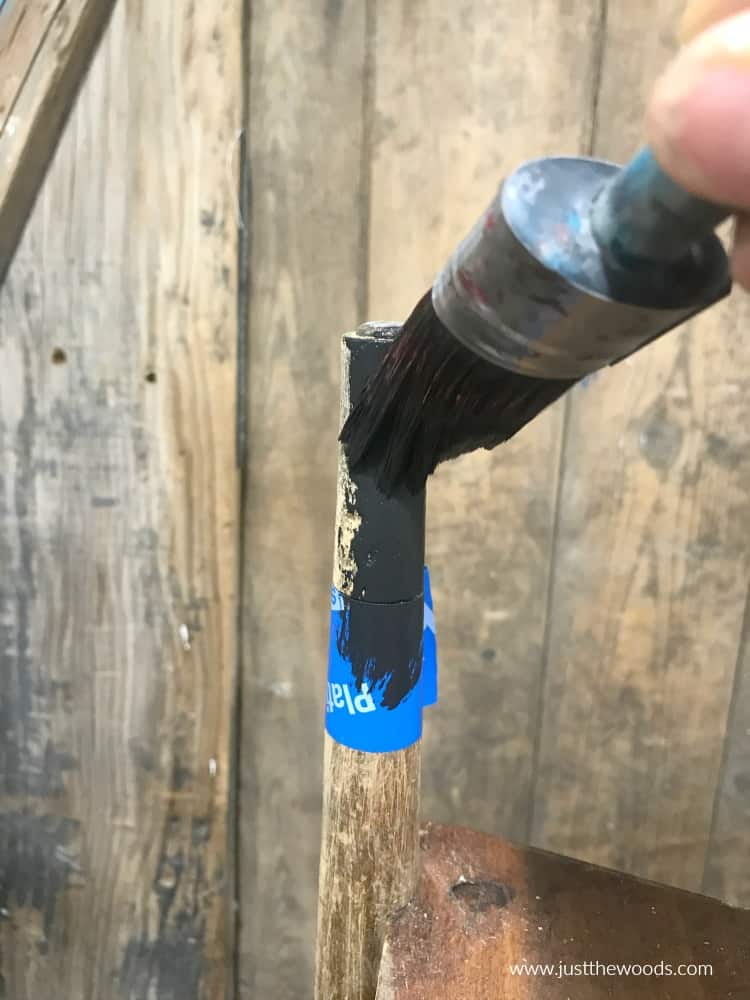 After two coats of paint go ahead and remove the tape.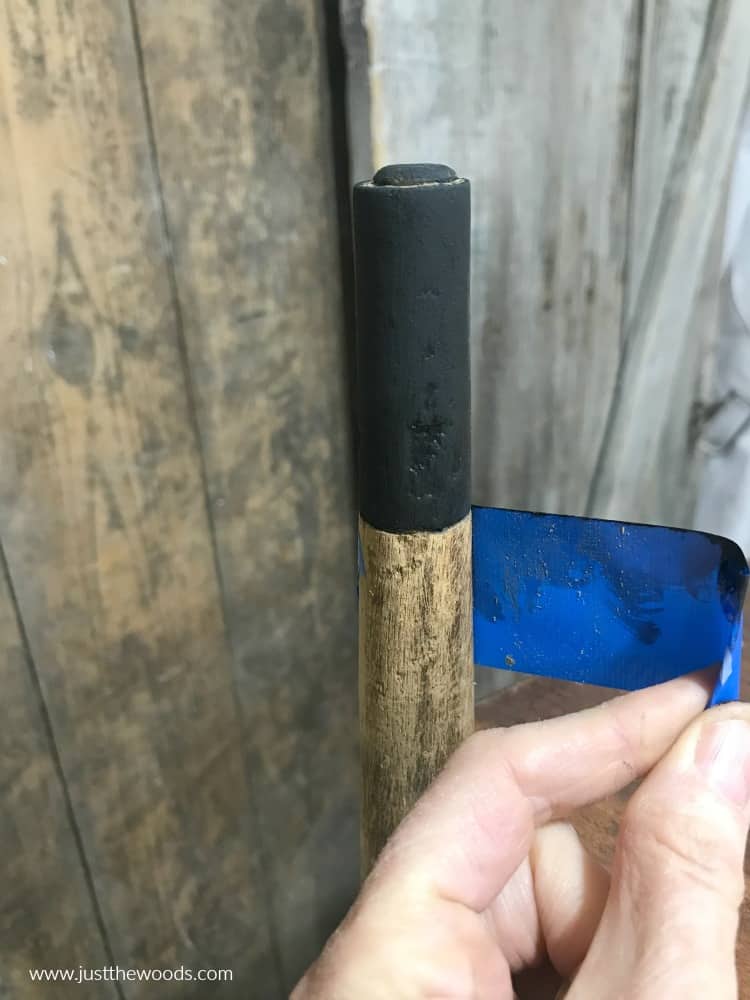 How to Refinish Furniture : Wood Restoration
Furniture restoration products:
To restore this wood table we are going to use furniture salve from Wise Owl. The furniture salve conditions, seals and protects your wood. But unlike wax, it does not harden. Instead, it leaves a softer and heavenly smelling result. Wise Owls furniture salve is made with hemp seed oil, natural waxes, natural essential oils, including bergamot, lavender, mandarin, thyme, ginger, and lemon. Plus other awesome natural goodness that adds to the strength and superpowers of the salve. You can order the salve online either directly from Wise Owl or HERE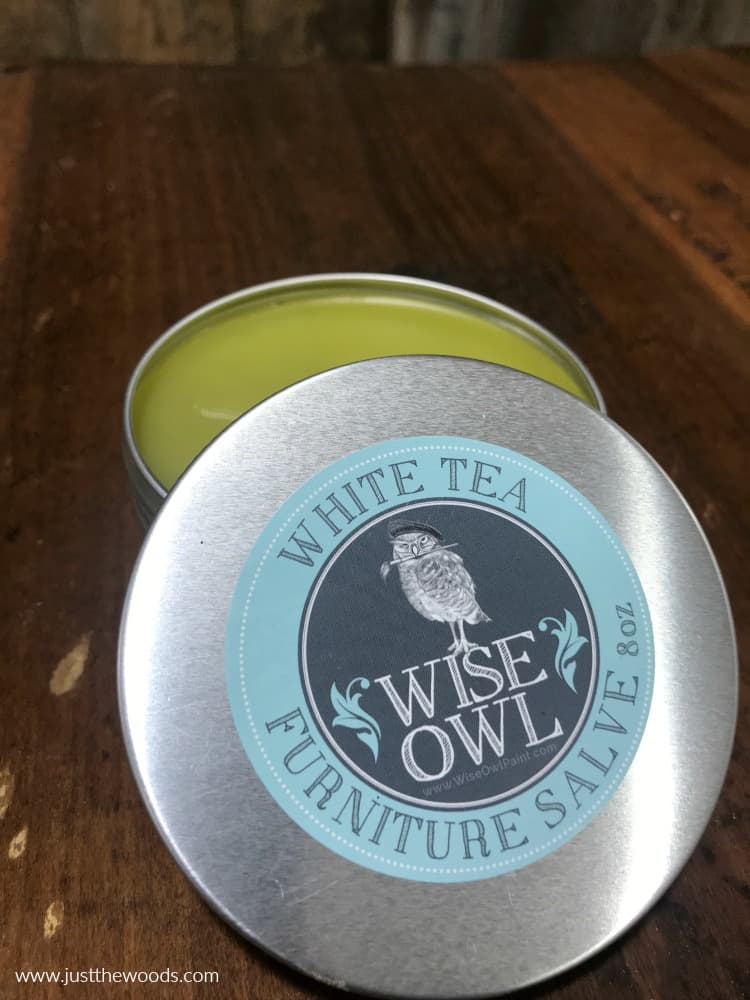 Restoring Wood Furniture
When it comes to applying the salve I make sure to not use the same brush that I would use with paint. So make sure to use a brush dedicated just to this type of application. Im using a wax type brush. You can find this kind of brush (here).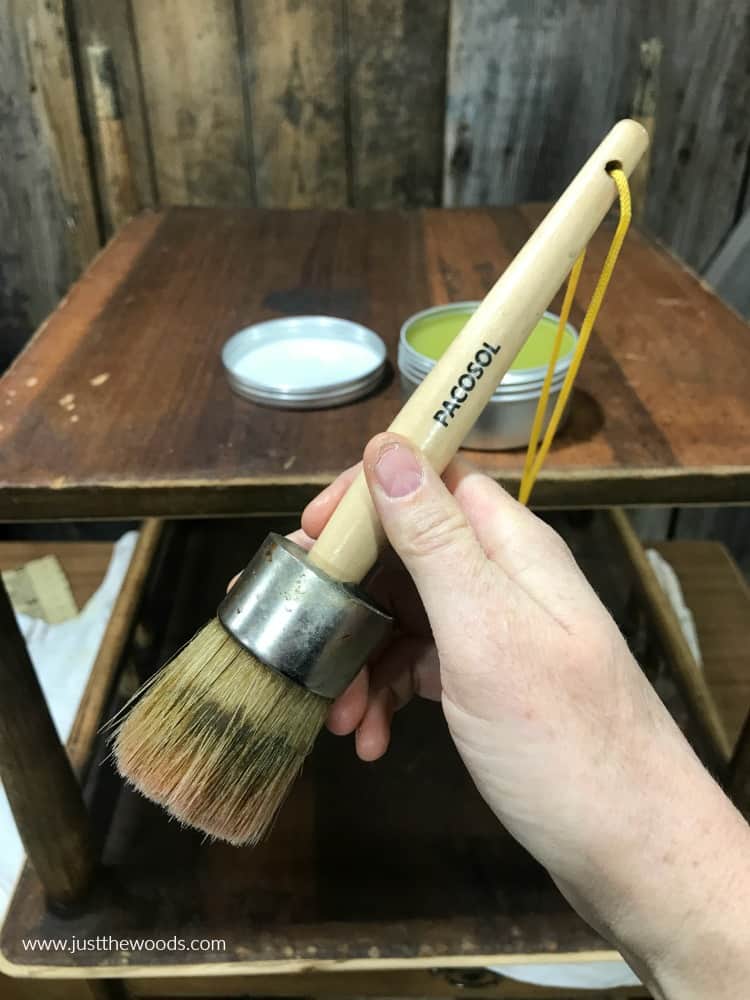 Dab your brush into the salve just enough to get some on the brush tips. You do not need a lot. A little goes a long way.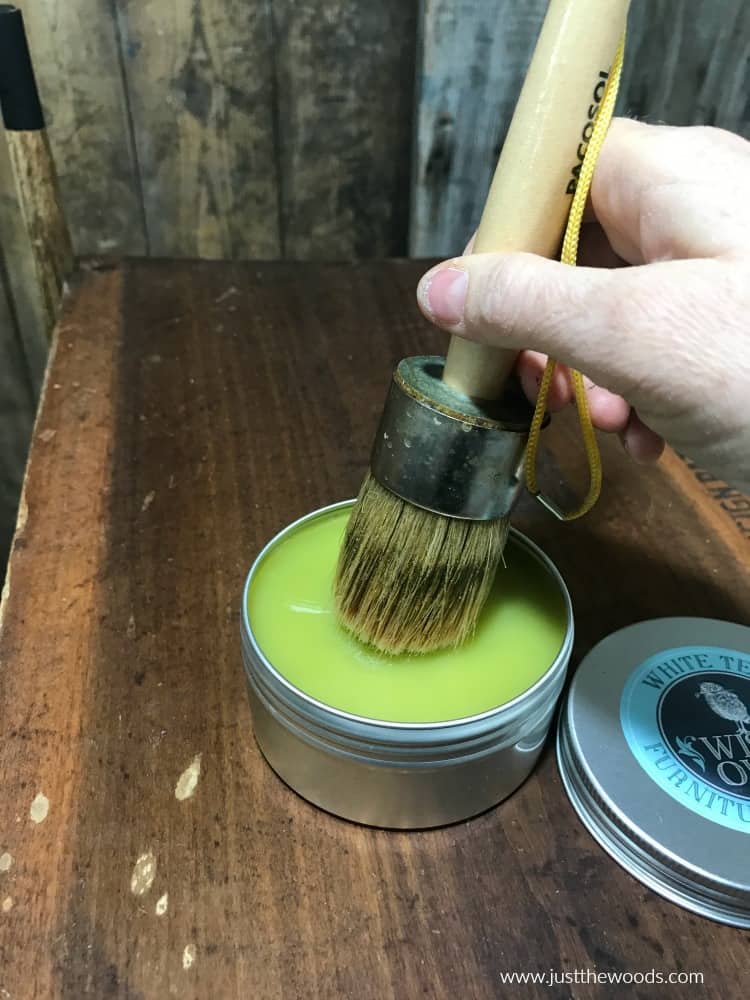 Apply the salve over the entire surface of the table, including the painted portions on the legs.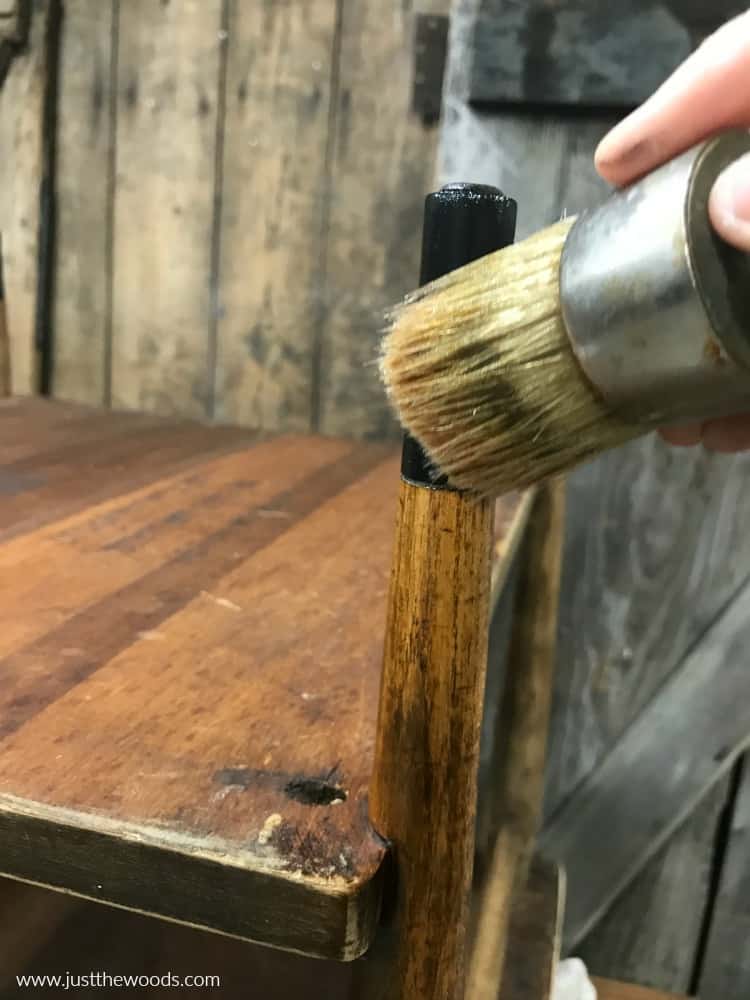 Then use a clean dry cloth or old T-shirt to buff the salve. Basically, rub the salve in and wipe away any excess with the cloth.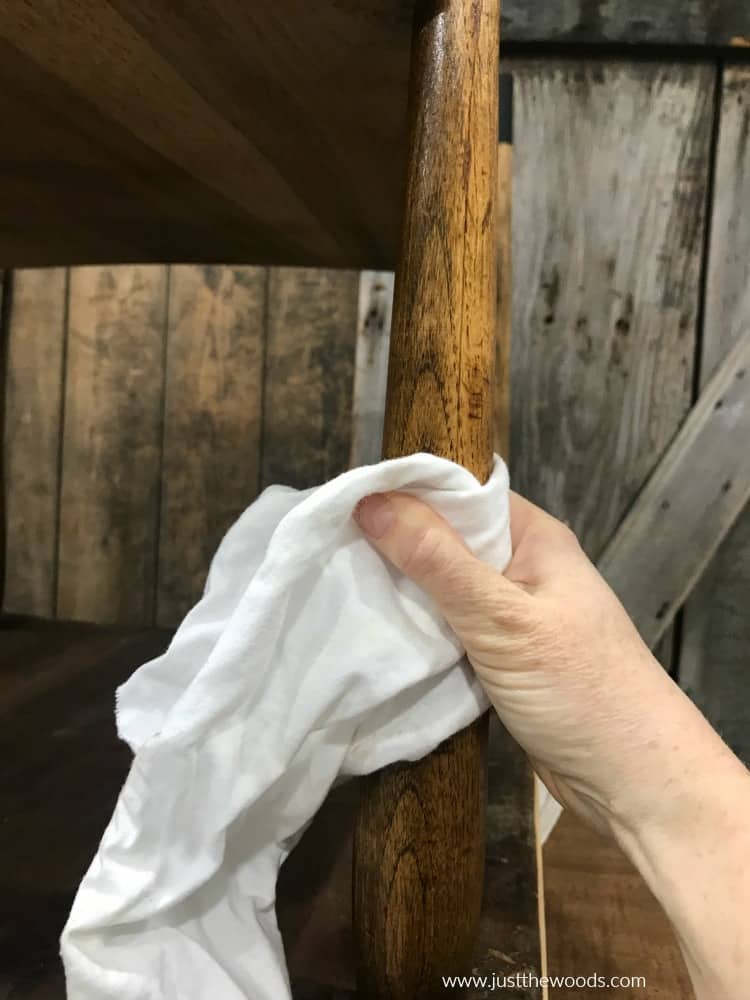 Here you can see the side by side of the table leg before and after salve application.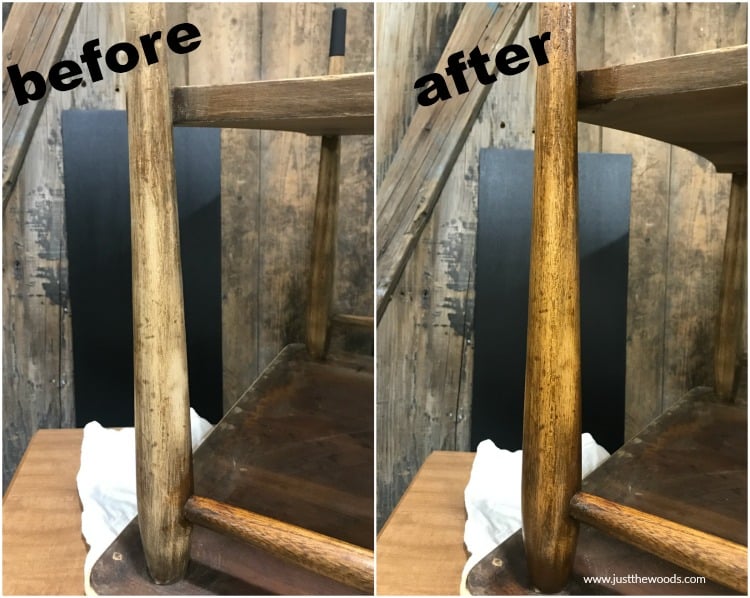 You can also see how freshened up the underside of the table looks after applying the salve. By the serial number located underneath the table top this table was made in 1960 and according to its serial number it is the Lane Acclaim lamp table.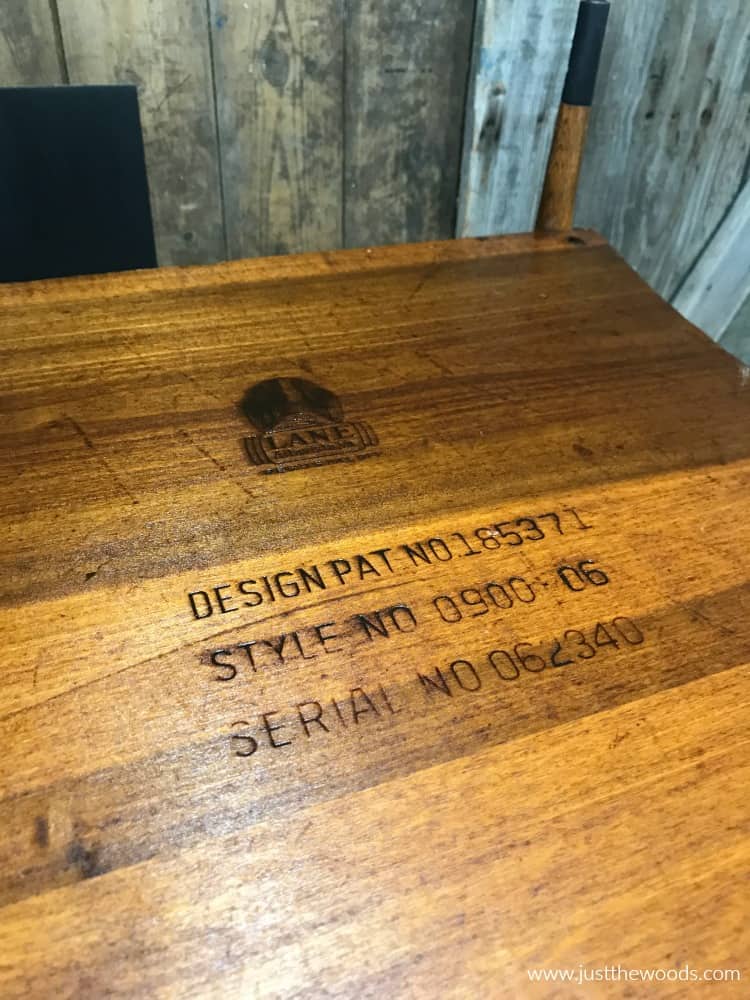 Moving down to the lower shelf area go ahead and apply the salve with your brush. Make sure to work in the same direction as the grain.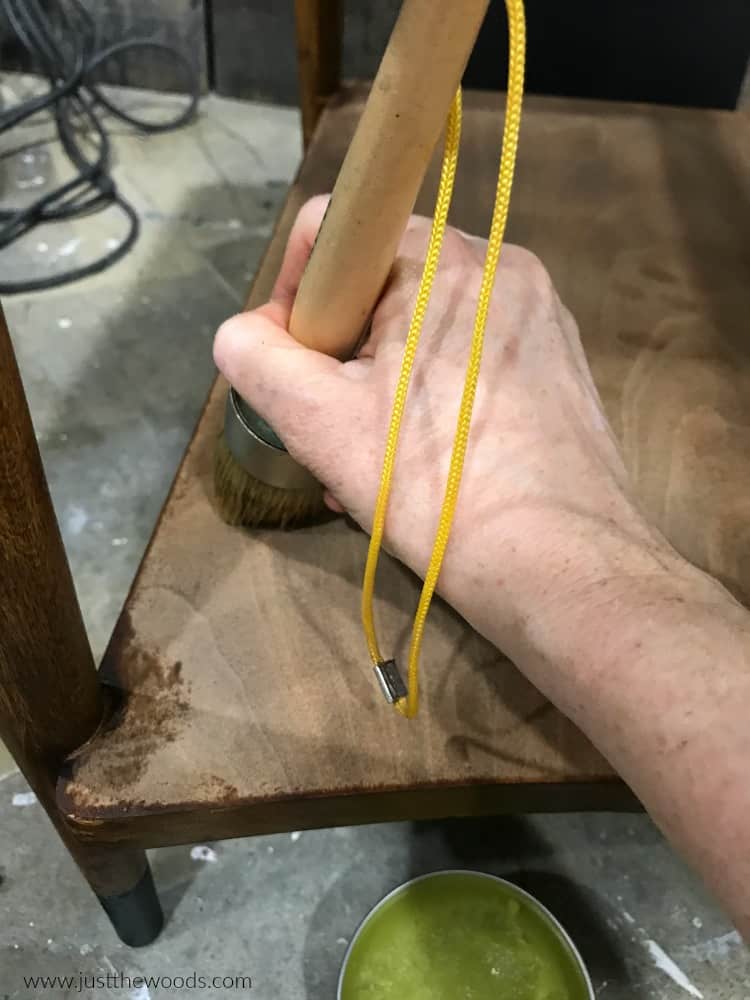 You really see the wood come alive during this wood restoration and refinish process.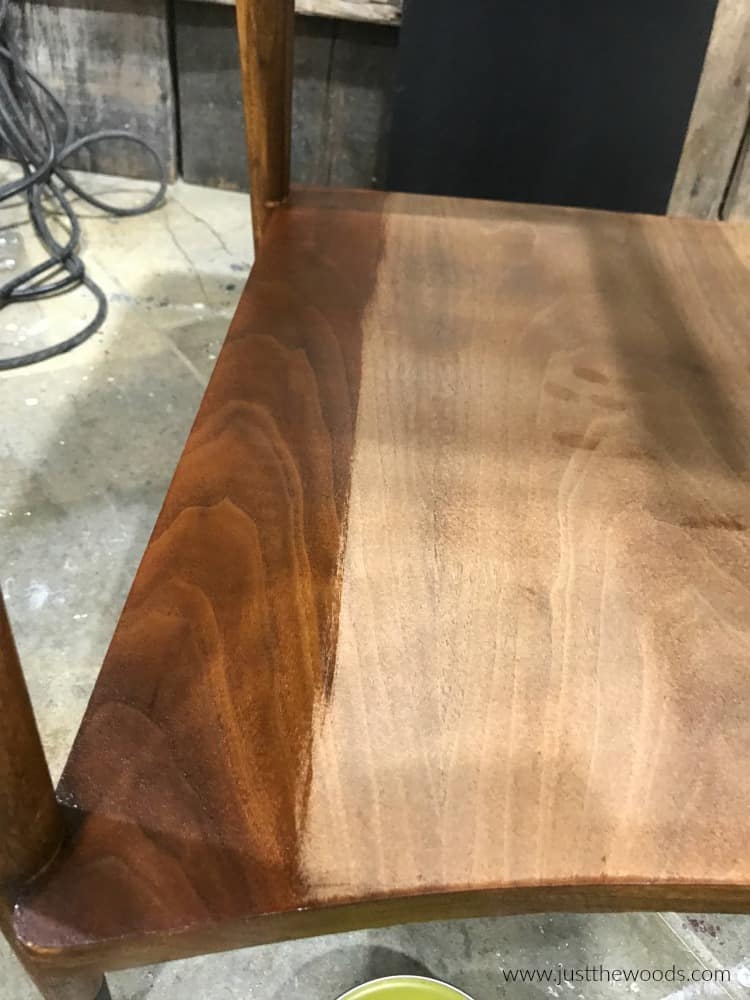 Here is a side by side where the left side has salve applied and the right side isn't done yet. It's like night and day!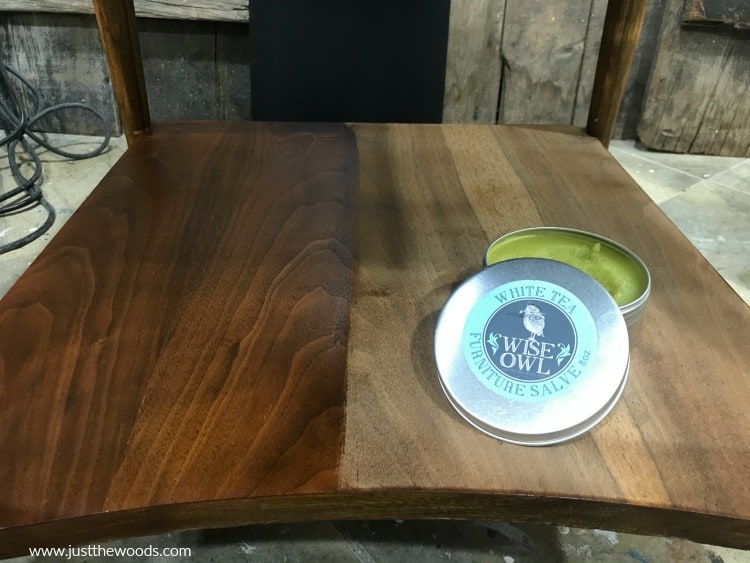 Keep in mind there are other scents besides white tea, so you do have other options as far as scent. Of all furniture refinishing products I love being able to use something natural that is designed to deodorize, restore, protect, beautify, rejuvenate furniture and more. You will appreciate it's softer than butter texture for easy application.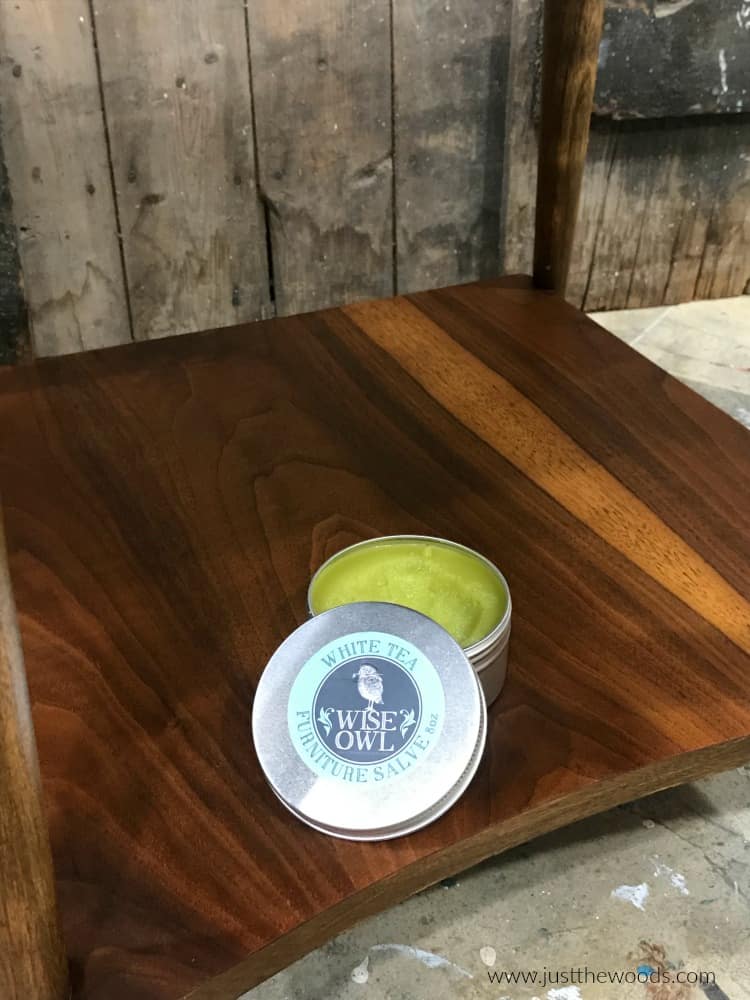 How to Refinish a Table Top
On to that gorgeous table top. Since we flipped the table over to work on the underside lets give it a quick once over with a fine grit piece of sandpaper just for good measure.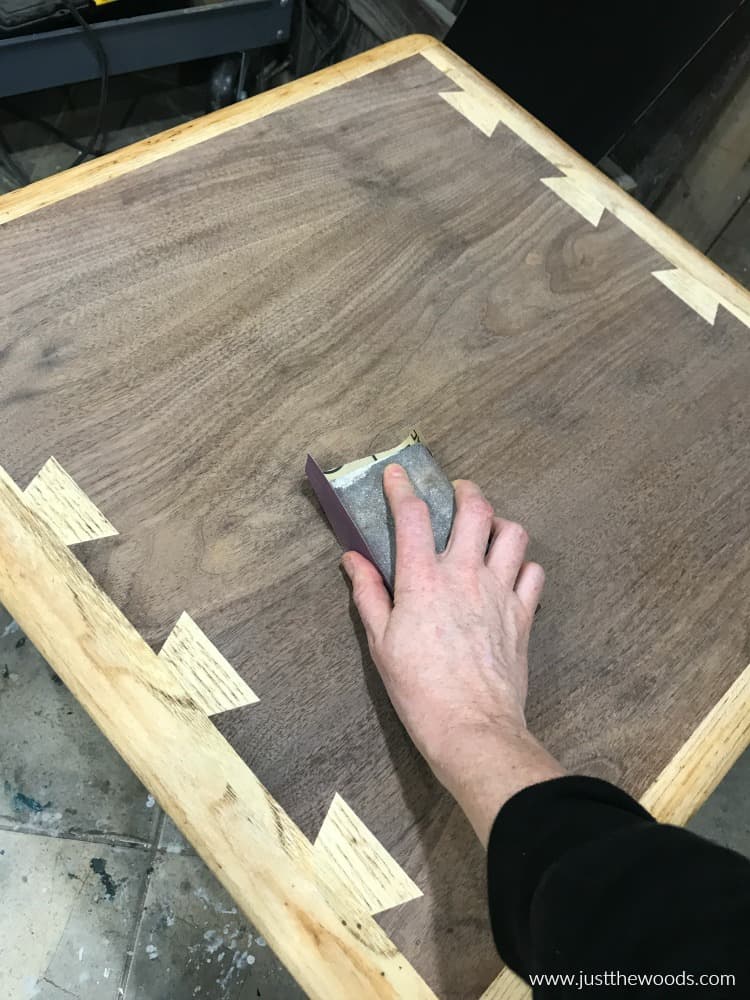 Follow up with a clean lint free cloth.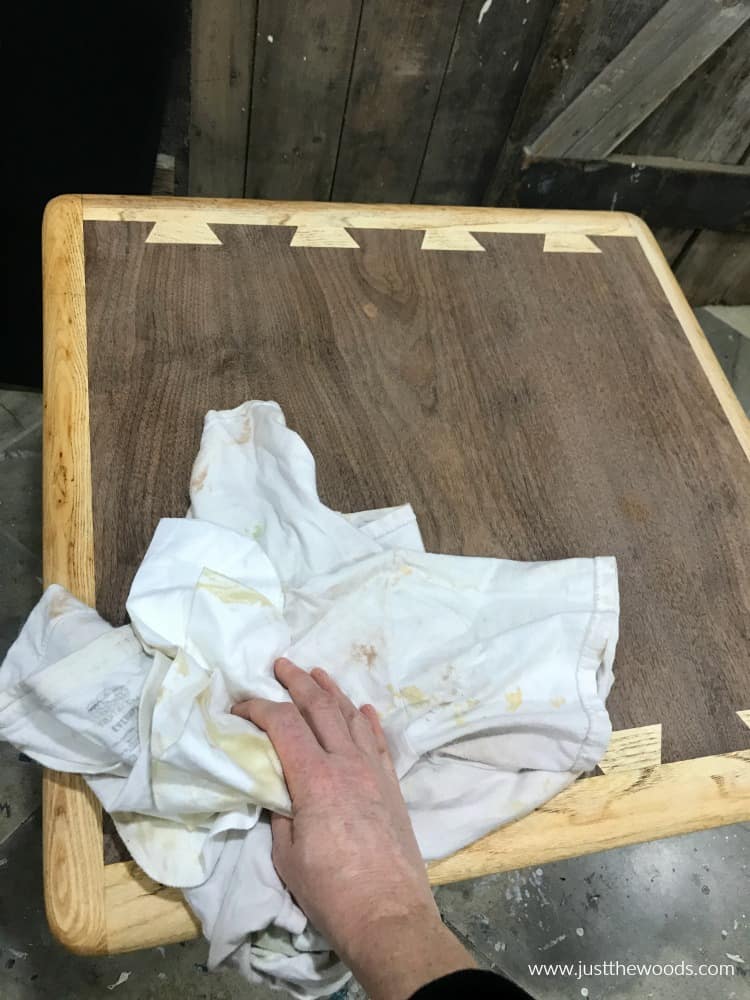 Now we can start applying the salve to the table top. Just like before, when refinishing wood furniture make sure to work with the grain.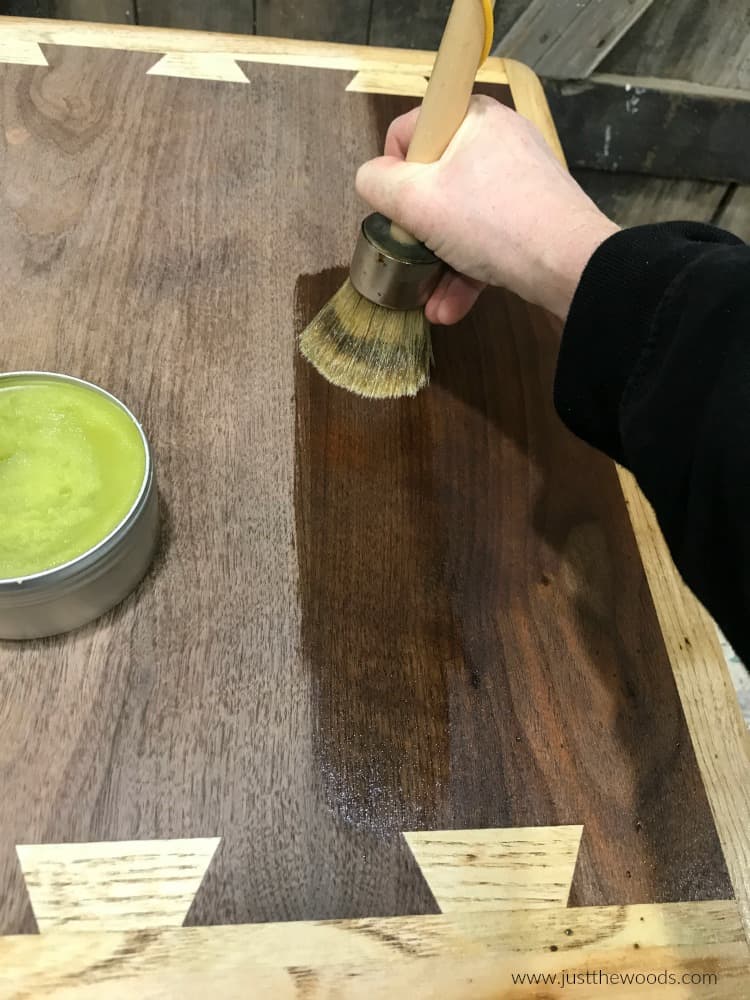 Make sure to buff (wipe) the salve into the wood with a clean cloth as you apply.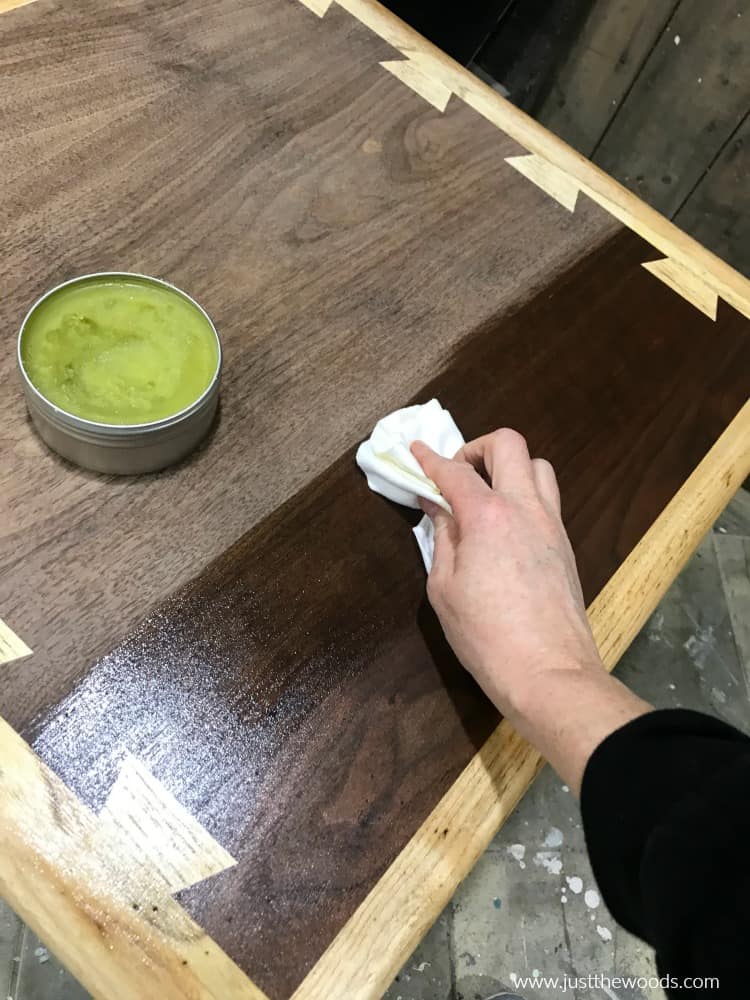 Again, you can see the difference as the salve is applied. The color of the wood is deepened as it is restored.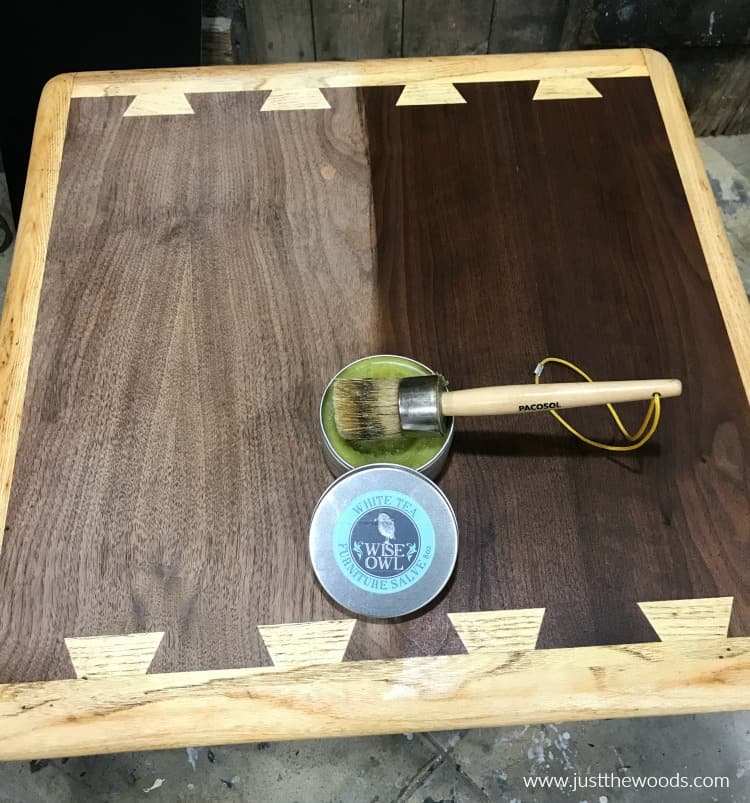 Video Tutorial
Prefer video? You can follow the project via video here. If you are unable to see the video you may need to turn off 'ad-blockers' on your site. The video may also autoplay within the tutorial post.
Refinish Furniture Lane Table Makeover
Most of my makeovers are donated. They are usually given to our church, a local school, animal rescue or charity to help with their fundraising efforts. But the fate of this Lane Acclaim table is still undecided since my husband decided that he wants to keep it. I can't say that I blame him. Click here to see all of my projects that have been donated to support local fundraisers, schools, and charities: Donation Projects.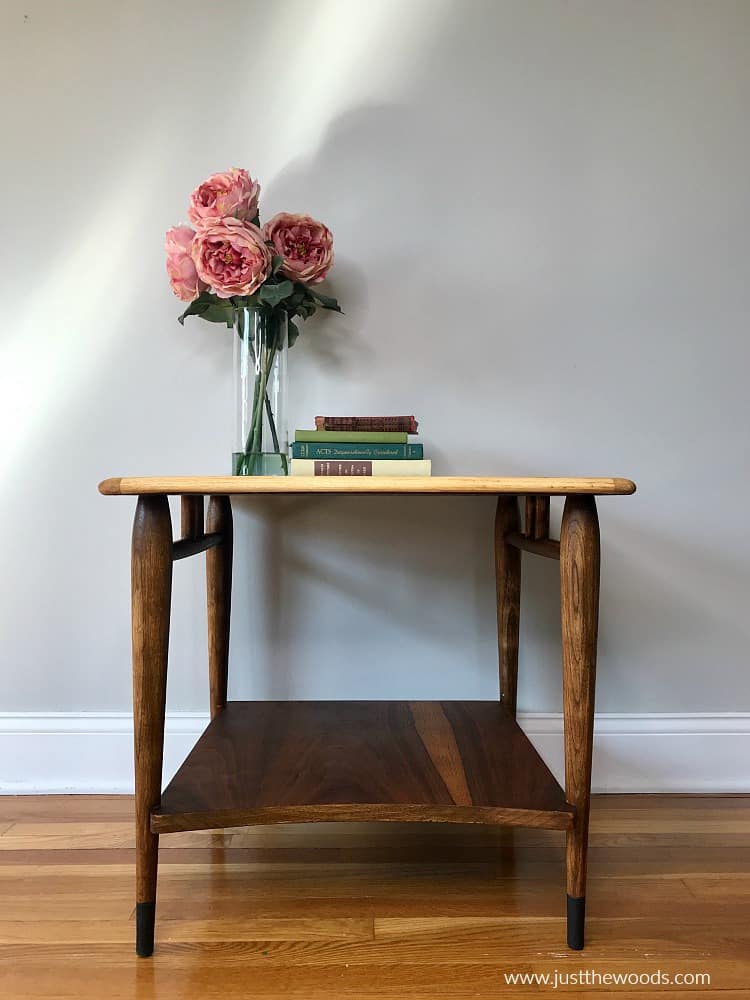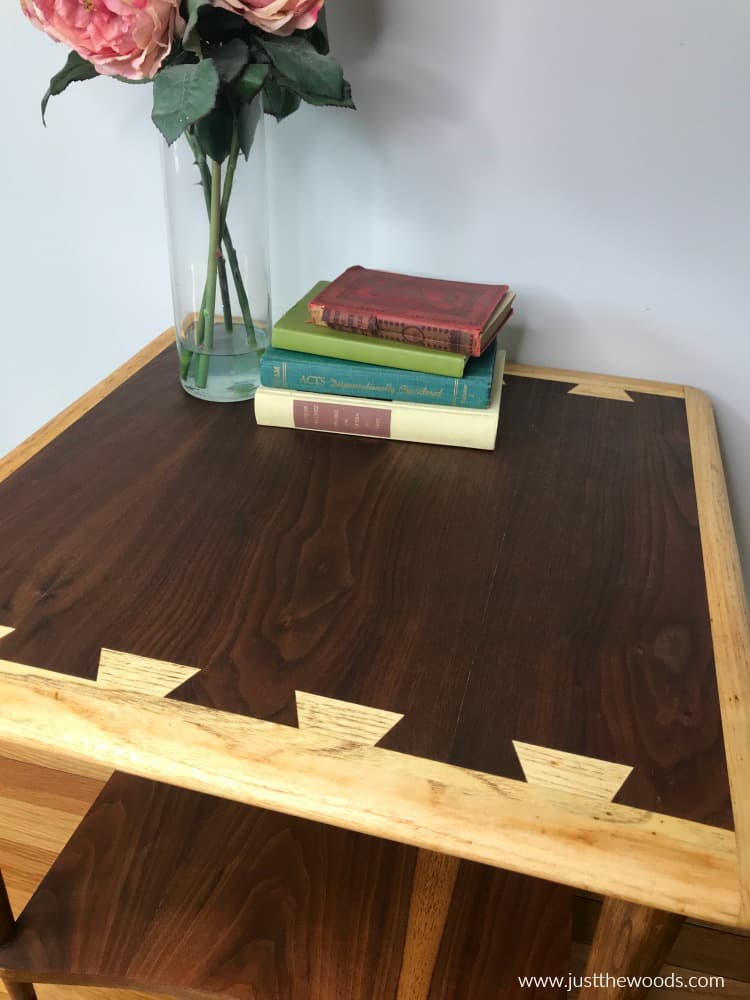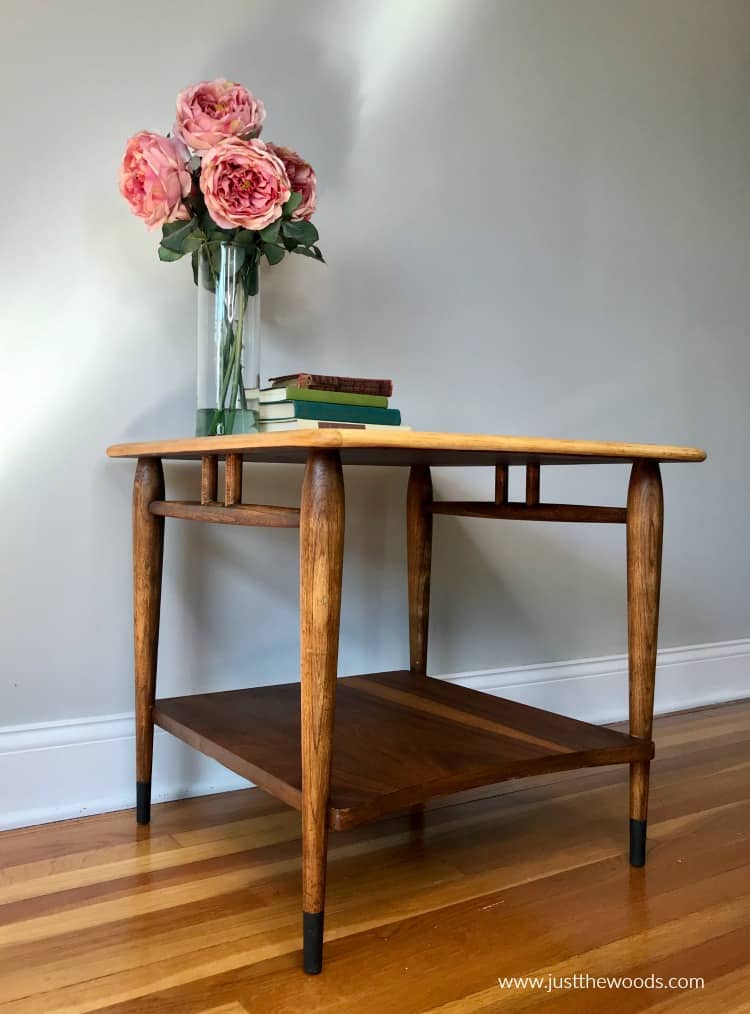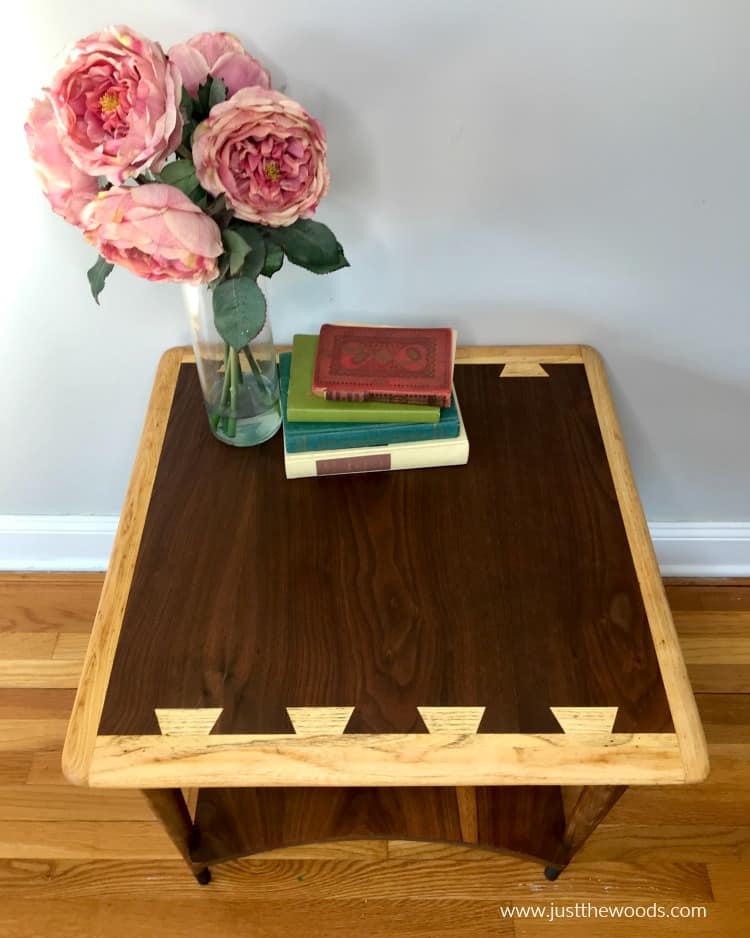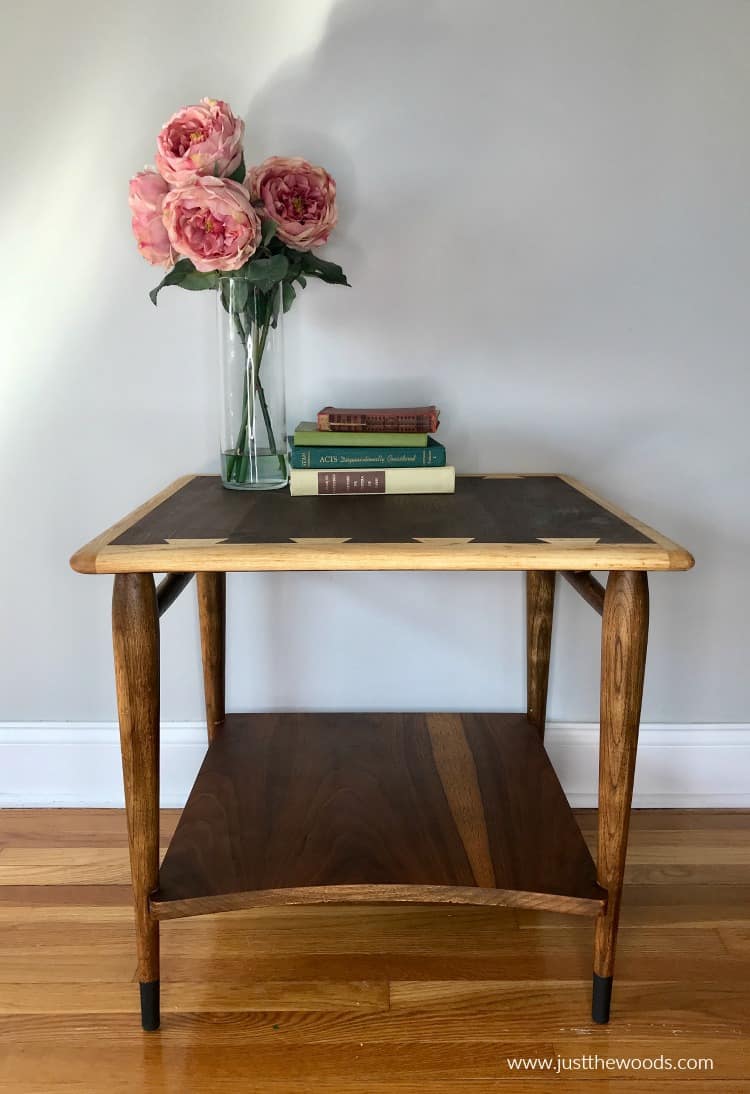 You May Also Like
If refinishing and restoring furniture is your thing you will love this Steamer Trunk Restoration project. You can also see more projects using the salve in a variety of ways, like freshening up the insides of wooden drawers, or sealing painted fabric here: salve.
Ready to Get Started?
Not sure where to buy Wise Owl Salve? You can get find the black paint as well as the salve plus more online here: Wise Owl.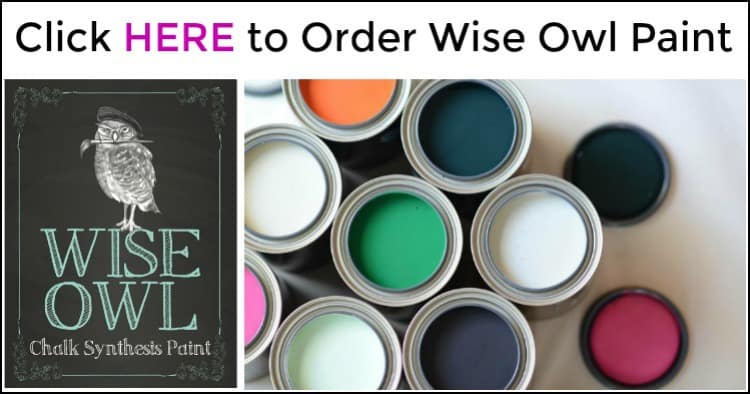 Furniture Fixer-Uppers
It's that time again where a few of my creative and talented blogger friends and I have joined together in our monthly Furniture Fixer Uppers share. Let's see what my friends are up to! Make sure to click the links below the image to check out all the amazing projects that my bloggy girls are working on this month.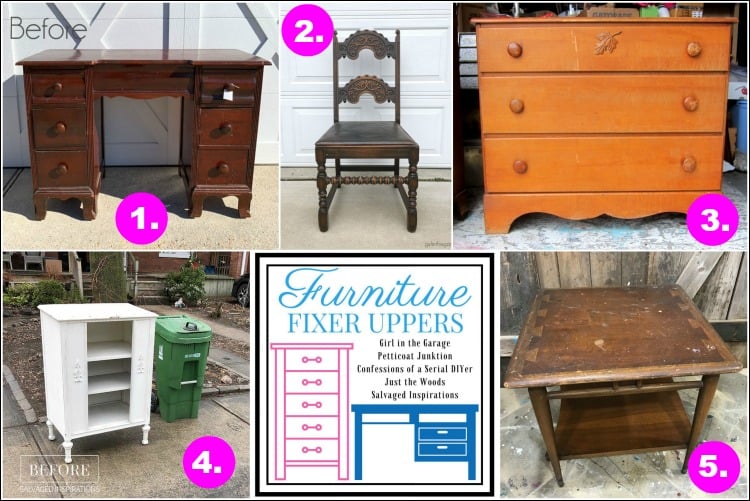 1. Confessions of a Serial DIYer
5. Just the Woods (you are here)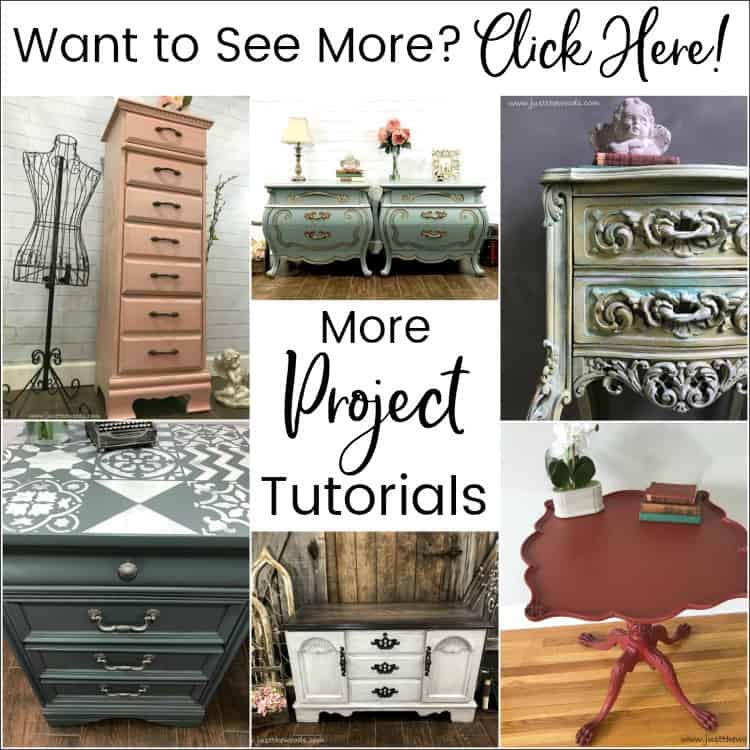 Don't Forget – Follow Just the Woods and Share this post to Inspire others:
FACEBOOK * INSTAGRAM * PINTEREST

Stay connected! For more tips and tricks sign up here :