Curious about how to paint furniture white? Is there a secret to painting white furniture? This cabinet is given a white painted furniture makeover. Follow these 5 tips to painting furniture white for a result you will love.
Do you ever wonder how to paint furniture white? Is there a secret to painting white furniture? Maybe there is a secret white furniture paint that is like the holy grail to furniture painting? Nope, there isn't. I wish there were. The truth is- I don't think there is one best paint for painting furniture whether white or any other color. Of course, there is furniture paint and then there is wall paint. There is quality paint for furniture and lower quality paint. At the end of the day, most people find what they are comfortable with using and stick with it. But let's stay focused on the end game here, which is painting furniture white. So, when you plan to paint wood furniture white you really need to make sure that you take a few necessary steps to ensure a quality end result that you will be happy with.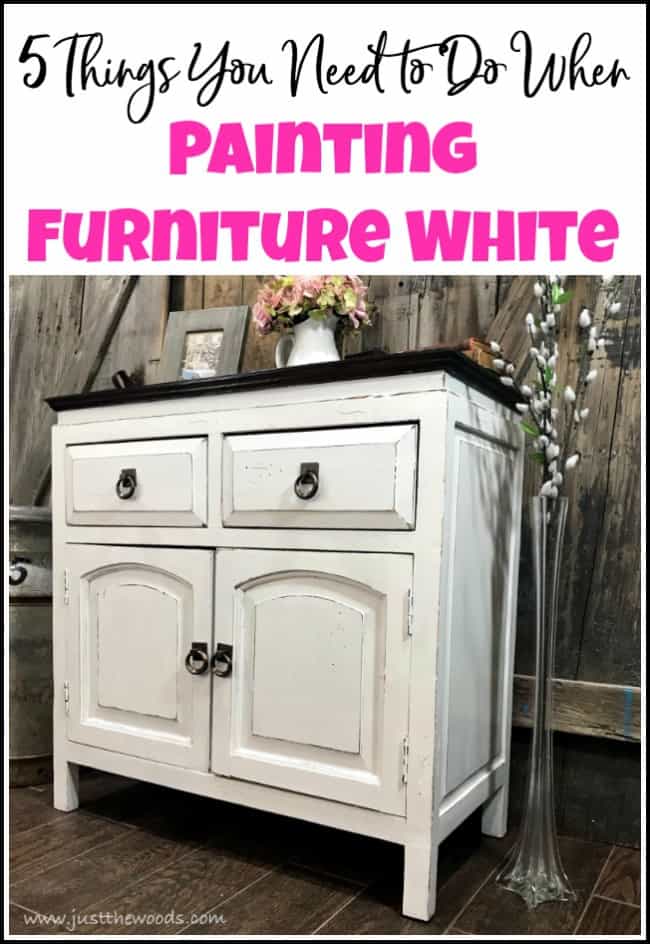 Disclosure: This post contains affiliate links for your convenience. I may be compensated if you make a purchase after clicking on my links. Click here for my full disclosure policy.

Tools & Supplies to Paint Furniture White
Materials Needed / Source List
Unfinished Wooden Cabinet
This plain wooden cabinet is up for a makeover. The owner scooped it up for only $20! She asked that it be given a makeover just like the one I did for her over 3 years ago. She loves color but likes to keep her painted furniture neutral so it will remain timeless as her decor may change. Smart lady! This is the piece that was made over 3 years ago: Timeless White Painted buffet This is the piece that we are about to give a furniture makeover.
Make sure to stick around all the way to the end, its Furniture Fixer Upper time where my fellow furniture painting friends join in and share their projects as well.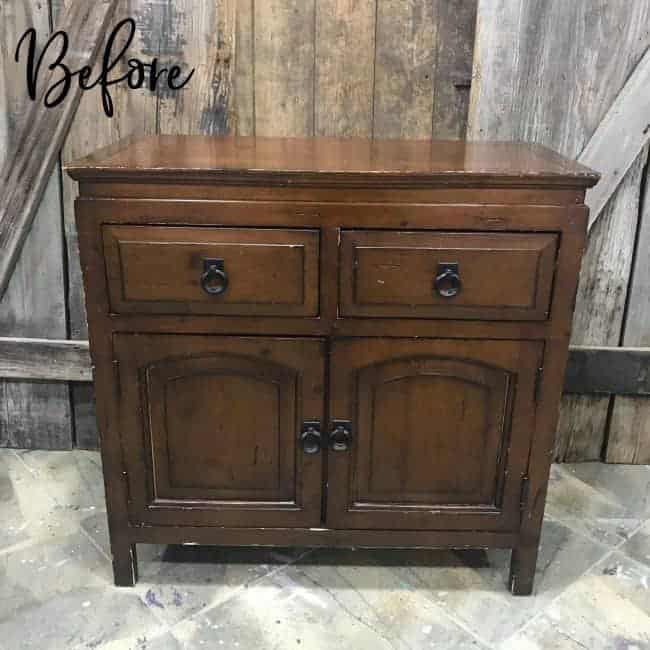 First Step to Painting Furniture White
The first step when painting furniture white, or painting furniture any color for that matter is the prep. Prep is probably the most important step in furniture painting. This is my go-to process for How to Prep Painted Furniture. In addition to the standard prep process this cabinet is getting a new stain top, so the wood must be sanded down using my favorite orbital sander.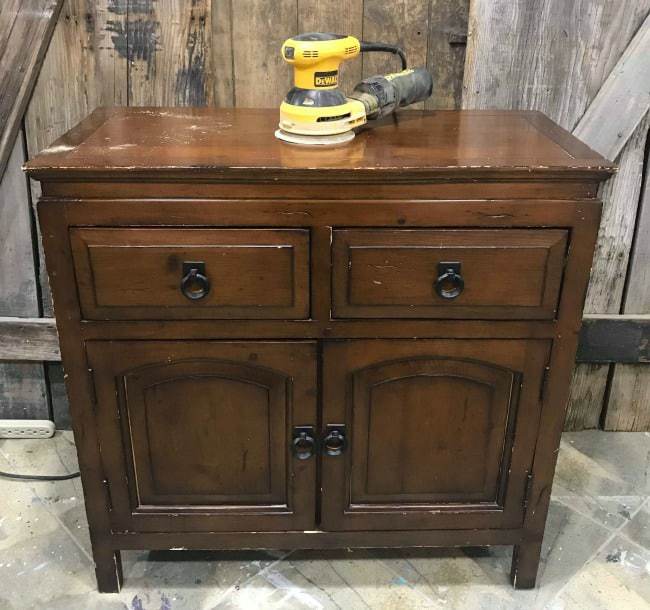 Step Two in How to Paint Furniture White
Now that your piece of furniture is cleaned, sanded and prepped I always like to use a primer before painting furniture white. You can find other painted furniture projects that required primer here: primer. I admit that I didn't use to use primer at all since most chalk paints claim that it isn't necessary. But over time, I've realized that I prefer to err on the side of caution, especially when using white furniture paint. I prefer to seal in any possible bleed through as well as create a nice foundation before painting wood furniture white. The primer that I use and trust is a shellac based primer and you can find it HERE.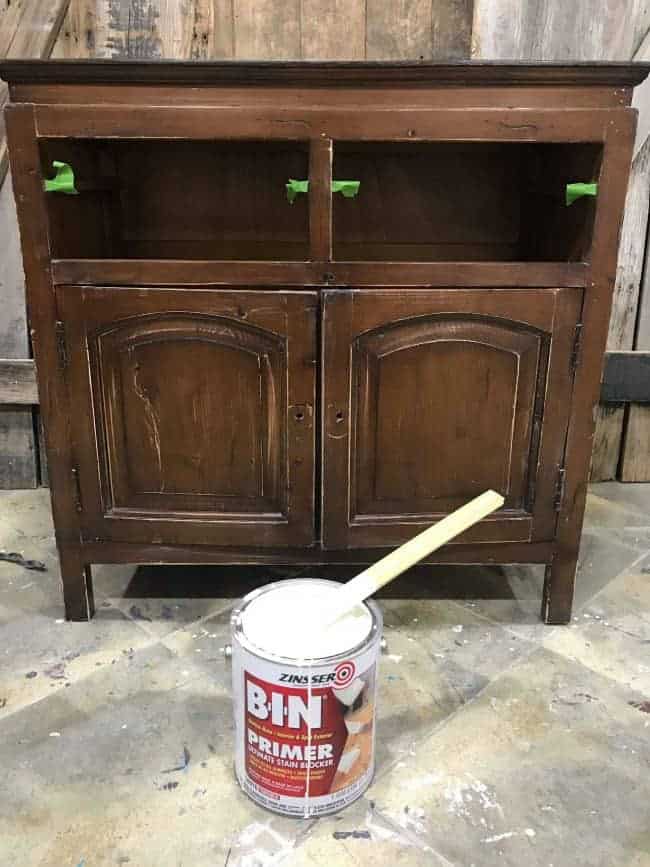 When applying primer to furniture I tend to find that a simple foam roller works best for the flat areas, and a chip brush works great for getting into the details, or crevices. Here is the cabinet with two coats of white primer.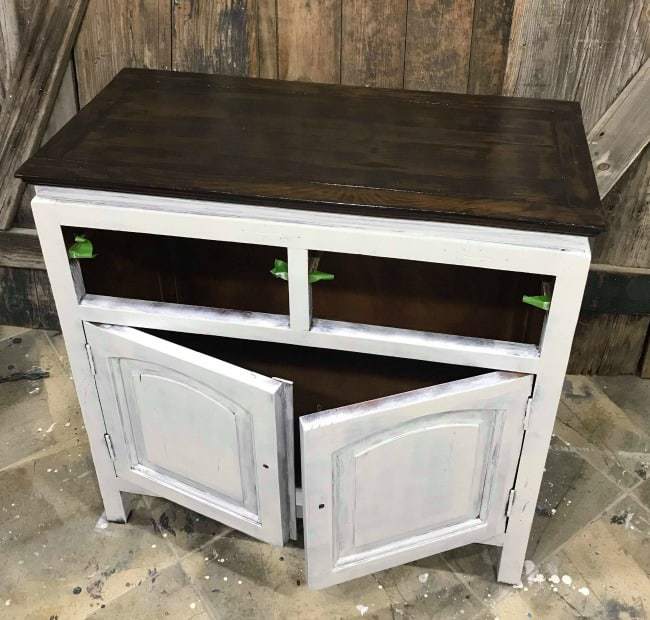 Painting Wood Furniture White & Step Three
You may be unsure as to which white furniture paint to use for your painted furniture project. There are so many different types and brands of paint out there. For this project, I'm creating a custom mixed white paint using both an off-white, and a stark pure white. You can get great furniture paint online HERE.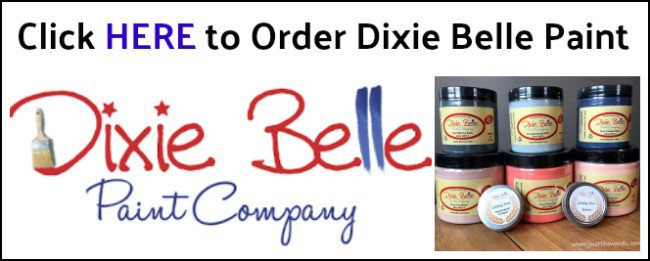 When you paint furniture white, even with a primer you will still need a minimum of two coats of white paint. There is less pigment in white furniture paint making it sometimes seem as if it's see through. Don't get discouraged, with primer and two coats of paint your piece will start to look beautiful. This is with two coats of the custom mixed white furniture paint on the cabinet.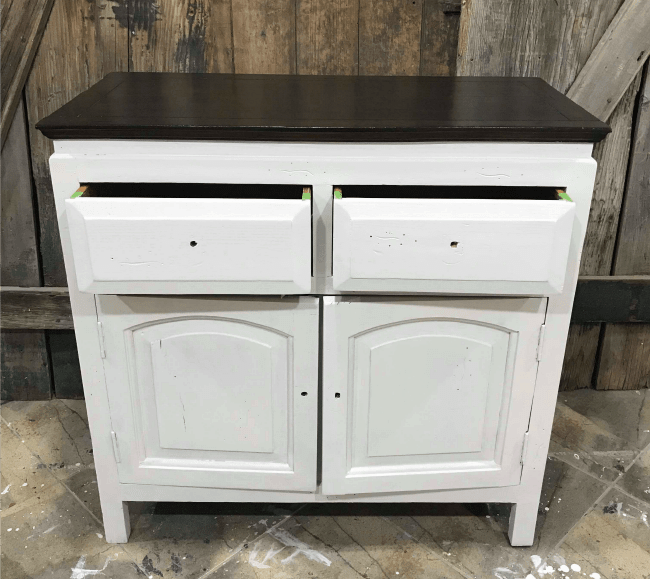 Step Four in Creating a White Painted Finish
Step four is actually a step that you should do throughout the entire process. In between each coat of primer, and paint you should lightly sand your piece of furniture. By sanding between coats, you are maintaining a smooth soft finish and you also get the opportunity to see if you missed a spot anywhere along the way. You don't have to go crazy, a quick once over with a 320 grit is fine.
After you give a quick sanding, always make sure to go back and remove the dust that you just created. A clean lint-free cloth to wipe away the dust works perfectly. You can find them online HERE. This applies to every time you sand your piece of furniture, both sanding between coats and distressing.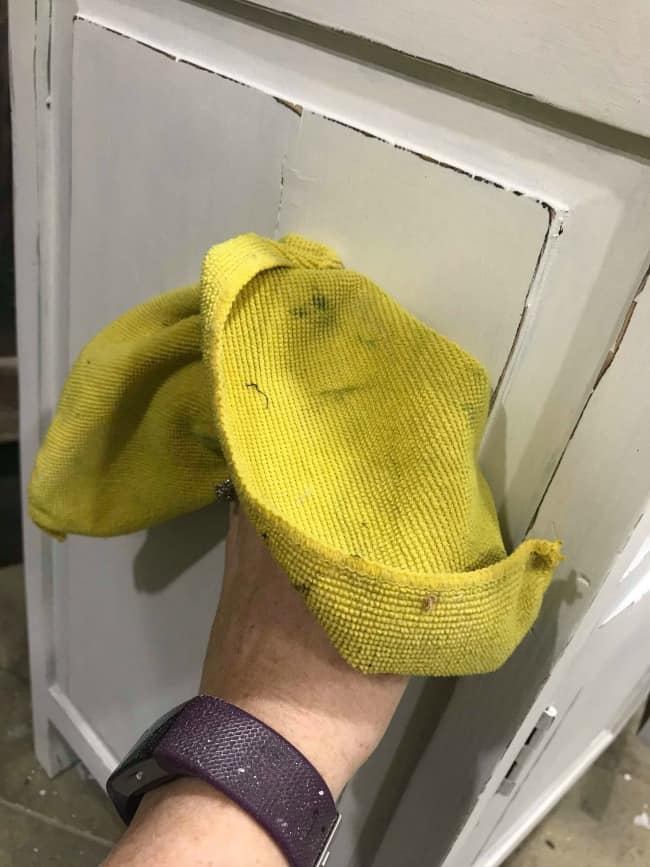 Lastly, before sealing your piece go ahead and use an old hairdryer to blow away any sanding dust that may fall into the corners or crevices. You don't want to seal your dust onto the piece.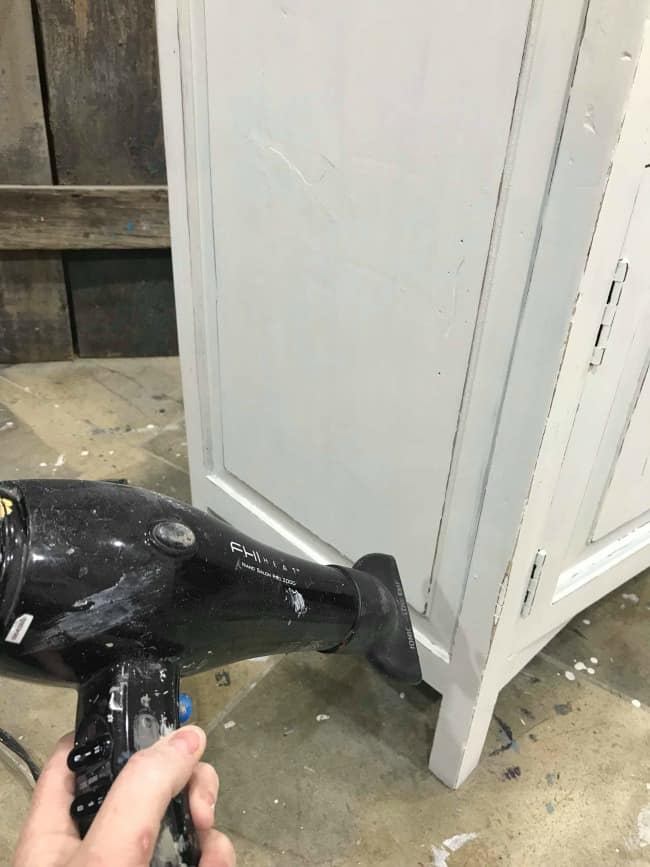 Sealing your Furniture and Step Five
Now you should have your piece of painted furniture all cleaned, prepped, primed, painted, sanded and ready for sealer. One major issue that many furniture painters seem to have is that when they are painting furniture white is that they worry about their clear sealer turning yellow. No one wants a yellow tinge over their white painted furniture. This is my little secret that I like to do when sealing a white painted piece of furniture.
Click here to Pin this post for later.
Sealing White Furniture Tip
First, I grab my clear sealer. Then squirt your clear sealer onto a plate and then I dab a little bit of my white furniture paint in with my clear sealer. Just enough to give the sealer a white tint. You don't want to add a lot of the white paint, just a little.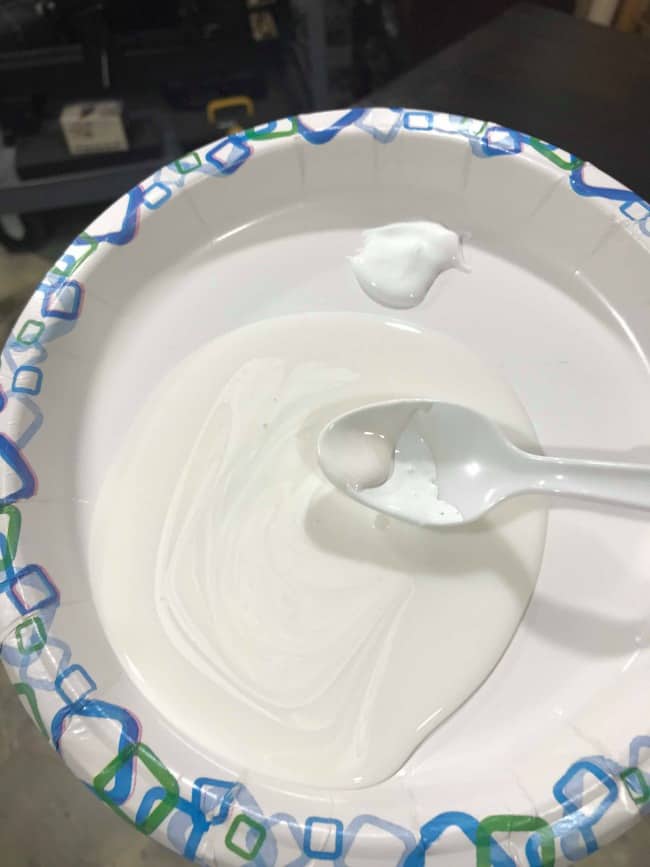 Apply your white tinted sealer to your white painted furniture using your favorite sponge applicator. I absolutely love my yellow sponges, but as I went to find my last one I realized that it was missing. Apparently, my husband used it and destroyed it by accident! To right his wrong, he ordered my three new ones to replace my one damaged one. Yay me! You can find my favorite yellow sponges HERE. Today I have to resort to using a blue sponge until my new yellow sponges arrive. 🙂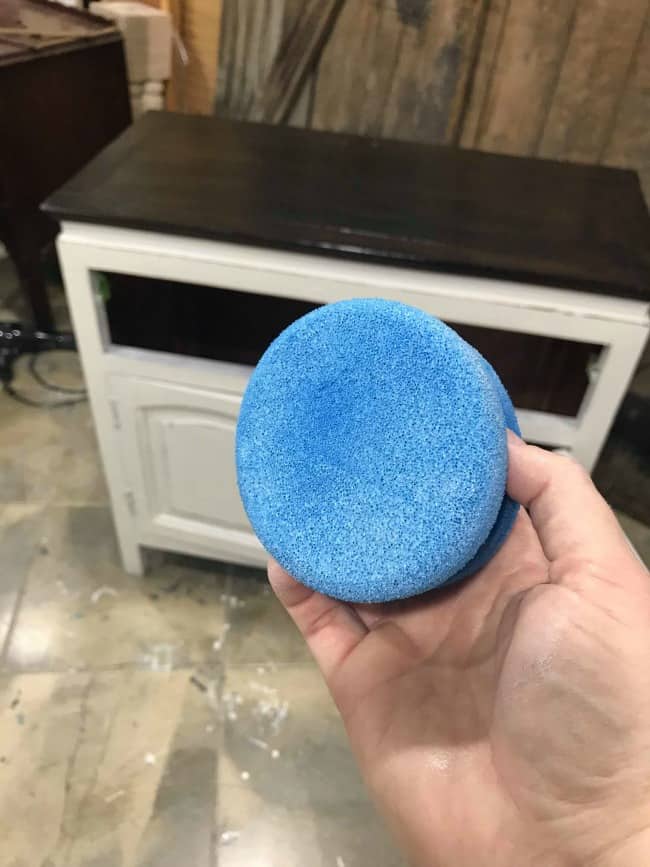 To make sure that your sealer doesn't pool up in the corners or crevices, go back with a chip brush and remove any excess sealer.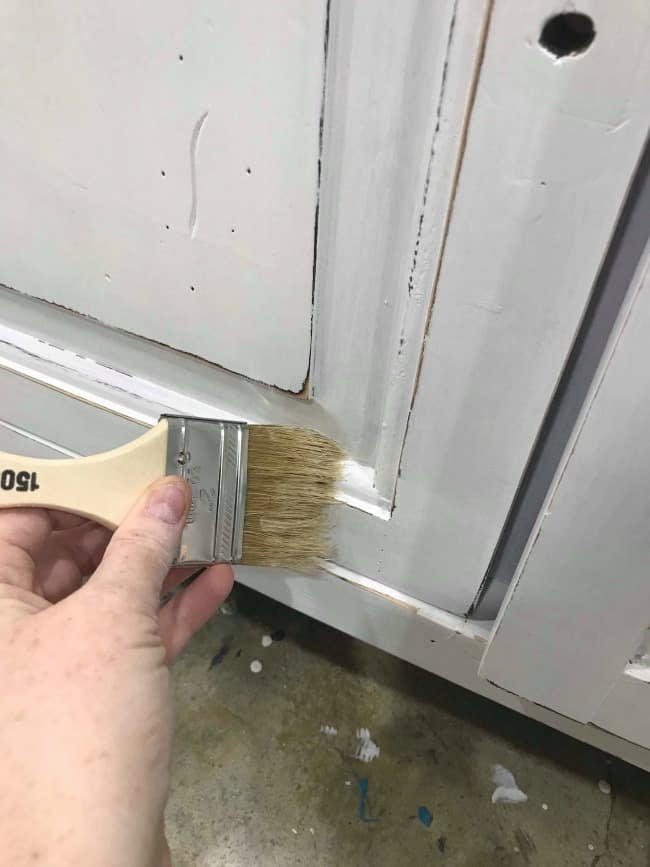 Recap
Don't forget these basic tips when painting furniture white:
Clean / Sand / Prep
Prime
Minimum 2 coats of white paint
Sand between Coats
Add white paint to tint your sealer
Here is a full tutorial with VIDEO showing how I seal my painted furniture projects: Sealing Painted Furniture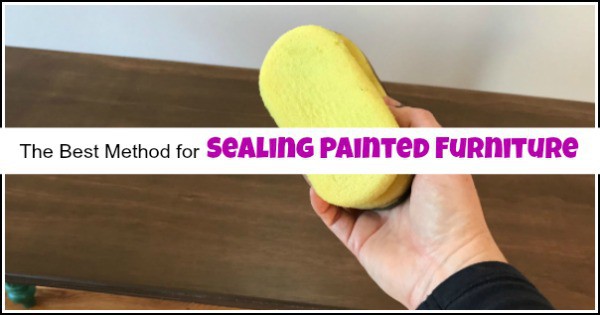 Click here to Pin this post for later
White Painted Cabinet Makeover
When you are finished you should have a white painted makeover that you love!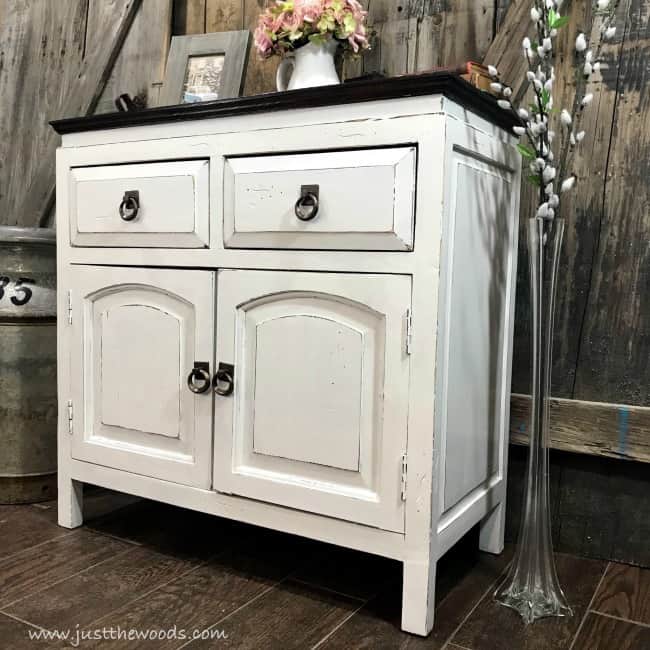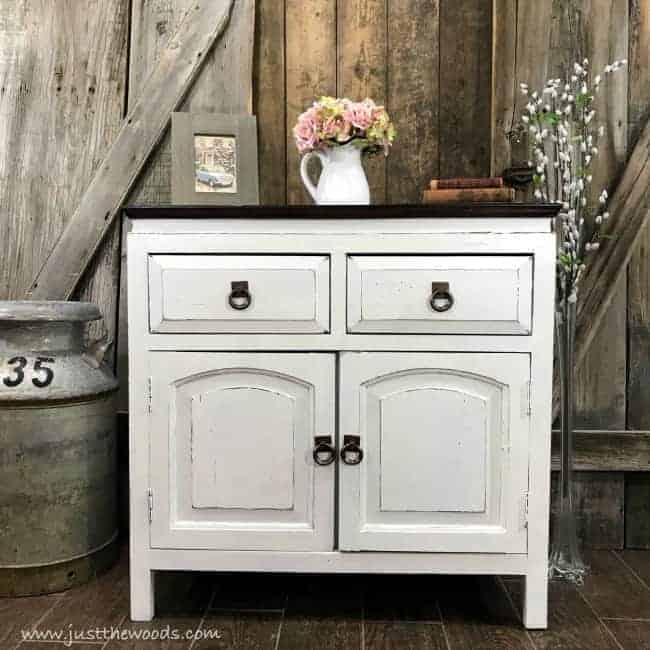 Click here to Pin this post for later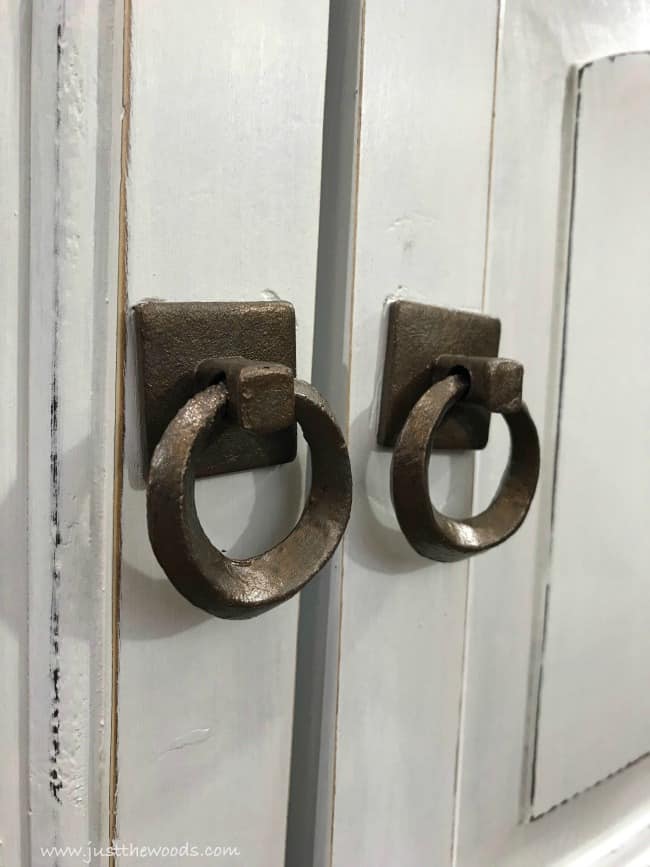 The top of this cabinet is finished using a dark protective wood stain. Click here for a detailed tutorial on How to Apply Wood Stain. The hardware is finished using metallic bronze. You can find more painted hardware projects here:

Wait! Don't Go! It's that time of the month again for:
Furniture Fixer-Uppers
A few of my creative and talented blogger friends and I have joined together in our monthly Furniture Fixer Uppers share. Let's see what my friends are up to! Make sure to click the links below the image to check out all the amazing projects that my bloggy girls are working on this month.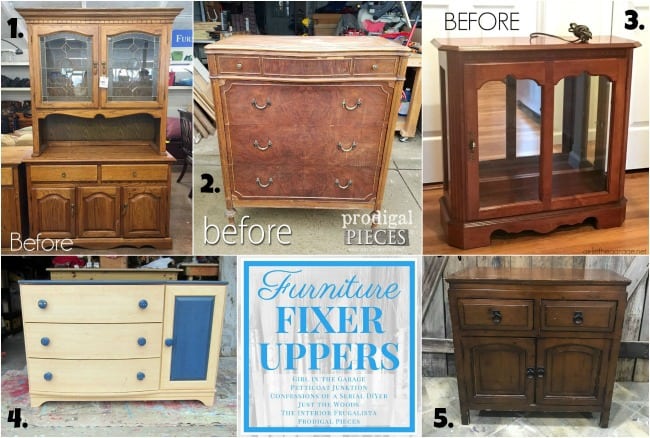 Just the Woods (you are here)
Interior Frugalista (couldn't make it this month, she's on a beach in Mexico sipping drinks with fancy umbrellas)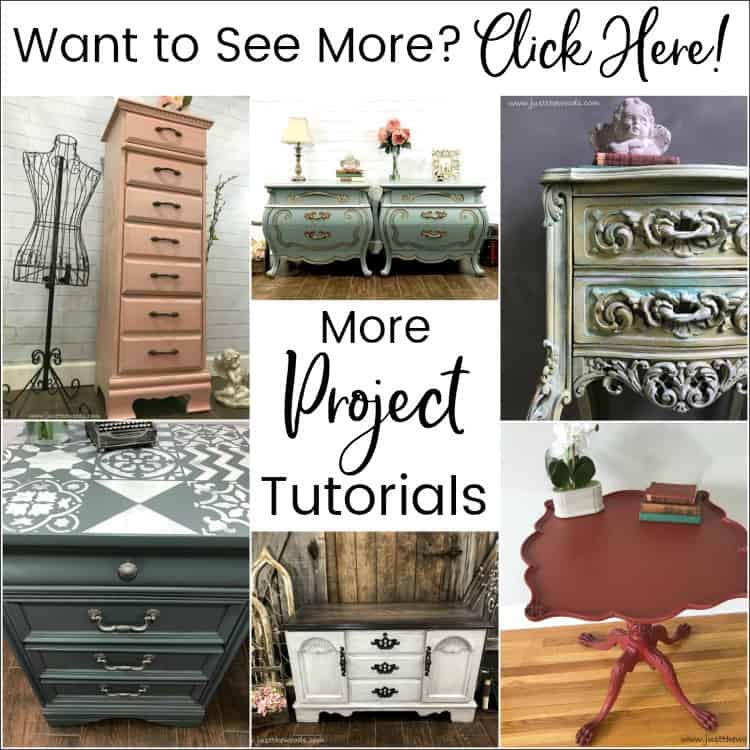 Don't Forget – Follow Just the Woods and Share this post to Inspire others:
FACEBOOK * INSTAGRAM * PINTEREST