Disclosure: This blue buffet post contains affiliate links for your convenience. 
Custom Mixed Vintage Painted Blue Buffet
This midnight blue buffet may look slightly familiar because it was finished with the same techniques used on a previous blue buffet that I had done. You can see that inspiration piece here.  As it turned out my customer loved the prior piece, but she stumbled upon it just as it sold and was shipped off to Connecticut.  So I began my hunt to find another vintage buffet similar to the other to customize for her.
The Before – Unfinished Vintage Buffet
This is what I found: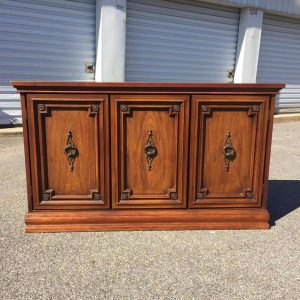 Aren't the details awesome? And the hardware.. oh boy.. Score! 
I assured my customer that even though I would be able to mimic the technique and colors used on the previous blue buffet that this one would be similar but not exact.  No two pieces are ever exact, especially when mixing colors, layering and hand painting little details.
The Process – Painting a Vintage Buffet
I got to work and started with a navy blue base followed by a custom mixed deep teal.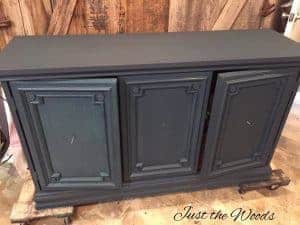 Then on to the fun part.  I used a small artist brush to get in all the grooves and details with different layers of navy, teal, metallic and soft black.  I even managed to get a short video of my #workinprogress.  Is it weird to hashtag here?
This went on for a bit, the layering, then distressing, layering, etc until I was satisfied with the overall look.  The highlights are done in a way to draw the eye in while still remaining subtle.
The Result – Painted Blue Buffet
From afar they aren't very noticeable, but up close you can see striations, layers, highlight and details.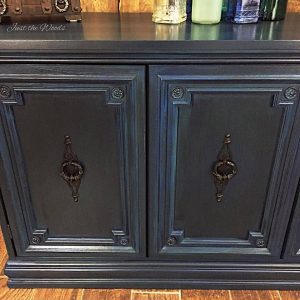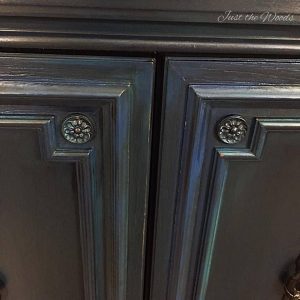 The top has been glazed to give an appearance of subtle layers as well.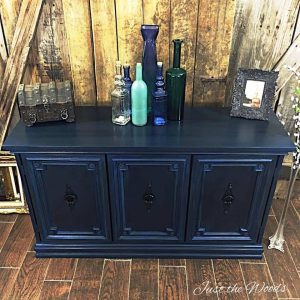 The original hardware was cleaned up and refreshed to black to compliment the piece.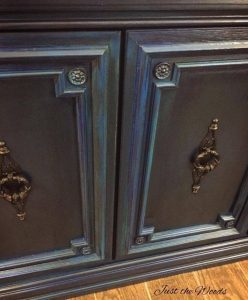 A little confession. To be honest I would say that approximately 90% of the pieces that I finish are custom, give or take.  And every single time when a piece is complete I either send photos or the link or the post – something- to my customer.  And every time, once I hit send I hold my breath.  The anticipation of wondering "will they like it?" "is it what they envisioned when they came to me?" "are they happy with the end result?" never goes away.  I hold my breath until I get a response and once they respond and let me know that they love it I feel like I can breathe again.  **Exhale**
The piece that inspired this custom request can be seen here, as well as another custom request in the same color!
I've been adding links to the items that I use in staging my photos since I'm often asked where I find them. Clearly I have a prop/decor addiction.
I'll be sharing this post at these fabulous link parties.
Don't Forget – Follow Just the Woods :
FACEBOOK  *  INSTAGRAM  *  PINTEREST
Subscribe to our mailing list here: