Painted China Cabinet
My shop ceiling is a bit short. It can become an issue when someone wants a tall armoire finished or painted china cabinet. My first question is always "how tall is it?" So, naturally, when my client contacted me regarding having her china cabinet painted I had to measure to make sure that it would fit.  Clearly, as you can see it's huge.  She also assured me that the top separated from the bottom, so I decided that we are in the clear, and the makeover is a go. Once it arrived I could see that in all it's enormous glory it is also gorgeous. It's solid wood, well made, wonderful curves but it has seen better days.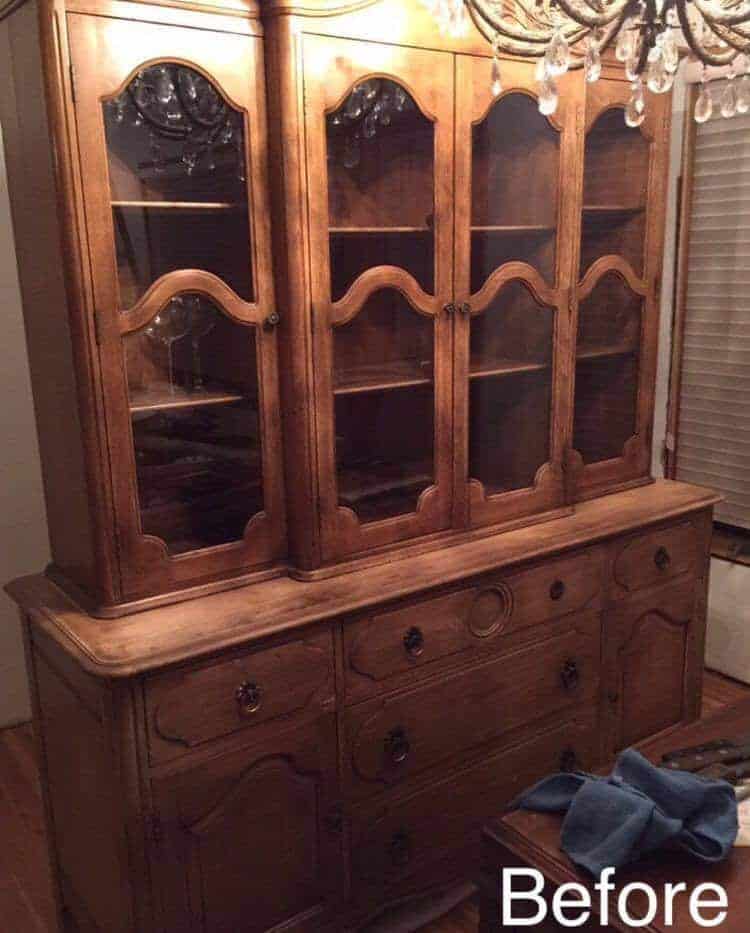 Prepping a China Cabinet for Paint
Disclosure: This painted china cabinet post contains affiliate links
The top of the lower half had the most wear with water rings, dents, dings, and discoloration.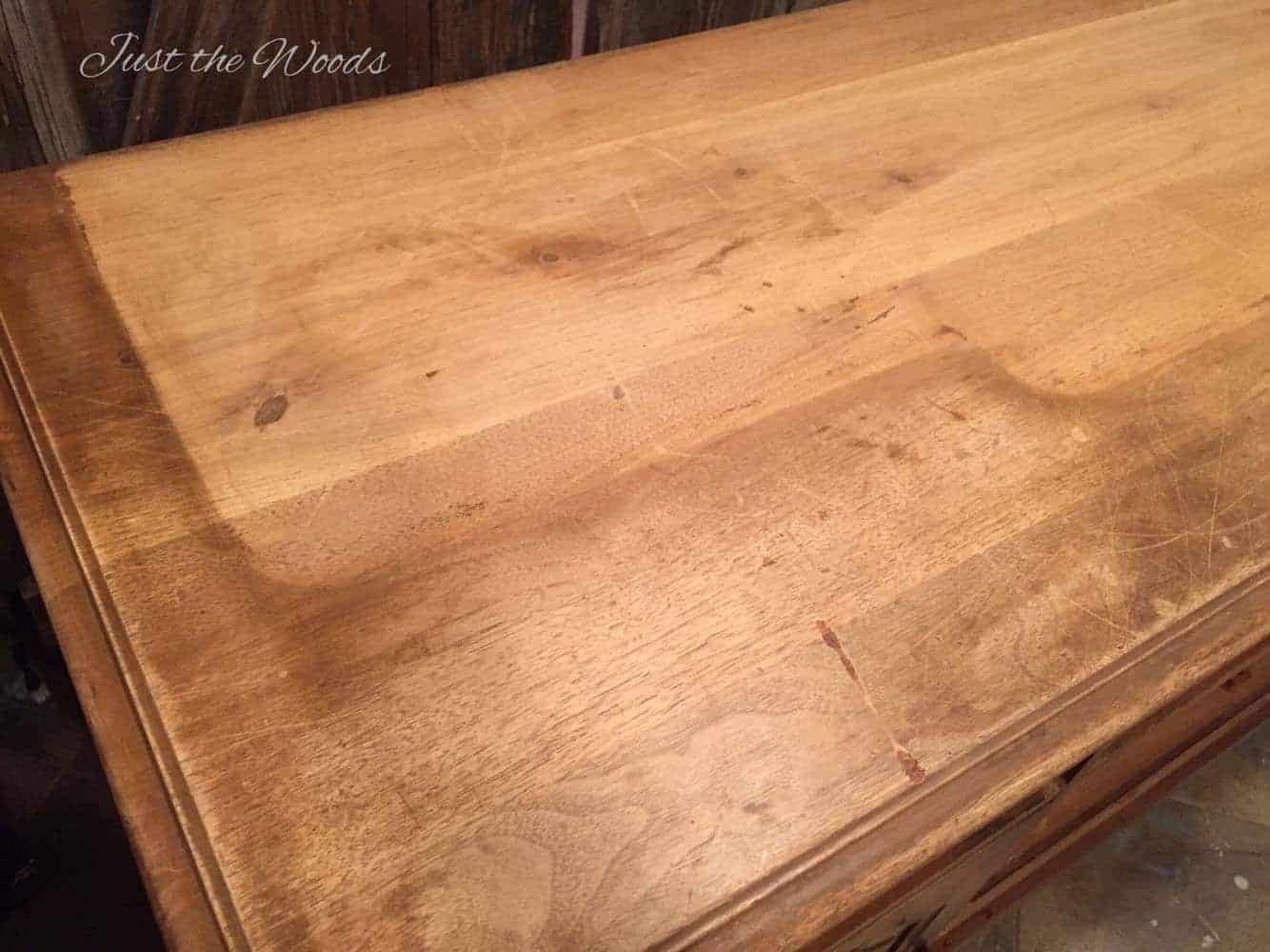 Along with the drawers and the rest of the piece the top was thoroughly sanded, cleaned and prepped. This is my full process for How to Prep Painted Furniture.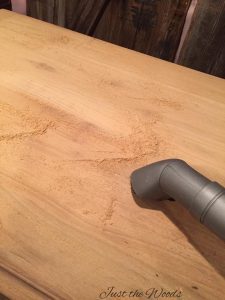 I managed to produce so much dust from sanding that I decided to break out the vacuum and suck up the bulk of it before wiping it to the floor away.  The vacuum is also great for getting any old dust that is way in the back, inside the piece, and in the corners.
China Cabinet Drawers
Like many buffet servers, this one has a cutlery drawer with separators and velvet lining. As a result of its busy life so far the inside of this one is, for lack of a better word – funky.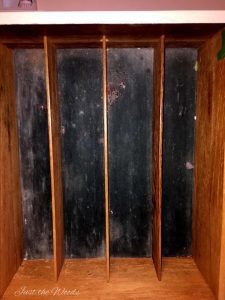 I removed as much as I could including scraping out some dried chocolate and decided I couldn't bear to finish this piece so nicely on the outside and leave the inside less than.  So I ordered and re-lined the drawer with a new velvet lining and it's inside is now as pretty as it's outside.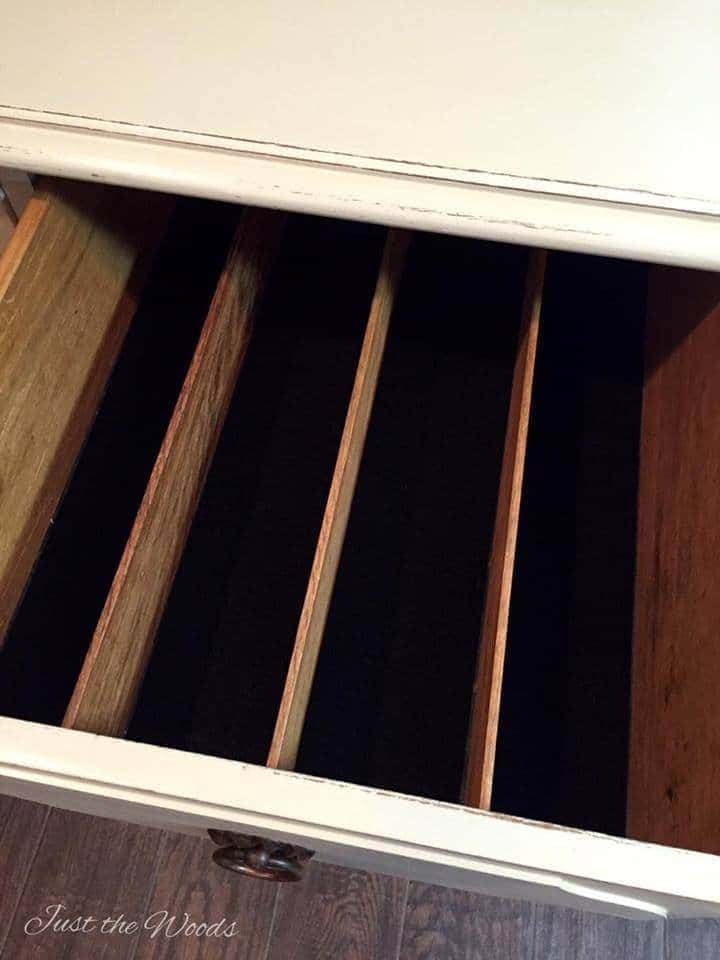 Painting the Large China Cabinet
This giant beauty was then hand painted a very natural and neutral creamy vanilla for a timeless and traditional look.  Those gorgeous details and curves are not lost either. The entire piece has also been distressed drawing just enough attention to those very details.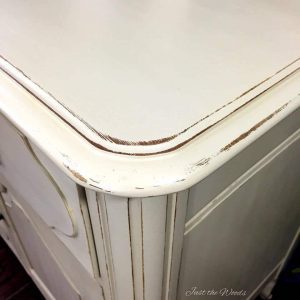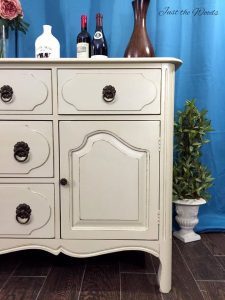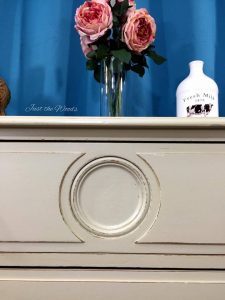 Originally my customer had planned to replace the hardware with new pulls.  I have to admit I am so glad she decided to keep the originals.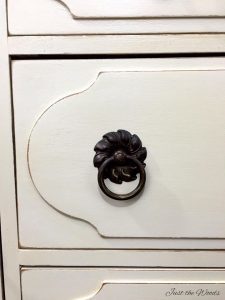 They just fit the piece perfectly. The pulls were cleaned and then brushed with a touch of hazelnut brown.  The brown toned down the brassy gold and leaves an aged and antique finish.
The Result – Creamy Vanilla Painted China Cabinet
The painted china cabinet has such a timelessness to it.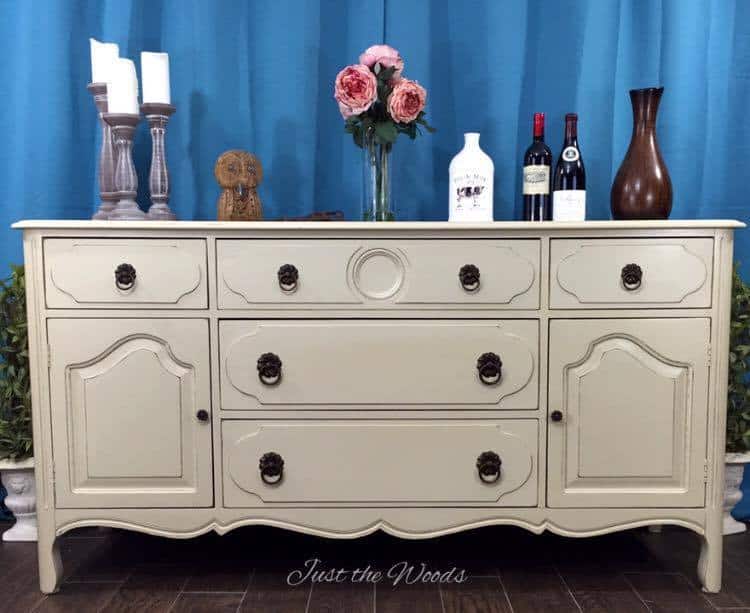 You may be wondering where the top half is.  Remember I mentioned my short ceiling? Well, due to the size of this painted china cabinet, I am unable to piece it together for photos here at the shop.  I have full intentions of getting a photo of it together once it makes it's way back home.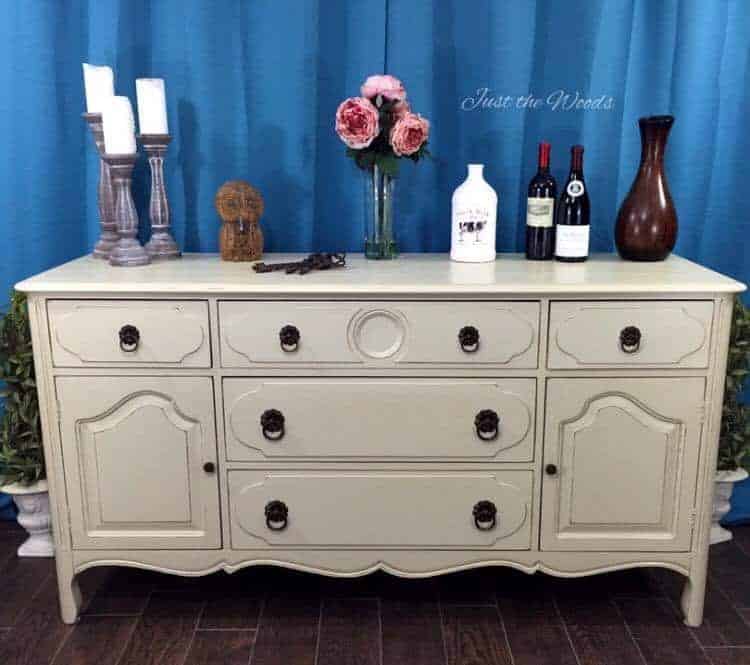 I had to take photos of the top and bottom separately in the meantime. Oh, the struggle. ;P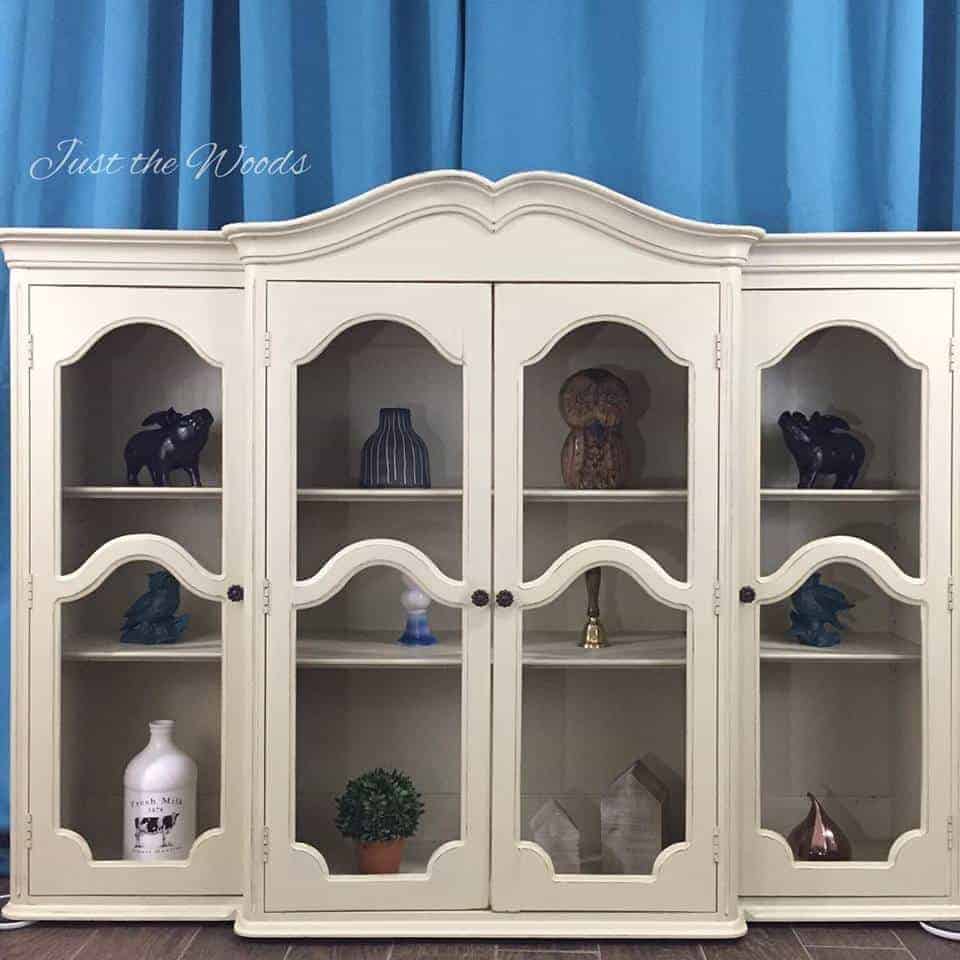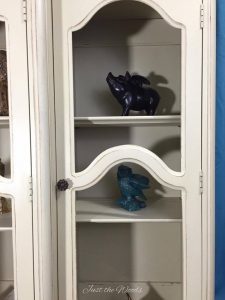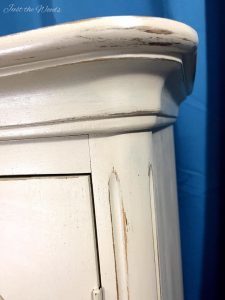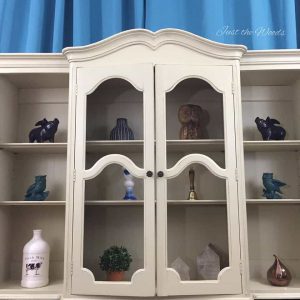 The China Cabinet Made its Way Home
An updated photo of the piece in its forever home!!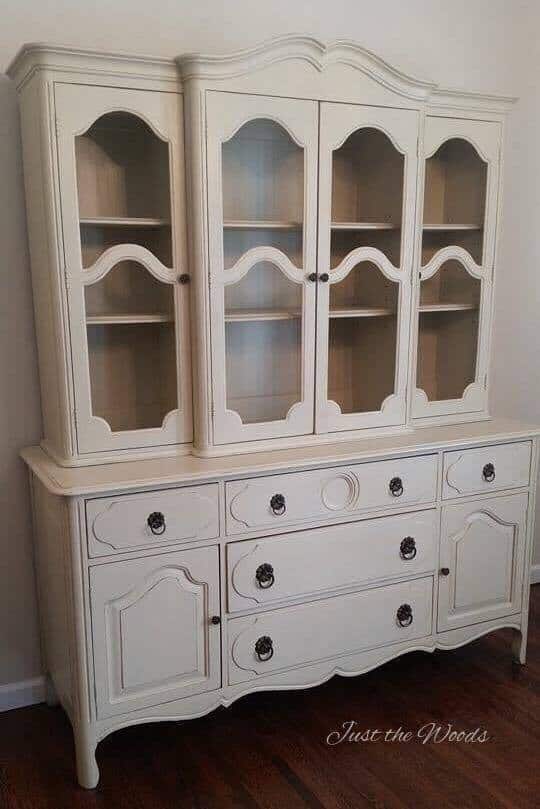 If you like this creamy color you can get this look with Bisque found in my online shop: SHOP PAINT.
You can see other makeovers in this color by checking out: Toasted Almond Sofa Table and Beautiful Burl Wood Desk Makeover.
I'll be sharing this post at these fabulous link parties.
Don't Forget – Follow Just the Woods :
FACEBOOK  *  INSTAGRAM  *  PINTEREST
Subscribe to our mailing list here:
PINTEREST PIN READY TO SHARE