Making almond milk is so much easier than you may think. If you want to know how to make almond milk then I have the absolute easiest method you could imagine. For the longest time, I have been buying almond milk at the grocery store but finally decided to take the leap and make almond milk at home. Boy, do I wish I tried this sooner.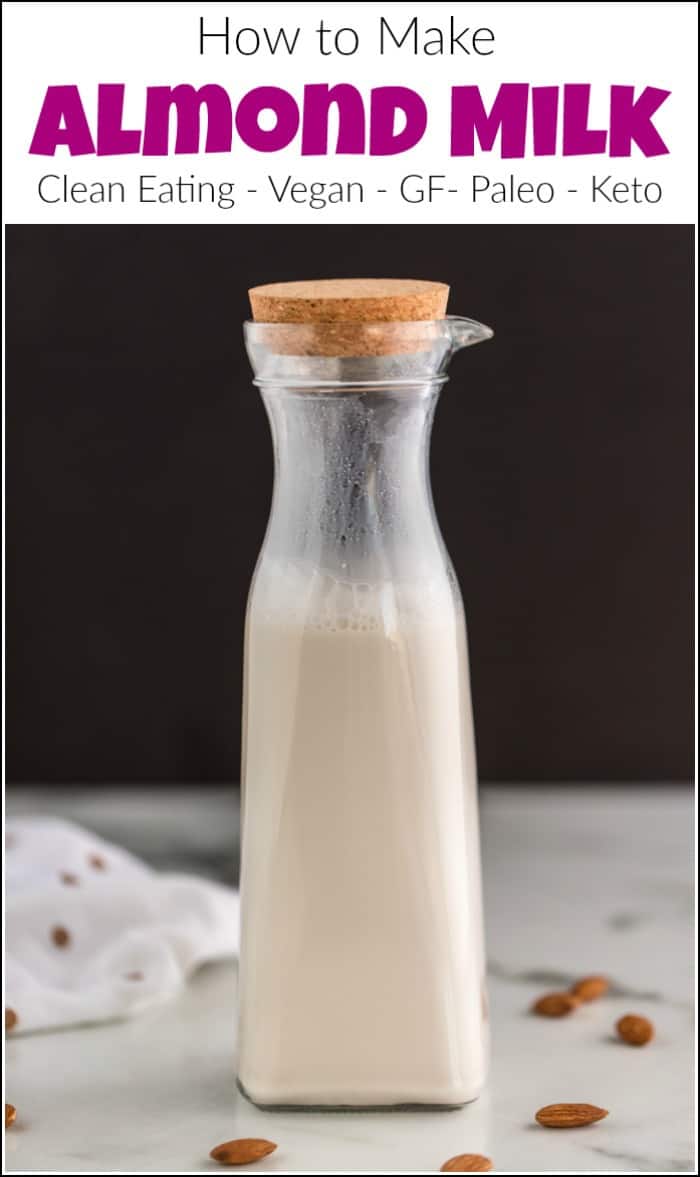 Disclosure: This post contains affiliate links for your convenience. Click here for my full disclosure policy.

Homemade Almond Milk Recipe
What You Will Need (Full Printable Recipe Available Below)
Ingredients (makes 32 oz)
How to Make Almond Milk
I've been following a clean eating lifestyle for a while now. If you are new to clean eating then make sure to check out Everything You Need to Know about a Clean Eating Diet. This almond milk recipe is just another part of my love for eating clean. The first time I tucked myself in the kitchen to make my own almond milk my husband thought I lost my mind. He said things like "almonds don't have teets" and "you can't milk an almond". I felt like I was listening to Jack from the Fockers movie, but what does he know anyway. 😉 I grabbed my blender and my nuts and got started. Let's gather our ingredients: almonds and water. So easy!
One thing to keep in mind when shopping for your almonds is the simpler the better. I always opt for raw, organic almonds and make sure that they are unsalted and unroasted. These are a good example: here. Even if you buy a large bag, you only need one cup of almonds for this almond milk recipe. But you can always enjoy the rest as a healthy snack, save them for another batch next week or use them to make these Healthy Nut Protein Bars. When you make your own almond milk you do need to have a little bit of patience.
Prep/Soften/Soak Almonds
Toss one cup of almonds into a bowl.
Cover with enough water to submerge your almonds.
Allow your almonds to soak for a few hours. I tend to put them in water in the evening and let them soak overnight. This allows the nut to soften a bit.
Click here to Pin this post for later.
Blend Almonds
Once you have waited at least 4-6 hours or overnight drain your almonds and toss the water in the sink. We don't want that water anymore.
Next, place your softened almond in a blender.
Add 32 oz of new water to the blender.
At this point, you can opt for 2 pitted dates, or a little vanilla extract to sweeten your homemade almond milk. This is completely optional.
Pulse your almonds until smooth.
You should be left with a milky white liquid with an obvious pulp.
Click here to Pin this post for later.
Strain Homemade Almond Milk
We need to strain the almond pulp from our almond milk. The best way to do this is with a nut milk bag. I suppose you can use cheesecloth if that's what you have, but I find the nut milk bag easier to strain and easy to clean. This is the one that I have HERE.
Simply place the nut milk bag over a clean container and pour your almond milk liquid into the bag to strain the pulp.
As the bag fills with the almond pulp the liquid will pass through slower. You can squeeze the rest of the milk from the bag.
If you prefer a nut milk recipe where you don't have to strain the milk then check out this easy Cashew Milk Recipe.
Store Almond Milk
Now that you have fully strained your homemade almond milk and separated the pulp you can pour it into an airtight container for storage. This glass container is the perfect size for 32 oz of homemade almond milk. (HERE). Don't toss the almond pulp either! You can use that in any recipe that calls for almond flour or almond meal, like these Vanilla Almond Cake Balls.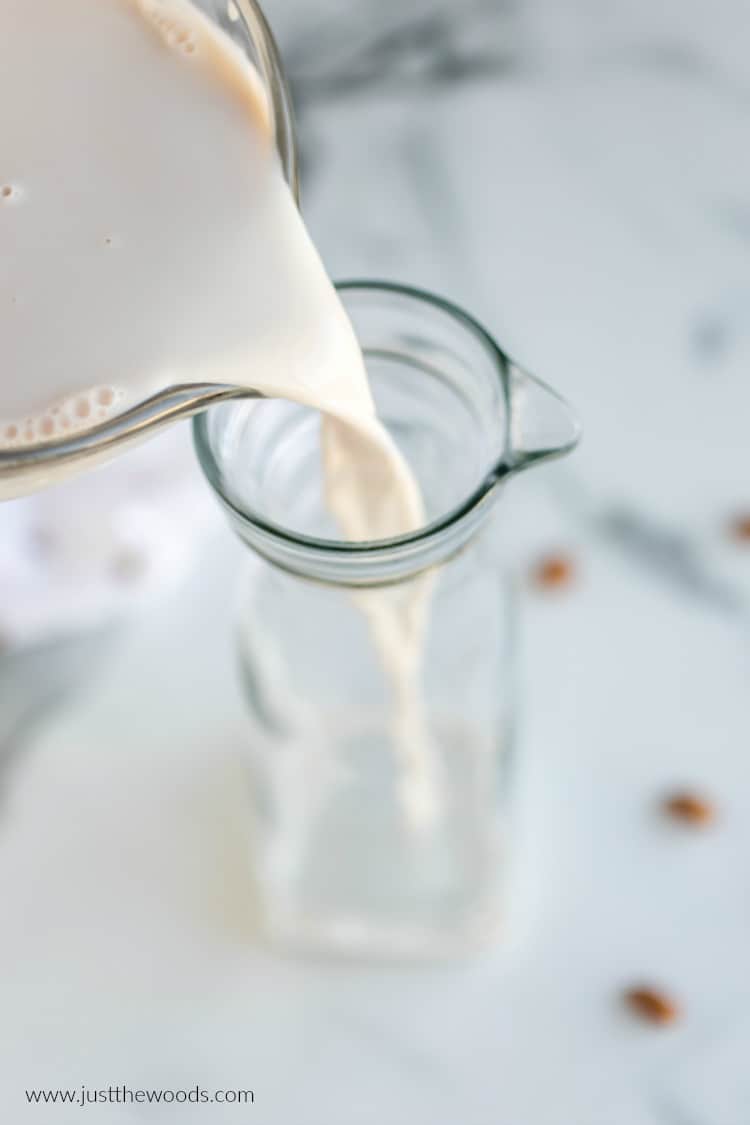 Keep your almond milk in the refrigerator. I try to use up each batch of milk within 4 to 5 days. Which is pretty easy since I add it to smoothies and tea daily.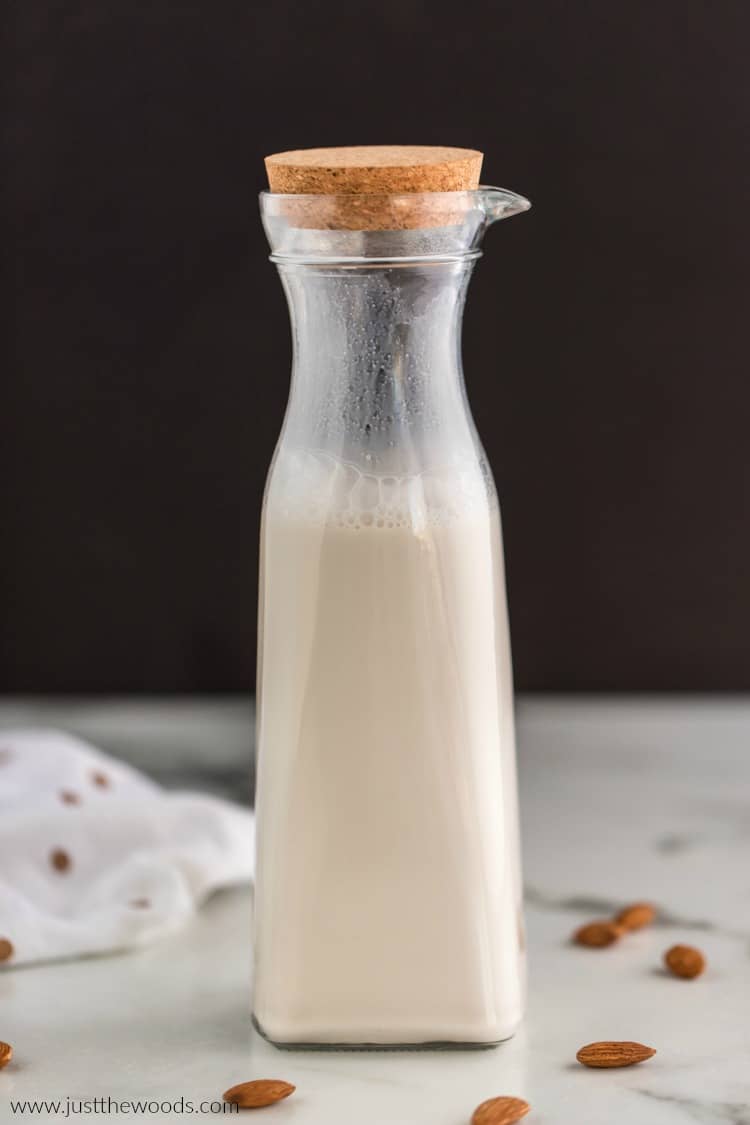 For more healthy clean eating recipes make sure to follow my clean eating Pinterest board here: Clean Eating.

Click here to Pin this post for later.
Homemade Almond Milk Recipe (Printable Version)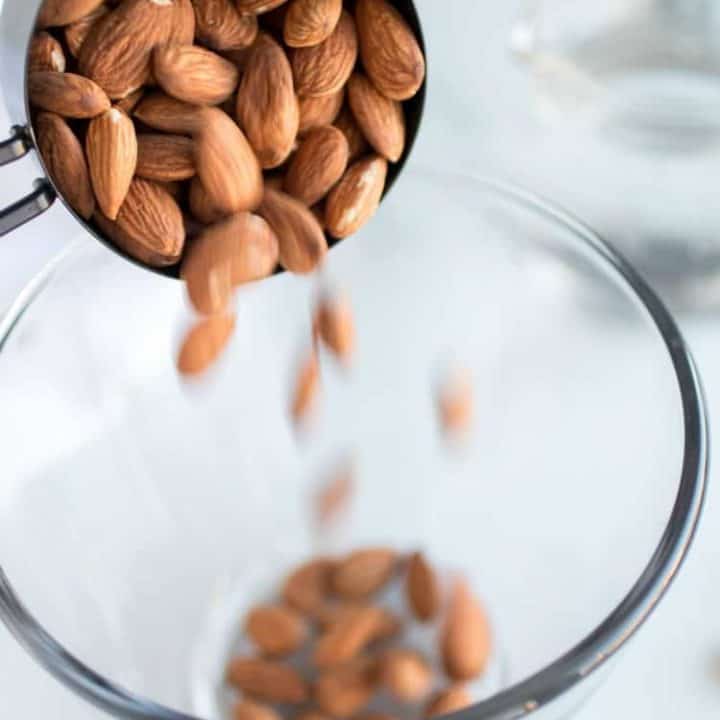 How to Make Almond Milk at Home
See how to make almond milk at home. Making almond milk is so easy with only 2 ingredients and healthier than anything you could buy in the store
Ingredients
1 cup raw almonds
32 oz water
2 pitted dates optional
Instructions
soak 1 cup of almonds in water overnight
drain water from soaking
place almonds in a blender
add 32 oz fresh water
blend until smooth
strain with a nut milk bag
store in an airtight container
store in refrigerator 4-5 days

Recommended Products
As an Amazon Associate and member of other affiliate programs, I earn from qualifying purchases.
Nutrition Information:
Yield:

6
Serving Size:

1
Amount Per Serving:
Calories:

112
Total Fat:

9g
Saturated Fat:

1g
Trans Fat:

0g
Unsaturated Fat:

8g
Cholesterol:

0mg
Sodium:

7mg
Carbohydrates:

6g
Fiber:

2g
Sugar:

2g
Protein:

4g
nutritional values will vary
Here is the photo from my very first batch. Obviously not photographed to impress, but simply to mark the moment that my hubby thought I lost my marbles 🙂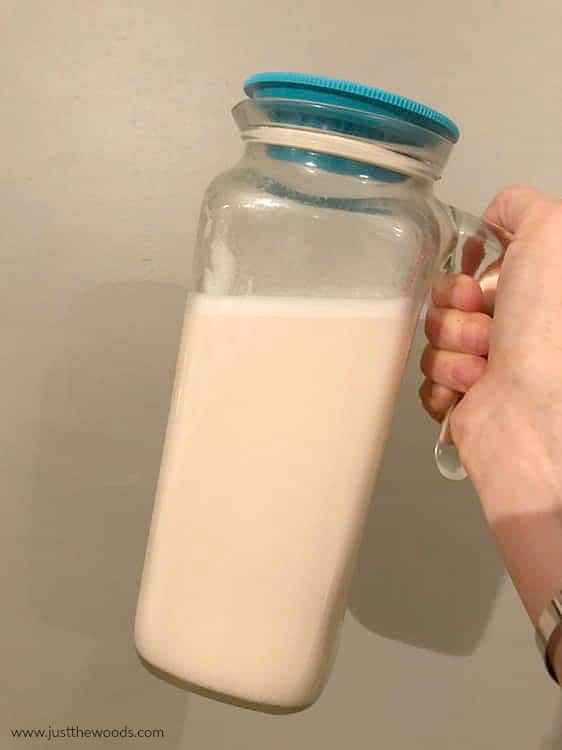 Click here to Pin this post for later.

Don't Forget – Follow Just the Woods and Share this post to Inspire others:
FACEBOOK * INSTAGRAM * PINTEREST * RECIPES