Painted chairs don't seem as popular around here as painted dressers or even painted tables. But don't let that fool you. Painted wooden chairs have their own kind of unique character that shouldn't go unnoticed. Whether you have an old ladder back chair or a rocking chair that's been in the family for years these painted chairs ideas will help you take your project to the next level.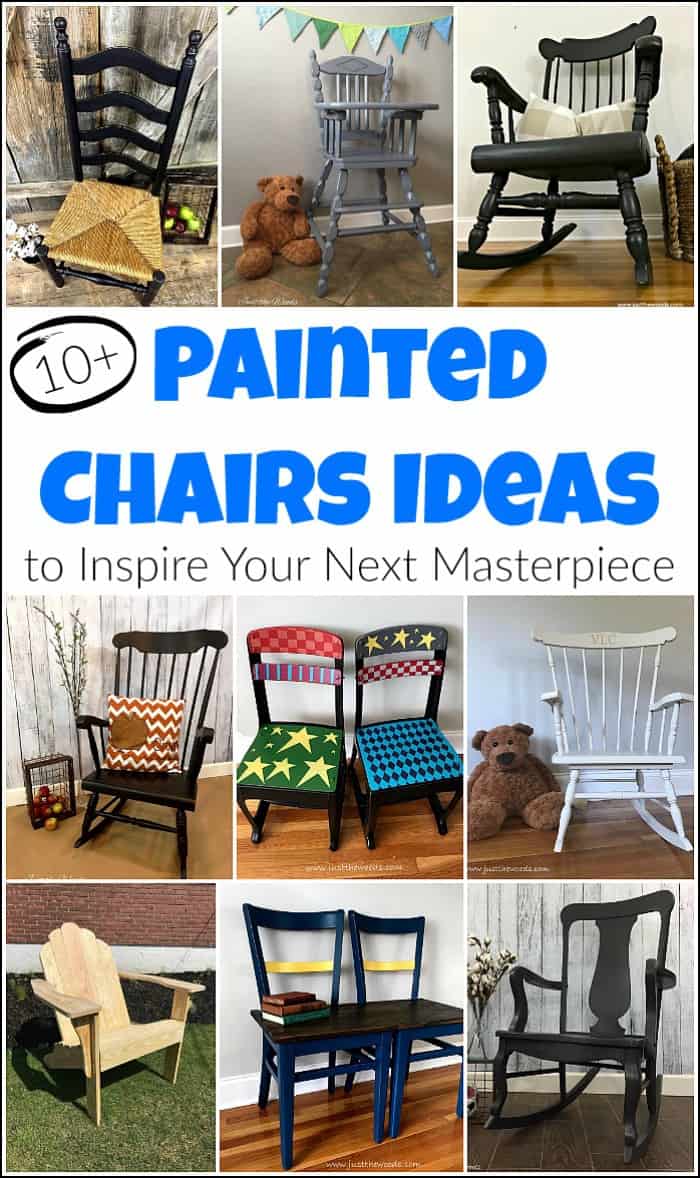 Disclosure: This collection of painted chairs ideas contains affiliate links for your convenience. Click here for my full disclosure policy.

Since we recently covered an amazing collection of painted dressers, I figured we may as well do the same for painted chairs. All of these painted chairs ideas will come with links to the tutorial to also aid and help you in learning how to paint each particular painted furniture finish. Click the image or the link to be directed to each individual project and tutorial.
If you are new to painting old furniture you can always start at the beginning with How to Paint Furniture – a Beginners Guide.

Painted Chairs Ideas
Painted Rocking Chairs
If you have ever wanted to revive a chair with spindles but don't know how to paint a chair with spindles then let me tell you a secret. Spindles don't have to lead to tears or stress. Break out the paint sprayer! See how this painted rocking chair got to be so pretty with a sprayer.
Here is another painted rocking chair but this one is a little different of course. Painting wood chairs white is also quite easy, even if there are spindles involved like this one. When it comes to children's painted wooden chairs look adorable when you add a little customization too.
One more rocking chair with spindles. See they aren't that bad. This painted rocking chair is finished in classic black.
It seems so many painted chairs are actually painted rocking chairs. I have a rocking chair in my bedroom that has been in my family for decades. I suppose its just one of those things that every home has or should have or once had? Sometimes we get lucky and either find or already own an old wooden chair without spindles. Woohoo. This painted rocking chair is given a fresh new look in a custom mixed charcoal color.
Click here to Pin this post for later.
Painted Childrens Chairs
Stepping away from painting rocking chairs for a second and back to child's chairs, how about these adorable whimsical painted kids school chairs? Painting metal chairs isn't something I thought I would tackle until these little cuties fell in my lap. But they are part wood and part metal which makes the makeover so much fun.
Painted high chairs are great for both photography props – you know those 1st-year cake smash photos. Or in this case its a family heirloom. Just make sure that when you are painting chairs for children to use non-toxic paint. 😉
Painted Wooden Chairs
Have you ever considered how to paint a ladder back chair? This one has a woven seat, so I left the weave alone and the frame is the only part of the chair that is painted created a two-tone look. Updated yet classic.
Adirondack Chairs
If you have Adirondack chairs and they are looking a little tired from being outside in the elements, rest assured you can paint them. Painted Adirondack chairs look great in the yard and can extend the life of the chairs themselves. Painting ours gave us another season of use.
If you prefer to DIY something new you can also build your own Adirondack chairs from scratch. Once we extended the painted Adirondack chairs for as long as we could (they weren't built very well from the start) we built our own.
Click here to Pin this post for later
DIY Painted Chairs
If DIY and building is your thing before you pick up the paintbrush then you can always get creative and make your own bench from old wooden chairs. Then you can paint wooden chairs together as a cool bench.
More Painted Chairs from Other Sites
These projects are done by my fellow DIY friends. If you love their projects please make sure to PIN either this main post or from each source post and not individual images in this post so everyone gets proper credit. Enjoy.
Painted Fabric Chairs
If you want to see how to paint a fabric chair then I suggest you check out my friend Wendy and her pretty upholstered chair project.
Need another inspirational project for painting fabric chairs? Check out this beauty from another fellow blogger Nancy!
Painted Dining Chairs
These painted wooden chairs look amazing with a happy burst of color. What a great way to brighten up a dining area!
Click here to Pin this post for later
You May Also Like
When it comes to painting outdoor furniture you can find a variety of painted metal chairs, painted table and chairs and even painted plastic chairs in this post: Painting Outdoor Furniture for a Quick Update.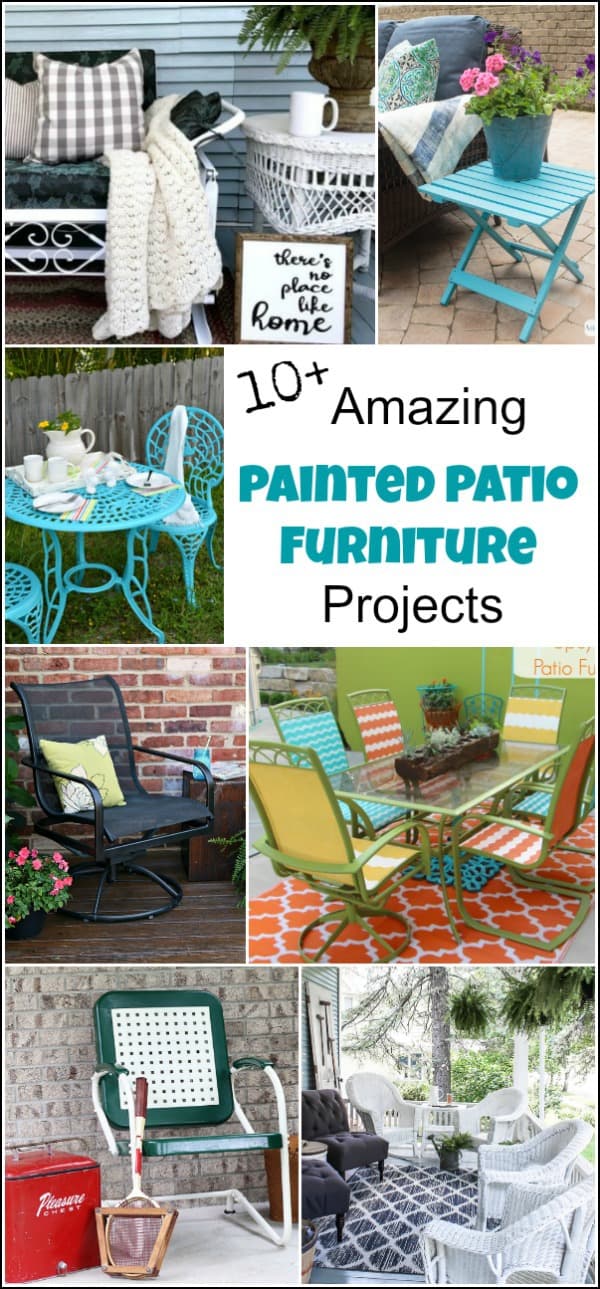 Need More Painted Furniture Ideas?
Not just chairs but all kinds of painted furniture inspiration. Check out The Ultimate Guide for Stunning Painted Furniture Ideas.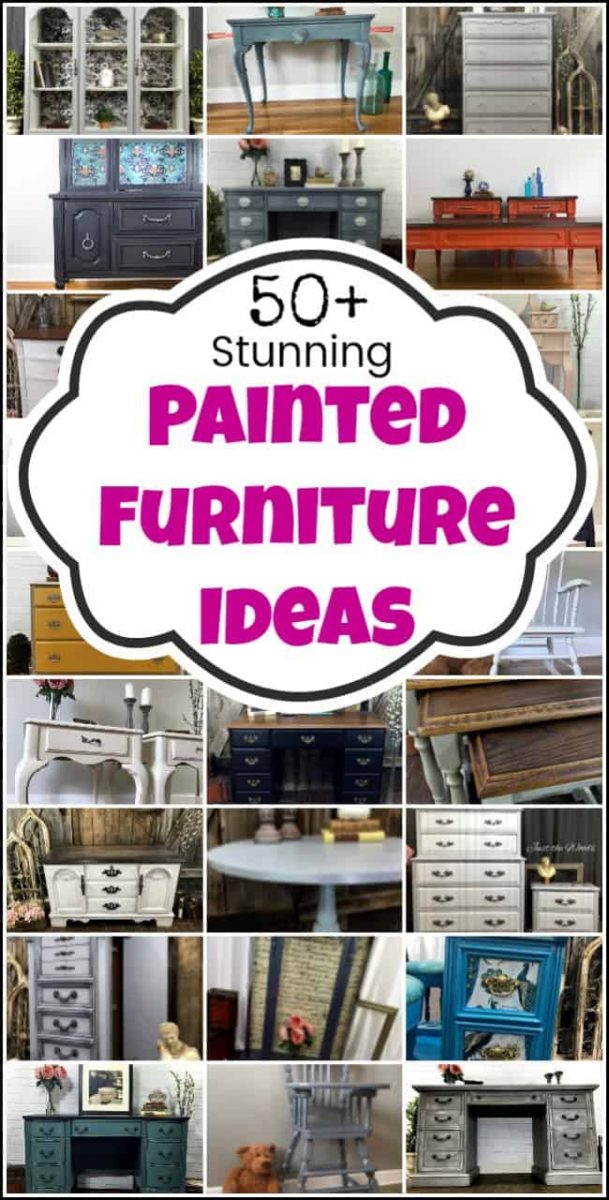 Click here to Pin this post for later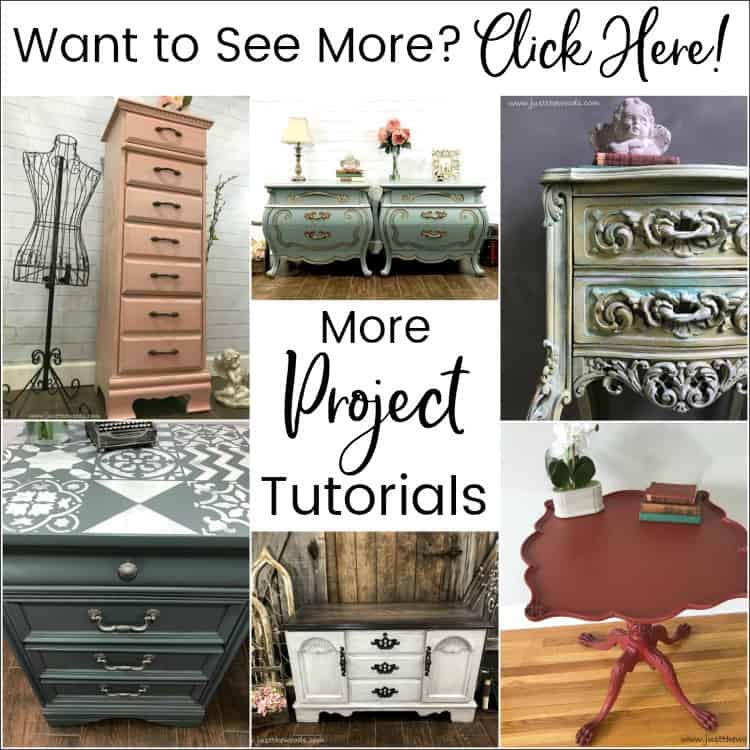 Don't Forget – Follow Just the Woods and Share this post to Inspire others:
FACEBOOK * INSTAGRAM * PINTEREST

Stay connected! For more tips and tricks sign up here :