We often paint old wooden furniture, but what about painting laminate furniture? Have you ever thought about painting brand new furniture? The next question may be can you paint laminate furniture? Specifically, Pottery Barn furniture? I'm talking about squeaky clean, right out of the box furniture? Since it is new it will most like be made of laminate or MDF and have a slick surface. Well, good news – you CAN! Today I'm sharing a makeover of a brand spanking new Pottery Barn Bookcase. The prep for Pottery Barn furniture will be the same for any piece of new, shiny, slick surfaces including laminate furniture or MDF.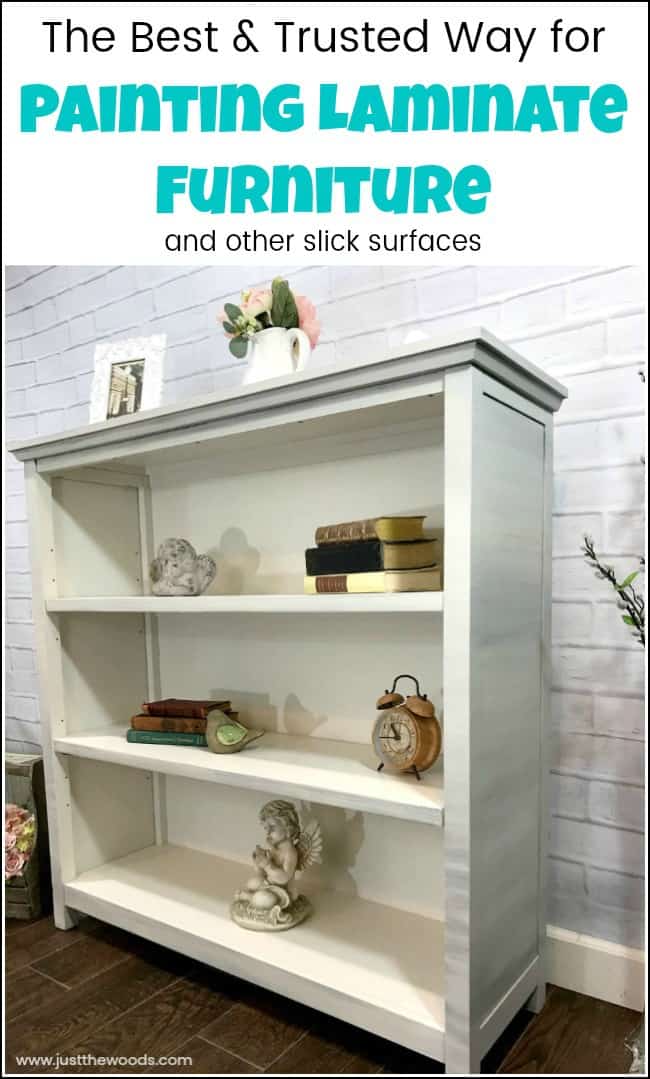 Disclosure: This painting laminate furniture post contains affiliate links for your convenience. Click here for my full disclosure policy. 

Simple Supply List for Painting Laminate Furniture
What You Will Need 
Tools
Paint
Original Pottery Barn Bookcase
This Pottery Barn Bookcase is brand spanking new. My customer had her husband assemble it straight from the box before bringing it to me for just a little more. If you love this bookcase in its original simplicity you can find it here: Cameron Bookcase  Since my customer found the bookcase to be too boring, yet her husband likes the simplicity they have met in the middle with a compromise and are having the outside of the bookcase painted while leaving the inside alone. Besides, the inside will be full of books and things so we may as well make the outside pretty leaving the inside in its original off-white.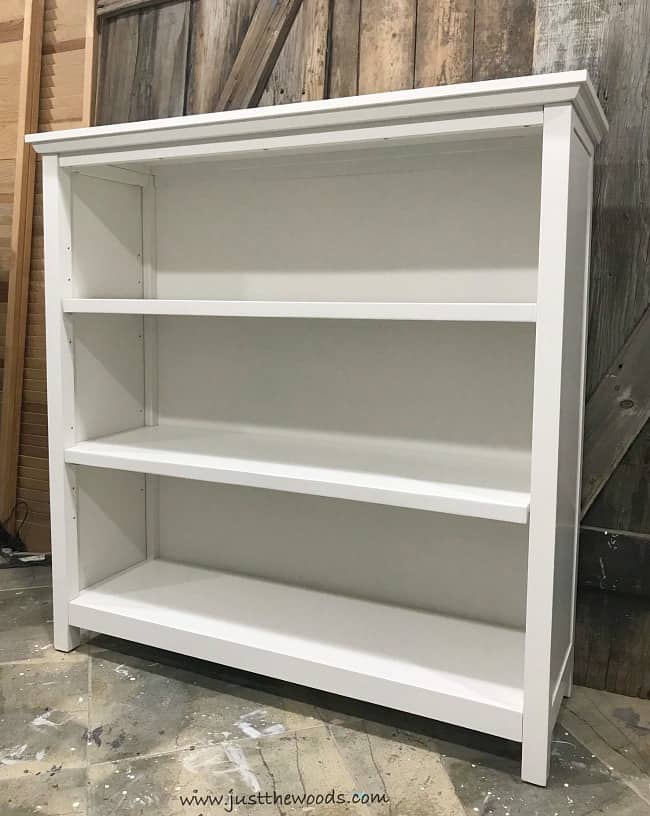 Inspiration
First, my customer fell in love with a paint technique that she saw on a previous piece of furniture that I painted and asked for the same technique. You can find that inspiration piece here: Painted Layers on a Tall Lingerie Chest. She is also expecting a new baby and sent me a few photos of other items that will be in the room with this Pottery Barn Bookcase. This is the dresser that will be in the room: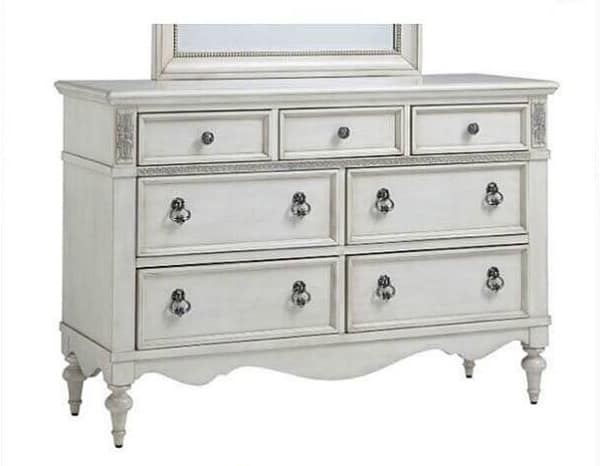 This is the light fixture: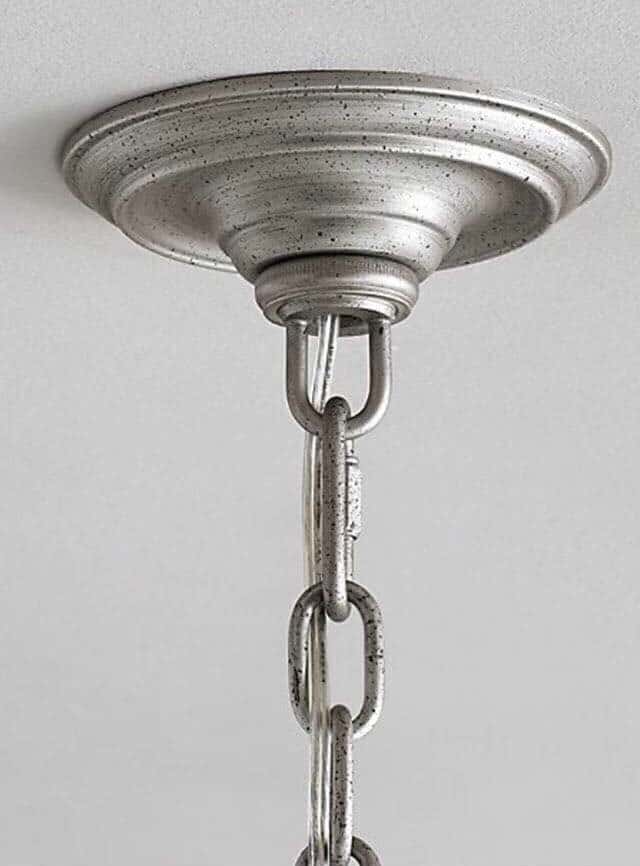 Using these as inspiration we are using these colors on the bookcase from Dixie Belle Paint.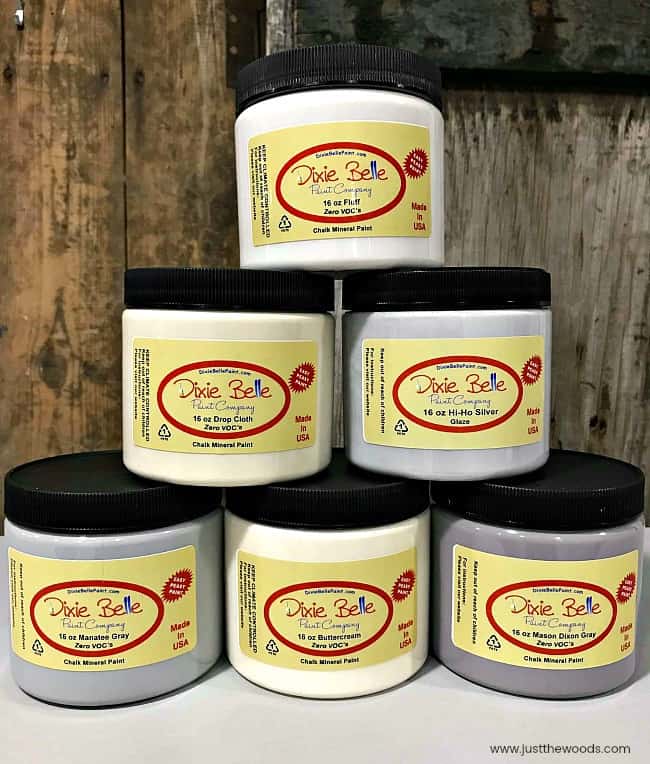 If you are new to furniture painting and want to learn how to update old furniture with paint you can always start at the beginning with How to Paint Furniture – a Beginners Guide.

Prepping Laminate, MDF and Slick Surfaces for Paint
Since this Pottery Barn bookcase is brand new and squeaky clean you really don't have to go overboard with prep work. But I would make sure to give it a light sanding to scuff the surface. If you are unsure of how to paint laminate furniture keep in mind that the prep for these new surfaces will be the same whether laminate, MDF or another slick surface.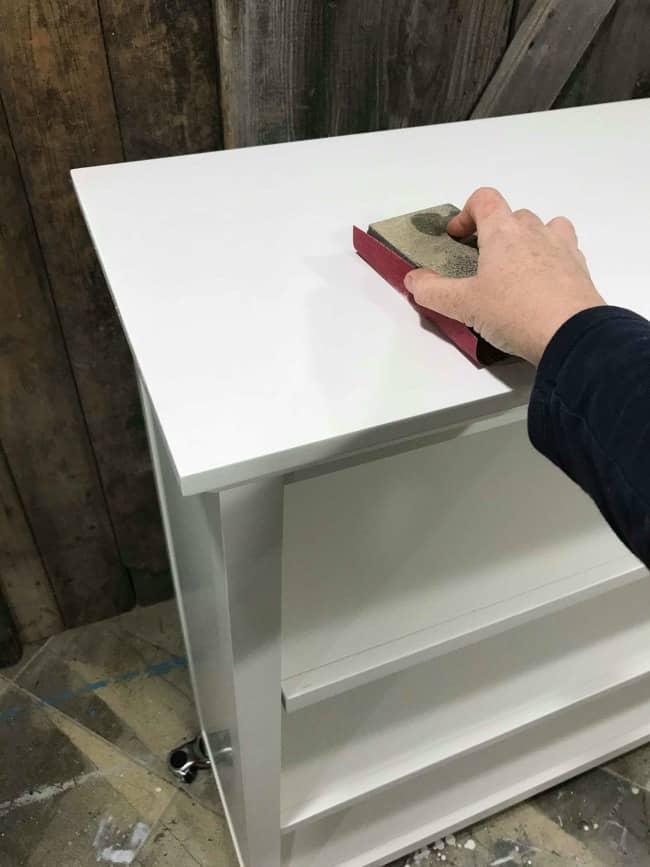 Then, rinse and wipe clean to remove the sanding dust. I think the only thing better than painting new furniture is painting raw wood. The prep is minimal for these. Woohoo!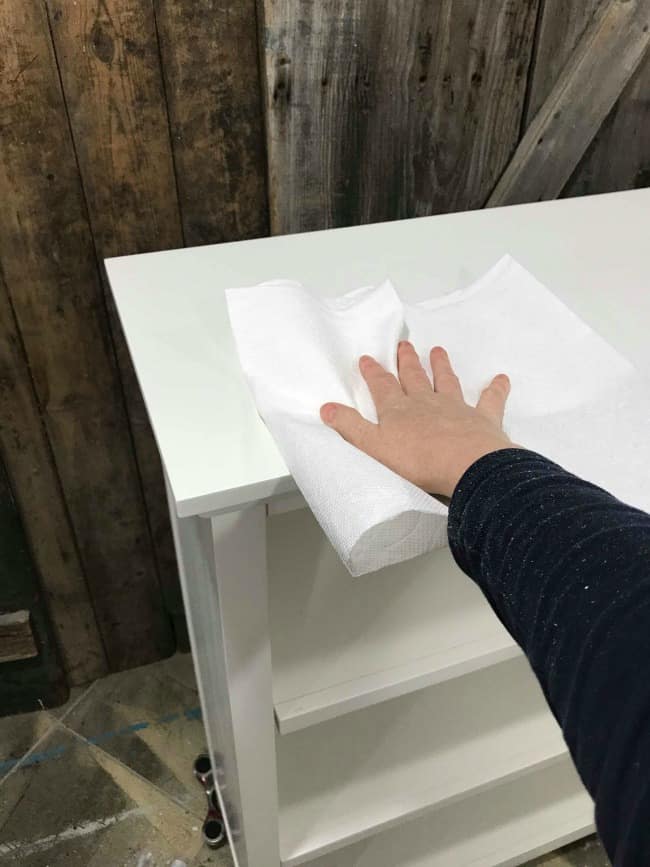 Click here to Pin this post for later.
Before You Can Start Painting Laminate Furniture
But, there's always a 'but' right? Like I said this is brand new and from Pottery Barn making it most likely not solid wood. As a matter of fact, the bookcase is built from solid wood and MDF (Medium Density Fiberboard). What does that even mean? Though we don't have to go crazy cleaning this furniture we do still need to prep it. I am using Slick Stick from Dixie Belle Paint. This is basically a laminate primer. You can find Slick Stick HERE.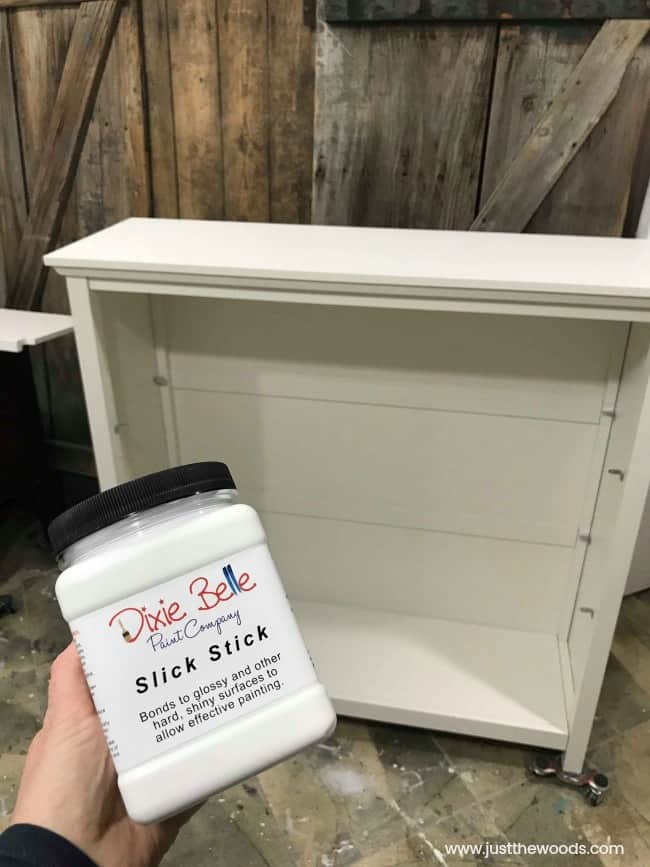 Slick Stick acts as a primer for laminate furniture and is made to stick to shiny surfaces like this new Pottery Barn Bookcase. If you really want to know how to paint laminate furniture without sanding, this is it. But, as you know I always recommend some sanding, or light scuffing simply because I feel like you will never regret a good prep. I suppose you can keep your sanding to a bare minimum when using Slick Stick.  That's as close to no sanding as I will ever suggest.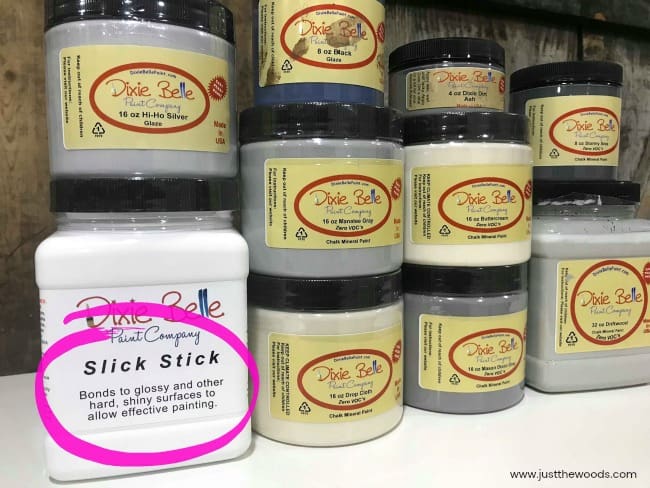 Using my Zibra paint brush I apply Slick Stick to the surface. You can use any quality brush to do this. Apply two coats of slick stick making sure to allow each coat to dry thoroughly. As you can see, Slick Stick goes on white which makes it a great base when painting laminate furniture in light colors or white.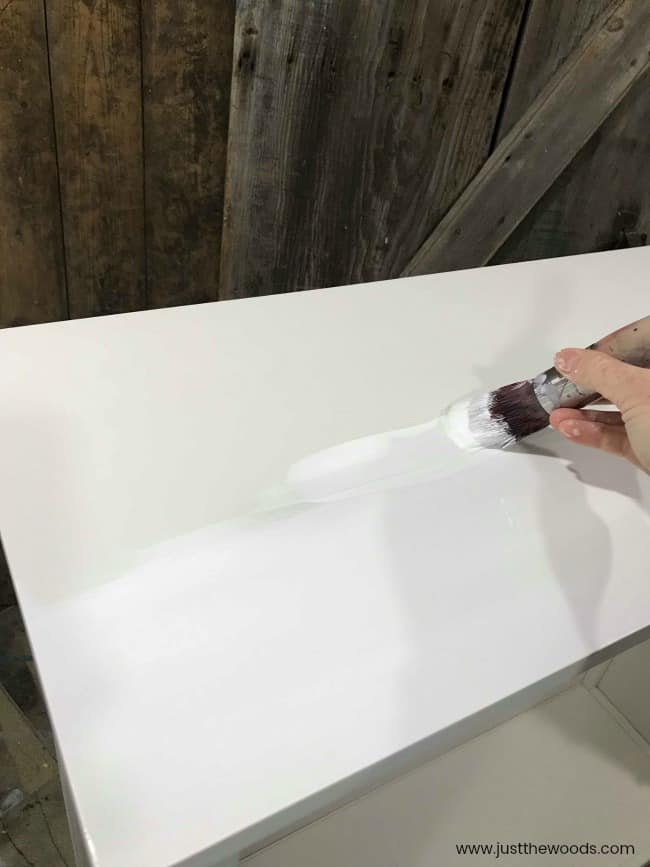 Painting a Base Coat
Now that the bookcase is cleaned and prepped we can start adding the pretty part. Since I am only painting the outside I make sure to tape off the border of the bookcase to prevent paint from going where it shouldn't. And on the slight chance that it does, just make sure to wipe it away with a damp cloth or paper towel right away. I start with a first base coat of Driftwood over the entire bookcase.  Driftwood is a very light gray.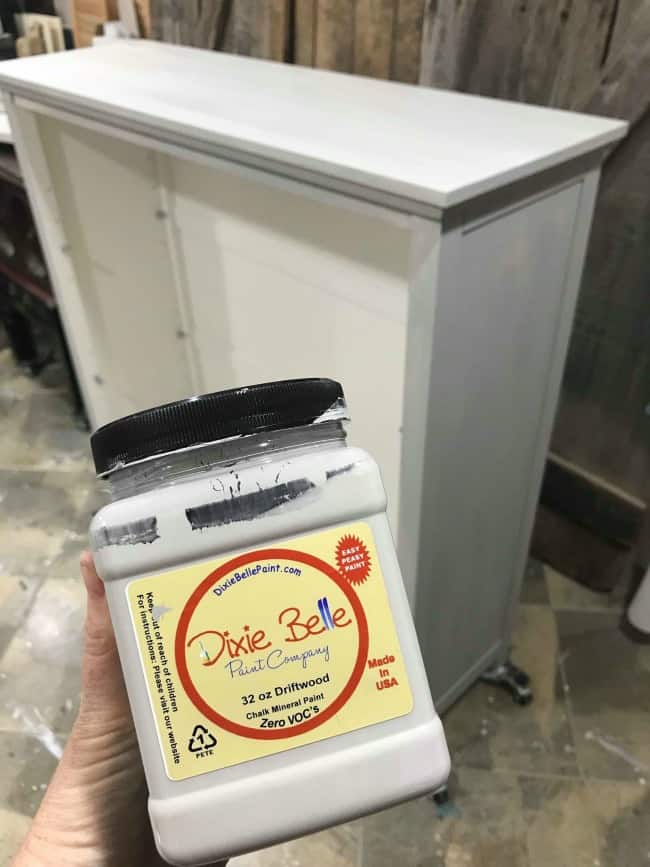 Only one full coat of Driftwood is applied on the bookcase. Since the Slick-Stick dries white the gray appears darker than it really is.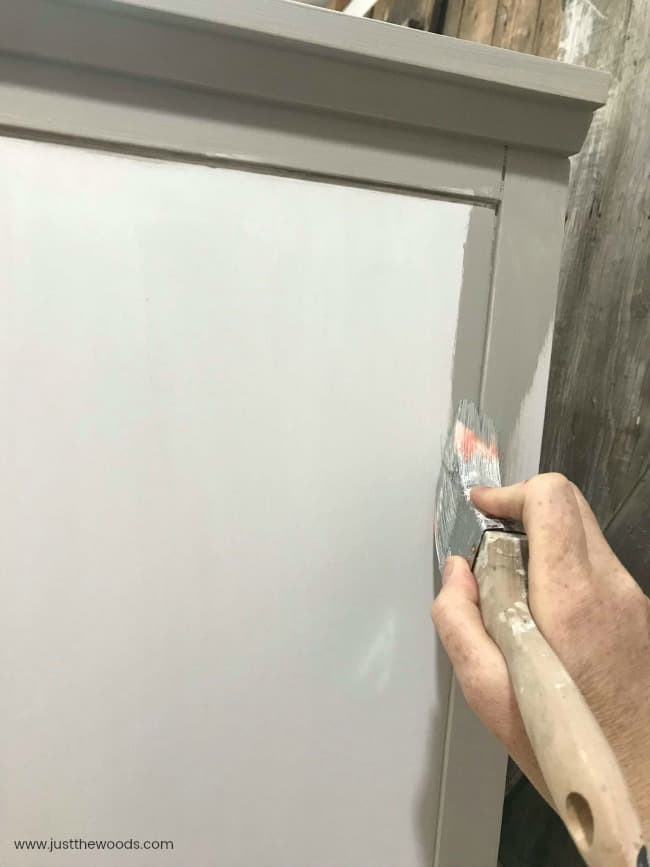 Click here to Pin this post for later
Painting Layers
Next, using plastic spoons scoop a bit of each color onto a paper plate. There really is no right or wrong way to do this.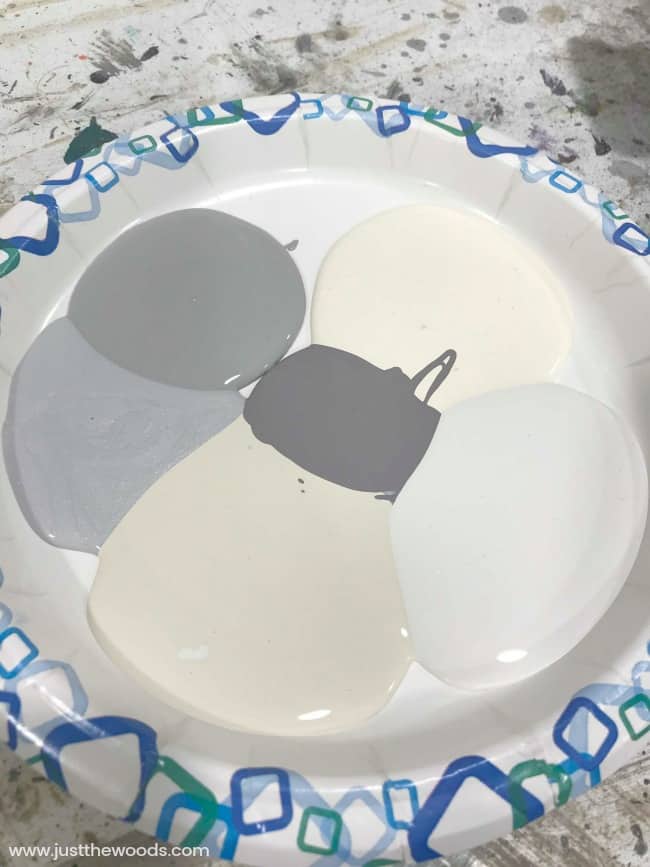 Make sure to use a clean spoon for each color to avoid accidentally mixing colors in the containers.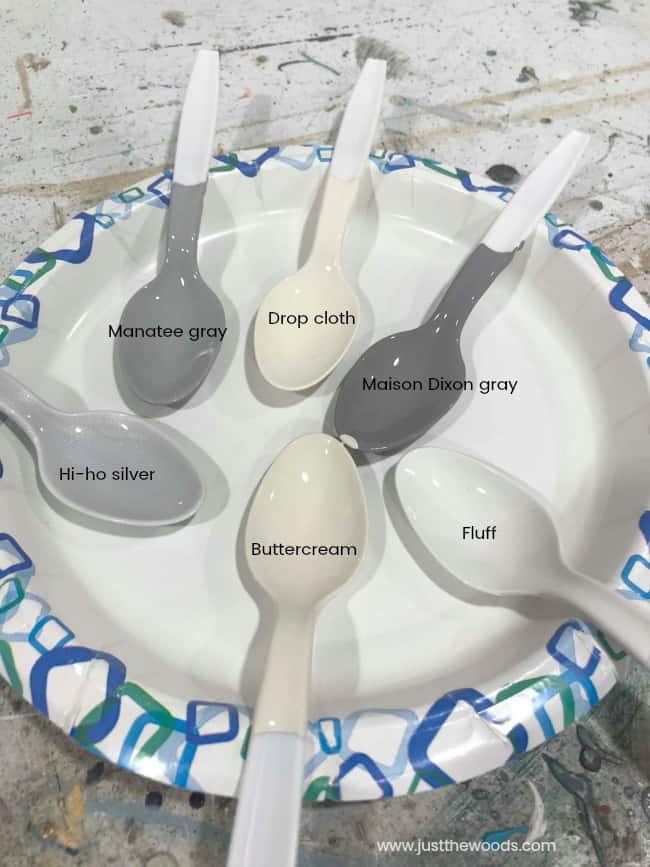 Now grab a paintbrush, preferably an older one that may be a little beat up. I try to find the brush in the worst condition where the bristles are spreading out.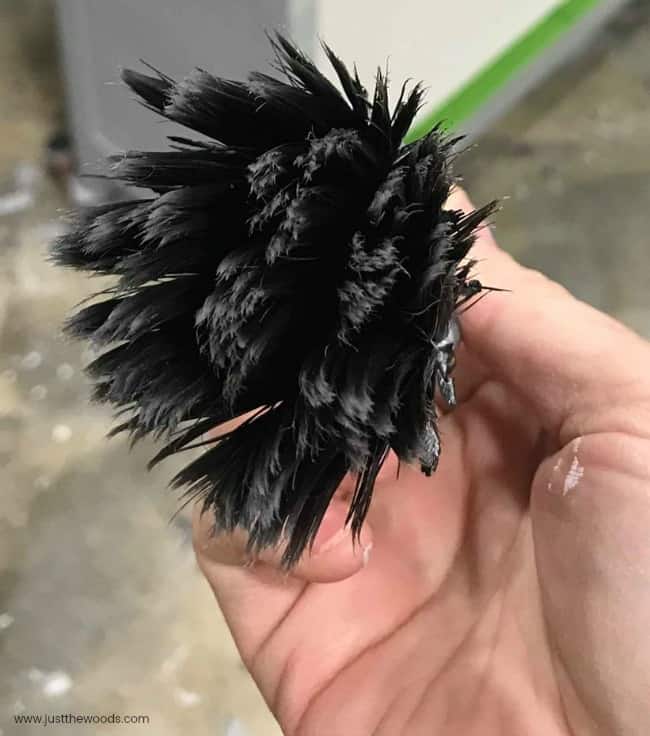 Dab your brush randomly into all of the colors on your plate. Don't drench the brush but make sure to get paint on the tips.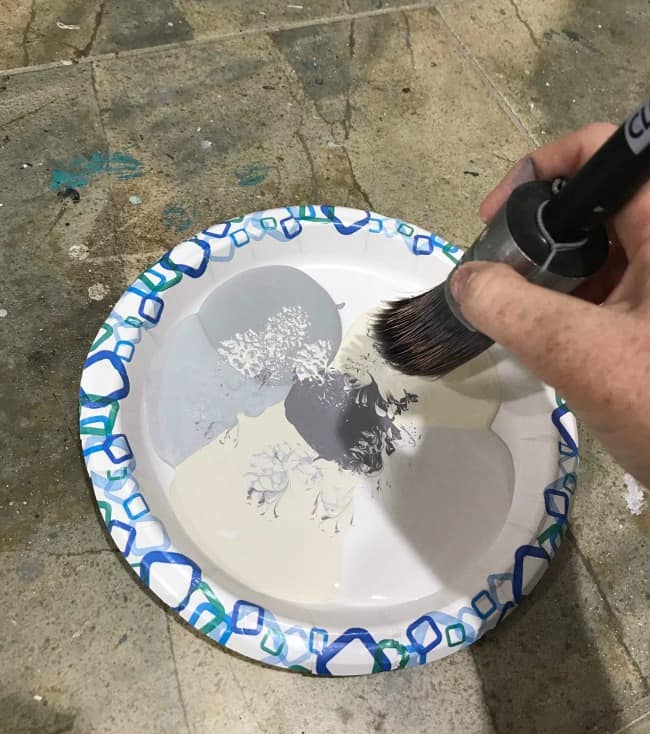 Then paint your bookcase making sure to brush in the same direction, creating soft layers.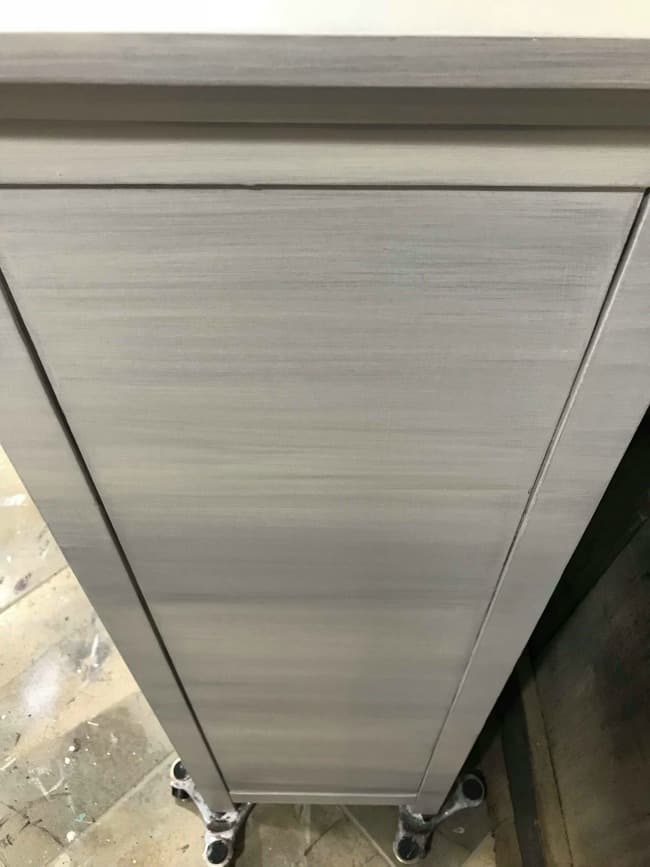 When you finish painting your Pottery Barn furniture your paint plate should look something like this.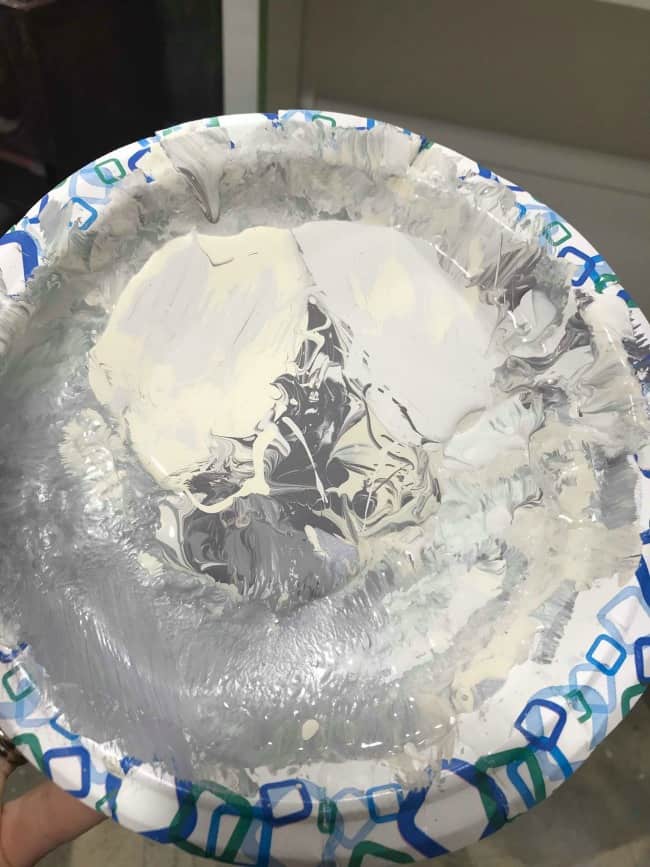 Applying the Second Coat of Painted Layers
I do find the first coat to have a bit more purple to it than I would like due to the Maison Dixon gray. So I am going back with a second coat of layers and eliminating that color. The second round of layers will only have these. (all of the first colors minus the Maison Dixon gray) The best part of this technique is that if you don't love the first layer you can go back and make slight changes to your color choices until you do love it.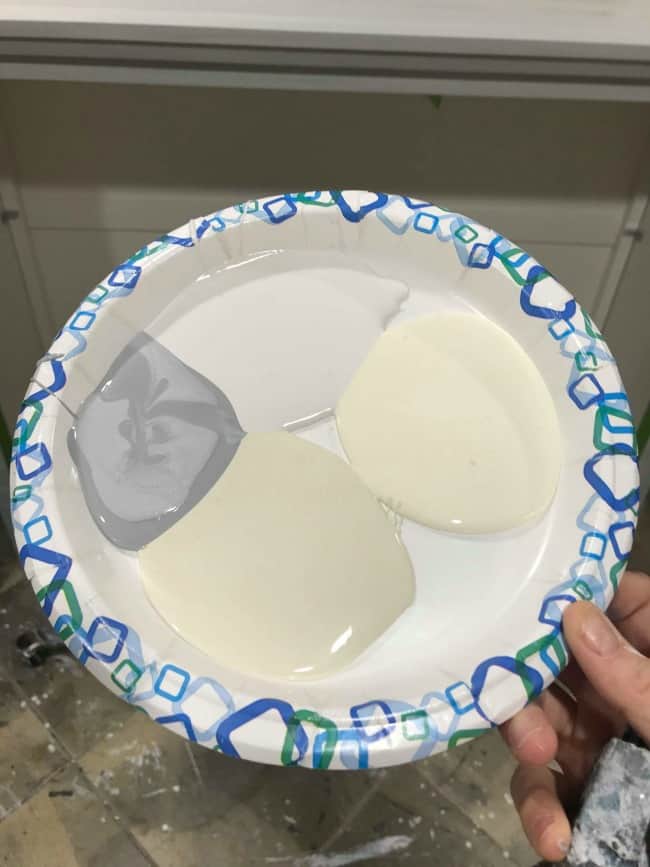 Leaving the plate to look like this once finished.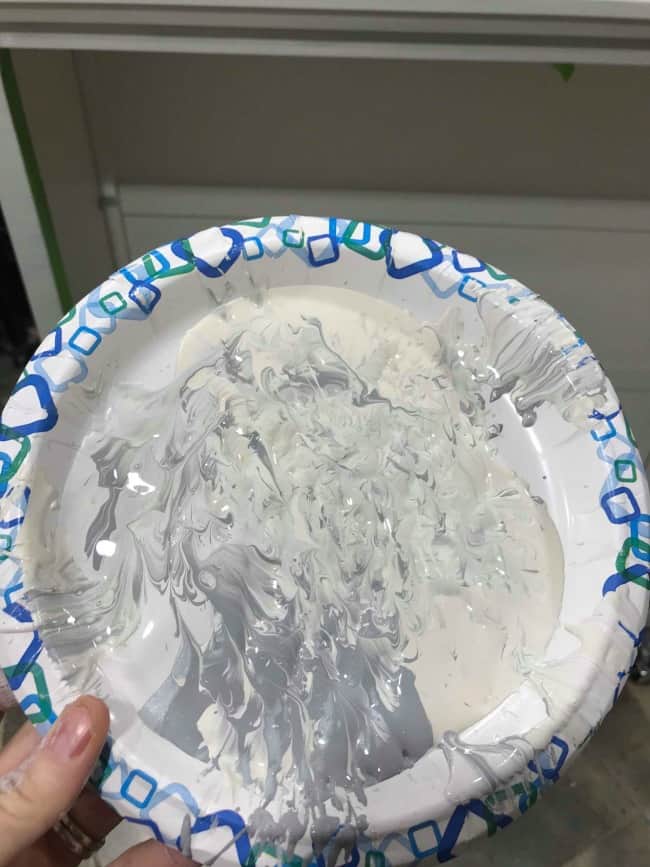 Your layers will be soft and blend into one another.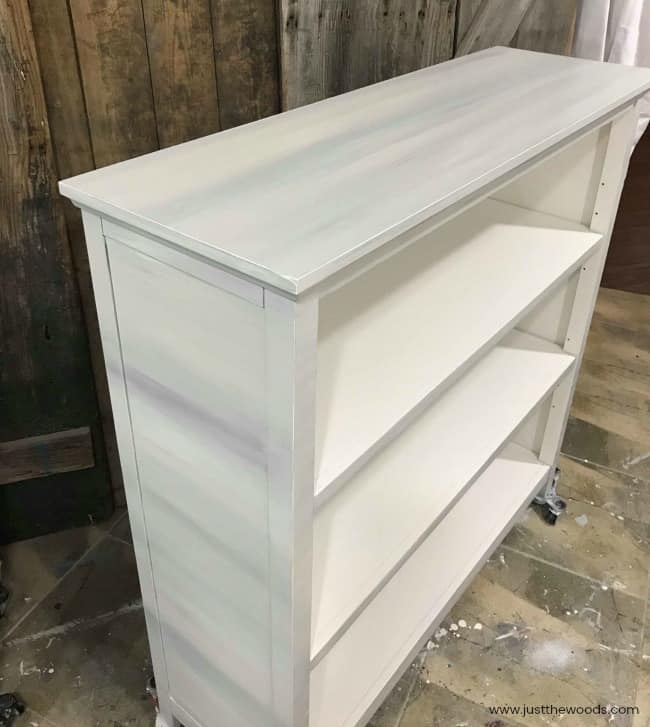 Our colors seem to work great with the sample of the wall color and hardware that my customer also provided.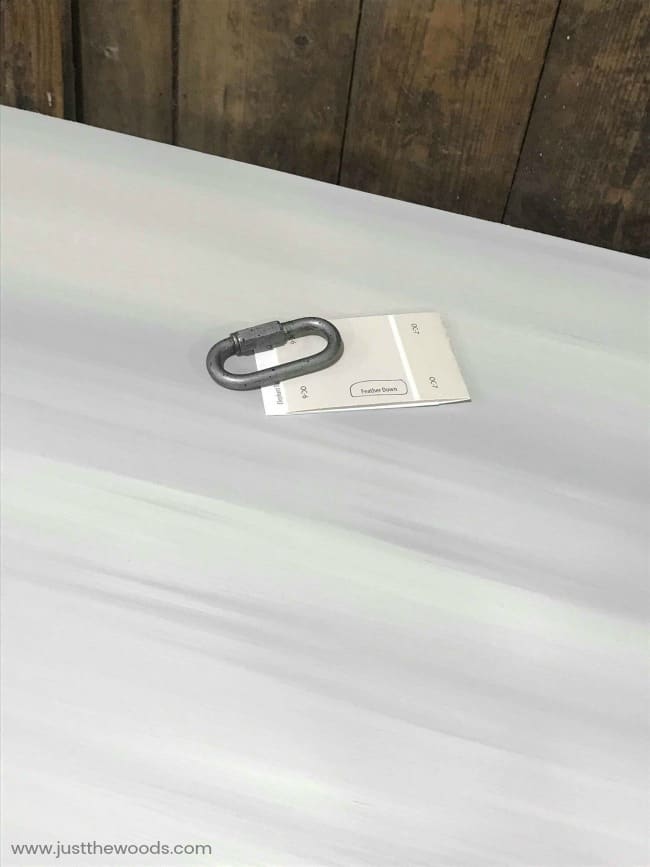 Click here to Pin this post for later

Adding Sealer & Finishing Touches
The entire bookcase is distressed along the edges and sealed. I am adding a bit of whitewash to soften the layers even more.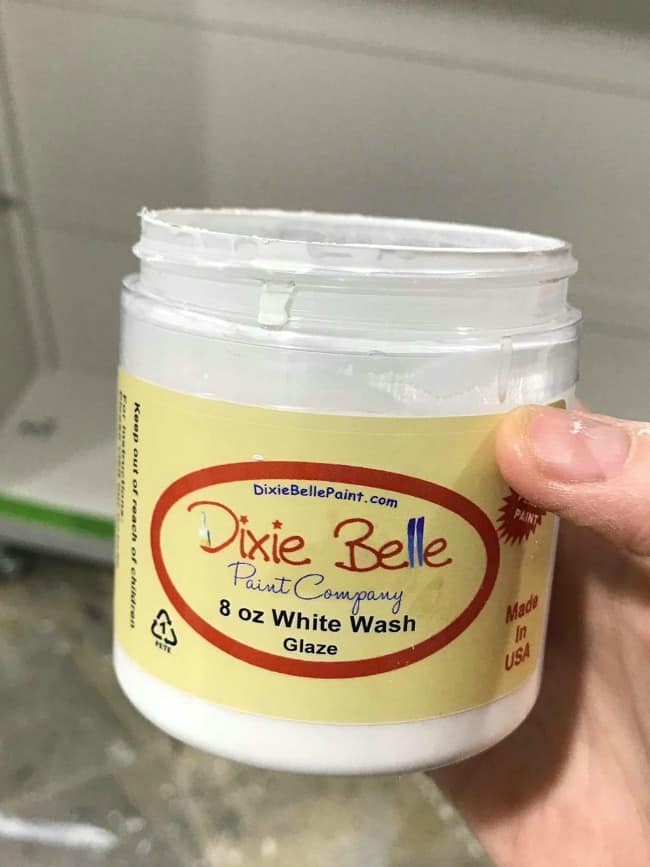 I add the whitewash right in with the clear sealer. There is a full tutorial with video on the easiest way to sealing painted furniture here if you'd like to check it out: sealing painted furniture.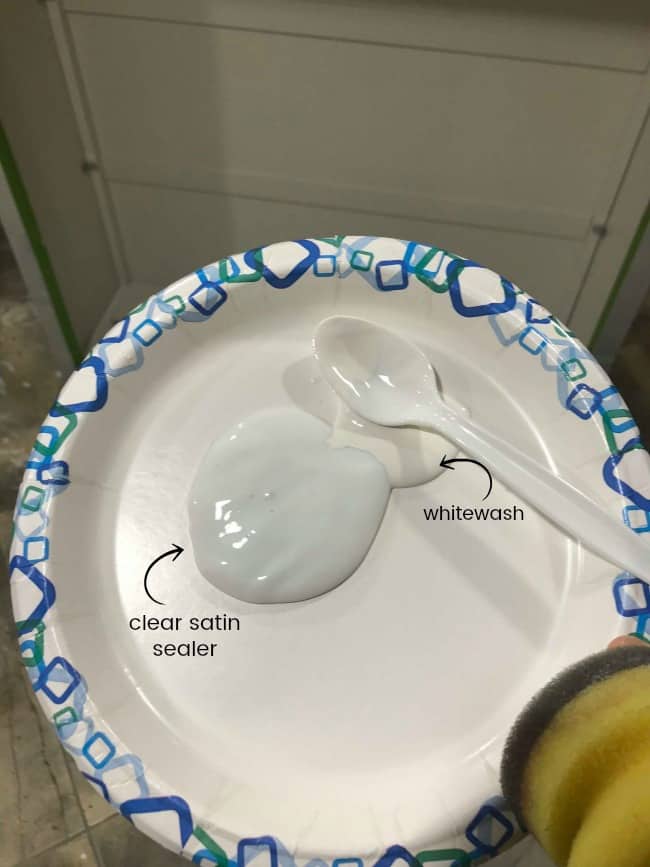 Adding Subtle Black Glaze
Lastly, we will add a bit of black glaze to the creases of the bookcase. Since the light fixture in the room will be pewter I want to add a bit of that grunge without going overboard. Grab a small artists brush for this part.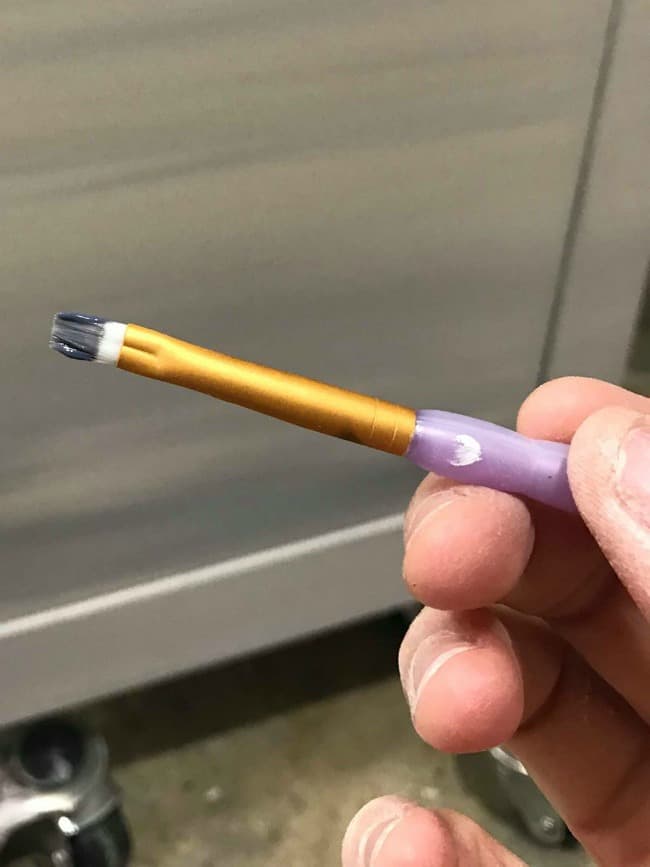 Apply a small amount of black glaze along the creases of the bookcase.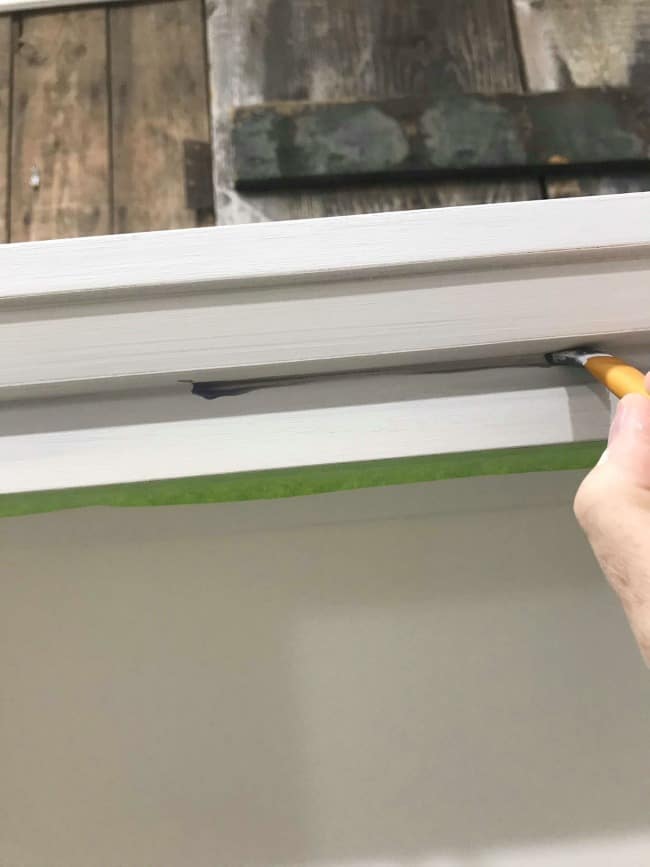 Wipe away excess with your finger or cloth.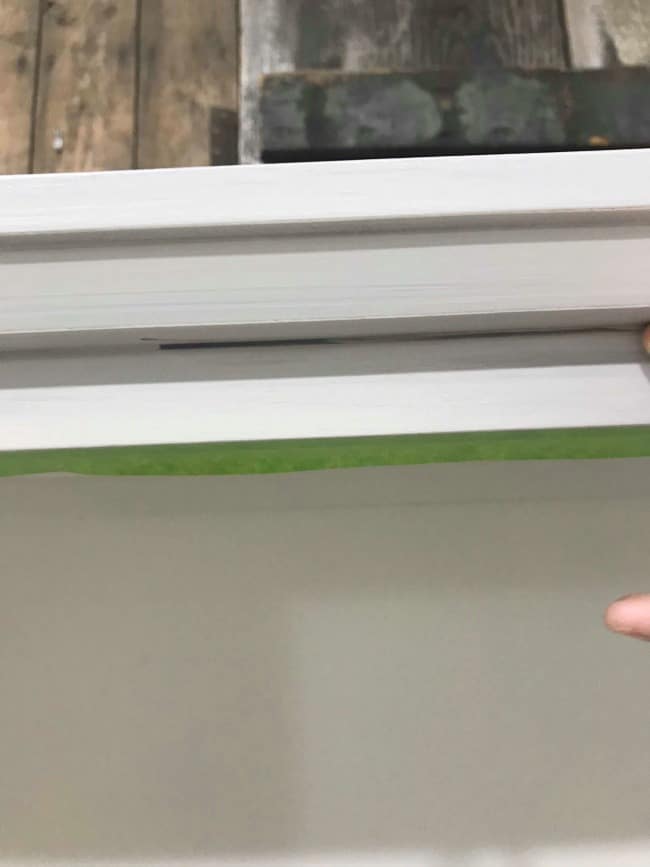 The glaze will be very subtle in all of the creases.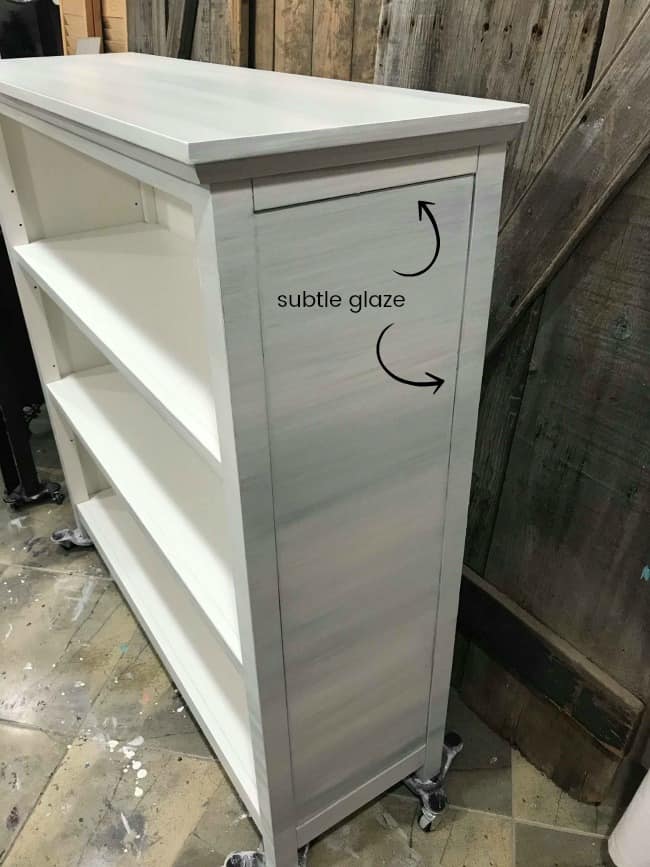 Painted Pottery Barn Bookcase Makeover
Now go ahead and paint your old furniture, paint your new furniture, paint your laminate furniture, paint your MDF furniture. Have a ball!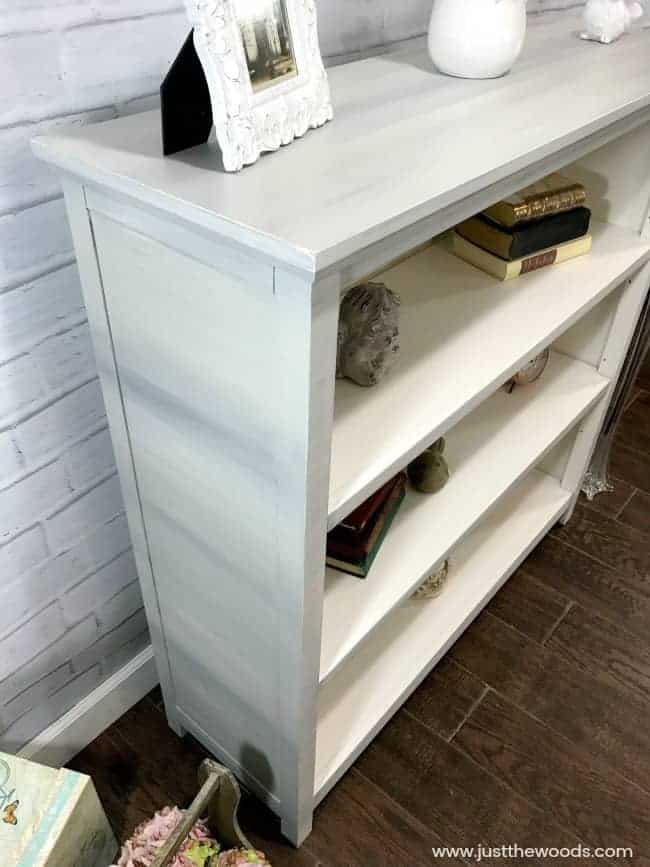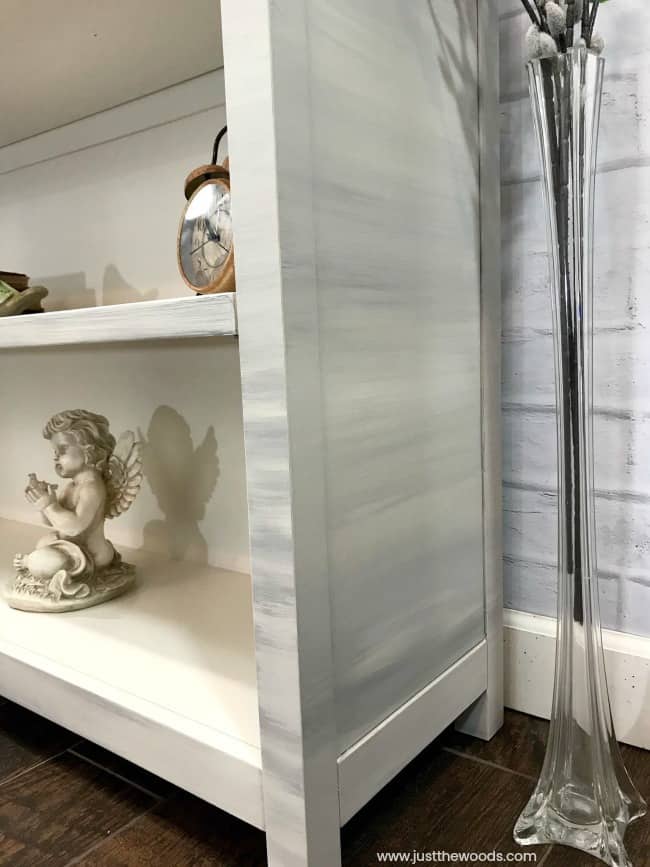 Click here to Pin this post for later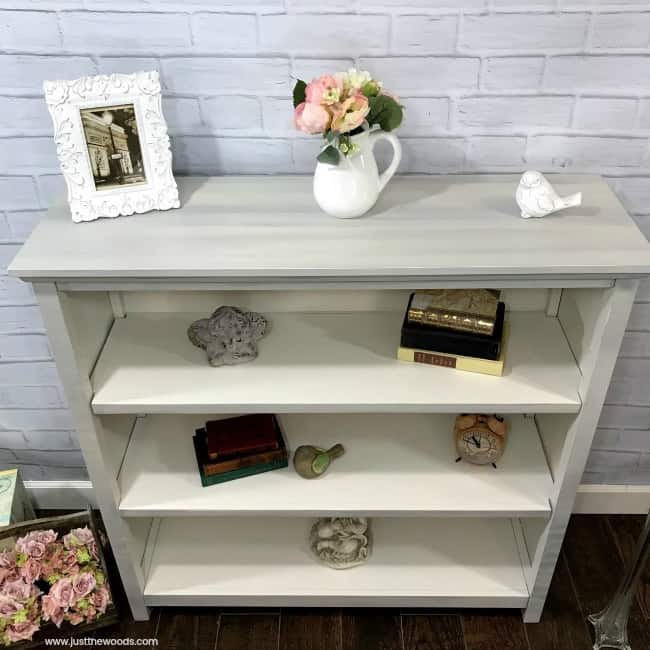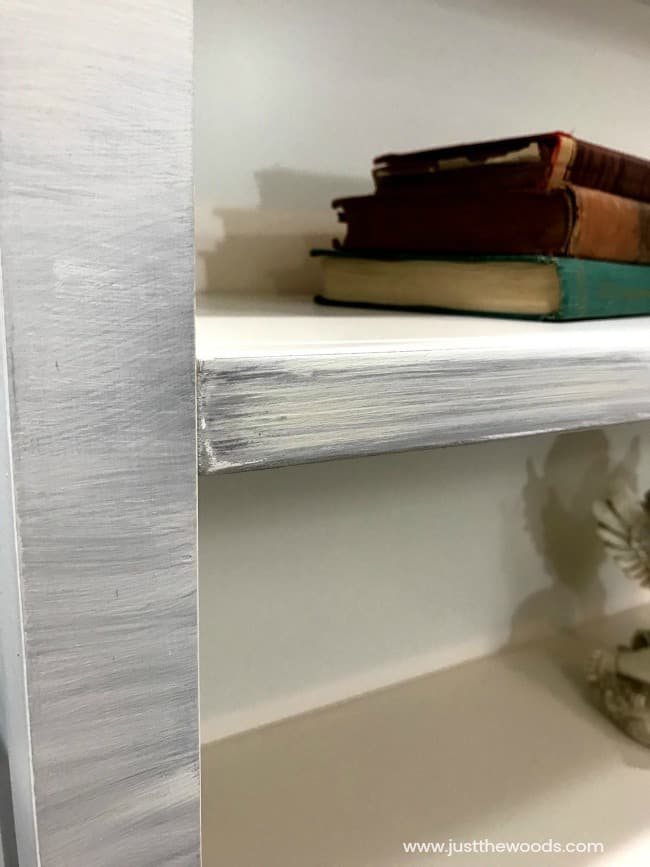 If you love these colors you can get them here:  Dixie Belle Paint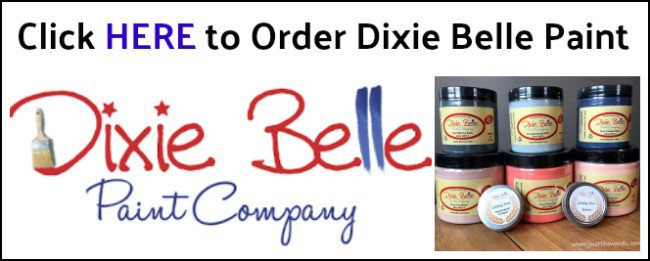 If you like this project then make sure to check out the inspiration piece too: Painted Layers on a Lingerie Chest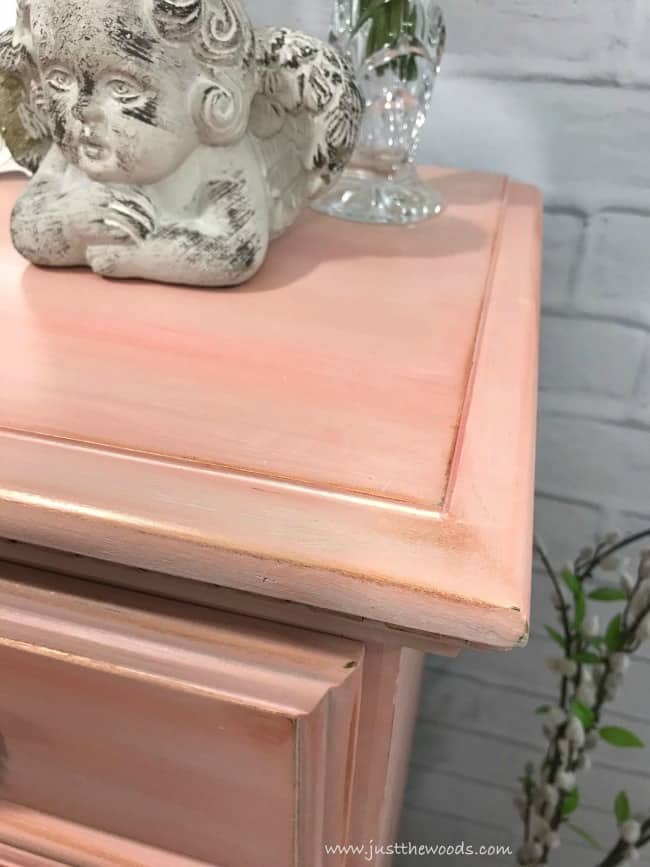 Wait! Don't Go!  It's that time of the month again for:
The Furniture Flippers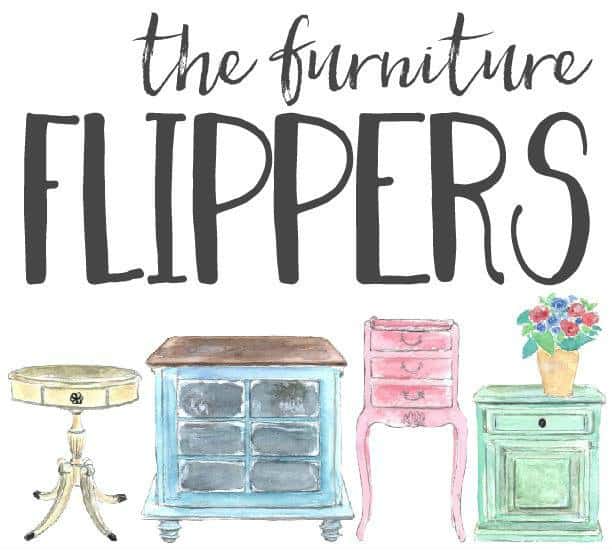 If you have been with me for a while then you know that I participate in a monthly Furniture Fixer Uppers share. That is where a few of my creative and talented blogger friends and I have joined together to share what we are working on. This is a new group of Furniture Flippers and we will be sharing on the 1st Thursday of each month to bring you even more great furniture makeovers. DIY projects and furniture makeovers are more fun with friends anyway, so the more the merrier, right? Let's see what my friends are up to! With the end of school and start of summer craziness, my friend Jenny is the only other flipper participating this month. So make sure to click the link above the image to see her cane chair project. You can also check out all of the monthly DIY blog hops and groups that I participate in along with who the other great bloggers are here: Best DIY Blogs 
How to Refinish a Piece of Furniture with Broken Caning by Refresh Living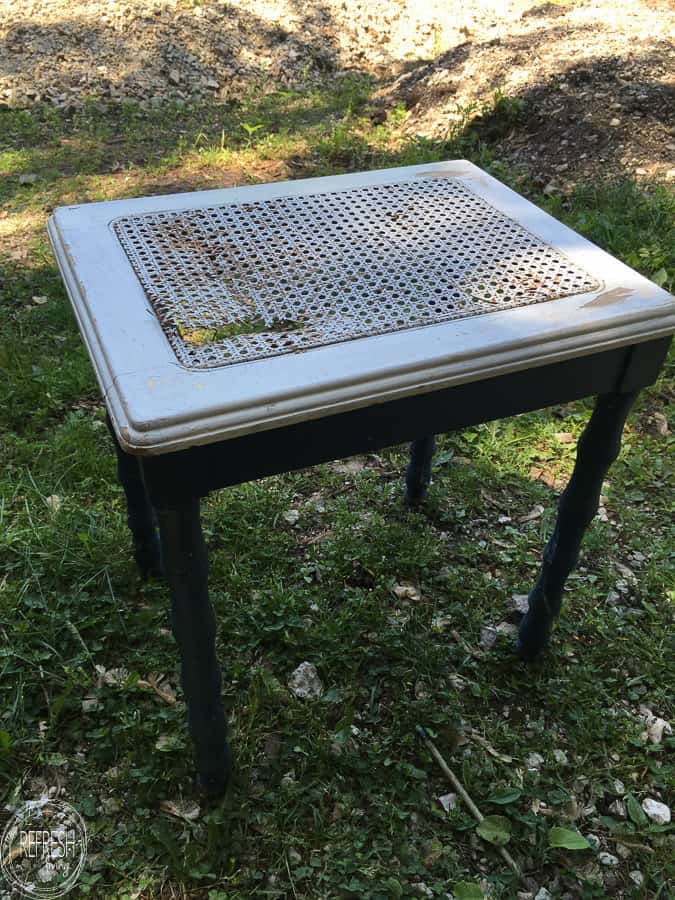 If you like this post make sure to check out all of the tips & secrets that I wish someone told me when I started painting furniture here: Painting Furniture Secrets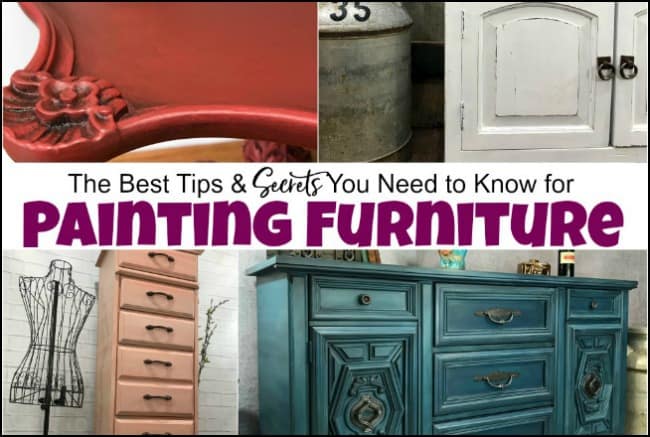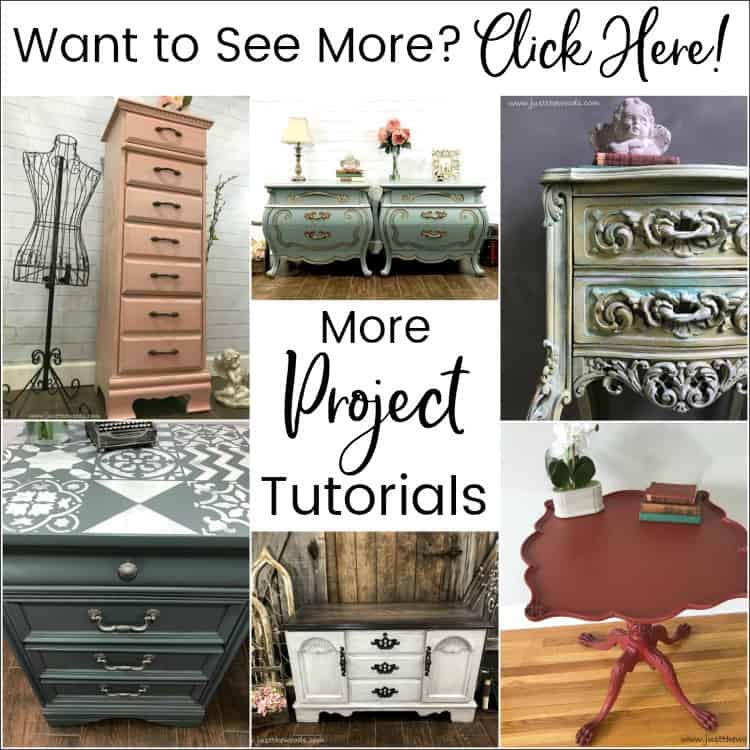 I'd love for you to join me for more painted furniture makeovers, and DIY projects! and Share this post to Inspire others:
FACEBOOK  *  INSTAGRAM  *  PINTEREST
 Stay connected! For more tips and tricks sign up here :