Disclosure: This retirement countdown post contains affiliate links for your convenience.
Materials Needed / Source List:
Let's Get Personal For a Moment
I have a secret that I don't normally share.  I also have a regular job aside from this business.  If you ever see me I most likely look like a zombie. I average two hours of sleep a night between work, the kids, the house, the blog, the husband and the business.  I'm ok with that because it's all worth it. I enjoy it all, minus the lack of sleep of course. And there is a light at the end of the tunnel.  I am retiring in less than a year.  In case you are wondering, I am a Detective with the NYPD. Obviously, I keep that very separate from this side of my business and I hesitate even now to share since not everyone is a fan of the police.  None the less, I am looking forward to wrapping that part of my life up and focusing completely on my business and blog and sharing with you here.
Do You Have Something to Look Forward To? Let's Make  a Countdown Chain with Chips
Since there is less than a year left in my law enforcement journey I thought it would be fun to create a countdown with the kids. They always enjoy doing small crafts, especially ones that make a big mess. I searched Pinterest and found many countdowns projects with chains of paper linked together, but I wanted something different. More specifically, something that takes up less space.  So, we came up with these countdown chips! Initially, I ordered the chips along with twine to thread them together, but later replaced the twine with crochet thread.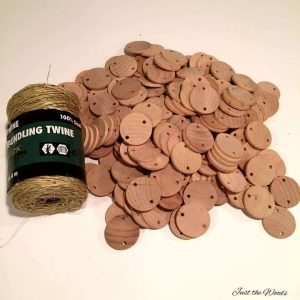 I counted out the remaining days that I have left to go to work (178). Using a sponge dabber and various paint colors and wood stains from Kristi Kuehl Pure Home Paint I randomly dabbed the wood chips until they were all colored on both sides.  My sponge dabber just happened to be the perfect size to match the size of the discs. Kristi Kuehl Pure Home Paint is all non-toxic and VOC free which makes me feel good about using a safe product with my little ones too.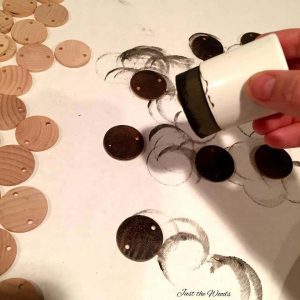 Once all the discs were painted I lightly sanded them to give a worn and imperfect look.  The appearance of the discs really isn't that important to be honest, as crazy as that sounds.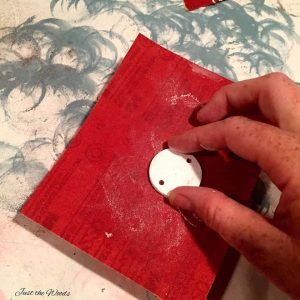 Next, I searched the closet and found my grandmother's old sewing box.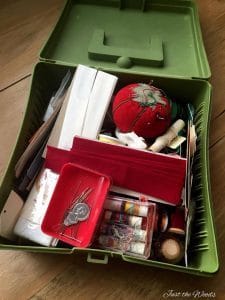 I knew I would find her old needle threader in there! And I did.  Using the needle threader I threaded the crochet thread. No one wants to struggle with getting that tiny thread into a tiny hole anyway!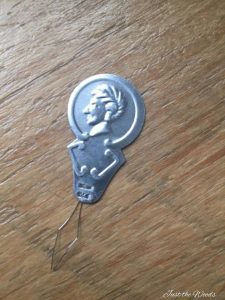 Pulling It All Together
The discs were all threaded onto the string one at a time.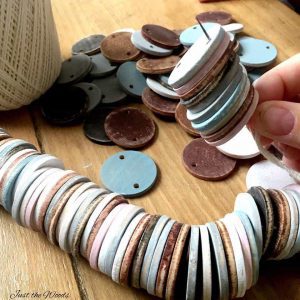 I had a little help with this step. Layla was very serious and very careful about this part, making sure to not get stuck with the point of the needle.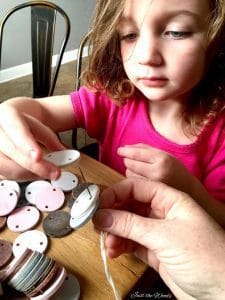 Once they were all added to the string a simple knot was tied on one end with the other left untied.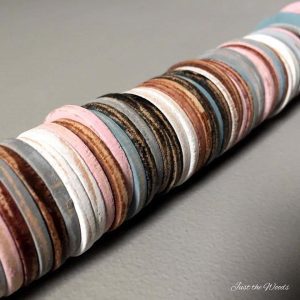 They don't look like anything fancy, but sometimes the project is more about who you do it with and the meaning behind it.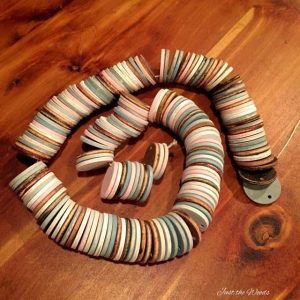 Each night that I leave the house to go to work we remove one disc.  The kids love the idea of seeing the string of discs getting smaller and knowing that once the discs are all gone that mommy will be able to stay home with them more. It's a small reminder that hangs on my son's door and doesn't take up to much space because any project that makes a mess or ends up everywhere would drive my husband crazy. LOL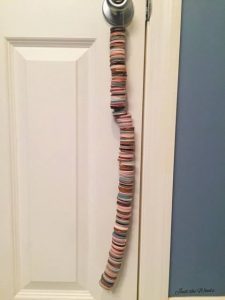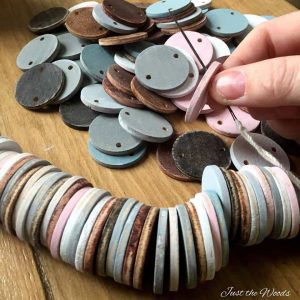 I'll be sharing this post at these fabulous link parties.
Don't Forget – Follow Just the Woods :
FACEBOOK  *  INSTAGRAM  *  PINTEREST
Subscribe to our mailing list here:
PINTEREST PIN READY TO SHARE: