Repainting painted furniture. How to paint over painted wood furniture when your decor or plans change. Repainting over chalk-painted table the easy way.
Repainting painted furniture is not something that I do often. As a matter of fact, I normally follow a no painting previously painted pieces rule (simply personal preference). But every now and then rules can be broken. The main reason I chose to repaint this piece of furniture for my customer is because I painted it for her the first time. Since I painted it, I know exactly what products are on it and how to repaint this painted table.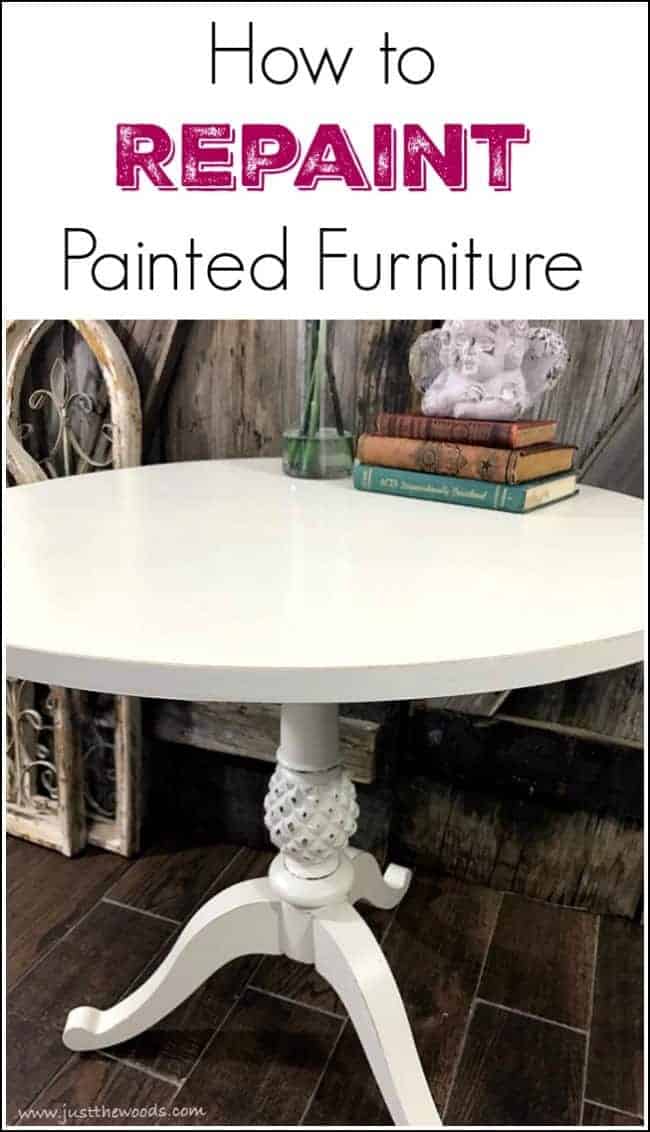 Disclosure: This post contains affiliate links for your convenience. I may get a kickback from any purchases made through these links at no additional cost to you. I received paint brushes from Zibra Paint brushes for free to try, all opinions are 100% my own. Click here for my full disclosure policy.

Repainting a Painted Pineapple Pedestal Table
Materials Needed / Source List
Zibra Paint Brush
150/220/320 Sand Paper
Original Ethan Allen Pineapple Pedestal Table
The first time this pedestal table made its way into my shop it looked like this. There were repairs needed before the makeover. Click here to see how this pineapple pedestal table was painted the first time around: Painted Pineapple Pedestal Table.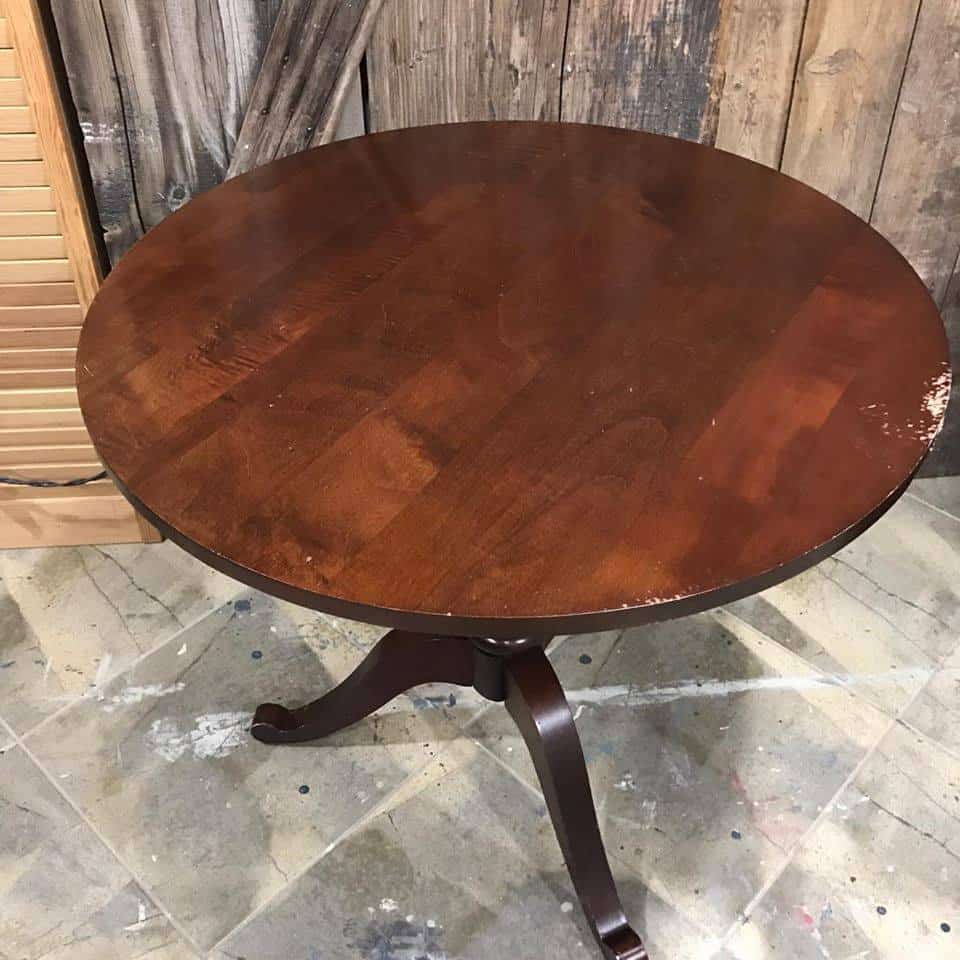 If you are new to furniture painting and want to learn how to update old furniture with paint you can always start at the beginning with How to Paint Furniture – a Beginners Guide.

Before Repainting Painted Furniture
You may be asking "How do I repaint painted furniture?" Are the rules the same as they are when painting furniture the first time around? What type of paint should I use when painting furniture? As I mentioned, this table has been previously painted and yes you can paint over painted wood furniture. You may be surprised at how easy it is to paint over painted wood. But you still have to do the prep work that you would do when you paint over bare wood. Like any other piece of furniture proper prep is key. Click here for a full tutorial on How to Prep Painted Furniture. This painted pedestal table is thoroughly sanded, cleaned and wipe with a tack cloth prior to repainting.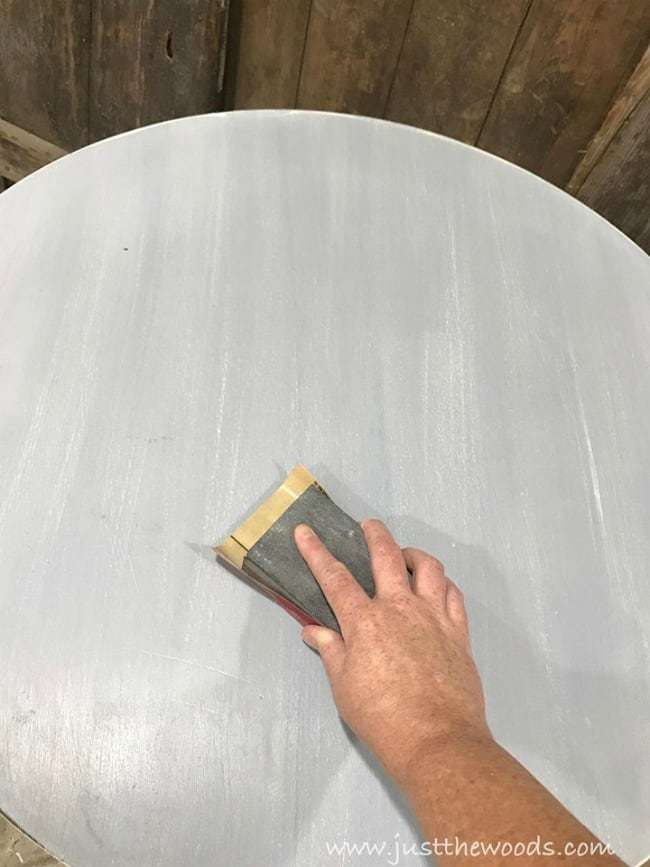 Painting over Painted Wood Furniture
Once your painted furniture is properly sanded, cleaned, and prepped you may paint. Grab your paintbrush, make sure it's clean and get your favorite furniture paint. I like to swap back and forth between Cling Ons and Zibra brushes. They both have soft bristles, are easy to work with, and clean up well. (I abuse my brushes) To be honest, I like them both and don't have a true preference. Zibra brushes are a bit more affordable and can be ordered online (HERE). Cling Ons can be ordered online (HERE). You are welcome to use a paint sprayer if you'd like. You can find a full paint sprayer tutorial here: How to Spray Paint Furniture with a Paint Sprayer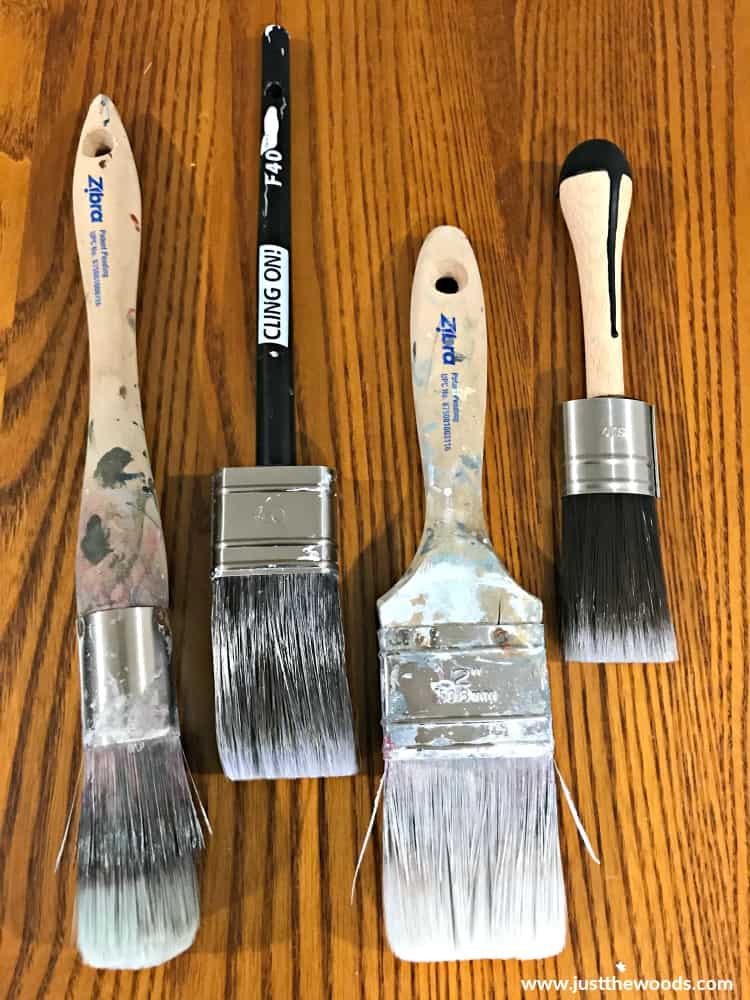 This table is being repainted using warm, creamy off-white chalk paint color. Click here to see this color on the Painted Farmhouse Bench You can find similar shades of off-white as well as other great paint colors with Dixie Belle that can be shipped to your door (HERE).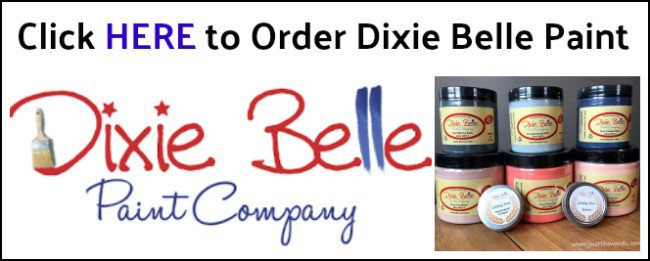 The First step in Repainting a Small Table
It's always easier to flip the table over and paint the underside first. Then move on to painting the tabletop. Apply a fresh coat of paint over the entire piece and cover every inch of the old finish.
The pineapple area of the pedestal table has crevices of some sort. The round Zibra paintbrush works great for getting into the detail areas. You can get this round Zibra brush HERE.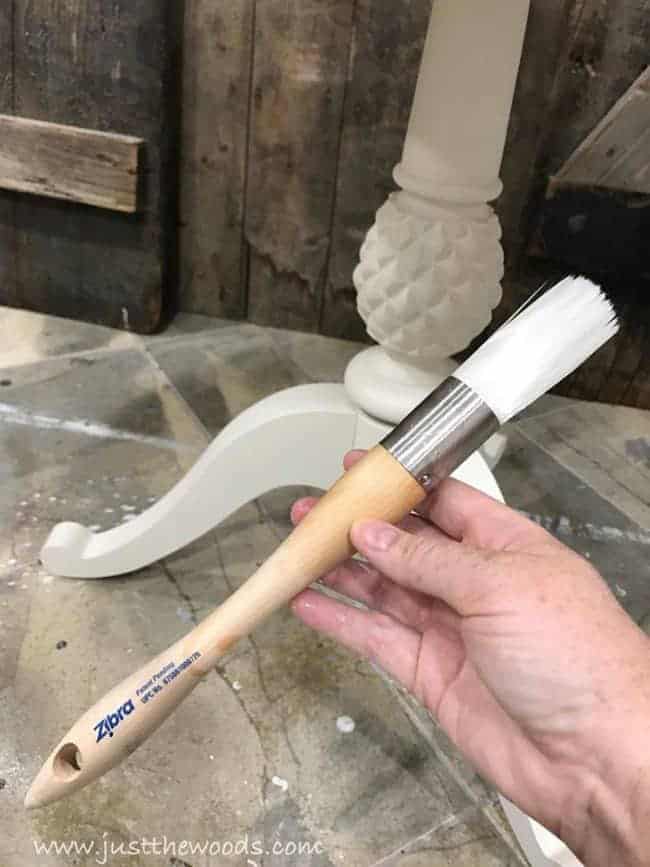 Smash paint into those crevice areas to make sure you cover the entire surface and that the old paint is a thing of the past.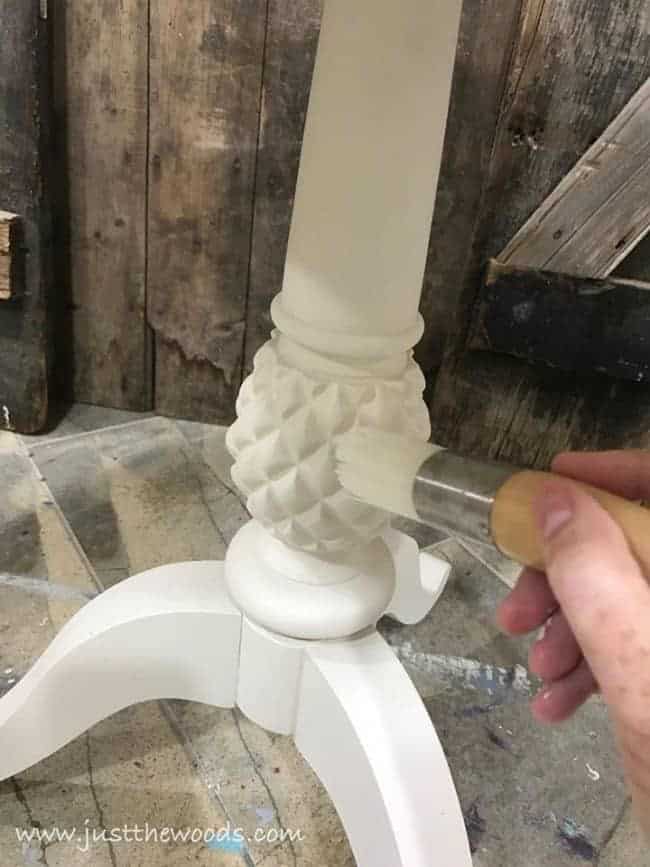 Next, flip your table over to paint the top. The flat Zibra is a better choice for flat surfaces since it covers more surface area than the round. Since the previous paint job has a visible direction that the paint goes in, try to stay with the same. Pretty much just like painting with the wood grain – paint with the previous paint brush strokes in the same direction of the wood grain.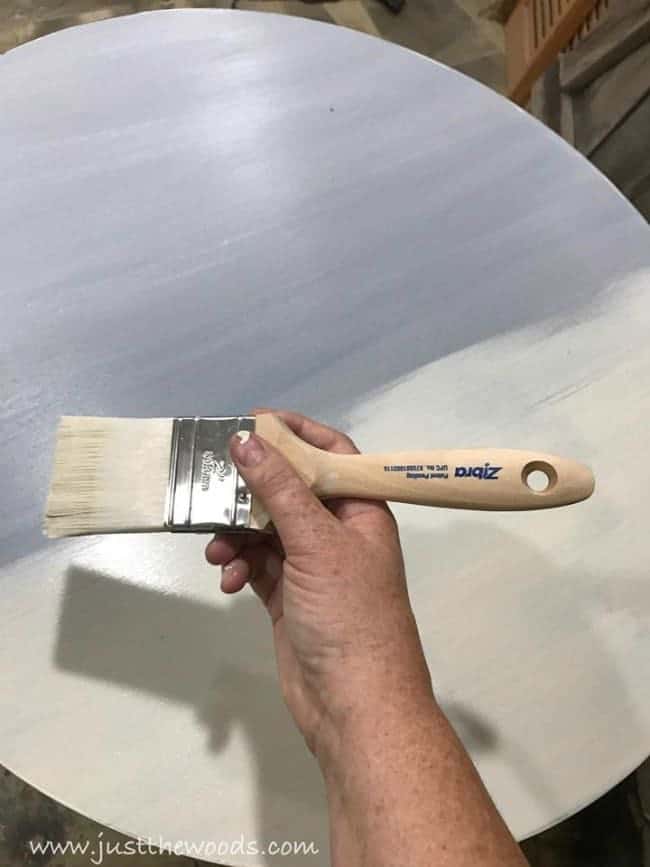 Click here to Pin this post for later.
How to get a Smooth Finish with Wet Sanding
Once the table is completely painted you can also create a very smooth surface with wet sanding. Here is a quick video to show you how to achieve a professional-looking finish on your painting project. (wet sanding and applying clear sealer top coat)
Sealing your Repainted Painted Table
As always, make sure to seal your painted table. Whether you're painting furniture or repainting painted furniture certain rules will always apply. For best results, a second coat is always recommended. You may want to add more clear coat if the furniture gets a lot of use. Make sure to apply in thin coats. 😉 I recently discovered these yellow detailer sponges, as shown in the above video for applying the clear sealer. They also work great for spindles like in the How to Paint a Rocking Chair with Spindles the Easy Way.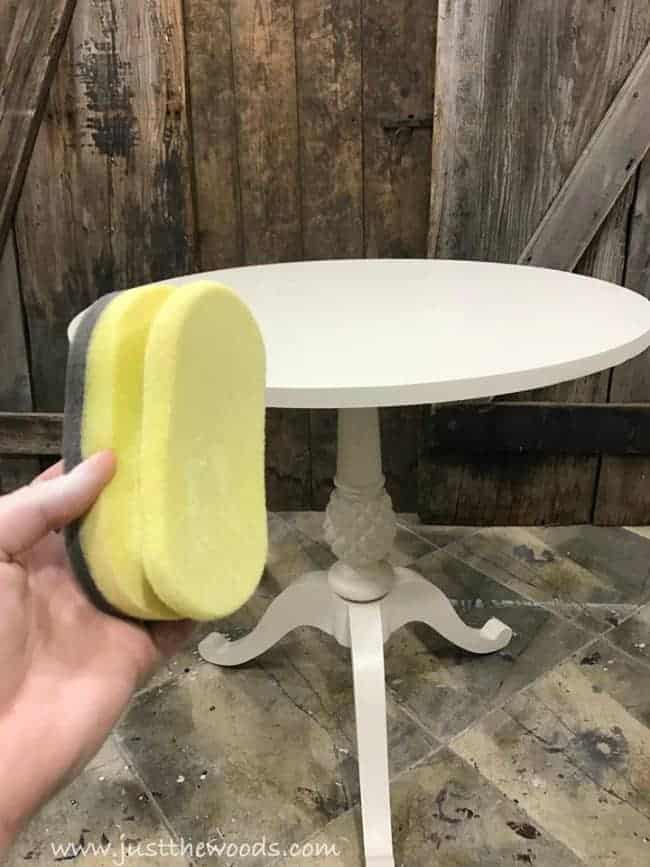 Here is a full tutorial with VIDEO showing how I seal my painted furniture projects: Sealing Painted Furniture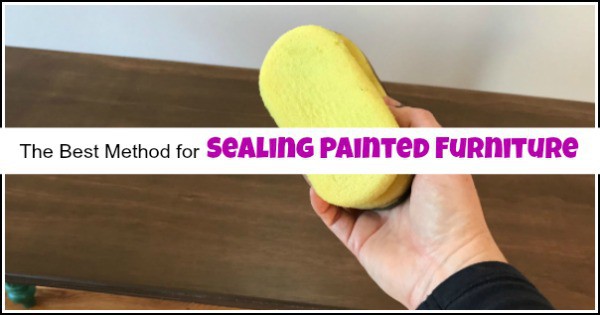 Repainting Painted Wood Furniture
In conclusion, yes you can paint over painted furniture at your own discretion. There are times when using a paint stripper may be beneficial when repainting painted furniture. Often it depends on what paint is already on the piece, so when possible, know your products. Painting with or over an oil-based paint or latex paint will require different steps. In that case, I think it is a good idea to use a stripper and completely remove the first coat of paint. Keep in mind that your paint will only stick to the paint that is on the furniture. If the existing paint is peeling and chipping off you may need to remove it before repainting. Repainting painted furniture can be great to change your furniture as your decor changes. This repainted painted table is ready to head back home again and have a new life, yet again.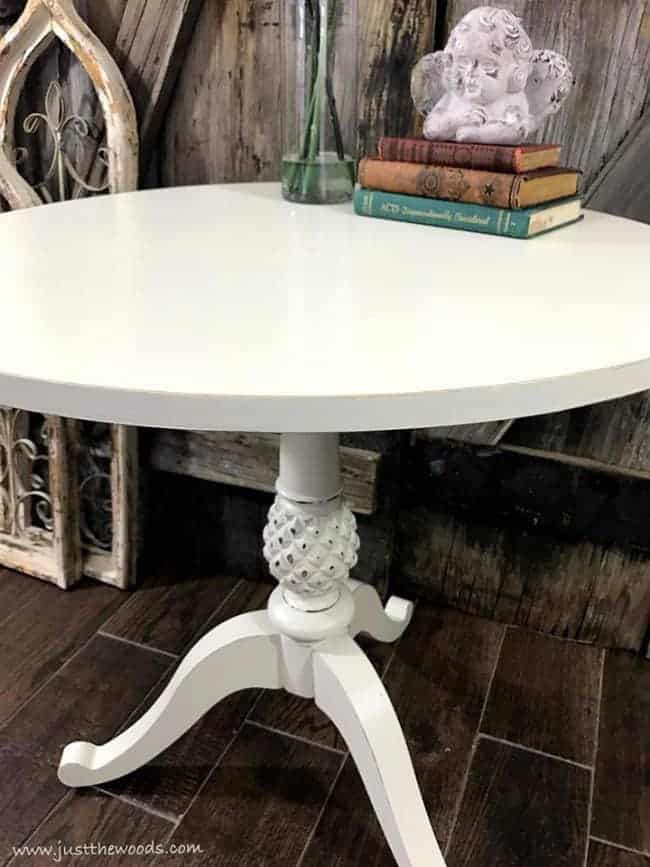 You can also see how I set up, staged, and photographed this table in a post with a time-lapse video here: How to Photograph Furniture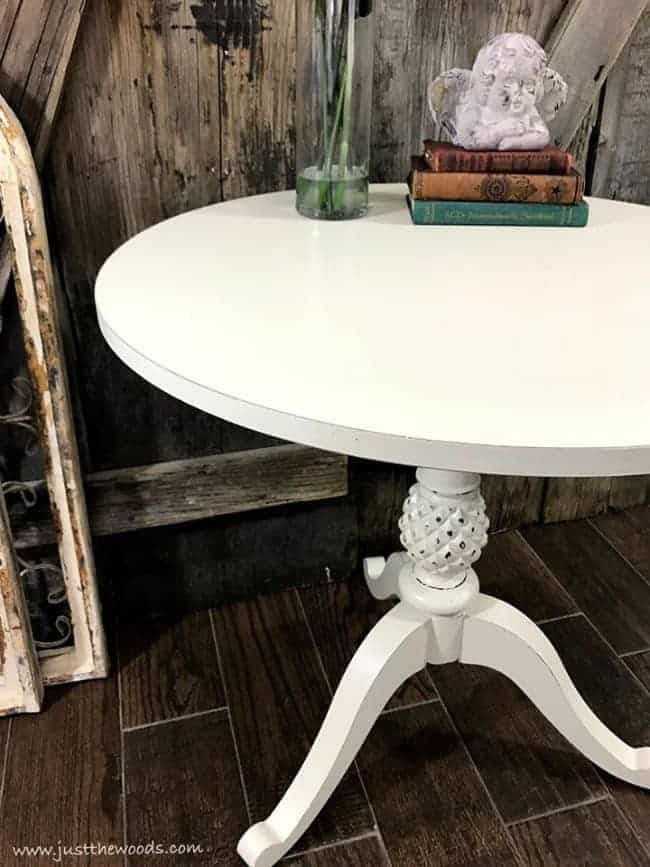 Frequently Asked Questions
Should I use primer when repainting painted furniture? Primer is never a bad thing. You should always use a primer if you are repainting your furniture piece from dark to light (ex. black to white paint). Also, make sure that you choose the right primer. Oil-based primer should only be used with oil-based paint, whereas with chalk-type water-based paint I opt for a shellac-based primer.
How many coats of paint should I apply? You will need to apply a minimum of two light coats of paint to the entire surface, more if you are going from dark to light. Make sure to cover the entire painted surface with the new color.
What kind of paint should I use? This is a personal preference, but as mentioned I always opt for quality chalk-type paint on my pieces of furniture.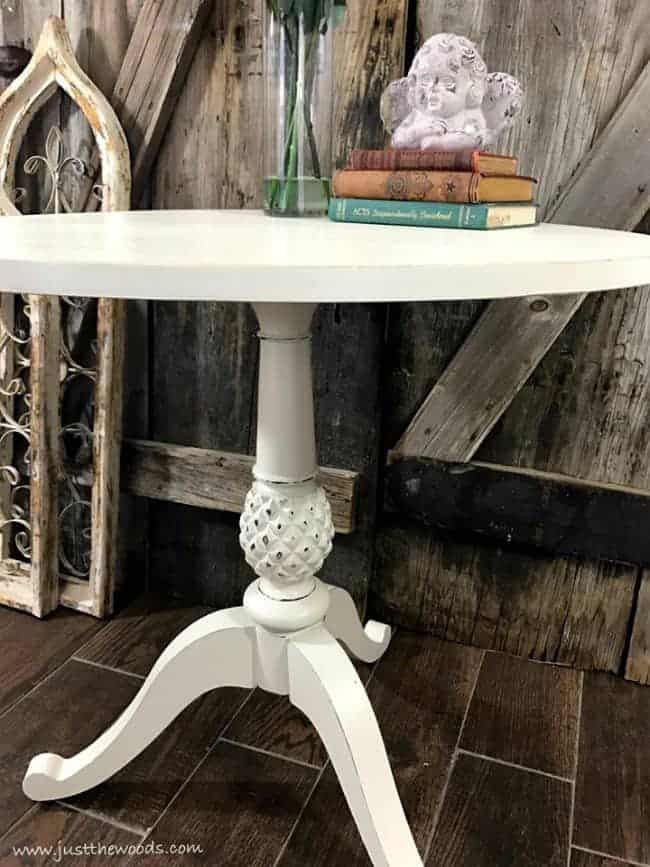 Click here to Pin this post for later.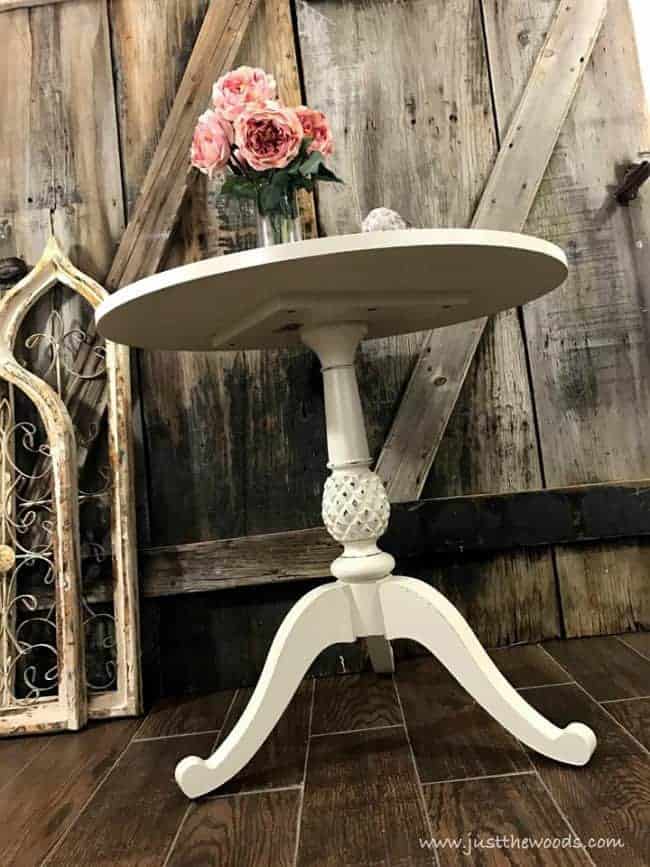 If you like this post then you need to check out Repainting Furniture with the Best Paint for a slightly newer version!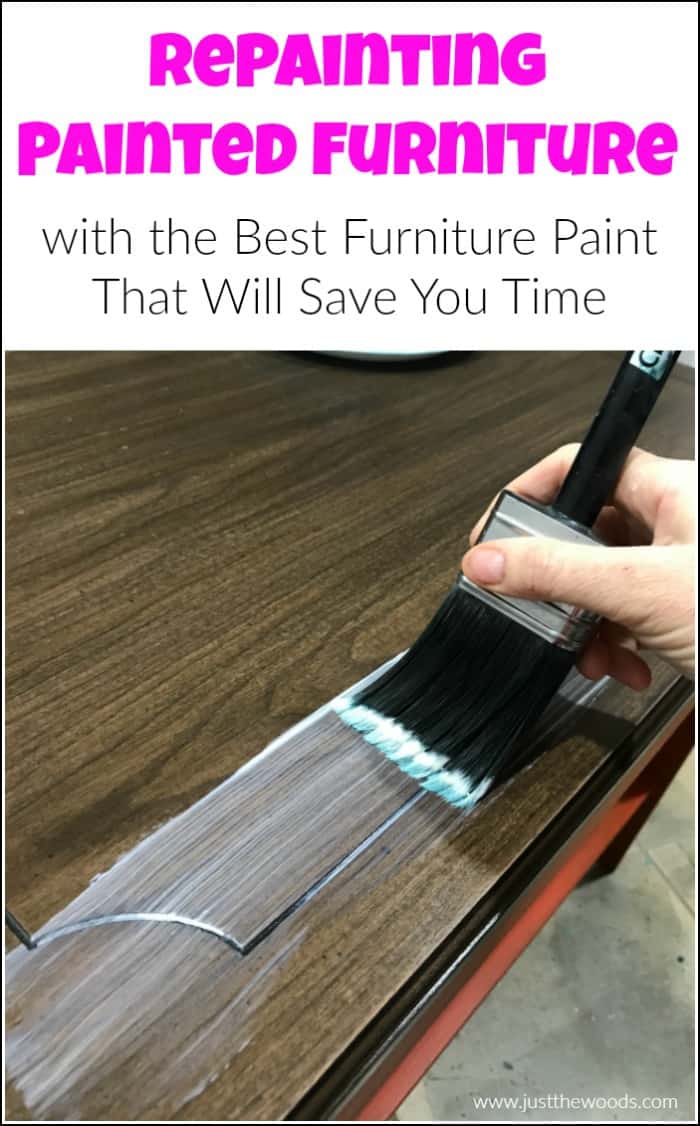 Wait! Don't Go! It's that time of the month again for:
Furniture Fixer-Uppers
A few of my creative and talented blogger friends and I have joined together in our monthly Furniture Fixer Uppers share. Let's see what my friends are up to! Make sure to click the links below the image to check out all the amazing projects that my bloggy girls are working on this month.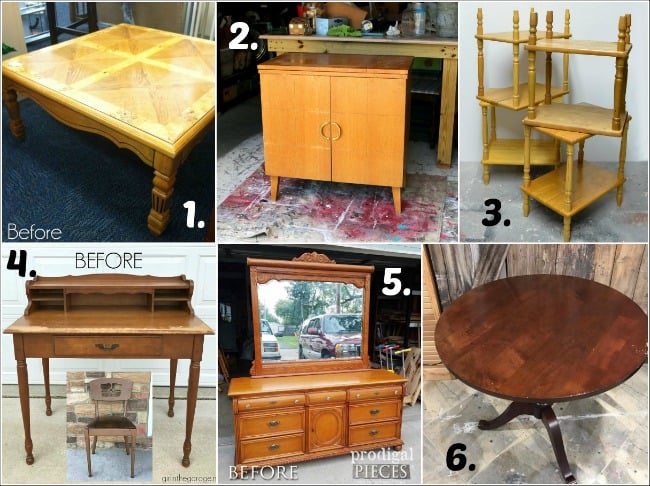 If you like this post make sure to check out all of the tips & secrets that I wish someone told me when I started painting furniture here: Painting Furniture Secrets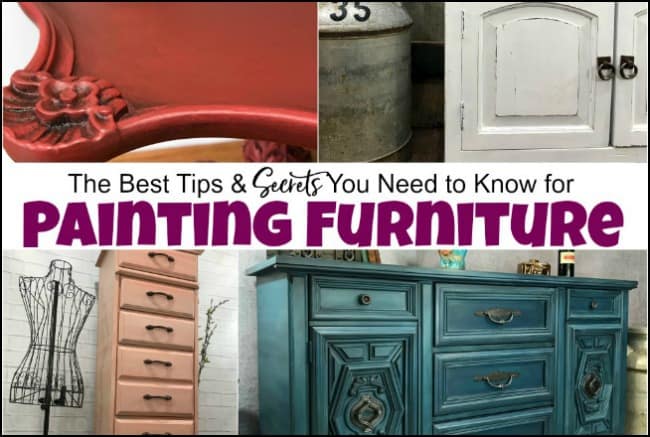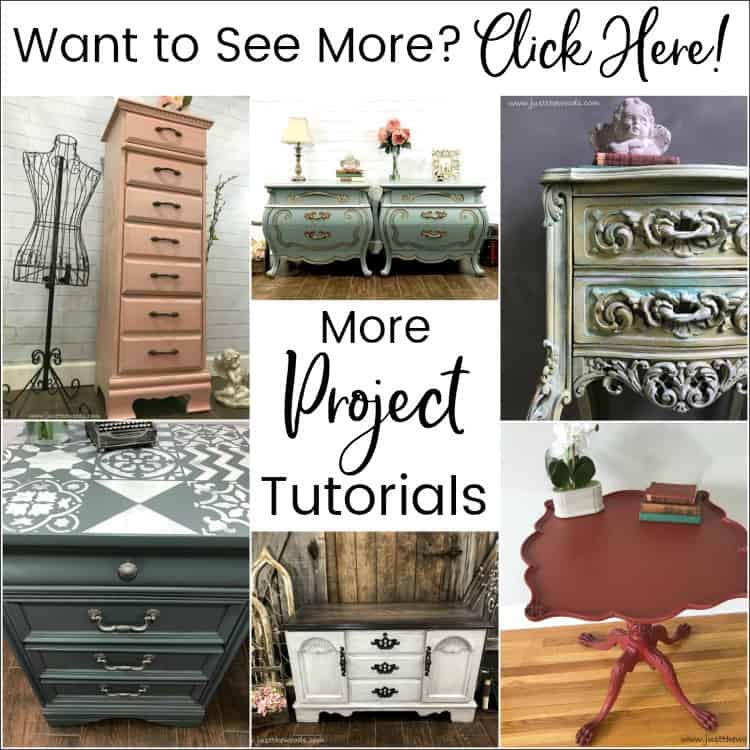 Don't Forget – Follow Just the Woods and Share this post to Inspire others:
FACEBOOK * INSTAGRAM * PINTEREST
Stay connected! For more tips and tricks sign up here :