Give your furniture makeover that extra wow factor with wallpaper decoupage. Learn how to make your painted furniture makeovers stand out by adding wallpaper to furniture.
Looking for furniture makeover ideas to really add that wow factor to your updated furniture redo project? Have you considered adding wallpaper to furniture? Adding wallpaper to your furniture makeover is easier than you think and gives your painted furniture makeover a unique touch. Technically, you can update furniture by adding wallpaper, fabric or many different types of print mediums. This painted furniture before and after project is focused on adding an elegantly textured wallpaper.
Make sure to stick around all the way to the end, its Furniture Fixer Upper time where my fellow furniture painting friends join in and share their projects as well.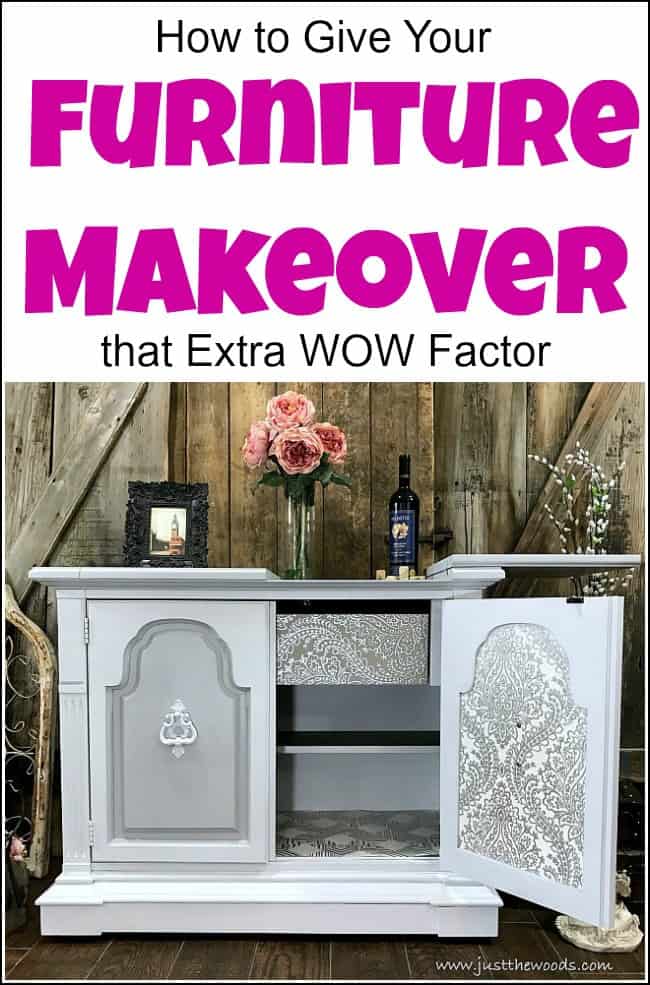 Disclosure: This furniture makeover post contains affiliate links for your convenience. I may be compensated if you make a purchase after clicking on my links. Click here for my full disclosure policy. 

Tools & Supplies to for your Furniture Makeover
Materials Needed / Source List
Unfinished Flip Top Buffet
A few little facts about this vintage buffet:
the buffet is originally made by Stanley furniture
it is on wheels for easy mobility
the top flips open for additional space
the top is also black leather
there is some damage and scratches on top
it is finished around back as well
this buffet is for a local interior designer (more pressure on me) 😛
Though beautiful 'as is' this leather top flip open buffet is standard brown and can stand to get an update.  I know, I know the front is really pretty.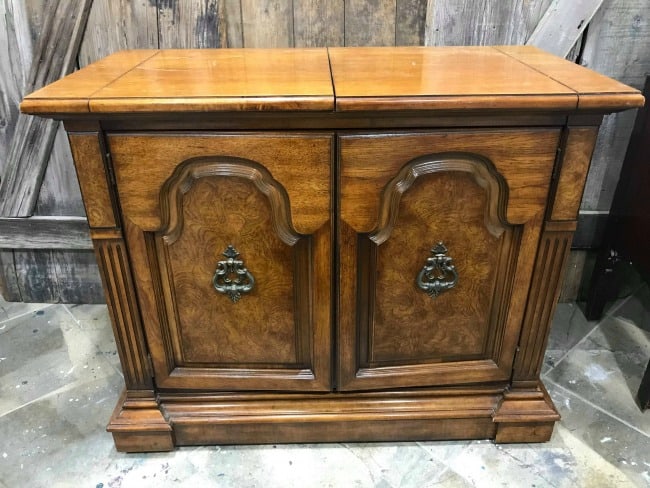 The leather top on this will also get a makeover because as you know we can paint leather! (See more painted leather projects here: Leather Projects)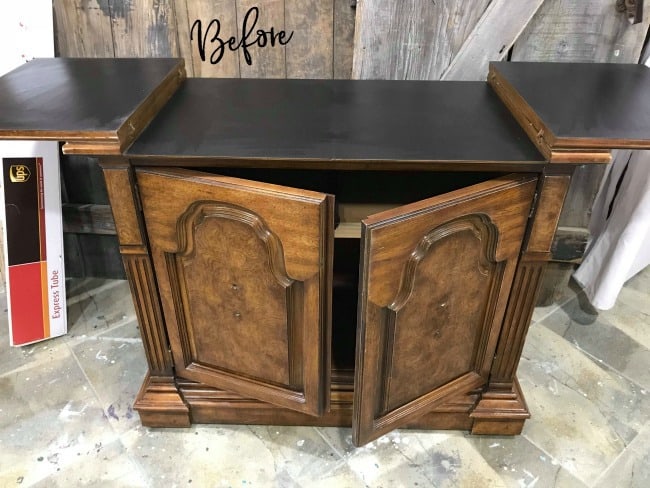 When my customer brought her piece over to discuss the design plan for her furniture makeover it made sense to place sticky notes on the piece to mark which area would be painted which color. She intends to use this piece with her interior design clients so we are getting very creative while staying classy 😉 We are going with a two-tone finish inspired by this piece: Bombe chest. When I do remove the sticky notes, I will also draw a rough sketch of the piece and label the drawing for what area is to be painted what color.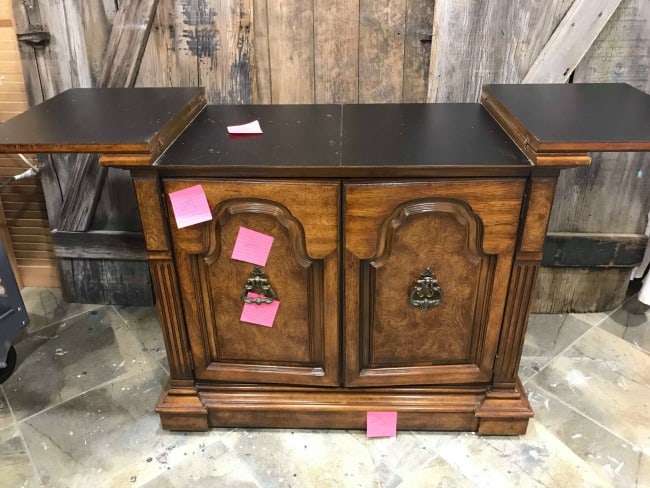 The First Step in Refurbishing Furniture
As always, the first step to a good furniture makeover is the prep. Prep is probably the most important step in furniture painting. This is my standard process for How to Prep Painted Furniture. First, remove the hardware, and in this case the fixed shelf inside the cabinet as well as the drawer. I also remove the door close hardware from the inside of the doors.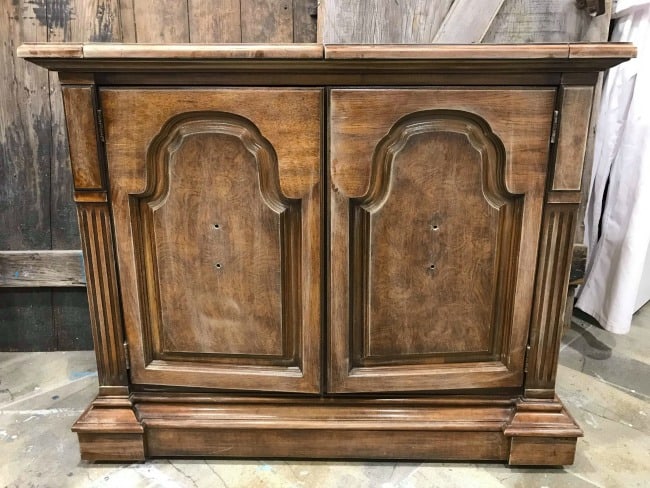 Considering the scratches on the top of the buffet, I am roughly sanding with my favorite orbital sander. I remove the dust bag and insert the hose to my shop vac to be able to sand inside without the dusty mess. I learned this little trick while sanding the floor of my closet in my small closet makeover. It makes me wonder how I haven't figured this out sooner.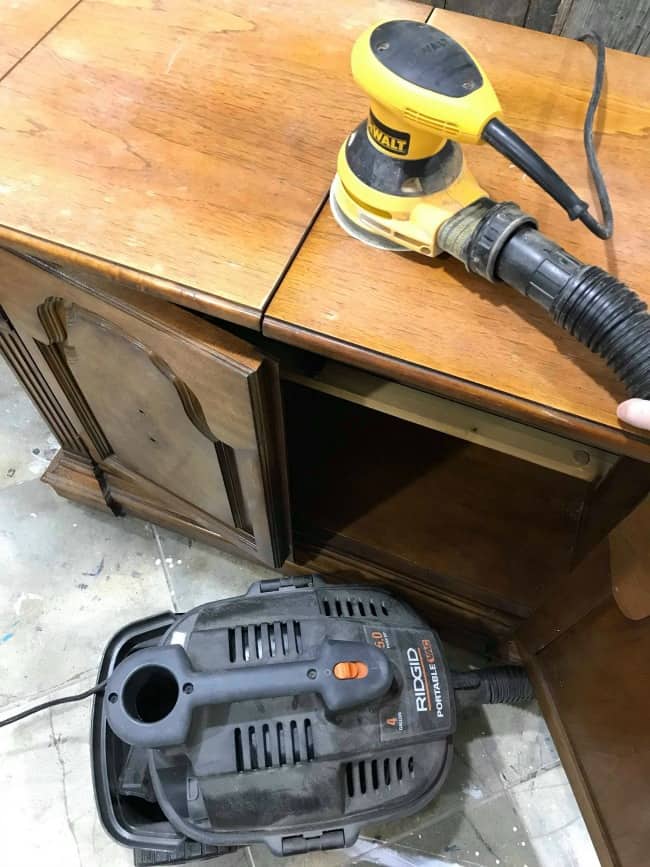 Next, since I am using very light paint colors I am also going to prime the entire piece. You can find other painted furniture projects that required primer here: primer. I admit that I don't always use a primer. At least not unless the furniture makeover calls for white or a light painted finish. The primer that I use and trust is a shellac based primer and you can find it HERE.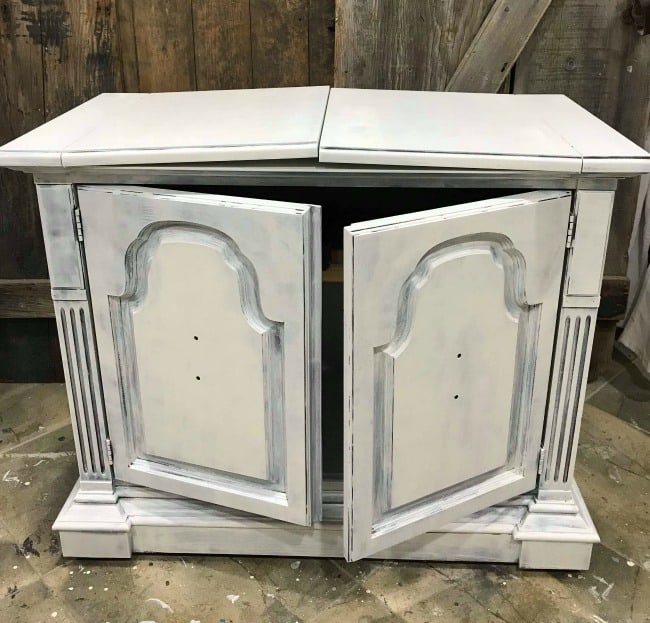 You can see where there are issues with bleed through inside the cabinet. This little area requires a few extra coats of primer to cover up this egg yolk looking horror!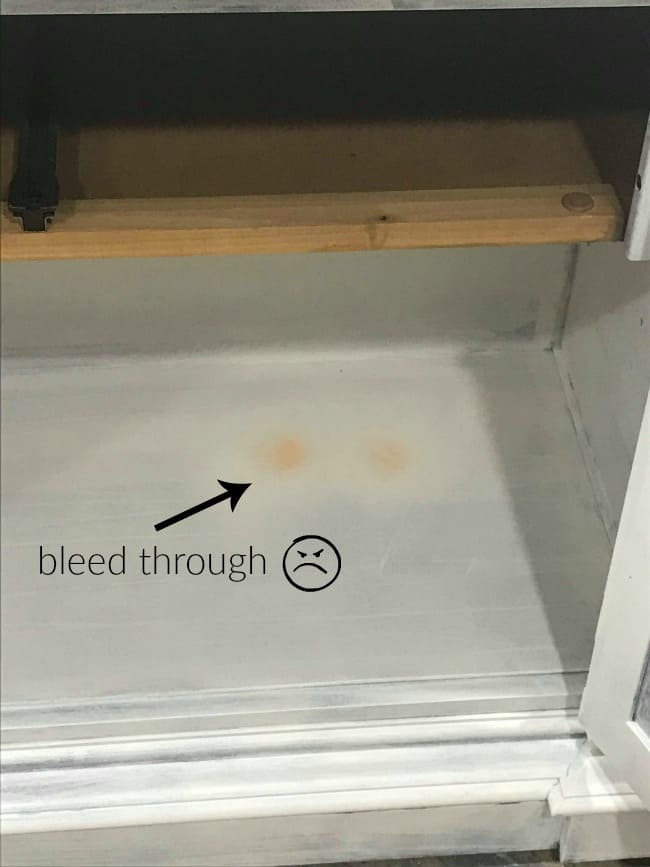 If you are new to furniture painting and want to learn how to update old furniture with paint you can always start at the beginning with How to Paint Furniture – a Beginners Guide.

Vintage Hardware
Part of prepping painted furniture is also cleaning the hardware.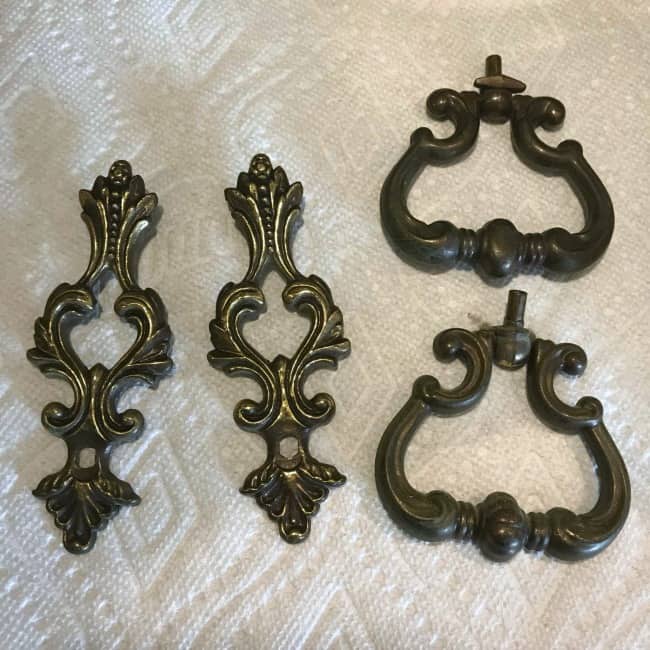 When I intend to paint the hardware this is my process for How to Clean & Paint Hardware.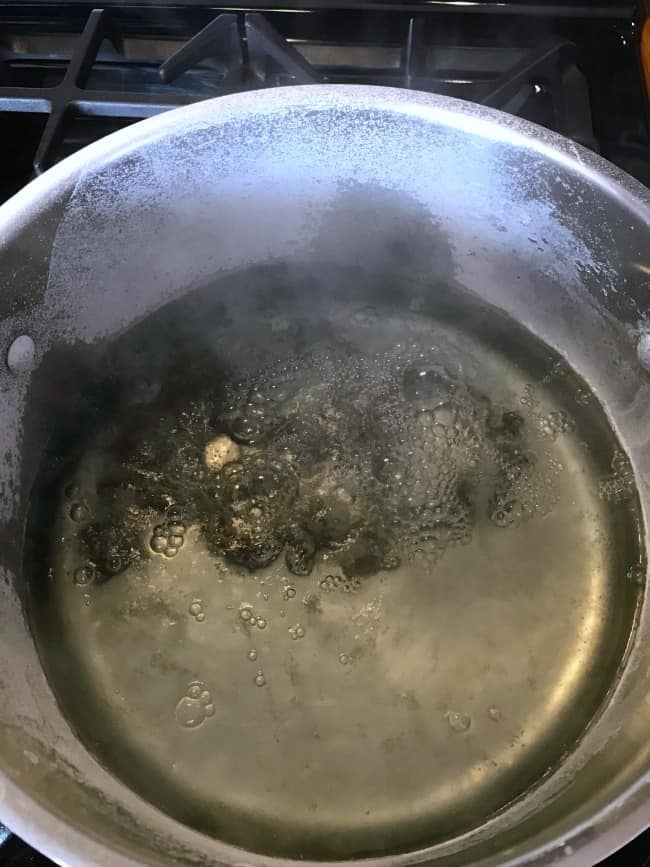 Make sure you don't burn yourself grabbing the hardware from the boiling water. These silicone oven mitts work great, find then: HERE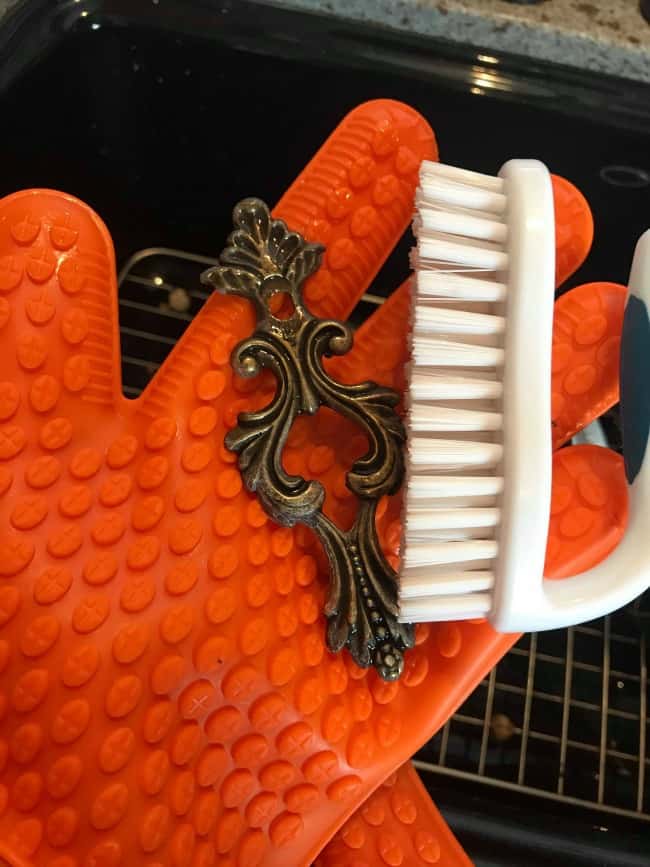 Painting Your Piece of Furniture
Now that the flip top buffet has been sanded, cleaned, prepped and primed we can start to paint. The piece will be painted in a two-tone finish but rather than paint separately I am starting this furniture redo by painting the entire piece in a very light gray chalk type paint. You can find great quality furniture paint online HERE.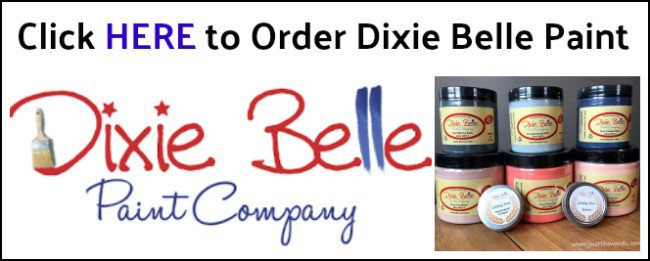 Tips for Painting Furniture with a Flip Top
Even the leather top is sanded, cleaned, primed and is now being painted.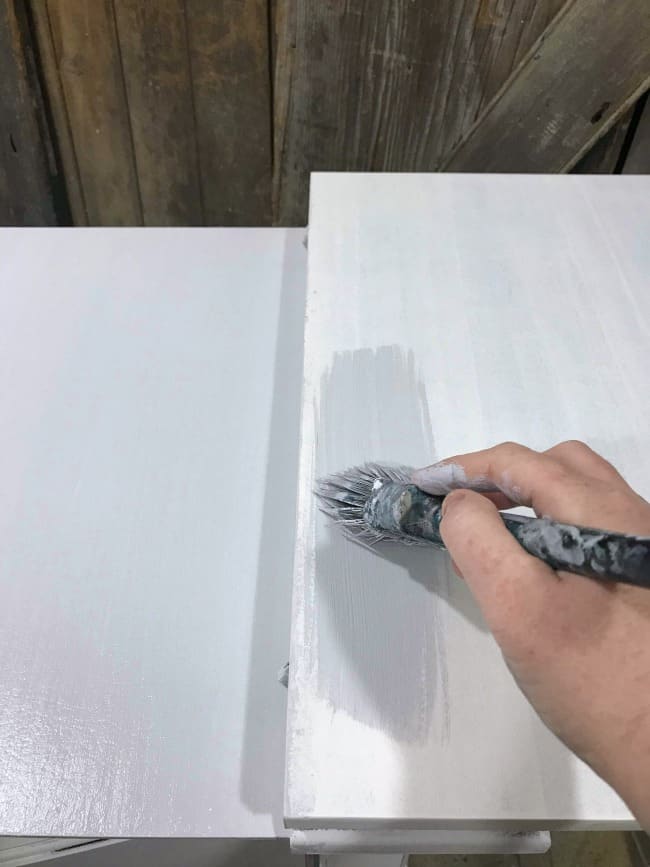 A little trick when painting furniture with a flip top is to start with the top open. Paint the open top, then paint the body. By the time the body is finished being painted the top should be dry. Next, you can gently close the folding top to paint the top area. I always like to keep a clean, dry, soft cloth in between the top areas as an added precaution since the paint is not sealed or cured yet.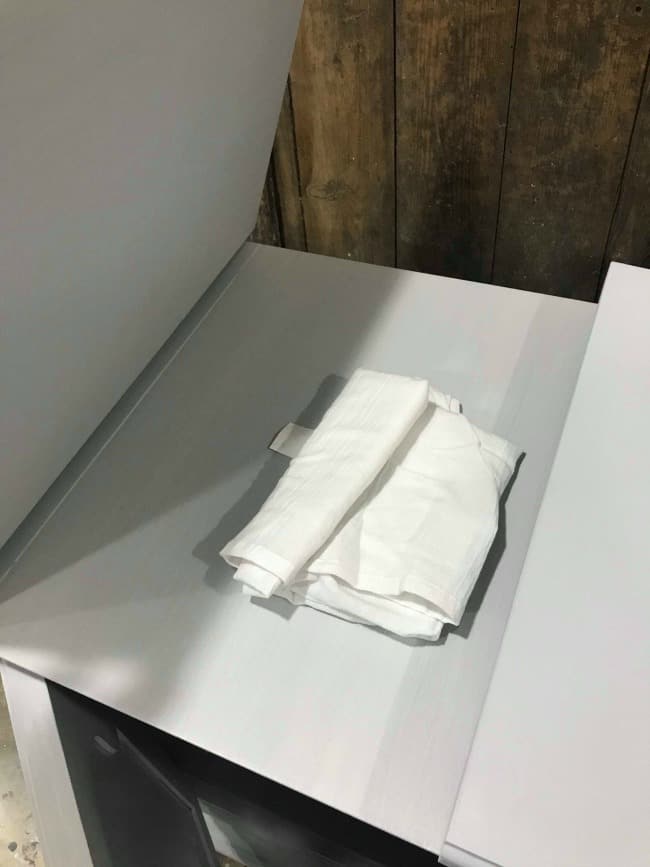 Painting a Two-Tone Finish on Furniture
To start, the entire piece of furniture is painted in two coats of gray, including the drawer (inside and out). I like to start with the light gray first because it creates a pretty solid finish over the primer before the leven ighter color (which is next).
Next, tape off the areas that will be painted in the other shade of gray using painters tape. This is the tape that I absolutely love, it tears in perfect 90-degree angles: HERE (it's the little things in life that make us happy right?)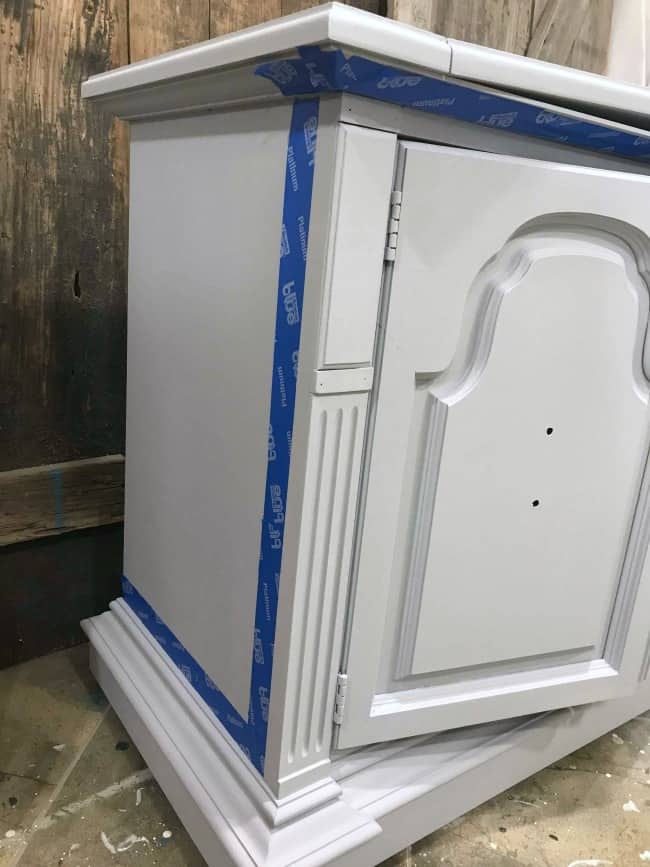 The trim, doors, and inside of this cabinet are all being painted in an extremely light gray, almost white for a very subtle two-tone finish much like the one seen in this two-tone painted french provincial dresser set.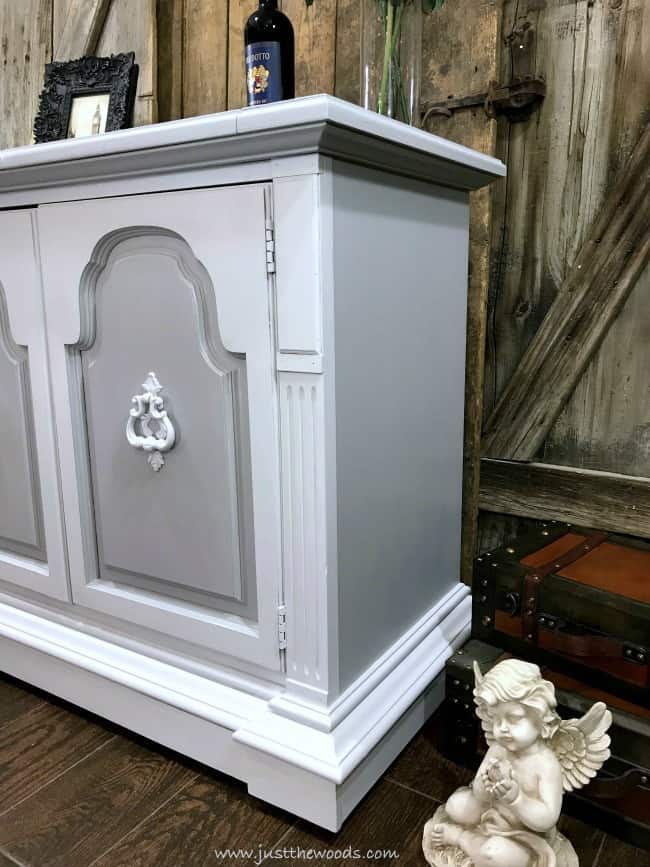 The top is not painted in the lighter gray/white color but remains the same gray that it is originally painted. I suppose the lighting from above may make it appear lighter.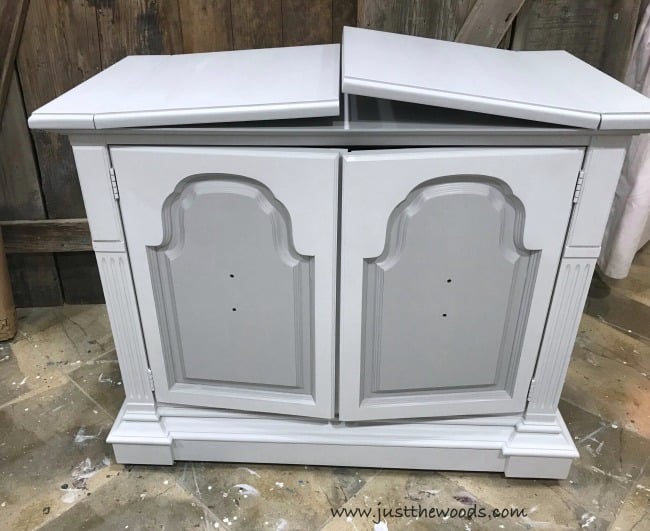 Make sure to lightly sand in between each coat using a fine grit sandpaper for a smooth finish. Also make sure to go back and remove the dust that you just created. A clean lint-free cloth to wipe away the dust works perfectly. You can find them online HERE.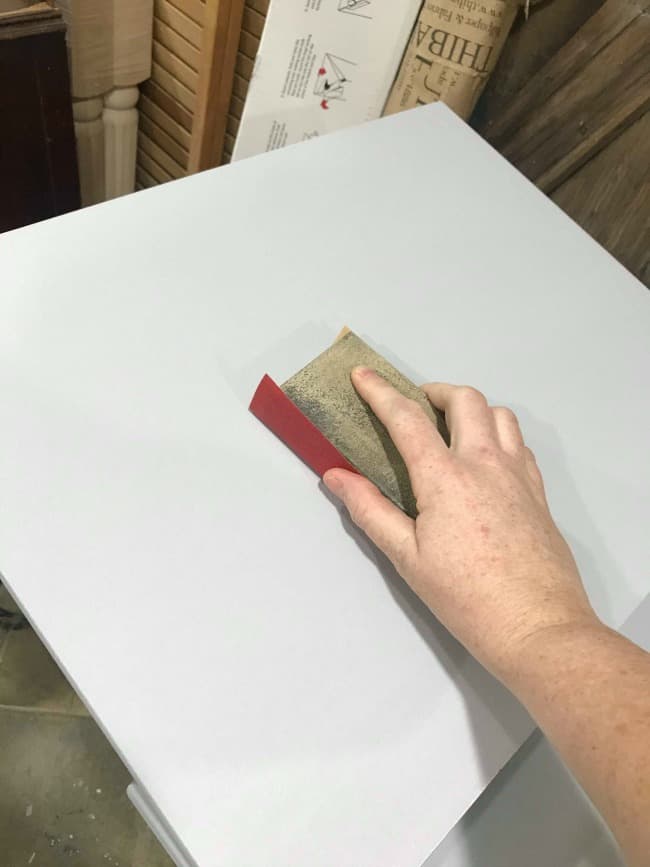 Sealing Your Painted Furniture Makeover
This furniture makeover is actually not distressed, but rather left with a smooth clean finish and sealed with a clear matte sealer using my yellow detailer sponge that I love so much. You can find my favorite yellow sponges HERE

Here is a full tutorial with VIDEO showing how I seal my painted furniture projects: Sealing Painted Furniture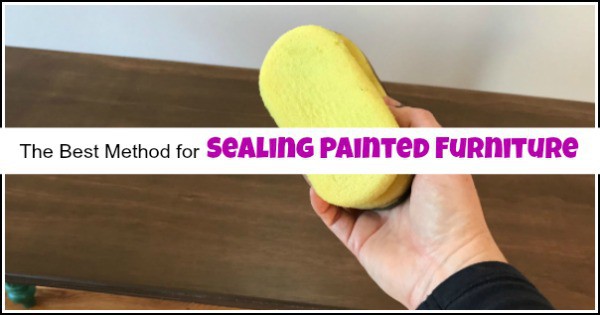 Adding Wallpaper to your Painted Furniture Makeover
Now, on to the fun part! When refurbishing furniture this is a great way to update your old vintage furniture. My customer brought over multiple sample rolls of wallpaper. The textured wallpaper is all highlighted in metallic silver and are complementary patterns from the same collection. You can play around and mix and match! When it comes to refinishing furniture ideas, the options are endless.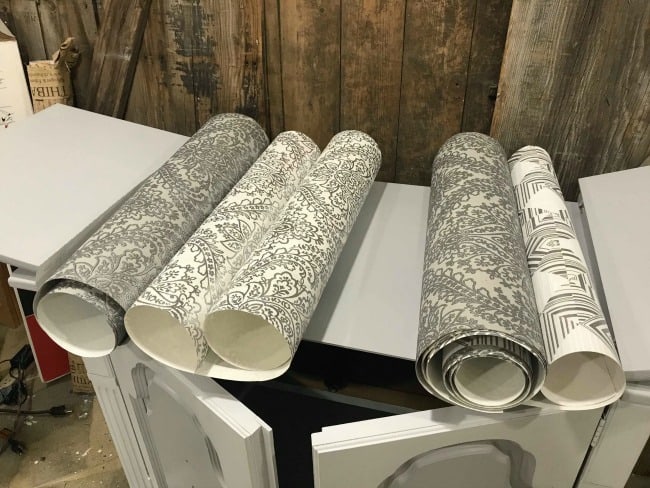 Of course, like all of my decoupage projects, I grab my trusty mod podge to get started. If you are new to decoupage, make sure to check out my post on what you need here: decoupage supplies to make your life easier.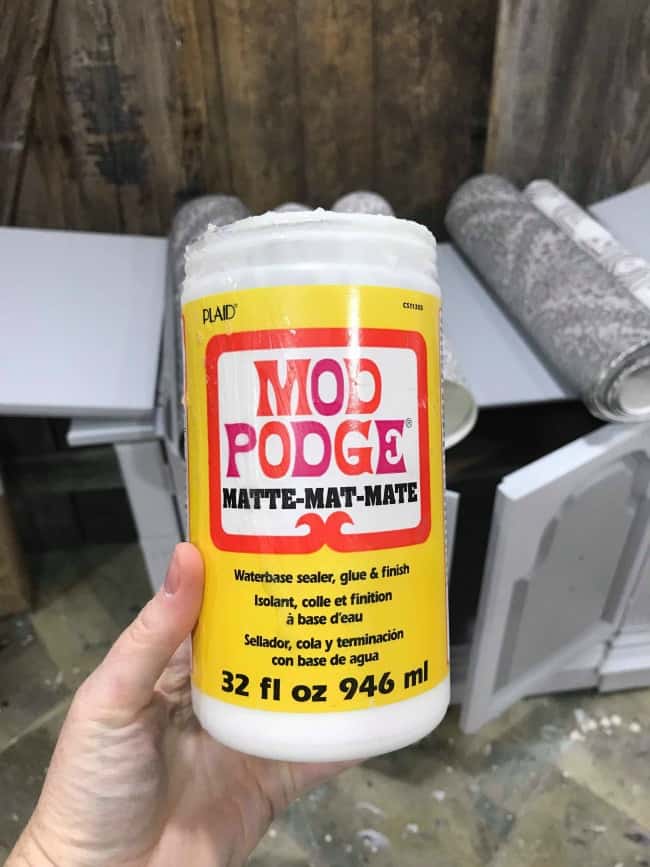 Using mod podge and an old brush go ahead and decoupage the wallpaper to the front of the drawer, as well as the drawer sides and the inner fixed shelf. I'm using two different patterns. The darker silver gray on the drawer front and shelf, and the lighter silver-gray on the drawer sides.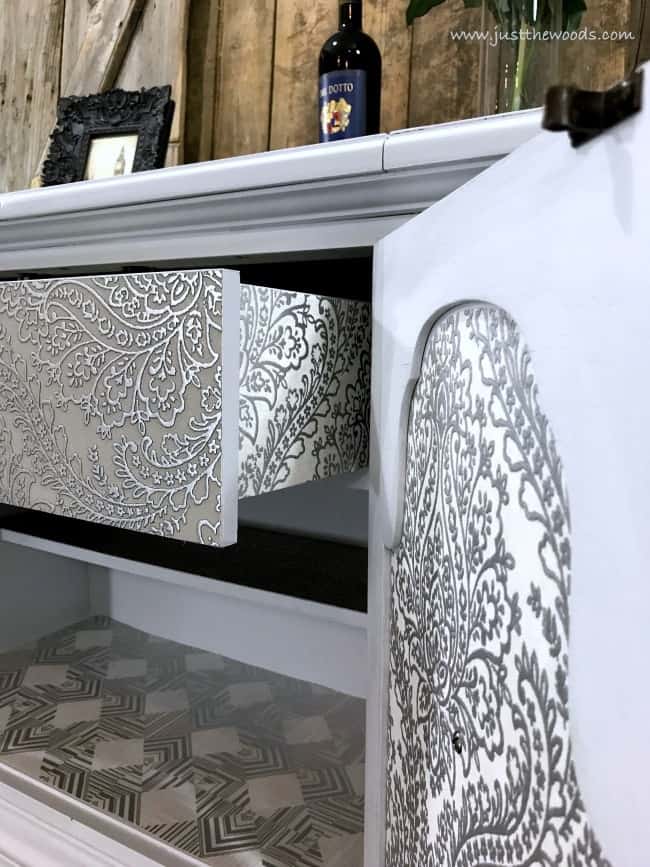 How to Create a Template
Next, its time to create a template for the area inside the door. Using a piece of construction paper (that I took from my kids' arts and crafts stack) place the paper into the cutout area and trim until it fits. I go back and forth with a pencil, a scissor and an Exacto knife trimming a little at a time, especially around the curve.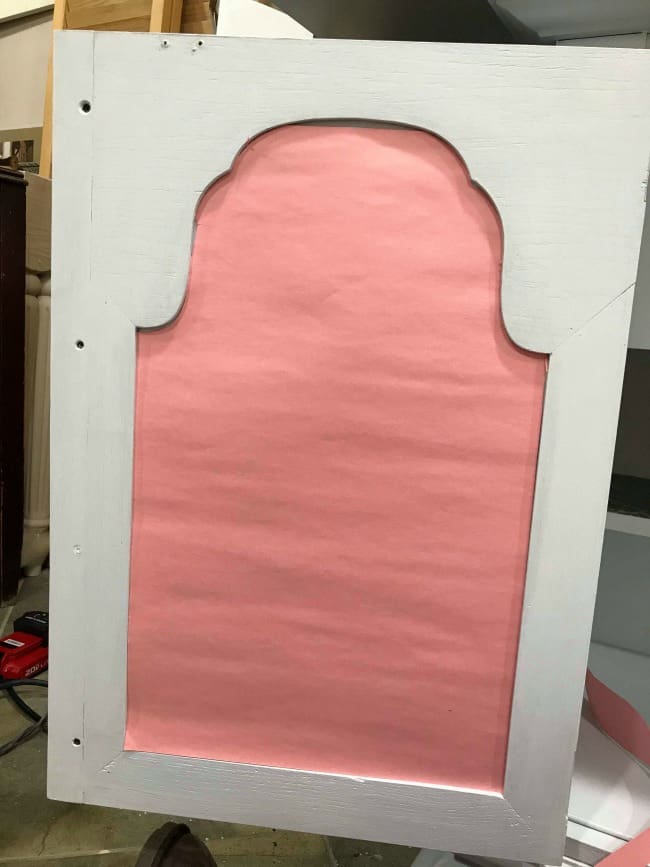 Once you have a template that fits you can trace it onto the back of your wallpaper pattern.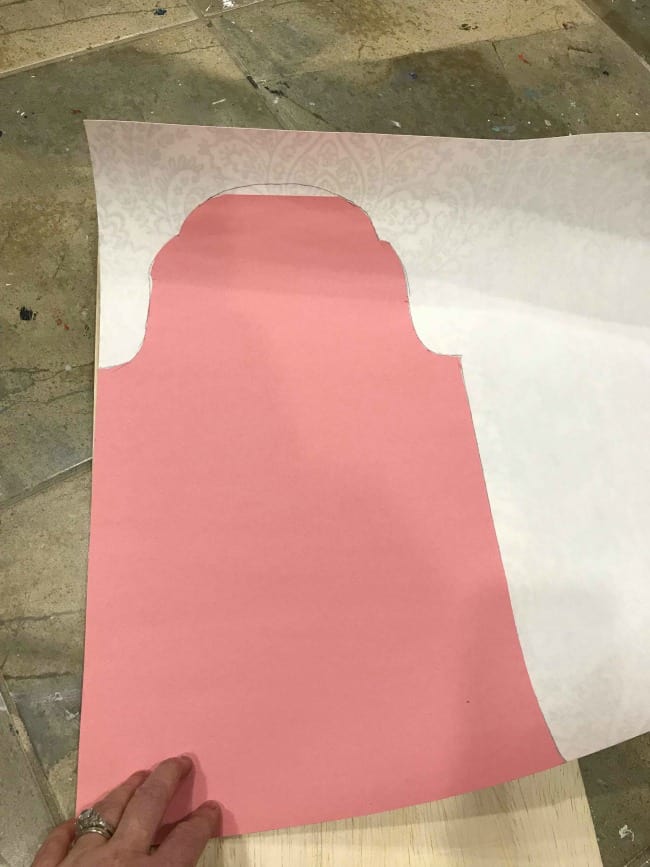 Do this twice, one for each door. Then make sure to cut out the wallpaper with very sharp scissors to ensure a clean cut.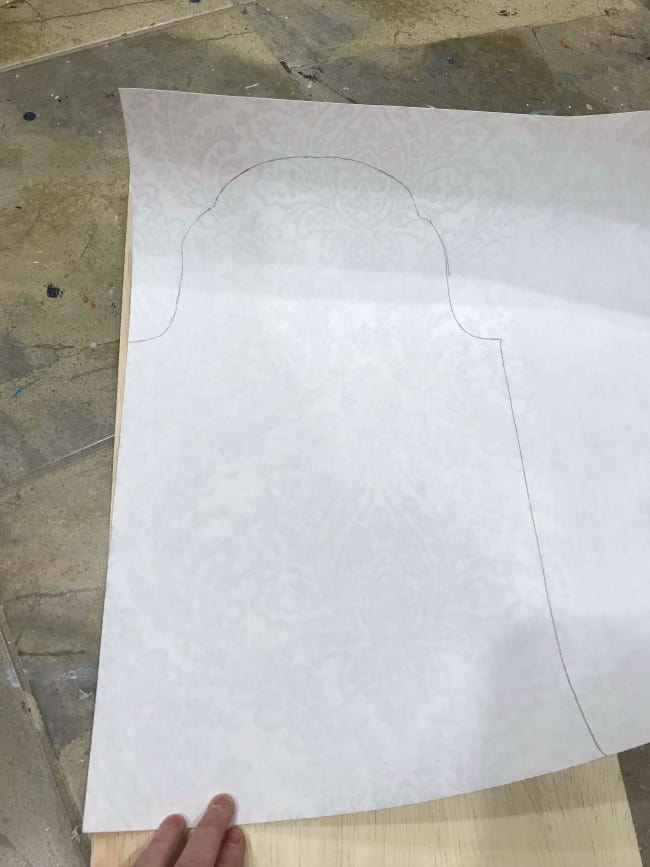 Next, carefully decoupage your wallpaper into the door cutouts and smooth out any bubbles right away.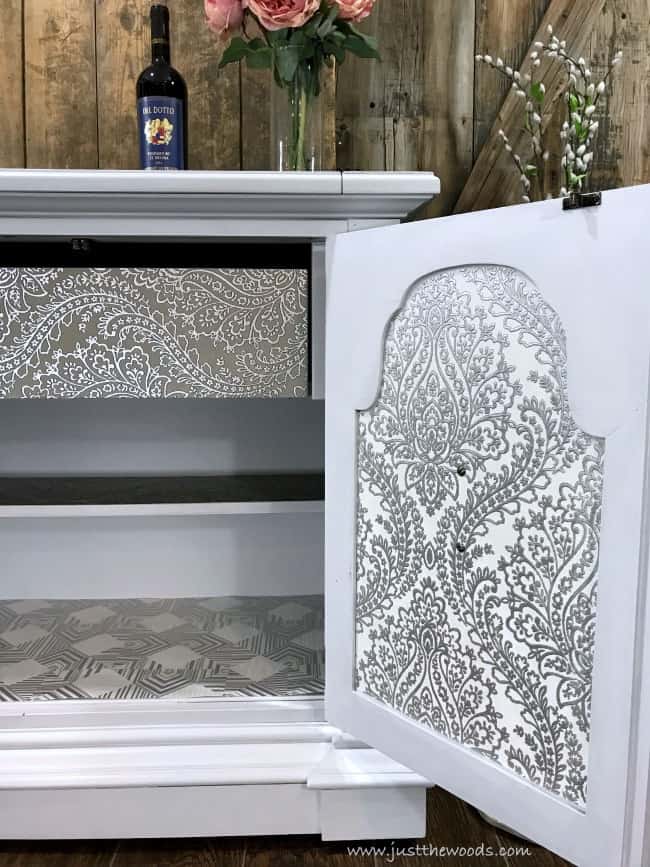 Furniture Makeover Ideas for Adding Removable Wallpaper as a Liner
Another option when considering refinishing furniture ideas that are a little less permanent is temporary or removable liners. Take another pattern from the wallpaper options and cut to size a piece to place on the bottom of the cabinet as well as inside the drawer.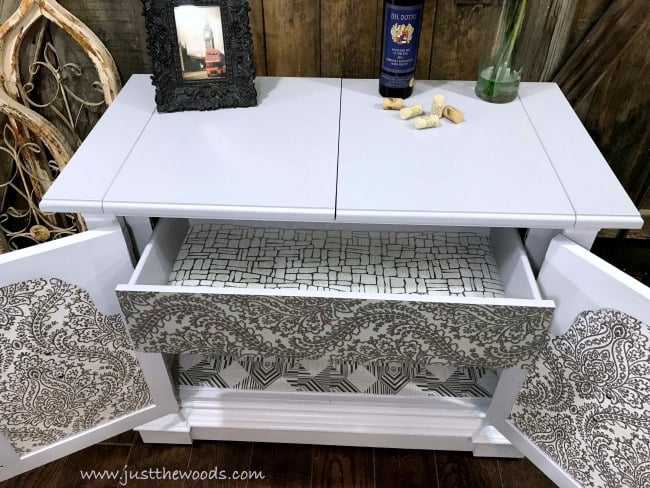 By doing this, these higher traffic areas are protected with a pretty matching print, yet can be swapped out later if you so desire.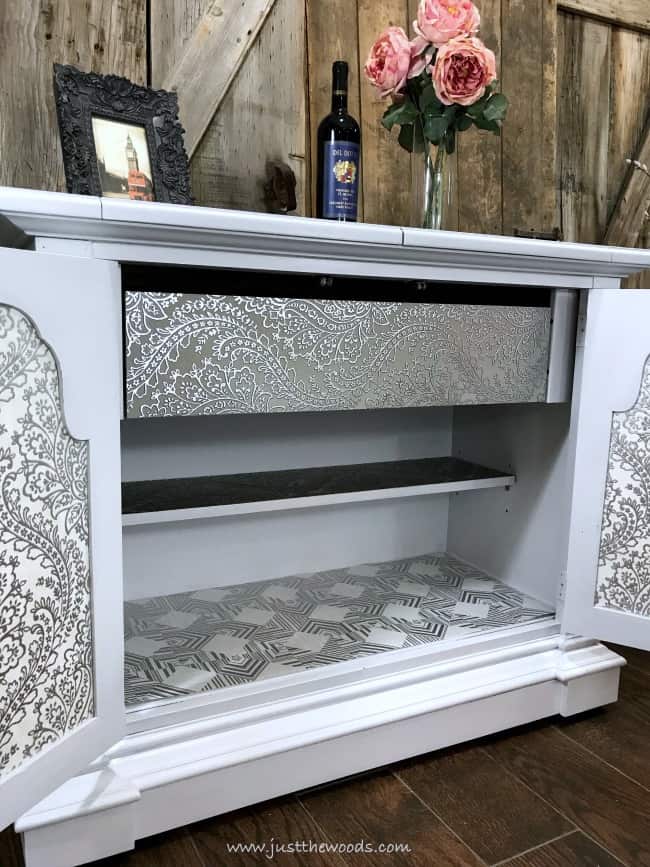 Finishing Touches
Make sure when your furniture makeover is complete to resecure the fixed shelf back in place.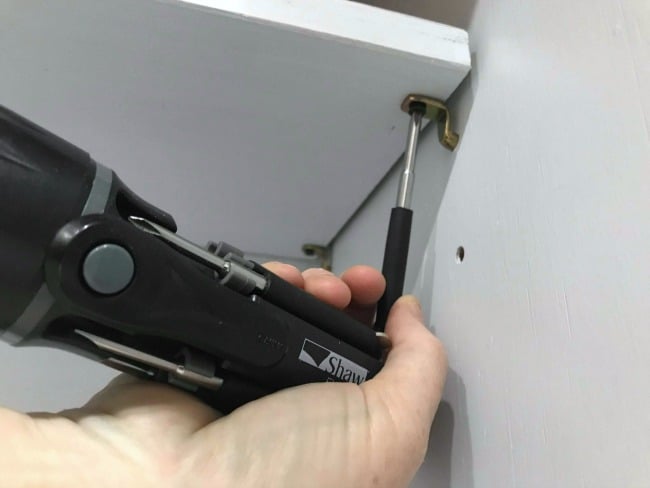 Also, make sure to replace the door close hardware to your doors.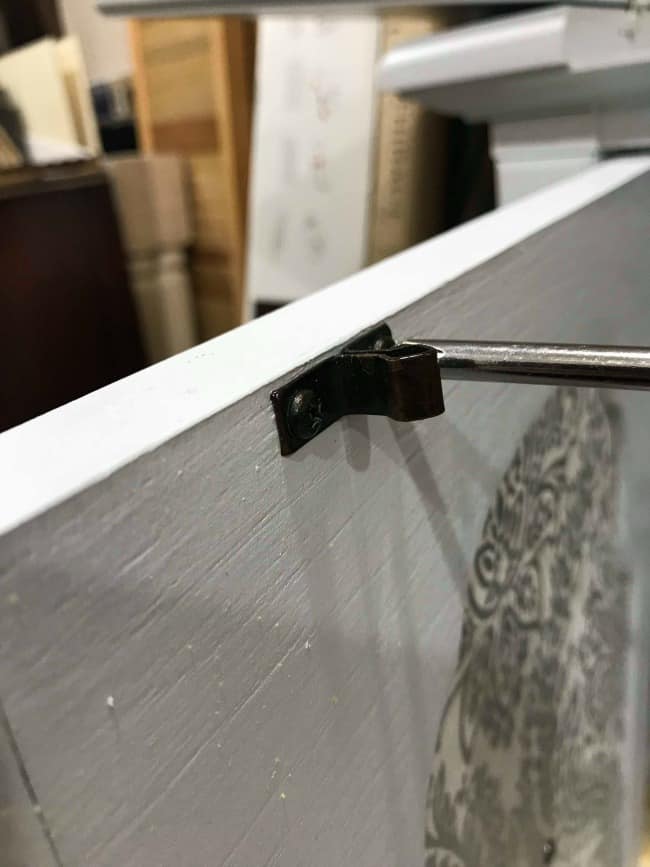 A Furniture Makeover with that Extra Wow Factor
Now that you know how to add that extra wow factor to your painted furniture makeover – go make something beautiful!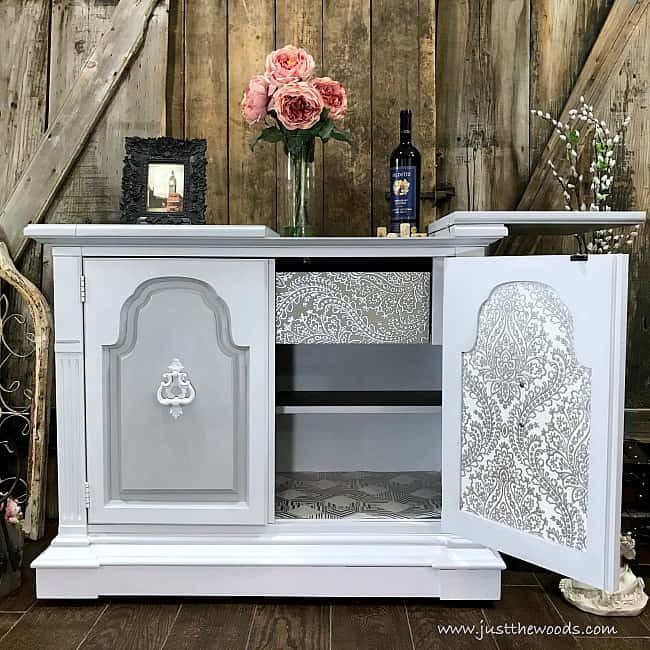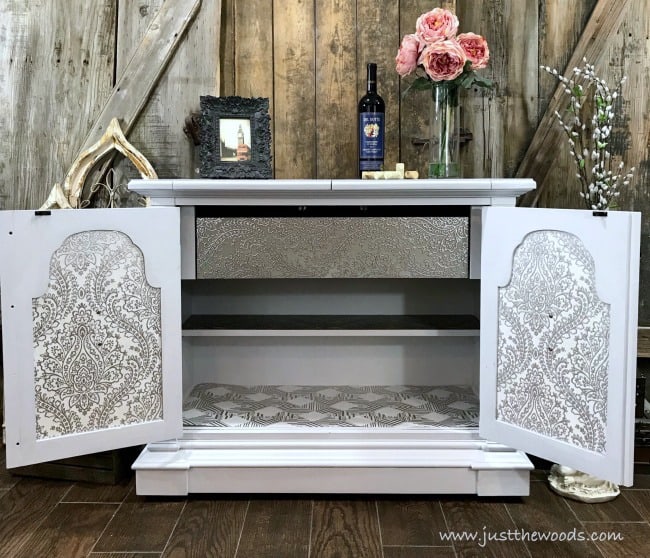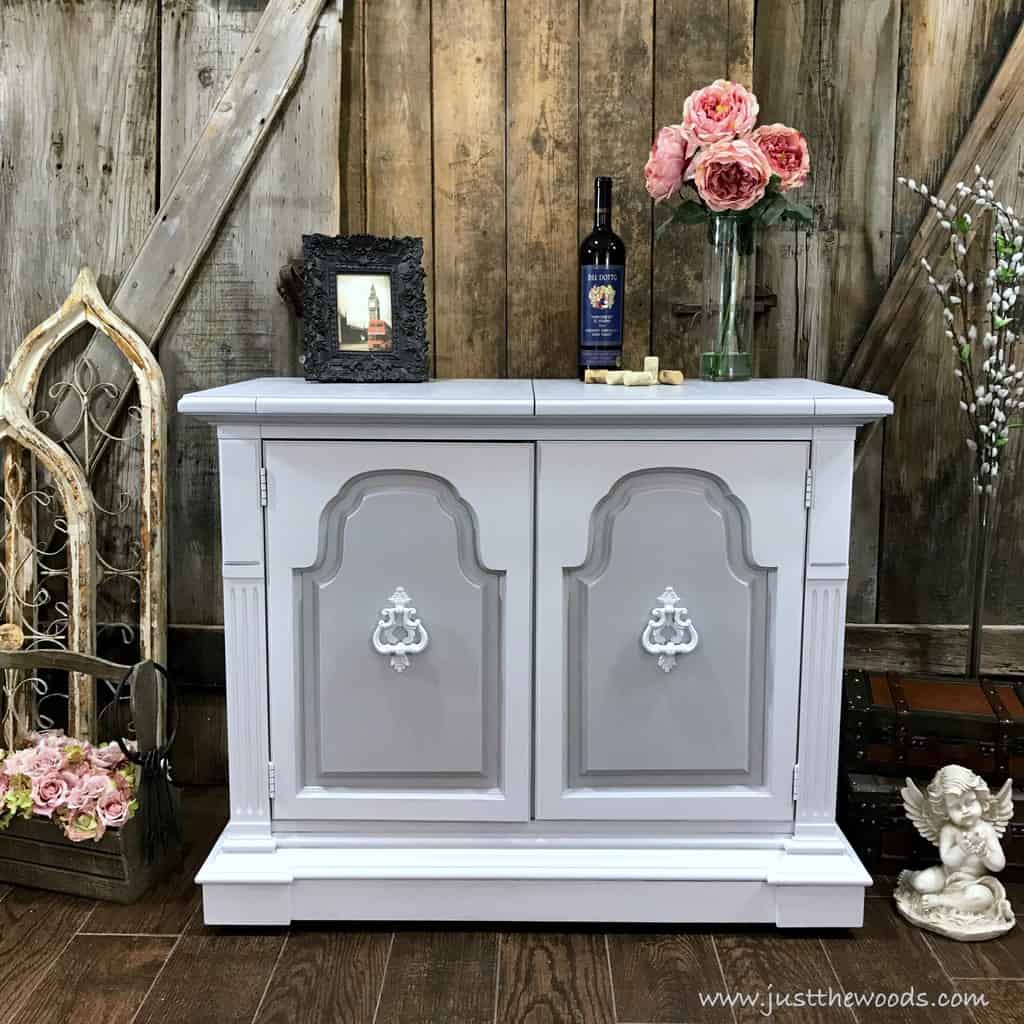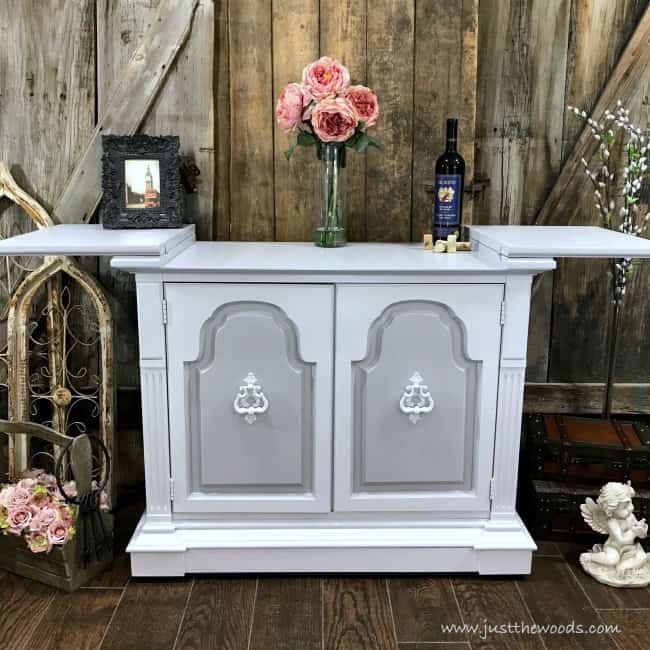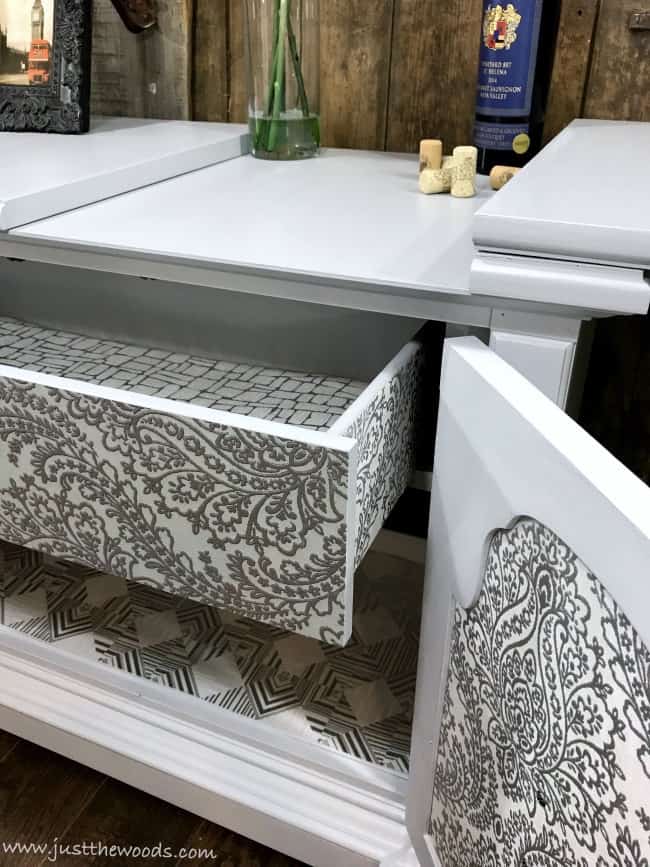 Here is a quick video tour of the piece, since the metallic silver plays funny games with the lights 🙂
Wait! Don't Go!  It's that time of the month again for:
Furniture Fixer-Uppers
A few of my creative and talented blogger friends and I have joined together in our monthly Furniture Fixer Uppers share. Let's see what my friends are up to! Make sure to click the links below the image to check out all the amazing projects that my bloggy girls are working on this month.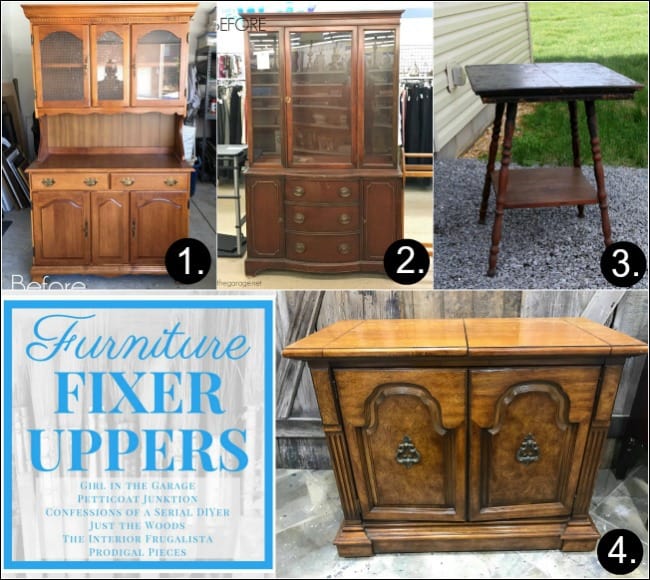 Just the Woods (you are here)
Interior Frugalista & Prodigal Pieces will be back with us next month! 
If you like this post make sure to check out all of the tips & secrets that I wish someone told me when I started painting furniture here: Painting Furniture Secrets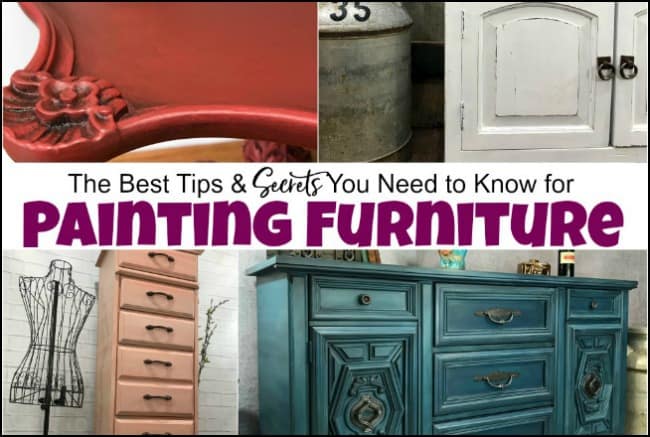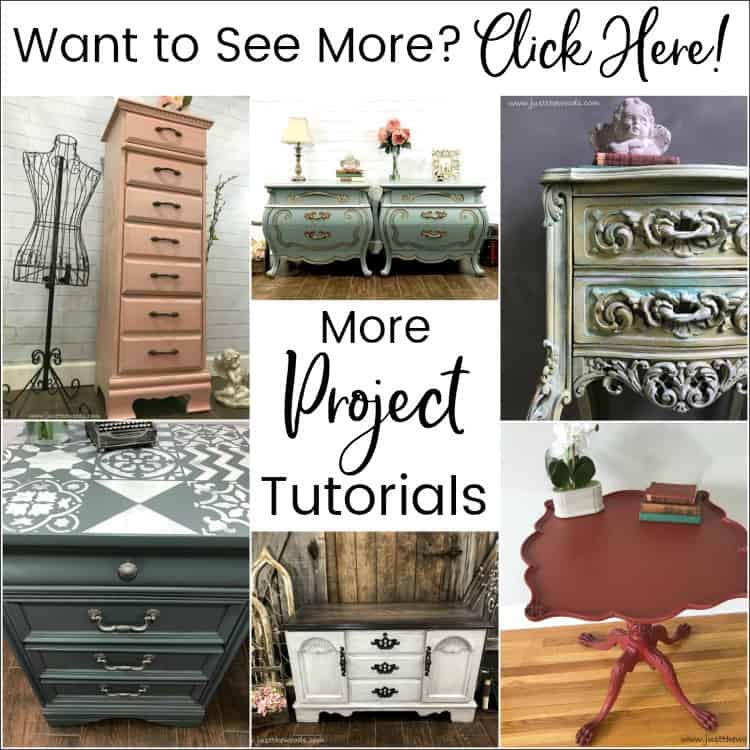 Don't Forget – Follow Just the Woods and Share this post to Inspire others:
FACEBOOK  *  INSTAGRAM  *  PINTEREST
Subscribe to our mailing list here: